MICHAEL JACKSON CAREER CSPC RESULTS
So, after checking all the figures, how many overall equivalent album sales has each Michael Jackson album achieved? Well, at this point we hardly need to add up all of the figures defined in this article!
In the following table, all categories display figures that way, e.g. in equivalent album sales. For example, singles from Thriller released in digital format sold the equivalent of 4,206,000 albums – 28,040,000 downloads with a 10 to 1,5 weighting.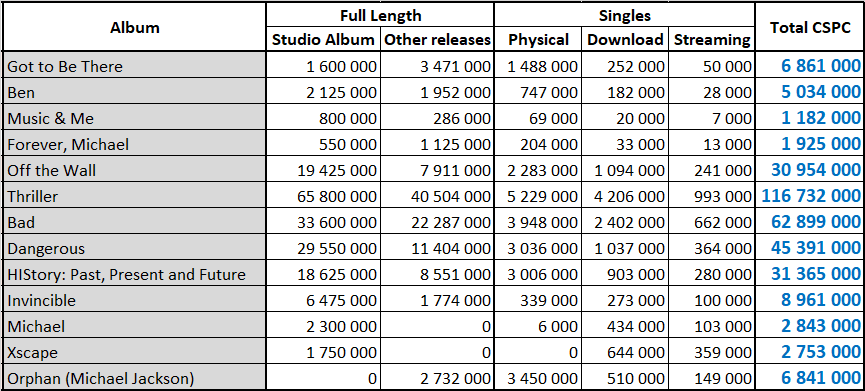 Studio Album: sales of the original album
Other Releases: sales of compilations generated thanks to the album
Physical Singles: sales of physical singles from the album (ratio 3/10)
Download Singles: sales of digital singles from the album (ratio 1,5/10)
Streaming: equivalent album sales of all the album tracks (ratio 1/1500 for Audio stream and 1/11750 for Video stream)
Equivalent album sales of 116,732,000 copies. That isn't a typo. Thriller is an insane selling machine that was activated on November 30, 1982 and never slowed down since.
We already knew it was the top selling album in pure sales format of all-time. At 40,5 million, it also generated the most compilations sales of all-time, leading both fundamental categories in spite of them cannibalizing each other. Among non-Soundtrack albums, Thriller is also the #1 ever in terms of physical singles sold, again challenging laws of gravity as this format also comes as an opposition to pure album sales. As for downloads of tracks, among pre-digital era albums, Thriller ranks… #1 of all-time.
With over 2 billion YouTube views, it also leads the comprehensive ranking for pre-2000 albums. At 766 million Spotify streams, Thriller misses a mythical 6-dimensions all-time domination as it is the runner up to Nirvana's Nevermind.
Those fabulous achievements are resumed by its overall tally of 116,7 million CSPC sales. To put it in perspective, it's lead over the all-time #2, Saturday Night Fever at 67 million, is bigger than the total sales of U2's The Joshua Tree. Thriller is bigger than Pink Floyd's Dark Side of the Moon and Whitney Houston's Bodyguard combined, those are the #2 and #3 top selling albums ever in pure sales format. Merging all three absolute classics of the Beatles, Abbey Road, Sgt Pepper's Lonely Hearts Club Band and the White Album, would still not be enough to challenge Thriller alone.
It also tops the complete discographies of acts like Guns N' Roses, George Michael plus Wham!, Britney Spears and Coldplay. You get the point, the success of this legendary album is quite simply unparalleled.
We tend to blame the lack of promotion, TV appearances or tours to explain why some albums sell poorly. Thriller had no re-issue in its first 15 years. It had no proper tour to support it. Michael Jackson did no interview, and no talk show during the entire run of the album. He did one, and only one performance, and it was a tribute to his former label rather than a real promotion of his current record. Songs and videos from Thriller were simply unstoppable by themselves.
With a steamroller of this magnitude we almost forget that Michael Jackson released more albums. The madness continues. At 62,9 million equivalent album sales, Bad takes over the #3 all-time ranking behind the aforementioned Thriller and the Saturday Night Fever soundtrack. It tops by millions albums like Rumours (Fleetwood Mac), IV (Led Zeppelin), Dark Side of the Moon (Pink Floyd), Grease, Nevermind (Nirvana) and Bodyguard (Whitney Houston). It is as big as the full catalogs of Taylor Swift and Usher.
At 45,4 million, Dangerous cracks Come On Over by Shania Twain and every album of the Beatles and Madonna. So-so albums for Michael Jackson like HIStory and Off The Wall are bigger than 90s bangers like Spice by the Spice Girls and Baby One More Time by Britney Spears. The degree of his success is on a completely different level than any other act. Interestingly, HIStory almost matches the singles performance of Dangerous in all categories, which shows it would have been an even stronger seller if it wasn't for its very high price.
The rest of his catalog is made up of recordings from his teenage years, a couple of posthumous releases and an album widely regarded as an absolute bomb. Those albums still add for a strong 36,4 million equivalent album sales.
Overall, Michael Jackson is up to 323,7 million equivalent album sales. The greatness of the Beatles consistency still provides them the #1 spot but the King of Pop comes in as an impressive runner up. His catalog sales as well as his streams remain as buoyant as ever so this tally will never stop increasing.
The following pages list his most successful songs as well as his records and achievements. Do not forget to check our amazing cross-artists lists posted inside the CSPC: Data Collector which includes the full listing of all CSPC results compiled so far to better gauge his position in the history of the music industry.
As usual, feel free to comment and / or ask a question!
Sources: IFPI, Spotify, YouTube, Chartmasters.org.