CSPC: Bon Jovi Popularity Analysis
Streaming Part 2 – The band hey-days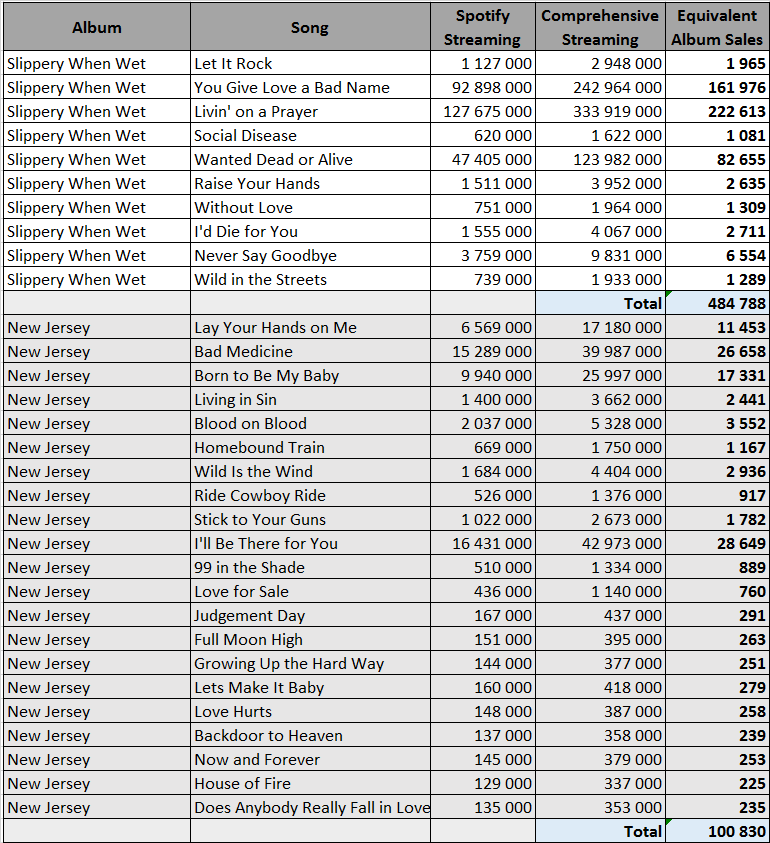 Streaming results of Slippery When Wet almost look mistaken. On one side, it owns three terrific hits. Livin' On A Prayer is one of the biggest 80s song with 128 million streams to date, You Give Love A Bad Name isn't that far at 93 million. Wanted Dead Or Alive at 47 million almost seems weak in comparison to its colleagues but it would be the signature song of many notable acts with such a high result.
In the other side, several tracks are still very far from 1 million plays. All tracks from Metallica's Black Album, Led Zeppelin's IV or Fleetwood Mac's Rumours stand at 5 million or more. Actually, as incredible as it may seem, even ABBA albums Arrival or The Album do not have tracks as low as Social Disease. The 200+ factor between two consecutive tracks like Livin' On A Prayer and Social Disease is pretty unique. It highlights that very few people reach Bon Jovi own Spotify page, with instead an awful lot of listeners from general playlists or that added a couple of their songs into their personal playlist.
Still, despite the lack of consistency of their albums, the strength of their hits are enough to grant almost half a million album equivalent sales to Slippery When Wet. New Jersey has a similar pattern at a lower level. The various tracks with very low numbers at the end are songs added to the 2014 extended edition of the album.