The 40 greatest albums of the 90s
Of course, the elitist press will think it's outrageous to call the most streamed albums from the 90s the greatest ones. Some artists are arguably critics darlings, but some others are favored by the general public and we are left wondering who are we to contradict them. Surely, nearly 20 years after the end of this era, to belong to the most remembered music that came out of it tells something. It tells they are regarded as the greatest by a lot of people. So which are these albums that continue to appeal the masses so many years after their release?
Undoubtedly, the 90s was the decade of divas. Céline Dion and Mariah Carey ruled over these years while Shania Twain, Madonna, Alanis Morissette, Whitney Houston, Janet Jackson, and Enya also managed huge successes. A second wave of popular females led by Britney Spears arrived at the end of the decade too. The male field was almost empty although Michael Jackson was still walking around the big stage. Instead, boys bands like the Backstreet Boys and NSYNC exploded.
Rock continued its road with two major movements. The American scene, especially from Seattle, was everywhere around 1991/1992. Nirvana, Metallica, Pearl Jam, Red Hot Chili Peppers, R.E.M., Guns N' Roses, and many more reached the masses. British artists took back the attention of many in mid 90s thanks to groups like Oasis, Radiohead, the Verve, and Blur.
Obviously, the 90s was also the decade that saw rap music cross over the general public. MC Hammer debuted the decade strong and then various more got hugely popular, among them 2Pac, Notorious B.I.G., and Snoop Doggy Dogg flooded the US radio stations although the phenomenon struggled to go global. Now that this music is democratized in most countries, how do they perform? The same question can be raised for the new generation of R&B artists that poppep up during that decade. Its flagships were R. Kelly, the Boyz II Men, and TLC.
Today we will go through the 40 albums that amass the highest number of cumulative streams. They all broke the crtieria of 350 million plays. Make Yourself by Incubus was one day away from making the list at the date of data retrieval, while we pay tribute to the following albums which stand over 300 million but miss the cut.
Soundgarden – Superunknown
TLC – Fanmail
No Doubt – Tragic Kingdom
Blackstreet – Another Level
Third Eye Blind – Third Eye Blind
Various Artists – Tarzan
Weezer – Weezer
Snoop Doggy Dogg – Doggystyle
Wu-Tang Clan – Enter The Wu-Tang (36 Chambers)
Please read following titles as Rank. Artist – Album – Streams
40. 1992 – Radiohead – Pablo Honey – 355,419,000

Pablo Honeys follow up The Bends is a far more critically acclaimed album, yet it is outperformed here, thanks in the most part to it's main single Creep. The signature song of Radiohead, it has 316 million streams to date, enough to make it the 10th biggest streaming hit from the 90s. For many years, the band became estranged with the track, due to it's overbearing affect on the rest of their catalogue and hence refused to play it live. The general public love it though and it remains by far their most streamed song.
No other song from Pablo Honey has more than 6 million streams, but none have less than 2 million. The masses tend to ignore it, but it still has an incontestable following among the band's fans. The latters have been gained through the years as shown by the chart run of this album in the UK where it peaked at #22, some 6 years after its initial release.
39. 1997 – Shania Twain – Come On Over – 357,816,000
The monster success of country's global star Shania Twain comes at a possibly disappointing #39 position. The most remembered song of the album is Man! I Feel Like A Woman! with 112 million streams. While this doesn't look like a surprise, the track initially peaked at only #23 in the US. It was the era's biggest hit in other markets through like in the UK (#3) and in France (#4).
The song is followed by You're Still The One at 89 million streams. Back in the day, it has been the hit that made Come On Over a massive blockbuster. It peaked at #2 for a week, dropped back and returned to that position for 8 weeks more than a month later. In these latter weeks it was stopped at the runner up spot by R&B classic The Boy Is Mine by Brandy & Monica. The third big hit is That Don't Impress Me Much which stands at 64 million streams.
In the US, the LP went on to sell over 20 million units without ever hitting #1. To do so, it lasted an unreal 26 months inside the Top 20 on the back of 8 hits. Apart from From This Moment On which has been played over 33 million, the remaining singles that kept the album afloat have now lost a bit of their stature, all 4 are on 6-9 million. In the other side, the cut Honey, I'm Home has been growing with 12 million listens, over 4 times more than the additional cuts.
38. 1990 – AC/DC – The Razors Edge – 368,850,000
The Australian band AC/DC started the 90s with an impressive comeback, The Razors Edge. After missing the US Top 10 album chart for 9 years and 5 releases this LP went to #2 while smashing charts for 6 months. Not all countries reacted as well as the US, but through the years the leading hit Thunderstruck grew a lot in popularity. Nowadays, it is as strong as the biggest tracks from 1980's monster album Back In Black. On Spotify, the song has been listened to 307 million times.
The second single of the era, the only one released physically in the US, was Moneytalks a song that hasn't been aging too well. It has 23 million streams. Are You Ready was #1 in New-Zealand and released to radio stations in most countries but can only claim 10 million streams up to now. It's still much better than Rock Your Heart Out, the last airplay single, which has a dreadful 2 million streams. This is actually less than some cuts, including Fire Your Guns which is over 10 million.
37. 1992 – Whitney Houston – The Bodyguard – 370,895,000
We can already touch the much higher presence of female singers as Whitney Houston is our second after only 4 albums. She manages the list with her inevitable The Bodyguard, one of the greatest selling albums of all-time.
Of course, some may say this isn't an album of miss Houston since she sung only 6 songs out of 13. Truth is, these 6 songs account for 360 million streams out of the total of 371 million. On average, her songs are streamed 37 times more than the other ones.
I don't need to say that the lead single I Will Always Love You was #1 pretty much everywhere. It's still often voted among the best love songs ever and has got 198 million streams on Spotify. A strong hit upon release too I Have Nothing retains also an impressive popularity with 104 million spins.
I'm Every Woman was Top 5 in most markets while Run To You failed the Top 10 more often than not, but streamers rate them on par with 22 million and 23 million streams, respectively.
36. 1999 – Smash Mouth – Astro Lounge – 375,661,000
Likely the most unexpected album of the list, Astro Lounge from the American rock band Smash Mouth lands at #36. A triple-Platinum album by 2000, it contains the modern day classic All Star. A #4 US hit, the song gained worldwide recognition thanks to its extensive usage on Shrek movies.
If the franchise has been losing ground for many years, the song's popularity continues. It has an incredible 353 million streams to date, the 8th highest total of a song from the 90s.
Then The Morning Comes, a #11 hit less than 20 years ago, is now forgotten with only 4 million streams. Its the 3rd total of the album, as the second is Can't Get Enough Of You Baby at 7 million. The rest of it is fairly weak with Home being as low as 282,000 streams. That's the second worst low from an album in this ranking.
35. 1995 – Alanis Morissette – Jagged Little Pill – 376,589,000
The album of a generation, Jagged Little Pill doesn't miss the party with its impressive total of 377 million streams in spite of no song reaching 150 million. We may call Alanis Morrissette an one-album wonder, but what an album that was!
The signature song of the singer, Ironic, is up to 141 million streams. Considering its stature, it may be running under its potential, but it can be newly actived anytime in the future by a movie or a commercial ad. Then, You Oughta Know (67 million), Hand In My Pocket (53 million), You Learn (40 million), and Head Over Feat (31 million) all reach significant numbers. All I Really Want, the album 6th and last single, is the only one that has dropped since then with 11 million streams. Album cuts average a consistent 5,4 million.
34. 1994 – Cranberries – No Need To Argue – 384,732,000
One of the most global rock bands of the 90s, the Cranberries join the list with a sizable 385 million streams. One more evidence of the growing impact of female singers, No Need To Argue smashed everywhere in 1994/1995 thanks to the ground breaking hit Zombie. The #1 hit in Germany, France, Australia, Belgium, and Denmark among others wasn't released in the US in physical format, preventing a Hot 100 entry. It was #1 inside the Alternative Songs chart though. Surprisingly, its weakest showing came in the UK where it peaked at #14, although it sent the album to #2.
The song's success is still strong with 271 million streams to date. No need to say that the unexpected passing of the singer Dolores O'Riardan in January 2018 boosted its results for some time, even if the track has always been doing well.
Ode To My Family hasn't performed too well on charts at the time, with Top 10 placings only in France and Australia among the most relevant markets. It was mostly due to the album's high sales and continuous strength rather than a lack of success. This song continues to do well too with over 60 million streams to date.
The album has no more well remembered song as the rest of its track list is under the 10 million criteria, but with more than 2 million for each song there is still interest in the album in its entirety.
33. 1998 – Lauryn Hill – The Miseducation Of Lauryn Hill – 386,838,000
The iconic Lauryn Hill sends her only studio album to date to #33 with impressive all-around numbers. In spite of all controversies surrounding the diva, The Miseducation Of Lauryn Hill remains the songbook of teenage black Americans from late 90s and early 00s.
Former US #1 hit Doo Wop (That Thing) is still the most remembered song of the disc with an healthy 153 million streams. Top 40 hits Ex-Factor and Everything Is Everything are consistent too at 57 million and 25 million, respectively.
While these were the only 3 proper singles, several more found solid airplay on R&B stations. Thanks to that, Nothing Even Matters, To Zion, and Lost Ones, are all on 20-26 million streams. The entire album has been played at least 5 million times which illustrates well the importance it took for many people.
32. 1991 – Guns N Roses – Use Your Illusion II – 389,576,000
After seriously challenging Thriller on 80s list the Guns N' Roses are back in force for the 90s ranking with their album Use Your Illusion II. Their 1991 double release was a perfect era as both recorded notable hits while catapulting the popularity of their debut Appetite For Destruction where it had yet to explode.
Although it was titled II, it received the first single of the pair of albums with You Could Be Mine. It was a minor hit in the US, not going higher than #29, while hitting #3 in the UK. Since it got time to accumulate interest, that was still enough to shot II ahead of I on first week sales in both the US and the UK. The track isn't too strong nowadays by the band's standards since it is up to 52 million.
Then, as the promotion switched the focus to I, II started slowing down. By April 1992, the album was selling at a slow pace, being already out of UK charts and outside the Top 50 in the US. It's when the second single arrived to support it, 11 months after the first, the cover of Bob Dylan's Knockin' On Heaven's Door. The song became their biggest hit to date in Europe. While its performance was modest in the US, where it wasn't physically released, it records the highest streaming number of the album at 177 million.
Third single Yesterdays is nowhere near as popular nowadays at 21 million. The fourth one Civil War was issued nearly 2 years after the first. It was a good idea to release it still since it has a solid 63 million streams. The era was concluded with Estranged already into 1994 so the single naturally performed poorly since everyone interested in the group already owned the LP. It does ok right now at 28 million streams. Album cuts range from 5 million to 10 million.
31. 1996 – Spice Girls – Spice – 400,635,000
We completely change of style with the peak of the girl power, Spice Girls' Spice. It's a struggle to find a country where the lead single Wannabe wasn't a chart topper. This is a pretty mind-blowing feat for a debut single, thus of an artist that had yet to build its fan base. It's all the more impressive considering that by then there was no TV singing contest to get popular before a debut release.
This barely tells the stunning strength of this song. An iconic single of the 90s, Wannabe gets just as much love currently with 291 million streams. Its the 19th most streamed song from this decade and 3rd among female songs.
Spice contained 3 more chart toppers in the UK, a pair of which made the Top 5 in the US. They are nowhere near Wannabe by now, but they still record very decent numbers. Both 2 Become 1 and Say You'll Be There are over 34 million. The last UK #1 was actually a double A single, from it Who Do you Think You Are is on 18 million and Mama is at 11 million. The rest of the album averages 2 million plays per track, precisely what was needed to put the record over 400 million cumulative streams.
30. 1995 – Smashing Pumpkins – Mellon Collie And The Infinite Sadness – 403,302,000
One of the rare rock bands that included female musicians, Smashing Pumpkins is also one of the few artists who have a true fake Diamond album. That one is precisely Mellon Collie And The Infinite Sadness.
2 CDs / 121 minutes long, it was certified Diamond in the US for 5 million actual sales since each CD count as 1. This takes off nothing from the huge success this era has been. Their previous album sold over 4 million units in the US with no single at all reaching the Hot 100, but 3 of them made the Top 10 Alternative Songs ranking. Mellon had a similar trajectory at a higher level.
None of its singles made the top 10 of the Hot 100. In fact, the band never reached it in their career. They peaked at #2, #1, #9, #5, and #2 of the Alternative Songs chart though, which proves they were highly successful over their target audience.
The one that made the top of this genre chart and also #12 of the Hot 100 was 1979. It's still the most popular song of the album with 144 million streams. Bullet With Butterfly Wings is a strong second at 83 million while Tonight, Tonight does well too at 62 million. The last song with significant numbers is Zero at 28 million. The album has 24 additional songs which add for 87 million streams with all of them topping the 2 million mark.
29. 1991 – R.E.M. – Out of Time – 405,131,000
They may have lost their religion but certainly not their followers. R.E.M. secure a top 30 placing with their 1991 album Out Of Time which does happen to be timeless. In a way similar to Metallica, R.E.M. started off slow in 1983, increased steadily its audience as an underground act during the 80s until crossing over the masses in 1991.
They did so thanks to the iconic hit Losing My Religion. Shockingly, it peaked only at #19 in the UK. It got a lot of airplay and attention yet, paving the way to Shiny Happy People which went #6, their first Top 10, 2 months later. In the US, these songs peaked at #4 and #10, respectively.
As it happens quite frequently, the single performed ok only mostly because its main purpose was to boost the parent album. Losing My Religion rocketed Out Of Time to #1 in the US, the UK, Canada, the Netherlands, Austria, France, and Italy while also smashing in Spain, Australia, Germany, and more. The single has a massive 309 million streams to date, which shows how popular it still is. Shiny Happy People comes next at 69 million.
Former Top 30 UK singles Radio Song and Near Wild Heaven are now completely forgotten at around 4 million streams each. They barely outperform album cuts which average 2.7 million.
28. 1996 – Fugees – The Score – 412,018,000
After meeting Lauryn Hill we go heads up with her former band, the legendary R&B group the Fugees. They debuted with the low selling album Blunted on Reality in 1994 but then completely reversed the trend with sophomore effort The Score. Their breakthrough and final album, it is fairly unique in that it broke various global markets, something rare for 90s R&B albums which used to do well only in the US.
In France, the album went to #1 while selling 1.21 million units. #1 also in the US, Germany, the Netherlands, Canada, Belgium, Switzerland, Austria, Norway, it was an impressive smash. The group actually did a double since the single which made them super sellers, Killing Me Softly, went to #1 in even more countries, except in the US where its lack of physical release prevented it from entering the Hot 100. Fun fact: the song was actually also #1 in the US, but through the version which popularized the song by Roberta Flack in 1973, the original was sung by Lori Lieberman in 1971. For those wondering which song was referenced to in the sentence Killing me softly with his song, it was the huge classic American Pie by Don McLean, an 8-minutes title portraying America and in higher details the history of the rock music scene. This song paid itself tribute to Buddy Holly's 1957 hit That'll Be The Day. Incredibly, all songs of this filiation went to #1 in the US and remain considered all-time greats. Obviously, American Pie was also covered in a lyrics-truncated version by Madonna, a version that got to #1 in the UK and in various European countries.
Back to The Score, Killing Me Softly is naturally its best performer with 172 million streams. Subsequent single Ready or Not, another UK #1 hit / airplay-only single in the US, stands on 109 million. The single which was actually the leading title, Fu-Gee-La, has a consistent 55 million streams. Bob Marley's No Woman, No Cry cover is up to 32 million on its side. Album cuts range from 3 million to 11 million.
27. 1997 – Verve – Urban Hymns – 423,061,000
We move back to the UK with a new member of the Britpop era, the Verve, and its cult album Urban Hymns. Even if they never made the Top 10 in the UK's top singles and albums charts during their first pair of eras, their first was going to put them at the very top of the country's market.
This happened when Bitter Sweet Symphony came. It peaked at #2 only but was instantly and massively praised, raising exponentially expectations on their yet to come album Urban Hymns. While the band could have hoped for a Top 10 album considering their chart history without this hit, the single was so ridiculously huge that it debuted with over 250,000 units sold. It was only one of its 12 weeks at the top. This immaculate run and years of catalog sales led it to over 3.3 million units sold to date to make it one of the UK's greatest selling album of all-time.
Worldwide, it was more of an underground hit at first with Top 20/40 placings in most countries, hence the cult reference. Obviously, it has since become a global classic which is demonstrated by its 294 million streams.
Follow up single The Drugs Don't Work, a #1 in the UK, has 44 million streams to date. It is topped by Lucky Man at 47 million, while the last single Sonnet is up to 21 million. The rest of the album is much less streamed nowadays with some songs dropping below a million.
26. 1991 – Michael Jackson – Dangerous – 425,459,000
The legendary king of pop Michael Jackson registers a unique, priceless achievements: it makes the list of most streamed albums for a 4th decade in a row. As part of the Jackson 5 in the 60s list or as a solo act in the 70s and the 80s, he has got hits with lasting appeal that spanned all these decades. The main complexity resides in that genre trends tend to last from 4 to 6 years and artists are usually linked to one of them only. He first made these rankings with a pure Motown R&B album, then with a Disco-Funk LP, then with Pop records and now with an album which pioneered modern R&B.
Expectedly for the artist, the album Dangerous is full of hits. The biggest one was the first, the worldwide #1 clip Black Or White. It has 165 million streams to date. Remember The Time is a distant but solid second at 77 million. Then, what impresses the most is the density rather than the magnitude of streams. Heal The World is at 49 million, Will You Be There at 30 million, Jam at 19 million, Who Is It at 18 million, In The Closet at 16 million, and Give In To Me at 15 million. That's 8 tracks over 15 million. The only former single under this mark was the 9th one, Gone Too Soon, released on World AIDS Day as a tribute to Ryan White.
The surprise of the album comes from its closing title track. Never issued as a single, Dangerous gained traction and now records an impressive 17 million streams. The remaining album cuts are all over 3 million. The album ends up on a very high 425 million total in spite of numbers which can individually disappoint. It's the same syndrome as with Bad and Thriller where the record is so full of hits that they can't all be included on relevant playlists, dividing into each other the exposure from this avenue.
25. 1999 –
Destiny's Child
–
The Writing's on the Wall
–
439,073,000
If a new generation of pop divas emerged in late 90s, new R&B icons also arrived. One of them was the Beyoncé-led group the Destiny's Child. They've got a big hit in No, No, No in early 1998, but their first album to truly raise their stature among the general public was The Writing's On The Wall. Its popularity continues to be very high.
The album is home to one of their biggest hits, Say My Name. The US #1 hit rides on 250 million streams. The 31th most streamed song of the decade, it leads all R&B tunes. This era also produced the opening #1 single, Bills, Bills, Bills, which isn't as strong but still a healthy hit at 52 million. Last but not least, the #3 single Jumpin', Jumpin' is on its way to break through the 100 million streams bareer.
Bug A Boo was arguably weaker upon release peaking at #33 in the US and remains weaker to this date with a more modest 11 million streams. Album cuts usually range from 1 million to 3 million except So Good which registers a solid 6 million.
24. 1997 – Radiohead – OK Computer – 447,240,000
Unanimously regarded as the greatest post-Classic rock album, if not as the greatest of all-time, OK Computer added commercial success to its critical relevance. In the meantime, Radiohead add a second entry to the list.
When the record was first issued, its label though that it wasn't going to sell well because there was no single targeted for radio airplay. Someway, they were right. Out of the 3 singles, only Karma Police dented into the US Top 75 Airplay chart and it did so by reaching only #69. They have underestimate the rave reception and how it was going to build significant catalog sales through the years yet.
The thing is, OK Computer isn't a 1997 album. It's the album which portrayed the world as it was going to be for the next decades, the kick off of the internet era and the first deep analysis on how it was going to change the society.
Of course, their homeland supported the album from day 1. Paranoid Android (#3), Karma Police (#8), and No Surprises (#4) were all top 10 hits, even if their runs were short lived. OK Computer debuted at #1 with 136,000 sales, a huge figure although well below new albums by Oasis (696,000) and the Verve (250,000) from the same year. The illustration of a success that hasn't entirely break the masses, the record still sold well over 1,5 million units to date in this country alone.
The trio of singles explains this catalog appeal since they are still hot at 63 million, 133 million, and 94 million streams, respectively. Additional songs have become classics on their own like Exit Music (30 million), Let Down (26 million) and Airbag (20 million). The weakest track is the cult computer-sung Fitter Happier at 9 million. While this confirms its status of classic album, it also confirms that even the most praised albums ever still sell thanks to their hits. In fact, its low is topped by multiple albums in this list and its catalog sales have been almost entirely canceled once The Best Of was issued in 2008.
23. 1999 –
Backstreet Boys

– Millennium – 452,520,000

Yes, rock music fans may come close to a heart attack, but the Backstreet Boys' Millennium edges ahead of OK Computer. The irony is that its consistency isn't even bad as every song on it is on 3 million streams or more.

There is countries where the hype wasn't so strong like in France or in the UK, but elsewhere the release of Millennium was an earthquake. In the US, it was the first album ever to sell over 1.1 million units at retail in its debut week. While internet, through pre-orders and general awareness of the release date, made it easier to debut big in later years, back then this was a mind-blowing figure.

This anticipation was built by their previous successes but also by the monster lead single I Want It That Way. It remains one of the signature songs of 90s' pop music with 312 million streams, the 12th highest score of the decade and #1 among pure pop recordings. Singles 2 and 3, Larger than Life, and Show Me the Meaning of Being Lonely, have close numbers on 48 million and 44 million, respectively. The final, lower-profile single The One is on 15 million.
22. 1991 – Guns N Roses – Use Your Illusion I – 452,822,000
The solid run of the Guns N' Roses goes on as Use Your Illusion I perform strongly, hitting #22 of the decade. As previously explained, the promotional plan was kinda weird for these pair of albums with singles switching from one to the other. While that led II to get singles with extensive delays between each, for I this was synonymous of a fast-paced trio of singles issued from September 1991 to February 1992 and that's it.
The one in the middle, Live and Let Die, was a moderate hit and record also moderate streams for their standards at 52 million. The remaining two singles are classics of 90s rock though. Don't Cry runs over 109 million while November Rain posts an impressive 217 million.
This album has the biggest hit of the pair of LPs but is slightly less consistent with deep cuts going from 4 million to 9 million streams. That still concludes on a total of 453 million.
21. 1999 – Eminem – The Slim Shady LP – 459,925,000
Eminem is arguably the biggest of all artists who first appeared in late 90s and who were called to dominate the 00s. He did so successfully, now belonging to the greatest selling singers of all-time, thanks to both initial impact and lasting appeal.
His major label debut The Slim Shady LP was an immediate success. Preceded by the single My Name Is, it shot to #2 in the US. This track remains a classic with 164 million streams. Surprisingly, it was the only Hot 100 hit of the era, peaking at a modest #36 position in the US. The lack of physical availability doubled with weak airplay limited the impact of singles in their dedicated ranking.
They gained wide recognition though. Guilty Conscience has 63 million streams, Role Model 43 million and Just Don't Give A Fuck, which was issued several months before the album, has 32 million. If you do the maths, we are still far away from 460 million streams. We can't underestimate the incredible force of Eminem's popularity. The 10 complete songs of the album add for nearly 14 million plays a piece. It also has 4 skits, short, transitional themes of the record, which average 5 million streams each. The last two skits have virtually no stream since they fall below the limit of 30 seconds.
20. 1992 – Rage Against the Machine – Rage Against the Machine – 461,045,000
A cult album during many years, the eponymous debut album of Rage Against The Machine ultimately reached a wide audience. The band were pioneers of the rap metal genre that was going be extremely popular in later years with groups like Limp Bizkit and Linkin Park.
The LP was an underground hit, going to #17 in the UK and #45 in the US. Word of mouth ended up pushing it to around 6 million copies sold globally. Home to 4 singles, which also remained underground hits initially, it contains the iconic song Killing in the Name. A #25 single in the UK upon release, the track went to #1 in 2009 with over 500,000 units sold during Christmas week. This insane figure was obtained after a Facebook campaign that picked this protest song to prevent X Factor's winner to hit the top of charts one more time. The movement was a success, but ironically the appropriately titled The Climb by Joe McElderry still made the top one week later.
Killing in the Name had already gained a large following before that, frequently appearing inside iTunes' Top 200 charts from many markets. It has a superb 251 million streams to date. Apart from this massive single, the album has as many as 5 songs on 25-50 million streams each. They are Bombtrack (49 million), Know Your Enemy (35 million), Wake Up (32 million), Take The Power Back (27 million), and Bullet in The Head (25 million). The remaining 4 tracks are healthy as well with an average of over 10 million.
19. 1993 – Nirvana – In Utero – 476,396,000
While the big question of this ranking is whether or not Nevermind hits #1, we can't pass on the great performances of Nirvana's follow up effort In Utero. If it doesn't enjoy the universal acclaim of its predecessor, this 1993 record is still beloved by most.
Fueled by the opening single Heart-Shaped Box as well as follow up anticipation, the album debuted at the top of both the US and UK charts. The song is still huge at 166 million streams to date. Double A single Rape Me / All Apologies got to #1 on US Alternative charts. Nowadays they register 72 million and 68 million streams, respectively.
As one could expect considering how many fans the band has and how short their catalog is, all their tracks have relevant numbers. Dumb is at 49 million, Pennyroyal Tea at 34 and the rest of songs on 8-15 million each. Radio Friendly Unit Shifter is the only track out of 12 to drop below the 10 million mark.
18. 1998 – Offspring – Americana – 500,089,000
Coming close to the 300 million mark with their 1994 album Smash, Offspring does make the list as America lands at #18. It's the first album of the ranking to break half a billion cumulative streams.
The flop of their 1997 effort Ixnay on the Hombre decreased a lot expectations for the band who was poised to become a one-album wonder as Smash was their only big selling era out of 4. Debuts of Americana showed just that. In the US, in spite of the former's huge sales, this one started at #6, dropping out of the Top 10 the following week. In the UK, it was even much worst with an opening at #75 and then a drop out of the Top 100.
Quickly Pretty Fly (for a White Guy) gained traction yet. It topped charts in a dozen of countries while peaking at #53 in the US due to the absence of physical format. This success obviously did wonders for the album which climbed to a new peak of #10 in the UK and #2 in the US. The song has 133 million spins to date on Spotify.
Why Don't You Get A Job? pursued this golden road, smashing in most countries too. Peaks were lower in general since more and more people was picking the album, but its success was out of question. It still is since the song is up to 92 million streams.
The phenomenon was even more marked for the third hit The Kids Aren't Alright, failing the Top 10 everywhere. It kept the album afloat though while entering recurrent playlists on radios. Its profile increased as a result through the years. Right now it eclipses remaining singles with 194 million streams, a huge figure especially considering the moderate reception. A trio of songs as popular is well enough to make an album heavily popular, its cuts are still great performers as well, all over 4 million and with a 10 million average.
17. 1998 – Goo Goo Dolls – Dizzy Up the Girl – 501,550,000
Another strong alternative rock album of the 90s is Dizzy Up The Girl by Goo Goo Dolls. The band debuted very slowly with their first 4 albums going unnoticed. They've got a first hit from their 5th when Name went #5 of the Hot 100.
In 1998 they returned with the single Iris made for the City of Angels soundtrack. The song was also included on their 6th studio album Dizzy Up The Girl. The track was so powerful that it largely contributed in selling over 5 million copies of the former and 4 million copies of the later, in the US alone.
A massive crossover hit the song quickly climbed airplay rankings of various genre from rock stations to adult contemporary ones. It led the overall Billboard airplay list for an all-time record 18 weeks. Prevented to enter the Hot 100 as it wasn't available for sale, rules changed once the song was already going down, which concluded on a weird #9 entry and a quick fall out. The UK missed the song at first, it peaked at #50. It was reissued and re-peaked a year later at #26, until ultimately hitting #3 in 2011 when covered on X Factor. The song has been on charts for over 5 years. This enduring appeal is also visible with streams where it is up to 371 million, the 6th highest total of the decade.
Next to this figure everything seems weak but remaining songs Slide (73 million), Black Balloon (24 million), and Acoustic #3 (17 million) also do well. Some deep cuts are much weaker though with some of them falling below 500,000 rotations.
16. 1994 – Mariah Carey – Merry Christmas – 525,531,000
While none of her 6 traditional studio albums make the list, with only Daydream not being too distant at 260 million, Mariah Carey can always rely on her Christmas material to feature on all 90s lists. Merry Christmas and its iconic single All I Want For Christmas Is You rank at #16 with an impressive total of 525 million streams.
Up to 412 million combined plays, the festive standard is the 3rd most streamed song of the decade and more than 200 million ahead of Whitney Houston's I Will Always Love You, the following solo female song. Even if it will gain millions of streams in the upcoming run up to Christmas, the song will struggle to catch the Top 2 though as they are over 160 million and over 70 million ahead. She may top the later by December 25 but will be topped back quickly afterwards. More on them later since they are yet to come. One more realistic target for the song may be to hit #1 in the UK. A #2 song both in 1994 and 2017, 2018 was supposed to be its year. The now heavily manipulated OCC chart where songs that aren't actively promoted see their streams artificially divided by 2 may imply the diva will have to wait again until her first solo #1 since February 1994.
As for the remaining songs of Merry Christmas, they have got sizable streams for non-singles. Christmas, Santa Claus Is Comin' To Town, and O Holy Night, are all over 20 million while deeper cuts stand on 5 million to 10 million.
15. 1997 – Foo Fighters – The Colour and the Shape – 549,640,000
When we think about Nirvana, we think about Kurt Cobain. It's an error though. Apart from the also talented Krist Novoselic, the group was completed by Dave Grohl. This latter went on to form and lead the band Foo Fighters which also achieved tremendous success.
Their rise to the top was slower, less impactful but their catalog is now highly valuable and the band is a household name of the rock music scene. A good part of this reputation come from the album The Colour And The Shape.
Monkey Wrench went #12 in the UK, Everlong #18, and My Hero #21. If these singles haven't take charts by storm, they are staples of rock radio stations, especially Everlong.
Its popularity hasn't stop growing in recent years. Logically, its streams are massive at 326 million, the #9 most streamed song of the 90s. My Hero is also in 9 digits at 109 million while the third single Monkey Wrench is on 60 million.
Album tracks feature between 3 million to 7 million, except Walking After You which stands on 14 million.
14. 1994 – Various Artists – The Lion King – 571,433,000
There isn't many entertainment franchises which have been as successful as The Lion King. The first movie was a massive hit at the box office with nearly $1 billion grossed. At the time, it was the second highest grossing movie ever just behind Jurassic Park.
On its side, the VHS became the all-time top seller with 32 million units sold in the US alone. Later DVD and Blu-Ray releases add for 15 million in this market. The soundtrack too was incredibly successful with over 7 million US sales and 10 million units shifted abroad.
Its popularity isn't slowing down. Incredibly, The Lion King is one of the only 2 pre-2000 albums which contains 4 songs over 100 million streams. Elton John's Can You Feel The Love Tonight leads the way at 170 million, his Circle Of Life is second at 117 million, I Just Can't Wait To Be King is third at 104 million and Hakuna Matata stands on 101 million. Of course, these figures include local versions of each songs. Both Be Prepared and This Land top 20 million while album cuts are at 5-10 million. With a CGI remake scheduled for July 2019, Lion King's success still has a bright future to come.
13. 1994 – Green Day – Dookie – 606,027,000
We come always closer to the top 10 with the first 600-million streams topper, Green Day's Dookie. After two modest albums, the group seriously stepped up with this 1994's effort.
It started slow with Longview peaking at #93 in the UK, then Basket Case at #55, and Welcome To Paradise at #20. This rising popularity led the label to re-release the previous 2 singles in reverse order. That's when Basket Case became a Top 10 hit, reaching #7, while Longview improved its best to #30. When I Come Around closed the era at #27. All of them minus Paradise went #1 in US Alternative songs chart, with the former hitting #7 and She #5.
Obviously, all these songs supported the album which sold millions of copies through the months. The prime example is the one of the UK where the album moved over a million copies in spite of a #13 peak.
Basket Case is arguably the most popular track of the album with a massive 285 million total of streams. When I Come Around has been played 117 million times, Welcome To Paradise 52 million, Longview 39 million, She 29 million, and the opening track Burnout 16 million. The entire track list is over 5 million to make Dookie one of the biggest classics of the 90s.
12. 1991 – Pearl Jam – Ten – 621,836,000
One more alternative rock album of the 90s, Ten by Pearl Jam is often presented as the direct challenger of Nirvana's Nevermind. Both late 1991 albums, both from Seattle's bands, both US Diamond albums, shockingly for many global fans the top seller in their native country is actually Ten.
You don't top Nevermind with weak nor average tracks. Apart from Deep, all songs of the album have at least 12 million streams. Of course, its biggest tracks are the ones which boosted the most the LP still.
If The Lion King has 4 songs over 100 million, Ten is very close to this feat too. Alive is up to 157 million, Even Flow to 141 million, Black to 135 million, and Jeremy to 98 million. While none of them made the Hot 100 nor UK's top 10, they are all recurrent hits of classic rock stations, deservedly considering their impressive appeal.
11. 1996 – Sublime – Sublime – 634,591,000
The 4th and last album of Sublime is a unique record. Not by its ska-punk genre, but by own deep its success came. In fact, the band broke over the masses in the US and peaked an entire year after the passing of their lead singer Bradley Nowell.
Their first 3 albums and their singles never made a single Top 50 chart, in no country. The news of their leader's death raised a bit the anticipation in the posthumous self-titled album, which was already completed before the sad event. Still, the band's popularity was so modest that it debuted at #62 only.
Soon, What I Got gained traction on Alternative radios, ultimately hitting #1. Then Santeria and Wrong Way did very well too, both peaking at #3 there. The album responded, climbing to the Top 40 for nearly a year, peaking at #13. Doin' Time was also released which means this posthumous era was promoted for 18 months just like any other album, which is something truly special. It's US sales went on to top 5 million units thanks to years of huge catalog sales.
The album never got attention from elsewhere though, not even going Silver in the UK, so one shouldn't expect much from its streams. That is a mistake. Santeria and What I Got are incredibly strong with 214 million and 162 million streams, respectively. The two additional singles break 50 million each. Some album cuts like Caress Me Down (37 million) and Garden Grove (25 million) are also impressive. No track drops below 4 million.
Higher Ground gave the Red Hot Chili Peppers their first moderate hit in 1989, but it's really the album Blood Sugar Sex Magik which made them superstars. The era started with Give It Away which made them big among the rock community, hitting #1 on US Alternative rock charts, but it's Under The Bridge that crossed over the general public, going to #2 inside the Hot 100.
Their streams are consistent with this situation. The subsequent success of various albums from the band facilitated even more recurrent airplay with these songs. Give It Away is now on 94 million streams while Under The Bridge is the first song we met that is over 400 million. This absolutely gigantic figure, demonstrating an extensive and widespread appeal, is the 4th highest from a 90s song.
Suck My Kiss and Breaking The Girl were both issued to close the era. Moderate hits at first, they are still not massively popular but retain some success with 60 million streams combined. Album cuts are all consistent with most tracks registering around 5 million plays.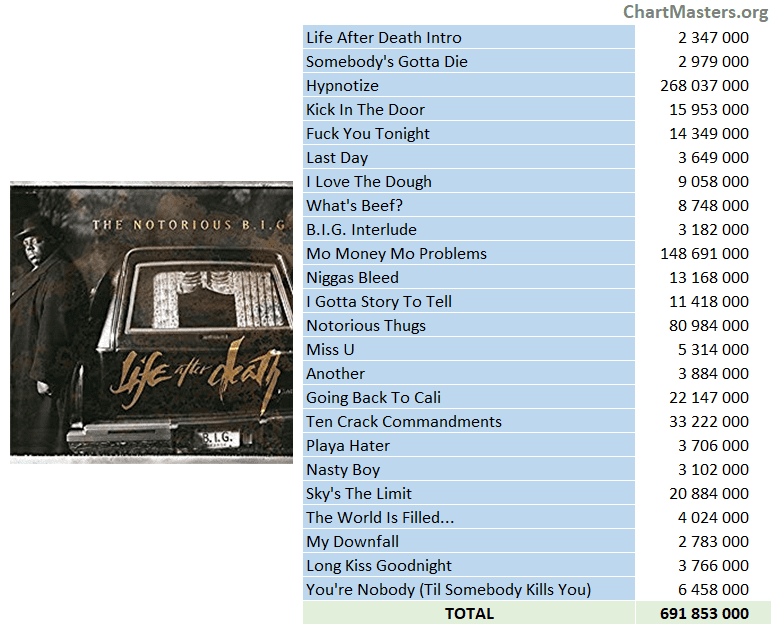 We face the second posthumous release of our list with the iconic Life After Death by rap legend Notorious B.I.G. He debuted a few years before with the previous album, Ready To Die, which was already a great success among rap fans although it wasn't a cross over hit. His profile increased once again in 1995 when the song One More Chance went to #2.
A pair of weeks before the arrival of Life After Death, the rapper was shot to death while a terrible climate was surrounding their industry after the murder of 2Pac a few months before. This naturally raised a lot the awareness of the new album as well as its expectations. Lead single Hypnotize did nothing but increase even more the phenomenon, topping the US singles charts for 3 weeks. It is now one of the most popular rap songs of all-time with an incredible tally of 268 million streams.
Follow up release Mo Money Mo Problems climbed to the top too, also reaching the Top 10 in most English-speaking markets. With hip-hop getting bigger and bigger in recent years, this classic hit remains a great performer at 149 million streams.
The legendary status of the album led various tracks to gain both airplay and recognition. Some 20 years later, songs like Notorious Thugs (81 million) and Ten Crack Commandments (33 million) are well known. There is 6 more songs topping the 8 digits level and 14 ranging from 3 to 10 million.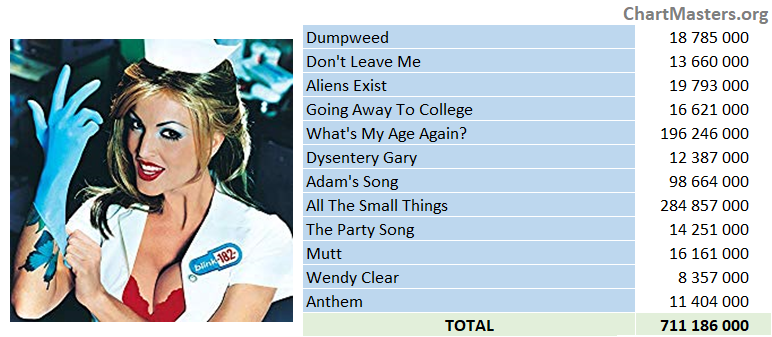 It wasn't well received by all upon release but time gave back its merits to Blink-182's Enema of the State. Judged too pop from fans and specialized magazines, the album is now regarded as a modern day classic.
The commercial performance wasn't even that big. The LP peaked at #9 in the US and #15 in the UK. What's My Age Again? paved the way to its success, a #58 single inside the Hot 100 it gained significant airplay from rock stations. With 196 million streams, the song is absolutely huge on Spotify.
All The Small Things broke the main audience for the first time for the group. It went to #6 in the US, #2 in the UK, and #8 in Australia, among other great performances. It retained its audience through the years concluding on 285 million streams. The 3rd single did better than retain its audience since Adam's Song had very few impact previously but now records nearly 100 million streams. The 9 album cuts are just as impressive since they average nearly 15 million streams.
7. Notorious B.I.G. – Ready To Die (1994)
Notorious B.I.G. impresses with a second album inside the Top 10 of the decade. Widely regarded as one of the greatest rap albums of all-time, Ready To Die went on to become a sales beast after starting slowly.
The best illustration of this rising profile is Juicy. Upon release it did well hitting #3 on rap charts while going to #27 inside the Hot 100. Well but nothing massive. Its streams right now certainly are, the song stands on 256 million. Back then Big Poppy became the icon's first Top 10 crossover hit, its fame isn't going down with 196 million streams.
The only 2 singles during the initial promotional campaign of the album, they are joined by 4 more songs up to 30-50 million, numbers usually seen from former crossover hits only. The density of the record is incredible as 8 more tracks register from 10 to 20 million spins. Basically all songs are near this level except interludes which are logically lower.
6. Metallica – Metallica (1991)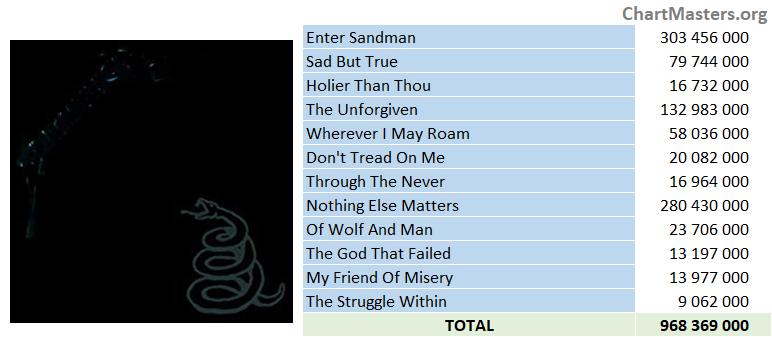 Now that we mention classic albums, we do a jump of more than 200 million streams to reach Metallica's self-titled 1991 LP. Since they flooded the 80s list, it is no surprise to see them present with this absolute blockbuster.
By 1991 the band had already built a following big enough to debut at #1 in both the US and in the UK, but the first single Enter Sandman made it so much bigger. The song went to #5 in the UK and #16 in the US, both huge peaks for a metal artist as they tend to have limited cross-over appeal. It obviously remains a massive track and its streams of 303 million only confirm that one more time.
The Unforgiven did well too and still does with a very healthy 133 million. By the end of its curse the album was already over 4 million sales in the US alone. If it wasn't needing more help, it got another monster push with third single Nothing Else Matters. Peaking at #6 in the UK and #34 in the US, it was extensively played on radio and still is. It has been listened to more than 280 million times on Spotify.
Wherever I May Roan and Sad But True concluded this immaculate era. They combine for nearly 140 million streams. All remaining tracks minus the epilogue register from 13 million to 24 million streams each, an amazing even if expected consistency.
From mid-60s we have been flooded with classic rock albums. From mid-90s 2Pac's All Eyez On Me kicked off what we may call the classic hip-hop era. Of course, pioneers like N.W.A. and Public Enemy released legendary albums, but they haven't break over the general public and made it a genre loved by all. The one that came the closest to achieve it before Eminem is nobody else but 2Pac.
Already a superstar before this album, the rapper led the Billboard 200 for 4 weeks with 1995's Me Against The World. This one also debuted at #1 in the US while starting to make some impact abroad. The lead single California Love / How Do You Want It was a massive hit in the US, leading the Hot 100 for a fortnight on an 11-weeks Top 10 stay. The former is one of the most popular rap songs of the decade with 192 million streams. The latter, along with 2 of Amerikaz Most Wanted, Life Goes On, and I Ain't Mad At Cha, the 4 remaining songs that got a release on radio, hit 40-60 million streams each.
While these singles are already huge streaming hits, they add for less than 400 million streams. That's where All Eyez On Me is truly mind-blowing: its album cuts total an utterly insane 650 million streams. If his tragic death only 7 months after its release gave the album a legendary status, its songs are still impressive nonetheless. Ambitionz Az a Ridah has to be one of the most outstanding performer among all non-singles. An anthem of the black culture, it is up to 191 million streams, purely fantastic. The title track is just as stunning with 121 million plays. Regarded as one of the very best rap albums of all-time, its 11 tracks at 35 million streams or more is also a record among all pre-2000 albums. The unique consistency of the album enable it to cross the magical 1 billion streams level.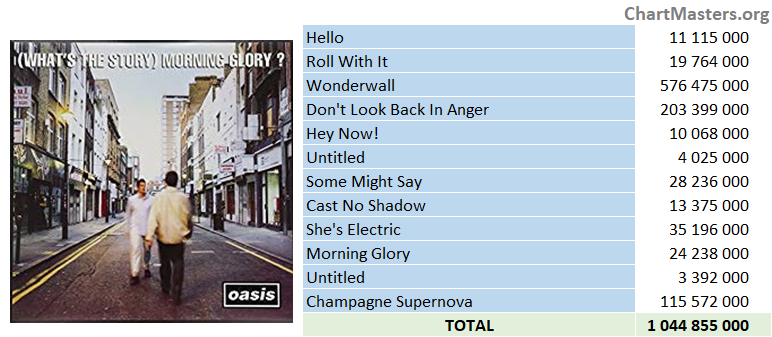 The greatest selling album in the UK from the 90s, Oasis' (What's The Story) Morning Glory is also the most streamed British LP from this decade. In spite of the huge competition and by a margin of only 1 million, the record secures the overall 4th position.
A good part of this incredible total is down to the brilliant performance of Wonderwall. The monster song tops at 576 million streams, not only the biggest number of the decade but also ahead by nearly 100 million plays. No matter the country you are, this song is always voted among the greatest ever. It has also been running ahead of Queen's Bohemian Rhapsody in the most streamed pre-2000 songs list although the current boost of the iconic 1975 track is pushing it ahead right now.
The record has 2 more songs in 9 digits. The first is Don't Look Back In Anger, a track that isn't as global as Wonderwall but that did and does wonders in Europe and in Asia. It is now up to 203 million streams. Champagne Supernova, a song that wasn't released physically in the UK but was elsewhere and received airplay since the start closes on 116 million.
The first 2 singles Some May Say and Roll With It lost a bit of their strenght, but the entire track list of the album is very strong nevertheless.
3. Red Hot Chili Peppers – Californication (1999)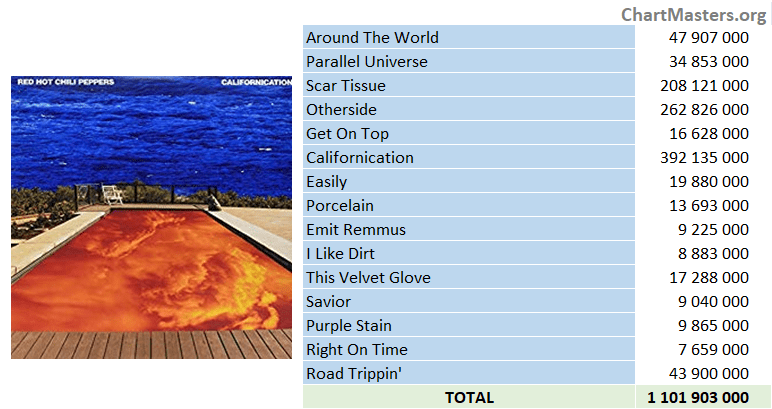 After failing to drop a new cross over hit from their 1995 effort One Hot Minute, the Red Hot Chili Peppers came back in full force with Californication. From today's perspective, it looks like this album was a huge blockbuster, selling bucket loads straight away. It wasn't though.
The LP grinded its success through various months. It peaked at #3 in the US and #5 in the UK while lasting only 1 week Top 5 in both. The US #9 hit Scar Tissue, issued as the lead single, kept it Top 20 / 40 in most countries though. It remains a classic song of this period with 208 million plays.
The second song Around The World hasn't done as well although it bridged the era to its third single, the iconic Otherside. If the former has a good 48 million streams, the latter, a #14 hit in the US, explodes at 263 million. A duo of songs over 200 million is already massive, but none of them is even the album's biggest hit.
The title track looked like a modest hit, peaking at #69 in the US and #16 in the UK. It received a huge amount of airplay though and sent the album back up on charts, to #13 and #9, respectively, its highest position in a year. After that, the single never really stopped to get airplay and the album never really stopped selling. Its streams never stop as well, standing at already 392 million, the #5 song of the decade.
Late singles Road Trippin' and Parallel Universe added even more strength to the album's legacy and continue to do so with nearly 80 million streams combined. Album tracks are impressive as well at 8-20 million each to raise the overall total of the disc to a stunning 1,1 billion streams. With this score, the band grants an impressive double inside 90s' Top 10.
2. Dr Dre – 2001 (1999)
Arguably the biggest shocker of the list, Dr Dre's legendary 2001 comes a few millions away from topping the 90s decade. It's impossible to value how important the producer has been for his genre. He was the leader of cult crew N.W.A., he featured on massive hits like California Love and No Diggity, he produced albums for Snoog Dogg, Eminem, 50 Cent, and many more, mentoring their careers. As it wasn't enough, he also issued super-powerful albums on his own, especially this star-studded effort.
Issued at the same time as Eminem's first albums, him and Dr Dre made rap truly global for the first time with this era. This record has 3 UK Top 10 hits, an unseen achievement for the genre back then. They also made an impact on countries like France and Germany where US rap wasn't a thing up to that point.
That impact is maybe bigger than ever now. The 3 UK Top 10 singles are just ridiculously big. Forgot About Dre has 220 million streams, The Next Episode has 309 million and Still D.R.E. leads them all at 356 million. The last two are the Top 2 most streamed rap songs for the decade, in a podium completed by No Diggity, a song by Blackstreet on which he was featured and that he produced.
The relevance of various album tracks have also been booming through the years with What's the Difference striking at 113 million. 2001 is one of the two albums of the decade with 4 songs in 9 digits, the other one is The Lion King soundtrack that has all of them at a lower level still. To make it short, 2001 owns the biggest 3rd, 4th, and 5th song out of all 90s albums. It completes this stunning all-around performance with an additional 257 million streams from its tracks 6-22 to bring the final total to an unbelievable 1,33 billion.
1. Nirvana – Nevermind (1991)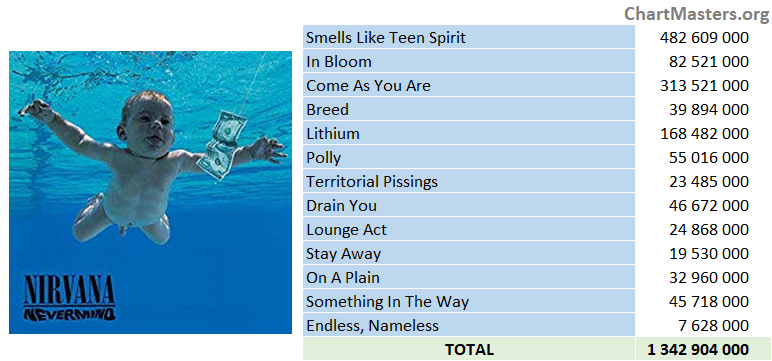 The #1 ranking seemed almost inevitable for the utterly iconic album Nevermind, and even if 2001 seriously challenged Nirvana's blockbuster it does come at the top. The LP of a generation, everything about it seems bigger than life.
Obviously, when we think about it we think about Kurt Cobain and his suicide at only 27. Famous member of the infamous 27 Club, we could also create a club of 90s icons who passed away at their peak. Cobain joins Sublime's Bradley Nowell, Notorious B.I.G., 2Pac, Elliott Smith, Jeff Buckley, Aaliyah, Selena, TLC's Lisa "Left Eye" Lopes, Eazy-E among others in a list that is way too long.
The singer was already an icon before the sad event. Nevermind too was already massive. It spent 123 of its 125 weeks until that day charting inside UK's Top 100 album chart, while it was still comfortably listed on Billboard's Top 200 too. When first released, the album entered on it on its second week only at a modest #144 ranking. The revolution brought by the lead single Smells Like Teen Spirit sent it all the way to the top in 3 months only. Top 10 in both the US and the UK, a tremendous result for a rock song at the time, the hit had an immediate and global impact. It was and still is so huge that its 483 million streams, the second highest score of the decade, look almost natural.
The following single Come As You Are went on to become a gigantic classic on its own. It charted lower than its predecessor in most markets, but only because its audience had already understood Nevermind was a masterpiece, thus massively purchasing it. With 314 million streams, the song largely contributes to the album's success. Speaking about that, it's only a matter of time before it ends up as the most successful album from the 90s.
Lithium and In Bloom don't seem as well known among the general public but their respective streams of 168 million and 83 million certainly demonstrate a huge appeal. The rest of the record is bloody amazing with 20 million to 55 million plays each. The only weaker track is Endless, Nameless, a song that wasn't part of the original and that debuted with a dozen of minutes of silence once it was added, thus much less people got to hear it regularly even if the current version on Spotify removed the initial blank minutes. The final total of 1,34 billion streams is the highest out of all pre-2000 albums.
Conclusion
Marked by extreme switches in genre, the 90s bring us a very diverse mix of albums that go from gangsta rap to metal music. For the first time, both urban and rock records are heavily represented at the highest level. What's fascinating is that after 10 years of Spotify and nearly 20 years since the end of the decade the battle for the #1 spot still goes on. Today, Nevermind is the leader, but don't rule out 2001 just yet.
As with every list, some are happy with their results, others aren't. The one who issued the highest selling catalog during this decade, Céline Dion, completely misses it by a large margin. Fellow female stars Enya and Janet Jackson are also absent, just like Britney Spears' debut. It isn't about gender though, not even genres. Not all songs age as well. Fact is, artists failing to hit the list also include various rock bands that had huge selling albums during the 90s. We can point out Hootie & the Blowfish, Creed, Bon Jovi, Aerosmith, Scorpion, Santana, and Blur.
If you missed them, don't forget to check lists of pre-1960 albums, and then the ones covering the 60s, the 70s, and the 80s. About next works, it would be unfair to compare streams of albums from 2000 to albums from 2009 so for the next decade we are going to publish yearly lists with only the very top ones from each. Not all great performers are obvious so stay tuned!
In the meantime, here is the Top 31 singles of the decade, all of which topped 250 million:
1. 1995 – Oasis – Wonderwall – 576,475,000
2. 1991 – Nirvana – Smells Like Teen Spirit – 482,609,000
3. 1994 – Mariah Carey – All I Want For Christmas Is You – 411,966,000
4. 1991 – Red Hot Chili Peppers – Under The Bridge – 405,633,000
5. 1999 – Red Hot Chili Peppers – Californication – 392,135,000
6. 1998 – Goo Goo Dolls – Iris – 370,961,000
7. 1999 – Dr Dre – Still D.R.E. – 355,887,000
8. 1999 – Smash Mouth – All Star – 353,171,000
9. 1997 – Foo Fighters – Everlong – 325,994,000
10. 1992 – Radiohead – Creep – 315,966,000
11. 1991 – Nirvana – Come As You Are – 313,521,000
12. 1999 – Backstreet Boys – I Want It That Way – 312,483,000
13. 1991 – R.E.M. – Losing My Religion – 309,338,000
14. 1999 – Dr Dre – The Next Episode – 308,897,000
15. 1990 – AC/DC – Thunderstruck – 307,362,000
16. 1991 – Metallica – Enter Sandman – 303,456,000
17. 1997 – Verve – Bitter Sweet Symphony – 294,135,000
18. 1999 – TLC – No Scrubs – 293,125,000
19. 1996 – Spice Girls – Wannabe – 291,264,000
20. 1996 – Blackstreet – No Diggity – 291,066,000
21. 1995 – Coolio – Gangsta's Paradise – 285,374,000
22. 1999 – Blink-182 – All The Small Things – 284,857,000
23. 1994 – Green Day – Basket Case – 284,730,000
24. 1998 – Various Artists – I Don't Want To Miss A Thing – 282,025,000
25. 1991 – Metallica – Nothing Else Matters – 280,430,000
26. 1994 – Cranberries – Zombie – 270,831,000
27. 1997 – Notorious B.I.G. – Hypnotize – 268,037,000
28. 1999 – Red Hot Chili Peppers – Otherside – 262,826,000
29. 1994 – Notorious B.I.G. – Juicy – 256,258,000
30. 1992 – Rage Against the Machine – Killing In The Name – 250,766,000
31. 1999 – Destiny's Child – Say My Name – 250,446,000