38 Must-Buy 70s Albums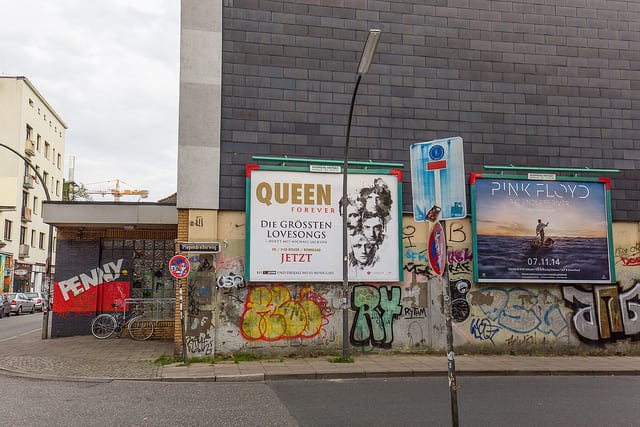 The decade-old streaming service Spotify is now close to 200 million active monthly users. While new music is always preferred, these subscribers still show plenty of love to 70s classics. If the Beatles were inevitable during the 60s, one can wonder who takes over the throne of the decade of hard rock music and disco?
One thing is safe, the most recent is a song the most it is streamed on Spotify. We already went from 10 albums over 100 million streams issued before 1960 to 33 over 200 million from the 60s. For the 70s, we raised the threshold to feature on our list to 250 million cumulative streams and still found 38 winners! Years-wise, these records are well balanced throughout the decade as there is at least one album from each year and 8 from 1970 and 7 from 1977.
In total, there is 28 distinct acts who reach this ranking. I can already tell you that nobody dominates this decade the way the Beatles dominated the previous one. They've got 9 entries on it while here there is only 2 artists able to secure 3 spots. Some albums are utterly big though as if we merge together albums released from 1960 to 1979, Abbey Road would be the only album making the Top 5 that doesn't come from the 70s. In terms of equivalent album sales, the most popular era of the decade is Hotel California by the Eagles, ahead of the Bee Gees' led Saturday Night Fever and Fleetwood Mac's Rumours. The decade also saw albums as big as Pink Floyd's Dark Side of The Moon and Led Zeppelin's IV come out. Which one of them leads streaming rankings? Or is it a dark horse that crushes them all?
Please read following titles as Rank. Artist – Album – Streams
38. 1973 – Aerosmith – Aerosmith – 255,159,000
The band Aerosmith debuted slowly. In fact, their eponymous album was a minor US hit upon release, so was its lead single Dream On. They peaked at #166 and #59, respectively. Some 45 years later, their profile continue to increase.
It was first boosted by the success of 1975 single Sweet Emotion that created interest on the band's back catalog. Soon, Dream On was reissued and became a Top 10 smash in their homeland.
Another subsequent hit, a sample of Walk This Way by Run DMC from 1986, boosted the popularity of Dream On too, this time in countries like the UK and Australia. Their 1987-1997 great run of success continued this trend that reached its peak with the global smash from 1998 I Don't Want To Miss A Thing. Ironically, Dream On is now more popular than most of the later hits that helped building its reputation globally. It has a huge 241 million streams to date, close to 95% of the album's plays.
37. 1972 –
Lou Reed
–
Transformer
–
256,181,000
Just like his former band Velvet Underground, the reputation of Lou Reed strongly exceeds its commercial success. If we look at his chart history in the US and in the UK, in singles charts and album charts, we see that he never made the Top 5 in his career.
Time only puts everything in its right place though. The David Bowie-produced LP Transformer makes an impressive entry with combined streams of 256 million. The highly explicit lyrics of Walk On The Wide Side appeals more than shocks nowadays, the song has 140 million streams.
Perfect Day is a consistent runner up. The B-Side of Walk On The Wide Side, the track became a classic on its own. Used on cult movie Trainspotting, it definitely reached wide appeal when it was covered by a star-studded cast for charity in 1998, hitting #1 in the UK while selling over 1,5 million copies there. It has 68 million streams to date.
Satellite of Love and Vicious have sizable streams too at 19 million and 14 million, respectively. Album cuts are all in the 2-4 million range, trademark of a classic album.
36. 1970 – Van Morrison – Moondance – 257,541,000
Although he got a big hit with Brown Eyed Girl three years earlier, Van Morrison's stardom was still limited by 1970. Moondance peaked only at #29 in the US, #32 in the UK. Its songs got solid airplay though, even if only Come Running made charts at #39.
Once again time passed and Come Running is now one of the tracks from the album that gets the least recurrent airplay. The title track is far and away the most played today with about 15,000 US spins per year, Morrison's second most aired song behind the aforementioned Brown Eyed Girl. Into The Mystic, Caravan, and And It Stoned Me are also all inside his personal top 10 while Crazy Love is close behind.
This exposure naturally increases the appeal of these songs on streaming platforms. In fact, these 5 tracks have 19-74 million streams each, a total of 225 million. On its side, Come Running has 5,3 million plays, the lowest number of all 10 songs from the original LP. This figure must be highlighted since very few deep catalog albums get more than 5 million streams from all their songs.
35. 1977 – Eric Clapton – Slowhand – 260,934,000
The career of Eric Clapton is so diverse, so long and so much linked to the history of rock and roll music that it's difficult to describe him through one album. While his top seller remains the Unplugged album from 1992, easily the highest selling live album of all-time, one of his strongest studio effort is Slowhand.
Blocked 5 weeks at #2 in the US behind Saturday Night Fever, the album became a hit on the back of the #3 single Lay Down Sally. Once again, time changed the map of success. Indeed, Lay Down Sally has a relatively modest 16 million streams while its former B-Side Cocaine is one of the biggest 70s songs at 138 million.
The second single of the LP Wonderful Tonight passes 100 million streams too. Its the first era we met with a pair of 100 million streams songs, but not the last as 9 more are yet to come.
34. 1977 – Electric Light Orchestra – Out of the Blue – 267,176,000
We tend to overlook Electric Light Orchestra and their numerous successes from 1972 to 1986. Their 15 UK Top 10 hits and their 14 US Top 20 hits aren't forgotten though.
They peaked with their 1977 LP Out Of The Blue, an album that remained hot for 18 months thanks to 5 successful singles. There is 4 of them which aren't so strong anymore. Turn To Stone, It's Over, Sweet Talkin' Woman, and Wild West Hero add for 47 million streams combined, half of which come from the former.
The big deal of the album is the last hit. Not so big upon release (#6 in the UK, #35 in the US), Mr. Blue Sky has a stunning 202 million streams to date. The song was featured in a dozen of movies, more recently on smash film Guardians of the Galaxy Vol. 2. TV ads and ceremonies also gave it plenty of room to shine. The song is now instantly recognized from its very first notes, arguably an inevitable classic of pop culture.
33. 1977 – Billy Joel – The Stranger – 268,794,000
Billy Joel missed this list for a few millions only with his early LP Piano Man. He doesn't go home empty handed thanks to The Stranger yet. Just like Slowhand at #34, this album was blocked multiple weeks – 6 to be precise – at #2 of US Album charts because of Saturday Night Fever. It still went on to sell more than 10 million units in the US and close to 5 million abroad.
Home of 4 US Top 25 hits, its main smash was the #3 Just The Way You Are. This song has 45 million streams on Spotify. A great figure for sure, it is topped by She's Always a Woman at 73 million and Vienna at 58 million.
Only the Good Die Young at 42 million, Movin' Out at 26 million, and Scenes from an Italian Restaurant at 15 million provide the LP an impressive density of well-remembered hits. The last 3 songs of the record add for 9 million which is fairly good too.
32. 1976 – Abba – Arrival – 272,199,000
While some magazines dictate that only classic rock is worth buying, the 70s decade was very diverse with hits from plenty of music genres. One of them was disco, a genre perfectly represented by iconic Swedish group ABBA.
Out of all their smash albums, their peak was Arrival. Obviously, the LP contains their signature song, Dancing Queen. Their only US #1 hit, it was a ground breaking success all over the world. Even if disco is out of fashion for very long, its appeal isn't slowing down as highlighted by its 192 million streams.
Knowing Me, Knowing You and Money, Money, Money have 29 million and 25 million streams, respectively. They are thus nowhere near as popular as Dancing Queen but these are still healthy numbers. Interestingly, while we tend to flag the group as strict singles sellers, the 7 album tracks of the record average a relevant 3,7 million streams.
31. 1970 – Led Zeppelin – Led Zeppelin III – 272,839,000
Had we set the mark on 150 million cumulative streams rather than 250 million both Houses Of The Holy and Physical Graffiti would have popped up earlier in the list. No need to decrease the bar to see III there though as the album adds for 273 million streams.
Led Zeppelin entered the 70s as strong as they closed the 60s. Just like II, III made the top in both the US and the UK. It did so supported by one more legendary guitar riff on its lead single Immigrant Song. A staple for hard rock music, this title is up to 160 million streams, the second highest total of the band.
Since I've Been Loving You is next although at some distance with its 35 million streams. As one would expect from the band, the 8 album tracks are solid too with an average of almost 10 million, enough to grant III the #31 position among these must-buy LPs of the 70s.
30. 1970 – Cat Stevens – Tea for the Tillerman – 297,749,000
Cat Stevens, now Yusuf Islam, was one of the most popular singers around during the first half of the 70s. From 1971 to 1974, he got 4 Top 3 studio albums in the US. His extensive retirement from 1978 to 1995 made many forget about this success, but streaming numbers remind us how loved his songs from this period are.
Apart from the 9 album cuts which add for 52 million streams, the two former singles of Tea For The Tillerman became true classics after decades of word of mouth. That underground increase of success was visible on UK charts where the album made the Top 50 for 4 years in a row without ever going higher than #20.
These classics are Wild World and Father and Son. Two touching and lovely tracks, they both crack 100 million streams. The latter does it with a tiny margin, but the former is even quite higher at 144 million. Their success on top of the consistency of the rest of the tracks bring the album a shy from 300 million cumulative streams.
29. 1975 – Fleetwood Mac – Fleetwood Mac (White Album) – 300,208,000
1977's album Rumours was so huge for Fleetwood Mac that we tend to ignore its predecessor, the US #1 smash LP titled after the band's name. The second strongest album of the year in this country, only topped by Peter Frampton's Comes Alive!, it was all over airwaves during more than a year.
Over My Head, Rhiannon, and Say You Love Me all peaked inside the Top 20, but more than selling by themselves they supported the album very well. With a trio of hits poised to enjoy many years of recurrent airplay, the shock comes from the fact that none of them is the LP's biggest streaming contributor.
Rhiannon remains very hot with 92 million streams while the remaining two hits are now weaker with 30 million streams combined. The dark horse Landslide has more plays than all of them combined though. It has 144 million streams to date. The song is so strong since it was successfully promoted in 1998 to back up the hit live album The Dance which went 5xPlatinum in the US. The Dixie Chicks also made the song a top 10 hit after covering it in 2002. Every track of the original album has at least 2 million streams, enough to make it the first album to break 300 million on our list.
28. 1970 – Creedence Clearwater Revival – Cosmo's Factory – 302,041,000
The Creedence Clearwater Revival were very strong performers on our 60s ranking. They repeat their great showing in this 70s list with Cosmo's Factory. This LP came out when the band was peaking with an insane anticipation after the smash of not one, not two but three albums during 1969.
Logically, Cosmo's Factory shot to #1 in the US where it stood for an impressive 9 weeks. Even in the UK where the band wasn't that big it debuted straight at #1. Singles-wise, the strategy from 1970 happens to do wonders in a streaming world. The LP saw 6 of its songs issued as 3 double A singles. That initial promotion is still producing great results as each of them has from 20 to 67 million streams on Spotify. Up Around The Bend and Lookin' Out My Back Door lead the way with that same latter number.
As 6 singles wasn't enough, their cover of Marvin Gaye's standard I Heard It Through The Grapevine was released in 1976 to support their compilation Chronicle. This track has 31 million streams to date. While a total of 7 songs over 20 million is sublime, it isn't a record as 4 albums from the 70s do better, including 2 that have 10 songs over that mark…
27. 1971 – Who – Who's Next – 302,764,000
While they weren't on the league of the Beatles, the Rolling Stones, and Led Zeppelin, the Who were good sellers when they dropped Who's Next in 1971. Very well received upon release, the LP is now rated as their best effort, easily surpassing their previous output Tommy.
The song Baba O'Riley plays a strong role in this profile increase. It was issued in physical single format only in continental Europe, but the popularity of the song is no surprise. It got airplay from day one, rave critics, large exposure through live performances and it has been largely used on various media throughout the years.
The most known example is the TV series CSI: NY that made the song its theme for 9 years. It would be wrong to claim the song has 164 million streams thanks to this situation only. Of course exposure always helps, but this exposure is itself the result of success. While going through these classic records, we often see songs that got fueled thanks to TV ads, series or movies. Truth is, it isn't these exposures that made these songs successful, instead these songs were used because they were successful. In this example, Baba O'Riley was already included in most all-time greatest rock songs lists well before the debut of CSI.
Apart from this hit the album contains a pair of songs around 60 million streams each, Behind Blue Eyes and Won't Get Fooled Again. They were both exploited as singles in 1971. While they were not massive on their own, they were responsible for making the album #1 in the UK and #4 in the US.
26. 1970 – Creedence Clearwater Revival – Pendulum – 311,679,000
Here they are again! Creedence Clearwater Revival has a new entry in this 70s list with Pendulum. Their hit Fortunate Son was the most streamed rock song of the 60s with 288 million streams. Have You Ever Seen The Rain from this new LP does almost as well at a stunning 279 million.
The US #8 hit confirms the band is currently enjoying an immense popularity. If we merge their discography with the one of the Beatles, they would own 3 out of the Top 4 hits. Insane. Of course, the rest of Pendulum doesn't do that well. At 13 million streams, Hey Tonight is the only other song that tops 8 digits. Does it really matter though when you've got that big of a hit? In fact, the 7 strong hits from Cosmo's Factory aren't enough to top the magnitude of Have You Ever Seen The Rain's success. The conclusion for the band is unbelievable: they released 4 albums that crack 250 million streams in a mere 16 months from August 1969 to December 1970. Wow!
25. 1972 – Stevie Wonder – Talking Book – 315,188,000
Iconic R&B singer Stevie Wonder released his fifteenth studio album with Talking Book… while he was only 22 years old. The teenager turned superstar was already a confirmed hit maker by then. He recorded 28 Hot 100 hits before this era, including 12 Top 10s.
Still, Talking Book changed his stature. He moved from a good hit maker to a A-League singles and albums seller. Both singles from this album Superstition and You Are The Sunshine Of My Life climbed to #1 in the US. The LP peaked at #3 on a 109-weeks run while it earned a total of 3 Grammys through two years. This was the first pure R&B album to be embraced by classic rock fans.
More than 45 years later its appeal remains intact. Not all tracks are equally loved for sure, but Sunshine records a solid 30 million streams while Superstition is a monster with 272 million plays. It is the 11th most streamed song of the decade, less than a million shy of the Top 10. If we focus on R&B songs, it is the second largest hit of the 70s topped only by Earth, Wind & Fire's September.
Talking Book is the only album by Wonder making the list as his subsequent classic Songs in the Key of Life misses it with its total of 243 million streams.
24. 1972 – David Bowie – The Rise And Fall Of Ziggy Stardust And The Spiders From Mars – 315,281,000
The sad passing of David Bowie reminded many people how great his music is. His catalog surged after this event but in all fairness it was already going well and it hasn't really slowed down. Streams of Ziggy Stardust illustrate it.
Although Space Oddity was a hit in 1969, the singer was still a one-hit-wonder when this album dropped. That's why it needed to build its success, which explains how an LP as popular as this one only peaked at #5 in the UK and #75 in the US (it re-peaked at #21 after his death). Since then, multiple tracks became staples for rock and the record as a whole is considered one of the very bests of all-time.
The result is striking. Starman is on its way to hit 100 million streams. Moonage Dream has 69 million, Ziggy Stardust is close at 57 million, Suffragette City is up to 22 million, Fiver Years to 15 million and Rock 'N' Roll Suicide to 14 million. Only 5 songs are under 10 million, all of which still hit 6-9 million. This impressive all-around performance puts it #24 among these essential albums of the 70s. Just like Wonder, Bowie can't repeat his presence but came close as Hunky Dory stands over 220 million.
23. 1970 – Beatles – Let It Be – 319,890,000
They flooded the 60s list. They couldn't repeat that performance in this 70s list as they issued only one album that decade, 1970's Let It Be. It enters the ranking at a very strong #23 position.
Obviously, the strongest song is the title track. At 146 million, it's one of the biggest hits of the Beatles. Get Back at 46 million, Across the Universe at 34 million and The Long And Winding Road at 27 million complete a strong quartet.
The LP has a total of 12 songs, so there is 8 missing. Together, they add for 67 million, an average of 8,3 million with a minimum of near 6 million. It's one more of these albums from the band that doesn't receive the same super positive media treatment as their 1965-1969 proper studio albums but that is just as much loved by the general public.
22. 1979 – Michael Jackson – Off the Wall – 339,685,000
Owner of the biggest R&B album of the 60s through the Jackson 5, Michael Jackson has again the biggest one of the 70s, this time at the position of #22. Its streams are very healthy at a total of 340 million.
The main contributors are both US #1 hits. Disco / Funk smash Don't Stop 'Til You Get Enough has 140 million plays while Rock With You recently jumped over 100 million. There is still a lot of activity coming from remaining songs. The most impressive of them is the album cut Working Day and Night. At over 19 million streams, it is almost as strong as the 20-26 million streams songs She's Out of My Life and Off The Wall, both proper Top 10 hits upon release back then.
Another track is very strong, I Can't Help It closes at 13 million. All additional songs of the album are on 4 million streams or more, a consistency usually seen with rock releases instead of black music.
21. 1975 – Aerosmith – Toys in the Attic – 346,695,000
American hard rock band Aerosmith enters the list a second time thanks to their third effort titled Toys In The Attic. The LP that made their superstars, it contains both classic rock hits Sweet Emotion and Walk This Way. The later is one of the rare singles that made the US Top 10 two times, in 1976 and 1986.
As surprising as it may seem, the album failed to hit the top 10 on its side, peaking at #11. The enduring appeal of its singles led it to over 8 million sales in the US still, in spite of stiff competition from greatest hits compilations.
Nowadays, the two popular versions of Walk This Way give it the edge on streaming platforms, it stands at 213 million combined plays on Spotify. Sweet Emotion is at a solid 108 million while the title track has relevant numbers too at 16 million. Remaining tracks record from 1 million to 2 million streams a piece, not that much but the overall total of 347 million is worth a #21 placing among the most streamed albums from the 70s.
20. 1970 – Simon & Garfunkel – Bridge over Troubled Water – 348,603,000
In a similar way to the Beatles, Simon & Garfunkel were a dominant 60s band that closed their career with a final album in 1970. The slight difference is that they ended at their very peak with the gigantic Bridge Over Troubled Water.
Some way, we can argue that this album is the first of the blockbusters trend, these 70s/80s albums that sold much more than anyone else thanks to a run of multiple successful singles, something that was still quite rare, if not non-existent, during the 60s.
Not all singles were equally successful everywhere, but Cecilia (86 million streams), The Boxer (80 million), the title track (71 million), The Only Living Boy in New York (34 million) and El Condor Pasa (30 million) all succeeded here and there. None of these songs comes even close to their 60s monsters Sound of Silence and Mrs Robinson, but the album is easily their most solid and their most dense hits-wise. Album cuts are in the 5-7 million range, pushing the total to over 348 million, just enough to feature into the Top 20 of the decade.
19. 1978 – Dire Straits – Dire Straits – 352,113,000
The debut album of Dire Straits makes an impressive appearance among these 70s classics in spite of a truncated chart life. First recorded in 1977, its lead single Sultans of Swing was released in May 1978 to low success among the general public, but it gained attention and word of mouth, prompting a reissue in early 1979.
The song then reached the Top 10 in both the US and the UK in March / April 1979, also sending the album into the Top 5 of both countries. The point is that by then the group already had time to record a new album, Communiqué, which stopped the promotion of their debut after only one true single.
Streams of the disc perfectly reflect its history. It's all about Sultans of Swing, the only song which reaches 15 million. It does that in incredible fashion though with 288 million streams, the 8th highest single of the decade. The rest of the album got no exposure to the general public, but its classic rating helps in putting all 8 album cuts on 4 million to 14 million streams.
18. 1976 – Boston – Boston – 354,308,000
The tag "best-selling debut album of all-time" was used to highlight the success of this record during more than 25 years. Although the claim is false for very long, the LP remains one hell of a success.
Billboard's past methodologies which benefited anticipated records used to deflate performances of debut records. Boston's first single More Than A Feeling still went all the way up to #5 in the US while fueling the album to the #3 spot. The positive press and subsequent Top 40 hits Peace Of Mind and Long Time sustained the LP inside the top tier for many months. This made it a blockbuster, quickly passing 4, then 5, then 6, etc, million sales in an era where multi-million sales weren't common.
Unlike most 70s monsters, the record wasn't replaced by a compilation in late 80s / early 90s. Their first Greatest Hits was issued in 1997, by then the original album was already up to 16 million sales in the US. It hasn't done that much elsewhere, but its national sales were high enough to make it one of the top sellers globally.
This stunning total was made possible by the enduring appeal of its hits. More Than A Feeling is a timeless classic, up to 215 million streams. Peace Of Mind at 53 million and Long Time at 35 million are still popular too, so is a cut like Smokin' at 21 million. The last 4 songs of the disc stand on 4-11 million a piece. As a result, Boston stands on 354 million, a tremendous number for a record that never really crossed over at the worldwide level.
17. 1975 – Pink Floyd – Wish You Were Here – 362,640,000
A ranking about the most essential 70s albums wouldn't be regarded seriously without the inclusion of Pink Floyd. They get their first ranked album with Wish You Were Here at #17.
The presence of this album wasn't a given yet. It is obviously a great seller with its 22 million units moved globally, but it has only 5 tracks. In a streaming world, one may wonder how that would impact. On top of that, the LP opens and ends on parts of Shine On You Crazy Diamonds, two songs lasting a combined 26 minutes. Fact is, success is success so no matter the format we can see its popularity through streaming numbers too.
The title track is quite simply the most streamed song of the band with an enormous 236 million. Diamonds parts have 60 million and 14 million streams.  The LP is completed with Welcome to the Machine at 22 million and Have a Cigar at 31 million. When every song is so strong, why would an album require a lot of tracks to do well on streaming platforms?
16. 1973 – Lynyrd Skynyrd – (Pronounced 'Lĕh-'nérd 'Skin-'nérd) – 370,384,000
The title of this album says it all. Back in 1973, Lynyrd Skynyrd were still unknown and they still had to tell people how to pronounce their name. Naturally, the era started slowly. The LP entered the Billboard Top 200 but without climbing higher than #67.
They quickly gained a cult following yet. The single Gimme Three Steps maintained the album on charts but hasn't made it a hit. The group then released his second album, Second Helping in April 1974. How has this debut album made it all the way to #16 on this list then?
That second LP was promoted by Don't Ask Me No Questions, which hasn't done much more than Gimme Three Steps. The underground success they've got still led their label to issue a second single, a few weeks later Sweet Home Alabama was a Top 10 hit. During that period, Pronounced 'Lĕh-'nérd 'Skin-'nérd kept floating around Billboard charts, lasting 58 consecutive weeks on it.
This newly identified potential was exploited by the release of a new single from the first album in late 1974. Free Bird went to #19 inside the Hot 100. The LP re-entered charts peaking at #27. A pair of years later, Free Bird was released again in a live version due to the immense reputation of its performances, hitting the Top 40 again. Featured in most all-time greatest lists, the song is now well known for being requested by the crowd at virtually every concert in the US, no matter who's the artist on stage. This popularity catapults it to 154 million streams. The album track Simple Man has been growing dramatically too. Now a classic used in various media, it has 128 million streams. The original single Gimme Three Steps has 43 million while Tuesday's Gone isn't too far behind.
15. 1979 – AC/DC – Highway to Hell – 385,217,000
Legendary rock band AC/DC missed the cut with High Voltage, an album that is up to 242 million combined streams. They still get there comfortably with the 1979 record Highway To Hell.
Its pattern is close to the one of Dire Straits' eponymous debut. Both raised the interest on the band thanks to one huge breakthrough hit so both saw their catalog, back or new, quickly promoted to enjoy this new popularity, ultimately cutting wings of these albums' potential subsequent singles.
That's why apart from the title track, no song is higher than 23 million. The album is a classic though with its 9 cuts adding for 84 million streams, a 9 million average per title and at least 3 million for each. While these numbers are great, the big deal is Highway to Hell. The iconic guitar riff of this song made the Aussie band rock stars forever. The song has been covered countless of times, performed live by many, but its the original that remains a classic: it has 301 million streams to date. It's the 7th most streamed song of the 70s.
14. 1978 – Various Artists – Grease – 387,102,000
Pop soundtracks can also be classics. Grease never gets old, posting an incredible 387 million streams across its songs. It isn't even all about the singles. Of course, the monster smash song You're the One That I Want is its most streamed track with 113 million plays, but that still leaves out 274 million from elsewhere.
Grease, Summer Nights, Hopelessly Devoted to You, and Greased Lightnin' are all inside the 25-50 million range. Sandy, Look At Me, I'm Sandra Dee, the Mega-Mix and We Go Together are over 10 million a piece. Then, there is 14 more songs with multi-million streams, making it a total of 23! We understand more easily now why the album continues to sell very well as a catalog item: the general public simply loves the movie and its soundtrack.
13. 1974 – Lynyrd Skynyrd – Second Helping – 402,564,000
In a way similar to Creedence Clearwater Revival, Lynyrd Skynyrd impress with their streaming numbers, landing a second album inside the Top 20 biggest ones from the 70s. This time it is all about their sophomore effort, Second Helping.
As previously stated, this LP featured the #8 hit Sweet Home Alabama. A real southern rock anthem, the song is the obvious go-to song to promote anything related to the Alabama state. A decade ago, Kid Rock also largely sampled it on his comeback smash All Summer Long. Add to that a strong presence on guitar video games and you get a song that is up to an insane 352 millions streams on Spotify. Obviously, this track is the main responsible of the album reaching the 400 million score as remaining songs are all in the 3-15 million range.
Sweet Home Alabama is the 6th most streamed song from the 70s and the #1 from the first half of the decade with a 73 million lead over the runner up. In fact, we can extend that conclusion as there is simply no pre-1975 song which tops it which means it's the biggest hit ever up to its own release date.
12. 1977 – Queen – News of the World – 447,776,000
We make a jump of 45 million to reach Queen's classic effort News Of The World. In a 70s ranking, it may come as a surprise to see the massive British band surface so late. There is two reasons for that. The first is that while Sheer Heart Attack and A Day at the Races combine for well over 300 million streams, they aren't high enough individually to make the cut. The second is that Queen's albums charted are charted impressively high, so others are yet to come.
The story isn't about the hit movie Bohemian Rhapsody fueling their results. Their catalog is indeed enjoying a boost right now, but it represents a tiny fraction of their streams to date shown in this listing. News Of The World belongs here thanks to the organic strength of its content.
In fact, an album containing both We Will Rock You and We Are The Champions is always poised to do well. It's difficult to explain how popular these songs are. They belong to a rare group of songs that even people with very little interest in music will find immediately in a quiz. They are also streamed extensively with 259 million and 155 million streams, respectively. It's the first of only 4 albums which contain a pair of hits of this magnitude.
It's hard to shine behind two similar monsters. Spread Your Wings still tops 10 million streams while the remaining tracks have an average of 2,5 million plays.
11. 1970 – Black Sabbath – Paranoid – 449,664,000
Metal pioneers Black Sabbath enter the list with a flashy #11 position obtained by the iconic LP Paranoid. Often compared to Led Zeppelin because of their parented genre and career timelines, the popularity of Black Sabbath can't compete with theirs.
For sure, Paranoid managed to hit #1 in the UK. It remained their only week at the top for more than 40 years, until 13 debuted at #1 in 2013. This is the trademark of a band with a cult following. This recent album also led the Billboard Top 200 while their previous career peak was only #8. Paranoid itself never went higher than #11.
It did retain a Top 40 placing for 34 weeks there. That was done thanks to two singles, the title track and Iron Man. Both of them peaked outside the Top 50 of the Hot 100, but they have now been staples for classic rock stations for many years. Combined, they get more than 300 million audience impressions through US radio plays per year. Their streams are just as massive as they are up to 205 million and 129 million, respectively.
Their 3rd most aired career track is also their 3rd most streamed, and it's also a song from this 1970 album. War Pigs has 67 million streams. The other 5 songs aren't as massive but they still got 50 million plays together. In total, the album ends up just under the 450 million barrier and just under the Top 10 of the decade.
10. Queen – Jazz (1978)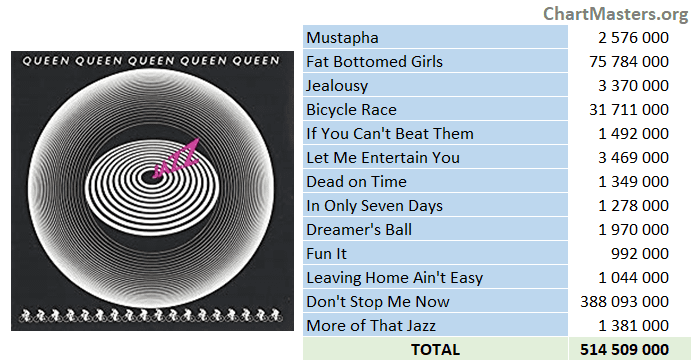 There is definitely nobody that will stop them now. Queen's popularity has been doubted for decades by quite a few US-based media, but streaming figures makes very clear that they are utterly massive. Their 1977 album News of the World is the 12th top streaming hit of the decade, its follow-up Jazz does even better entering the Top 10 and topping 500 million cumulative streams.
This impressive result wasn't safe from the start. After 4 consecutive albums containing at least one Top 2 hit in the UK, the ones of Jazz haven't done that well. The Double A lead Fat Bottomed Girls / Bicycle Race stopped its way at #11 while Don't Stop Me Now peaked at #9. While it ain't bad, that was below their standards. In the US, they went to #24 and #86, respectively. The LP was Top 10 for 5 weeks on both sides, doing well but not extraordinary either.
During the 80s, the song Don't Stop Me Now wasn't considered popular enough to be performed on their tours. How things change. Thanks to recurrent airplay, TV ads, movies, etc, the song got heard by more and more people, people who rate it as the definitive song to positively turn around their mindset. This near-magical effect does wonders to its results. At a breathtaking 388 million, this is the 4th most streamed song from the 70s.
While not as massive, former singles Fat Bottomed Girls and Bicycle Race add for more than 100 million streams combined. Fun It will soon pass 1 million, that will be the last song from the LP to do so.

As we speak about historically massive hits, let's welcome the album Hotel California and its iconic title track. The whole irony about the Eagles is that they got the highest certified album of all-time in the US with a compilation that doesn't contain Hotel California while in various countries they are often considered one-hit-wonders. This just highlights how gigantic this song has been.
At 390 million, this global smash hit is the 3rd most streamed song from the 70s. With patterns very similar to Jazz, the LP also registers more than 100 million streams from the two additional singles, Life In The Fast Lane and US #1 New Kid In Town. The gap between both albums is created by album cuts with are stronger on Hotel California. They all stand in the 3-15 million range.
8. Led Zeppelin – IV (1971)

The 36 million seller IV makes an expected appearance at #8 among the biggest streaming albums of the 70s. Easily the biggest album of Led Zeppelin, it is fueled by the legendary hard rock song Stairway to Heaven. Up to 261 million streams, the hit could have hope for even more if it wasn't 8 minutes long.
Not released physically, the song was still served as a single to radios, flooding airwaves ever since day one. Black Dog, Rock and Roll, Going to California, Misty Mountain Hop and When The Levee Breaks are all recurrent songs on classic rock stations too. To put things into perspective, all 5 songs get more audience impressions from US radios than the Eagles' #1 New Kid In Town that we mentioned above, the first 4 even top it by more than 2 to 1. Airplay-wise, they all top Queen's Bicycle Race by more than 20 to 1. They registered from 19 million to 86 million streams a piece.
The weakest track of the record appears to be Four Sticks at a healthy 8,2 million while The Battle Of Evermore completes the track list at 13 million.
7. Bob Marley – Kaya (1978)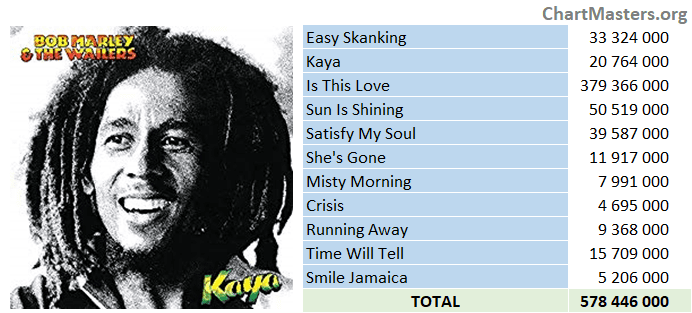 When we went through Bob Marley's sales on all formats, his results came as a shocker. Most notably, Exodus and Kaya stood on 56 million equivalent album sales combined. Thus, it's not so surprising to see him surge with one of these records at a brilliant #7 position.
Of course, Is This Love was helped by a 2016 remix that went to #16 in the UK. This version has 105 million streams though, which highlights how popular the song is anyway. In fact, it stands at 379 million, an absolutely phenomenal figure. It's the most streamed solo song from the 70s.
The album has many more popular tunes. Sun Is Shining, Satisfy My Soul, and Easy Skanking are on 33-50 million each. Then, the record as a whole is definitely huge. All its 11 songs get relevant plays. The total of 578 million gives it a good edge over Led Zeppelin's IV. It's the second highest solo album of the decade.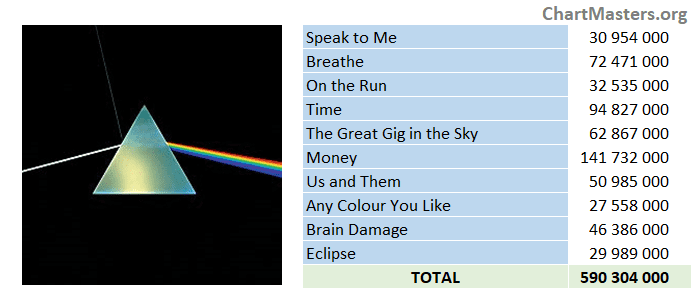 The 5th most successful album of the 70s takes the 6th position in our streaming-only ranking. Dark Side Of The Moon, often charted among the very best albums ever, has absolutely massive numbers.
The album has one big hit in Money which stands at 142 million. This pivotal song of their career remains huge. What impresses the most is undoubtedly the consistency of the record though. All its songs are over 27,5 million streams! It is way higher than any other album we met so far. In fact, there is no 80s album either with its entire tracklist higher than this level. No 90s album either. Huge 00s albums by Eminem and Coldplay also fail to match it. The oldest album that has a higher low than Dark Side Of The Moon is instead an album issued in 2009 that peaked in 2011, Mumford & Sons' Sigh No More.
This wonderful performance is one more confirmation that the format plays little role in the whole vacuum of things. It was praised as an album because it needs to be heard as an entire piece, so people bought its physical copies through cassettes, LPs, CDs, SACDs, etc. Streaming or not the story remains the same. All songs matter yet so while this record is massively consumed as an album, others end up with a higher total thanks to bigger hits, as many as 5 of them…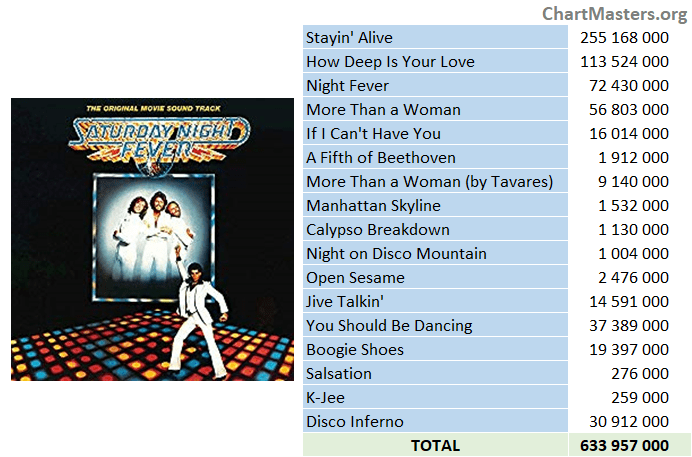 The highest selling album during the 70s was no other than Saturday Night Fever's soundtrack. The disco flagship led album charts of the entire world for many months thanks to Bee Gees' ground breaking hits like Stayin' Alive, How Deep Is Your Love and Night Fever. It is also some kind of a mini-greatest hits as on top of its own smashes it contained a few older successes like Jive Talkin'.
The main singles of the album, which also happen to be the first 3 tracks of the disc, are still its biggest tunes. Stayin' Alive is definitely not dead with 255 million streams. Disco as a general trend may be over for nearly 4 decades, it seems that we all still like some dance-infused sounds at times. At 114 million, the slow tempo How Deep Is Your Love continues to appeal the masses. Then, former hits all get decent streams. Inclusion of tracks that had a first life before the soundtrack is debatable, but since they represent a minor part of it and are now widely recognized as part of the soundtrack we decided to let them into the track list. That concludes on 634 million streams for the album.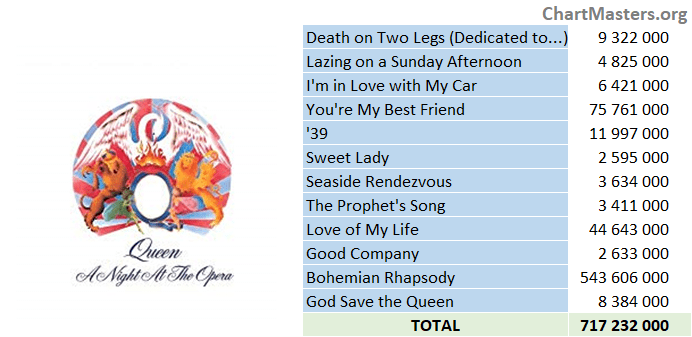 Mama! It will surprise no one to see Bohemian Rhapsody with a high number. But what a score! With an outstanding 544 million streams, the song has a lead of 142 million over any over song of the decade. Once again, this stunning figure isn't due to the current biopic. I have been personally tracking Spotify streams for more than 5 years and Bohemian Rhapsody has always been the #1 song of the 70s. The domination has even been bigger in the past. In fact, Don't Stop Me Now has often been its runner up. By April 2015, these songs had respectively 75 million and 59 million streams while no other song had reached 46 million. Hits-wise, Queen simply own the 70s. Right now, its runner up is September by Earth, Wind & Fire which took the second spot after the passing of their leader Maurice White in 2016. This song has 402 million streams but since it belongs to no studio album it doesn't impact our list of today.
Back to Queen, A Night At The Opera also includes some fan-favorites. You're My Best Friend has 76 million streams while the ballad Love of My Life has 45 million. Album tracks don't disappoint either with 2,5 million to 12 million streams each. The 1975 classic LP totals 717 million streams. We are now seeing serious gains album by album as we enter into the very best LPs of the decade. We have also reached a level of success that matches anything released earlier as the Beatles' Abbey Road, #1 of the 60s, led the decade with 682 million.
3. Pink Floyd – The Wall (1979)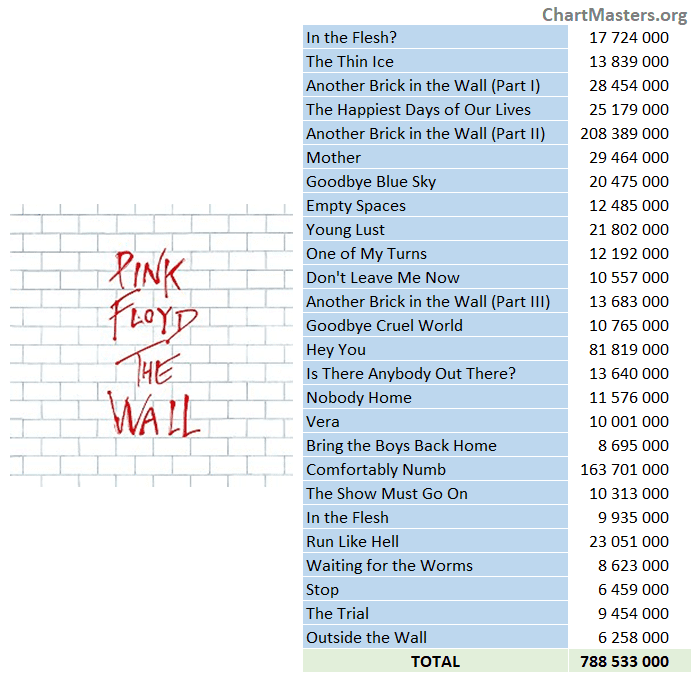 As many as 20 songs over 10 million streams for an album of 1979. Add to that a pair of A-League hits and you get an album that belongs to the top 3 of the decade. Just like its physical sales have always been limited by the price of this double LP, its streams enjoy the fact it has many short tracks.
It may come as a surprise to see The Wall ahead of Dark Side of the Moon, but it shouldn't. And it's not even because of tracks' length. The former album sold way more upon release than the former. In terms of catalog sales, both were selling routinely similar amounts globally up to 2001. Nowadays, The latter seems to be so much bigger in terms of sales only because of the compilation Echoes. Considering the price of The Wall and the popularity of hit single Another Brick In The Wall (Part 2), many people switched their purchase to the compilation, while they kept buying the 1973 blockbuster. This created a large gap in sales which seems to imply it is bigger, but the appeal of The Wall is simply spread over more distinct releases.
Streams show it very well. Another Brick In The Wall (Part 2) is up to 208 million streams while Comfortably Numb is also impressively strong at 164 million. Hey You completes a very solid trio at 82 million. Remaining tracks are mostly streamed as a comprehensive set which explains the consistency as well as their progressive decrease through the tracklist.
2. Bob Marley – Exodus (1977)
The shocker of the 60s was Creedence Clearwater Revival's Willy & The Poor Boys that impacted charts at #3. In the 70s, the unexpected beast is Exodus by Bob Marley, nothing less than the second most streamed album out of all these monsters.
Well, not that unexpected. The surreal ongoing success of 1984's compilation Legend is massively due to songs of this LP which was named Album of the Century by the Time Magazine in late 1999. So, what makes it so big?
We have met several albums with a couple of super big tracks in this list. Exodus is the first which contains not two but three. The iconic Three Little Birds leads at 273 million streams. Issued as a single in 1980 only, the song is now among Marley's most popular hits, covered countless of times by various artists. Jamming was among the initial singles, going top 10 in the UK in 1977. It's also impressive at 173 million. Then One Love comes third in spite of an unbelievable 147 million streams. That song was promoted in 1984 only, precisely to support the compilation Legend. It was a #5 hit in the UK.
To point out how rich this album is, none of these 3 monstrous songs were among its first 2 singles. These were Exodus (#14) and Waiting In Vain (#27). As it wasn't enough, Turn Your Lights Down Low went #15 in a posthumous duet with Lauryn Hill. These 3 songs have 42-82 million streams each and would have make Exodus a smash by themselves already.
Wait! There is more. Natural Mystic was sent to radios in 1995 to promote the compilation of the same name. While it wasn't available as a physical single, the album went #5 and popularized the track which has 35 million streams by now. We tend to say that Michael Jackson's Thriller was the first studio album that can be regarded as a greatest hits. Exodus can definitely make that claim. Almost logically, with 838 million cumulative plays, it's the most streamed solo album of the decade and the highest until… Thriller.
1. Fleetwood Mac – Rumours (1977)
While streaming Exodus fulfil anyone's room with positive vibes, the ultimate feel good LP of the 70s is Fleetwood Mac's Rumours. This album has both, the trio of mega hits of Exodus and the insane consistency of Dark Side of the Moon.
It got 4 singles back then, none of which made the Top 20 in the UK. In the US though, they were all Top 10 hits: Go Your Own Way (#10), Dreams (#1), Don't Stop (#3) and You Make Loving Fun (#9). Of course, airplay was already a factor of the US Hot 100 in 1977. And that's the whole point. These songs were extensively played and still are to this day. They are just very appealing draws for anyone, making them very easy to use by radio stations. All these songs have from 200 million to 400 million audience impressions per year in the US alone which is ridiculously impressive.
Why wouldn't they play them if they are so much loved? In spite of competing against the Eagles' Hotel California, the album sold so well that it led US charts for a record-breaking 31 weeks. It took Michael Jackson's Thriller to break this record. They remain the two longest running chart toppers among artist albums up to this day.
Two of these singles, Go Your Own Way and Dreams, are over 200 million streams. A third song accomplishes it too, The Chain. This song gets around 150 million impressions a year. The attractiveness of Rumours' songs is so unparalleled that radios started to add more songs to their playlists to equally positive results. The remaining 9 songs stand inside the 15-64 million range. It's only a matter of time before this LP becomes the oldest album with over 1 billion streams on Spotify alone. I'll let you guess which one is the current record holder, you will get the answer in a few days since it will be part of our review of 80s' priceless albums…
A lil' bonus with the Top 20 tracks of the decade:
1. Queen – Bohemian Rhapsody – 543,000,000
2. Earth, Wind & Fire – September – 401,000,000
3. Eagles – Hotel California – 389,000,000
4. Queen – Don't Stop Me Now – 388,000,000
5. Bob Marley – Is This Love – 379,000,000
6. Lynyrd Skynyrd – Sweet Home Alabama – 351,000,000
7. AC/DC – Highway to Hell – 300,000,000
8. Dire Straits – Sultans of Swing – 287,000,000
9. Creedence Clearwater Revival – Have You Ever Seen The Rain – 278,000,000
10. Bob Marley – Three Little Birds – 273,000,000
11. Stevie Wonder – Superstition – 272,000,000
12. Led Zeppelin – Stairway To Heaven – 261,000,000
13. Queen – We Will Rock You – 259,000,000
14. Bee Gees & Various Artists – Stayin' Alive – 255,000,000
15. Aerosmith – Dream On – 241,000,000
16. Pink Floyd – Wish You Were Here – 235,000,000
17. Fleetwood Mac – Go Your Own Way – 235,000,000
18. Billy Joel – Piano Man – 218,000,000
19. Boston – More Than A Feeling – 214,000,000
20. Fleetwood Mac – Dreams – 213,000,000