The 10 Most Essential pre-60 LPs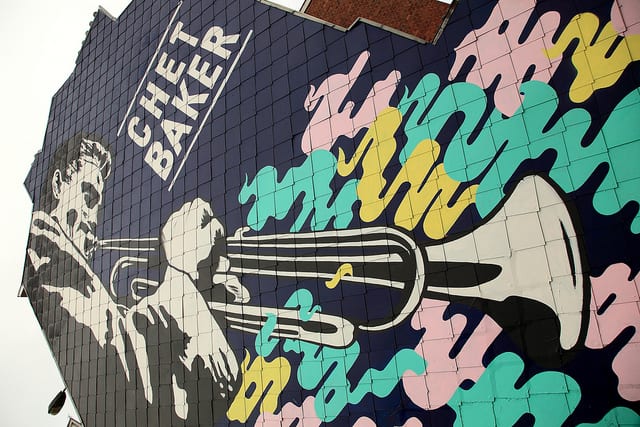 What happens when we put head to head the first LPs that ever appeared and streaming statistics on Spotify, a platform which has now completed its first 10 years of public availability? These little exercise highlights the most essential recordings. Can you guess which oldies are the most listened to nowadays?
Although the platform itself was created in 2006, Spotify started selling accounts to the public in October 2008, thus recently closing its first decade. During this timeframe, the application never stopped its insane rise until ultimately dominating the music industry. To celebrate this anniversary, we are going to review the top performing albums of every pre-2000 decade and then the top ones of every post-2000 years. All numbers will be retrieved at the same date to grant the accuracy of rankings.
Today we start with the oldest albums, indeed this list includes all pre-1960 studio albums. Obviously, the 40s and the 50s were almost exclusively singles years. Very few albums were sold and most of them weren't proper studio records but instead compilations of hit singles. It took the release of Frank Sinatra's game changing The Voice in 1946 to popularize the concept of an album as a consistent piece of art. Their sales challenged those of singles way later still, already well into the 60s when the Beatles' impact changed the industry forever. Considering this context, which LPs are still popular up to this day? Let's review the 10 albums with over 100 million cumulative streams on Spotify.
10 Frank Sinatra – Come Fly With Me (1958)
Just like he was the first singer to record a proper studio album, Frank Sinatra got nominated to the very first Grammy Award for Album of the Year. The inaugural edition of 1959 listed not one but two of his albums, Come Fly with Me and Sings for Only the Lonely. Although they both lost to Henry Mancini's The Music from Peter Gunn, the former gains the vote of the general public.
Issued 60 years ago, Come Fly with Me registers a tremendous 106,436,000 streams on Spotify through its 15 tracks. In a world where travelling has become so important in the life of many, it seems almost logical to see this former 5 weeks #1 smash album remain a force. A real forum for many appealing destinations, the record is led by its opening title track which stands at more than 82 million streams. Both songs Chicago and Moonlight in Vermont continue to be popular too with around 7 million streams a piece.
9 Dave Brubeck Quartet – Time Out (1959)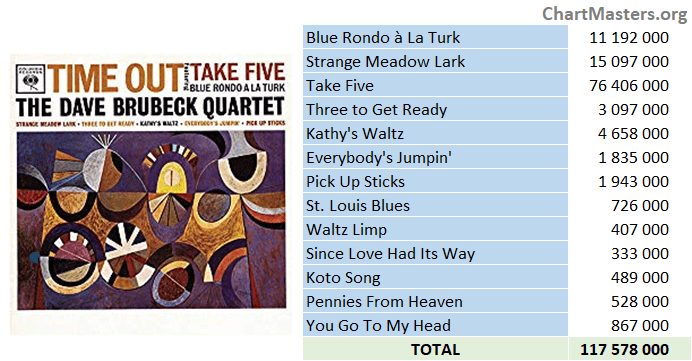 The whole irony with Time Out is that the album was first a huge flop. While Jazz albums aren't supposed to be super popular, Dave Brubeck was big enough to claim 4 consecutive Top 10 LPs in 1954/1955. Thus, expectations could have been high for Time Out but it completely missed Billboard charts. At least, it missed them in 1959. A pair of years later, the song Take Five became an unexpected hit.
Thanks to this exposure, the LP appeared on charts and went on to peak at #2 in December 1961. It was blocked by Judy Garland's Judy at Carnegie Hall, an album which contains You Go To My Head in common with Time Out.
This Jazz standard LP records over 117 million streams on Spotify, including 76 million for its main single. One may thing the passing of Dave Brubeck in December 2012 helped it, but streams were still irrelevant back then. As an evidence of its classic status, an extended 50 years anniversary edition was issued before that sad event, in 2009.
8 Frank Sinatra – Songs for Swingin' Lovers (1956)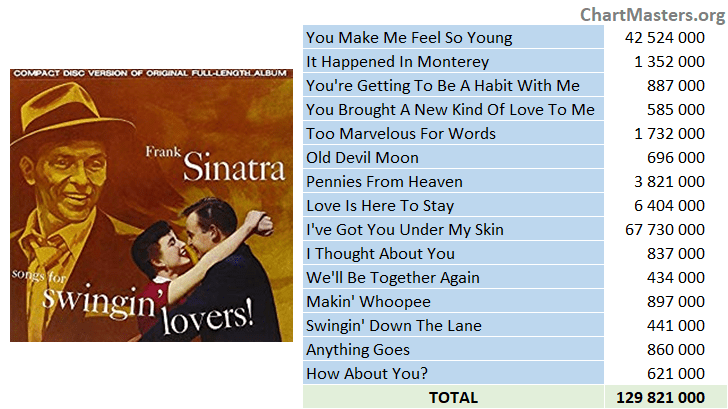 Frank Sinatra repeats his presence among the most essential pre-1960 albums. This time he does it with 1956's Songs For Swingin' Lovers. One more factual evidence of the artist's pioneering role in developing the album format this LP was #1 of the first UK album chart ever dated July 28, 1956. An absolute beast back then there, it managed to reach the Top 10 a stunning 5 years in a row. In the US, it lasted 39 weeks inside the Top 10 although it couldn't reach the top because of the competition from Elvis Presley's debut album.
Both songs I've Got You Under My Skin and You Make Me Feel So Young are among the classy singer's biggest standards They combine for over 100 million streams, largely contributing to the album's total of nearly 130 million. This record is often regarded as Sinatra's finest effort.
7 Chet Baker – Chet Baker Sings (1954)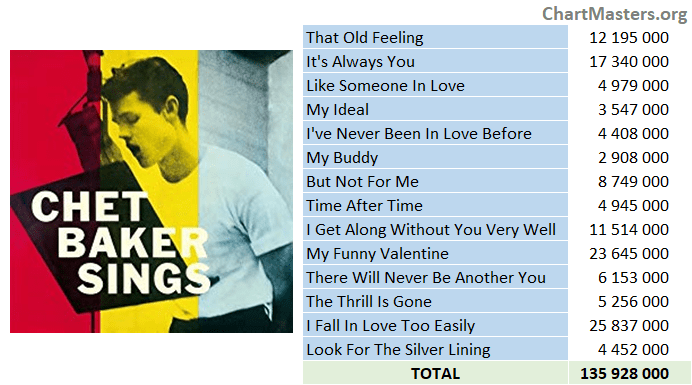 Chet Baker is arguably the least well-known artist of this list. He never got a Gold record in the US, just like his recordings never entered UK charts. In fact, his most successful albums weren't reaching 6 digits in sales and he made the press more often because of his drug addictions because of his songs. His cult following has been growing through the years yet, rocketing his absolute classic Chet Baker Sings among these essential albums.
Many struggle to know if we should regard him as a trumpet player or as a singer. Truth is, it's difficult to really tell his main characteristic because he is insanely excellent in both roles. He speaks with his instruments and blows his singing as he plays Jazz. Sings is the first LP that saw him use his voice. The result is one of the most soulful and lovely album that have ever been made. If you are unfamiliar with it, make sure to fix this issue as soon as possible. Many are already doing so as shown by the 136 million streams it accumulated on Spotify, perfectly balanced through all titles.
6 Chuck Berry – Is On Top (1959)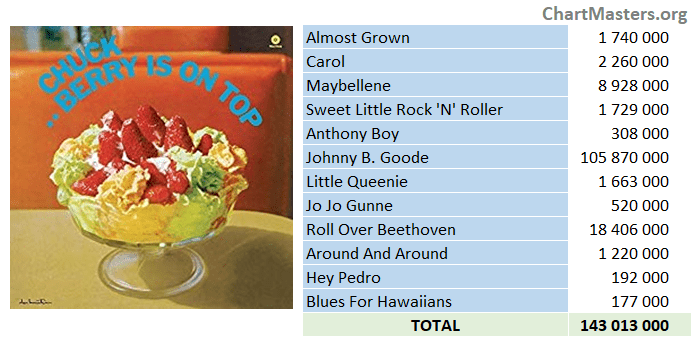 While Christmas albums and Jazz records often enjoy a better lasting appeal, Chuck Berry Is On Top is arguably the most representative album of the 50s from this list. Many consider this album to be a greatest hits, and it's true that Maybellene was a Top 10 hit in 1955, several years before the release of this LP. That too is representative of the 50s though, an era were albums weren't as clearly defined as they have been later on.
If the album is regarded as a best of, it's because from June 1958 to June 1959 Chuck Berry managed to chart 12 singles inside the Billboard Top 100 Singles Chart – named the Hot 100 since the August 4, 1958 issue. Most of these charted hits are included in this LP. Back in the day, Sweet Little Sixteen, the lead title of the artist's previous album One Dozen Berrys, remained his signature song. No song from Is On Top managed to top that #2 US hit. In the long run though, the #8 single Johnny B. Goode became far and away Berry's biggest song and arguably one of the most popular rock and roll singles of all-time. Ironically, the song ranks at #7 on Rolling Stone's Magazine 500 Greatest Songs of All Time list, one spot higher than its original weekly peak. With 105 million streams, it also became the third pre-1960 song ever to crack the 100 million plateau on Spotify.
5 Elvis Presley – Elvis' Christmas Album (1957)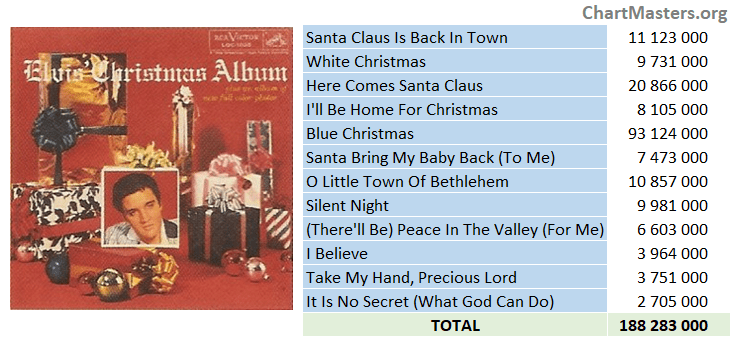 We step up to 188 million streams with the most successful holiday album of all-time, Elvis' Christmas Album. The legendary rocker Elvis Presley is also known for his very diverse repertoire, including his festive material. Blue Christmas is one of his most popular songs, on its way to break the 100 million mark during this season's holiday period.
The album, which generated more than 35 million units in equivalent album sales, includes renditions of multiple staple songs of Christmas. While they all are more well-known through versions from someone else, Presley's versions register from 7-21 million streams each, a huge mark. The album also features a quartet of classic gospel recordings, most notably Peace In The Valley.
4 Miles Davis – Kind Of Blue (1959)

The definitive album of Jazz. The first album to reach 200 million combined streams, the most amazing with it is the fact the original LP only contained 5 songs, 4 of which last more than 9 minutes. This obviously downgrades its potential streaming-wise, but it isn't enough to slow down this record.
At first, it failed to reach US charts but still improved greatly the reputation and popularity of Miles Davis. The words of mouth led the artist to become a regular inside the Top 200 album chart with his subsequent releases, although it took close to 5 years to the album to hit 100,000 US sales. Soon turning 60 years old, Kind Of Blue is now over 4,6 million pure sales in that country alone. One of the most visionary artists of all-time, it's someway logical to see time paying tribute back to Davis' so long after his early recordings.
3 Bing Crosby – Merry Christmas (1945)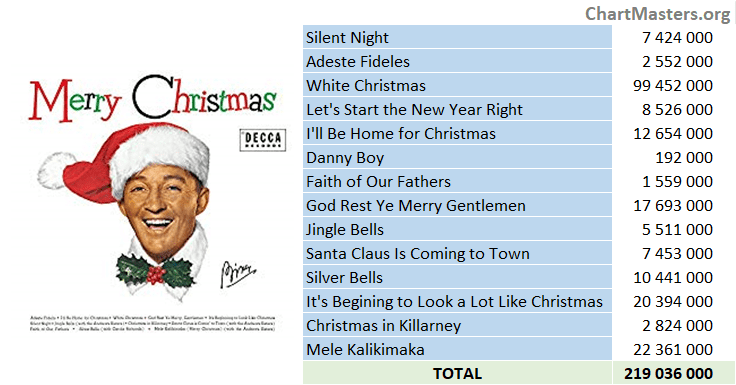 If many claims surrounding Bing Crosby's White Christmas single are exaggerated, we can certify Merry Christmas is the oldest album which amassed more than 100 million streams on Spotify – it did more than twice that number, currently standing at 219 million.
This LP was #1 in US charts an unreal 6 holiday seasons in a row, adding the absurd total of 36 weeks at the top. It remains only Gold certified there mostly because it was deleted through its original 10-inch LP form in 1955 and replaced by a 12-inch LP titled White Christmas. This reissue has gone 4xPlatinum.
Speaking about White Christmas, the song is 3 days away from hitting 100 million streams on its own to make it the oldest song over that threshold. The album contains much more as shown by the fact this single still accounts for less than half of its total streams.
2 Johnny Cash – With His Hot and Blue Guitar (1957)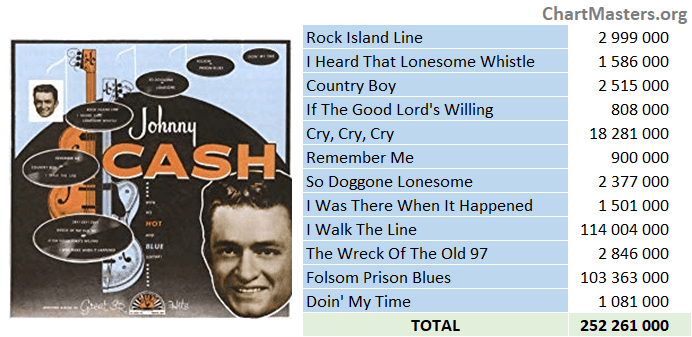 Only 4 pre-1960 songs stand over 100 million streams as of now. They are Chuck Berry's Johnny B. Goode (105,9 million, #3), Elvis Presley's Jailhouse Rock (111,6 million, #2) – absent from this ranking because it was part of no studio album – and then not one but two songs from Johnny Cash's With His Hot and Blue Guitar!
The top hit out of all them is the latter's massive classic I Walk The Line which registers 114 million streams. Folsom Prison Blues is monstrous too at 103,4 million. This album is far and away the oldest one with a pair of songs over 100 million, no other LP did it until the Beatles' Abbey Road from 1969. It also contains the popular track Cry, Cry, Cry which is over 18 million streams.
1 Frank Sinatra – Christmas Songs by Sinatra (1948)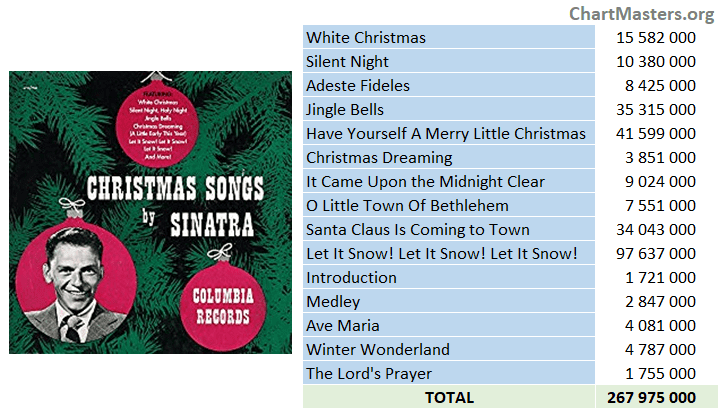 When I started to compile statistics for this article, I wondered myself which Christmas album was going to appear on top, Elvis' Christmas Album or Crosby's Merry Christmas. A dark horse came from the back door to crush both of them, Christmas Songs by Sinatra. Just like he opened this ranking, Frank Sinatra closes it.
Recorded and reissued multiple times, the LP includes a version of Let It Snow! Let It Snow! Let It Snow! from 1950 which remains incredibly popular with nearly 98 million streams. Have Yourself A Merry Little Christmas, Jingle Bells and Santa Claus Is Coming To Town are all at 34-42 million streams a piece. This builds an impressive total of 268 million plays for the LP. That's enough to make it the most successful pre-Beatles album on Spotify. Guess what? Christmas is coming so it's time to get into the mood by playing this classic record!