CSPC: Shania Twain Popularity Analysis
Streaming Sales
The below table lists Spotify streaming of all songs from the five albums we are studying. The Comprehensive Streaming is reached by multiplying Spotify figures by 68/26. In fact, as shown in the IFPI 2015 Report, there were 68 million paying subscribers to all streaming platforms by the end of 2015. While the exact count of Spotify paying subscribers by the end of 2015 is unknown, that figure reached 20 million in June 2015 and 30 million in March 2016, thus an estimated 26 million is used as of the end of 2015.
The equivalent album sales is the division of the comprehensive streaming figure by 1500 as is now the norm in the new industry model.
Streaming Part 1 – Up & Up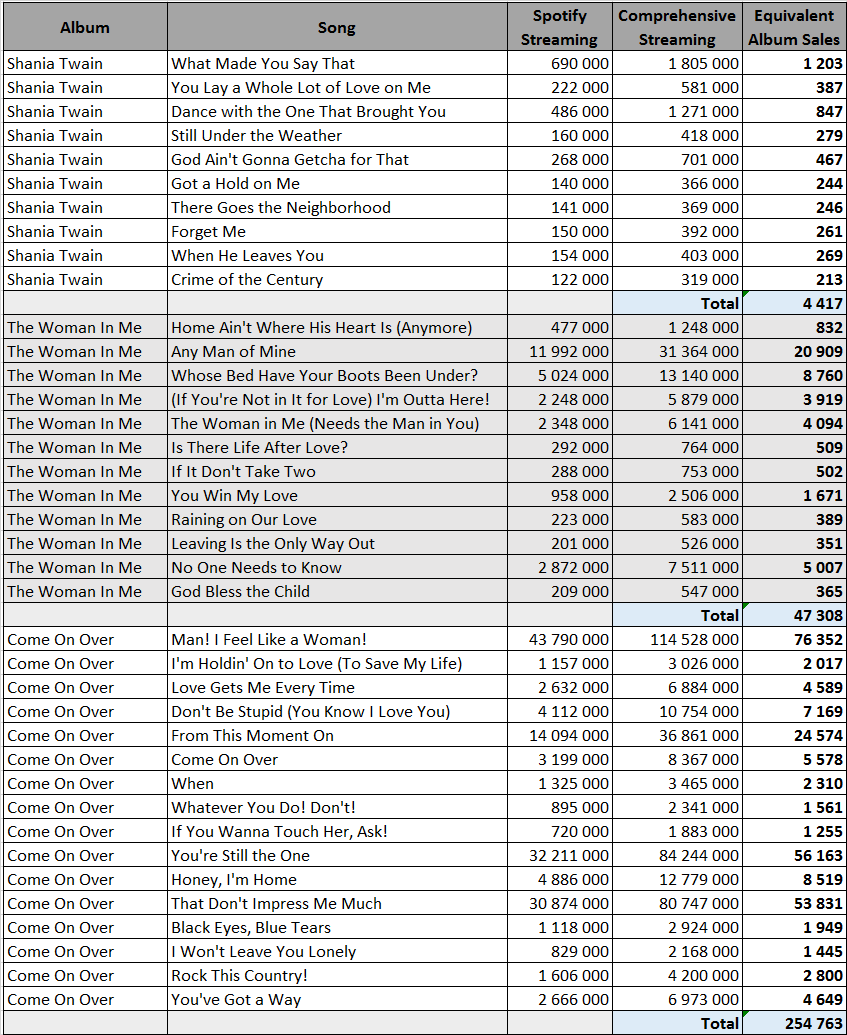 Let's be honest here, streaming figures of Shania Twain are atrocious. Many times, early albums get a second youth after an artist becomes well-known, it never happened for this album. In some way it really seems that the general public considers her career started with Robert John "Mutt" Lange only.
The Woman In Me results are already a whole lot better, some 10 times better actually. They are still pretty average, even quite low when we consider it is a 16-million selling record. Any Man Of Mine is the only track above 10 million while some album cuts struggle to reach even 200,000 plays. The 47,000 equivalent album sales this represents will add only a tiny fraction to its tally.
Results of Come On Over are similar on a higher scale. Of course, a catalog album having 3 songs over 30 million streams is big. It is just not that big all things considered. Indeed, at 255,000 equivalent album sales, the album is topped by the Rolling Stones album Aftermath, an LP which sold 8 times less than the Shania Twain album in twice as much time. So while Come On Over is definitely not forgotten, it isn't any longer the unreal sales beast it used to be.