CSPC: One Direction Popularity Analysis
Streaming Sales
Streaming is made up of two families – audio and video. Our CSPC methodology now includes both to better reflect the real popularity of each track. The main source of data for each avenue is respectively Spotify and YouTube. As detailed in the Fixing Log article, Spotify represents 132 million of the 212 million users of streaming platforms, while YouTube is pretty much the only video platform generating some revenue for the industry. Below is the equivalence set on the aforementioned article:
Audio Stream – 1500 plays equal 1 album unit
Video Stream – 11,750 views equal 1 album unit
Thus…
Equivalent Albums Sales = 212/132 * Spotify streams / 1500 + YouTube views / 11750
Streaming Part 1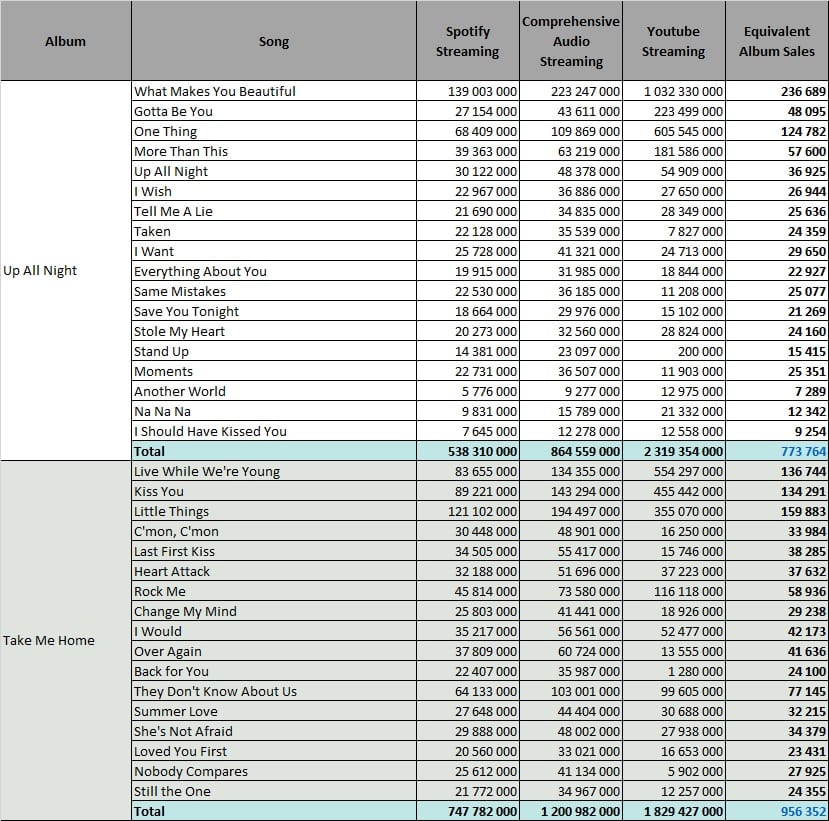 What can I say? It is getting more and more frequent to see recent albums with all their tracks above 10 million streams on Spotify. This is because many users are consuming music exclusively via the streaming platform nowadays. This feat remains quite rare for 2011 albums though, with only streaming monsters such as Drake and Ed Sheeran achieving this. They aren't alone, as every track from the original Up All Night album is over 14 million. Years after their breakthrough, and also years after their peak, their catalog is still buoyant. What Makes You Beautiful impresses again with 139 million streams on Spotify plus over 1 billion views on YouTube. Such all-around top performing songs bring the LP an impressive 774,000 equivalent album sales.
Songs from Take Me Home do not only replicate the feat of Up All Night, but really outdo it with all 17 of them being past 20 million streams. Little Things leads the pack with 121 million streams on Spotify, although YouTube views are bigger for Live While We're Young at 554 million. In total, those results are worth 956,000 equivalent album sales.