CSPC: Michael Jackson Popularity Analysis
Streaming Part 6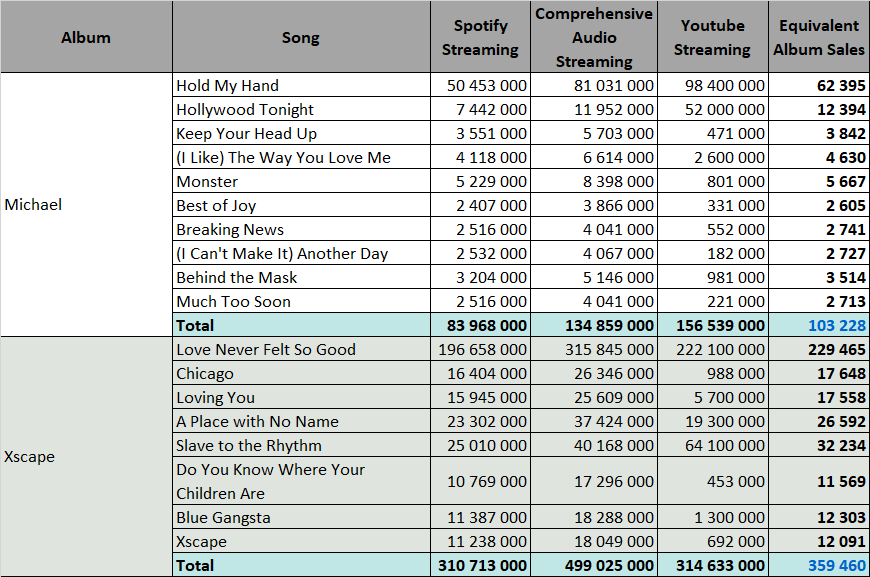 The album Michael was strongly rejected by fans when it came out. Called a cash-in and even a fraud on the back of conspiracy theories relating to who was actually singing on some of the songs, it suffered an incredible backlash. The surprise comes with its streaming numbers that are far from being low.
All its songs are comfortably over 2 million and Hold My Hand enjoys impressive catalog streams at over 50 million by now. Ironically, the 3 songs that fans call not legitimate from the album are all among the 5 most streamed songs from Michael, an album which adds for 103,000 equivalent album sales.
Xscape was the most shared album on Spotify during the year 2014. By then, streams were still relatively low. The record continues to get high rotation though and now all its songs are over 10 million. The leading hit is undoubtedly Love Never Felt So Good, the song recorded during the Thriller fever in 1983 has now around 200 million streams on both Spotify and YouTube. Xscape is up to 359,000 equivalent album sales.