CSPC: Madonna Popularity Analysis
Full Length related record Sales
It sounds fairly logical to add together weighted sales of one era – studio album, physical singles, downloads, streams – to get the full picture of an album's popularity. For older releases though, they also generate sales of various live, music videos and compilation albums.
All those packaging-only records do not create value, they exploit the value originating from the parent studio album of each of its tracks instead. Inevitably, when such compilations are issued, this downgrades catalog sales of the original LP. Thus, to perfectly gauge the worth of these releases, we need to re-assign sales proportionally to its contribution of all the compilations which feature its songs. The following table explains this method.
Remaining Long Format – Part 1 – Compilations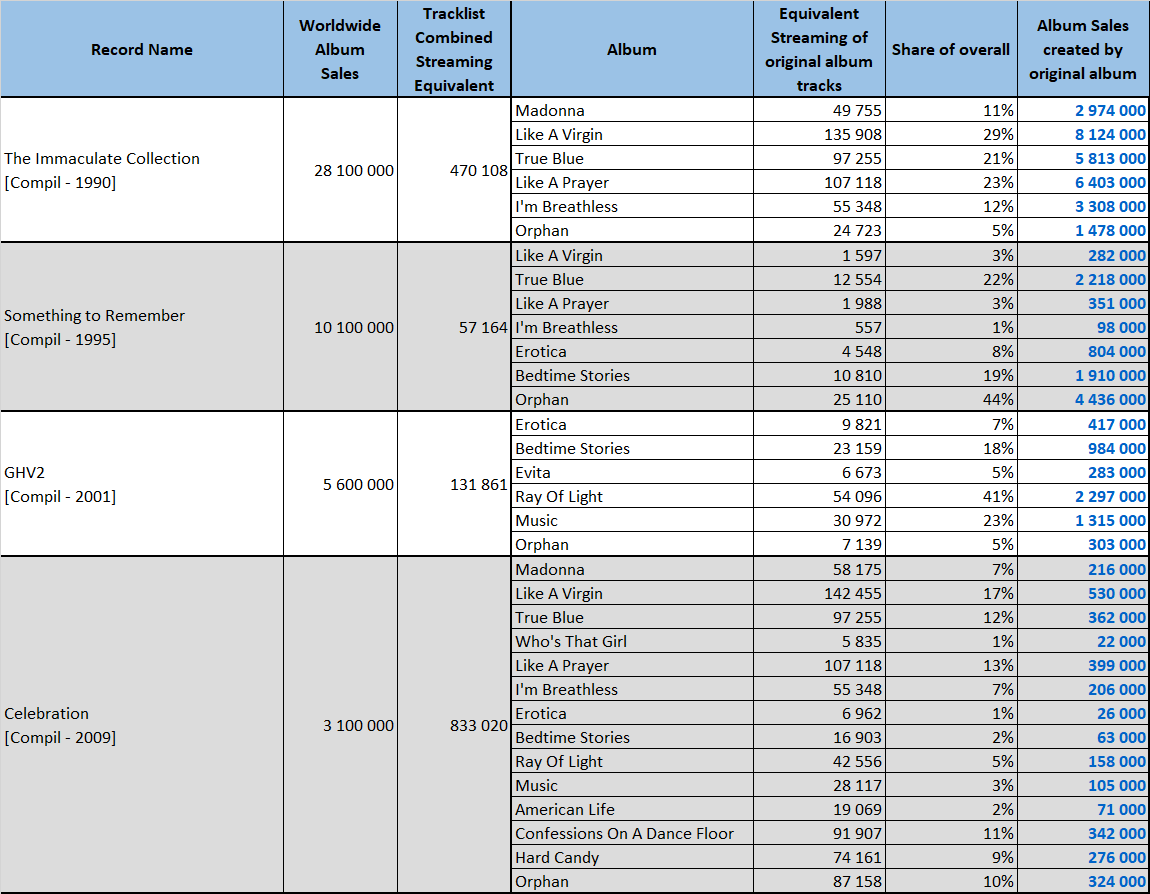 How to understand this table? If you check for example the The Immaculate Collection compilation line, those figures mean it sold 28,100,000 units worldwide. The second statistics column means all versions of all the songs included on this package add for 470,000 equivalent album sales from streams of all types.
The second part on the right of the table shows how many equivalent streams are coming from each original album, plus the share it represents on the overall package. Thus, streaming figures tell us songs from Like A Virgin are responsible for 29% of the The Immaculate Collection track list attractiveness. This means it generated 8,124,000 of its 28,100,000 album sales and so forth for the other records.
As it remains Madonna's greatest selling record, The Immaculate Collection represents a tremendous addition to her 80s studio albums. Since 1990, it cannibalized their catalog sales. Thanks to the CSPC approach, everything is assigned back to the original creators of that best of value.
It is key to notice that Like A Virgin is a larger contributor to the success of the compilation than True Blue. That later album sold more during its promotional campaign as the market was going up, so was the diva fan base, plus it got a huge tour supporting it. In the long run though, hits of Like A Virgin kept a bit more relevance, which is shown by this table. Indeed, it isn't only the main provider of attractiveness of The Immaculate Collection, it is also the strongest component of Celebration.
In the same way, Like A Prayer appears to be a strong strength for the catalog of the icon in spite of being nowhere near as big as a seller as True Blue. A question starts to emerge: True Blue is her best selling studio album in original album sales, but which album is really the most successful record of Madonna?