CSPC: Jackson 5 & The Jacksons Popularity Analysis
Streaming Sales
Streaming is made up of two families – audio and video. Our CSPC methodology now includes both to better reflect the real popularity of each track. The main source of data for each avenue is respectively Spotify and YouTube. As detailed in the Fixing Log article, Spotify represents 132 million of the 212 million users of streaming platforms, while YouTube is pretty much the only video platform generating some revenue for the industry. Below is the equivalence set on the aforementioned article:
Audio Stream – 1500 plays equal 1 album unit
Video Stream – 11,750 views equal 1 album unit
Equivalent Albums Sales = 212/132 * Spotify streams / 1500 + YouTube views / 11750
Streaming Part 1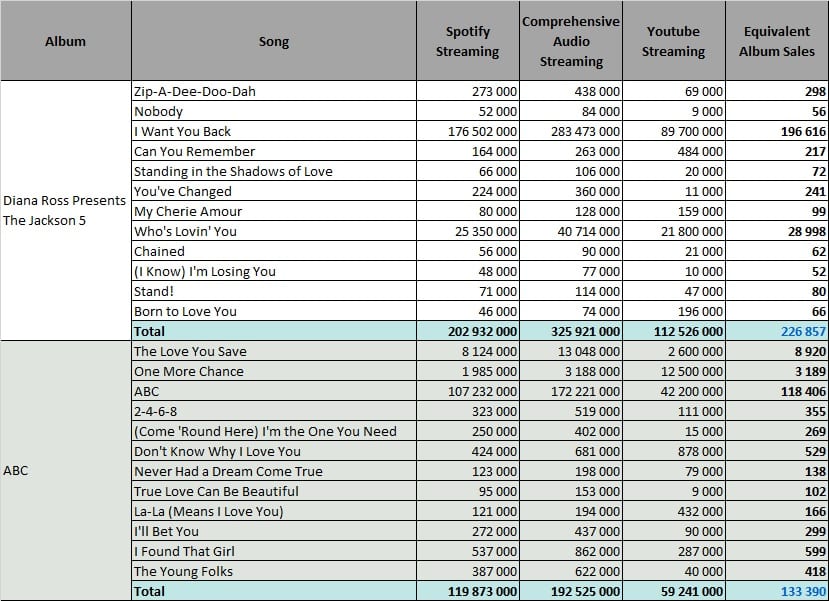 I Want You Back may be 48 years old, but the song continues to be as fresh as ever. Nobody would have guessed way back in 1969 that by 2017 it would be neck and neck with Fortunate Son by Creedence Clearwater Revival as the most streamed song from the 60s on Spotify. In fact, even the Beatles, the Rolling Stones, the Beach Boys, Bob Dylan, and Elvis Presley don't have a song challenging I Want You Back and its outstanding 176,5 million streams. The absence of plays from album tracks was expected. Who's Lovin' You does very well still at 25 million. Overall, the album has 227,000 equivalent album sales from streams.
The ABC album has one massive smash too with its title track. At 107 million, the hit is comfortably among the Top 50 hits of the 70s. Album tracks are more consistent from those of the debut LP, but at this level this is rather irrelevant in comparison to breakthrough hits like ABC. In total the LP has 133,000 equivalent album sales from streams.