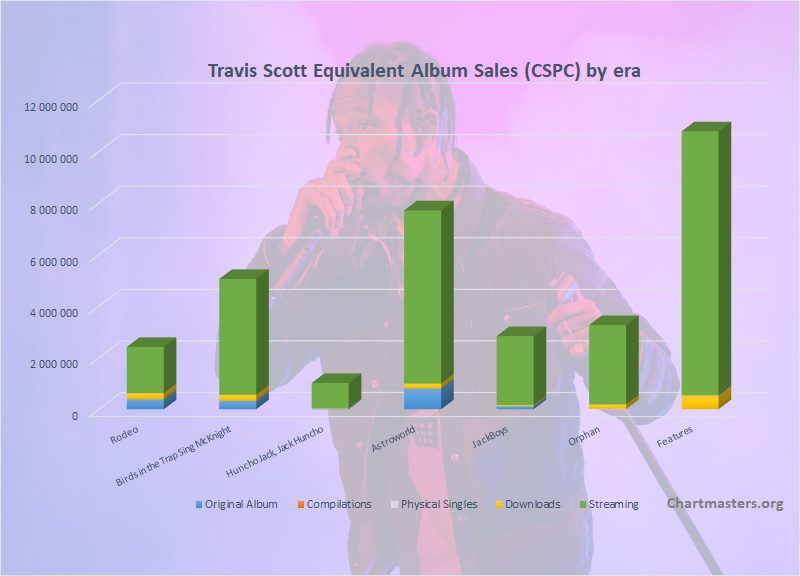 Recently, four billboards were enough to create a lot of buzz about the potential comeback of Travis Scott with the much touted Utopia.
In the second half of the 10s, his rise to superstardom was unstoppable. When he seemed ready to take over the crown from Drake as the new top hip hop seller, the Astroworld festival tragedy put a huge question mark on the future of his career.
While what comes next is a real mystery, we review in numbers the discography of the Houston rapper.
Both Rodeo (2015) and Birds in the Trap Sing McNight (2016) were great successes, respectively going to #3 and #1 in the US.
The growing demand paved the way to the smash album Astroworld (2018) that contained Scott's first chart topping single, Sicko Mode. This record is now eligible for a 5xPlatinum certification in the US while peaking inside the top 5 in most major markets.
From that point, the artist was on a roll. The hype around each of his new tracks was massive, with Highest In The Room, The Scotts and Franchise topping the Billboard Hot 100 in a span of less than a year.
His virtual shows on Fortnite in April 2020 were tremendously successful too, attracting over 27 million people and making Scott a global star.
A remix of Goosebumps also fueled his back catalog, cementing the status of Scott as a streaming juggernaut.
Even before the amazing streaming performances, the artist made himself famous thanks to his impressive stage presence.
He always wanted his fans to be in a state of transe while at his concerts, just like him. The electricity in the air brought the Rolling Stone magazine to call the Astroworld Tour the "greatest show on earth".
Everything back fired when a crowd crush left 10 people dead, mostly teenagers, on November 5, 2021. The terrible news shook the world, with social media quickly trying to cancel Scott.
At our end, we can only send our support to the victim's families and let experts and officials investigate to define who's responsible of what.
Instead, we can do what we do best – dig into the numbers to shine a light on an artist's true popularity. A special thanks to manager David Stromberg and the Sony Music team for sharing valuable sales information with us in order to be as accurate as possible.
As usual, I'll be using the Commensurate Sales to Popularity Concept in order to relevantly gauge his results. This concept will not only bring you sales information for all Scott albums, physical and download singles, as well as audio and video streaming. In fact, it will also determine their true popularity.
If you are not yet familiar with the CSPC method, below is a nice and short video of explanations. I fully recommend watching it before getting into the sales figures. Of course, if you are a regular visitor feel free to skip the video and get into the numbers directly.
The Commensurate Sales to Popularity Concept (CSPC)
There are two ways to understand this revolutionary concept. In the first place, there is this Scribe video posted below. If you are unaware of the CSPC method, you will get the full idea within just a pair of minutes.
If you are a mathematical person, and want to know the full method as well as formulas, you can read the full introduction article.
Now let's get into the artist's sales figures in detail in order to apply this concept and define the act's true popularity!
Travis Scott Album Sales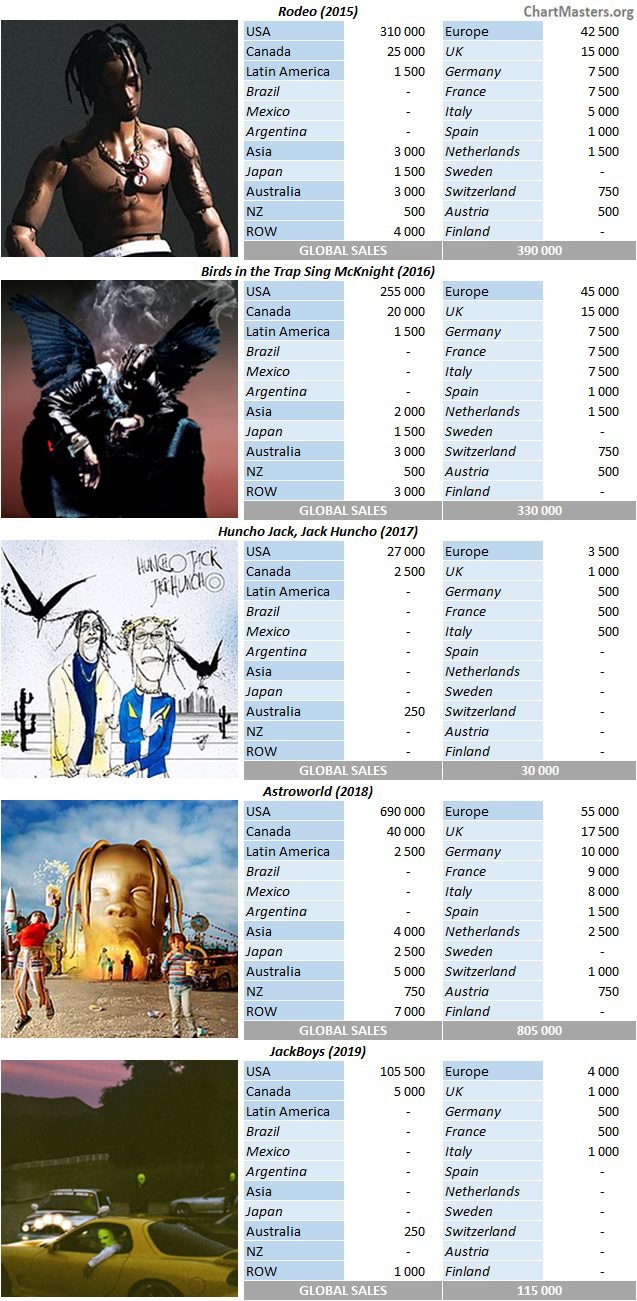 Original Album Sales – Comments

Before starting, we must point out that both Huncho Jack, Jack Huncho and JackBoys are extra / collaborative projects, which explains the unlinear numbers in comparison to the proper studio sets.
Rodeo is closing in 400,000 units. Mainly a US seller at first, in a market where streaming was already booming, pure sales were low.
The album gained a classic status yet. After not going much over 100,000 sales during the initial promotion campaign, it went on to clear 300,000 over the counter sales in the US by March 10, 2022, still moving near a thousand per week over seven years after its release.
Very telling is the fact that the album has now moved more LPs (closing in 90,000) than CDs (85,000), while downloads remain its highest sales venue at 131,000 pure copies even if weekly numbers are irrelevant by now.
Birds has a similar showing, although its initial sales were lower due to the shrinking market. In the US, it's close to 250,000 pure sales, half physical, half digital. The latter are dominated by LPs which moved 62% more units than CDs.
Huncho Jack, Jack Huncho has been a download-only release since day one, with still no physical product available, as a result its sales are virtually frozen for quite some time.
Astroworld moved a massive 456,000 download units in the US, an incredible number by 2018 standards. It has also gained traction on LP lately, with sales on this format topping the 175,000 sales threshold, while CDs stand at 48,000.
It's also the strongest seller oversea, totalling over 800,000 copies worldwide.
Total Album (all types) Sales per Country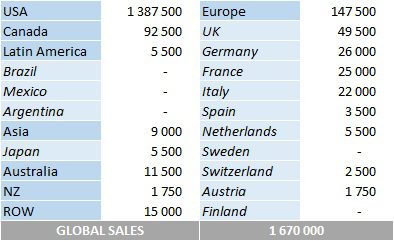 Please note country-specific numbers may miss sales of a few minor releases, although totals are complete.
Travis Scott Songs Sales

Physical Singles
As a reminder, the weighting is done with a 10 to 3 ratio between one album and one physical single and a 2 to 1 ratio between one album and one EP, and a 10 to 3.5 ratio when the single got relevant releases both as a single and a maxi-single.
As usual with new artists, sales of physical singles are limited to collector items.
Travis Scott has 6 such releases. It started with Sicko Mode, followed by Highest In The Room, both moving over 10,000 units.
Franchise and The Scotts each tripled this number. In-between, Wash Us In The Blood sold roughly 10,000 copies while the limited release Turks stands at 2,500 units.

Digital songs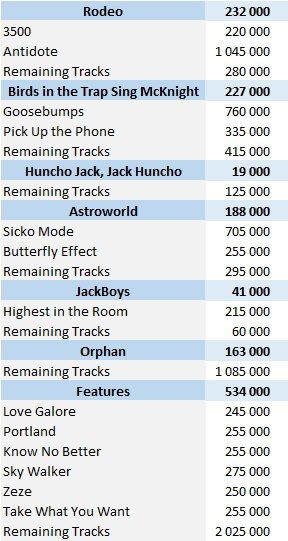 As a reminder, the weighting is done with a 10 to 1,5 ratio between one album and one digital single.
With downloads, just like with album sales, Scott arrived late to the party.
The collapse of the market enables his first real hit to be his largest seller by far. Antidote has over a million global sales, 890,000 of which come from the US.
Goosebumps' recent surge was huge, but downloads are weak, so it sold mostly during its first life. It's the second top seller so far at 760,000 units.
Sicko Mode is close behind, with 705,000 sales, including 580,000 from the US.
Interestingly, many, many tracks follow with similar numbers.
Pick Up the Phone is slightly higher than the remaining hits with 335,000. Then, no less than 9 songs stand inside the 215,000-275,000 sales ballpark.
Among them are smashes Highest In The Room, Zeze and Butterfly Effect.
Good all-around numbers from album cuts push Scott career total to 9.4 million digital sales.

Streaming
Streaming is made up of audio and video streams. Our CSPC methodology now includes both to better reflect the real popularity of each track. The main source of data for each avenue is respectively Spotify and YouTube.
To factor in the growing impact of multiple Asian countries where these platforms aren't always the go-to site for music streaming, more sources have been added.
In order to account for their real popularity in each relevant country, the below sources have been used along with the mentioned ratios that reflect the market share of each area.
Audio Streams
– South Korea : Genie streams * 3.05 (consistent with Gaon streaming numbers)
– Japan : AWA streams * 100/5.5 (AWA has 5.5% of the Japanese streaming market)– Elsewhere : Spotify streams * (370 – 8.5 – 9.5 – 33 – 9) / 207 (370 million global subscribers minus 8.5 million from South Korea minus 9.5 million from Japan minus 33 million from China divided by the number of Spotify only users minus 9 million more Asian users) + Genie streams * 3.05 (uses Genie rather than Spotify to extrapolate markets like Taiwan, Thailand and Vietnam)
Video Streams– China* : QQ video streams * 50 if the song is available for audio stream, QQ video streams * 5 elseway (scale built based on known figures for several major artists)– Elsewhere : Youtube views
*since 96.4% of Chinese streaming platforms are free users, that paid-for users pay less than $2 a month and that they are also used as video streaming platforms, their streams are weighted on par with YouTube streams.
Audio Stream value – 1500 plays equal 1 album unit
Video Stream value – 11,750 views equal 1 album unit
Equivalent Albums Sales (EAS) = ( Spotify * 310/207 + Genie * 3.05*2 + AWA * 100/5.5 ) / 1500 + ( QQ views* 50(or 5) + YouTube ) / 11750
Top Hits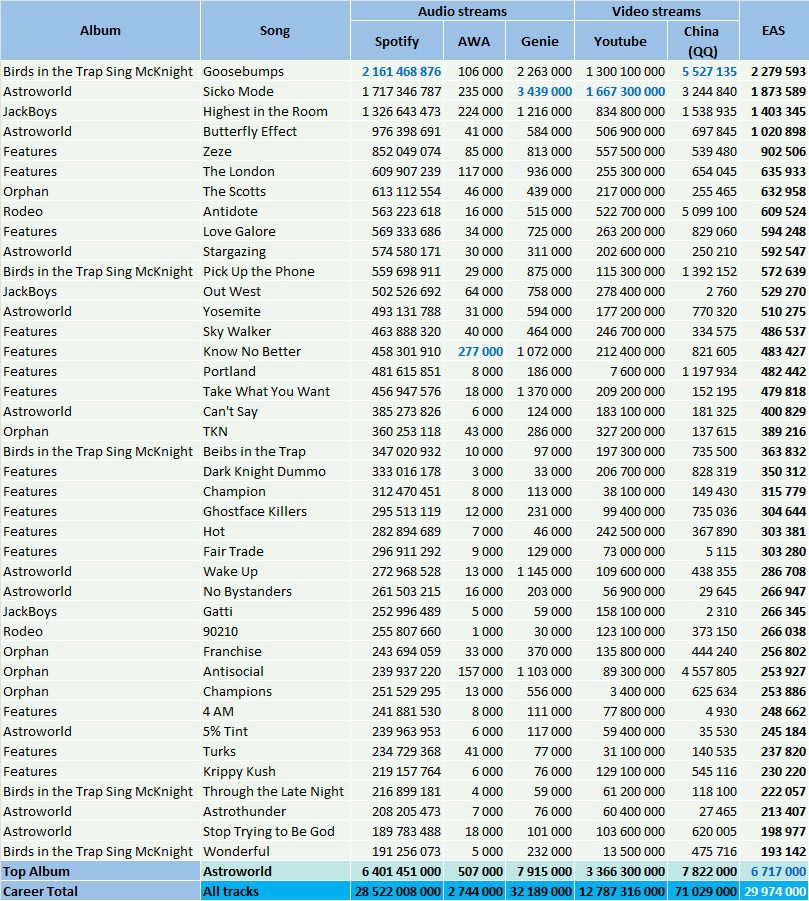 Goosebumps, thanks to its success upon release as well as in 2021 with the HVME remix, is the biggest hit to date from Scott.
It is currently the 14th most streamed song of all-time on Spotify at well over 2.1 billion plays. It is also a monster track on YouTube with 1.3 billion views. These numbers are good enough for nearly 2.3 million equivalent album sales.
Sicko Mode and Highest In The Room complete a very strong top 3 of tracks well past a billion streams on Spotify alone.
While the list of songs involves a lot of features, it's again a lead track at number 4 in this ranking, with Butterfly Effect on its way to crack a billion as well.
In the US alone, the first two tracks average 1.4 billion on-demand audio streams, while the next two are over 800 million.
Kodak Black-lead track Zeze is Scott's strongest feature with nearly 1 million equivalent album sales globally.
Outside of the top 5, the main information is how stacked the list is. As many as 8 tracks are between 510,000 and 635,000 EAS, 12 more are over 300,000 and an additional 13 are over 200,000.
Please be aware that some tracks have got their calculation adjusted when US streams suggested a different global total. The most striking example is Sweet Sweet which stands at 130 million on-demand audio streams in the US in spite of only 85.7 million global streams on Spotify.
Album-wise the leader is Astroworld at 6.7 million EAS.
Full catalog breakdown
If you are familiar with the artist's catalog and want to check details of each and every song, you can access to all of them right here.
Keep yourself up to date
Our website provides you a fantastic tool which fetches updated Spotify streams as you request them, use it to watch these results grow day after day!
Travis Scott Career CSPC Results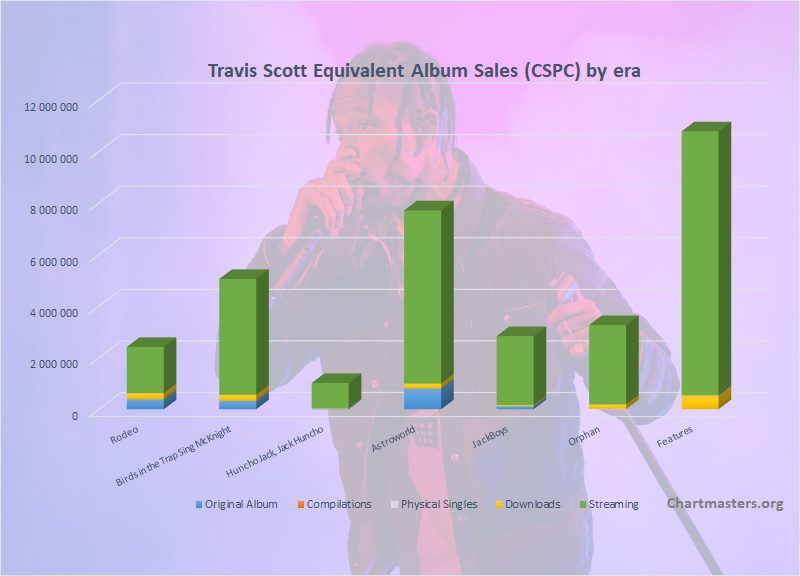 So, after checking all the figures, how many overall equivalent album sales has each album by Travis Scott achieved? Well, at this point we hardly need to add up all of the figures defined in this article!
Albums CSPC results
In the following results table, all categories display figures in equivalent album sales. If different, pure sales are listed between parentheses.
#
Cover
Album
Total CSPC
Sales*
Streams
Total CSPC
Studio Albums
Other LPs
Physical Singles
Digital Singles
Last verified
Auto update
Daily Increase
1
Rodeo
2,455,000
390,000
0
0(0)
232,000(1,550,000)
1,794,000 (04/09/22)
1,833,000 (05/22/22)
Av.: 900LD: 850
2,455,000
2
Birds in the Trap Sing McKnight
5,054,000
330,000
0
0(0)
227,000(1,510,000)
4,497,000 (04/09/22)
4,497,000 (04/09/22)
Av.: 0LD: 445,650
5,054,000
3
Huncho Jack, Jack Huncho
1,031,000
30,000
0
0(0)
19,000(130,000)
970,000 (04/09/22)
982,000 (05/22/22)
Av.: 280LD: 260
1,031,000
4
Astroworld
7,826,000
805,000
0
3,000(10,000)
188,000(1,260,000)
6,717,000 (04/09/22)
6,830,000 (05/22/22)
Av.: 2,640LD: 2,330
7,826,000
5
JackBoys
2,837,000
115,000
0
4,000(13,000)
41,000(280,000)
2,677,000 (04/09/22)
2,677,000 (04/09/22)
Av.: 0LD: 1,169,150
2,837,000
6
Orphan
3,263,000
0
0
20,000(65,000)
163,000(1,090,000)
3,080,000 (04/09/22)
N/A
N/A
3,263,000
7
Features
10,777,000
0
0
4,000(13,000)
534,000(3,560,000)
10,239,000 (04/09/22)
N/A
N/A
10,777,000
*Pure sales figures updated on 04/09/22. 'Av.' stands for Average, 'LD' for Last Day.
As a reminder:
Studio Album: sales of the original album
Other Releases: sales of compilations generated thanks to the album
Physical Singles: sales of physical singles from the album (ratio 3/10)
Download Singles: sales of digital singles from the album (ratio 1,5/10)
Streaming: equivalent album sales of all the album tracks (ratio 1/1500 for Audio stream and 1/6750 for Video stream)
See where the artist ranks among remaining singers
The most impressive result in this total is the steady yet fast growth between each album. Among studio albums, numbers were roughly from 2.5m to 5m to 7.5m.
All these albums continue to climb strongly, with both Birds and Astroworld enjoying hits with significant ongoing streams. The latter may pass the 10 million threshold in a pair of years.
Side collaborative projects are also improving as JackBoys moved nearly three times more units than Huncho Jack, Jack Huncho. The former is even stronger than it seems as it registers almost 3 million sales with only 6 tracks plus one interlude.
Another similar project has yet to come out, with Kid Cudi duet lead single The Scotts shifting over 650,000 EAS.
Scott is a prolific rapper, recording many more successful orphan songs and features, among which TKN, Franchise, Antisocial, Champions, Love Galore, Know No Better, Sky Walker, Zeze, Dark Knight Dummo, The London, Fair Trade, plus many more.
In total, studio sets, side projects and additional songs combine for an impressive 33 million equivalent album sales. Will Utopia, the supposed fourth album, come out soon? How well will it perform? This has yet to be seen.
Singles CSPC results
The list is compiled in album equivalent sales generated by each song. Therefore, these figures are not merged units of singles formats. Instead, it includes weighted sales of the song's physical single, download, ringtone and streaming as well as its share among sales of all albums on which it is featured.
1. 2016 – Travis Scott ft. Kendrick Lamar – Goosebumps [Birds in the Trap Sing McKnight] – 2,560,000
2. 2018 – Travis Scott ft. Drake – Sicko Mode [Astroworld] – 2,210,000
3. 2019 – Travis Scott ft. Rosalía & Lil Baby – Highest in the Room [JackBoys] – 1,500,000
4. 2018 – Travis Scott – Butterfly Effect [Astroworld] – 1,180,000
5. 2018 – Kodak Black ft. Travis Scott & Offset – Zeze [Features] – 940,000
6. 2015 – Travis Scott – Antidote [Rodeo] – 900,000
If you feel inspired by this list, we just created this CSPC Travis Scott playlist on Spotify!
Discography results
Thanks to our new ASR (Artist Success Rating) concept, we know that his sales represent 6.94 million times the purchase of his entire discography. Coupled with his total sales, it translates into an ASR score of 86.
The ranking of all artists studied so far is available too at this link.
Records & Achievements
At 7,713,000 EAS, Astroworld

is the 7th most successful album from 2018.

At 2.16 billion, Goosebumps is the 14th most streamed song of all-time on Spotify.
NB: EAS means Equivalent Album Sales.
Dynamic Spotify Key Performance Indicators
Please note that numbers below are retrieved automatically, so they will evolve day by day unlike previously listed data which is valid as of the publication date of the article.
Travis Scott
Current followers count: 20,582,995
20,000,000 followers have been reached on 03/07/22 19,000,000 followers have been reached on 11/27/21 18,000,000 followers have been reached on 09/02/21 17,000,000 followers have been reached on 06/22/21 16,000,000 followers have been reached on 04/08/21 15,000,000 followers have been reached on 02/05/21 14,000,000 followers have been reached on 12/11/20 13,000,000 followers have been reached on 10/14/20 12,000,000 followers have been reached on 08/25/20 11,000,000 followers have been reached on 07/17/20 10,000,000 followers have been reached on 06/09/20
>> Daily breakdown
Travis Scott is #55 among the most followed artists of all-time
>> Visit our Top 200 most followed artists ranking
Current streams count: 19,534,502,936
19,000,000,000 streams have been reached on 03/19/22 18,000,000,000 streams have been reached on 12/01/21 17,000,000,000 streams have been reached on 08/30/21 16,000,000,000 streams have been reached on 05/28/21 15,000,000,000 streams have been reached on 03/07/21 14,000,000,000 streams have been reached on 12/13/20 13,000,000,000 streams have been reached on 11/18/20 14,000,000,000 streams have been reached on 11/11/20 13,000,000,000 streams have been reached on 08/30/20 12,000,000,000 streams have been reached on 06/27/20 11,000,000,000 streams have been reached on 05/04/20
>> Daily breakdown
Travis Scott is #21 among the most streamed artists of all-time Popularity Rating: 87/100
>> Visit our Top 1,000 most streamed artists ranking
>> Visit our Top 20 highest rated artists ranking
Current monthly listeners: 38,775,005
(Trend:
355,295
)
Global chart position: #44
The artist top 50 cities come from
18 distinct countries
>> Global impact breakdown
You may be interested in…
… best-selling artists, albums, and singles
To improve your navigation we created several amazing cross-artists lists posted inside the CSPC: Data Collector article. Click on it to see the full listing of all CSPC results compiled so far!
… similar artists
To put figures from this article into perspective, click on the images below to reach career breakdowns of similar artists: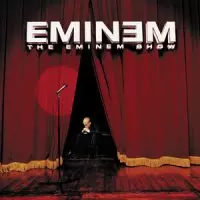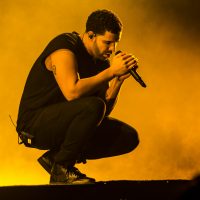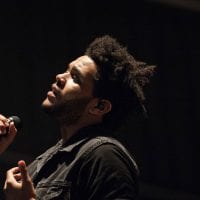 As usual, feel free to comment and / or ask a question!
Sources: Sony Music, IFPI, Spotify, YouTube, Discogs.