In recent years, Kendrick Lamar has become one of the most popular artists in the world. His latest album, Damn, which was released exacly two years ago, ended up as the 7th best selling album of 2017 with over 1.3 million units shipped globally. How much has this album moved as of 2019? How big is he globally? We'll find out shortly!
In 2011, the critically acclaimed rapper independently released his debut studio album, Section.80, although he wouldn't truly find success until about a year later. Now signed to a major record label, Lamar's second studio album, Good Kid, M.A.A.D City, sold over 1.7 million copies in the United States alone – simply an outstanding result for a hip hop artist in the 2010s. The album was so popular it ended up being 2018's 80th biggest album in terms of overall consumption, more than 6 years after its release!
It doesn't quite end there, though. Lamar found international success with his third studio album, To Pimp a Butterfly, released in 2015. The album peaked at the top spot in the major English speaking countries – Australia, Canada, New Zealand, United Kingdom and his native, the United States.
While Lamar's global popularity was growing by the day, it wasn't until his fourth studio album that he managed to expand his fan base outside the English speaking world. Damn, the rapper's latest effort, peaked inside the Top 3 in Belgium, Denmark, Netherlands, Norway, Sweden, Finland, France, and Switzerland, solidifying Kendrick Lamar as a major global act.
As usual, I'll be using the Commensurate Sales to Popularity Concept in order to relevantly gauge his results. This concept will not only bring you sales information for all Kendrick Lamar's albums, physical and download singles, as well as audio and video streaming. In fact, it will also determine their true popularity.
If you are not yet familiar with the CSPC method, below is a nice and short video of explanations. I fully recommend watching it before getting into the sales figures. Of course, if you are a regular visitor feel free to skip the video and get into the numbers directly.
Please note that all albums and singles sales were updated on 01/29/2018, streaming data has been updated as of the date of the article.
The Commensurate Sales to Popularity Concept (CSPC)
There are two ways to understand this revolutionary concept. In the first place, there is this Scribe video posted below. If you are unaware of the CSPC method, you will get the full idea within just a pair of minutes.
If you are a mathematical person, and want to know the full method as well as formulas, you can read the full introduction article.
Now let's get into the artist's sales figures in detail in order to apply this concept and define the act's true popularity!
Kendrick Lamar's Album Sales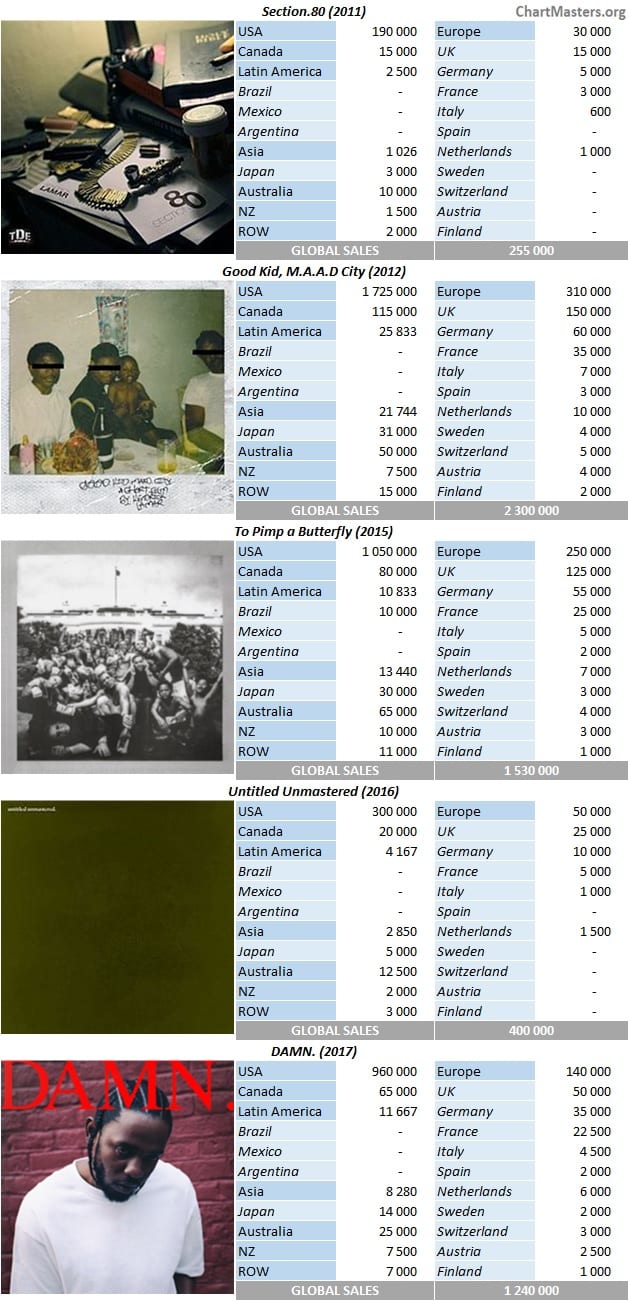 Original Album Sales – Comments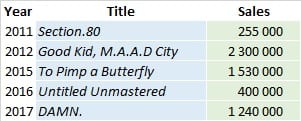 All 3 proper studio albums by Lamar sold past 1 million units which is already a feat these days, especially for acts who started too late to develop a fan base of collectors.
Figures are fairly high in comparison to sales of those albums in their first months.
In fact, Good Kid, M.A.A.D City was only #80 inside the Year End Billboard chart of 2012. It has gone on to out-perform this showing in 2013, 2014, 2015, 2016, 2017 and 2018.
Obviously, the Billboard Album chart includes streaming and track equivalent sales, but this is still stunning evidence of an album becoming a modern day classic.
The album was the 13th highest selling Vinyl of 2017 in the US topped only by the likes legendary albums of Michael Jackson's Thriller, the Beatles' Abbey Road, Pink Floyd's Dark Side of the Moon, Miles Davis' Kind of Blue and Fleetwood Mac's Rumours.
Kendrick Lamar's songs sales

Digital songs
As a reminder, the weighting is done with a 10 to 1,5 ratio between one album and one digital single.
Just like their parent album, songs from Good Kid, M.A.A.D City sold steadily over time.
This is how Swimming Pools (Drank) manages to claim 2,7 million sales in spite of a modest #17 peak inside the US Hot 100, while failing to chart in most other countries.
Three more songs from the album are million sellers to take the total of this era to more than 8 million download sales.
To Pimp A Butterfly was also critically acclaimed but its singles were nowhere near as good cross-over hits. None of them reached the million plateau.
Although downloads are quickly becoming irrelevant, Humble moved over 1,7 million units. Remaining singles plus album tracks are also doing well, now over 2,2 million combined.
None of those albums include the very top sellers of Lamar. His main one is the Taylor Swift led song, Bad Blood at 4,45 million. Two more features belong to the multi-million sellers, they are Sia's The Greatest and Maroon 5's Don't Wanna Know.

Streaming
Streaming is made up of audio and video streams. Our CSPC methodology now includes both to better reflect the real popularity of each track. The main source of data for each avenue is respectively Spotify and YouTube. As detailed in the Fixing Log article, Spotify represents 157 million of the 272 million users of streaming platforms, while YouTube is pretty much the only video platform generating some revenue for the industry. Below is the equivalence set on the aforementioned article:
Audio Stream – 1500 plays equal 1 album unit
Video Stream – 11,750 views equal 1 album unit
Equivalent Albums Sales (EAS) = 272/157 * Spotify streams / 1500 + YouTube views / 11750
Top Hits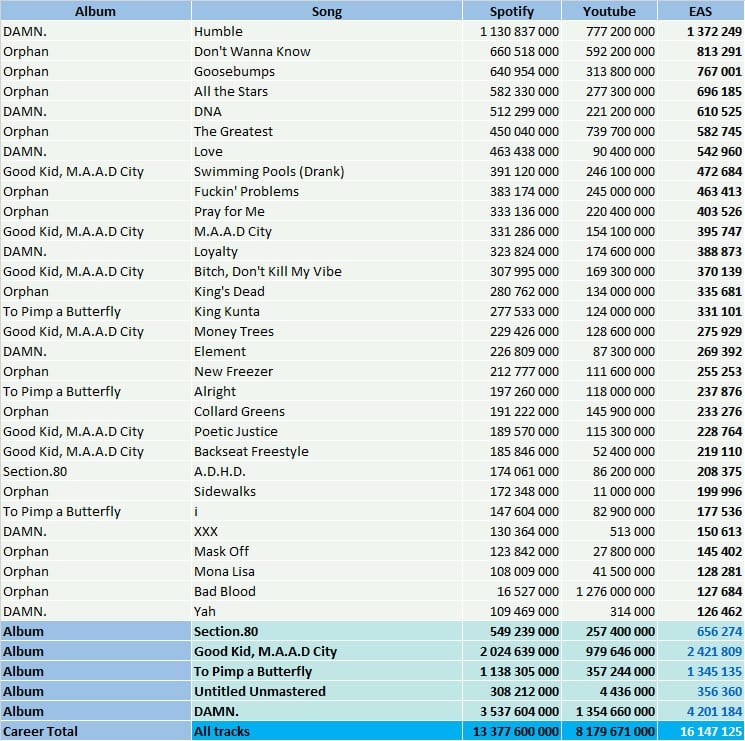 Humble remains Lamar's biggest streaming hit to date, surpassing the magic 1 billion mark on Spotify and nearing nine digit figures on YouTube as well. The track has generated a massive figure of 1.4 million EAS for his most recent effort, Damn.
Next up comes the Maroon 5 collaboration in which Lamar is featured, Don't Wanna Know. Despite missing the Top 5 on the US Billboard Hot 100 and underperforming in several key markets, it has gathered more than 1 billion combined streams between Spotify and YouTube alone. A pretty extraordinary figure which adds up for 813,000 EAS which are counted towards the Orphan category.
Lamar's Top 10 tracks consist of three tracks from Damn, 1 track from Good Kid, M.A.A.D City, and collaborations with Maroon 5, Sia, Travis Scott, SZA, ASAP Rocky and The Weeknd. As we can see above, To Pimp a Butterfly doesn't seem to have as big of a following as the rest of Lamar's albums, with the exception of his not so successful debut, Section.80, which registers over half a billion streams on Spotify to date. This figure is pretty healthy given the album was released right before Spotify's launch in the United States.
Full catalog breakdown
If you are familiar with the artist's catalog and want to check details of each and every song, you can access to all of them right here.
Total Album (all types) Sales per Country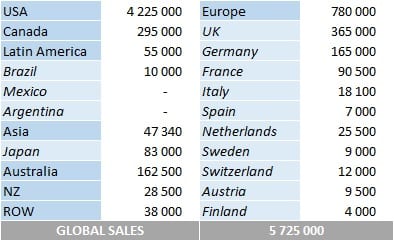 Please note country-specific numbers may miss sales of a few minor releases, although totals are complete.
Kendrick Lamar Career CSPC Results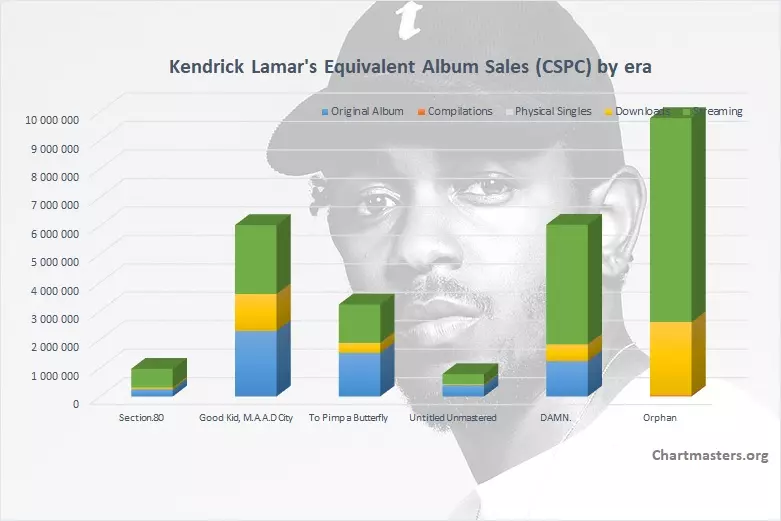 So, after checking all the figures, how many overall equivalent album sales has each album by Kendrick Lamar achieved? Well, at this point we hardly need to add up all of the figures defined in this article!
Albums CSPC results
In the following results table, all categories display figures in equivalent album sales. If different, pure sales are listed between parentheses.
#
Cover
Album
Total CSPC
Sales*
Streams
Total CSPC
Studio Albums
Other LPs
Physical Singles
Digital Singles
Last verified
Auto update
Daily Increase
1
Section.80
1,274,000
255,000
0
0(0)
60,000(400,000)
656,000 (04/12/19)
959,000 (10/19/21)
Av.: 330LD: 390
1,274,000
2
Good Kid, M.A.A.D City
7,626,000
2,300,000
0
0(0)
1,299,000(8,660,000)
2,422,000 (04/12/19)
4,027,000 (10/19/21)
Av.: 1,740LD: 2,280
7,626,000
3
To Pimp a Butterfly
3,884,000
1,530,000
0
0(0)
354,000(2,360,000)
1,345,000 (04/12/19)
2,000,000 (10/19/21)
Av.: 710LD: 850
3,884,000
4
Untitled Unmastered
901,000
400,000
0
0(0)
30,000(200,000)
356,000 (04/12/19)
471,000 (10/19/21)
Av.: 130LD: 190
901,000
5
DAMN.
8,092,000
1,240,000
0
0(0)
591,000(3,940,000)
4,201,000 (04/12/19)
6,261,000 (10/19/21)
Av.: 2,240LD: 2,420
8,092,000
6
Black Panther The Album Music From And Inspired By
3,248,000
0
0
0(0)
0(0)
0 (N/A)
3,248,000 (10/19/21)
Av.: 0LD: 0
3,248,000
7
Orphan
9,780,000
0
50,000
0(0)
2,564,000(17,090,000)
7,166,000 (04/12/19)
N/A
N/A
9,780,000
*Pure sales figures updated on 04/12/19. 'Av.' stands for Average, 'LD' for Last Day.
As a reminder:
Studio Album: sales of the original album
Other Releases: sales of compilations generated thanks to the album
Physical Singles: sales of physical singles from the album (ratio 3/10)
Download Singles: sales of digital singles from the album (ratio 1,5/10)
Streaming: equivalent album sales of all the album tracks (ratio 1/1500 for Audio stream and 1/11750 for Video stream)
See where the artist ranks among remaining singers
Since the last update in January 2018, Lamar has added nearly 7 million EAS to his total. The rapper is getting closer and closer to the 30 million mark and at this rate, he should be reaching that figure before the end of the year. Quite impressive considering he only hit the 20 million mark last year!
His latest effort, Damn, has now surpassed Good Kid, M.A.A.D City as his top selling album at more than 6 million.
They're incredibly close, though, and both albums are still charting inside the Billboard 200 ranking.
To Pimp a Butterfly sold a very respectable 3,2 million but the drop opened the door to a possible collapse with his third album. He didn't flop. Quite the opposite. Damn. has nearly doubled the sales of his predecessor.
It won't be long before Section.80, the rapper's debut album, hits the 1 million mark which means all of Lamar's studio albums will reach that milestone. Despite missing the Top 100 in the US, the album continues pull respectable streaming numbers.
Lamar greatly benefits from his famous features and mixtapes, gathering nearly 10 million EAS from them.
All told, the US rap genius is now over 26,82 million equivalent album sales.
Singles CSPC results
The list is compiled in album equivalent sales generated by each song. Therefore, these figures are not merged units of singles formats. Instead, it includes weighted sales of the song's physical single, download, ringtone and streaming as well as its share among sales of all albums on which it is featured.
1. 2017 – Kendrick Lamar – Humble [DAMN.] – 2,040,000
2. 2012 – Kendrick Lamar – Swimming Pools (Drank) [Good Kid, M.A.A.D City] – 1,330,000
3. 2016 – Maroon 5 ft. Kendrick Lamar – Don't Wanna Know [Orphan] – 1,290,000
4. 2012 – Kendrick Lamar ft. MC Eiht – M.A.A.D City [Good Kid, M.A.A.D City] – 930,000
4. 2012 – Kendrick Lamar – Bitch, Don't Kill My Vibe [Good Kid, M.A.A.D City] – 930,000
If you feel inspired by this list, we just created this CSPC Kendrick Lamar playlist on Spotify!

Discography results
Thanks to our new ASR (Artist Success Rating) concept, we know that his sales represent 12.55 million times the purchase of his entire discography.
Coupled with his total sales, it translates into an ASR score of 71. He is tied with Fergie, below Gorillaz and Macklemore, and ahead of Avicii and Aaliyah. The ranking of all artists studied so far is available too at this link.
Records & Achievements
Damn was the #1 album of 2017 in the US according to Billboard.
Damn is the first and only non-classical and non-jazz album to be awarded the Pulitzer Prize for Music.
Kendrick Lamar has got a #1 album in the US every year from 2015 to 2018.
Kendrick Lamar was nominated for Grammy Awards' Album Of The Year each of the last 4 years either as main or featured artist.
You may be interested in…
… best-selling artists, albums, and singles
To improve your navigation we created several amazing cross-artists lists posted inside the CSPC: Data Collector article. Click on it to see the full listing of all CSPC results compiled so far!
… similar artists
To put figures from this article into perspective, click on the images below to reach career breakdowns of similar artists:
As usual, feel free to comment and / or ask a question!
Sources: IFPI, Spotify, YouTube, Discogs.