CSPC: Guns N' Roses Popularity Analysis
Streaming Sales
Streaming is made up of two families – audio and video. Our CSPC methodology now includes both to better reflect the real popularity of each track. The main source of data for each avenue is respectively Spotify and YouTube. As detailed in the Fixing Log article, Spotify represents 132 million of the 212 million users of streaming platforms, while YouTube is pretty much the only video platform generating some revenue for the industry. Below is the equivalence set on the aforementioned article:
Audio Stream – 1500 plays equal 1 album unit
Video Stream – 11,750 views equal 1 album unit
Equivalent Albums Sales (EAS) = 212/132 * Spotify streams / 1500 + YouTube views / 11750
Streaming Part 1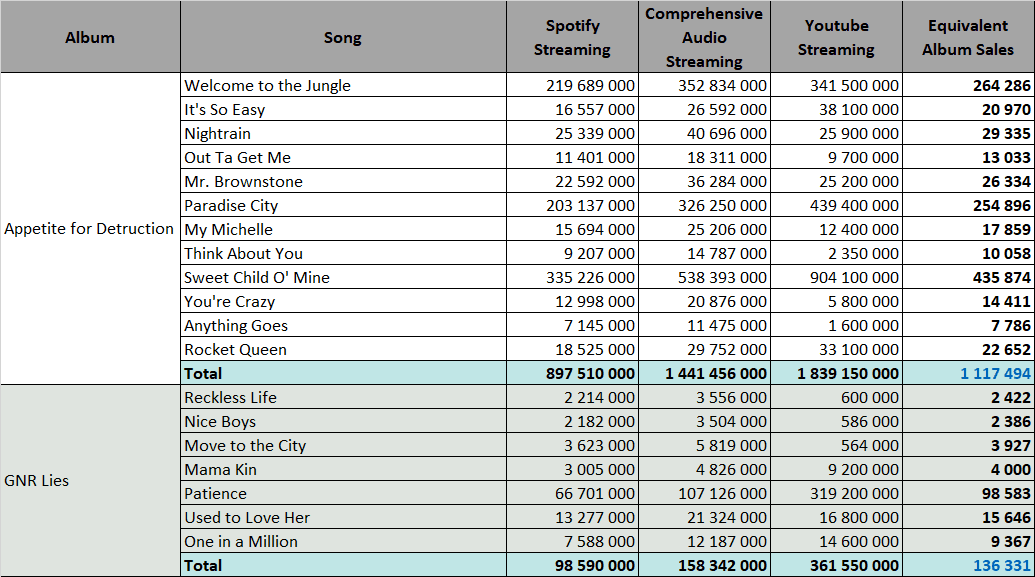 You must start to understand it, Appetite For Destruction isn't just a blockbuster album seller. Whichever format you look at this record achieved insane results. In terms of streaming, its main three singles cumulate 200 million plays on Spotify alone with all three of them among the Top 15 biggest tracks of the 80s along with the likes of Billie Jean, Don't Stop Believin' and With Or Without You. Inside those 80s biggest hits in the streaming world, only Michael Jackson's album Thriller can challenge Guns N' Roses' beast with its main three songs receiving 758 million streams combined. Its streams on YouTube are equally impressive with over 1,8 billion views in total.
Equivalent album sales wise, Appetite For Destruction's songs streaming figures total over 1,1 million albums sold, more than many recent releases.
GNR Lies is nowhere near as big but Patience remains a very popular song. It generates nearly 100,000 equivalent album sales out of the 136,000 units managed by the entire track list.