Jackson 5 & The Jacksons CAREER CSPC RESULTS
So, after checking all the figures, how many overall equivalent album sales has each Jackson 5 album achieved? Well, at this point we hardly need to add up all of the figures defined in this article!
In the following table, all categories display figures that way, e.g. in equivalent album sales. For example, singles from ABC released in digital format sold the equivalent of 474,000 albums – 3,160,000 downloads with a 10 to 1,5 weighting.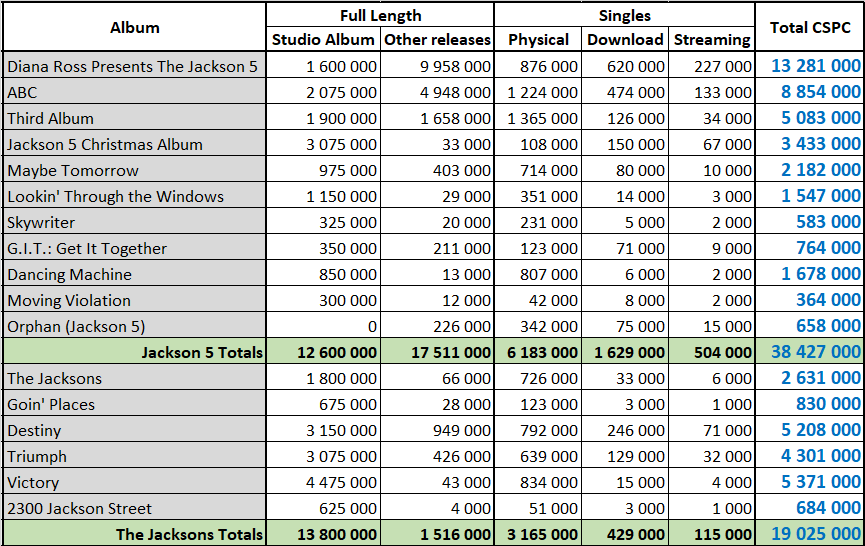 Studio Album: sales of the original album
Other Releases: sales of compilations generated thanks to the album
Physical Singles: sales of physical singles from the album (ratio 3/10)
Download Singles: sales of digital singles from the album (ratio 1,5/10)
Streaming: equivalent album sales of all the album tracks (ratio 1/1500 for Audio stream and 1/11750 for Video stream)
Even if they maintained decent studio album sales during their entire career, the Jackson 5 are widely remembered nowadays for their two  early songs I Want You Back and ABC. The related albums combine for a stunning 22 million equivalent album sales, 13,3 million for Diana Ross Presents the Jackson 5 and 8,9 million for ABC.
Later years of the initial line-up was made up of hits and misses. The new incarnation of the group The Jacksons doesn't have a stand-out point like the Jackson 5 in 1970, but their consistency has been notable. The last 3 albums which included Michael averaged 5 million equivalent album sales, led by Victory at 5,3 million. Destiny is a close second, and since it is a better performer on digital platforms, it will ultimately jump to the first position among albums on the Epic label.
It is hard to determine how their sales and streams would be today if it wasn't for the legendary career of Michael in later years, but at 57,45 million the position of the Jackson 5 / Jacksons in the hall of fame of Black music is uncontested. The strong current showing of several of their hits will solidify their status during the upcoming years.
The following pages list their most successful songs as well as their records and achievements. Do not forget to check our amazing cross-artists lists posted inside the CSPC: Data Collector which includes the full listing of all CSPC results compiled so far to better gauge their position in the history of the music industry.
As usual, feel free to comment and / or ask a question!
Sources: Spotify, YouTube, Chartmasters.org.