Madonna CAREER CSPC RESULTS
So, after checking all the figures, how many overall equivalent album sales has each Madonna album achieved? Well, at this point we hardly need to add up all of the figures defined in this article!
In the following table, all categories display figures that way, e.g. in equivalent album sales. For example, singles from Hard Candy released in digital format sold the equivalent of 1,316,000 albums – 8,775,000 downloads with a 10 to 1,5 weighting.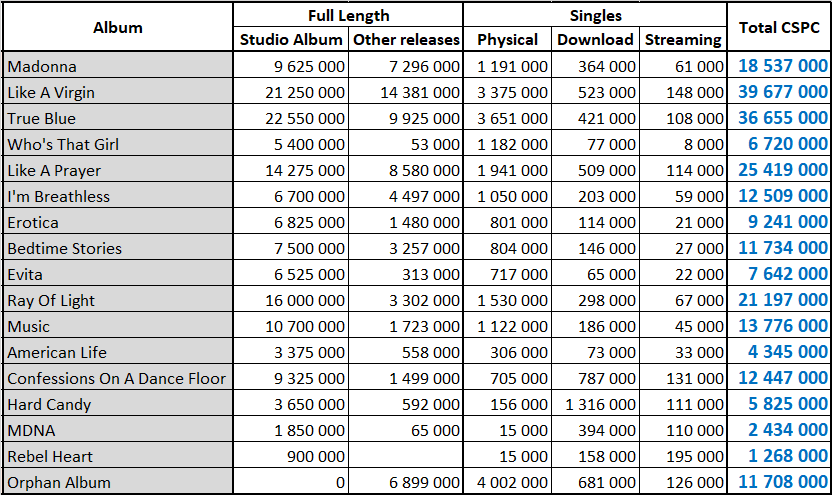 Studio Album: sales of the original album
Other Releases: sales of compilations generated thanks to the album
Physical Singles: sales of physical singles from the album (ratio 3/10)
Download Singles: sales of digital singles from the album (ratio 1,5/10)
Streaming: equivalent album sales of all the album tracks (ratio 1/1500 for Audio stream and 1/11750 for Video stream)
This is it! We started this article mentioning Madonna has no album among the very best selling female studio albums of all-time, wondering how high would True Blue feature in terms of real popularity. In the end, the dark horse Like A Virgin appears to be the singer's biggest album. Surprising? Well, not that much.
True Blue was clearly the fastest seller out of both, up to 15,5 million by the end of 1987 while Like A Virgin, with two more years of sales, was on 13 million by the same time. By mid-1988 though Like A Virgin was already the one selling the most and started to slowly catch album sales of True Blue. Considering The Immaculate Collection shot down catalog sales of those two albums soon after, Like A Virgin never completed its come back in terms of original album sales, but did generate more sales to all subsequent compilations and is still her most appealing record as shown by both catalog digital sales and streaming results.
Apart from the ranking, the volume of sales is very interesting. Like A Virgin is now close to 40 million equivalent album sales in total. This puts it ahead of many other female albums that sold more copies in original album format, including debuts of Britney Spears, Norah Jones and Tracy Chapman, Carole King's Tapestry, Whitney Houston's first two albums and Mariah Carey's Music Box / Daydream. This makes Like A Virgin the #6 most successful female album ever while True Blue scraps into the Top 10.
In the same way, Like A Prayer tops Ray Of Light album. Considering the 1,4 million lead of the latter record in original album format, this isn't that surprising as without the cannibalization from The Immaculate Collection, the former would have filled this gap easily.
In the other end of the jigsaw, we can notice how little added value MDNA or Rebel Heart brought to the artist's catalog. Albums like I'm Breathless and Bedtime Stories ain't bad at all everything considered, while American Life still has a very long and difficult way to do before saving itself from the flop rating.
Everything considered, Madonna totals 241,1 million equivalent albums sales, more than Britney Spears, Adele and Rihanna combined. While the pop star is well known as the most successful female artist ever, this comparison is still worth it to best illustrate the magnitude of her success.
The following page lists her most successful songs.
Do not forget to check our amazing lists posted inside the CSPC: Data Collector which includes the full listing of all CSPC results compiled so far to better gauge her position in the history of the music industry.
As usual, feel free to comment and / or ask a question!
Sources: IFPI, Spotify, YouTube, Warner, Chartmasters.org.