Bruce Springsteen CAREER CSPC RESULTS
So, after checking all the figures, how many overall equivalent album sales has each Bruce Springsteen album achieved? Well, at this point we hardly need to add up all of the figures defined in this article!
In the following table, all categories display figures that way, e.g. in equivalent album sales. For example, singles from Born in the U.S.A. released in digital format sold the equivalent of 1,065,000 albums – 7,100,000 downloads with a 10 to 1,5 weighting.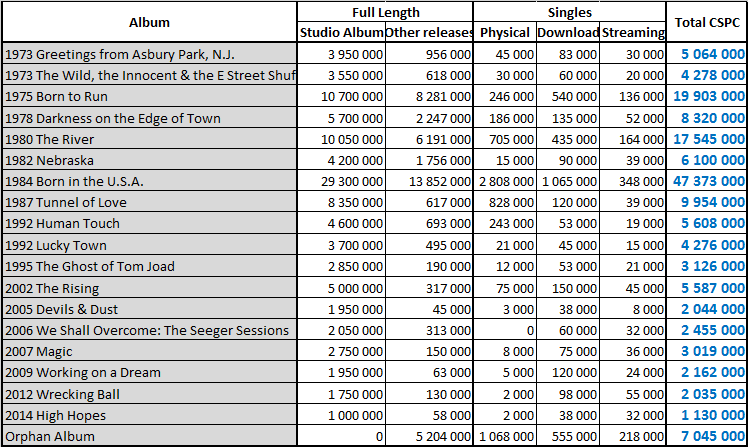 Studio Album: sales of the original album
Other Releases: sales of compilations generated thanks to the album
Physical Singles: sales of physical singles from the album (ratio 3/10)
Download Singles: sales of digital singles from the album (ratio 1/10)
Streaming: equivalent album sales of all the album tracks (ratio 1/1500 for Audio stream and 1/11750 for Video stream)
So, is he really The Boss? The figures speak for themselves. Born In The U.S.A. is a gigantic sales beast, up to 47,4 million equivalent album sales overall. U2's The Joshua Tree and Bon Jovi's Slippery When Wet are the only albums from the 80s studied up to now with higher total sales. Both edge ahead with a tiny lead.
We can't expect the remaining albums to be close to this monster. However, they still do wonders on their own. Born to Run is now close to 20 million equivalent album sales while The River is almost as big at 17,5 million.
After Tunnel of Love, on its way to break 10 million, there is a dozen of successful albums spread over 4 decades. Springsteen has yet to drop below 2 million sales with a studio album of new songs.
So many hit albums builds an impressive tally of 157 million equivalent album sales in total. This makes him the biggest solo male singer studied so far while we await the arrival of articles covering Elvis Presley, Michael Jackson, Frank Sinatra and Elton John.
The following pages list his most successful songs as well as his records and achievements. Do not forget to check our amazing cross-artists lists posted inside the CSPC: Data Collector which includes the full listing of all CSPC results compiled so far to better gauge his position in the history of the music industry.
As usual, feel free to comment and / or ask a question!
Sources: IFPI, Spotify, YouTube, Chartmasters.org.