BEE GEES CAREER CSPC RESULTS
So, after checking all figures, how many overall album sales equivalent each Bee Gees album achieved? Well, at this point we barely need to do the addition of all figures defined all over this article!
In the following table, all categories display figures that way, e.g. in equivalent album sales. For example, Saturday Night Fever singles released in digital format sold the equivalent of 1,335,000 albums – 8,900,000 downloads with a 10 to 1,5 weighting.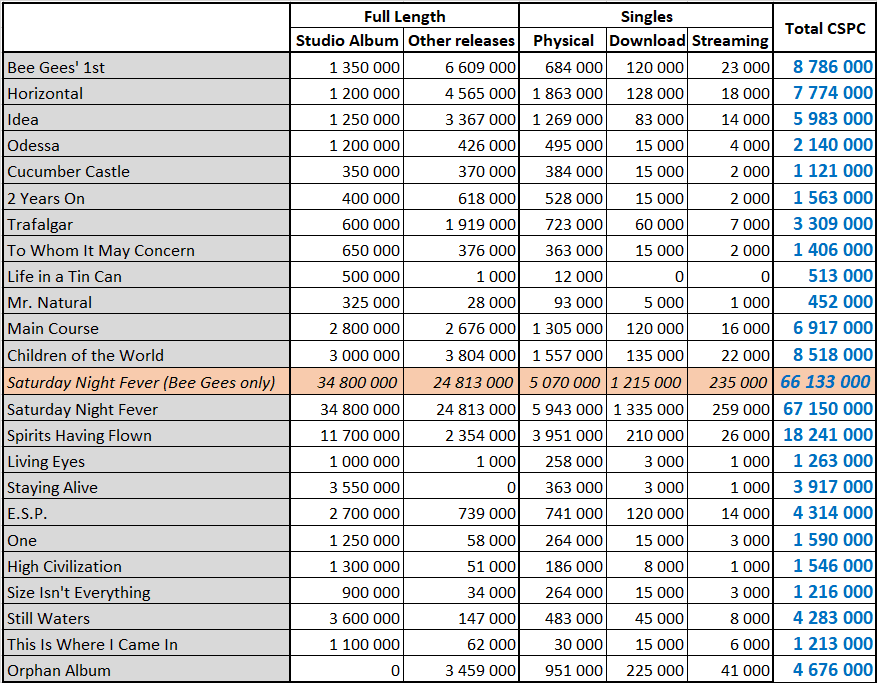 Studio Album: sales of the original album
Other Releases: sales of compilations generated thanks to the album
Physical Singles: sales of physical singles from the album (ratio 3/10)
Download Singles: sales of digital singles from the album (ratio 1/10)
Streaming: equivalent album sales of all the album tracks (ratio 1/1500)
Until now, the biggest album ever studied by our website was Rumours by Fleetwood Mac at 60,5 million equivalent albums sold overall. Inside the Top 5 is Grease with 51,9 million. Both of those albums outsold Saturday Night Fever in pure album sales since they got cannibalized at a lower extent by compilations. Thanks to the Commensurate Sales to Popularity Concept, the real success of Saturday Night Fever is restored with a tremendous total of 66,7 million equivalent album sales since its release. The best selling album ever with a considerable margin until the release of Michael Jackson's Thriller, this #1 spot sounds very logical.
Spirits Having Flown ends up at over 18 million, nothing to be ashamed about even for the immediate follow up of one of the biggest album ever. No other album top the 10 million level, five are in the 6-9 million territory though including their first three releases.
The Bee Gees got incredibly big but also incredibly weak at times. As low as 450,000 units for Mr Natural in spite of more than 40 years of sales in every format including all compilations. With a total 53 times weaker than Saturday Night Fever, Living Eyes may be regarded as one of the biggest flops of the music industry history.
Nevertheless, in total the Bee Gees sold a truly solid 156 million equivalent album sales. Ironically, this is pretty much a tie with the other disco legends ABBA at 155,7 million. Defining the likes Led Zeppelin or Rolling Stones as the first division of all-time top artists with near 200 million equivalent album sales or more, then the Bee Gees lead the second division by topping artists as popular as Whitney Houston, Bon Jovi or Metallica.
The following pages list their most successful songs. Do not forget to check our amazing cross-artists lists posted inside the CSPC: Data Collector which includes the full listing of all CSPC results compiled so far to better gauge their position in the history of the music industry.
As usual, feel free to comment and / or ask a question!
Sources: IFPI, Spotify, Chartmasters.org.