Celine Dion Career CSPC Results
So, after checking all figures, how many overall album sales equivalent each Celine Dion album achieved? Well, at this point we barely need to do the addition of all figures defined all over this article!
In the following table, all categories display figures that way, e.g. in equivalent album sales. For example, Falling Into You singles released in download format sold the equivalent of 870,000 albums – 5,800,000 downloads with a 10 to 1,5 weighting.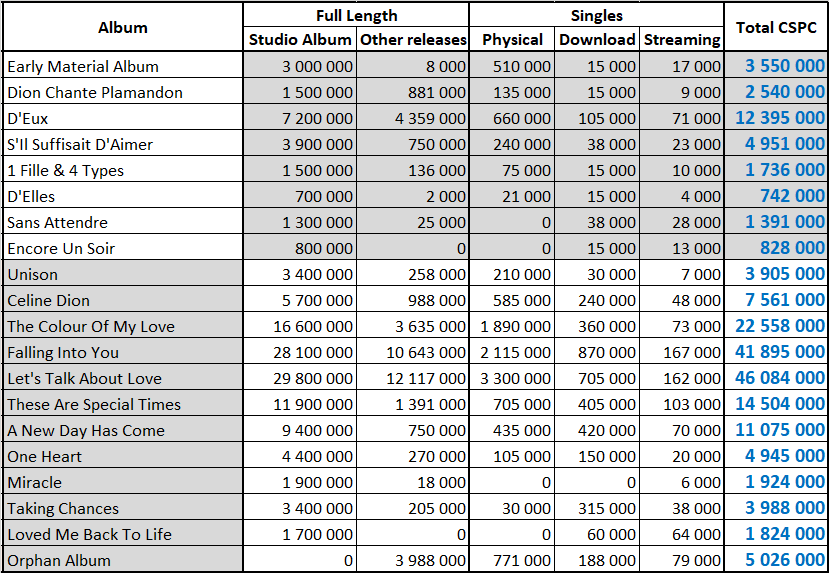 As a reminder:
Studio Album: sales of the original album
Other Releases: sales of compilations generated thanks to the album
Physical Singles: sales of physical singles from the album (ratio 3/10)
Download Singles: sales of digital singles from the album (ratio 1,5/10)
Streaming: equivalent album sales of all the album tracks (ratio 1/1500)
This is it!
The first part of the table displays the artist French discography, which totals an impressive 28,1 million album sales equivalent. The most outstanding result is clearly the one of D'Eux, which is responsible for 12,4 million of those sales. In spite of being released in 1995, the record is the biggest French album in every category, including digital sales and streaming.
With English albums, a real wave-like curve is highlighted by figures. From 3,9 million to 7,6 million to 22,6 million to 41,9 million to 46,1 million, the climb of Celine Dion from 1990 to 1998 reached the sky. If Fall Into You and Let's Talk About Love fell short of matching several albums we previously studied like Led Zeppelin's IV at 55,5 million, Celine Dion is still the first with back-to-back 40 million-plus sellers, a terrific achievement. The closest performance we have seen so far is Madonna albums Like A Virgin and True Blue at 39 million and 36 million respectively.
In a more negative note, it has been four albums in a row now that Celine Dion failed to reach 5 million equivalent album sales, with the last one under 2 million. A return to her best form seems complicate in the future in spite of her success with her French albums. This feeling gets even bigger when we notice how CSPC sales follow massively pure album sales for this artist. While other acts, like Coldplay, saw their album sales slowdown barely because their success got transferred to other formats, it isn't the case of Celine Dion who's left with very little to work with outside the album sales area.
In any case, Celine Dion has nothing left to prove. Overall, she sold the astonishing total of 193,4 million equivalent album sales. Of course some may say it is a long way from Madonna total of 246 million, but let put it that way – full discographies of Britney Spears, Rihanna and Amy Winehouse combine for roughly the same as Celine Dion alone. She is also close to Adele, Taylor Swift and Lady Gaga combined. Yeah, Celine Dion results are *that* incredible.
Do not forget to check our amazing lists posted inside the CSPC: Data Collector which includes the full listing of all CSPC results compiled so far to better gauge her position in the history of the music industry.
As usual, feel free to comment and / or ask a question!
Sources: IFPI, Spotify, Chartmasters.org.