Sting albums and songs sales
After enjoying incredible years as the leader of The Police, Sting went solo from 1985. The format was different, but the success was the same.
35 years in, the versatile singer is still very active, although his rocking years seem long gone.
Get to know Sting
Who is Sting?
Sting, real name Gordon Matthew Thomas Sumner, is an English singer songwriter.
Born 2 October 1951, he rose to fame as the leader of The Police in late 70s. He has 6 childs, 2 with Frances Tomelty (m. 1976-1984) and 4 with Trudie Styler, his wife since 1992.
How many albums have he released?
Sting released 8 traditional studio albums plus 1 in each category Classical, Holiday, and Musical.
In recent years, he released 2 albums of new renditions of his former hits, while participating in multiple Soundtracks through the last 3 decades.
His popular career is often regarded as spanning years 1985 to 1999, from The Dream of the Blue Turtles to Brand New Day.
What's his musical style?
Sting is undoubtedly one of the most explorous rock singers. Ever since his The Police years, he has been adding World Music sounds to his rock songs with an Adult Contemporary vibe, making his music hard to classify.
He collaborated with classical artists (Edin Karamazov, RPO, Chris Botti, Claudio Abbado, Luciano Pavarotti, David Sanborn, etc), country stars (Toby Keith, Alison Krauss), reggae singers (Jimmy Cliff, Aswad, Shaggy, Pato Banton), and plenty of foreign language stars (Julio Iglesias and Vicente Amigo from Spain, Charles Aznavour, Maitre Gims, Mylène Farmer, I Muvrini from France, Cheb Mami from Algeria, Dominic Miller from Argentina, Mariza from Portugal, Youssou N'Dour from Senegal, t.A.T.u. from Russia, George Dalaras from Greece and many more).
Juice WRLD's Lucid Dreams, which extensively samples Sting's Shape of My Heart, ranks 30 among the most streamed songs ever on Spotify.
This shows that even if the British singer hasn't charted on his own inside the Billboard Hot 100 since 2006, his catalog continues to be highly valuable.
While the largest hit of The Police is easy to guess, the solo career of Sting has no obvious signature song.
Out of his first 10 chart entries in the US, only two missed the top 20: Englishman in New York and Fields Of Gold. Both are arguably some of his most recognized songs right now.
It goes on to show that his chart history is not a good representation of his success. His bigger songs are the ones which supported his albums the best.
So, which songs have been the most successful for the singer? How do his albums perform against The Police efforts? How many records has Sting sold in total?
As usual, I'll be using the Commensurate Sales to Popularity Concept in order to relevantly gauge his results. This concept will not only bring you sales information for all Sting's albums, physical and download singles, as well as audio and video streaming, but it will also determine their true popularity.
If you are not yet familiar with the CSPC method, the next page explains it with a short video. I fully recommend watching the video before getting into the sales figures. Of course, if you are a regular visitor feel free to skip the video and get into the figures.
The Commensurate Sales to Popularity Concept (CSPC)
There are two ways to understand this revolutionary concept. The first is the Scribe video posted below. If you are unaware of the CSPC method, you will get the full idea within just a few minutes.
If you are a mathematical person, and want to know the full method as well as formulas, you can read the full introduction article.
Now let's get into the artist's sales figures in detail in order to apply this concept and define the act's true popularity!
Sting Albums Sales

Original Album Sales – Comments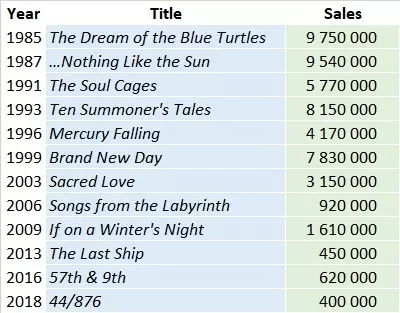 For someone who went solo at nearly 34, after completing an entire group career, to constantly score 3+ million sellers for another 18 years is incredible.
Both The Dream of the Blue Turtles and …Nothing Like the Sun were strong sellers with sales coming close to 10 million a piece.
The latter did so with just under 3.5 million in the US and in the UK, combined.
The singer went on to be super massive in many unexpected markets. In Italy, his albums used to shift in excess of half a million units, in a market 4.5 times weaker than the UK.
The Soul Cages was especially extreme with total sales in Germany, France, Italy and Spain topping total sales in the US and the UK.
This 3rd album was someway weaker, with 5.77 million sales still, but the artist quickly rebounded with Ten Summoner's Tales at over 8 million.
Mercury Falling was another down point for Sting with just over 4 million sales. A good number in absolute terms, this was a disappointing result considering his standards and the positive market context.
Brand New Day proved that the Every Breath You Take songwriter still had it.
The title track was a nice return to form, but it's the second single, Desert Rose, a surprising collaboration with Raï singer Cheb Mami, that fueled the album.
The disc ended up selling nearly 8 million copies, not bad for someone who turned 50 by the end of this era.
Sacred Love, a real departure from his pop rock origins, failed to do as well, although it kept alive the streak of multi-million sellers, a streak ongoing for 25 years if we look at Sting's entire output.
Songs From the Labyrinth looks like an absolute disastrous with less than 1 million units sold to date.
It's worth pointing out that this is a classical record. In fact, when pop stars like Paul McCartney and Billy Joel dropped similar records, they sold nowhere near as well.
If on a Winter's Night was a winter release, but not really a Christmas album.
Former rock fans were now officially hating everything Sting was putting out, but sales kept kicking in with 1.6 million units sold.
The musical themed The Last Ship failed to appeal the masses with only 450,000 sales.
Older fans waited so much to see a new rock album from the British star that when it came out in 2016, interest was long gone. 57th & 9th moved 620,000 copies.
Continuing to follow his instincts rather than the norm, Sting issued 44/876, a collaboration with reggae star Shaggy. Its 400,000 sales appear to be quite good for our era.
In total, that's over 52 million studio albums sold by the artist.
Sting Songs Sales

Physical Singles Sales

As a reminder, the weighting is done with a 10 to 3 ratio between one album and one physical single.
The quartet of singles issued physically in 1985/1986 from The Dream of the Blue Turtles were all top 20 in the US, securing decent sales in general.
The strongest performer was the #3 hit If You Love Somebody Set Them Free, although it was a more modest performer elsewhere, like in the UK with a #26 position.
This was enough to top 1 million sales in total, but Russians still sold easily more in spite of #16 and #12 peaks in the US and the UK, respectively.
It did so thanks to near 600,000 sales in France where the single was a #2 smash.
By the time …Nothing Like the Sun came out, it was already clear that Sting was more adult-oriented than The Police. His fans went after his albums rather than his singles.
We'll Be Together sold close to a million in the World still, doing well in the US where it made the top 10 (#7).
Englishman In New York sold poorly in single format, in spite of a successful 1990 remix after the initial 1988 release. Both versions barely sold half a million units combined.
1991's All This Time was another US Top 10 with weaker performances elsewhere, en route for 650,000 sales.
From 1993 to 1998 countless songs and versions of Ten Summoner's Tales tracks came out, most of which had decent receptions.
If I Ever Lose My Faith in You was a Top 20 hit in both sides of the Atlantic, while Fields of Gold came close too. They sold about half a million each. It's Probably Me did about the same thanks to good European sales.
In early 1994, All For Love, a trio with Rod Stewart and Bryan Adams, was a #1 smash in most countries, including the US. It shifted nearly 2.5 million copies.
This was his second 2-million selling collaboration as although he was uncredited on it, Sting largely featured on Dire Straits' Money For Nothing.
#2 in the UK, All For Love was shockingly the first UK Top 10 for the singer since the departure from his former band.
Songs from Mercury Falling failed to convert the public into mass consumers.
Desert Rose changed this trend, selling close to 1 million copies with strong results in both Germany and France.
Rise & Fall was the last sparkle from Sting on singles charts. The duet with Craig David went to #2 in the UK and Top 20 in most of Europe.
It sold 370,000 units, just enough to push his career total to 16 million physical singles.
Digital Songs

As a reminder, the weighting is done with a 10 to 1,5 ratio between one album and one digital single.
It's clear that Sting has no monster track that drives his catalog. Indeed, his strongest download is his feature on Money For Nothing.
He still reaches 1 million with 4 legacy hits, twice more than The Police.
Fields of Gold is his strongest in North America, while both Shape of My Heart and Englishman in New York break past 1 million in good part thanks to healthy sales in South Korea.
In fact, these two songs are both way stronger than the entire The Police catalog in this market.
The World music touch of his songs did wonders in markets like this one, but also Turkey, Poland, Russia, Italy, France, and many more.
To give some perspective, with his band the singer records 61,1 million yearly views in the US through YouTube and 288,9 million elsewhere.
Solo, his US count stands at 26,5 million against 381,5 million abroad. The US share is almost 3 times lower for his solo material, the sign of a more international career.
Decent sales in many markets also fuel Desert Rose over a million.
Next up is Fragile, at 690,000 units, and then Russians at 410,000. This latter song lost a lot of its appeal as time passed.
The same can be said about US Top 5 hits If You Love Somebody Set Them Free and All This Time which can't hit 400,000 sales together.
With many more songs registering small but not irrelevant sales it adds up to a 14 million career total up to date.

Streaming
Streaming is made up of audio and video streams. Our CSPC methodology includes both to better reflect the real popularity of each track. The main source of data for each avenue is respectively Spotify and YouTube.
To factor in the growing impact of multiple Asian countries where these platforms aren't always the go-to site for music streaming, more sources have been added.
In order to account for their real popularity in each relevant country, the below sources have been used along with the mentioned ratios that reflect the market share of each area.
Audio Streams
– South Korea : Genie streams * 3.05 (consistent with Gaon streaming numbers)
– Japan : AWA streams * 100/5.5 (AWA has 5.5% of the Japanese streaming market)
– Elsewhere : Spotify streams * (370 – 8.5 – 9.5 – 33 – 9) / 207 (370 million global subscribers minus 8.5 million from South Korea minus 9.5 million from Japan minus 33 million from China divided by the number of Spotify only users minus 9 million more Asian users) + Genie streams * 3.05 (uses Genie rather than Spotify to extrapolate markets like Taiwan, Thailand and Vietnam)
Video Streams
– China* : Xiami streams * 125/6.5 (Xiami has just over 5% of the Chinese streaming market)
– Elsewhere : Youtube views
*since 96.4% of Chinese streaming platforms are free users, that paid-for users pay less than $2 a month and that they are also used as video streaming platforms, their streams are weighted in par with YouTube streams.
Audio Stream value – 1500 plays equal 1 album unit
Video Stream value – 11,750 views equal 1 album unit
Equivalent Albums Sales (EAS) = ( Spotify * 310/207 + Genie * 3.05*2 + AWA * 100/5.5 ) / 1500 + ( Xiami * 125/6.5 + YouTube ) / 11750
Top Hits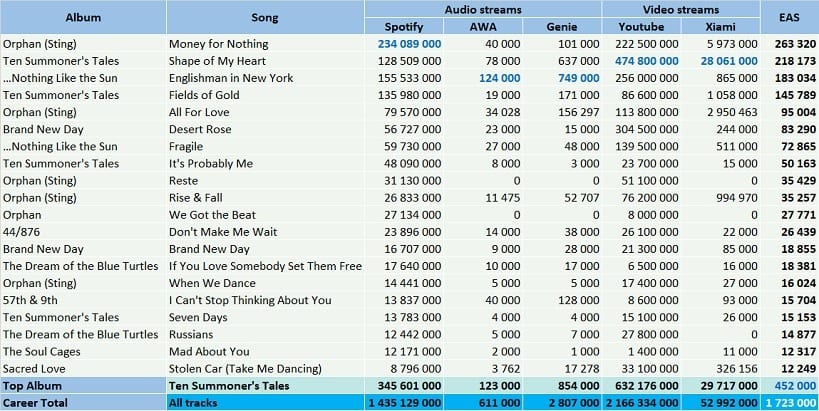 It may feel wrong to see Money for Nothing leading the way, but the contribution of Sting to the song is hard to deny, certainly bigger than most features which flood charts nowadays.
The song leads thanks to Spotify streams of 234 million, but a classic Sting song catches the first place in each of the remaining platforms.
Shape of My Heart, currently hotter than ever thanks to the Lucid Dreams sample, is closing in half a billion YouTube views along with 28 million streams on Chinese site Xiami. It has 218,000 EAS from streams.
Englishman in New York stands at 156 million on Spotify, 124,000 on Japan's AWA and 749,000 on South Korea's Genie.
Fields of Gold is less global, but with 136 million streams on Spotify it's part of his big 3.
All For Love is close to 100,000 EAS, Desert Rose is over 83,000 and Fragile is at 73,000, all healthy numbers.
Ten Summoner's Tales, with 3 songs in the Top 10, is the best performing album with 452,000 EAS.
Full catalog breakdown
If you are familiar with the artist's catalog and want to check details of each and every song, you can access to all of them right here.
Keep yourself up to date
Our website provides you a fantastic tool which fetches updated Spotify streams as you request them, use it to watch these results grow day after day!
Sting compilations sales
It sounds fairly logical to add together weighted sales of one era – studio album, physical singles, downloads, streams – to get the full picture of an album's popularity. For older releases though, they also generate sales of various live, music videos and compilation albums.
All those packaging-only records do not create value, they exploit the value originating from the parent studio album of each of its tracks instead. Inevitably, when such compilations are issued, it downgrades catalog sales of the original LP.
Thus, to perfectly gauge the worth of these releases, we need to re-assign sales proportionally to its contribution of all the compilations which feature its songs. The following table explains this method.
The distribution process

How to understand this table? If you check this example of Fields of Gold: The Best Of Sting 1984-1994, these figures mean it sold 9,360,000 units worldwide.
The second statistics column means all versions of all the songs included on this package add for 572,880 equivalent album sales from streams of all types.
The second part on the right of the table shows how many equivalent streams are coming from each original album, plus the share it represents on the overall package.
Thus, streaming figures tell us songs from …Nothing Like the Sun are responsible for 47% of the Fields of Gold: The Best Of Sting 1984-1994 tracklist attractiveness, which means it generated 4,393,000 of its 9,360,000 album sales, and so on for the other records.
Compilations sales figures listing

Full Length related records Sales – Summary

Here is the most underestimated indicator of an album's success – the amount of compilation sales of all kinds it generated. Due to the dependency of sales of the original studio albums on these releases, they are a key piece of the jigsaw.
These numbers are obtained by applying the method from the section The distribution process to all packages listed under Compilation sales figures listing category.
Both …Nothing Like the Sun and Ten Summoner's Tales, owners of several songs which aged very well, lead among the strongest tractions of compilations.
You can notice that numbers listed here do not add for nearly as much as the listing of compilations. It's because many millions have been generated by songs from The Police instead.
As a bonus, please find below sales of their main compilations.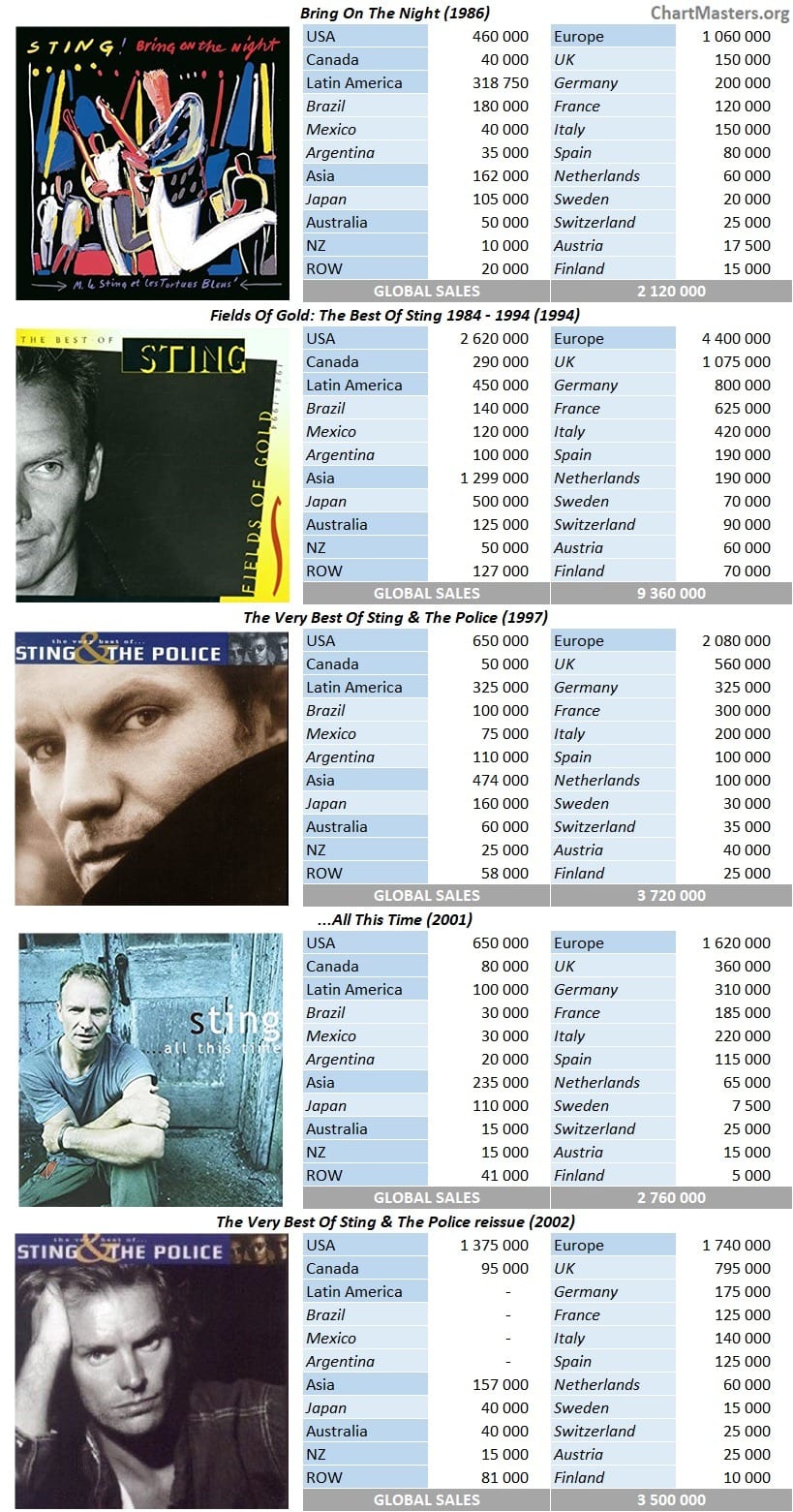 Total solo Album (all types) Sales per Country
Please note country-specific numbers may miss sales of some minor releases, although continental and global totals are complete.
Sting Career CSPC Results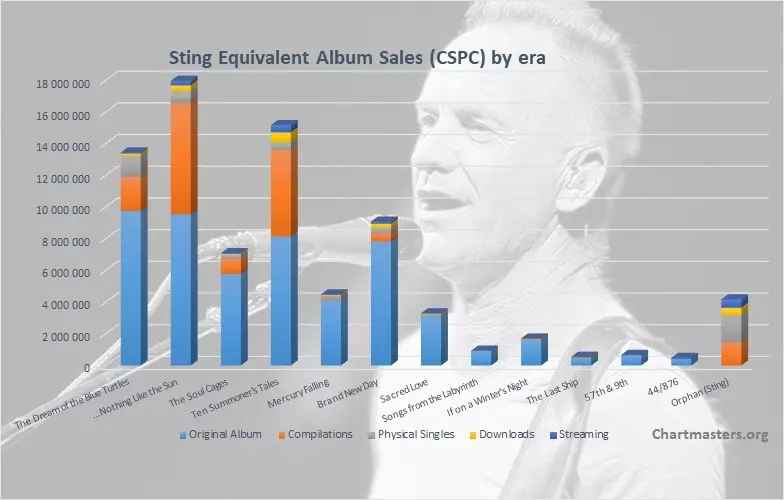 So, after checking all the figures, how many overall equivalent album sales has each album by Sting achieved? Well, at this point we hardly need to add up all the figures defined in this article!
In the following results table, all categories display figures in equivalent album sales. If different, pure sales are listed between parentheses.
| artist_spotify_id | # | Cover | Album | Studio albums (EAS) | sales_update_date | Other LPs (EAS) | Physical singles (units sold) | Digital singles (units sold) | Streams | Streams increase | Total EAS | valid_as_of | streams_updated_value | album_id |
| --- | --- | --- | --- | --- | --- | --- | --- | --- | --- | --- | --- | --- | --- | --- |
| 0Ty63ceoRnnJKVEYP0VQpk | 1 | | The Dream of the Blue Turtles | 9,750,000 | 14.06.20 | 2,164,000 | 1,173,000(3,910,000) | 161,000(1,070,000) | 142,000 (09/27/23) | Av.: 60LD: 80 | 13,515,000 | 20,230,927 | 142,000 | 275 |
| 0Ty63ceoRnnJKVEYP0VQpk | 2 | | ...Nothing Like the Sun | 9,540,000 | 14.06.20 | 7,010,000 | 507,000(1,690,000) | 340,000(2,270,000) | 627,000 (09/27/23) | Av.: 280LD: 380 | 18,305,000 | 20,230,927 | 627,000 | 276 |
| 0Ty63ceoRnnJKVEYP0VQpk | 3 | | The Soul Cages | 5,770,000 | 14.06.20 | 971,000 | 252,000(840,000) | 48,000(320,000) | 79,000 (09/27/23) | Av.: 30LD: 40 | 7,124,000 | 20,230,927 | 79,000 | 277 |
| 0Ty63ceoRnnJKVEYP0VQpk | 4 | | Ten Summoner's Tales | 8,150,000 | 14.06.20 | 5,440,000 | 420,000(1,400,000) | 638,000(4,250,000) | 1,160,000 (09/27/23) | Av.: 590LD: 710 | 15,870,000 | 20,230,927 | 1,160,000 | 278 |
| 0Ty63ceoRnnJKVEYP0VQpk | 5 | | Mercury Falling | 4,170,000 | 14.06.20 | 90,000 | 30,000(100,000) | 45,000(300,000) | 48,000 (09/27/23) | Av.: 20LD: 30 | 4,506,000 | 20,230,927 | 48,000 | 279 |
| 0Ty63ceoRnnJKVEYP0VQpk | 6 | | Brand New Day | 7,830,000 | 14.06.20 | 490,000 | 333,000(1,110,000) | 272,000(1,810,000) | 263,000 (09/27/23) | Av.: 110LD: 120 | 9,209,000 | 20,230,927 | 263,000 | 280 |
| 0Ty63ceoRnnJKVEYP0VQpk | 7 | | Sacred Love | 3,150,000 | 14.06.20 | 32,000 | 18,000(60,000) | 45,000(300,000) | 27,000 (09/27/23) | Av.: 0LD: 10 | 3,290,000 | 20,230,927 | 27,000 | 281 |
| 0Ty63ceoRnnJKVEYP0VQpk | 8 | | Songs from the Labyrinth | 920,000 | 14.06.20 | 4,000 | 0(0) | 35,000(230,000) | 4,000 (06/14/20) | N/A | 934,000 | 20,230,927 | 4,000 | 282 |
| 0Ty63ceoRnnJKVEYP0VQpk | 9 | | If on a Winter's Night | 1,610,000 | 14.06.20 | 37,000 | 1,000(3,000) | 33,000(220,000) | 30,000 (09/27/23) | Av.: 10LD: 0 | 1,711,000 | 20,230,927 | 30,000 | 283 |
| 0Ty63ceoRnnJKVEYP0VQpk | 10 | | The Last Ship | 450,000 | 14.06.20 | 32,000 | 0(0) | 24,000(160,000) | 40,000 (06/14/20) | N/A | 546,000 | 20,230,927 | 40,000 | 284 |
| 0Ty63ceoRnnJKVEYP0VQpk | 11 | | 57th & 9th | 620,000 | 14.06.20 | 4,000 | 0(0) | 6,000(40,000) | 40,000 (06/14/20) | N/A | 670,000 | 20,230,927 | 40,000 | 285 |
| 0Ty63ceoRnnJKVEYP0VQpk | 12 | | 44/876 | 400,000 | 14.06.20 | 1,000 | 0(0) | 3,000(20,000) | 136,000 (09/27/23) | Av.: 50LD: 60 | 540,000 | 20,230,927 | 136,000 | 286 |
| 0Ty63ceoRnnJKVEYP0VQpk | 13 | | The Bridge (Deluxe) | 0 | | 0 | 0(0) | 0(0) | 60,000 (09/27/23) | Av.: 0LD: 0 | 60,000 | 20,230,927 | 60,000 | 0 |
| 0Ty63ceoRnnJKVEYP0VQpk | 14 | | Orphan | 0 | 14.06.20 | 1,445,000 | 1,479,000(4,930,000) | 476,000(3,170,000) | 524,000 (06/14/20) | N/A | 4,169,000 | 20,230,927 | 524,000 | 1,738 |
'Av.' stands for Average, 'LD' for Last Day.
As a reminder:
Studio Album: sales of the original album
Other Releases: sales of compilations generated thanks to the album
Physical Singles: sales of physical singles from the album (ratio 3/10)
Download Singles: sales of digital singles from the album (ratio 1,5/10)
Streaming: equivalent album sales of all the album tracks (ratio 1/1500 for Audio stream and 1/6750 for Video stream)
See where the artist ranks among remaining singers
If we consider the discography of The Police too, Sting only dropped below 13.3 million equivalent album sales one time out of his first 9 albums.
On top of this incredible consistency, the longevity of Sting is really something. He got 10-million sellers in the 70s, the 80s, the 90s, and Brand New Day came close while selling most of its copies in 2000.
One year away from turning 70, a return to form for the singer is more than unlikely, but this takes off nothing from his legacy.
…Nothing Like the Sun leads his solo albums with almost 18 million units. Ten Summoner's Tales is a strong runner up at 15 million.
The best seller in its original form, The Dream of the Blue Turtles closes counts at 13.4 million, his 3rd biggest overall.
Completing his top 5 are Brand New Day and The Soul Cages at 9 and 7 million, respectively.
The two last records of note are Mercury Falling and Sacred Love at 7.7 million combined.
Albums from the last 15 years add much less to the big picture, but the singer's sales aren't free falling either as he continues to secure about half a million units per release.
After a solo career spanning 35 years Sting is up to 79 million equivalent album sales.
This number doesn't consider 10.8 million sales made under his name (or shared) thanks to songs from The Police.
Singles CSPC results
The list is compiled in album equivalent sales generated by each song. Therefore, these figures are not merged units of singles formats.
Instead, it includes weighted sales of the song's physical single, download, ringtone and streaming as well as its share among sales of all albums on which it is featured.
1. 1987 – Sting – Englishman in New York […Nothing Like the Sun] – 10,990,000
2. 1993 – Sting – Fields of Gold [Ten Summoner's Tales] – 6,590,000
3. 1997 – Sting ft. Cheb Mami – Desert Rose [Brand New Day] – 5,970,000
4. 1993 – Sting – Shape of My Heart [Ten Summoner's Tales] – 5,190,000
5. 1987 – Sting – Fragile […Nothing Like the Sun] – 4,870,000
6. 1985 – Sting – If You Love Somebody Set Them Free [The Dream of the Blue Turtles] – 3,770,000
7. 1985 – Sting – Russians [The Dream of the Blue Turtles] – 3,130,000
8. 1985 – Sting – Moon Over Bourbon Street [The Dream of the Blue Turtles] – 2,710,000
9. 1991 – Sting – Mad About You [The Soul Cages] – 2,460,000
10. 1992 – Sting & Eric Clapton – It's Probably Me [Ten Summoner's Tales] – 2,060,000
11. 1991 – Sting – All This Time [The Soul Cages] – 1,950,000
12. 2003 – Sting – Stolen Car (Take Me Dancing) [Sacred Love] – 1,640,000
If you feel inspired by this list, we just created this CSPC Sting playlist on Spotify!
Discography results
Thanks to the ASR (Artist Success Rating) concept, we know that his sales represent 20.39 million times the purchase of his entire discography. Coupled with the total sales, it translates into an ASR score of 227.
Records & Achievements
At 13,437,000 EAS, The Dream of the Blue Turtles is the 6th most successful album from 1985.
At 17,964,000 EAS, …Nothing Like the Sun is the 9th most successful album from 1987.
At 15,162,000 EAS, Ten Summoner's Tales is the 10th most successful album from 1993.
Sting sold in excess of 30 million albums in pure units in Europe twice, solo and with The Police.
NB : EAS means Equivalent Album Sales
You may be interested in…
… best-selling artists, albums, and singles
To improve your navigation we created several amazing cross-artists lists posted inside the CSPC: Data Collector article. Click on it to see the full listing of all CSPC results compiled so far!
… similar artists
To put figures from this article into perspective, click on the images below to reach career breakdowns of similar artists: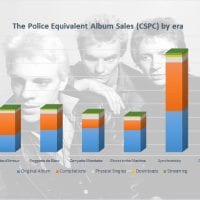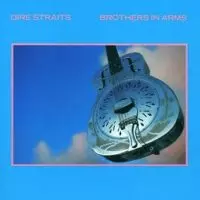 As usual, feel free to comment and / or ask a question!
Sources: IFPI, Spotify, YouTube, Discogs.