CSPC: Pink Floyd Popularity Analysis
Streaming Sales
Streaming is made up of two families – audio and video. Our CSPC methodology now includes both to better reflect the real popularity of each track. The main source of data for each avenue is respectively Spotify and YouTube. As detailed in the Fixing Log article, Spotify represents 132 million of the 212 million users of streaming platforms, while YouTube is pretty much the only video platform generating some revenue for the industry. Below is the equivalence set on the aforementioned article:
Audio Stream – 1500 plays equal 1 album unit
Video Stream – 11,750 views equal 1 album unit
Thus…
Equivalent Albums Sales = 212/132 * Spotify streams / 1500 + YouTube views / 11750
Streaming Part 1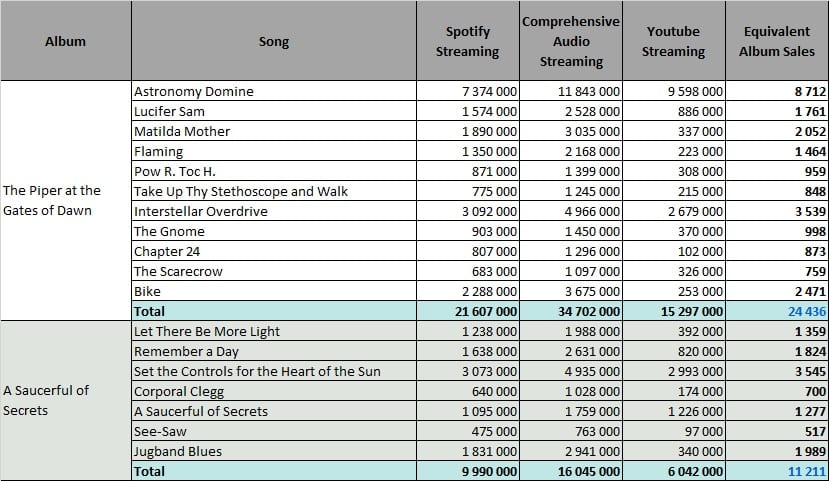 Two specific albums among the discography of Pink Floyd are known by the presence of Syd Barrett, those albums include no real hits. The strongest track from the pair is Astronomy Domine, with a relatively modest 7 million Spotify streams and just under 10 million YouTube views.
The consistency of all songs around 1 million audio streams or more doesn't make up for the lack of hits. This leads to equivalent album sales of only 24,000 and 11,000 units for The Piper at the Gates of Dawn and A Saucerful of Secrets respectively.