CSPC: Johnny Hallyday Popularity Analysis
Original Albums Sales – 1985-1998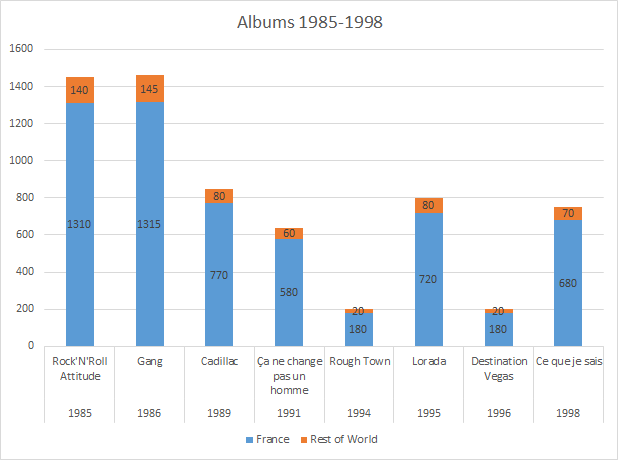 During the 80s, Michel Berger was a household name in France. He wasn't only incredibly popular as a singer, but also as a composer since he wrote the massive musical Starmania as well as all hits by his wife, France Gall. Rated as the best writer from France, Johnny hired him to create Rock'N'Roll Attitude. The album went to #2, a pretty average showing for the artist. However, hits kept it around for one full year, most notably Quelque chose de Tennessee. Their long-lasting appeal enabled the album to hit Platinum in 3 distinct formats: in 1986 thanks to the original release, in 1996 as part of the 2-CD box Paroles d'Hommes and in 2011 as the first number of a bi-weekly 71-discs collection La Collection Officielle.
He reproduced the same formula with Gang, this time with the new star of the country, Jean-Jacques Goldman. The album struggled at first peaking at #5, but for 18 months its singles like L'Envie, Laura and Je te Promets were everything. It was the second disc of the set Paroles d'Hommes which perfectly used the growing status of those two albums among Johnny's discography.
Until 1998 all his standard albums continued to sell at least 600,000 units worldwide except for the foreign language album Rough Town and the half-new half-live set Destination Vegas. As a fan of American music, the frustration of Johnny remained strong throughout his career seeing as his foreign language records were again and again his least successful outputs.