CSPC: Johnny Hallyday Popularity Analysis
Original Albums Sales – 1976-1984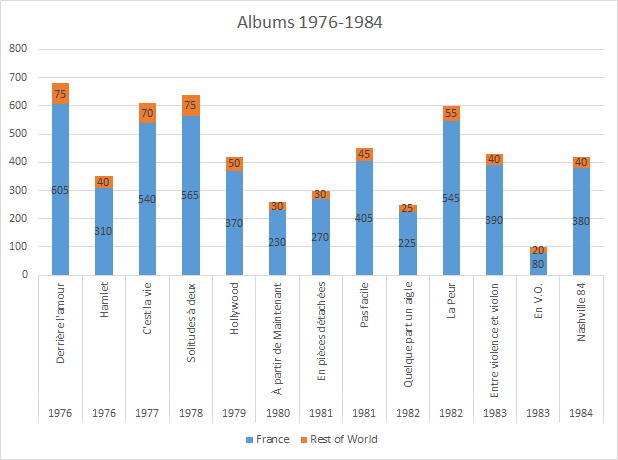 In 1976, Johnny was responsible for several gigantic hits including Gabrielle and Requiem pour un fou. The album owner of those smashes, Derrière L'Amour, was an immense seller too with 3 months at #1. It is now over 600,000 units in France alone.
During this period, arguably regarded as his least successful one, Johnny was still an incredible selling force. His flops from then have still sold upwards of 200,000 units by now, while his strong LPs topped half a million sales.
The album En V.O. sold much less than the remaining albums since it was a 6-track record of original (English) versions of his known adaptations, thus not a real fresh new studio release.
His songs from this era were mostly original songs rather than translations from famous foreign tunes as they were already hits by themselves. His composers and lyricists were professionals but not persons known by the general public, something that was soon going to change.