CSPC: Johnny Hallyday Popularity Analysis
Original Albums Sales – 1960-1964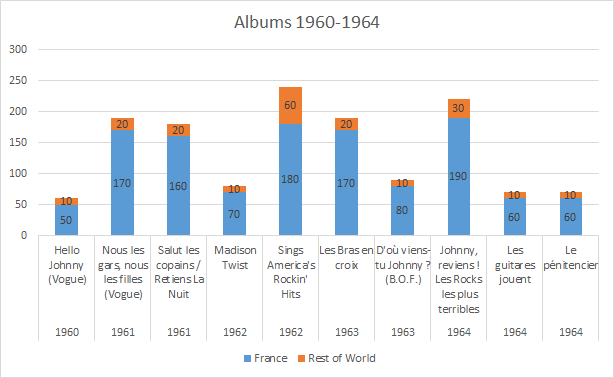 The discography of Johnny goes back deep enough to face albums issued in two distinct formats: 30cm and 25cm, more commonly known international as 12 and 10 inches LPs.
From 1960 to 1964 he released 5 12-inch albums, that would later be considered as the standard album that we know, plus 11 10-inch albums. This table lists all 5 12-inch albums, which happen to be the 5 top sellers, plus his 5 10-inchs albums which included only new songs. The remaining 6 10-inch albums are moved into the Remaining LP section as they included songs already published across the studio albums.
Sales-wise, all those albums sold only a few thousands upon release as the market was largely dominated by singles. This is why the standard albums sold so much more as unlike the 10-inch LPs they have been reissued several times. The prime example is the first CD release of Nous Les Gars, Nous Les Filles which was released in 1992 and moved 55,000 units by May 1993.