CSPC: Janet Jackson Popularity Analysis
Streaming Sales
As seen with the example of the Beatles, today's weight of Spotify is steadily increasing, representing as much as 63,5% of overall streams on their platform. The Swedish giant recently announced they broke the 50-million barrier of paid subscribers.
We will keep that ratio Spotify-All Audio Streaming services updated as much as possible, especially when the IFPI RIN comes out next month covering the 2016 Global market. For now, we will be sticking with this 63,5% rate.
What is this section about? Here we will be reviewing streams from all songs and all albums of Janet's, converting each of them into equivalent album sales. The equivalent album sales is the division of the comprehensive streaming figure by 1500 as is now the norm in the new industry model.
Streaming Part 1 – Anonymous Jackson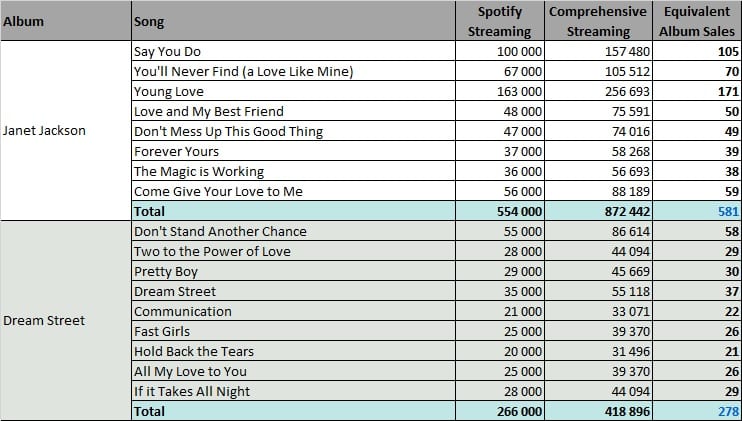 During the Bee Gees study, we met some awful performers in the streaming area. The first two Janet Jackson albums happen to be even weaker. Cumulatively, all their songs have just 820,000 streams! Technically, skipping tracks every 30 seconds just after the stream gets registered, one user can be responsible for 2,880 plays in a day. This would be enough to double the 8-years total of Hold Back the Tears after one week. Yes, it is that bad.