CSPC: Fleetwood Mac Popularity Analysis
Streaming Sales
Below table lists Spotify streaming of all songs from the five albums we are studying. The Comprehensive Streaming is reached by multiplying Spotify figures by 68/26. In fact, as shown in IFPI 2015 Report, there were 68 million paying subscribers to all streaming platforms by the end of 2015. While the exact count of Spotify paying subscribers by the end of 2015 is unknown, that figure reached 20 million in June 2015 and 30 million in March 2016, thus an estimated 26 million is used as of the end of 2015.
The equivalent album sales is the division of the comprehensive streaming figure by 1500 as it is now the norm in the new industry model.
Streaming Part 1 – Just Getting Started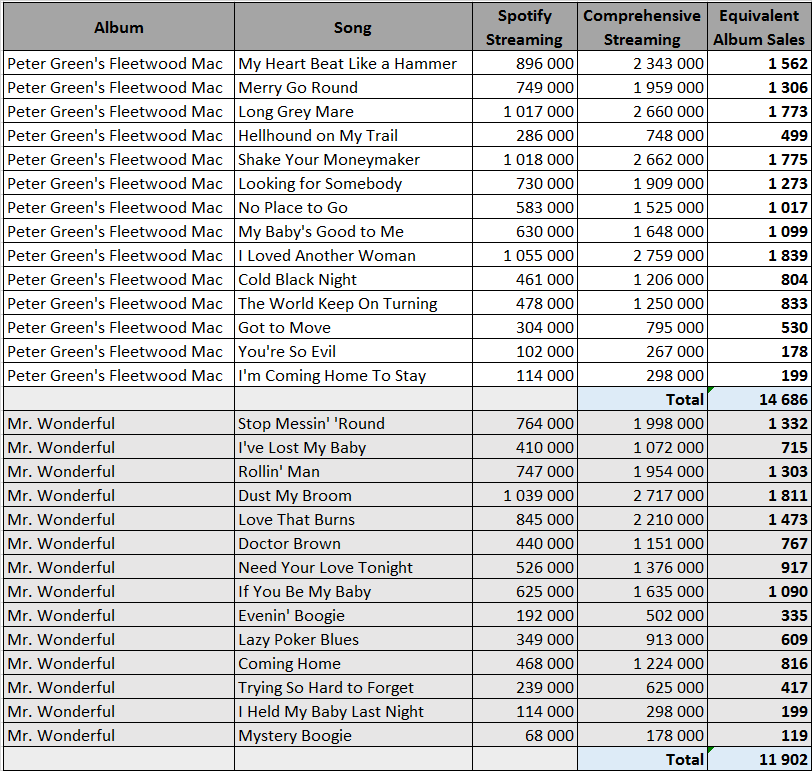 It can be difficult to accept those figures come from a cult rock band. The point is that Fleetwood Mac started as a Blues act, plus their first albums had no singles, which is very visible on those lists. Figures of all those album tracks aren't that bad yet as they almost all get into six digits, some of them even reach seven figures results.