The Police albums and songs sales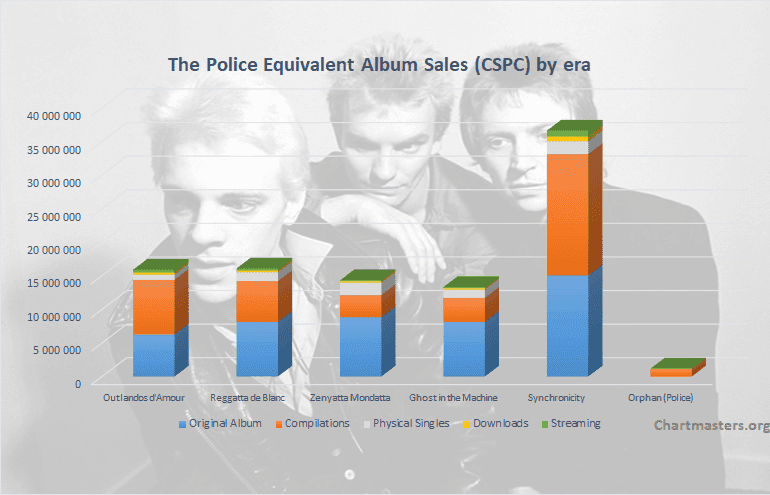 Back in late 70s, The Police were among the new wave artists who led media to start talking about the second British invasion. This terms refers to a multitude of UK acts suddenly becoming successful in the US.
Very few of them had the lasting impact of their mid-60s predecessors. Among those who did, U2 reign supreme over this generation, while the success of The Police has been impressive too.
Get to know The Police
Who are The Police?
The Police are a British new wave / pop rock band, which featured lead singer Sting, guitarist Andy Summers and drummer Stewart Copeland. Their album releases history goes from 1978 to 1983.
How many albums have their released?
The band issued 5 studio albums, Outlandos D'Amour (1978), Reggatta De Blanc (1979), Zenyatta Mondatta (1980), Ghost In The Machine (1981) and Synchronicity (1983).
They became big stars in Europe during the year 1979 thanks to back to back hits Roxanne and Can't Stand Losing You, while their success in the US gradually grew up to the Every Breath You Take fever in 1983.
What's their musical style?
The sound of The Police is pretty out of the box. We attribute them the spirit of punk bands, they belong chronologically to the new wave era, and they are recognized among rock artists for the reggae-infused sounds of their music.
The huge success of their singles, with an undeniable cross over appeal, also led many to simply consider them a pop band.
It seems irrational to disband when you are at the top of the game.
Often, when a hot band break up it's due to a tragic death, like The Doors, and even then they tried to stay together without Jim Morrison.
The only cases of bands which did is purposely are Simon & Garfunkel and The Police. Destroying charts with Bridge Over Troubled Water and Synchronicity, respectively, they ended their road.
The 2007 reunion tour of The Police grossed a massive $362 million, showing how popular the group still is. They haven't put out the music yet.
So, with a small discography, and a success which took as long as they lasted to get big in the US, how much have they sold?
While they are unlikely to challenge the top sellers ever considering this context, we can wonder how high the album Synchronicity and the single Every Breath You Take feature inside all-time lists?
As usual, I'll be using the Commensurate Sales to Popularity Concept in order to relevantly gauge their results. This concept will not only bring you sales information for all The Police's albums, physical and download singles, as well as audio and video streaming, but it will also determine their true popularity.
If you are not yet familiar with the CSPC method, the next page explains it with a short video. I fully recommend watching the video before getting into the sales figures. Of course, if you are a regular visitor feel free to skip the video and get into the figures.
The Commensurate Sales to Popularity Concept (CSPC)
There are two ways to understand this revolutionary concept. The first is the Scribe video posted below. If you are unaware of the CSPC method, you will get the full idea within just a few minutes.
If you are a mathematical person, and want to know the full method as well as formulas, you can read the full introduction article.
Now let's get into the artist's sales figures in detail in order to apply this concept and define the act's true popularity!
The Police Albums Sales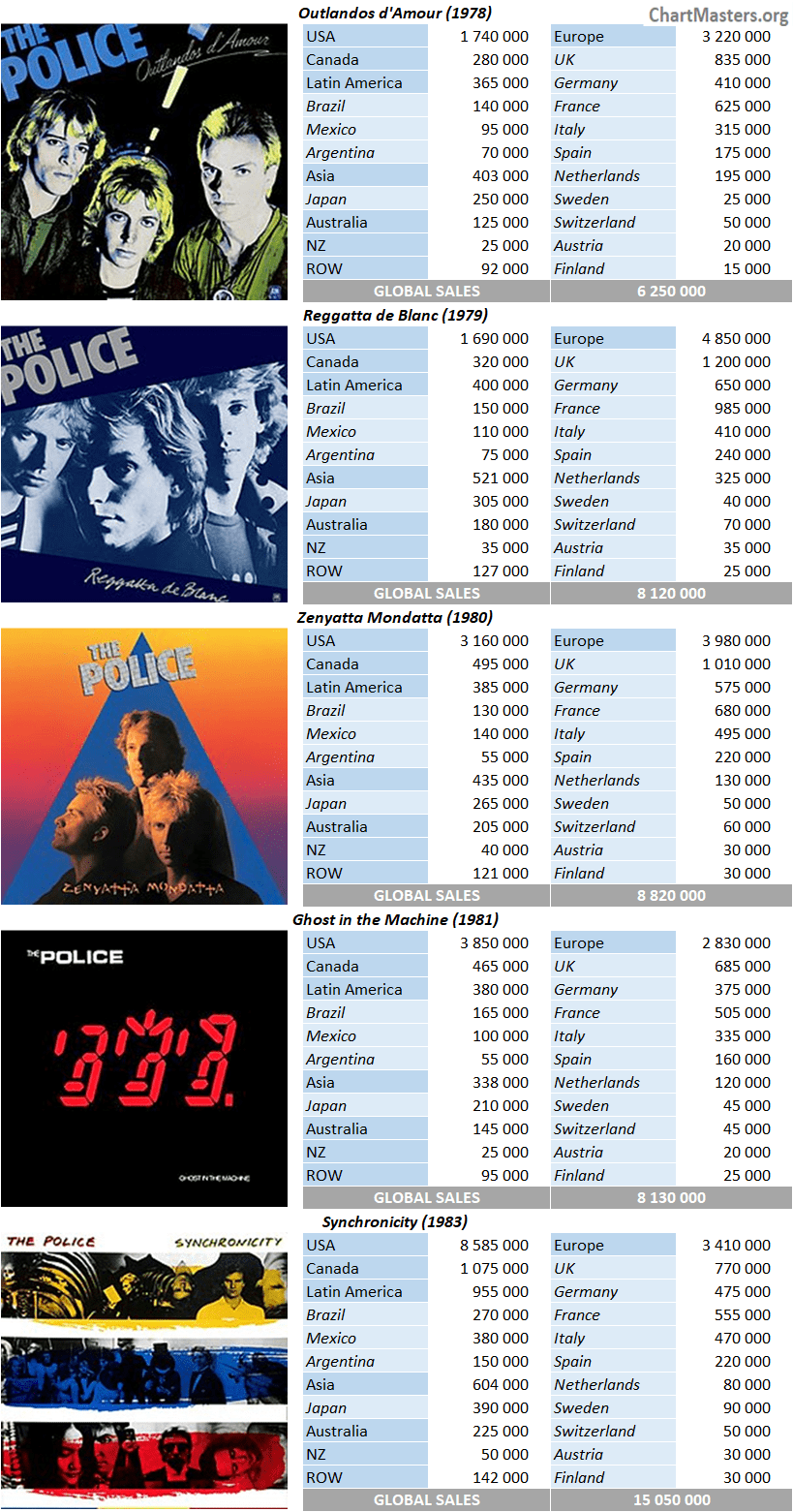 Original Album Sales – Comments
One can consider these numbers are amazingly high and consistent. One can consider they are somewhat low.
Both comments would be true. It's impressive to score 6-8-8-8-15 million over the course of 5 albums in quick succession. They obviously never flopped.
Yet, when we consider that Synchronicity was #1 in the US for 17 weeks, with the US being a relatively weak market for the band, its 15 million sales do not seem that high.
The same can be said about an album like Outlandos d'Amour, 6 million feels weak for a record which contains songs Roxanne and Can't Stand Losing You.
These albums were heavily successful, but to reach 20 million sales or so it requires significant catalog sales on top of initial impact.
Since they stopped releasing new music after Synchronicity, their label, A&M, issued a greatest hits as early as in 1986.
New compilations or reissues of the ones already released then came out in 1990, 1992, 1995, 1997, 2002, etc.
The original studio albums had very little time to amass large catalog units.
Outlandos D'Amour failed to chart in Germany, yet it had shipped 250,000 units by 1981. In France, it peaked at #25 only, but still shifted 400,000 copies by 1984.
It goes on to show these albums had plenty of potential to sell well through the years, but their strength was shot down in 1986.
We will see later on this article how much their compilations sold, and how many of these units have been fueled by each original album.
The Police Songs Sales

Physical Singles Sales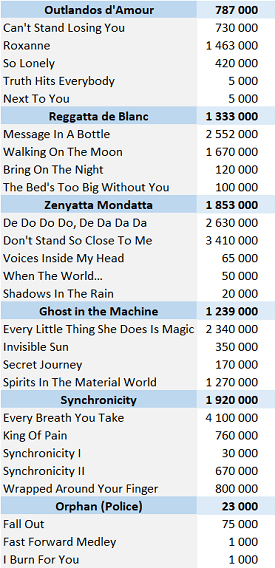 As a reminder, the weighting is done with a 10 to 3 ratio between one album and one physical single.
The first single of The Police was Fall Out, an independently issued song which was released in 1977 then again in 1979, when it peaked at #47 in the UK.
Successful enough to get them noticed, Roxanne, came out next.
This song, too, failed to chart at first in the UK, in 1978, then peaked at #12 when they had got bigger one year later. It also made it to #32 in the US, their first entry in this market.
Over 300,000 sales in France, where the song was written, along with multiple reissues, led the song to 1.46 million physical sales to date.
Can't Stand Losing You is actually the first song that got big enough to chart upon release in the UK, reaching #42 in October 1978.
Once again, the song was reissued one year later to exploit their growing popularity, climbing as high as #2. Its success was more modest elsewhere, ultimately selling 730,000 units up to its last release in 1995.
The last proper single from Outlandos D'Amour, So Lonely, also had 2 lives. It remained uncharted in late 1978, then got to #6 in their homeland in 1980.
The building hype went through the roof in September 1979 when Message In A Bottle, the lead single from Reggatta de Blanc, was released.
A 3 weeks #1 in the UK, the song was a top 5 hit in many countries. It sold well over 700,000 and 500,000 units in the UK and in France, respectively.
More modest were receptions in Germany (#35) and the US (#74), the song still shifted over 2.5 million copies globally.
Walking On The Moon continued their string of smashes, going to #1 in the UK and top 10 in markets like France, Australia and Italy.
The success was still escaping them in both Germany and the US where the song failed to chart, not even being released in the latter country. It's a 1.6 million seller still.
Moving into the Zenyatta Mondatta era, lead singles Don't Stand So Close To Me and De Do Do Do, De Da Da Da were released in reverse order in the UK and in the US.
The first was the lead single in their native country, topping charts for 4 weeks to ultimately be crowned as the top selling single of 1980 at more than 800,000 sales.
The latter song broke their string of chart toppers, peaking at a healthy still #5 position during the competitive Christmas week.
In the US, De Do Do Do, De Da Da Da was their true break through hit, going to #10 with sales approaching a million.
Don't Stand So Close To Me went to #10 too, although with sales a bit lower, and better airplay instead.
Cumulatively, these two songs moved 5.3 million units in total.
The Police were once again inevitable in late 1981 with Invisible Sun, Everything Little Thing She Does Is Magic and Spirits In The Material World coming out over a span of 11 weeks only.
In the UK, they peaked, in this order, at #2, #1 and #12. The former wasn't released in most countries, which explains its 340,000 global sales.
Magic instead became their largest hit to date in the US with a #3 peak. It also became their 4th multi-million seller globally. Spirits then was their 6th wide release in a row to hit a million.
In 1982, the release schedule of the group was quiet for the first time since their debut.
In May 1983 though, they issued their comeback single, Every Breath You Take.
The track took the world by storm, crushing US charts for 8 weeks and UK charts for 4 weeks. It went top 10 everywhere, even in Germany, a miracle for them as it was their first – and last – song to do so.
Sales-wise, the song sold over 1.5 million units in both the US and Europe, 180,000 in Canada, 120,000 in Australia and 80,000 in Japan.
Few 80s songs came close to 4 million units, and its not The Police's own subsequent singles which reached this mark.
The huge sales of the album limited the impact of King Of Pain, Synchronicity II and Wrapped Around Your Finger, all singles which sold below 1 million copies.
Their intense career stopped with 23.8 million singles sold, a very strong number for what is mostly a 4 years career.
Digital Songs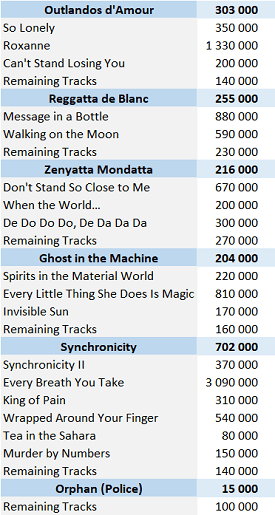 As a reminder, the weighting is done with a 10 to 1,5 ratio between one album and one digital single.
The strong success of The Police in Europe and Australia was favorable for their physical sales.
For downloads through, their not-as-massive profile in key markets like the US and South Korea is a real disadvantage.
Many songs are still well remembered though.
Message in a Bottle, Walking on the Moon, Don't Stand So Close to Me, Every Little Thing She Does Is Magic, Wrapped Around Your Finger are all somewhere between half a million and a million.
A pair of songs break the 7 digits barrier though. Roxanne does so at 1.33 million sales. The other one is expectedly Every Breath You Take.
The 1983 blockbuster is well past a million in the US, while being also their most global hit, with about 100,000 units in each Japan and South Korea.
Its numbers are good enough for 3 million sales in total, nearly one third of their career tally.
In the other side, among their former hits De Do Do Do, De Da Da Da and Can't Stand Losing You are not as popular today, adding for 500,000 sales combined.

Streaming
Streaming is made up of audio and video streams. Our CSPC methodology includes both to better reflect the real popularity of each track. The main source of data for each avenue is respectively Spotify and YouTube.
To factor in the growing impact of multiple Asian countries where these platforms aren't always the go-to site for music streaming, more sources have been added.
In order to account for their real popularity in each relevant country, the below sources have been used along with the mentioned ratios that reflect the market share of each area.
Audio Streams
– South Korea : Genie streams * 3.05 (consistent with Gaon streaming numbers)
– Japan : AWA streams * 100/5.5 (AWA has 5.5% of the Japanese streaming market)
– Elsewhere : Spotify streams * (370 – 8.5 – 9.5 – 33 – 9) / 207 (370 million global subscribers minus 8.5 million from South Korea minus 9.5 million from Japan minus 33 million from China divided by the number of Spotify only users minus 9 million more Asian users) + Genie streams * 3.05 (uses Genie rather than Spotify to extrapolate markets like Taiwan, Thailand and Vietnam)
Video Streams
– China* : Xiami streams * 125/6.5 (Xiami has just over 5% of the Chinese streaming market)
– Elsewhere : Youtube views
*since 96.4% of Chinese streaming platforms are free users, that paid-for users pay less than $2 a month and that they are also used as video streaming platforms, their streams are weighted in par with YouTube streams.
Audio Stream value – 1500 plays equal 1 album unit
Video Stream value – 11,750 views equal 1 album unit
Equivalent Albums Sales (EAS) = ( Spotify * 310/207 + Genie * 3.05*2 + AWA * 100/5.5 ) / 1500 + ( Xiami * 125/6.5 + YouTube ) / 11750
Top Hits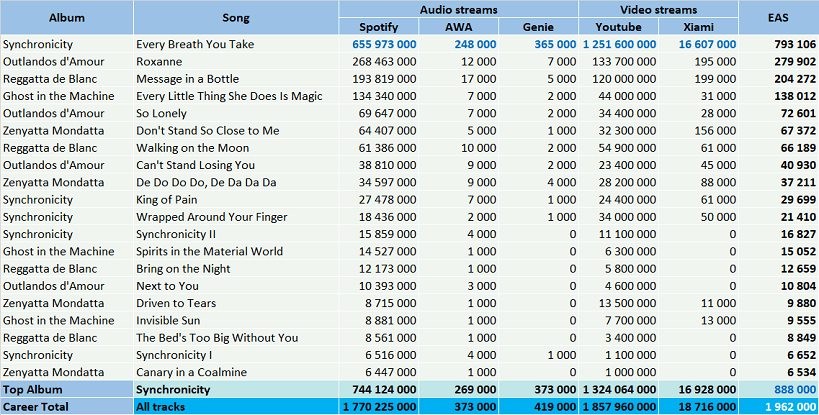 The first place of Every Breath You Take wasn't hard to predict, but the numbers of the song are still quite something.
It's one of the most streaming legacy songs of all-time on Spotify at 656 million. It does even more on YouTube at 1.25 billion.
In Asian platforms, the song destroys the rest of their discography, gaining roughly 80% of their career streams there.
All in all, we are looking at nearly 800,000 equivalent album sales from streams for one 1983 song. Insane.
In comparison, numbers of remaining songs pale, while they are really good in absolute terms.
Roxanne is up to 268 million on Spotify, Message In A Bottle stands at 194 million while in spite of 134 million streams Every Little Thing She Does Is Magic is only their 4th top song.
Their former hits follow them with 27-69 million Spotify streams a piece to complete a fairly good top 10.
It needs to be said that the band's discography is made of barely 68 songs, including a dozen of rarities. Their proportion of hit songs is superb.
Full catalog breakdown
If you are familiar with the artist's catalog and want to check details of each and every song, you can access to all of them right here.
Keep yourself up to date
Our website provides you a fantastic tool which fetches updated Spotify streams as you request them, use it to watch these results grow day after day!
The Police compilations sales
It sounds fairly logical to add together weighted sales of one era – studio album, physical singles, downloads, streams – to get the full picture of an album's popularity. For older releases though, they also generate sales of various live, music videos and compilation albums.
All those packaging-only records do not create value, they exploit the value originating from the parent studio album of each of its tracks instead. Inevitably, when such compilations are issued, it downgrades catalog sales of the original LP.
Thus, to perfectly gauge the worth of these releases, we need to re-assign sales proportionally to its contribution of all the compilations which feature its songs. The following table explains this method.
The distribution process

How to understand this table? If you check this example of Every Breath You Take (The Singles), these figures mean it sold 14,910,000 units worldwide.
The second statistics column means all versions of all the songs included on this package add for 1,702,710 equivalent album sales from streams of all types.
The second part on the right of the table shows how many equivalent streams are coming from each original album, plus the share it represents on the overall package.
Thus, streaming figures tell us songs from Synchronicity are responsible for 50% of the Every Breath You Take (The Singles) tracklist attractiveness, which means it generated 7,392,000 of its 14,910,000 album sales, and so on for the other records.
Compilations sales figures listing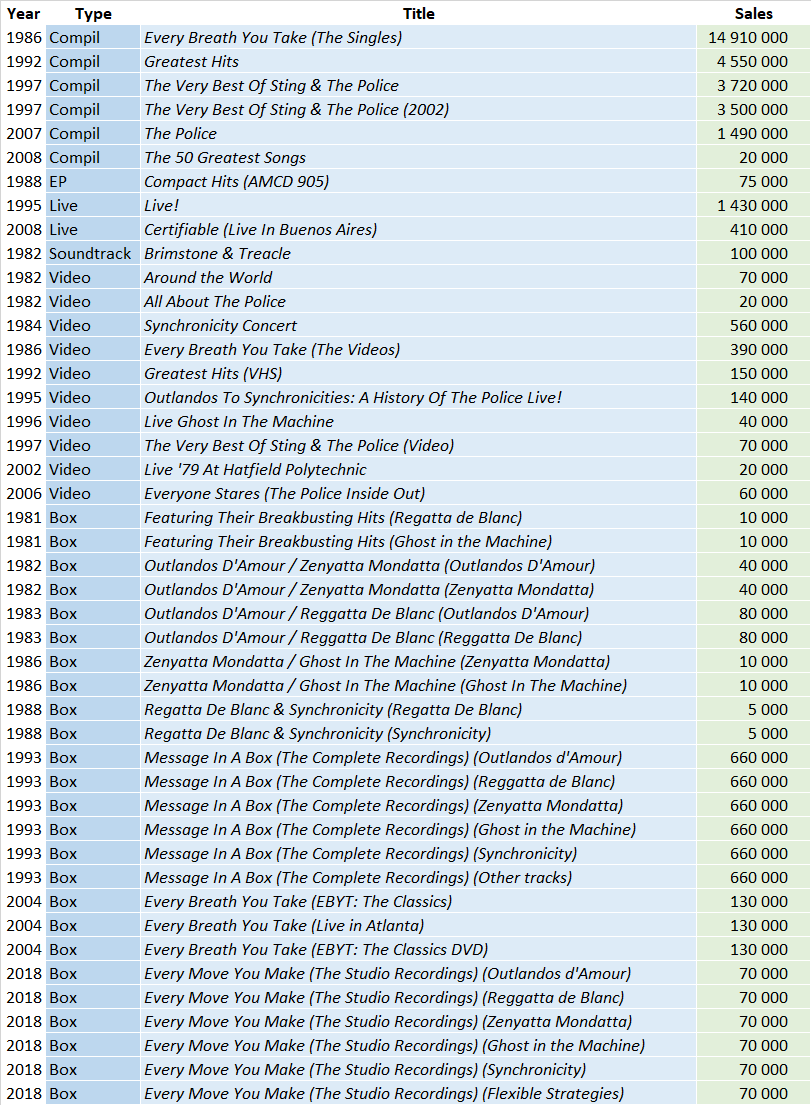 Full Length related records Sales – Summary

Here is the most underestimated indicator of an album's success – the amount of compilation sales of all kinds it generated. Due to the dependency of sales of the original studio albums on these releases, they are a key piece of the jigsaw
These numbers are obtained by applying the method from the section The distribution process to all packages listed under Compilation sales figures listing category.
The numbers in this table are stunning, almost as high as their original album sales.
It's only natural when these compilations have been exploiting their catalog since 1986, for 34 years, when their studio albums had from 3 to 8 years to shine only.
Their top selling compilation is the first, Every Breath You Take (The Singles) from 1986 at nearly 15 million. It includes Their Greatest Hits from 1990 and Every Breath You Take (The Classics) from 1995 which are mere reissues.
This figure is impressive in itself, and even more incredible once we consider the heavy competition.
1992's Greatest Hits sold 4.5 million units with limited US availability, while 1997's The Very Best Of Sting & The Police is up to 7.2 million combining its two versions.
Factor in the 2007 self titled compilation that came out with their tour, and you climb up to 28 million sales of greatest hits packages made of almost exactly the same tracklists – except for Sting songs in one of them.
The band also sold 730,000 units of boxes containing their 5 studio albums, which goes on to show how easily they would have been selling without the compilations to ruin their appeal.
Once assigned back to original efforts, these sales add a monstrous 18 million units to Synchronicity, 8 million to Outlandos D'Amour and 6 million to Reggatta de Blanc.
We can also point out that The Police enjoy some sales from various Sting compilations and live albums which used their songs.
As a bonus, please find below sales of their main compilations.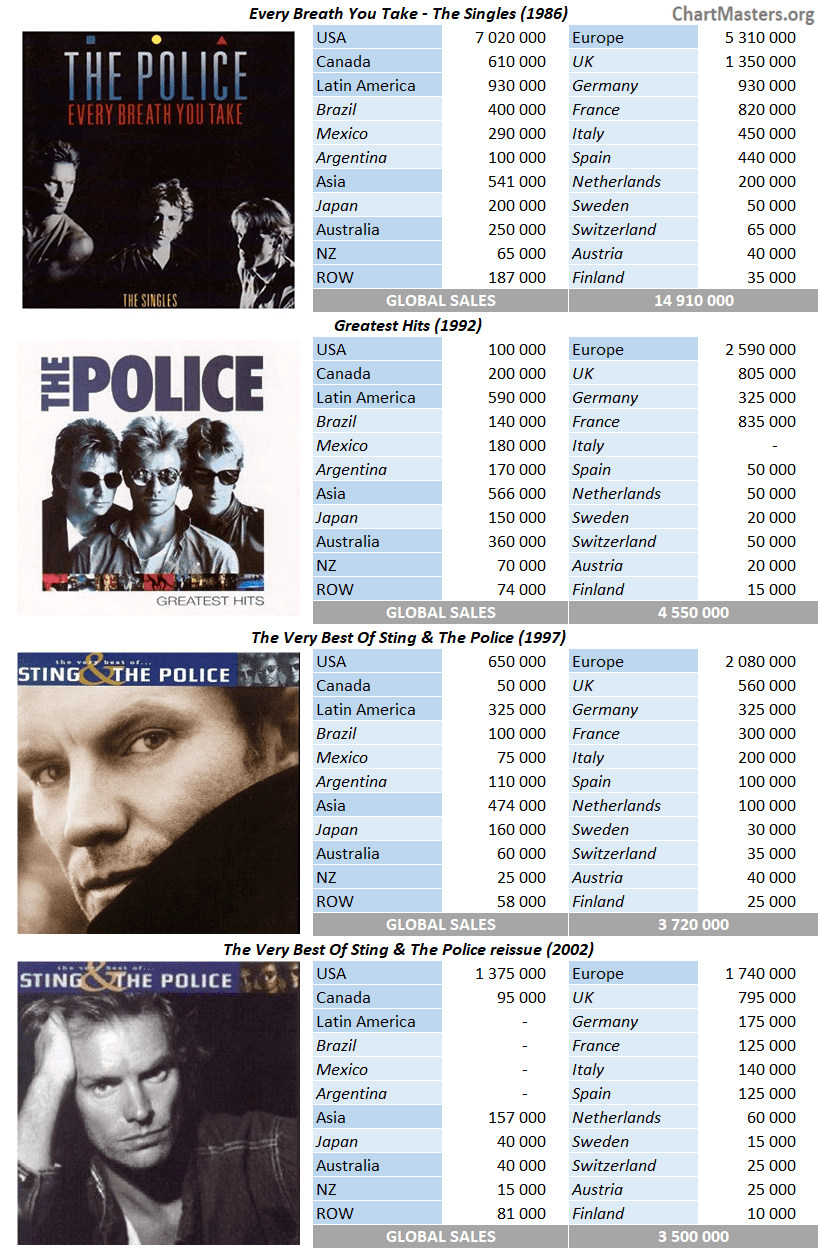 Total solo Album (all types) Sales per Country
Please note country-specific numbers may miss sales of some minor releases, although continental and global totals are complete.
The Police Career CSPC Results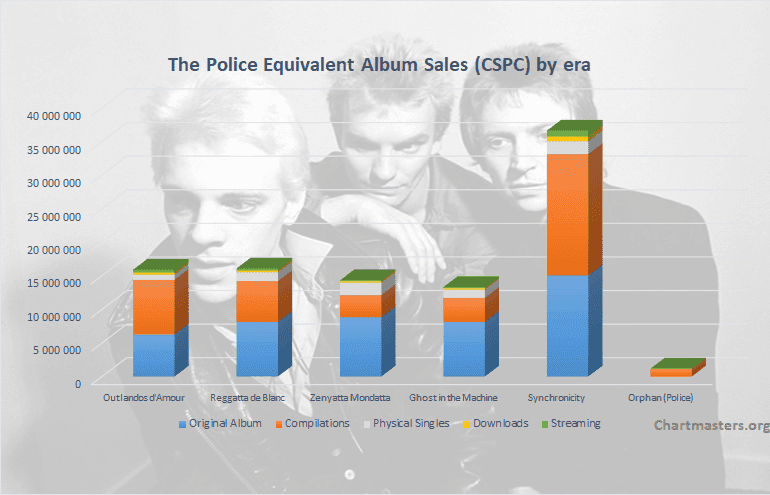 So, after checking all the figures, how many overall equivalent album sales has each album by The Police achieved? Well, at this point we hardly need to add up all the figures defined in this article!
In the following results table, all categories display figures in equivalent album sales. If different, pure sales are listed between parentheses.
| artist_spotify_id | # | Cover | Album | Studio albums (EAS) | sales_update_date | Other LPs (EAS) | Physical singles (units sold) | Digital singles (units sold) | Streams | Streams increase | Total EAS | valid_as_of | streams_updated_value | album_id |
| --- | --- | --- | --- | --- | --- | --- | --- | --- | --- | --- | --- | --- | --- | --- |
| 5NGO30tJxFlKixkPSgXcFE | 1 | | Outlandos d'Amour | 6,250,000 | 06.06.20 | 8,124,000 | 784,000(2,613,000) | 303,000(2,020,000) | 976,000 (09/28/23) | Av.: 460LD: 870 | 16,440,000 | 20,230,928 | 976,000 | 287 |
| 5NGO30tJxFlKixkPSgXcFE | 2 | | Reggatta de Blanc | 8,120,000 | 06.06.20 | 6,063,000 | 1,267,000(4,222,000) | 255,000(1,700,000) | 686,000 (09/28/23) | Av.: 310LD: 500 | 16,457,000 | 20,230,928 | 686,000 | 288 |
| 5NGO30tJxFlKixkPSgXcFE | 3 | | Zenyatta Mondatta | 8,820,000 | 06.06.20 | 3,288,000 | 1,812,000(6,040,000) | 216,000(1,440,000) | 367,000 (09/28/23) | Av.: 190LD: 300 | 14,544,000 | 20,230,928 | 367,000 | 289 |
| 5NGO30tJxFlKixkPSgXcFE | 4 | | Ghost in the Machine | 8,130,000 | 06.06.20 | 3,561,000 | 1,188,000(3,960,000) | 204,000(1,360,000) | 454,000 (09/28/23) | Av.: 230LD: 390 | 13,588,000 | 20,230,928 | 454,000 | 290 |
| 5NGO30tJxFlKixkPSgXcFE | 5 | | Synchronicity | 15,050,000 | 06.06.20 | 18,037,000 | 1,899,000(6,329,000) | 702,000(4,680,000) | 2,276,000 (09/28/23) | Av.: 1,150LD: 1,790 | 37,985,000 | 20,230,928 | 2,276,000 | 291 |
| 5NGO30tJxFlKixkPSgXcFE | 6 | | Orphan | 0 | 06.06.20 | 1,110,000 | 23,000(77,000) | 15,000(100,000) | 20,000 (06/06/20) | N/A | 1,168,000 | 20,230,928 | 20,000 | 1,744 |
'Av.' stands for Average, 'LD' for Last Day.
As a reminder:
Studio Album: sales of the original album
Other Releases: sales of compilations generated thanks to the album
Physical Singles: sales of physical singles from the album (ratio 3/10)
Download Singles: sales of digital singles from the album (ratio 1,5/10)
Streaming: equivalent album sales of all the album tracks (ratio 1/1500 for Audio stream and 1/6750 for Video stream)
See where the artist ranks among remaining singers
It's difficult to find something negative to say about these results.
There are 5 albums, 5 sales avenues per album, yet every figure is great.
Their consistency through their releases and through the years is outstanding.
Each of their first 4 records shifted from 13.3 to 16.1 million equivalent album sales to date.
Pretty healthy numbers, especially once we consider their first two failed to reach the top 20 in the US.
It's also worth mentioning they manage these results in spite of the huge shadow that is Every Breath You Take.
Unlike remaining artists from this era like Journey or Eurythmics, their hits haven't been eaten by one monster smash as time passed.
Speaking about Every Breath You Take, its parent album posts 36.6 million sales. This makes it the 12th biggest seller from the 80s, the biggest from 1983.
Most 80s blockbusters contain from 3 to 7 hit singles. Every Breath You Take alone is responsible for 89% of Synchronicity sales across all formats.
This is an historical performance. In fact, it's the 5th biggest song of all-time, ahead of Queen's Bohemian Rhapsody.
Ahead are only 2 gigantic soundtrack songs, My Heart Will Go On (Celine Dion) and I Will Always Love You (Whitney Houston), along with Hotel California (Eagles) and Billie Jean (Michael Jackson).
The career total of the band is 97.4 million albums in spite of a tiny discography. Incredible.
Singles CSPC results
The list is compiled in album equivalent sales generated by each song. Therefore, these figures are not merged units of singles formats.
Instead, it includes weighted sales of the song's physical single, download, ringtone and streaming as well as its share among sales of all albums on which it is featured.
1. 1983 – The Police – Every Breath You Take [Synchronicity] – 32,690,000
2. 1978 – The Police – Roxanne [Outlandos d'Amour] – 11,510,000
3. 1979 – The Police – Message in a Bottle [Reggatta de Blanc] – 11,020,000
4. 1981 – The Police – Every Little Thing She Does Is Magic [Ghost in the Machine] – 10,170,000
5. 1980 – The Police – Don't Stand So Close to Me [Zenyatta Mondatta] – 7,130,000
6. 1980 – The Police – De Do Do Do, De Da Da Da [Zenyatta Mondatta] – 4,110,000
7. 1979 – The Police – Walking on the Moon [Reggatta de Blanc] – 3,780,000
8. 1978 – The Police – So Lonely [Outlandos d'Amour] – 1,990,000
9. 1978 – The Police – Can't Stand Losing You [Outlandos d'Amour] – 1,700,000
10. 1981 – The Police – Spirits in the Material World [Ghost in the Machine] – 1,380,000
11. 1983 – The Police – King of Pain [Synchronicity] – 1,300,000
12. 1980 – The Police – Driven to Tears [Zenyatta Mondatta] – 1,240,000

If you feel inspired by this list, we just created this CSPC The Police playlist on Spotify!
Discography results
Thanks to the ASR (Artist Success Rating) concept, we know that their sales represent 56.09 million times the purchase of their entire discography. Coupled with the total sales, it translates into an ASR score of 419.
This is the highest ASR score ever reached by an artist with less than 100 million sales, ahead of Nirvana.
It goes on to show their main limitation is the size of their discography. Their ASR is just under the one of Mariah Carey with 3 times less albums.
Records & Achievements
At 32,690,000 EAS, Every Breath You Take is the 5th most successful song of all-time.
At 655,973,000 streams, Every Breath You Take is the 15th most streamed song on Spotify released before 2000.
Among artists with sales in excess of 50 million EAS, no artist other than The Police has all their albums at 13.3 million EAS or more.
The Police got the biggest single of the year in both the US and the UK with different songs (respectively Every Breath You Take, 1983, and Don't Stand So Close To Me, 1980).
At 15,890,000 EAS, Outlandos D'Amour is among the 10 most successful albums from 1978.
At 16,079,000 EAS, Reggatta de Blanc is among the 10 most successful albums from 1979.
At 14,316,000 EAS, Zenyatta Mondatta is among the 20 most successful albums from 1980.
At 13,315,000 EAS, Ghost in the Machine is among the 10 most successful albums from 1981.
At 36,597,000 EAS, Synchronicity is the most successful album from 1983.
Every The Police album releease from 1978 to 1986 sold at least 500,000 copies in France and 300,000 in Italy.
NB : EAS means Equivalent Album Sales
You may be interested in…
… best-selling artists, albums, and singles
To improve your navigation we created several amazing cross-artists lists posted inside the CSPC: Data Collector article. Click on it to see the full listing of all CSPC results compiled so far!
… similar artists
To put figures from this article into perspective, click on the images below to reach career breakdowns of similar artists: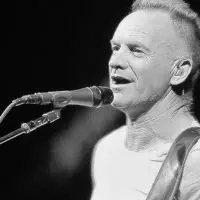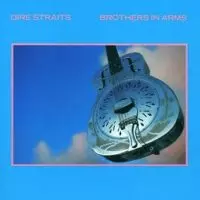 As usual, feel free to comment and / or ask a question!
Sources: IFPI, Spotify, YouTube, Discogs.