CSPC: ABBA Popularity Analysis
Streaming Sales
Below table lists Spotify streaming of all songs from the five albums we are studying. The Comprehensive Streaming is reached by multiplying Spotify figures by 68/26. In fact, as shown in IFPI 2015 Report, there were 68 million paying subscribers to all streaming platforms by the end of 2015. While the exact count of Spotify paying subscribers by the end of 2015 is unknown, that figure reached 20 million in June 2015 and 30 million in March 2016, thus an estimated 26 million is used as of the end of 2015.
The equivalent album sales is the division of the comprehensive streaming figure by 1500 as it is now the norm in the new industry model.
Streaming Part 1 – Taking Off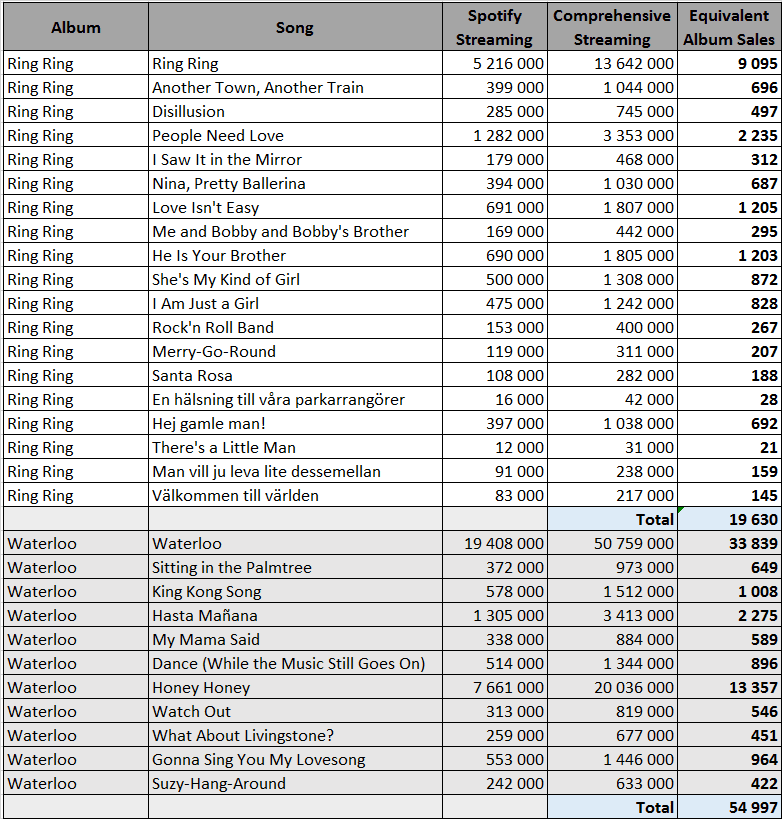 Considering how weak of a catalog seller it has been, Ring Ring doesn't perform too badly in the streaming field with most album tracks floating around half a million plays. The album definitely lacks hits though as the biggest is the title track with only 5 million streams.
In terms of album sales equivalent, Waterloo is already three times bigger. Although it is still nothing huge, the title track has a nice 19,4 million plays, contributing to 60% of the album results.