Best selling records and artists in the USSR and Russia
If you go through various online sites covering music sales, you'll find close to no information at all about the best selling artists in the USSR and Russia.
A black box up to this day, we digged through the data of this market and identified receipts covering over 100 million unit sales.
Get ready for some heavy surprises as the USSR market looked like none other.
The Soviet music industry
State owned label Melodiya had a monopoly on all legal music sales from the mid 60's until the USSR dissolved in 1991.
This label was among the world's largest in terms of volume with 100-200 million records shipped on a yearly basis in the 70's and 80's. A vast majority of these were sold locally.
Naturally, the only way for foreign acts to sell music there was through Melodiya.
More often than not did international artists get only one or two albums released, if any at all. There are several reasons for this and censorship is definitely one of them.
The state arguably approved more music from Italy, France and other parts of Europe than the US and other English speaking countries.
Another reason for the lack of western releases is that Melodiya wasn't the copyright owner of these products.
Of course, it was possible for them to license international albums, but it was rarely done as these would conclude on releases too expensive for the local market.
To release LPs from American and English stars there was still one way for Melodiya which was using a loophole.
In fact, in most countries copyrights are protected by the Universal Copyright Convention (UCC), a convention signed in Geneva in 1952.
Yet, the Soviet Union signed this convention in 1973 only. It means that tracks recorded before this date were free of copyrights in the country.
The Russian music industry
Many local labels of various legal statuses started to flood the Russian market and filling the Melodiya vacuum quite fast after the USSR dissolved.
Since the censorship was gone could these labels release pretty much whatever they wanted to.
For the first time did we see western artist's full discographies getting released. This included bands like Uriah Heep, Black Sabbath and Iron Maiden among others.
The international majors themselves started issuing western releases there as well by the mid 90's.
Along with this win for foreign artists, some new challenges came as well.
After the Soviet era, the Russian economy saw a big decline during the 90's. This resulted in a big drop in album sales as well.
If that wasn't bad enough legitimate labels were now competing with countless of big and small pirate labels. This was the start of an issue that would hold back the market for the coming decades.
Nonetheless the Russian market did come back strong once more closing the 90's with international stars artists like Madonna and Tarkan selling albums in the hundred thousands.
A handful of albums went diamond for 200,000 sales by the early to mid 2000's. Some local artists were able to sell a few millions during this era as well.
This didn't last too long though as the album market fell into total irrelevancy by the early 2010's.
With the massive growth of streaming in recent years does the future look bright as IFPI is expecting Russia to be in the top 10 streaming markets by 2030.
How do we get the numbers?
The soviet numbers are based on shipment codes found on the back of vinyls. Melodiya had these codes on most releases since 1974. Many smaller Russian labels had them on their releases too during the 90's.

The first important part here is the shipment year to the left. "Зак 130″. is the shipment code and " Тираж 58500″ highlights the number of sales.
This means that for this record, 58,500 copies were pressed in answer to the Зак 130 bill from the year 1990.
What we did was simply adding together the sales of different codes, going through thousands of scans in the process. Discogs and records.su were to big help with finding them.
Obviously, many codes are not available on scans that we identified. It means that figures derived from these codes for each record are minimum sales.
In the same way, only vinyls used to have these codes printed, not cassettes. Not all vinyls had them either, some strong sellers from ABBA and Queen for example have no shipment information.
The Russian sales are simply based on NFPF certifications found on various archives of websites like 2m-online.ru, nfpf.org and lenta.ru
Some sales numbers for Russian mega sellers were posted by lenta.ru as well.
USSR top selling foreign albums 1974-1993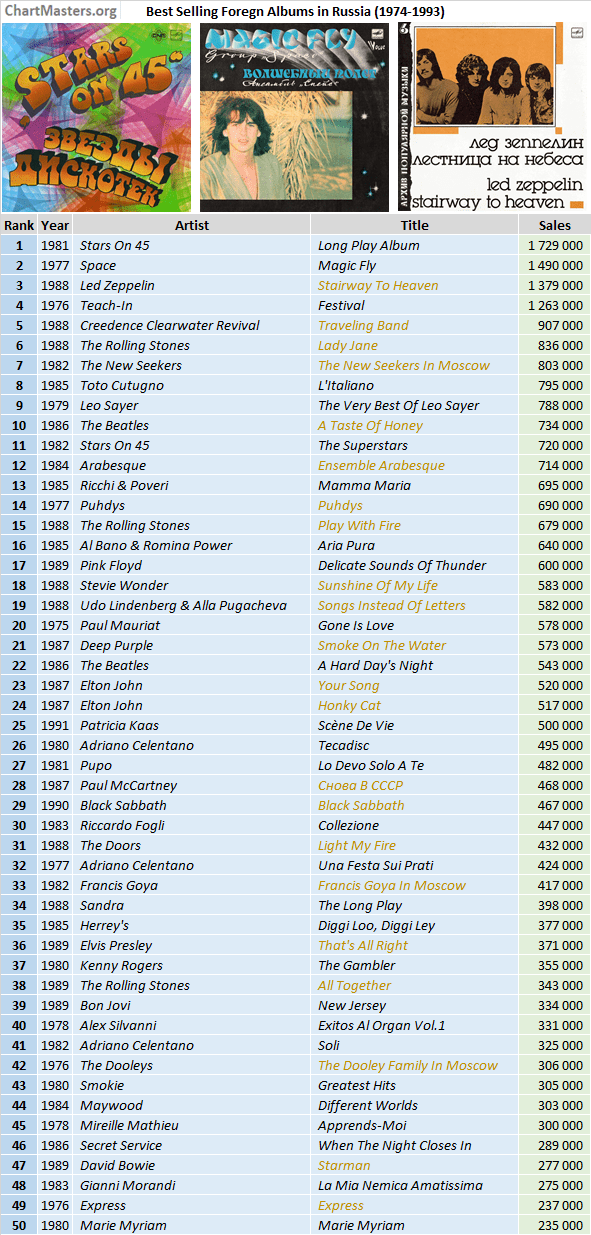 NB: USSR exclusive releases are marked in gold.
The fact that the list is topped by Dutch novelty band Stars On 45 is a big surprise for sure. Their Long Play Album racked up a massive 1.7 million sales with almost a million shipments in 1983 alone!
They didn't disappear after this album either as their followup The Superstars sold over 700,000 copies as well.
The #2 is yet another surprise from one-hit wonder Space, a French electronic band. Their album Magic Fly sold 1.5 million copies. This is more than it sold in the rest of the world combined!
Then comes Led Zeppelin's USSR exclusive compilation Stairway To Heaven at 1.38 million. As with many rock bands it was their only release in the country. Yet this monster seller alone makes Russia one of the band's top markets in Europe.
Yet another Dutch band comes in at 4th. This time it's Festival by Teach-In, the winners of the 1975 Eurovision Song Contest. Several other winners of this competition sold very well too despite Russia itself didn't participate until 1994.
Further down we have USSR exclusive compilations by Creedence Clearwater Revival, The Rolling Stones, The New Seekers, The Beatles and Arabesque ranging from 700-900,000. These were close to the only sales many of them ever got in the USSR.
Italian acts are all over the place with Toto Cutugno, Ricchi & Poveri, Al Bano & Romina Power, Adriano Celentano, Pupo and Riccardo Fogli having albums between 400-800,000.
French singers are not doing bad either with Patricia Kaas and Mireille Mathieu leading the way.
If the list wasn't diverse enough already there are also artists from East Germany, Belgium, Sweden and Hungary.
It must be noted that various artist albums have been excluded. Some sold very well. Most notably Greenpeace Breakthrough at over 1.3 million as well as several compilations of Italian music.
USSR top selling foreign singles and EPs 1974-1993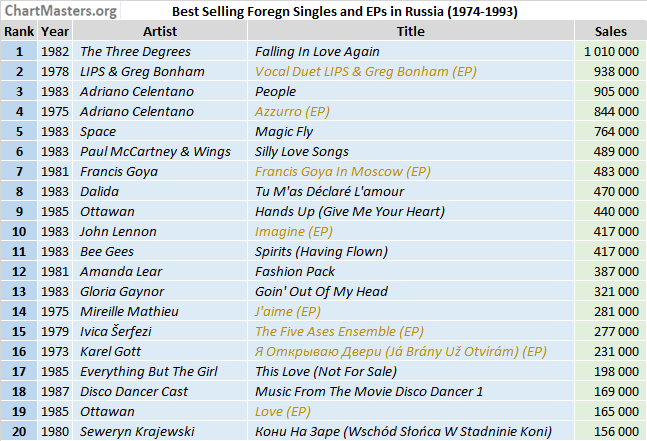 This is probably the format with the most holes still. So feel free to submit a release if you find one! 🙂
Only one international song sold over a million copies in the USSR. But Falling in Love Again by The Three Degrees did so extremely fast with 900,000 copies within one shipment!
It's quite obvious the EP format was strongly popular too with USSR exlusive EP releases from LIPS & Greg Bonham, Adriano Celentano, Francis Goya and John Lennon selling between 400-900,000 copies.
As with the albums are Italian and French artists especially big here as well.
Several Eastern European artists thought to be unknown outside their home countries got their big crossover hits too.
This included Ivica Šerfezi from Yugoslavia, Karel Gott from Czechoslovakia and Seweryn Krajewsky from Poland which all got their Russian language 150-300,000 sellers.
Success wasn't just limited to European and American stars either as a single from the Bollywood movie Disco Dancer sold 170,000 copies. In fact, several releases from Asian countries like India and Japan sold decent amounts.
Russia top selling foreign albums 2003-2012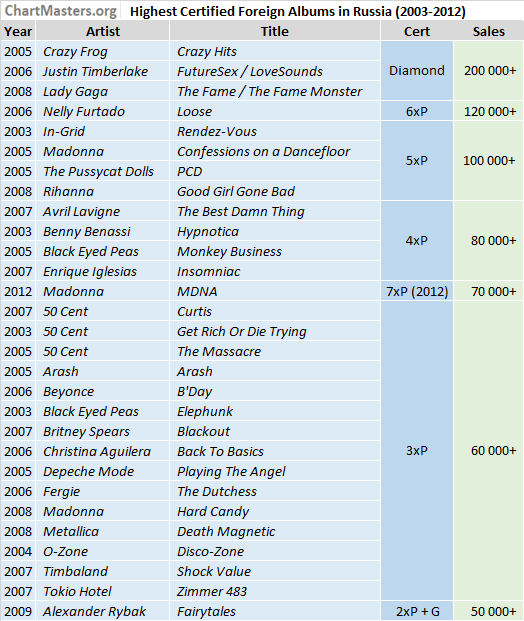 With the USSR restrictions gone we see that US artists started to dominate the scene. It's also clear that the 2000's market wasn't even close to the one of the USSR in terms of size.
As the list is based on certifications we don't really know who the top sellers are. But the top 3 is ahead of the rest by a good margin at over 200,000 sales.
These were FutureSex/LoveSounds by Justin Timberlake, The Fame by Lady Gaga and Crazy Hits by Crazy Frog confirming that the unique taste of the Russians was still there.
It must be noted that only 8,000 of the 70,000 copies of Madonna's MDNA were sold to the public as the rest were bought by Yandex and then given away to their consumers.
Another new trend here is Hip Hop music making some waves with 50 cent in the lead with 3 albums over 60,000 sales. Interestingly he outsold Eminem in this market.
USSR & Russia foreign artist totals
As a nice ending to the international section we've listed the top artists based on all the data we've gathered so far, using the CSPC weighting to combine distinct formats.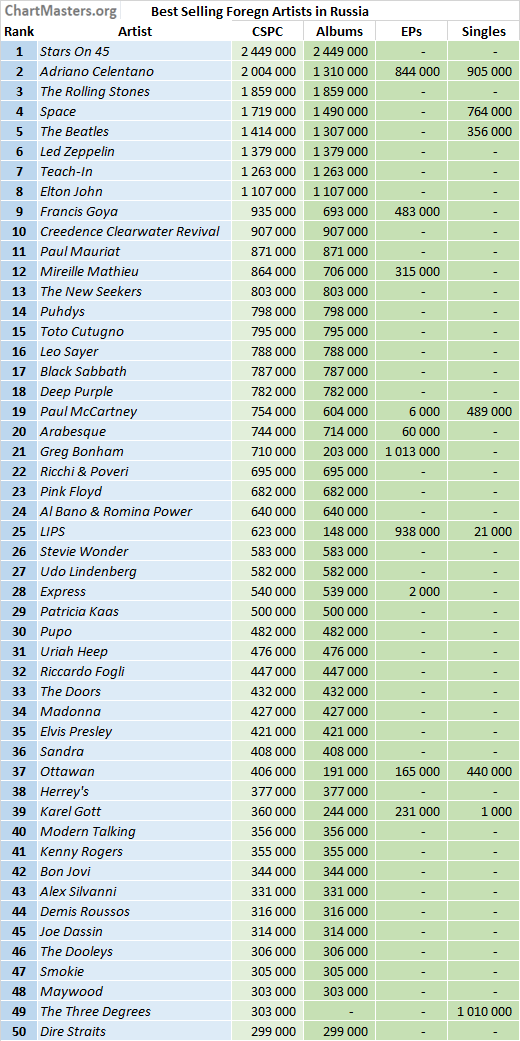 Local artists and releases
After reading that Melodiya shipped such a massive amount of albums you might have started to wonder how local artists fared. The answer is as big as one would expect from hearing these figures.
Since they have so many releases we simply haven't had been able to get into the total sales of the biggest acts but some mega selling albums have been uncovered.
Leading these is Songs by Vladimir Vysotsky. It was released in 1980 in the wake of the legend's death.
This monster racks up nearly 4 million sales. If this wasn't enough did EPs with songs from this release rack up another 3 million sales combined. This one is a serious challenger to be the most successful Russian album ever.
It's worth noting that these sales focus on the period covered by codes. For this release, they end in 1989, by then it was still shifting over 50,000 units per year.
Vysotsky seems to be the clear leader when it comes to total sales too with 17 million sales tracked down from only a fraction of his discography.
A claim of 55 million albums and 16 million EPs came out in Billboard in 1995. This might not be too far from the truth based on what we've collected so far.
Another artist with massive claims is Alla Pugacheva. From the data we collected it doesn't seem like she's in the same league as Vysotsky. She still got a huge seller though with Mirror Of The Soul over 3.6 million.
Latvian disco band Zodiac were massive sellers too with two back to back 3 million+ sellers.
Many other acts including Mashina Vremeni, Chorny Kofe and Yuri Antonov got their million sellers as well.
Only 5 million sellers have been found after the soviet era though. These were from Zemfira, Lyube, Maksin and Ruki Vverhl during the early 2000's.
Sales database
Below table lists every available receipt of USSR and Russian sales – over 3,000 of them. Feel free to use the ctrl+F option to spot your favorite artist!
USSR / Russian music sales receipts
| Artist | Record | Record Type | Receipt type | Year | Reference | Certification | Units sold |
| --- | --- | --- | --- | --- | --- | --- | --- |
| ?K-47 ft. Guf Noggano | Tem, Kto S Nami | Ringtone | Certification | 2011 | Lenta 2011 | Gold | 100000 |
| ?or?e Marjanovi? | Ludo Srce / Nikad Nije Kasno | FlexiDisc | Code | 1983 | 781 | | 500000 |
| ?or?e Marjanovi? | Mirza | FlexiDisc | Code | 1969 | 325 | | 320000 |
| ?or?e Marjanovi? | Moskovskie Ulochki | FlexiDisc | Code | 1965 | 1827 | | 150000 |
| 140 Udarov V Minutu | U Menja Est' Ty (Remix 2010) | Ringtone | Certification | 2011 | Lenta 2011 | 3xPlatinum | 600000 |
| 2 Plus 1 | Romans Za Grosz | FlexiDisc | Code | 1978 | 3020 | | 500000 |
| 23:45 & 5ivesta Family | Я буду | Ringtone | Certification | 2010 | 2M | Platinum | 400000 |
| 50 Cent | Bulletproof | Album | Certification | 2006 | | 2xPlatinum | 40000 |
| 50 Cent | Curtis | Album | Certification | 2008 | | 3xPlatinum | 60000 |
| 50 Cent | Get Rich Or Die Trying | Album | Certification | 2003 | | 3xPlatinum | 60000 |
| 50 Cent | The Massacre | Album | Certification | 2005 | | 3xPlatinum | 60000 |
| A-Ha | Foot Of The Mountain | Album | Certification | 2009 | | Platinum | 20000 |
| A-ha | Take On Me / I Dream Myself Alive | FlexiDisc | Code | 1987 | 717 | | 260000 |
| ABBA | 18 Hits | Album | Certification | 2008 | | 2xPlatinum | 40000 |
| ABBA | ABBA | Album | Code | 1977 | ? | | 3000 |
| ABBA | ABBA | Album | Code | 1980 | 422 | | 30000 |
| ABBA | ABBA | Album | Code | 1980 | 414 | | 33000 |
| Abba | Arrival | Album | Code | 1990 | 35 | | 2000 |
| ABBA | Gold. Greatest Hits | Album | Certification | 2008 | | Gold | 10000 |
| ABBA | Kisses Of Fire / I Do, I Do, I Do, I Do, I Do | FlexiDisc | Code | 1979 | 1312 | | 500000 |
| ABBA | Money, Money, Money / Dancing Queen | FlexiDisc | Code | 1977 | 367 | | 500000 |
| ABBA | Number Ones | Album | Certification | 2008 | | Platinum | 20000 |
| ABBA | Super Trouper | Ringtone | Certification | 2011 | Lenta 2011 | Gold | 100000 |
| ABBA | Thank You For The Music / I'm A Marionette | FlexiDisc | Code | 1978 | 2445 | | 500000 |
| ABBA | The Way Old Friends Do / Lay All Your Love On Me | FlexiDisc | Code | 1981 | 462 | | 500000 |
| ABBA | Voulez-Vous | Album | Code | 1981 | 91 | | 10000 |
| AC/DC | Black Ice | Album | Certification | 2008 | | Platinum | 20000 |
| AC/DC | Family Jewels | DVD | Certification | 2007 | | Gold | 3000 |
| AC/DC | Iron Man 2 | Album | Certification | 2010 | | Gold | 5000 |
| AC/DC | Let Me Put My Love Into You | FlexiDisc | Code | 1991 | 1032 | | 100000 |
| AC/DC | Let Me Put My Love Into You | Cassette | Code | 1991 | 1032 | | 5000 |
| AC/DC | Live At Donington | DVD | Certification | 2007 | | Platinum | 6000 |
| Ace Frehley | 2 Young 2 Die / Remember Me | FlexiDisc | Code | 1991 | 735 | | 100000 |
| Ace Frehley | 2 Young 2 Die / Remember Me | Cassette | Code | 1991 | 735 | | 10000 |
| Adam Makowicz / Igor Bril | Improvisation | FlexiDisc | Code | 1976 | 1886 | | 500000 |
| Adamo | J'avais Oublié Que Les Roses Sont Roses / Ma Liberté,Mon Infidèle | FlexiDisc | Code | 1972 | 3702 | | 450000 |
| Adamo | Salvatore Adamo | FlexiDisc | Code | 1969 | 1592 | | 350000 |
| Adamo | Sonnet Pour Notre Amour | FlexiDisc | Code | 1966 | 3101 | | 250000 |
| Adamo | Tombe La Neige / Frappe Frappe A La Porte Du Bonheur | FlexiDisc | Code | 1981 | 1188 | | 500000 |
| Adamo + Tom Jones + E. Humperdinck + Rafael | Pop Stars | Album | Code | 1981 | 18366 | | 15000 |
| Adele | 21 | Album | Certification | 2012 | | Platinum | 10000 |
| Adriano Celentano | È Finita | FlexiDisc | Code | 1987 | 1443 | | 260000 |
| Adriano Celentano | Azzurro | EP | Code | 1982 | 984 | | 3180 |
| Adriano Celentano | Azzurro | EP | Code | 1982 | 652 | | 18700 |
| Adriano Celentano | Azzurro | EP | Code | 1982 | 596 | | 10300 |
| Adriano Celentano | Azzurro | EP | Code | 1982 | 405 | | 11400 |
| Adriano Celentano | Azzurro | EP | Code | 1982 | 4 | | 20000 |
| Adriano Celentano | Azzurro | EP | Code | 1983 | 614 | | 28860 |
| Adriano Celentano | Azzurro | EP | Code | 1983 | 36 | | 10000 |
| Adriano Celentano | Azzurro | EP | Code | 1983 | 255 | | 28200 |
| Adriano Celentano | Azzurro | EP | Code | 1983 | 2343 | | 150000 |
| Adriano Celentano | Azzurro | EP | Code | 1983 | 110992 | | 60000 |
| Adriano Celentano | Azzurro | EP | Code | 1983 | 1097 | | 21000 |
| Adriano Celentano | Azzurro | EP | Code | 1984 | 437 | | 30000 |
| Adriano Celentano | Azzurro | EP | Code | 1984 | 433 | | 29500 |
| Adriano Celentano | Azzurro | EP | Code | 1984 | 22210 | | 60000 |
| Adriano Celentano | Azzurro | EP | Code | 1984 | 1043 | | 60000 |
| Adriano Celentano | Azzurro | EP | Code | 1984 | 101 | | 45920 |
| Adriano Celentano | Azzurro | EP | Code | 1985 | 5189 | | 90000 |
| Adriano Celentano | Azzurro | EP | Code | 1985 | 3742 | | 60000 |
| Adriano Celentano | Azzurro | EP | Code | 1985 | 3725 | | 60000 |
| Adriano Celentano | Azzurro | EP | Code | 1985 | 1077 | | 47200 |
| Adriano Celentano | Devi Capirmi Di Piu / Stivali E Colbacco | FlexiDisc | Code | 1982 | 1666 | | 500000 |
| Adriano Celentano | Dormi Amore la situazione non e buona | Album | Certification | 2008 | | Gold | 10000 |
| Adriano Celentano | E Se Ne Andrà Con Noi, Parola Per Parola.. / Un Po' Artista Un Po' No | FlexiDisc | Code | 1980 | 2774 | | 500000 |
| Adriano Celentano | Gelosia / Vivrò Per Lei | FlexiDisc | Code | 1987 | 865 | | 260000 |
| Adriano Celentano | Il Ragazzo Della Via Gluck | FlexiDisc | Code | 1966 | 3101 | | 250000 |
| Adriano Celentano | Io Non So Parlar D'amore | Album | Certification | 1999 | | 2xPlatinum | 40000 |
| Adriano Celentano | L'Uomo Nasce Nudo / La Copia Piu Bella / Testi Invernali | FlexiDisc | Code | 1971 | 646 | | 350000 |
| Adriano Celentano | People | Single | Code | 1983 | 98 | | 10200 |
| Adriano Celentano | People | Single | Code | 1983 | 890 | | 70000 |
| Adriano Celentano | People | Single | Code | 1983 | 785 | | 40000 |
| Adriano Celentano | People | Single | Code | 1983 | 74 | | 11440 |
| Adriano Celentano | People | Single | Code | 1983 | 702 | | 10000 |
| Adriano Celentano | People | Single | Code | 1983 | 631 | | 16000 |
| Adriano Celentano | People | Single | Code | 1983 | 517 | | 20000 |
| Adriano Celentano | People | Single | Code | 1983 | 411 | | 25000 |
| Adriano Celentano | People | Single | Code | 1983 | 36 | | 50000 |
| Adriano Celentano | People | Single | Code | 1983 | 261 | | 95000 |
| Adriano Celentano | People | Single | Code | 1983 | 245 | | 32000 |
| Adriano Celentano | People | Single | Code | 1983 | 221 | | 100000 |
| Adriano Celentano | People | Single | Code | 1984 | 573 | | 58420 |
| Adriano Celentano | People | Single | Code | 1984 | 460 | | 124620 |
| Adriano Celentano | People | Single | Code | 1984 | 235 | | 20000 |
| Adriano Celentano | People | Single | Code | 1984 | 1420 | | 3400 |
| Adriano Celentano | People | Single | Code | 1984 | 100 | | 177180 |
| Adriano Celentano | People | Single | Code | 1985 | 155 | | 41740 |
| Adriano Celentano | Soli | Album | Code | 1982 | 75 | | 30000 |
| Adriano Celentano | Soli | Album | Code | 1983 | 404 | | 40000 |
| Adriano Celentano | Soli | Album | Code | 1983 | 238 | | 50000 |
| Adriano Celentano | Soli | Album | Code | 1983 | 236 | | 50000 |
| Adriano Celentano | Soli | Album | Code | 1983 | 207 | | 100000 |
| Adriano Celentano | Soli | Album | Code | 1985 | 592 | | 53000 |
| Adriano Celentano | Soli | Album | Code | 1989 | 12 | | 2000 |
| Adriano Celentano | Susanna | FlexiDisc | Code | 1985 | 1060 | | 365000 |
| Adriano Celentano | Tecadisk | Album | Code | 1980 | 94 | | 20000 |
| Adriano Celentano | Tecadisk | Album | Code | 1980 | 178 | | 10000 |
| Adriano Celentano | Tecadisk | Album | Code | 1981 | 696 | | 10000 |
| Adriano Celentano | Tecadisk | Album | Code | 1981 | 68 | | 30000 |
| Adriano Celentano | Tecadisk | Album | Code | 1981 | 335 | | 100000 |
| Adriano Celentano | Tecadisk | Album | Code | 1981 | 12397 | | 35000 |
| Adriano Celentano | Tecadisk | Album | Code | 1986 | 604 | | 8000 |
| Adriano Celentano | Tecadisk | Album | Code | 1986 | 1087 | | 279360 |
| Adriano Celentano | Tecadisk | Album | Code | 1987 | 161 | | 3000 |
| Adriano Celentano | Una Festa Sui Prati | Album | Code | 1978 | 1816 | | 25000 |
| Adriano Celentano | Una Festa Sui Prati | Album | Code | 1979 | 4392 | | 60000 |
| Adriano Celentano | Una Festa Sui Prati | Album | Code | 1979 | 3356 | | 100000 |
| Adriano Celentano | Una Festa Sui Prati | Album | Code | 1986 | 1266 | | 218000 |
| Adriano Celentano | Una Festa Sui Prati | Album | Code | 1986 | ? | | 14000 |
| Adriano Celentano | Una Festa Sui Prati | Album | Code | 1988 | 3104 | | 6600 |
| Adriano Celentano | Uno, due - Per Iniziare | FlexiDisc | Code | 1985 | 127 | | 365000 |
| Adriano Celentano & Astrud Gilberto | Poet Adriano Celentano / Poet Astrud Gilberto | EP | Code | 0 | 1260 | | 16000 |
| Afric Simone | Hafanana / All Will Pass | FlexiDisc | Code | 1978 | | | 500000 |
| Afric Simone | Vakididi | FlexiDisc | Code | 1982 | 2262 | | 500000 |
| Ahmed Qaabour | Arjuk | FlexiDisc | Code | 1986 | 3379 | | 260000 |
| Akiko Suwanai / Dimitrij Kitaenko / Moscow Philharmonic Orchestra | Fragment Of The Finale Of The First Movement Of Concerto For Violin And Orchestra | FlexiDisc | Code | 1990 | 2827 | | 210000 |
| Akon | Konvicted | Album | Certification | 2007 | | Platinum | 20000 |
| Al Bano & Romina Power | Aria Pura | Album | Code | 1985 | 587 | | 100000 |
| Al Bano & Romina Power | Aria Pura | Album | Code | 1985 | 5169 | | 100000 |
| Al Bano & Romina Power | Aria Pura | Album | Code | 1985 | 4783 | | 50000 |
| Al Bano & Romina Power | Aria Pura | Album | Code | 1985 | 277 | | 30000 |
| Al Bano & Romina Power | Aria Pura | Album | Code | 1985 | 195 | | 30000 |
| Al Bano & Romina Power | Aria Pura | Album | Code | 1985 | 1030 | | 21000 |
| Al Bano & Romina Power | Aria Pura | Album | Code | 1986 | 946 | | 214500 |
| Al Bano & Romina Power | Aria Pura | Album | Code | 1986 | 62 | | 65700 |
| Al Bano & Romina Power | Aria Pura | Album | Code | 1987 | 199 | | 10000 |
| Al Bano & Romina Power | Aria Pura | Album | Code | 1988 | 543 | | 9020 |
| Al Bano & Romina Power | Cara Mia Terra | FlexiDisc | Code | 1989 | 484 | | 270000 |
| Al Bano & Romina Power | Così Sarà | FlexiDisc | Code | 1984 | 3726 | | 454000 |
| Al Bano & Romina Power | Felicità / Ti Amo Sempre | FlexiDisc | Code | 1983 | 1319 | | 500000 |
| Al Di Meola / John McLaughlin / Paco De Lucia | Friday Night In San Francisco | Album | Code | 1982 | 825 | | 30000 |
| al-Mayadin | Budir Shaebiun | FlexiDisc | Code | 1980 | 2041 | | 500000 |
| Alan Price | If You Have A Friend. Songs From The Motion Picture "Oh, Lucky!" | FlexiDisc | Code | 1975 | 1337 | | 500000 |
| Alan Price | Real Lady(?) / Love You True / Mr Sunbeam | FlexiDisc | Code | 1984 | 1811 | | 500000 |
| Albert Schweitzer | Fragment "The Passion For John" / "Tokatta I Fuga" Re-Minor | FlexiDisc | Code | 1989 | 1113 | | 270000 |
| Alcione | Nosso Nome É Resistência / Meu Vício É Você / Luar | FlexiDisc | Code | 1988 | 2489 | | 255000 |
| Alex Gaudino | My Destination | Album | Certification | 2008 | | Gold | 10000 |
| Alex Silvanni | Exitos Al Organo Vol.1 | Album | Code | 0 | 1188 | | 5800 |
| Alex Silvanni | Exitos Al Organo Vol.1 | Album | Code | 1978 | 1175 | | 50000 |
| Alex Silvanni | Exitos Al Organo Vol.1 | Album | Code | 1979 | 844 | | 25000 |
| Alex Silvanni | Exitos Al Organo Vol.1 | Album | Code | 1979 | 565 | | 31000 |
| Alex Silvanni | Exitos Al Organo Vol.1 | Album | Code | 1979 | 2130 | | 50000 |
| Alex Silvanni | Exitos Al Organo Vol.1 | Album | Code | 1980 | 996 | | 14900 |
| Alex Silvanni | Exitos Al Organo Vol.1 | Album | Code | 1980 | 797 | | 9000 |
| Alex Silvanni | Exitos Al Organo Vol.1 | Album | Code | 1980 | 5122 | | 60000 |
| Alex Silvanni | Exitos Al Organo Vol.1 | Album | Code | 1980 | 237 | | 15400 |
| Alex Silvanni | Exitos Al Organo Vol.1 | Album | Code | 1980 | 213 | | 50000 |
| Alex Silvanni | Exitos Al Organo Vol.1 | Album | Code | 1981 | 758 | | 2400 |
| Alex Silvanni | Exitos Al Organo Vol.1 | Album | Code | 1981 | 464 | | 7840 |
| Alex Silvanni | Exitos Al Organo Vol.1 | Album | Code | 1981 | 125 | | 10000 |
| Alexander Acord | Naberi Moj Nomer | Ringtone | Certification | 2011 | Lenta 2011 | Gold | 100000 |
| Alexander Rybak | Fairytales | Album | Certification | 2009 | | 2xPlat+Gold | 50000 |
| Alexandra Stan | Mr. Saxobeat | Ringtone | Certification | 2011 | Lenta 2011 | 3xPlatinum | 600000 |
| Ali Primera | Vamos Gente De Mi Tierra | FlexiDisc | Code | 1971 | 994 | | 350000 |
| Alibert | Meilleur Tango Du Monde | FlexiDisc | Code | 1986 | 2446 | | 260000 |
| Alice Babs | Alice Babs Sings | FlexiDisc | Code | 1969 | 3443 | | 320000 |
| Alice Dona | Dans Les Profondeurs De La Scène / Quand Je Chante | FlexiDisc | Code | 1983 | 3526 | | 500000 |
| Alicia Keys | As I Am | Album | Certification | 2008 | | Gold | 10000 |
| Alicja Majewska | Ksi??na R / Blady ?wit, S?one ?zy | FlexiDisc | Code | 1985 | 3887 | | 365000 |
| Alisa | Block Of Hell | Album | Code | 1989 | 833 | | 16100 |
| Alisa | Block Of Hell | Album | Code | 1989 | 724 | | 10000 |
| Alisa | Block Of Hell | Album | Code | 1989 | 649 | | 12600 |
| Alisa | Block Of Hell | Album | Code | 1989 | 451 | | 9800 |
| Alisa | Block Of Hell | Album | Code | 1989 | 43 | | 5000 |
| Alisa | Block Of Hell | Album | Code | 1989 | 387 | | 18000 |
| Alisa | Block Of Hell | Album | Code | 1989 | 240 | | 15000 |
| Alisa | Block Of Hell | Album | Code | 1989 | 2124 | | 89760 |
| Alisa | Block Of Hell | Album | Code | 1989 | 193 | | 60000 |
| Alisa | Block Of Hell | Album | Code | 1989 | 1616 | | 43900 |
| Alisa | Block Of Hell | Album | Code | 1989 | 132 | | 7200 |
| Alisa | Block Of Hell | Album | Code | 1989 | 122 | | 6000 |
| Alisa | Block Of Hell | Album | Code | 1990 | 941 | | 5000 |
| Alisa | Block Of Hell | Album | Code | 1990 | 46 | | 4800 |
| Alisa | Block Of Hell | Album | Code | 1990 | 46 | | 30000 |
| Alisa | Block Of Hell | Album | Code | 1990 | 417 | | 5000 |
| Alisa | Block Of Hell | Album | Code | 1990 | 381 | | 40000 |
| Alisa | Block Of Hell | Album | Code | 1991 | 430 | | 7040 |
| Alisa | Energiya | Album | Code | 1988 | 87 | | 20000 |
| Alisa | Energiya | Album | Code | 1988 | 808 | | 10200 |
| Alisa | Energiya | Album | Code | 1988 | 692 | | 30000 |
| Alisa | Energiya | Album | Code | 1988 | 581 | | 12500 |
| Alisa | Energiya | Album | Code | 1988 | 496 | | 2700 |
| Alisa | Energiya | Album | Code | 1988 | 470 | | 18000 |
| Alisa | Energiya | Album | Code | 1988 | 45 | | 3000 |
| Alisa | Energiya | Album | Code | 1988 | 404 | | 91869 |
| Alisa | Energiya | Album | Code | 1988 | 399 | | 7170 |
| Alisa | Energiya | Album | Code | 1988 | 364 | | 40000 |
| Alisa | Energiya | Album | Code | 1988 | 352 | | 2700 |
| Alisa | Energiya | Album | Code | 1988 | 336 | | 40000 |
| Alisa | Energiya | Album | Code | 1988 | 264 | | 85840 |
| Alisa | Energiya | Album | Code | 1988 | 208 | | 60000 |
| Alisa | Energiya | Album | Code | 1988 | 20 | | 5240 |
| Alisa | Energiya | Album | Code | 1988 | 189 | | 12800 |
| Alisa | Energiya | Album | Code | 1988 | 173 | | 20300 |
| Alisa | Energiya | Album | Code | 1988 | 1703 | | 43000 |
| Alisa | Energiya | Album | Code | 1988 | 157 | | 53000 |
| Alisa | Energiya | Album | Code | 1988 | 143 | | 10000 |
| Alisa | Energiya | Album | Code | 1988 | 140 | | 16200 |
| Alisa | Energiya | Album | Code | 1988 | 1105 | | 77380 |
| Alisa | Energiya | Album | Code | 1989 | 83 | | 20000 |
| Alisa | Energiya | Album | Code | 1989 | 69 | | 7630 |
| Alisa | Energiya | Album | Code | 1989 | 641 | | 19000 |
| Alisa | Energiya | Album | Code | 1989 | 411 | | 37900 |
| Alisa | Energiya | Album | Code | 1989 | 350 | | 21740 |
| Alisa | Energiya | Album | Code | 1989 | 2142 | | 27620 |
| Alisa | Energiya | Album | Code | 1989 | 185 | | 15600 |
| Alisa | Energiya | Album | Code | 1991 | 4 | | 3000 |
| Alisa | Shestoy Lesnichiy | Album | Code | 1989 | 96 | | 10000 |
| Alisa | Shestoy Lesnichiy | Album | Code | 1989 | 762 | | 15000 |
| Alisa | Shestoy Lesnichiy | Album | Code | 1989 | 711 | | 5000 |
| Alisa | Shestoy Lesnichiy | Album | Code | 1989 | 63 | | 30000 |
| Alisa | Shestoy Lesnichiy | Album | Code | 1989 | 368 | | 50000 |
| Alisa | Shestoy Lesnichiy | Album | Code | 1989 | 3117 | | 1200 |
| Alisa | Shestoy Lesnichiy | Album | Code | 1989 | 242 | | 7700 |
| Alisa | Shestoy Lesnichiy | Album | Code | 1989 | 1181 | | 23800 |
| Alisa | Shestoy Lesnichiy | Album | Code | 1989 | 1141 | | 20000 |
| Alisa | Shestoy Lesnichiy | Album | Code | 1990 | 898 | | 8000 |
| Alisa | Shestoy Lesnichiy | Album | Code | 1990 | 82 | | 40000 |
| Alisa | Shestoy Lesnichiy | Album | Code | 1990 | 724 | | 36060 |
| Alisa | Shestoy Lesnichiy | Album | Code | 1990 | 57 | | 80000 |
| Alisa | Shestoy Lesnichiy | Album | Code | 1990 | 443 | | 10000 |
| Alisa | Shestoy Lesnichiy | Album | Code | 1990 | 418 | | 16000 |
| Alisa | Shestoy Lesnichiy | Album | Code | 1990 | 34 | | 9000 |
| Alisa | Shestoy Lesnichiy | Album | Code | 1990 | 306 | | 23000 |
| Alisa | Shestoy Lesnichiy | Album | Code | 1990 | 2399 | | 10700 |
| Alisa | Shestoy Lesnichiy | Album | Code | 1990 | 19 | | 40000 |
| Alisa | Shestoy Lesnichiy | Album | Code | 1990 | 182 | | 10000 |
| Alisa | Shestoy Lesnichiy | Album | Code | 1990 | 18 | | 69120 |
| Alisa | Shestoy Lesnichiy | Album | Code | 1990 | 179 | | 30000 |
| Alisa | Shestoy Lesnichiy | Album | Code | 1990 | 131 | | 40000 |
| Alisa | Shestoy Lesnichiy | Album | Code | 1991 | 801 | | 3800 |
| Alisa | Shestoy Lesnichiy | Album | Code | 1991 | 665 | | 2200 |
| Alisa | Shestoy Lesnichiy | Album | Code | 1991 | 665 | | 14600 |
| Alisa | Shestoy Lesnichiy | Album | Code | 1991 | 434 | | 8260 |
| Alizee | Psychedelices | Album | Certification | 2008 | | Gold | 10000 |
| Alla Pugacheva | The Mirror of the Soul | Album | Code | 0 | 239 | | 150000 |
| Alla Pugacheva | The Mirror of the Soul | Album | Code | 0 | 189 | | 3200 |
| Alla Pugacheva | The Mirror of the Soul | Album | Code | 1977 | 937 | | 5000 |
| Alla Pugacheva | The Mirror of the Soul | Album | Code | 1977 | 873 | | 70000 |
| Alla Pugacheva | The Mirror of the Soul | Album | Code | 1977 | 684 | | 5320 |
| Alla Pugacheva | The Mirror of the Soul | Album | Code | 1977 | 675 | | 60000 |
| Alla Pugacheva | The Mirror of the Soul | Album | Code | 1977 | 585 | | 5300 |
| Alla Pugacheva | The Mirror of the Soul | Album | Code | 1977 | 491 | | 79000 |
| Alla Pugacheva | The Mirror of the Soul | Album | Code | 1977 | 454 | | 13000 |
| Alla Pugacheva | The Mirror of the Soul | Album | Code | 1977 | 371 | | 60000 |
| Alla Pugacheva | The Mirror of the Soul | Album | Code | 1977 | 299 | | 150000 |
| Alla Pugacheva | The Mirror of the Soul | Album | Code | 1977 | 209 | | 5500 |
| Alla Pugacheva | The Mirror of the Soul | Album | Code | 1977 | 194 | | 150000 |
| Alla Pugacheva | The Mirror of the Soul | Album | Code | 1977 | 156 | | 100000 |
| Alla Pugacheva | The Mirror of the Soul | Album | Code | 1978 | 83 | | 73000 |
| Alla Pugacheva | The Mirror of the Soul | Album | Code | 1978 | 732 | | 170000 |
| Alla Pugacheva | The Mirror of the Soul | Album | Code | 1978 | 732 | | 180000 |
| Alla Pugacheva | The Mirror of the Soul | Album | Code | 1978 | 624 | | 150000 |
| Alla Pugacheva | The Mirror of the Soul | Album | Code | 1978 | 546 | | 200000 |
| Alla Pugacheva | The Mirror of the Soul | Album | Code | 1978 | 440 | | 100000 |
| Alla Pugacheva | The Mirror of the Soul | Album | Code | 1978 | 40 | | 50000 |
| Alla Pugacheva | The Mirror of the Soul | Album | Code | 1978 | 343 | | 50000 |
| Alla Pugacheva | The Mirror of the Soul | Album | Code | 1978 | 330 | | 100000 |
| Alla Pugacheva | The Mirror of the Soul | Album | Code | 1978 | 299 | | 110000 |
| Alla Pugacheva | The Mirror of the Soul | Album | Code | 1978 | 1594 | | 57000 |
| Alla Pugacheva | The Mirror of the Soul | Album | Code | 1978 | 1190 | | 50000 |
| Alla Pugacheva | The Mirror of the Soul | Album | Code | 1979 | 657 | | 30000 |
| Alla Pugacheva | The Mirror of the Soul | Album | Code | 1979 | 389 | | 50000 |
| Alla Pugacheva | The Mirror of the Soul | Album | Code | 1979 | 388 | | 50000 |
| Alla Pugacheva | The Mirror of the Soul | Album | Code | 1979 | 1946 | | 50000 |
| Alla Pugacheva | The Mirror of the Soul | Album | Code | 1979 | 1945 | | 27200 |
| Alla Pugacheva | The Mirror of the Soul | Album | Code | 1979 | 169 | | 35000 |
| Alla Pugacheva | The Mirror of the Soul | Album | Code | 1979 | 168 | | 35000 |
| Alla Pugacheva | The Mirror of the Soul | Album | Code | 1979 | 1114 | | 50000 |
| Alla Pugacheva | The Mirror of the Soul | Album | Code | 1979 | 1088 | | 50000 |
| Alla Pugacheva | The Mirror of the Soul | Album | Code | 1979 | 1041 | | 15800 |
| Alla Pugacheva | The Mirror of the Soul | Album | Code | 1979 | ? | | 40000 |
| Alla Pugacheva | The Mirror of the Soul | Album | Code | 1979 | ? | | 55900 |
| Alla Pugacheva | The Mirror of the Soul | Album | Code | 1980 | 999 | | 13000 |
| Alla Pugacheva | The Mirror of the Soul | Album | Code | 1980 | 923 | | 140000 |
| Alla Pugacheva | The Mirror of the Soul | Album | Code | 1980 | 923 | | 150000 |
| Alla Pugacheva | The Mirror of the Soul | Album | Code | 1980 | 793 | | 20000 |
| Alla Pugacheva | The Mirror of the Soul | Album | Code | 1980 | 792 | | 20000 |
| Alla Pugacheva | The Mirror of the Soul | Album | Code | 1980 | 72 | | 80000 |
| Alla Pugacheva | The Mirror of the Soul | Album | Code | 1980 | 618 | | 250000 |
| Alla Pugacheva | The Mirror of the Soul | Album | Code | 1980 | 610 | | 3000 |
| Alla Pugacheva | The Mirror of the Soul | Album | Code | 1980 | 486 | | 14000 |
| Alla Pugacheva | The Mirror of the Soul | Album | Code | 1980 | 47 | | 60000 |
| Alla Pugacheva | The Mirror of the Soul | Album | Code | 1980 | 46 | | 60000 |
| Alla Pugacheva | The Mirror of the Soul | Album | Code | 1980 | 251 | | 100000 |
| Alla Pugacheva | The Mirror of the Soul | Album | Code | 1980 | 243 | | 24000 |
| Alla Pugacheva | The Mirror of the Soul | Album | Code | 1980 | 24 | | 60000 |
| Alla Pugacheva | The Mirror of the Soul | Album | Code | 1980 | 10 | | 5300 |
| Alla Pugacheva | The Mirror of the Soul | Album | Code | 1981 | 539 | | 660 |
| Alla Pugacheva | The Mirror of the Soul | Album | Code | 1981 | 116 | | 5000 |
| Alla Pugacheva | The Mirror of the Soul | Album | Code | 1982 | 825 | | 11300 |
| Alla Pugacheva | The Mirror of the Soul | Album | Code | 1982 | 824 | | 10400 |
| Alla Pugacheva | The Mirror of the Soul | Album | Code | 1982 | 307 | | 3000 |
| Alla Pugacheva | The Mirror of the Soul | Album | Code | 1982 | 2603 | | 2400 |
| Alla Pugacheva | Zivi Spokojno, Strana! | Album | Certification | 2003 | | Gold | 100000 |
| Alla Pugacheva / Herrey's | Time For Peace | FlexiDisc | Code | 1985 | 829 | | 365000 |
| Amabano | Talking Parrot | Album | Code | 1987 | 816 | | 1000 |
| Amabano | Talking Parrot | Album | Code | 1987 | 295 | | 1000 |
| Amanda Lear | Blue Tango / Blood And Honey | FlexiDisc | Code | 1978 | 3020 | | 500000 |
| Amanda Lear | Fashion Pack | Single | Code | 0 | 891 | | 70000 |
| Amanda Lear | Fashion Pack | Single | Code | 1983 | 856 | | 20000 |
| Amanda Lear | Fashion Pack | Single | Code | 1983 | 786 | | 20000 |
| Amanda Lear | Fashion Pack | Single | Code | 1983 | 762 | | 70000 |
| Amanda Lear | Fashion Pack | Single | Code | 1983 | 66 | | 10000 |
| Amanda Lear | Fashion Pack | Single | Code | 1983 | 600 | | 10000 |
| Amanda Lear | Fashion Pack | Single | Code | 1983 | 509 | | 15620 |
| Amanda Lear | Fashion Pack | Single | Code | 1983 | 390 | | 17700 |
| Amanda Lear | Fashion Pack | Single | Code | 1983 | 3668 | | 20000 |
| Amanda Lear | Fashion Pack | Single | Code | 1983 | 3.218 | | 50000 |
| Amanda Lear | Fashion Pack | Single | Code | 1983 | 210 | | 20000 |
| Amanda Lear | Fashion Pack | Single | Code | 1984 | 96 | | 78240 |
| Amanda Lear | Fashion Pack | Single | Code | 1984 | 870 | | 3300 |
| Amanda Lear | Fashion Pack | Single | Code | 1984 | 830 | | 1000 |
| Amanda Lear | Fashion Pack | Single | Code | 1984 | 3.258 | | 30000 |
| Amanda Lear | Fashion Pack | Single | Code | 1984 | 250 | | 28500 |
| Amanda Lear | Fashion Pack | Single | Code | 1985 | 428 | | 4100 |
| Amanda Lear | Never Trust A Pretty Face | Album | Code | 0 | 252 | | 35000 |
| Amanda Lear | Never Trust A Pretty Face | Album | Code | 0 | 1237 | | 40000 |
| Amanda Lear | Never Trust A Pretty Face | Album | Code | 1981 | 342 | | 15000 |
| Amanda Lear | Never Trust A Pretty Face | Album | Code | 1981 | 307 | | 40000 |
| Amanda Lear | Never Trust A Pretty Face | Album | Code | 1981 | 298 | | 5000 |
| Amanda Lear | Never Trust A Pretty Face | Album | Code | 1981 | 250 | | 5000 |
| Amanda Lear | Never Trust A Pretty Face | Album | Code | 1981 | 23 | | 45530 |
| Amanda Lear | Never Trust A Pretty Face | Album | Code | 1981 | 224 | | 10000 |
| Amandla | Song Of The South African Patriots | FlexiDisc | Code | 1983 | 781 | | 500000 |
| Amy McDonald | This Is the Life | Album | Certification | 2008 | | Gold | 10000 |
| Amy Winehouse | Back To Black | Album | Certification | 2008 | | 2xPlatinum | 40000 |
| Amy Winehouse | Frank | Album | Certification | 2008 | | Gold | 10000 |
| Amy Winehouse | Lioness: Hidden Treasures | Album | Certification | 2012 | | Gold | 5000 |
| Ana Belén | El Hombre Al Piano / ¿Lo Que Sucederá? | FlexiDisc | Code | 1983 | 3698 | | 500000 |
| Anastacia | Heavy Rotation | Album | Certification | 2008 | | Gold | 10000 |
| Anastacia | Pieces of a Dream | Album | Certification | 2005 | | Platinum | 20000 |
| André Popp | Manchester-Liverpool / Butterflies / Blue Love | FlexiDisc | Code | 1974 | 1483 | | 450000 |
| Andrea Bocelli | Amore | Album | Certification | 2007 | | Platinum | 20000 |
| Andrea Bocelli | Vivere (Greatest Hits) | Album | Certification | 2008 | | Gold | 10000 |
| Andreas Vollenweider | Hippolyte | FlexiDisc | Code | 1989 | 1241 | | 270000 |
| Andrew Lloyd Webber | Fragment Of The Musical "Cats" | FlexiDisc | Code | 1988 | 2794 | | 255000 |
| Andrzej I Eliza | Stara Lokomotywa Parowa | FlexiDisc | Code | 1976 | 2863 | | 500000 |
| Andy Williams | The Impossible Dream / The Man Of Lamachi | FlexiDisc | Code | 1973 | 949 | | 450000 |
| Anita Traversi | Balalaika | FlexiDisc | Code | 1968 | 3110 | | 300000 |
| Anna Oxa & Fausto Leali | Ti Lascerò | FlexiDisc | Code | 1989 | 484 | | 270000 |
| Anne Murray | Snow Bird / Lost Time / Rain | FlexiDisc | Code | 1972 | 2233 | | 450000 |
| Annie Cordy | Marie / Miners' March / Cold | FlexiDisc | Code | 1972 | 3181 | | 450000 |
| Annie Girardot | Ça Me Tient Éveillé / Les Enfants De Raïk | FlexiDisc | Code | 1991 | 812 | | 100000 |
| Annie Girardot | Ça Me Tient Éveillé / Les Enfants De Raïk | Cassette | Code | 1991 | 812 | | 10000 |
| Ansambl Aleksandra Subote | I Am Good As A Daughter | FlexiDisc | Code | 1973 | 3834 | | 450000 |
| Anzhelika Nachesova | A Ty Menja Volnuesh' | Ringtone | Certification | 2011 | Lenta 2011 | Platinum | 200000 |
| Anzhelika Nachesova | Nikto | Ringtone | Certification | 2011 | Lenta 2011 | Platinum | 200000 |
| Aparcoa | Las Ultimas Palabras / Este Dia Ilegara | FlexiDisc | Code | 1976 | 1886 | | 500000 |
| Aphrodite's Child / Demis Roussos | It's Five O Clock / Goodbye, My Love, Goodbye | FlexiDisc | Code | 1974 | 2750 | | 500000 |
| Apocalyptica | Worlds Collide | Album | Certification | 2007 | | Gold | 10000 |
| Aquarium | Aquarium | Album | Code | 1987 | 780 | | 4400 |
| Aquarium | Aquarium | Album | Code | 1987 | 707 | | 20000 |
| Aquarium | Aquarium | Album | Code | 1987 | 615 | | 45500 |
| Aquarium | Aquarium | Album | Code | 1987 | 499 | | 700 |
| Aquarium | Aquarium | Album | Code | 1987 | 444 | | 14000 |
| Aquarium | Aquarium | Album | Code | 1987 | 384 | | 15300 |
| Aquarium | Aquarium | Album | Code | 1987 | 350 | | 15000 |
| Aquarium | Aquarium | Album | Code | 1987 | 28 | | 10000 |
| Aquarium | Aquarium | Album | Code | 1987 | 232 | | 400 |
| Aquarium | Aquarium | Album | Code | 1987 | 13 | | 45500 |
| Aquarium | Aquarium | Album | Code | 1987 | 119 | | 63000 |
| Aquarium | Aquarium | Album | Code | 1987 | 1189 | | 47620 |
| Aquarium | Aquarium | Album | Code | 1987 | 101 | | 1840 |
| Aquarium | Aquarium | Album | Code | 1988 | 375 | | 7740 |
| Aquarium | Aquarium | Album | Code | 1989 | 2250 | | 7360 |
| Aquarium | From the Album "Radio Africa" (1) | EP | Code | 1988 | 772 | | 15000 |
| Aquarium | From the Album "Radio Africa" (1) | EP | Code | 1988 | 306 | | 15000 |
| Aquarium | From the Album "Radio Africa" (1) | EP | Code | 1988 | 292 | | 7160 |
| Aquarium | From the Album "Radio Africa" (1) | EP | Code | 1988 | 221 | | 5140 |
| Aquarium | From the Album "Radio Africa" (1) | EP | Code | 1988 | 135 | | 6600 |
| Aquarium | From the Album "Radio Africa" (1) | EP | Code | 1988 | 1146 | | 18520 |
| Aquarium | From the Album "Radio Africa" (2) | EP | Code | 1988 | 773 | | 15000 |
| Aquarium | From the Album "Radio Africa" (2) | EP | Code | 1988 | 668 | | 5000 |
| Aquarium | From the Album "Radio Africa" (2) | EP | Code | 1988 | 616 | | 4100 |
| Aquarium | From the Album "Radio Africa" (2) | EP | Code | 1988 | 413 | | 8000 |
| Aquarium | From the Album "Radio Africa" (2) | EP | Code | 1988 | 307 | | 15000 |
| Aquarium | From the Album "Radio Africa" (2) | EP | Code | 1988 | 135 | | 6600 |
| Aquarium | History of Aquarium, Vol. III | Album | Code | 1991 | 120 | | 30000 |
| Aquarium | History of Aquarium, Vol. IV | Album | Code | 1993 | 253 | | 5000 |
| Aquarium | Lyubimie Pesni Ramzesa IV | Album | Code | 1993 | 254 | | 5000 |
| Aquarium | Navigator | Album | Code | 1995 | ? | | 500 |
| Aquarium | Radio Africa | Album | Code | 1988 | 930 | | 20000 |
| Aquarium | Radio Africa | Album | Code | 1988 | 883 | | 15000 |
| Aquarium | Radio Africa | Album | Code | 1988 | 86 | | 30000 |
| Aquarium | Radio Africa | Album | Code | 1988 | 674 | | 6100 |
| Aquarium | Radio Africa | Album | Code | 1988 | 591 | | 10000 |
| Aquarium | Radio Africa | Album | Code | 1988 | 582 | | 10000 |
| Aquarium | Radio Africa | Album | Code | 1988 | 405 | | 55790 |
| Aquarium | Radio Africa | Album | Code | 1988 | 381 | | 5000 |
| Aquarium | Radio Africa | Album | Code | 1988 | 364 | | 40000 |
| Aquarium | Radio Africa | Album | Code | 1988 | 311 | | 10000 |
| Aquarium | Radio Africa | Album | Code | 1988 | 264 | | 51700 |
| Aquarium | Radio Africa | Album | Code | 1988 | 208 | | 40000 |
| Aquarium | Radio Africa | Album | Code | 1988 | 158 | | 40000 |
| Aquarium | Radio Africa | Album | Code | 1988 | 1326 | | 50200 |
| Aquarium | Radio Africa | Album | Code | 1988 | 1018 | | 5800 |
| Aquarium | Radio Africa | Album | Code | 1989 | 657 | | 17000 |
| Aquarium | Radio Africa | Album | Code | 1989 | 272 | | 10000 |
| Aquarium | Radio Africa | Album | Code | 1989 | 27 | | 20320 |
| Aquarium | Radio Africa | Album | Code | 1989 | 2053 | | 18000 |
| Aquarium | Radio Africa | Album | Code | 1989 | 133 | | 6200 |
| Aquarium | Radio Africa | Album | Code | 1991 | 433 | | 7860 |
| Aquarium | Ravnodenstvie | Album | Code | 1988 | 820 | | 20000 |
| Aquarium | Ravnodenstvie | Album | Code | 1988 | 716 | | 5100 |
| Aquarium | Ravnodenstvie | Album | Code | 1988 | 703 | | 38000 |
| Aquarium | Ravnodenstvie | Album | Code | 1988 | 525 | | 28000 |
| Aquarium | Ravnodenstvie | Album | Code | 1988 | 411 | | 42500 |
| Aquarium | Ravnodenstvie | Album | Code | 1988 | 364 | | 25000 |
| Aquarium | Ravnodenstvie | Album | Code | 1988 | 336 | | 25000 |
| Aquarium | Ravnodenstvie | Album | Code | 1988 | 281 | | 15000 |
| Aquarium | Ravnodenstvie | Album | Code | 1988 | 277 | | 1200 |
| Aquarium | Ravnodenstvie | Album | Code | 1988 | 269 | | 30000 |
| Aquarium | Ravnodenstvie | Album | Code | 1988 | 211 | | 7000 |
| Aquarium | Ravnodenstvie | Album | Code | 1988 | 1364 | | 51900 |
| Aquarium | Ravnodenstvie | Album | Code | 1988 | 1271 | | 2000 |
| Aquarium | Ravnodenstvie | Album | Code | 1988 | 1163 | | 20000 |
| Aquarium | Ravnodenstvie | Album | Code | 1988 | 101 | | 5000 |
| Aquarium | Ravnodenstvie | Album | Code | 1989 | 80 | | 20000 |
| Aquarium | Ravnodenstvie | Album | Code | 1989 | 658 | | 22000 |
| Aquarium | Ravnodenstvie | Album | Code | 1989 | 483 | | 10000 |
| Aquarium | Ravnodenstvie | Album | Code | 1989 | 430 | | 18400 |
| Aquarium | Ravnodenstvie | Album | Code | 1989 | 39 | | 3000 |
| Aquarium | Ravnodenstvie | Album | Code | 1989 | 261 | | 13340 |
| Aquarium | Ravnodenstvie | Album | Code | 1989 | 261 | | 23290 |
| Aquarium | Ravnodenstvie | Album | Code | 1989 | 1960 | | 15000 |
| Aquarium | Ravnodenstvie | Album | Code | 1989 | 16 | | 21000 |
| Aquarium | Ravnodenstvie | Album | Code | 1990 | 85 | | 12700 |
| Aquarium | Ravnodenstvie | Album | Code | 1990 | 471 | | 7300 |
| Aquarium | Ravnodenstvie | Album | Code | 1990 | 168 | | 11100 |
| Aquarium | Ravnodenstvie | Album | Code | 1991 | 431 | | 10780 |
| Aquarium | Thirst | EP | Code | 1986 | 718 | | 780 |
| Aquarium | Thirst | EP | Code | 1987 | 812 | | 15000 |
| Aquarium | Thirst | EP | Code | 1987 | 24 | | 6200 |
| Aquarium | Thirst | EP | Code | 1987 | 109 | | 2200 |
| Aquarium | Thirst | EP | Code | 1988 | 59 | | 16780 |
| Aquarium | Thirst | EP | Code | 1988 | 455 | | 9300 |
| Aquarium + Kino + Alisa + Strange Games | Red Wave: 4 Underground Bands From The USSR | Album | Code | 1991 | 340 | | 5000 |
| Aquarium + Kino + Alisa + Strange Games | Red Wave: 4 Underground Bands From The USSR | Album | Code | 1991 | 266 | | 5000 |
| Arabesque | Caballero / Alphabet | FlexiDisc | Code | 1984 | 2639 | | 500000 |
| Arabesque | Ensemble Arabesque | Album | Code | 0 | 414 | | 70000 |
| Arabesque | Ensemble Arabesque | Album | Code | 0 | 317 | | 10000 |
| Arabesque | Ensemble Arabesque | Album | Code | 1984 | 463 | | 50000 |
| Arabesque | Ensemble Arabesque | Album | Code | 1985 | 559 | | 88360 |
| Arabesque | Ensemble Arabesque | EP | Code | 1985 | 485 | | 14300 |
| Arabesque | Ensemble Arabesque | EP | Code | 1985 | 382 | | 45480 |
| Arabesque | Ensemble Arabesque | Album | Code | 1985 | 29 | | 140000 |
| Arabesque | Ensemble Arabesque | Album | Code | 1985 | 249 | | 20000 |
| Arabesque | Ensemble Arabesque | Album | Code | 1985 | 168 | | 91000 |
| Arabesque | Ensemble Arabesque | Album | Code | 1986 | 931 | | 167240 |
| Arabesque | Ensemble Arabesque | Album | Code | 1986 | 721 | | 15660 |
| Arabesque | Ensemble Arabesque | Album | Code | 1986 | 72 | | 29000 |
| Arabesque | Ensemble Arabesque | Album | Code | 1986 | 648 | | 6100 |
| Arabesque | Ensemble Arabesque | Album | Code | 1986 | 568 | | 25000 |
| Arabesque | Ensemble Arabesque | Album | Code | 1989 | 195 | | 2000 |
| Aradszky László | Isten Véled Édes Piroskám | FlexiDisc | Code | 1967 | 2081 | | 250000 |
| Arash | Arash | Album | Certification | 2005 | | 3xPlatinum | 60000 |
| Arash ft. Helena | Broken Angel | Ringtone | Certification | 2011 | Lenta 2011 | 4xPlatinum | 800000 |
| Aretha Franklin | Aretha | Album | Code | 1988 | 66 | | 5000 |
| Aretha Franklin | Aretha | Album | Code | 1988 | 1839 | | 6000 |
| Aretha Franklin | Aretha | Album | Code | 1989 | 2033 | | 3000 |
| Argelia Fragoso | Llamar Al Labrador | FlexiDisc | Code | 1976 | | | 500000 |
| Aria | Geroy Asfalta | Album | Code | 0 | 344 | | 10000 |
| Aria | Geroy Asfalta | Album | Code | 1988 | 729 | | 8000 |
| Aria | Geroy Asfalta | Album | Code | 1988 | 718 | | 9000 |
| Aria | Geroy Asfalta | Album | Code | 1988 | 488 | | 50000 |
| Aria | Geroy Asfalta | Album | Code | 1988 | 445 | | 50000 |
| Aria | Geroy Asfalta | Album | Code | 1988 | 339 | | 5320 |
| Aria | Geroy Asfalta | Album | Code | 1988 | 1898 | | 41500 |
| Aria | Geroy Asfalta | Album | Code | 1988 | 1668 | | 7400 |
| Aria | Geroy Asfalta | Album | Code | 1988 | 1530 | | 24000 |
| Aria | Geroy Asfalta | Album | Code | 1988 | 144 | | 15000 |
| Aria | Geroy Asfalta | Album | Code | 1988 | 136 | | 14000 |
| Aria | Geroy Asfalta | Album | Code | 1988 | 124 | | 16000 |
| Aria | Geroy Asfalta | Album | Code | 1989 | 80 | | 23090 |
| Aria | Geroy Asfalta | Album | Code | 1989 | 76 | | 4000 |
| Aria | Geroy Asfalta | Album | Code | 1989 | 670 | | 740 |
| Aria | Geroy Asfalta | Album | Code | 1989 | 589 | | 127000 |
| Aria | Geroy Asfalta | Album | Code | 1989 | 483 | | 8860 |
| Aria | Geroy Asfalta | Album | Code | 1989 | 412 | | 31200 |
| Aria | Geroy Asfalta | Album | Code | 1989 | 27 | | 27000 |
| Aria | Geroy Asfalta | Album | Code | 1989 | 256 | | 22560 |
| Aria | Geroy Asfalta | Album | Code | 1989 | 222 | | 28200 |
| Aria | Geroy Asfalta | Album | Code | 1990 | 486 | | 900 |
| Aria | Geroy Asfalta | Album | Code | 1990 | 445 | | 2000 |
| Aria | Geroy Asfalta | Album | Code | 1990 | 29 | | 7800 |
| Aria | Geroy Asfalta | Album | Code | 1990 | 182 | | 2480 |
| Aria | Geroy Asfalta | Album | Code | 1990 | 14 | | 2400 |
| Aria | Igra S Ogneom | Album | Code | 1990 | 81 | | 10000 |
| Aria | Igra S Ogneom | Album | Code | 1990 | 47 | | 7000 |
| Aria | Igra S Ogneom | Album | Code | 1990 | 446 | | 25000 |
| Aria | Igra S Ogneom | Album | Code | 1990 | 300 | | 30000 |
| Aria | Igra S Ogneom | Album | Code | 1990 | 2515 | | 25440 |
| Aria | Igra S Ogneom | Album | Code | 1990 | 236 | | 52500 |
| Aria | Igra S Ogneom | Album | Code | 1990 | 2041 | | 24240 |
| Aria | Igra S Ogneom | Album | Code | 1990 | 1416 | | 11000 |
| Ariana | Pervaya Lyubov | Album | Report | 2002 | Lenta 2011 | | 250000 |
| Aristide Bruant | Fragment Of Archival Records | FlexiDisc | Code | 1986 | 3718 | | 260000 |
| Aristide Bruant | Fragment Of Archival Records | FlexiDisc | Code | 1986 | 3718 | | 260000 |
| Arja Saijonmaa | Fire Roses / Bella, Chao / Kärlek | FlexiDisc | Code | 1984 | 3392 | | 485000 |
| Armin Van Buuren | A State Of Trance 2009 | Album | Certification | 2009 | | Gold | 10000 |
| Armin Van Buuren | A State Of Trance 2010 | Album | Certification | 2010 | 2M | 2x Platinum | 20000 |
| Armin Van Buuren | A State Of Trance 2011 | Album | Certification | 2011 | | Platinum | 10000 |
| Armin Van Buuren | A State of Trance 2012 | Album | Certification | 2012 | | Gold | 5000 |
| Armin Van Buuren | A State Of Trance Yearmix 2010 | Album | Certification | 2010 | | Gold | 5000 |
| Armin Van Buuren | Mirage | Album | Certification | 2010 | | Platinum | 10000 |
| Arnulf Wenning | Infanta Marina | FlexiDisc | Code | 1989 | 1113 | | 270000 |
| Arsen Dedi? | Jednodnevna Djevojka / Djevojka Iz Moje Zemlje | FlexiDisc | Code | 1990 | 1553 | | 240000 |
| Arsen Dedi? | Sandra | FlexiDisc | Code | 1967 | 2081 | | 250000 |
| Art Tatum | Art Tatum | Album | Code | 1980 | 298 | | 4000 |
| Asha Bhosle | Pheasant In Front And Pheasant In The Back | FlexiDisc | Code | 1973 | 6 | | 450000 |
| Asia | Don't Cry | FlexiDisc | Code | 1991 | 64 | | 100000 |
| Asia | Don't Cry | Cassette | Code | 1991 | 64 | | 20000 |
| Astrud Gilberto | Canto Silencioso / Starlight Night / The Telephone Song | FlexiDisc | Code | 1971 | 1670 | | 350000 |
| Aura Urziceanu | Cioc?nitoare / Ajuta?i-M? | FlexiDisc | Code | 1977 | 367 | | 500000 |
| Avril Lavigne | Goodbye Lullaby | Album | Certification | 2011 | | Gold | 5000 |
| Avril Lavigne | The Best Damn Thing | Album | Certification | 2009 | | 4xPlatinum | 80000 |
| Avril Lavigne | Under My Skin | Album | Certification | 2007 | | Platinum | 20000 |
| Ayla Algan | Bu A?k M? / Aram?zda | FlexiDisc | Code | 1976 | 2360 | | 500000 |
| Ayumi Ishida | Untitled Song | FlexiDisc | Code | 1970 | 1022 | | 350000 |
| Baccara | Sorry, I'm a Lady / Darling | FlexiDisc | Code | 1978 | 2584 | | 500000 |
| Backstreet Boys | Never Gone | Album | Certification | 2007 | | Gold | 10000 |
| Backstreet Boys | Unbreakable | Album | Certification | 2007 | | Gold | 10000 |
| Badfinger | Come And Get It / Carry On Till Tomorrow / I'm In Love | FlexiDisc | Code | 1982 | 2416 | | 500000 |
| Bajaga I Instruktori | Help Me Doctor / Pomozi Mi Doktore | FlexiDisc | Code | 1986 | 2628 | | 260000 |
| Balla Et Ses Balladins | Song Of The Free Woman Of Guinea | FlexiDisc | Code | 1978 | 1324 | | 500000 |
| Band'Eros | Columbia Pictures Ne Predstavljaet | Album | Certification | 2006 | | Gold | 100000 |
| Bappi Lahiri / Runa Laila | Songs Performed By Authors | FlexiDisc | Code | 1985 | 1060 | | 365000 |
| Bappi Lahiri / Usha Uthup | Let Them Dance | FlexiDisc | Code | 1985 | 1756 | | 353000 |
| Barbra Streisand | Songs From The Movie "Funny Girl" | FlexiDisc | Code | 1972 | 3326 | | 450000 |
| Barry Manilow | One Voice | Album | Code | 1981 | 582 | | 15000 |
| Barry Manilow | One Voice | Album | Code | 1981 | 246 | | 5000 |
| Basta | 3 | Album | Certification | 2010 | 2M | Certified | 25000 |
| Basta | Basta/Guf | Album | Certification | 2011 | | Gold | 25000 |
| Beatriz Márquez | En El Cielo De Mi Vida / Flor Para Ti | FlexiDisc | Code | 1974 | 1743 | | 450000 |
| Bee Gees | Spirits (Having Flown) | Single | Code | 1983 | 877 | | 84000 |
| Bee Gees | Spirits (Having Flown) | Single | Code | 1983 | 859 | | 60000 |
| Bee Gees | Spirits (Having Flown) | Single | Code | 1983 | 789 | | 60000 |
| Bee Gees | Spirits (Having Flown) | Single | Code | 1983 | 665 | | 30000 |
| Bee Gees | Spirits (Having Flown) | Single | Code | 1983 | 3665 | | 30000 |
| Bee Gees | Spirits (Having Flown) | Single | Code | 1983 | 256 | | 40000 |
| Bee Gees | Spirits (Having Flown) | Single | Code | 1983 | 220 | | 40000 |
| Bee Gees | Spirits (Having Flown) | Single | Code | 1983 | 179 | | 30000 |
| Bee Gees | Spirits (Having Flown) | Single | Code | 1984 | 284 | | 28740 |
| Bee Gees | Spirits (Having Flown) | Single | Code | 1985 | 492 | | 3900 |
| Bee Gees | Spirits (Having Flown) | Single | Code | 1985 | 297 | | 10000 |
| Bee Gees | Spirits Having Flown | Album | Code | 1981 | 369 | | 20000 |
| Bee Gees | Spirits Having Flown | Album | Code | 1981 | 244 | | 20000 |
| Bee Gees | Spirits Having Flown | Album | Code | 1989 | 369 | | 2000 |
| Bee Gees | Stayin' Alive / Night Fever | FlexiDisc | Code | 1979 | 3294 | | 500000 |
| Bee Gees | To Love Somebody | Single | Code | 1982 | 984 | | 4460 |
| Bee Gees | To Love Somebody | Single | Code | 1982 | 93 | | 3000 |
| Belle Epoque | Me And You / Disco Tune | FlexiDisc | Code | 1981 | 341 | | 500000 |
| Ben Webster | Jazz Gallery (Ben Webster) | Album | Code | 1990 | 465 | | 8100 |
| Ben Webster | Jazz Gallery (Ben Webster) | Album | Code | 1990 | 191 | | 11200 |
| Benediction | Subconscious Terror | Album | Code | 1993 | 185 | | 10000 |
| Beniamino Gigli | Neapolitan Songs | Album | Code | 1979 | 4884 | | 15000 |
| Beniamino Gigli | Neapolitan Songs | Album | Code | 1980 | 938 | | 700 |
| Beniamino Gigli | Neapolitan Songs | Album | Code | 1984 | 849 | | 1900 |
| Beniamino Gigli | Neapolitan Songs | Album | Code | 1984 | 1856 | | 25000 |
| Beniamino Gigli | Oh Mia Cara / Dillo Alle Ragazze | FlexiDisc | Code | 1991 | 64 | | 100000 |
| Beniamino Gigli | Oh Mia Cara / Dillo Alle Ragazze | Cassette | Code | 1991 | 64 | | 20000 |
| Benny Benassi | Hypnotica | Album | Certification | 2003 | | 4xPlatinum | 80000 |
| Benny Benassi | Phobia | Album | Certification | 2005 | | 2xPlatinum | 40000 |
| Benny Goodman | How Deep is the Ocean | Album | Code | 1986 | 675 | | 10000 |
| Benny Goodman | How Deep is the Ocean | Album | Code | 1986 | 451 | | 20220 |
| Benny Goodman | How Deep is the Ocean | Album | Code | 1986 | 3068 | | 5400 |
| Benny Goodman | How Deep is the Ocean | Album | Code | 1986 | 1050 | | 8100 |
| Benny Goodman | How Deep is the Ocean | Album | Code | 1987 | 530 | | 5300 |
| Benny Goodman | How Deep is the Ocean | Album | Code | 1987 | 411 | | 2000 |
| Benny Goodman | How Deep is the Ocean | Album | Code | 1987 | 23 | | 3200 |
| Benny Goodman | How Deep is the Ocean | Album | Code | 1987 | 166 | | 9480 |
| Benny Goodman | Memories Of You / King Porter Stomp | FlexiDisc | Code | 1989 | 361 | | 270000 |
| Benny Goodman | The Great Benny Goodman | Album | Code | 1980 | 217 | | 50000 |
| Benny Goodman | What Moonlight Can Do | Album | Code | 1986 | 3305 | | 1700 |
| Benny Goodman | What Moonlight Can Do | Album | Code | 1986 | 3178 | | 1000 |
| Benny Goodman | What Moonlight Can Do | Album | Code | 1987 | 84 | | 2940 |
| Benny Goodman | What Moonlight Can Do | Album | Code | 1987 | 772 | | 9120 |
| Benny Goodman | What Moonlight Can Do | Album | Code | 1987 | 688 | | 15000 |
| Benny Goodman | What Moonlight Can Do | Album | Code | 1987 | 433 | | 9820 |
| Benny Goodman | What Moonlight Can Do | Album | Code | 1987 | 14 | | 1000 |
| Benny Goodman | What Moonlight Can Do | Album | Code | 1988 | 209 | | 2300 |
| Benny Goodman | What Moonlight Can Do | Album | Code | 1990 | 11 | | 500 |
| Bessy Argyraki | Athína - I Mitéra Mou / Aftó Eínai Gia Sás | FlexiDisc | Code | 1979 | 1454 | | 500000 |
| Beyonce | 4 | Album | Certification | 2011 | | Gold | 5000 |
| Beyonce | B'Day | Album | Certification | 2008 | | 3xPlatinum | 60000 |
| Beyonce | Dangerously in Love | Album | Certification | 2003 | | Platinum | 20000 |
| Beyonce | I'm... Sasha Fierce | Album | Certification | 2009 | | Platinum | 20000 |
| Bi-2 | Bi-2 | Album | Report | 2000 | Lenta 2011 | | 400000 |
| Bi-2 | Mjau Kiss Mi | Album | Report | 2001 | Lenta 2011 | | 300000 |
| Bijelo Dugme | Jeste Li Voljeli Do Sada? / ?ak Su Se I Ulice Opile Od Tebe | FlexiDisc | Code | 1990 | 1553 | | 240000 |
| Bill Evans Trio | Explorations | Album | Code | 1985 | 525 | | 10000 |
| Bill Evans Trio | Explorations | Album | Code | 1985 | 2223 | | 26000 |
| Bill Haley | (We're Gonna) Rock Around The Clock / See You Later, Alligator | FlexiDisc | Code | 1989 | 3375 | | 270000 |
| Bill Haley And His Comets | Bill Haley And His Comets | Album | Code | 1992 | 206 | | 10000 |
| Bill Haley And His Comets | Bill Haley And His Comets | Album | Code | 1992 | 171 | | 15000 |
| Billie Holiday | Lady In Satin | Album | Code | 1980 | 82 | | 50000 |
| Billie Holiday | Lady In Satin | Album | Code | 1980 | 533 | | 20000 |
| Billie Holiday | Strange Fruit | Album | Code | 1990 | 704 | | 5400 |
| Billie Holiday | Strange Fruit | Album | Code | 1990 | 430 | | 19700 |
| Billie Holiday | Strange Fruit | Album | Code | 1990 | 421 | | 3500 |
| Billy Joel | Just The Way You Are | FlexiDisc | Code | 1987 | 1443 | | 260000 |
| Billy Joel | Running On Ice | FlexiDisc | Code | 1987 | 1019 | | 260000 |
| Billy Joel ft. Ray Charles | Baby Grand | FlexiDisc | Code | 1987 | 1019 | | 260000 |
| Bing Crosby | El Señor Bing | Album | Code | 1978 | 113 | | 30000 |
| Bing Crosby | Play A Simple Melody | Album | Code | 1985 | 531 | | 15440 |
| Bing Crosby | Play A Simple Melody | Album | Code | 1985 | 335 | | 15620 |
| Bing Crosby | Play A Simple Melody | Album | Code | 1985 | 310 | | 11040 |
| Bing Crosby | Play A Simple Melody | Album | Code | 1985 | 309 | | 2400 |
| Bing Crosby | Play A Simple Melody | Album | Code | 1985 | 173 | | 15000 |
| Bing Crosby | Play A Simple Melody | Album | Code | 1985 | 1157 | | 12000 |
| Bing Crosby | Play A Simple Melody | Album | Code | 1986 | 90 | | 16600 |
| Bing Crosby | Play A Simple Melody | Album | Code | 1986 | 301 | | 11260 |
| Bisser Kirow | Otvorena L?zha Na Uchebnika / Elegiya | FlexiDisc | Code | 1984 | 3232 | | 485000 |
| Bisser Kirow | Ty Takaja Devushka / Kazhdoe Nachalo | FlexiDisc | Code | 1972 | 2794 | | 450000 |
| Björgvin Halldórsson | Single Sight / Sextán Ár | FlexiDisc | Code | 1983 | 3526 | | 500000 |
| Björk | Medula | Album | Certification | 2004 | | Gold | 10000 |
| Björk | Volta | Album | Certification | 2007 | | Gold | 10000 |
| Black Eyed Peas | Elephunk | Album | Certification | 2003 | | 3xPlatinum | 60000 |
| Black Eyed Peas | Monkey Business | Album | Certification | 2005 | | 4xPlatinum | 80000 |
| Black Eyed Peas | Regeneration: The Remixes | Album | Certification | 2007 | | Gold | 10000 |
| Black Eyed Peas | The Beginning | Album | Certification | 2011 | | Gold | 5000 |
| Black Eyed Peas | The E.N.D. | Album | Certification | 2009 | | Gold | 10000 |
| Black Sabbath | Black Sabbath (Comp) | Album | Code | 1990 | 553 | | 10000 |
| Black Sabbath | Black Sabbath (Comp) | Album | Code | 1990 | 474 | | 20000 |
| Black Sabbath | Black Sabbath (Comp) | Album | Code | 1990 | 429 | | 25000 |
| Black Sabbath | Black Sabbath (Comp) | Album | Code | 1990 | 315 | | 20000 |
| Black Sabbath | Black Sabbath (Comp) | Album | Code | 1990 | 253 | | 50000 |
| Black Sabbath | Black Sabbath (Comp) | Album | Code | 1990 | 2521 | | 27200 |
| Black Sabbath | Black Sabbath (Comp) | Album | Code | 1990 | 230 | | 14000 |
| Black Sabbath | Black Sabbath (Comp) | Album | Code | 1990 | 220 | | 30000 |
| Black Sabbath | Black Sabbath (Comp) | Album | Code | 1990 | 130 | | 58500 |
| Black Sabbath | Black Sabbath (Comp) | Album | Code | 1990 | 114 | | 50000 |
| Black Sabbath | Black Sabbath (Comp) | Album | Code | 1990 | 1134 | | 18000 |
| Black Sabbath | Black Sabbath (Comp) | Album | Code | 1991 | 781 | | 25000 |
| Black Sabbath | Black Sabbath (Comp) | Album | Code | 1991 | 659 | | 20000 |
| Black Sabbath | Black Sabbath (Comp) | Album | Code | 1991 | 575 | | 14000 |
| Black Sabbath | Black Sabbath (Comp) | Album | Code | 1991 | 544 | | 20000 |
| Black Sabbath | Black Sabbath (Comp) | Album | Code | 1991 | 398 | | 12000 |
| Black Sabbath | Black Sabbath (Comp) | Album | Code | 1991 | 245 | | 29620 |
| Black Sabbath | Black Sabbath (Comp) | Album | Code | 1991 | 156 | | 18700 |
| Black Sabbath | Black Sabbath (Comp) | Album | Code | 1992 | 1121 | | 5000 |
| Black Sabbath | Black Sabbath Vol. 4 | Album | Code | 1990 | 843 | | 70000 |
| Black Sabbath | Headless Cross / Devil & Daughter / Black Moon | FlexiDisc | Code | 1990 | 1836 | | 240000 |
| Black Sabbath | Live At Last | Album | Code | 1990 | 843 | | 70000 |
| Black Sabbath | Masters Of Reality | Album | Code | 1993 | 96 | | 10000 |
| Black Sabbath | Paranoid | Album | Code | 1990 | 843 | | 70000 |
| Black Sabbath | Sabotage | Album | Code | 1990 | 925 | | 30000 |
| Black Sabbath | Sabotage | Album | Code | 1990 | 843 | | 70000 |
| Blackmore's Night | Autumn Sky | Album | Certification | 2011 | | Gold | 5000 |
| Blind Petition | Songs From The Album "1990 Live" | FlexiDisc | Code | 1990 | 2827 | | 210000 |
| Blood, Sweat And Tears / Chicago | From The Buzz Of A Youth Demonstration. Ensemble "BST" And "Chicago" | FlexiDisc | Code | 1974 | 2307 | | 500000 |
| Blue System | Love Suite / Silent Water | FlexiDisc | Code | 1989 | 833 | | 270000 |
| Bobbysocks | Bobbysocks | Album | Code | 1986 | 563 | | 95000 |
| Bobbysocks | May There Be Happiness(?) / Don't Bring Lulu | FlexiDisc | Code | 1986 | 2989 | | 260000 |
| Bollywood | Indian Cinema Music | Single | Code | 1987 | 85 | | 2000 |
| Bollywood | Indian Cinema Music | Single | Code | 1987 | 565 | | 13900 |
| Bollywood | Indian Cinema Music | Single | Code | 1987 | 1766 | | 30560 |
| Bollywood | Indian Cinema Music | Single | Code | 1989 | 432 | | 4480 |
| Bollywood (Disco Dancer) | Music From The Movie Disco Dancer (Single 1) | Single | Code | 1987 | 97 | | 15000 |
| Bollywood (Disco Dancer) | Music From The Movie Disco Dancer (Single 1) | Single | Code | 1987 | 601 | | 20000 |
| Bollywood (Disco Dancer) | Music From The Movie Disco Dancer (Single 1) | Single | Code | 1987 | 1958 | | 20100 |
| Bollywood (Disco Dancer) | Music From The Movie Disco Dancer (Single 1) | Single | Code | 1987 | 1707 | | 53200 |
| Bollywood (Disco Dancer) | Music From The Movie Disco Dancer (Single 1) | Single | Code | 1987 | 101 | | 10700 |
| Bollywood (Disco Dancer) | Music From The Movie Disco Dancer (Single 1) | Single | Code | 1988 | 660 | | 28140 |
| Bollywood (Disco Dancer) | Music From The Movie Disco Dancer (Single 1) | Single | Code | 1988 | 551 | | 7680 |
| Bollywood (Disco Dancer) | Music From The Movie Disco Dancer (Single 1) | Single | Code | 1988 | 213 | | 8880 |
| Bollywood (Disco Dancer) | Music From The Movie Disco Dancer (Single 1) | Single | Code | 1989 | 397 | | 5000 |
| Bollywood (Disco Dancer) | Music From The Movie Disco Dancer (Single 2) | Single | Code | 1987 | 533 | | 19980 |
| Bollywood (Disco Dancer) | Music From The Movie Disco Dancer (Single 2) | Single | Code | 1987 | 1958 | | 20100 |
| Bollywood (Disco Dancer) | Music From The Movie Disco Dancer (Single 2) | Single | Code | 1988 | 660 | | 39180 |
| Bollywood (Disco Dancer) | Music From The Movie Disco Dancer (Single 2) | Single | Code | 1988 | 354 | | 10000 |
| Bollywood (Disco Dancer) | Music From The Movie Disco Dancer (Single 2) | Single | Code | 1988 | 203 | | 4420 |
| Bollywood (Sangam) | Music From The Movie Sangam | Single | Code | 1987 | 93 | | 5000 |
| Bollywood (Sangam) | Music From The Movie Sangam | Single | Code | 1987 | 587 | | 10600 |
| Bollywood (Sangam) | Music From The Movie Sangam | Single | Code | 1987 | 355 | | 10000 |
| Bollywood (Sangam) | Music From The Movie Sangam | Single | Code | 1987 | 291 | | 10000 |
| Bollywood (Sangam) | Music From The Movie Sangam | Single | Code | 1988 | 26 | | 19300 |
| Bollywood (Sangam) | Music From The Movie Sangam | Single | Code | 1989 | 460 | | 1100 |
| Bomas National Dance And Song Ensemble | Traditional Music of Kenya | Album | Code | 1980 | 657 | | 5000 |
| Bon Jovi | Always | Ringtone | Certification | 2011 | Lenta 2011 | Gold | 100000 |
| Bon Jovi | Fragments Of Compositions | FlexiDisc | Code | 1989 | 1388 | | 270000 |
| Bon Jovi | Lost Highway | Album | Certification | 2007 | | Gold | 10000 |
| Bon Jovi | New Jersey | Album | Code | 1989 | 299 | | 30000 |
| Bon Jovi | New Jersey | Album | Code | 1989 | 1251 | | 38000 |
| Bon Jovi | New Jersey | Album | Code | 1990 | 743 | | 62740 |
| Bon Jovi | New Jersey | Album | Code | 1990 | 2354 | | 17640 |
| Bon Jovi | New Jersey | Album | Code | 1990 | 2048 | | 39240 |
| Bon Jovi | New Jersey | Album | Code | 1990 | 126 | | 142280 |
| Bon Jovi | New Jersey | Album | Code | 1991 | 246 | | 3960 |
| Boney M | Daddy Cool / Sunny | FlexiDisc | Code | 1978 | 1575 | | 500000 |
| Boney M | Nightflight To Venus / Rivers Of Babylon / Never Change Lovers In The Middle Of The Night | FlexiDisc | Code | 1979 | | | 500000 |
| Boney M | We Kill The World (Don't Kill The World) / Malaika | FlexiDisc | Code | 1982 | 2941 | | 500000 |
| Boney M. | Ensemble Boney M. | Album | Code | 1980 | 360 | | 105000 |
| Boney M. | Ensemble Boney M. | Album | Code | 1989 | 350 | | 6100 |
| Boney M. | Nightflight To Venus | Album | Code | 1980 | 155 | | 20000 |
| Boney M. | Nightflight To Venus | Album | Code | 1981 | 126 | | 50000 |
| Boney M. | Nightflight To Venus | Album | Code | 1990 | 32 | | 2000 |
| Boney M. | The Magic Of Boney M. | DVD | Certification | 2007 | | Gold | 3000 |
| Bonnie Tyler | Notes From America / Turtle Blues | FlexiDisc | Code | 1989 | 235 | | 270000 |
| Bonnie Tyler | What A Way To Trat My Heart / Holding Out For A Hero | FlexiDisc | Code | 1987 | 1141 | | 260000 |
| Boris Kirov / Ljiljana Petrovi? | Guests "Zucchini 33 1/2 turn" | FlexiDisc | Code | 1969 | 1009 | | 350000 |
| Boy George | Bow Down Mister | Cassette | Code | 1992 | 1227 | | 60000 |
| Boycott | Boycott | Album | Code | 1989 | 767 | | 34800 |
| Boycott | Boycott | Album | Code | 1989 | 1656 | | 8200 |
| Boycott | Boycott | Album | Code | 1989 | 1180 | | 46240 |
| Bractwo Kurkowe | Kominiarz Johnny | FlexiDisc | Code | 1974 | 2834 | | 500000 |
| Bravo | Bravo | Album | Code | 1987 | 865 | | 5000 |
| Bravo | Bravo | Album | Code | 1987 | 60 | | 5000 |
| Bravo | Bravo | Album | Code | 1987 | 575 | | 40000 |
| Bravo | Bravo | Album | Code | 1987 | 553 | | 29700 |
| Bravo | Bravo | Album | Code | 1987 | 541 | | 40000 |
| Bravo | Bravo | Album | Code | 1987 | 289 | | 20000 |
| Bravo | Bravo | Album | Code | 1987 | 264 | | 72600 |
| Bravo | Bravo | Album | Code | 1987 | 152 | | 10000 |
| Bravo | Bravo | Album | Code | 1988 | 905 | | 20000 |
| Bravo | Bravo | Album | Code | 1988 | 88 | | 11690 |
| Bravo | Bravo | Album | Code | 1988 | 88 | | 75000 |
| Bravo | Bravo | Album | Code | 1988 | 77 | | 75720 |
| Bravo | Bravo | Album | Code | 1988 | 726 | | 9300 |
| Bravo | Bravo | Album | Code | 1988 | 722 | | 81520 |
| Bravo | Bravo | Album | Code | 1988 | 686 | | 30800 |
| Bravo | Bravo | Album | Code | 1988 | 650 | | 54000 |
| Bravo | Bravo | Album | Code | 1988 | 57 | | 30000 |
| Bravo | Bravo | Album | Code | 1988 | 526 | | 29000 |
| Bravo | Bravo | Album | Code | 1988 | 476 | | 20000 |
| Bravo | Bravo | Album | Code | 1988 | 475 | | 15000 |
| Bravo | Bravo | Album | Code | 1988 | 465 | | 5000 |
| Bravo | Bravo | Album | Code | 1988 | 352 | | 20000 |
| Bravo | Bravo | Album | Code | 1988 | 347 | | 29500 |
| Bravo | Bravo | Album | Code | 1988 | 323 | | 25000 |
| Bravo | Bravo | Album | Code | 1988 | 32 | | 93860 |
| Bravo | Bravo | Album | Code | 1988 | 3 | | 60000 |
| Bravo | Bravo | Album | Code | 1988 | 163 | | 30000 |
| Bravo | Bravo | Album | Code | 1988 | 1460 | | 43160 |
| Bravo | Bravo | Album | Code | 1988 | 115 | | 27200 |
| Bravo | Bravo | Album | Code | 1988 | 114 | | 30000 |
| Bravo | Bravo | Album | Code | 1988 | 1047 | | 53200 |
| Bravo | Bravo | Album | Code | 1988 | 1 | | 15000 |
| Bravo | Bravo | Album | Code | 1989 | 471 | | 2620 |
| Bravo | Bravo | Album | Code | 1989 | 303 | | 19000 |
| Bravo | Bravo | Album | Code | 1989 | 2029 | | 28180 |
| Bravo | Bravo | Album | Code | 1989 | 132 | | 38300 |
| Bravo | Bravo | Album | Code | 1990 | 2191 | | 2100 |
| Bravo | Bravo 10 | Album | Code | 1992 | 206 | | 10000 |
| Bravo | Stay With Me | EP | Code | 1989 | 603 | | 10600 |
| Bravo | Stay With Me | EP | Code | 1989 | 414 | | 5130 |
| Bravo | Stay With Me | EP | Code | 1989 | 133 | | 9700 |
| Bravo | Stay With Me | EP | Code | 1990 | 13 | | 10500 |
| Brigitte Bardot | Homme Rusé / Harley Davidson / Ay Que Viva La Sangria | FlexiDisc | Code | 1982 | 1803 | | 500000 |
| Britney Spears | Blackout | Album | Certification | 2008 | | 3xPlatinum | 60000 |
| Britney Spears | Circus | Album | Certification | 2009 | | 2xPlatinum | 40000 |
| Britney Spears | Femme Fatale | Album | Certification | 2011 | | Platinum | 10000 |
| Britney Spears | Greatest Hits : My Prerogative | Album | Certification | 2004 | | 2xPlatinum | 40000 |
| Britney Spears | In the Zone | Album | Certification | 2003 | | 2xPlatinum | 40000 |
| Brotherhood Of Man | Ensemble Brotherhood Of Man | Album | Code | 1981 | 248 | | 5000 |
| Brotherhood Of Man | Save Your Kisses For Me / Kiss Me, Kiss Your Baby | FlexiDisc | Code | 1979 | 417 | | 500000 |
| Buddy Holly | Everyday(?) | FlexiDisc | Code | 1989 | 3375 | | 270000 |
| Buffy Sainte-Marie | The Seeds Of Brotherhood / The Carousel / Doget Gorge / Little Boy Dark Eyes | FlexiDisc | Code | 1975 | 3119 | | 500000 |
| Burma Song And Dance Ensemble | Traditional Music of Burma | Album | Code | 1980 | 281 | | 3000 |
| Butch | Butch | Album | Certification | 2003 | | Gold | 100000 |
| Butyrka | A Dlja Vas Ja Nikto | Ringtone | Certification | 2011 | Lenta 2011 | Platinum | 200000 |
| Carlos Gardel | Untitled Song | FlexiDisc | Code | 1974 | 2750 | | 500000 |
| Carlos Mejía Godoy | Songs-Fighters: Melodies Of The Nicaraguan Revolution | FlexiDisc | Code | 1983 | 1132 | | 500000 |
| Carlos Mejía Godoy y Los De Palacagüina | Tumba Del Partisano | FlexiDisc | Code | 1980 | 2041 | | 500000 |
| Carmélia Alves & Jorge Goulart | Rio Carnival Invitation | FlexiDisc | Code | 1965 | 2480 | | 153000 |
| Carmen Amaya / Grigoris Bithikotsis | Folk Songs And Romances Of Greece & Spain | FlexiDisc | Code | 1967 | 3444 | | 250000 |
| Carpenters | Please Mr. Postman / Yesterday Once More | FlexiDisc | Code | 1977 | 778 | | 500000 |
| Carrie Smith / The New York Jazz Repertory Company | Babies Leaving Hom / San Luis Blues | FlexiDisc | Code | 1975 | 996 | | 500000 |
| Caterina Valente | Concerto D'autunno / Concerto | FlexiDisc | Code | 1971 | 1576 | | 350000 |
| Catherine Ribeiro | Assez De Reproches / En Bref Sur La Vie | FlexiDisc | Code | 1984 | 2308 | | 500000 |
| Catherine Sauvage | Java Sauvage / Lève Les Voiles | FlexiDisc | Code | 1985 | 4078 | | 365000 |
| Celine Dion | D'elles | Album | Certification | 2008 | | Gold | 10000 |
| Celine Dion | Tacking Chances | Album | Certification | 2008 | | Gold | 10000 |
| Cesare Siepi / Silvia Kodetova | Duettino Don Juan And Zerlin (Fragment) | FlexiDisc | Code | 1977 | 367 | | 500000 |
| Cesaria Evora | Rogamar | Album | Certification | 2007 | | Gold | 10000 |
| Cesaria Evora | The Best Of Cesaria Evora | Album | Certification | 2004 | | Gold | 10000 |
| Cesaria Evora | Voz D'amor | Album | Certification | 2003 | | Gold | 10000 |
| Charizma | Rockin' The World Together | Album | Code | 1991 | 810 | | 6500 |
| Charizma | Rockin' The World Together | Album | Code | 1991 | 719 | | 46450 |
| Charizma | Rockin' The World Together | Album | Code | 1991 | 539 | | 20000 |
| Charles Aznavour | Aznavour | Album | Code | 0 | 210 | | 3300 |
| Charles Aznavour | Aznavour | Album | Code | 1973 | 1131 | | 7000 |
| Charles Aznavour | Aznavour | Album | Code | 1975 | 3026 | | 1300 |
| Charles Aznavour | Aznavour | Album | Code | 1980 | 989 | | 4000 |
| Charles Aznavour | Aznavour | Album | Code | 1981 | 562 | | 3520 |
| Charles Aznavour | Aznavour | Album | Code | 1981 | 109 | | 4440 |
| Charles Aznavour | Aznavour | Album | Code | 1986 | 498 | | 9880 |
| Charles Aznavour | J'en Déduis Que Je T'aime | FlexiDisc | Code | 1968 | 2764 | | 300000 |
| Charles Aznavour | Zucchini 33 1/2 Turn In Paris | FlexiDisc | Code | 1969 | 2973 | | 350000 |
| Charles Aznavour / Paul Mauriat | Mon Amour Frémissant / Tout Passe | FlexiDisc | Code | 1982 | 2416 | | 500000 |
| Charles Bruck / Nina Tikanova | Bolero | FlexiDisc | Code | 1975 | 4 | | 500000 |
| Charles Mingus | The Black Saint And The Sinner Lady | Album | Code | 1990 | 349 | | 3000 |
| Charlie Chaplin | City Lights | Single | Code | 1989 | 441 | | 5850 |
| Charlie Chaplin | City Lights | Single | Code | 1989 | 307 | | 7600 |
| Charlie Chaplin | City Lights | Single | Code | 1989 | 10 | | 22920 |
| Charlie Chaplin | City Lights | Single | Code | 1990 | 142 | | 1700 |
| Charlie Chaplin | City Lights | Album | Code | 1991 | 838 | | 7000 |
| Charlie Chaplin | Melodies Of Different Years | FlexiDisc | Code | 1969 | 1440 | | 350000 |
| Charlie Chaplin | Music By Charlie Chaplin From The Ramp Lights And The Countess From Hong Kong | FlexiDisc | Code | 1989 | 235 | | 270000 |
| Charlie Parker | Charlie Parker | Album | Code | 1988 | 792 | | 3000 |
| Charlie Parker | Charlie Parker | Album | Code | 1988 | 570 | | 12820 |
| Charlie Parker | Charlie Parker | Album | Code | 1988 | 357 | | 19000 |
| Charlie Parker | Charlie Parker | Album | Code | 1988 | 2852 | | 3400 |
| Charlie Parker | Charlie Parker | Album | Code | 1988 | 1908 | | 7200 |
| Charlie Parker | Charlie Parker | Album | Code | 1988 | 1633 | | 9000 |
| Charlie Parker | Charlie Parker | Album | Code | 1988 | 1263 | | 17000 |
| Charlie Parker | Charlie Parker | Album | Code | 1989 | 389 | | 4200 |
| Charlie Parker | Charlie Parker | Album | Code | 1990 | 959 | | 4100 |
| Charlie Parker | Charlie Parker | Album | Code | 1990 | 2547 | | 5520 |
| Charlie Parker | Charlie Parker | Album | Code | 1990 | 25020 | | 3500 |
| Chay Vdvoyom | 10 Tysjac Slov O Ljubvi | Album | Certification | 2004 | | Gold | 100000 |
| Cheryl Cole | 3 Words | Album | Certification | 2010 | | Gold | 10000 |
| Chor Der Bayerischen Staatsoper | "Free Shooter" Weber In The Assessment Of Berlioz. | FlexiDisc | Code | 1976 | 2174 | | 500000 |
| Chorny Kofe | Chorny Kofe | EP | Code | 1987 | 820 | | 15000 |
| Chorny Kofe | Chorny Kofe | EP | Code | 1987 | 701 | | 15000 |
| Chorny Kofe | Chorny Kofe | EP | Code | 1987 | 636 | | 30000 |
| Chorny Kofe | Chorny Kofe | EP | Code | 1987 | 616 | | 3000 |
| Chorny Kofe | Chorny Kofe | EP | Code | 1987 | 481 | | 33600 |
| Chorny Kofe | Chorny Kofe | EP | Code | 1987 | 447 | | 16000 |
| Chorny Kofe | Chorny Kofe | EP | Code | 1987 | 392 | | 14000 |
| Chorny Kofe | Chorny Kofe | EP | Code | 1987 | 296 | | 55000 |
| Chorny Kofe | Chorny Kofe | EP | Code | 1987 | 266 | | 60000 |
| Chorny Kofe | Chorny Kofe | EP | Code | 1987 | 227 | | 50000 |
| Chorny Kofe | Chorny Kofe | EP | Code | 1987 | 1963 | | 20100 |
| Chorny Kofe | Chorny Kofe | EP | Code | 1987 | 1963 | | 27980 |
| Chorny Kofe | Chorny Kofe | EP | Code | 1988 | 660 | | 18860 |
| Chorny Kofe | Chorny Kofe | EP | Code | 1988 | 60 | | 10000 |
| Chorny Kofe | Chorny Kofe | EP | Code | 1988 | 309 | | 2400 |
| Chorny Kofe | Chorny Kofe | EP | Code | 1988 | 292 | | 15800 |
| Chorny Kofe | Chorny Kofe | EP | Code | 1988 | 169 | | 22000 |
| Chorny Kofe | Chorny Kofe | EP | Code | 1988 | 135 | | 9460 |
| Chorny Kofe | Chorny Kofe | EP | Code | 1988 | ? | | 12360 |
| Chorny Kofe | Chorny Kofe | EP | Code | 1989 | 118 | | 3000 |
| Chorny Kofe | Perestupi Porog | Album | Code | 1987 | 643 | | 60000 |
| Chorny Kofe | Perestupi Porog | Album | Code | 1987 | 575 | | 80000 |
| Chorny Kofe | Perestupi Porog | Album | Code | 1987 | 563 | | 15000 |
| Chorny Kofe | Perestupi Porog | Album | Code | 1987 | 541 | | 80000 |
| Chorny Kofe | Perestupi Porog | Album | Code | 1987 | 404 | | 10000 |
| Chorny Kofe | Perestupi Porog | Album | Code | 1987 | 3617 | | 130000 |
| Chorny Kofe | Perestupi Porog | Album | Code | 1987 | 302 | | 17000 |
| Chorny Kofe | Perestupi Porog | Album | Code | 1987 | 268 | | 20000 |
| Chorny Kofe | Perestupi Porog | Album | Code | 1987 | 209 | | 7000 |
| Chorny Kofe | Perestupi Porog | Album | Code | 1987 | 1881 | | 106020 |
| Chorny Kofe | Perestupi Porog | Album | Code | 1987 | 1673 | | 18800 |
| Chorny Kofe | Perestupi Porog | Album | Code | 1987 | 163 | | 20000 |
| Chorny Kofe | Perestupi Porog | Album | Code | 1987 | 1460 | | 2400 |
| Chorny Kofe | Perestupi Porog | Album | Code | 1988 | 92 | | 10000 |
| Chorny Kofe | Perestupi Porog | Album | Code | 1988 | 92 | | 100000 |
| Chorny Kofe | Perestupi Porog | Album | Code | 1988 | 686 | | 54000 |
| Chorny Kofe | Perestupi Porog | Album | Code | 1988 | 650 | | 28000 |
| Chorny Kofe | Perestupi Porog | Album | Code | 1988 | 6 | | 78300 |
| Chorny Kofe | Perestupi Porog | Album | Code | 1988 | 587 | | 19500 |
| Chorny Kofe | Perestupi Porog | Album | Code | 1988 | 561 | | 60000 |
| Chorny Kofe | Perestupi Porog | Album | Code | 1988 | 554 | | 78000 |
| Chorny Kofe | Perestupi Porog | Album | Code | 1988 | 4085 | | 90000 |
| Chorny Kofe | Perestupi Porog | Album | Code | 1988 | 3894 | | 125000 |
| Chorny Kofe | Perestupi Porog | Album | Code | 1988 | 3436 | | 100000 |
| Chorny Kofe | Perestupi Porog | Album | Code | 1988 | 310 | | 55000 |
| Chorny Kofe | Perestupi Porog | Album | Code | 1988 | 286 | | 20000 |
| Chorny Kofe | Perestupi Porog | Album | Code | 1988 | 1866 | | 21600 |
| Chorny Kofe | Perestupi Porog | Album | Code | 1988 | 182 | | 10100 |
| Chorny Kofe | Perestupi Porog | Album | Code | 1988 | 1372 | | 48200 |
| Chorny Kofe | Perestupi Porog | Album | Code | 1988 | 1102 | | 44700 |
| Chorny Kofe | Perestupi Porog | Album | Code | 1988 | 1052 | | 15000 |
| Chorny Kofe | Perestupi Porog | Album | Code | 1989 | 28 | | 7100 |
| Chorny Kofe | Perestupi Porog | Album | Code | 1989 | 132 | | 40480 |
| Chorny Kofe | Perestupi Porog | Album | Code | 1990 | 471 | | 2800 |
| Chorny Kofe | Perestupi Porog | Album | Code | 1990 | 311 | | 3200 |
| Chorny Kofe | Perestupi Porog | Album | Code | 1990 | 19 | | 6000 |
| Chorny Kofe | Volnoy - Will | Album | Code | 1990 | 943 | | 10000 |
| Chorny Kofe | Volnoy - Will | Album | Code | 1990 | 732 | | 120000 |
| Chorny Kofe | Volnoy - Will | Album | Code | 1990 | 69 | | 40000 |
| Chorny Kofe | Volnoy - Will | Album | Code | 1990 | 671 | | 83320 |
| Chorny Kofe | Volnoy - Will | Album | Code | 1990 | 579 | | 5000 |
| Chorny Kofe | Volnoy - Will | Album | Code | 1990 | 454 | | 29240 |
| Chorny Kofe | Volnoy - Will | Album | Code | 1990 | 449 | | 9200 |
| Chorny Kofe | Volnoy - Will | Album | Code | 1990 | 449 | | 12000 |
| Chorny Kofe | Volnoy - Will | Album | Code | 1990 | 344 | | 11000 |
| Chorny Kofe | Volnoy - Will | Album | Code | 1990 | 34 | | 2300 |
| Chorny Kofe | Volnoy - Will | Album | Code | 1990 | 327 | | 5000 |
| Chorny Kofe | Volnoy - Will | Album | Code | 1990 | 2419 | | 21400 |
| Chorny Kofe | Volnoy - Will | Album | Code | 1990 | 207 | | 13000 |
| Chris Rea | Let's Dance / Que Sera | FlexiDisc | Code | 1991 | 424 | | 100000 |
| Chris Rea | Let's Dance / Que Sera | Cassette | Code | 1991 | 424 | | 10000 |
| Christel Schulze | Moskauer Fenster | FlexiDisc | Code | 1967 | 3669 | | 250000 |
| Christina Aguilera | Back To Basics | Album | Certification | 2008 | | 3xPlatinum | 60000 |
| Christina Aguilera | Keeps Gettin' Better - A Decade Of Hits | Album | Certification | 2008 | | Gold | 10000 |
| Christopher Plummer | Edelweiss | FlexiDisc | Code | 1973 | 949 | | 450000 |
| Chuck Berry | School Days / Strong Feeling(?) / Martyshkin Trud(?) | FlexiDisc | Code | 1988 | 2958 | | 255000 |
| Ciara | The Evolution | Album | Certification | 2007 | | Gold | 10000 |
| Cinema Bizarre | Final Attraction | Album | Certification | 2008 | | Gold | 10000 |
| Cirque Du Soleil | Corteo | Album | Certification | 2010 | | Platinum | 10000 |
| Claude Debussy | Concert Debussy (Recorded 1913) | FlexiDisc | Code | 1973 | 808 | | 450000 |
| Claude François | Y'a Le Printemps Qui Chante / L'amour Est Parti | FlexiDisc | Code | 1978 | 1324 | | 500000 |
| Claude Nougaro | Une Mélodie Qui Serait Votre Visage / Bidonville | FlexiDisc | Code | 1984 | 3032 | | 500000 |
| Claude Vasori | Oui / Dansons | FlexiDisc | Code | 1981 | 1504 | | 500000 |
| Claudia Mori | Una Porta | FlexiDisc | Code | 1985 | 1060 | | 365000 |
| Cliff Richard | I'm Nearly Famous | Album | Code | 1977 | 1370 | | 1300 |
| Cliff Richard | If You Leave Me / Love Only Me | FlexiDisc | Code | 1977 | 3119 | | 500000 |
| Coldplay | X&Y | Album | Certification | 2005 | | Gold | 10000 |
| Coleman Hawkins | The Genius Of Coleman Hawkins | Album | Code | 1988 | 743 | | 5000 |
| Coleman Hawkins | The Genius Of Coleman Hawkins | Album | Code | 1988 | 1675 | | 25000 |
| Coleman Hawkins | The Genius Of Coleman Hawkins | Album | Code | 1989 | 8082 | | 6000 |
| Color | Kölcsönben / Fényes Kövek | FlexiDisc | Code | 1981 | 3406 | | 500000 |
| Commodores | United | Album | Code | 1988 | 1138 | | 16000 |
| Commodores | United | Album | Code | 1988 | ? | | 2000 |
| Commodores | United | Album | Code | 1989 | 2141 | | 46380 |
| Conchita Bautista | This is Love | FlexiDisc | Code | 1969 | 2565 | | 350000 |
| Corina Chiriac | Stau / Uit? De Dor | FlexiDisc | Code | 1981 | 462 | | 500000 |
| Coro Del Teatro Alla Scala / Orchestra Del Teatro Alla Scala | Fragment Of "Cinderella" | FlexiDisc | Code | 1978 | 2445 | | 500000 |
| Count Basie | 14 Gold Tunes | Album | Code | 1982 | 78 | | 25000 |
| Count Basie | 14 Gold Tunes | Album | Code | 1985 | 3652 | | 3000 |
| Count Basie | 14 Golden Tunes 2 | Album | Code | 1982 | 79 | | 25000 |
| Count Basie | 14 Golden Tunes 2 | Album | Code | 1985 | 653 | | 3000 |
| Count Basie | When The Sun Sets | Album | Code | 1985 | 80 | | 2000 |
| Count Basie | When The Sun Sets | Album | Code | 1985 | 458 | | 15000 |
| Count Basie | When The Sun Sets | Album | Code | 1985 | 25 | | 31500 |
| Count Basie | When The Sun Sets | Album | Code | 1986 | 86 | | 16000 |
| Count Basie | When The Sun Sets | Album | Code | 1986 | 755 | | 2180 |
| Count Basie | When The Sun Sets | Album | Code | 1986 | 293 | | 8160 |
| Count Basie | When The Sun Sets | Album | Code | 1986 | 1311 | | 18300 |
| Crazy Frog | Crazy Hits | Album | Certification | 2008 | | Diamond | 200000 |
| Crazy Rhythm | Place De Brouckère | FlexiDisc | Code | 1990 | 2593 | | 210000 |
| Creedence Clearwater Revival | Traveling Band | Album | Code | 1988 | 628 | | 10000 |
| Creedence Clearwater Revival | Traveling Band | Album | Code | 1988 | 571 | | 55300 |
| Creedence Clearwater Revival | Traveling Band | Album | Code | 1988 | 494 | | 900 |
| Creedence Clearwater Revival | Traveling Band | Album | Code | 1988 | 482 | | 65000 |
| Creedence Clearwater Revival | Traveling Band | Album | Code | 1988 | 400 | | 80400 |
| Creedence Clearwater Revival | Traveling Band | Album | Code | 1988 | 386 | | 35000 |
| Creedence Clearwater Revival | Traveling Band | Album | Code | 1988 | 364 | | 50000 |
| Creedence Clearwater Revival | Traveling Band | Album | Code | 1988 | 359 | | 100000 |
| Creedence Clearwater Revival | Traveling Band | Album | Code | 1988 | 336 | | 50000 |
| Creedence Clearwater Revival | Traveling Band | Album | Code | 1988 | 331 | | 50000 |
| Creedence Clearwater Revival | Traveling Band | Album | Code | 1988 | 304 | | 80000 |
| Creedence Clearwater Revival | Traveling Band | Album | Code | 1988 | 27 | | 5000 |
| Creedence Clearwater Revival | Traveling Band | Album | Code | 1988 | 261 | | 56000 |
| Creedence Clearwater Revival | Traveling Band | Album | Code | 1988 | 261 | | 56000 |
| Creedence Clearwater Revival | Traveling Band | Album | Code | 1988 | 23 | | 7200 |
| Creedence Clearwater Revival | Traveling Band | Album | Code | 1988 | 119 | | 30000 |
| Creedence Clearwater Revival | Traveling Band | Album | Code | 1988 | 1099 | | 56900 |
| Creedence Clearwater Revival | Traveling Band | Album | Code | 1989 | 662 | | 16000 |
| Creedence Clearwater Revival | Traveling Band | Album | Code | 1989 | 344 | | 3460 |
| Creedence Clearwater Revival | Traveling Band | Album | Code | 1989 | 17 | | 14700 |
| Creedence Clearwater Revival | Traveling Band | Album | Code | 1989 | 1416 | | 79280 |
| Creedence Clearwater Revival | Traveling Band | Album | Code | 1990 | 447 | | 1300 |
| Creedence Clearwater Revival | Traveling Band | Album | Code | 1990 | 332 | | 3800 |
| Creedence Clearwater Revival | Traveling Band | Album | Code | 1990 | 14 | | 1200 |
| Cruise | Cruise-1 | Album | Code | 1987 | 92 | | 25000 |
| Cruise | Cruise-1 | Album | Code | 1987 | 773 | | 5000 |
| Cruise | Cruise-1 | Album | Code | 1987 | 770 | | 15000 |
| Cruise | Cruise-1 | Album | Code | 1987 | 745 | | 5000 |
| Cruise | Cruise-1 | Album | Code | 1987 | 735 | | 9000 |
| Cruise | Cruise-1 | Album | Code | 1987 | 575 | | 80000 |
| Cruise | Cruise-1 | Album | Code | 1987 | 512 | | 15000 |
| Cruise | Cruise-1 | Album | Code | 1987 | 419 | | 5000 |
| Cruise | Cruise-1 | Album | Code | 1988 | 83 | | 60000 |
| Cruise | Cruise-1 | Album | Code | 1988 | 77 | | 52450 |
| Cruise | Cruise-1 | Album | Code | 1988 | 686 | | 37600 |
| Cruise | Cruise-1 | Album | Code | 1988 | 650 | | 59000 |
| Cruise | Cruise-1 | Album | Code | 1988 | 57 | | 40000 |
| Cruise | Cruise-1 | Album | Code | 1988 | 526 | | 43000 |
| Cruise | Cruise-1 | Album | Code | 1988 | 461 | | 43000 |
| Cruise | Cruise-1 | Album | Code | 1988 | 395 | | 104480 |
| Cruise | Cruise-1 | Album | Code | 1988 | 385 | | 30000 |
| Cruise | Cruise-1 | Album | Code | 1988 | 353 | | 45000 |
| Cruise | Cruise-1 | Album | Code | 1988 | 310 | | 45000 |
| Cruise | Cruise-1 | Album | Code | 1988 | 3 | | 71000 |
| Cruise | Cruise-1 | Album | Code | 1988 | 247 | | 70400 |
| Cruise | Cruise-1 | Album | Code | 1988 | 244 | | 5000 |
| Cruise | Cruise-1 | Album | Code | 1988 | 242 | | 72520 |
| Cruise | Cruise-1 | Album | Code | 1988 | 195 | | 30000 |
| Cruise | Cruise-1 | Album | Code | 1988 | 181 | | 3600 |
| Cruise | Cruise-1 | Album | Code | 1988 | 163 | | 50000 |
| Cruise | Cruise-1 | Album | Code | 1989 | 245 | | 11480 |
| Cruise | Cruise-1 | Album | Code | 1989 | 17 | | 18120 |
| Cruise | Cruise-1 | Album | Code | 1989 | 168 | | 5100 |
| Cruise | Cruise-1 | Album | Code | 1989 | 132 | | 31360 |
| Cruise | Cruise-1 | Album | Code | 1989 | 111 | | 4900 |
| Cruise | Cruise-1 | Album | Code | 1990 | 470 | | 2000 |
| Cruise | Cruise-1 | Album | Code | 1991 | 659 | | 3200 |
| Cruise | Volchok | Single | Code | 1985 | 625 | | 36700 |
| Cruise | Volchok | Single | Code | 1985 | 175 | | 10000 |
| Cruise | Volchok | Single | Code | 1985 | 114 | | 15000 |
| Cruise | Volchok | Single | Code | 1985 | 112 | | 25000 |
| Crveni Koralji | My Lord Bepo | FlexiDisc | Code | 1972 | 3579 | | 450000 |
| Czechoslovak Radio Dance Orchestra | 14 Minut P?ed Zahájením | FlexiDisc | Code | 1967 | 2081 | | 250000 |
| Czerwone Gitary | Los Paraguayos | FlexiDisc | Code | 1969 | 325 | | 320000 |
| Czerwone Gitary | Nie Odpoczywa | FlexiDisc | Code | 1977 | 1205 | | 500000 |
| Czerwone Gitary | Stado Koni / Staro?wieckie Samochody | FlexiDisc | Code | 1980 | 1906 | | 500000 |
| Czes?aw Niemen | Zanim Nadejdzie Wiosna / Worone? Chastuszki | FlexiDisc | Code | 1979 | 1312 | | 500000 |
| Dagmar Frederic | Sommerabend / Ich Liebe Charleston | FlexiDisc | Code | 1981 | 1046 | | 500000 |
| Daliborka Stojsic | Poet Daliborka Stojsic | EP | Code | 1974 | 5295 | | 3000 |
| Daliborka Stojsic | Poet Daliborka Stojsic | EP | Code | 1975 | 1460 | | 2500 |
| Dalida | Fille / Petit Homme / Au Revoir Amour Au Revoir | FlexiDisc | Code | 1974 | 2015 | | 500000 |
| Dalida | Poet Dalida | Album | Code | 1980 | 89 | | 30000 |
| Dalida | Poet Dalida | Album | Code | 1980 | 445 | | 20000 |
| Dalida | The Godfather / Mama | FlexiDisc | Code | 1974 | 1620 | | 450000 |
| Dalida | Tu m'as déclaré l'amour | Single | Code | 1983 | 892 | | 70000 |
| Dalida | Tu m'as déclaré l'amour | Single | Code | 1983 | 690 | | 28000 |
| Dalida | Tu m'as déclaré l'amour | Single | Code | 1983 | 67 | | 30000 |
| Dalida | Tu m'as déclaré l'amour | Single | Code | 1983 | 3 | | 50000 |
| Dalida | Tu m'as déclaré l'amour | Single | Code | 1983 | 257 | | 40000 |
| Dalida | Tu m'as déclaré l'amour | Single | Code | 1983 | 167 | | 25000 |
| Dalida | Tu m'as déclaré l'amour | Single | Code | 1984 | 98 | | 86380 |
| Dalida | Tu m'as déclaré l'amour | Single | Code | 1984 | 884 | | 43000 |
| Dalida | Tu m'as déclaré l'amour | Single | Code | 1984 | 1988 | | 53000 |
| Dalida | Tu m'as déclaré l'amour | Single | Code | 1985 | 70 | | 44460 |
| Dan Balan & Vera Brezhneva | Lepestkami Slez | Ringtone | Certification | 2011 | Lenta 2011 | Gold | 100000 |
| Dan Sp?taru | Dou? Cântece De Dragoste, Mare Si Soare | FlexiDisc | Code | 1971 | 1501 | | 350000 |
| Dana | Have A Nice Day | Album | Code | 1978 | 68 | | 25000 |
| Dana Lerska | Po Prostu Jestem | FlexiDisc | Code | 1967 | 2953 | | 250000 |
| Dance With A Stranger | Stop Looking For Love (Through Blue Eyes) | FlexiDisc | Code | 1991 | 3175 | | 120000 |
| Dance With A Stranger | Stop Looking For Love (Through Blue Eyes) | Cassette | Code | 1991 | 3175 | | 20000 |
| Daniel Olbrychski | Actor Daniel Olbrychsky | FlexiDisc | Code | 1977 | 1205 | | 500000 |
| Danny | Heart Beats | Album | Certification | 2008 | | Gold | 10000 |
| Danuta Rinn | Nie Z Ka?dej M?ki B?dzie Chleb | FlexiDisc | Code | 1966 | 3101 | | 250000 |
| Darina Rolincová | Když Jsem Se Stal U?itelem / Módní Království | FlexiDisc | Code | 1985 | 1226 | | 365000 |
| Dark Ducks | Dear Ricoko | FlexiDisc | Code | 1972 | 3420 | | 450000 |
| Dark Ducks | I Met You / Flowers Fallen On The Seaside | FlexiDisc | Code | 1968 | 563 | | 250000 |
| Dasha Suvorova | Postavit Bastu | Ringtone | Certification | 2011 | Lenta 2011 | Gold | 100000 |
| Dave Brubeck Quartet | Blues For Newport / Your Reflections / I'll Go Far | FlexiDisc | Code | 1987 | 865 | | 260000 |
| Dave Brubeck Quartet | Dave Brubeck Quartet In Moscow (LP 1) | Album | Code | 1990 | 386 | | 25800 |
| Dave Brubeck Quartet | Dave Brubeck Quartet In Moscow (LP 1) | Album | Code | 1990 | 2378 | | 10540 |
| Dave Brubeck Quartet | Dave Brubeck Quartet In Moscow (LP 1) | Album | Code | 1990 | 1436 | | 42500 |
| Dave Brubeck Quartet | Dave Brubeck Quartet In Moscow (LP 2) | Album | Code | 1990 | 966 | | 1500 |
| Dave Brubeck Quartet | Dave Brubeck Quartet In Moscow (LP 2) | Album | Code | 1990 | 377 | | 26000 |
| Dave Brubeck Quartet | Dave Brubeck Quartet In Moscow (LP 2) | Album | Code | 1990 | 2377 | | 11140 |
| Dave Gahan | Hourglass | Album | Certification | 2007 | | Gold | 10000 |
| Dave Gahan | Paper Monsters | Album | Certification | 2003 | | Gold | 10000 |
| David Bowie | Starman | Album | Code | 1989 | 832 | | 10400 |
| David Bowie | Starman | Album | Code | 1990 | 614 | | 3000 |
| David Bowie | Starman | Album | Code | 1990 | 592 | | 36460 |
| David Bowie | Starman | Album | Code | 1990 | 47 | | 20000 |
| David Bowie | Starman | Album | Code | 1990 | 447 | | 40000 |
| David Bowie | Starman | Album | Code | 1990 | 400 | | 3600 |
| David Bowie | Starman | Album | Code | 1990 | 311 | | 18000 |
| David Bowie | Starman | Album | Code | 1990 | 248 | | 30900 |
| David Bowie | Starman | Album | Code | 1990 | 2401 | | 19480 |
| David Bowie | Starman | Album | Code | 1990 | 24 | | 6300 |
| David Bowie | Starman | Album | Code | 1990 | 217 | | 20000 |
| David Bowie | Starman | Album | Code | 1990 | 2129 | | 28580 |
| David Bowie | Starman | Album | Code | 1990 | 198 | | 30000 |
| David Bowie | Starman | Album | Code | 1990 | 171 | | 10000 |
| David Guetta | Nothing But The Beat | Album | Certification | 2011 | | Gold | 5000 |
| David Guetta | One Love | Album | Certification | 2010 | | Gold | 10000 |
| David Guetta | Pop Life | Album | Certification | 2008 | | Platinum | 20000 |
| David Jordan | Set The Mood | Album | Certification | 2008 | | Gold | 10000 |
| David Oistrach / Igor Oistrach / The Royal Philharmonic Orchestra | Fragment From The First Movement For Two Violins With Orchestra | FlexiDisc | Code | 1978 | 1741 | | 500000 |
| David Oistrach / Sviatoslav Richter | Andante From Sonata No. 1 In F Minor for Violin And Piano | FlexiDisc | Code | 1981 | 755 | | 500000 |
| DDT | Edinocestvo II | Album | Certification | 2005 | | Gold | 100000 |
| DDT | I Got This Role | Album | Code | 1989 | 773 | | 25860 |
| DDT | I Got This Role | Album | Code | 1989 | 568 | | 50000 |
| DDT | I Got This Role | Album | Code | 1989 | 56 | | 15000 |
| DDT | I Got This Role | Album | Code | 1989 | 45 | | 12000 |
| DDT | I Got This Role | Album | Code | 1989 | 437 | | 7400 |
| DDT | I Got This Role | Album | Code | 1989 | 437 | | 35000 |
| DDT | I Got This Role | Album | Code | 1989 | 367 | | 3700 |
| DDT | I Got This Role | Album | Code | 1989 | 349 | | 39540 |
| DDT | I Got This Role | Album | Code | 1989 | 342 | | 1500 |
| DDT | I Got This Role | Album | Code | 1989 | 334 | | 20000 |
| DDT | I Got This Role | Album | Code | 1989 | 282 | | 40000 |
| DDT | I Got This Role | Album | Code | 1989 | 256 | | 46000 |
| DDT | I Got This Role | Album | Code | 1989 | 249 | | 20000 |
| DDT | I Got This Role | Album | Code | 1989 | 156 | | 38000 |
| DDT | I Got This Role | Album | Code | 1989 | 1484 | | 11600 |
| DDT | I Got This Role | Album | Code | 1989 | 142 | | 20000 |
| DDT | I Got This Role | Album | Code | 1989 | 1176 | | 122980 |
| DDT | I Got This Role | Album | Code | 1989 | 115 | | 25000 |
| DDT | I Got This Role | Album | Code | 1990 | 894 | | 7860 |
| DDT | I Got This Role | Album | Code | 1990 | 82 | | 30000 |
| DDT | I Got This Role | Album | Code | 1990 | 46 | | 4800 |
| DDT | I Got This Role | Album | Code | 1990 | 444 | | 14000 |
| DDT | I Got This Role | Album | Code | 1990 | 327 | | 36000 |
| DDT | I Got This Role | Album | Code | 1990 | 163 | | 20000 |
| DDT | I Got This Role | Album | Code | 1990 | 122 | | 58000 |
| DDT | I Got This Role | Album | Code | 1990 | 10 | | 2600 |
| DDT | I Got This Role | Album | Code | 1991 | 898 | | 7000 |
| DDT | I Got This Role | Album | Code | 1991 | 637 | | 14300 |
| Dean Reed | Friends, Listen To Me / Tell Me That You Need Me | FlexiDisc | Code | 1980 | 2041 | | 500000 |
| Dean Reed | Kill A Hundred - Thousands Of Us Remain | FlexiDisc | Code | 1976 | 1430 | | 500000 |
| Dean Reed | Singer / Blood Brothers | FlexiDisc | Code | 1979 | 3158 | | 500000 |
| Dean Reed | Song Of Vietnam | FlexiDisc | Code | 1967 | 850 | | 250000 |
| Dean Reed | We Can't Be Broken / When The Singer Is Silent / "Odes To Joy" From Beethoven's Ninth Symphony / Venseremos | FlexiDisc | Code | 1983 | 1638 | | 500000 |
| Dean Reed | We Say: Yes! / How Will It Be? | FlexiDisc | Code | 1973 | 6 | | 450000 |
| Deanna Durbin | His Butler's Sister | Album | Code | 1990 | 496 | | 10000 |
| Deanna Durbin | His Butler's Sister | Album | Code | 1990 | 178 | | 10275 |
| Deanna Durbin | Potpourri Of Russian Songs And Romances From the Movie "His Butler's Sister" / Table | FlexiDisc | Code | 1989 | 966 | | 270000 |
| Deep Purple | Bananas | Album | Certification | 2003 | | Gold | 10000 |
| Deep Purple | Come Hell Or High Water | DVD | Certification | 2007 | | Platinum | 6000 |
| Deep Purple | Smoke On The Water | Album | Code | 1987 | 555 | | 53880 |
| Deep Purple | Smoke On The Water | Album | Code | 1987 | 549 | | 70000 |
| Deep Purple | Smoke On The Water | Album | Code | 1987 | 513 | | 10000 |
| Deep Purple | Smoke On The Water | Album | Code | 1987 | 1477 | | 20200 |
| Deep Purple | Smoke On The Water | Album | Code | 1988 | 86 | | 2000 |
| Deep Purple | Smoke On The Water | Album | Code | 1988 | 571 | | 20440 |
| Deep Purple | Smoke On The Water | Album | Code | 1988 | 2361 | | 76800 |
| Deep Purple | Smoke On The Water | Album | Code | 1989 | 467 | | 20000 |
| Deep Purple | Smoke On The Water | Album | Code | 1989 | 417 | | 50000 |
| Deep Purple | Smoke On The Water | Album | Code | 1989 | 392 | | 2600 |
| Deep Purple | Smoke On The Water | Album | Code | 1989 | 39 | | 26840 |
| Deep Purple | Smoke On The Water | Album | Code | 1989 | 343 | | 12000 |
| Deep Purple | Smoke On The Water | Album | Code | 1989 | 303 | | 30000 |
| Deep Purple | Smoke On The Water | Album | Code | 1989 | 28 | | 13000 |
| Deep Purple | Smoke On The Water | Album | Code | 1989 | 256 | | 27100 |
| Deep Purple | Smoke On The Water | Album | Code | 1989 | 132 | | 22500 |
| Deep Purple | Smoke On The Water | Album | Code | 1990 | 57 | | 26600 |
| Deep Purple | Smoke On The Water | Album | Code | 1990 | 447 | | 5300 |
| Deep Purple | Smoke On The Water | Album | Code | 1990 | 312 | | 8200 |
| Deep Purple | Smoke On The Water | Album | Code | 1990 | 2517 | | 6000 |
| Deep Purple | Smoke On The Water | Album | Code | 1990 | 21 | | 5300 |
| Deep Purple | Smoke On The Water | Album | Code | 1990 | 170 | | 27500 |
| Deep Purple | Smoke On The Water | Album | Code | 1991 | 659 | | 4400 |
| Deep Purple | Smoke On The Water | Album | Code | 1991 | 335 | | 10000 |
| Deep Purple | Smoke On The Water | Album | Code | 1991 | 279 | | 2800 |
| Deep Purple | The House Of Blue Light | Album | Code | 1988 | 989 | | 20000 |
| Deep Purple | The House Of Blue Light | Album | Code | 1988 | 41 | | 3000 |
| Deep Purple | The House Of Blue Light | Album | Code | 1988 | 1736 | | 40000 |
| Deep Purple | The House Of Blue Light | Album | Code | 1988 | 1633 | | 9000 |
| Deep Purple | The House Of Blue Light | Album | Code | 1989 | 1883 | | 120140 |
| Deep Purple / Blood, Sweat And Tears / Chicago | Mary Long / Super Trouper / And When I Die / Someday | EP | Code | 0 | 4361 | | 330000 |
| Deep Purple / Blood, Sweat And Tears / Chicago | Mary Long / Super Trouper / And When I Die / Someday | EP | Code | 0 | 4361 | | 45000 |
| Deep Purple / Blood, Sweat And Tears / Chicago | Mary Long / Super Trouper / And When I Die / Someday | EP | Code | 0 | 1029 | | 100000 |
| Deep Purple / Blood, Sweat And Tears / Chicago | Mary Long / Super Trouper / And When I Die / Someday | EP | Code | 1974 | 5048 | | 600000 |
| Deepside Deejays | Never Be Alone | Ringtone | Certification | 2011 | Lenta 2011 | Gold | 100000 |
| Demis Roussos | From Souvenirs To Souvenirs / Bahia Blue / allin' | FlexiDisc | Code | 1978 | 1741 | | 500000 |
| Demis Roussos | Grands Succès 1 | Album | Code | 0 | 2452 | | 75000 |
| Demis Roussos | Grands Succès 1 | Album | Code | 1980 | 352 | | 60000 |
| Demis Roussos | Grands Succès 1 | Album | Code | 1982 | 1919 | | 21100 |
| Demis Roussos | Grands Succès 2 | Album | Code | 0 | 2453 | | 75000 |
| Demis Roussos | Grands Succès 2 | Album | Code | 1980 | 352 | | 60000 |
| Demis Roussos | Grands Succès 2 | Album | Code | 1981 | 2460 | | 4100 |
| Demis Roussos | Grands Succès 2 | Album | Code | 1982 | 1920 | | 21100 |
| Demis Roussos | Summer In Her Eyes / Summer Wine | FlexiDisc | Code | 1987 | 77 | | 260000 |
| Depeche Mode | Behind The Wheel / The Things You Said | FlexiDisc | Code | 1991 | 3074 | | 60000 |
| Depeche Mode | Behind The Wheel / The Things You Said | Cassette | Code | 1991 | 3074 | | 33000 |
| Depeche Mode | Playing The Angel | Album | Certification | 2005 | | 3xPlatinum | 60000 |
| Depeche Mode | Sounds Of The Universe | Album | Certification | 2009 | | Platinum | 20000 |
| Depeche Mode | The Best Of Depeche Mode, vol.1 | Album | Certification | 2006 | | Platinum | 20000 |
| Diana Kroll | From This Moment | Album | Certification | 2007 | | Gold | 10000 |
| Diana Ross | Baby It's Me | Album | Code | 1980 | 163 | | 14000 |
| Diana Ross | Baby It's Me | Album | Code | 1980 | 142 | | 7000 |
| Diana Ross | Top Of The World / All Night Lover | FlexiDisc | Code | 1991 | 3074 | | 60000 |
| Diana Ross | Top Of The World / All Night Lover | Cassette | Code | 1991 | 3074 | | 33000 |
| Diaspora | Ty Ljubimyj Moj | Ringtone | Certification | 2011 | Lenta 2011 | Gold | 100000 |
| Didier Marouani | Space Opera | Album | Code | 1988 | 384 | | 26120 |
| Didier Marouani | Space Opera | Album | Code | 1988 | 1531 | | 11800 |
| Didier Marouani | Space Opera | Album | Code | 1988 | 1379 | | 2000 |
| Didier Marouani | Space Opera | Album | Code | 1989 | 641 | | 2300 |
| Didier Marouani | Space Opera | Album | Code | 1990 | 1414 | | 2500 |
| Didier Marouani | Space Opera | Album | Code | 1991 | 171 | | 2700 |
| Dido | Life For Rent | Album | Certification | 2003 | | Platinum | 20000 |
| Dietrich Fischer-Dieskau | Sings Schubert - Serenade From The Cycle "Swan Song"; Mozart Is Don Juan's Aria | FlexiDisc | Code | 1966 | 3427 | | 250000 |
| Dima Bilan | Ja Nocnoj Huligan | Album | Certification | 2003 | | Gold | 100000 |
| Dima Bilan | Na Beregu Neba | Album | Certification | 2004 | | Gold | 100000 |
| Dima Bilan | Na Beregu Neba | Album | Certification | 2004 | | Gold | 100000 |
| Dima Bilan | Vremya Reka | Album | Certification | 2006 | | 3xPlatinum | 300000 |
| Dinah Washington | Cried For You | Album | Code | 1991 | 260 | | 5000 |
| Dionne Warwick | Friends | Album | Code | 1986 | 1128 | | 23000 |
| Dionne Warwick | Friends | Album | Code | 1987 | 690 | | 15000 |
| Dionne Warwick | Friends | Album | Code | 1987 | 416 | | 6000 |
| Dire Straits | Brothers In Arms | Album | Code | 1992 | 56 | | 15000 |
| Dire Straits | Brothers In Arms | Album | Code | 1992 | 207 | | 50000 |
| Dire Straits | Brothers In Arms | Album | Code | 1992 | 133 | | 4000 |
| Dire Straits | Brothers In Arms | Album | Code | 1992 | 106 | | 10000 |
| Dire Straits | Communiqué | Album | Code | 1992 | 56 | | 15000 |
| Dire Straits | Communiqué | Album | Code | 1992 | 207 | | 50000 |
| Dire Straits | Communiqué | Album | Code | 1992 | 106 | | 10000 |
| Dire Straits | Love Over Gold | Album | Code | 0 | 415 | | 6000 |
| Dire Straits | Love Over Gold | Album | Code | 1986 | 943 | | 6000 |
| Dire Straits | Love Over Gold | Album | Code | 1986 | 158 | | 49200 |
| Dire Straits | Love Over Gold | Album | Code | 1986 | 1268 | | 50000 |
| Dire Straits | Love Over Gold | Album | Code | 1987 | 677 | | 10000 |
| Dire Straits | Love Over Gold | Album | Code | 1988 | 924 | | 2400 |
| Dire Straits | Love Over Gold | Album | Code | 1989 | 792 | | 10220 |
| Dire Straits | Love Over Gold | Album | Code | 1989 | 511 | | 8460 |
| Dire Straits | Love Over Gold | Album | Code | 1989 | 2000 | | 1000 |
| Dire Straits | Love Over Gold | Album | Code | 1990 | 73 | | 2100 |
| Dire Straits | Walk Of Life / Why Worry | FlexiDisc | Code | 1989 | 712 | | 270000 |
| Dizzy Gillespie, Joe Carroll | Vocalist of Beebop | Album | Code | 1991 | 243 | | 5000 |
| DJ Chris Parker | Symphony 2011 | Ringtone | Certification | 2011 | Lenta 2011 | 2xPlatinum | 400000 |
| Dj Piligrim | Ты меня забудь | Ringtone | Certification | 2010 | 2M | Gold | 200000 |
| Django Reinhardt | From The Repertoire Of Guitarist Django Reinhard | FlexiDisc | Code | 1971 | 1812 | | 350000 |
| DMX | Year Of The Dog Â…Again | Album | Certification | 2006 | | Gold | 10000 |
| Dobos Attila | Örömmel Énekelek | FlexiDisc | Code | 1968 | 3110 | | 300000 |
| Dobrila ?abri? | Gypsy Heart | FlexiDisc | Code | 1972 | 3079 | | 450000 |
| Doina Badea | Lyubimaya Zemlya | FlexiDisc | Code | 1967 | 3344 | | 250000 |
| Dolly Roll | Arivederche, Amore | FlexiDisc | Code | 1984 | 3563 | | 485000 |
| Don Omar ft. Lucenzo | Danza Kuduro | Ringtone | Certification | 2011 | Lenta 2011 | Platinum | 200000 |
| Donna Summer | Crayons | Album | Certification | 2008 | | Gold | 10000 |
| Donna Summer | I Remember Yesterday / I Feel Love | FlexiDisc | Code | 1978 | | | 500000 |
| Dream Express | It's So Good / Pits, Pits | FlexiDisc | Code | 1982 | 1971 | | 500000 |
| Dream Express | Just Wanna Dance With You | FlexiDisc | Code | 1978 | 3020 | | 500000 |
| Drupi | Province / Pierrot In Arrivo | FlexiDisc | Code | 1981 | 916 | | 500000 |
| Duffy | Rockferry | Album | Certification | 2008 | | Plat+Gold | 30000 |
| Duke Ellington | Duke Ellington's Concert Of Sacred Music | Album | Code | 1988 | 99 | | 3740 |
| Duke Ellington | Duke Ellington's Concert Of Sacred Music | Album | Code | 1988 | 422 | | 20000 |
| Duke Ellington | Duke Ellington's Concert Of Sacred Music | Album | Code | 1988 | 2012 | | 4400 |
| Duke Ellington | Duke Ellington's Concert Of Sacred Music | Album | Code | 1988 | 1856 | | 6200 |
| Duke Ellington | Duke Ellington's Concert Of Sacred Music | Album | Code | 1988 | 1278 | | 1000 |
| Duke Ellington | Duke Ellington's Concert Of Sacred Music | Album | Code | 1989 | 657 | | 12440 |
| Duke Ellington | Duke Ellington's Concert Of Sacred Music | Album | Code | 1989 | 441 | | 3000 |
| Duke Ellington | Duke Ellington's Concert Of Sacred Music | Album | Code | 1989 | 341 | | 5000 |
| Duke Ellington | Duke Ellington's Concert Of Sacred Music | Album | Code | 1989 | 2 | | 3000 |
| Duke Ellington | Fragments Of Music For The Musical "Sophisticated Ladies" | FlexiDisc | Code | 1989 | 3529 | | 270000 |
| Duke Ellington | Second Sacred Concert (Part 1) | Album | Code | 1988 | 422 | | 20000 |
| Duke Ellington | Second Sacred Concert (Part 1) | Album | Code | 1988 | 1854 | | 8300 |
| Duke Ellington | Second Sacred Concert (Part 1) | Album | Code | 1989 | 657 | | 12760 |
| Duke Ellington | Second Sacred Concert (Part 1) | Album | Code | 1989 | 440 | | 1700 |
| Duke Ellington | Second Sacred Concert (Part 1) | Album | Code | 1989 | 429 | | 3500 |
| Duke Ellington | Second Sacred Concert (Part 1) | Album | Code | 1989 | 2162 | | 11240 |
| Duke Ellington | Second Sacred Concert (Part 1) | Album | Code | 1989 | 193 | | 11700 |
| Duke Ellington | Second Sacred Concert (Part 2) | Album | Code | 1988 | 471 | | 2200 |
| Duke Ellington | Second Sacred Concert (Part 2) | Album | Code | 1988 | 422 | | 20000 |
| Duke Ellington | Second Sacred Concert (Part 2) | Album | Code | 1988 | 1277 | | 1000 |
| Duke Ellington | Second Sacred Concert (Part 2) | Album | Code | 1989 | 657 | | 14640 |
| Duke Ellington | Second Sacred Concert (Part 2) | Album | Code | 1989 | 121 | | 11920 |
| Duke Ellington & Johnny Hodges | Duke Ellington And His Orchestra & Johnny Hodges And His Orchestra | Album | Code | 0 | 536 | | 5000 |
| Duke Ellington & Johnny Hodges | Duke Ellington And His Orchestra & Johnny Hodges And His Orchestra | Album | Code | 0 | 1122 | | 3000 |
| Duke Ellington And His Orchestra | Music Poster | FlexiDisc | Code | 1972 | 2355 | | 450000 |
| Eagles | Hotel California | FlexiDisc | Code | 1991 | 3074 | | 60000 |
| Eagles | Hotel California | Cassette | Code | 1991 | 3074 | | 33000 |
| Eagles | Hotel California / New Kid In Town | FlexiDisc | Code | 1979 | 592 | | 500000 |
| Eagles | Long Road Out Of Eden | Album | Certification | 2007 | | Gold | 10000 |
| Eddie Calvert | Two Lips From Amsterdam | Album | Code | 0 | 269 | | 8000 |
| Eddie Calvert | Two Lips From Amsterdam | Album | Code | 1980 | 457 | | 24500 |
| Eddie Calvert | Two Lips From Amsterdam | Album | Code | 1980 | 307 | | 20000 |
| Eddie Calvert | Two Lips From Amsterdam | Album | Code | 1981 | 2721 | | 30000 |
| Eddie Calvert | Two Lips From Amsterdam | Album | Code | 1982 | 3929 | | 30000 |
| Eddie Calvert | Two Lips From Amsterdam | Album | Code | 1982 | 1937 | | 12600 |
| Eddie Cochran | Summer Blues | FlexiDisc | Code | 1989 | 484 | | 270000 |
| Eddie Cochran | The Very Best | Album | Code | 1992 | 192 | | 15000 |
| Edith Piaf | Edith Piaf Sings | Album | Code | 1968 | 147/2 | | 3000 |
| Edith Piaf | Edith Piaf Sings 2 | Album | Code | 1968 | 147/1 | | 3000 |
| Edith Piaf | Edith Piaf: Touches For A Sound Portrait | FlexiDisc | Code | 1985 | 1756 | | 353000 |
| Edith Piaf | Edith Piaf. Portrait Strokes | FlexiDisc | Code | 1975 | 1337 | | 500000 |
| Edith Piaf | Le Monde d'Edith Piaf | Album | Code | 1975 | 891 | | 10000 |
| Edith Piaf | Le Monde d'Edith Piaf | Album | Code | 1977 | 765 | | 10000 |
| Edith Piaf | Le Monde d'Edith Piaf | Album | Code | 1978 | 3515 | | 10000 |
| Edith Piaf | Le Monde d'Edith Piaf | Album | Code | 1979 | 4925 | | 10000 |
| Edith Piaf | Le Monde d'Edith Piaf | Album | Code | 1983 | 592 | | 3500 |
| Edith Piaf | Le Monde d'Edith Piaf | Album | Code | 1983 | 182 | | 7000 |
| Edith Piaf | Le Monde d'Edith Piaf | Album | Code | 1983 | 1286 | | 7000 |
| Edyta Geppert | Och ?ycie, Kocham Ci? Bardziej Ni? ?ycie! / Mój Cz?owiek | FlexiDisc | Code | 1990 | 1958 | | 240000 |
| Egils Straume Jazz Combo | Fiesta | Album | Code | 1978 | 2182 | | 5000 |
| Eivind Løberg | Untitled Song | FlexiDisc | Code | 1975 | 1210 | | 500000 |
| Ekaterina Novitskaya | Sarcasms, Op. 17 | FlexiDisc | Code | 1968 | 3110 | | 300000 |
| Elán | Studená Voda... / Ôsmy Kontinent | FlexiDisc | Code | 1983 | 1638 | | 500000 |
| Elán | Zamilovaný Priatel / Farebný Život | FlexiDisc | Code | 1986 | 3379 | | 260000 |
| Eldar Dalgatov | Razbila Serdce | Ringtone | Certification | 2011 | Lenta 2011 | Gold | 100000 |
| Electra | Brücke / Früher Traum | FlexiDisc | Code | 1982 | 3363 | | 500000 |
| Electric Boys | Groovus Maximus / All Lips N' Hips | FlexiDisc | Code | 1991 | 192 | | 100000 |
| Electric Boys | Groovus Maximus / All Lips N' Hips | Cassette | Code | 1991 | 192 | | 10000 |
| Electric Light Orchestra | 21st Century Man / Twilight | FlexiDisc | Code | 1982 | 1666 | | 500000 |
| Electric Light Orchestra | Last Train To London / Escape(?) | FlexiDisc | Code | 1980 | 2620 | | 500000 |
| Elena Burke | Esta tristeza / Déjame / Canción De Mis Canciones | FlexiDisc | Code | 1972 | 2355 | | 450000 |
| Elena Obraztsova / Placido Domingo | Scene From Opera "Carmen" | FlexiDisc | Code | 1974 | 2750 | | 500000 |
| Elena Vaenga | Airport | Ringtone | Certification | 2011 | Lenta 2011 | Gold | 100000 |
| Elena Vaenga | Zhelaju | Ringtone | Certification | 2011 | Lenta 2011 | Gold | 100000 |
| Elis Regina | Disse E Apontou / Madalena | FlexiDisc | Code | 1972 | 3079 | | 450000 |
| Elisabeth Schwarzkopf | Songs and Duets | Album | Code | 1978 | 424 | | 5000 |
| Ella Fitzgerald | Ella Fitzgerald Sings The Duke Ellington Song Book | Album | Code | 1991 | 838 | | 10000 |
| Ella Fitzgerald | Flying Home / Cheek To Cheek / Hello, Dolly! | FlexiDisc | Code | 1988 | 2489 | | 255000 |
| Ella Fitzgerald | Here's That Rainy Day / And The Angels Sing | FlexiDisc | Code | 1971 | 1299 | | 350000 |
| Elton John | A Single Man | Album | Code | 1980 | 34 | | 20000 |
| Elton John | A Single Man | Album | Code | 1981 | 1285 | | 30000 |
| Elton John | Goodbye Yellow Brick Road / Crocodile Rock | FlexiDisc | Code | 1977 | 644 | | 500000 |
| Elton John | Honky Cat | Album | Code | 1987 | 397 | | 50000 |
| Elton John | Honky Cat | Album | Code | 1987 | 238 | | 15000 |
| Elton John | Honky Cat | Album | Code | 1987 | 2153 | | 31300 |
| Elton John | Honky Cat | Album | Code | 1987 | 1553 | | 41600 |
| Elton John | Honky Cat | Album | Code | 1988 | 830 | | 10000 |
| Elton John | Honky Cat | Album | Code | 1988 | 58 | | 10000 |
| Elton John | Honky Cat | Album | Code | 1988 | 526 | | 30800 |
| Elton John | Honky Cat | Album | Code | 1988 | 492 | | 20000 |
| Elton John | Honky Cat | Album | Code | 1988 | 385 | | 50000 |
| Elton John | Honky Cat | Album | Code | 1988 | 1882 | | 25000 |
| Elton John | Honky Cat | Album | Code | 1989 | 438 | | 30000 |
| Elton John | Honky Cat | Album | Code | 1989 | 381 | | 4400 |
| Elton John | Honky Cat | Album | Code | 1989 | 290 | | 50000 |
| Elton John | Honky Cat | Album | Code | 1989 | 256 | | 40800 |
| Elton John | Honky Cat | Album | Code | 1989 | 132 | | 34560 |
| Elton John | Honky Cat | Album | Code | 1990 | 926 | | 18880 |
| Elton John | Honky Cat | Album | Code | 1990 | 4 | | 1500 |
| Elton John | Honky Cat | Album | Code | 1990 | 28 | | 16235 |
| Elton John | Honky Cat | Album | Code | 1990 | 23 | | 23600 |
| Elton John | Honky Cat | Album | Code | 1990 | 168 | | 13350 |
| Elton John | Rocket Man | Album | Certification | 2009 | | Platinum | 20000 |
| Elton John | Shooting Star / Madness | FlexiDisc | Code | 1979 | 985 | | 500000 |
| Elton John | Your Song | Album | Code | 1987 | 549 | | 70000 |
| Elton John | Your Song | Album | Code | 1987 | 2157 | | 5600 |
| Elton John | Your Song | Album | Code | 1987 | 1554 | | 47460 |
| Elton John | Your Song | Album | Code | 1988 | 94 | | 5000 |
| Elton John | Your Song | Album | Code | 1988 | 880 | | 20000 |
| Elton John | Your Song | Album | Code | 1988 | 493 | | 20000 |
| Elton John | Your Song | Album | Code | 1988 | 467 | | 37000 |
| Elton John | Your Song | Album | Code | 1988 | 400 | | 96500 |
| Elton John | Your Song | Album | Code | 1988 | 399 | | 50000 |
| Elton John | Your Song | Album | Code | 1988 | 132 | | 38000 |
| Elton John | Your Song | Album | Code | 1988 | 1283 | | 25000 |
| Elton John | Your Song | Album | Code | 1989 | 706 | | 720 |
| Elton John | Your Song | Album | Code | 1989 | 68 | | 5100 |
| Elton John | Your Song | Album | Code | 1989 | 54 | | 5000 |
| Elton John | Your Song | Album | Code | 1989 | 390 | | 1900 |
| Elton John | Your Song | Album | Code | 1989 | 309 | | 13050 |
| Elton John | Your Song | Album | Code | 1989 | 303 | | 20000 |
| Elton John | Your Song | Album | Code | 1990 | 536 | | 30000 |
| Elton John | Your Song | Album | Code | 1990 | 1127 | | 12000 |
| Elton John | Your Song | Album | Code | 1991 | 708 | | 6740 |
| Elton John | Your Song | Album | Code | 1991 | 361 | | 11100 |
| Elvis Presley | Heartbreak Hotel / In The Ghetto / Blue Suede Shoes | FlexiDisc | Code | 1988 | 2196 | | 255000 |
| Elvis Presley | That's All Right | Album | Code | 0 | 50 | | 8400 |
| Elvis Presley | That's All Right | Album | Code | 1989 | 941 | | 21000 |
| Elvis Presley | That's All Right | Album | Code | 1989 | 743 | | 16000 |
| Elvis Presley | That's All Right | Album | Code | 1989 | 464 | | 20000 |
| Elvis Presley | That's All Right | Album | Code | 1989 | 364 | | 15000 |
| Elvis Presley | That's All Right | Album | Code | 1989 | 259 | | 60000 |
| Elvis Presley | That's All Right | Album | Code | 1990 | 61 | | 3000 |
| Elvis Presley | That's All Right | Album | Code | 1990 | 544 | | 6000 |
| Elvis Presley | That's All Right | Album | Code | 1990 | 49 | | 50000 |
| Elvis Presley | That's All Right | Album | Code | 1990 | 450 | | 15000 |
| Elvis Presley | That's All Right | Album | Code | 1990 | 357 | | 14200 |
| Elvis Presley | That's All Right | Album | Code | 1990 | 253 | | 12700 |
| Elvis Presley | That's All Right | Album | Code | 1990 | 2025 | | 11740 |
| Elvis Presley | That's All Right | Album | Code | 1990 | 20 | | 40000 |
| Elvis Presley | That's All Right | Album | Code | 1990 | 110 | | 46000 |
| Elvis Presley | That's All Right | Album | Code | 1991 | 897 | | 11400 |
| Elvis Presley | That's All Right | Album | Code | 1991 | 723 | | 3800 |
| Elvis Presley | That's All Right | Album | Code | 1991 | 604 | | 11800 |
| Elvis Presley | That's All Right | Album | Code | 1991 | 324 | | 5180 |
| Elvis Presley | The Early Years White Rock 'N' Roll Volume 1 | Album | Code | 1992 | 206 | | 15000 |
| Elvis Presley | The Early Years White Rock 'N' Roll Volume 1 | Album | Code | 1992 | 170 | | 10000 |
| Elvis Presley | The Early Years White Rock 'N' Roll Volume 2 | Album | Code | 1992 | 220 | | 15000 |
| Elvis Presley | The Early Years White Rock 'N' Roll Volume 2 | Album | Code | 1992 | 170 | | 10000 |
| Emad Sayyah | I Want To Go Home / Dahlek (Belly Dance) | FlexiDisc | Code | 1990 | 2729 | | 210000 |
| Emerson, Lake & Palmer | Pictures At An Exhibition | Album | Code | 1981 | 24 | | 5200 |
| Emerson, Lake & Powell | Emerson, Lake & Powell | Album | Code | 1987 | 87 | | 5000 |
| Emerson, Lake & Powell | Emerson, Lake & Powell | Album | Code | 1987 | 1905 | | 72580 |
| Emerson, Lake & Powell | Emerson, Lake & Powell | Album | Code | 1987 | 1796 | | 20000 |
| Emerson, Lake & Powell | Emerson, Lake & Powell | Album | Code | 1988 | 470 | | 31580 |
| Emerson, Lake & Powell | Emerson, Lake & Powell | Album | Code | 1988 | 265 | | 5000 |
| Emerson, Lake & Powell | Emerson, Lake & Powell | Album | Code | 1989 | 916 | | 2300 |
| Emerson, Lake & Powell | Emerson, Lake & Powell | Album | Code | 1989 | 403 | | 4000 |
| Emerson, Lake & Powell | Emerson, Lake & Powell | Album | Code | 1990 | 895 | | 4120 |
| Emerson, Lake & Powell | Emerson, Lake & Powell | Album | Code | 1990 | 2763 | | 6000 |
| Emil Dimitrov | Pesnja O Moej Materi / Priglashenie Na Tanec | FlexiDisc | Code | 1967 | 1827 | | 250000 |
| Emiliya Markova | Little Vietnamese Lin | FlexiDisc | Code | 1969 | 2973 | | 350000 |
| Eminem | Eminem Presents The re-Up | Album | Certification | 2007 | | Platinum | 20000 |
| Eminem | Encore | Album | Certification | 2004 | | Platinum | 20000 |
| Eminem | Recovery | Album | Certification | 2010 | | Platinum | 10000 |
| Eminem | Relapse | Album | Certification | 2009 | | Gold | 10000 |
| Eminem ft. Rihanna | Love The Way You Lie | Ringtone | Certification | 2010 | Lenta 2010 | Platinum | 200000 |
| Eminem ft. Rihanna | Love The Way You Lie | Ringtone | Certification | 2011 | Lenta 2011 | 3xPlatinum | 600000 |
| Engelbert Humperdinck | Engelbert Humperdinck | Album | Code | 1975 | 6549 | | 11000 |
| Engelbert Humperdinck | Engelbert Humperdinck | Album | Code | 1975 | 4760 | | 24700 |
| Engelbert Humperdinck | Engelbert Humperdinck | Album | Code | 1975 | 2692 | | 33000 |
| Engelbert Humperdinck | Engelbert Humperdinck | Album | Code | 1975 | 1883 | | 10000 |
| Engelbert Humperdinck | Engelbert Humperdinck | Album | Code | 1975 | 1303 | | 6000 |
| Engelbert Humperdinck | Engelbert Humperdinck | Album | Code | 1976 | 5523 | | 10000 |
| Engelbert Humperdinck | Engelbert Humperdinck | Album | Code | 1977 | 5685 | | 3000 |
| Engelbert Humperdinck | Engelbert Humperdinck | Album | Code | 1977 | 4932 | | 6200 |
| Engelbert Humperdinck | Engelbert Humperdinck | Album | Code | 1978 | 1898 | | 4600 |
| Engelbert Humperdinck | Engelbert Humperdinck | Album | Code | 1978 | ? | | 600 |
| Engelbert Humperdinck | Engelbert Humperdinck | Album | Code | 1981 | 110 | | 6400 |
| Engelbert Humperdinck | Engelbert Humperdinck | Album | Code | 1987 | 433 | | 1500 |
| Enigma | A Posteriori | Album | Certification | 2006 | | Platinum | 20000 |
| Enigma | Seven Lives Many Faces | Album | Certification | 2008 | | Gold | 10000 |
| Enigma | Voyageur | Album | Certification | 2003 | | Gold | 10000 |
| Enrico Caruso | Lollita | FlexiDisc | Code | 1973 | 6 | | 450000 |
| Enrico Caruso | Marcel's Aria From Act 1 Of The Opera "La Bohème" | FlexiDisc | Code | 1989 | 833 | | 270000 |
| Enrique Iglesias | 95/08 | Album | Certification | 2008 | | Platinum | 20000 |
| Enrique Iglesias | Bailamos | Ringtone | Certification | 2011 | Lenta 2011 | Gold | 100000 |
| Enrique Iglesias | Enrique Iglesias Greatest Hits | Album | Certification | 2009 | | Gold | 10000 |
| Enrique Iglesias | Euphoria | Album | Certification | 2010 | | Gold | 5000 |
| Enrique Iglesias | Insomniac | Album | Certification | 2009 | | 4xPlatinum | 80000 |
| Enrique Iglesias | Seven | Album | Certification | 2003 | | Gold | 10000 |
| Enrique Iglesias | Tired Of Being Sorry | Ringtone | Certification | 2010 | 2M | 3x Platinum | 600000 |
| Ensemble Orchestral De Paris | Overture From Suite "Gordian Knot Untied" | FlexiDisc | Code | 1971 | 1501 | | 350000 |
| Ensemble Trakia | Khera Sedna Da Si Pochine | FlexiDisc | Code | 1989 | 966 | | 270000 |
| Enya | And Winter CameÂ… | Album | Certification | 2009 | | Gold | 10000 |
| Era | Reborn | Album | Certification | 2008 | | Gold | 10000 |
| Eric Amado | Temps De Crises | FlexiDisc | Code | 1981 | 120 | | 500000 |
| Eric Clapton | Slowhand | Album | Code | 1989 | 354 | | 18000 |
| Eric Clapton / Jimmy Cliff | Rhythms Of Jamaica: The Harder They Fall / To Live Today | FlexiDisc | Code | 1976 | 2606 | | 500000 |
| Eric Dolphy | Selected Works 1960-1961 | Album | Code | 1990 | 283 | | 3000 |
| Ernst Busch | Partisan Zheleznyak / Wait For Me | FlexiDisc | Code | 1973 | 6 | | 450000 |
| Ernst Gröschel | First Movement Of The Moonlight Sonata | FlexiDisc | Code | 1972 | 3579 | | 450000 |
| Eros Ramazzotti | Calma Apparente | Album | Certification | 2007 | | Gold | 10000 |
| Eros Ramazzotti | E2 | Album | Certification | 2008 | | Gold | 10000 |
| Eros Ramazzotti | Eros 9 | Album | Certification | 2003 | | Gold | 10000 |
| Eruption | I Can't Stand In The Rain / Computer Love | FlexiDisc | Code | 1979 | 720 | | 500000 |
| Europe | The Final Countdown / Carrie | FlexiDisc | Code | 1987 | 1019 | | 260000 |
| Eurythmics | Sweet Dreams (Are Made Of This) | FlexiDisc | Code | 1989 | 484 | | 270000 |
| Eurythmics ft. Aretha Franklin | Sisters Are Doin' It for Themselves | FlexiDisc | Code | 1989 | 484 | | 270000 |
| Eva Pilarová | Three Songs | FlexiDisc | Code | 1973 | 6 | | 450000 |
| Eva Pilarová / Milan Drobný | Koloto? / Na Pouti | FlexiDisc | Code | 1981 | 3558 | | 500000 |
| Evanescence | Fallen | Album | Certification | 2003 | | Platinum | 20000 |
| Evanescence | The Open Door | Album | Certification | 2007 | | 2xPlatinum | 40000 |
| Everly Brothers | Wake Up Little Susie | FlexiDisc | Code | 1989 | 1113 | | 270000 |
| Everything But The Girl | This Love (Not for Sale) | Single | Code | 1985 | 996 | | 34000 |
| Everything But The Girl | This Love (Not for Sale) | Single | Code | 1985 | 606 | | 15000 |
| Everything But The Girl | This Love (Not for Sale) | Single | Code | 1985 | 30 | | 16400 |
| Everything But The Girl | This Love (Not for Sale) | Single | Code | 1985 | 195 | | 16600 |
| Everything But The Girl | This Love (Not for Sale) | Single | Code | 1985 | 167 | | 36700 |
| Everything But The Girl | This Love (Not for Sale) | Single | Code | 1986 | 590 | | 29960 |
| Everything But The Girl | This Love (Not for Sale) | Single | Code | 1986 | 141 | | 49000 |
| Ewa Demarczyk | Karuzela Z Madonnami / Kropki I Ró?e | FlexiDisc | Code | 1969 | 1400 | | 350000 |
| Ewa I Jerzy W?odarek | Póki Nikt Nic Nie Wie O Nas / Przeszed?em Przez Pole | FlexiDisc | Code | 1986 | 3718 | | 260000 |
| Express | Express | EP | Code | 1981 | 1601 | | 1700 |
| Express | Express (1976) | Album | Code | 1976 | 770 | | 33000 |
| Express | Express (1976) | Album | Code | 1976 | 5631 | | 30000 |
| Express | Express (1976) | Album | Code | 1976 | 2827 | | 50000 |
| Express | Express (1976) | Album | Code | 1977 | 6555 | | 10000 |
| Express | Express (1976) | Album | Code | 1977 | 434 | | 10000 |
| Express | Express (1976) | Album | Code | 1977 | 1136 | | 20000 |
| Express | Express (1976) | Album | Code | 1977 | 107 | | 40000 |
| Express | Express (1976) | Album | Code | 1978 | 6387 | | 10000 |
| Express | Express (1976) | Album | Code | 1978 | 4792 | | 4600 |
| Express | Express (1976) | Album | Code | 1978 | 3388 | | 2700 |
| Express | Express (1976) | Album | Code | 1979 | 140 | | 6800 |
| Express | Express (1976) | Album | Code | 1980 | 923 | | 15000 |
| Express | Express (1976) | Album | Code | 1980 | 24 | | 5000 |
| Express | Express (1977) | Album | Code | 1977 | 732 | | 18000 |
| Express | Express (1977) | Album | Code | 1977 | 239 | | 27000 |
| Express | Express (1977) | Album | Code | 1977 | 183 | | 24000 |
| Express | Express (1977) | Album | Code | 1978 | 713 | | 10200 |
| Express | Express (1977) | Album | Code | 1978 | 440 | | 25100 |
| Express | Express (1977) | Album | Code | 1978 | 413 | | 5460 |
| Express | Express (1977) | Album | Code | 1978 | 388 | | 37300 |
| Express | Express (1977) | Album | Code | 1979 | 485 | | 15000 |
| Express | Express (1977) | Album | Code | 1979 | 302 | | 14500 |
| Express | Express (1977) | Album | Code | 1980 | 928 | | 11000 |
| Express | Express (1977) | Album | Code | 1980 | 422 | | 7000 |
| Express | Express (1977) | Album | Code | 1981 | 113 | | 3000 |
| Express | Ezüst Express | Album | Code | 0 | 655 | | 15000 |
| Express | Ezüst Express | Album | Code | 1980 | 851 | | 25000 |
| Express | Ezüst Express | Album | Code | 1980 | 425 | | 18000 |
| Express | Ezüst Express | Album | Code | 1980 | 315 | | 30000 |
| Express | Ezüst Express | Album | Code | 1980 | 194 | | 16000 |
| Fabrika | Ja Tebja Zaceluju (Radu Sirbu Remix) | Ringtone | Certification | 2011 | Lenta 2011 | Platinum | 200000 |
| Fabrizio De André | Two Ballads About Love | FlexiDisc | Code | 1975 | 4 | | 500000 |
| Fairouz | My Unloved / Ancient Jerusalem | FlexiDisc | Code | 1968 | 3827 | | 250000 |
| Faithless | No Roots | Album | Certification | 2004 | | Gold | 10000 |
| Faithless | The Greatest Hits | Album | Certification | 2007 | | Gold | 10000 |
| Faktor-2 | Istorii Iz Zizni (hard ver.) | Album | Certification | 2005 | | Gold | 100000 |
| Faktor-2 | Istorii Iz Zizni (light ver.) | Album | Certification | 2005 | | Gold | 100000 |
| Faktor-2 | My Falsivye MC | Album | Certification | 2003 | | Gold | 100000 |
| Faktor-2 | V Nasem Stile | Album | Certification | 2002 | | Gold | 100000 |
| Fall Out Boy | Infinity On High | Album | Certification | 2007 | | Platinum | 20000 |
| Far East Movement & The Cataracs & Dev | Like A G6 | Ringtone | Certification | 2011 | Lenta 2011 | Gold | 100000 |
| Farah Maria | "The Headless Horseman" Movie Song / Te Quiero Mucho / Sé Que Debo Vivir | FlexiDisc | Code | 1974 | 1483 | | 450000 |
| Fasia | Glocken | FlexiDisc | Code | 1971 | 2645 | | 350000 |
| Fasia Jansen | Contribute | FlexiDisc | Code | 1969 | 2973 | | 350000 |
| Fats Domino | I'm Walkin' | FlexiDisc | Code | 1989 | 1113 | | 270000 |
| Fausto Papetti | 28a Raccolta | Album | Code | 1981 | 582 | | 30000 |
| Fausto Papetti | 34a | Album | Code | 1982 | 192 | | 20000 |
| Fausto Papetti | 34a | Album | Code | 1984 | 344 | | 20000 |
| Fausto Papetti | Fausto Papetti Orchestra | Album | Code | 1981 | 295 | | 6200 |
| Federico García Lorca / La Argentinita | Rare Record: Federico Garcia Lorca Is A Composer. Spanish Folk Songs Processing: "Four Pack Mules","Cafe Chinntas", Sorongo. Singer La Argentinita, Accompanied By Garcia Lorca. Translations P. Gru | FlexiDisc | Code | 1970 | 2644 | | 350000 |
| Fergie | The Dutchess | Album | Certification | 2007 | | 3xPlatinum | 60000 |
| Filipinki | Wala | FlexiDisc | Code | 1966 | 742 | | 250000 |
| Flavia Fortunato | Quanta Neve | FlexiDisc | Code | 1987 | 4267 | | 260000 |
| Fleetwood Mac | Tango In The Night / When I Wake Up(?) | FlexiDisc | Code | 1989 | 3529 | | 270000 |
| Florin Dorian | Song About The First Cosmonaut | FlexiDisc | Code | 1966 | 742 | | 250000 |
| Formula-1 | Queen of Lie | Album | Code | 1992 | 260 | | 20000 |
| Formula-1 | Queen of Lie | Album | Code | 1992 | 194 | | 15000 |
| Frédéric Chopin | Fragment Concerto In F Minor For Piano And Orchestra | FlexiDisc | Code | 1975 | 1094 | | 500000 |
| Francesca Solleville | Madrid / Paris-Cayenne / Si Tu M'aimes / Coupure Électrique / Comme De Mon Côté | FlexiDisc | Code | 1980 | 1906 | | 500000 |
| Francesco Baccini & Ladri Di Biciclette | Sotto Questo Sole | FlexiDisc | Code | 1991 | 192 | | 100000 |
| Francesco Baccini & Ladri Di Biciclette | Sotto Questo Sole | Cassette | Code | 1991 | 192 | | 10000 |
| Francesco Tamagno | Fragment Of "Troubadour" | FlexiDisc | Code | 1978 | 2445 | | 500000 |
| Francis Goya | 16 Droommelodieën | Album | Code | 0 | 513 | | 4800 |
| Francis Goya | 16 Droommelodieën | Album | Code | 0 | 50 | | 10000 |
| Francis Goya | 16 Droommelodieën | Album | Code | 0 | 1019 | | 2000 |
| Francis Goya | 16 Droommelodieën | Album | Code | 1980 | 793 | | 28000 |
| Francis Goya | 16 Droommelodieën | Album | Code | 1980 | 4375 | | 40000 |
| Francis Goya | 16 Droommelodieën | Album | Code | 1980 | 435 | | 26000 |
| Francis Goya | 16 Droommelodieën | Album | Code | 1981 | 491 | | 35000 |
| Francis Goya | Francis Goya In Moscow | Album | Code | 0 | 472 | | 420 |
| Francis Goya | Francis Goya In Moscow | Album | Code | 0 | 264 | | 14500 |
| Francis Goya | Francis Goya In Moscow | EP | Code | 1981 | 2668 | | 300000 |
| Francis Goya | Francis Goya In Moscow | Album | Code | 1982 | 986 | | 7000 |
| Francis Goya | Francis Goya In Moscow | Album | Code | 1982 | 986 | | 70000 |
| Francis Goya | Francis Goya In Moscow | EP | Code | 1982 | 976 | | 46000 |
| Francis Goya | Francis Goya In Moscow | Album | Code | 1982 | 956 | | 30000 |
| Francis Goya | Francis Goya In Moscow | Album | Code | 1982 | 933 | | 50000 |
| Francis Goya | Francis Goya In Moscow | Album | Code | 1982 | 9 | | 30000 |
| Francis Goya | Francis Goya In Moscow | EP | Code | 1982 | 842 | | 28740 |
| Francis Goya | Francis Goya In Moscow | Album | Code | 1982 | 82 | | 30780 |
| Francis Goya | Francis Goya In Moscow | Album | Code | 1982 | 670 | | 3200 |
| Francis Goya | Francis Goya In Moscow | EP | Code | 1982 | 547 | | 14500 |
| Francis Goya | Francis Goya In Moscow | EP | Code | 1982 | 458 | | 5800 |
| Francis Goya | Francis Goya In Moscow | EP | Code | 1982 | 4552 | | 30000 |
| Francis Goya | Francis Goya In Moscow | EP | Code | 1982 | 2538 | | 12600 |
| Francis Goya | Francis Goya In Moscow | Album | Code | 1982 | 2395 | | 17100 |
| Francis Goya | Francis Goya In Moscow | Album | Code | 1982 | 20 | | 30000 |
| Francis Goya | Francis Goya In Moscow | EP | Code | 1982 | 1947 | | 45000 |
| Francis Goya | Francis Goya In Moscow | Album | Code | 1982 | 180 | | 7130 |
| Francis Goya | Francis Goya In Moscow | Album | Code | 1982 | 16 | | 70000 |
| Francis Goya | Francis Goya In Moscow | Album | Code | 1982 | 145 | | 10800 |
| Francis Goya | Francis Goya In Moscow | Album | Code | 1982 | 144 | | 32000 |
| Francis Goya | Francis Goya In Moscow | Album | Code | 1983 | 25 | | 10600 |
| Francis Goya | Francis Goya In Moscow | Album | Code | 1983 | 2395 | | 3200 |
| Francis Goya | Symphony Of Love | Album | Code | 1984 | 2615 | | 30000 |
| Francis Goya | Symphony Of Love | Album | Code | 1984 | 2257 | | 100000 |
| Francis Lemarque | Fifty Degree Fever | FlexiDisc | Code | 1966 | 742 | | 250000 |
| Francis Lemarque | Quand Un Soldat / Marjoléna / Une Rose Rouge | FlexiDisc | Code | 1974 | 2834 | | 500000 |
| Franciska Gaal | Songs From The Movie "Peter" | FlexiDisc | Code | 1990 | 1668 | | 240000 |
| Franck Pourcel | This Is Pourcel | Album | Code | 1978 | 3046 | | 35600 |
| Franck Pourcel Et Son Grand Orchestre | Rythmes De Danse | FlexiDisc | Code | 1980 | 2341 | | 500000 |
| Franco Corelli | Franco Corelli Is Caruso's Younger Brother | FlexiDisc | | 1964 | | | 150000 |
| Franco Trincale | Songs of Protest: Battipaglia / 9 aprile / Sfratto / Cavallo Nero | FlexiDisc | Code | 1976 | 2174 | | 500000 |
| Frank Schöbel | Ich Kam Zu Spät | FlexiDisc | Code | 1967 | 2081 | | 250000 |
| Frank Schöbel | Wir Haben Hier Bei Dir Gelebt | FlexiDisc | Code | 1979 | 985 | | 500000 |
| Frank Sinatra | The Shadow Of Your Smile / Memories Of You | FlexiDisc | Code | 1990 | 2827 | | 210000 |
| Frank Zappa | The Man From Utopia | Album | Code | 1993 | 423 | | 5000 |
| Frankie Goes To Hollywood | Liverpool | Album | Code | 1988 | 1870 | | 5800 |
| Frankie Goes To Hollywood | Liverpool | Album | Code | 1988 | 1823 | | 11000 |
| Frankie Goes To Hollywood | Liverpool | Album | Code | 1988 | 1691 | | 7000 |
| Frankie Goes To Hollywood | Liverpool | Album | Code | 1989 | 418 | | 9700 |
| Frankie Goes To Hollywood | Liverpool | Album | Code | 1989 | 2034 | | 16500 |
| Fredi | Joo / Cinema Kiss | FlexiDisc | Code | 1975 | 156 | | 500000 |
| Fritz Kreisler | The Torment Of Love / Lovely Rosemary / Song Of Louis XIII And Pavan / Rondino On The Theme Of Beethoven | FlexiDisc | Code | 1976 | 2307 | | 500000 |
| G-Force / Gary Moore | G-Force | Album | Code | 1992 | 289 | | 30000 |
| Gamma Ray | Lust For Life / Free Time | FlexiDisc | Code | 1991 | 296 | | 100000 |
| Gamma Ray | Lust For Life / Free Time | Cassette | Code | 1991 | 296 | | 10000 |
| Garou | Garou | Album | Certification | 2006 | | Gold | 10000 |
| Garou | Piece Of My Soul | Album | Certification | 2009 | | Platinum | 20000 |
| Gary Burton Quartet | Real Life Hits | Album | Code | 1988 | 807 | | 10000 |
| Gary Burton Quartet | Real Life Hits | Album | Code | 1988 | 1197 | | 10500 |
| Gary Moore | Dirty Fingers | Album | Code | 1992 | 289 | | 30000 |
| Gary Moore | Live At The Marquee | Album | Code | 1993 | 260 | | 10000 |
| Geegun ft. Yulia Savicheva | Otpusti | Ringtone | Certification | 2011 | Lenta 2011 | 3xPlatinum | 600000 |
| Gemini | Wild About That Girl / Mio My Mio | FlexiDisc | Code | 1988 | 1773 | | 255000 |
| Gennadiy Khazanov / Lev Leshchenko / Anatoli Papanov / Karel Gott | Musical Parodies of Vladimir Vinokur | FlexiDisc | Code | 1978 | | | 500000 |
| George Formby | Musical Fragments From The Movie "George From Dinky Jazz" | FlexiDisc | Code | 1992 | 1123 | | 65000 |
| George Formby | Musical Fragments From The Movie "George From Dinky Jazz" | Cassette | Code | 1992 | 1123 | | 5000 |
| George Frideric Handel | Water Music. Air | Ringtone | Certification | 2010 | 2M | 17x Platinum | 3400000 |
| George Harrison | My Sweet Lord / Expectation / Bangladesh | FlexiDisc | Code | 1974 | 2955 | | 500000 |
| George Michael | Ladies And Gentlemen | DVD | Certification | 2007 | | Gold | 3000 |
| George Michael | Monkey / Faith | FlexiDisc | Code | 1990 | 1668 | | 240000 |
| George Michael | Twenty Five | DVD | Certification | 2007 | | Gold | 3000 |
| George Michael | Twenty Five | Album | Certification | 2007 | | Gold | 10000 |
| Georges Brassens | Il N'y A Pas D'Amour Heureux | FlexiDisc | Code | 1965 | 1827 | | 150000 |
| Georges Dor | La Manique | FlexiDisc | Code | 1968 | 1568 | | 300000 |
| Gerhard Neef | Pesnya Oktyabrya | FlexiDisc | Code | 1967 | 3344 | | 250000 |
| Germaine Montero | "Lullaby" From "Mother Courage" | FlexiDisc | Code | 1978 | 1575 | | 500000 |
| Gianni Morandi | C'era Un Ragazzo | FlexiDisc | Code | 1967 | 850 | | 250000 |
| Gianni Morandi | Gluck Street Guy / Parlami D'amore | FlexiDisc | Code | 1970 | 1826 | | 350000 |
| Gianni Morandi | La Mia Nemica Amatissima | Album | Code | 1984 | 464 | | 45000 |
| Gianni Morandi | La Mia Nemica Amatissima | Album | Code | 1984 | 305 | | 5000 |
| Gianni Morandi | La Mia Nemica Amatissima | Album | Code | 1984 | 284 | | 100000 |
| Gianni Morandi | La Mia Nemica Amatissima | Album | Code | 1984 | 237 | | 25000 |
| Gianni Morandi | La Mia Nemica Amatissima | Album | Code | 1984 | 157 | | 30000 |
| Gianni Morandi | La Mia Nemica Amatissima | Album | Code | 1985 | 683 | | 30480 |
| Gianni Morandi | La Mia Nemica Amatissima | Album | Code | 1985 | 46 | | 40000 |
| Gianni Morandi | Pet Gianni Morandi | Album | Code | 1984 | 816 | | 1000 |
| Gianni Morandi | Tenerezza / Canto Semplice | FlexiDisc | Code | 1983 | 634 | | 500000 |
| Gigliola Cinquetti | Fatalita / Gira L'amore | FlexiDisc | Code | 1973 | 1351 | | 450000 |
| Gigliola Cinquetti | Non Ho L'Eta' (Per Amarti) | FlexiDisc | | 1964 | | | 150000 |
| Gilbert Bécaud | Aller Danser | FlexiDisc | Code | 1973 | 132 | | 450000 |
| Gilbert Bécaud | Route / Quand Jules Prend Le Violon / Je Vous Attends | FlexiDisc | Code | 1972 | 3579 | | 450000 |
| Gilda | Untitled Song | FlexiDisc | Code | 1975 | 1210 | | 500000 |
| Giovanna Coletti & Sabrina Salerno | Siamo Donne | FlexiDisc | Code | 1991 | 424 | | 100000 |
| Giovanna Coletti & Sabrina Salerno | Siamo Donne | Cassette | Code | 1991 | 424 | | 10000 |
| Gisela May | Lob Des Kommunismus / Vergiss Die Dunklen Stunden Nicht / Du, Unsere Zeit | FlexiDisc | Code | 1970 | 3622 | | 350000 |
| Gisela May | Song From The Three Peasant Opera | FlexiDisc | Code | 1978 | 1575 | | 500000 |
| Giuseppe di Stefano | Musical Interview: Almaviva Part (Fragment) From The Opera "The Barber of Seville" / Musical Interview: The song "Glowing Window" | FlexiDisc | Code | 1977 | 253 | | 500000 |
| Glen Weston | I Still Love You / Minstrel's Song From The Movie "Romeo And Juliet" | FlexiDisc | Code | 1975 | 1210 | | 500000 |
| Glenn Miller | In The Mood | Album | Code | 1985 | 474 | | 15000 |
| Glenn Miller | In The Mood | Album | Code | 1985 | 25 | | 46000 |
| Glenn Miller | In The Mood | Album | Code | 1986 | 753 | | 13580 |
| Glenn Miller | In The Mood | Album | Code | 1986 | 427 | | 10000 |
| Glenn Miller | In The Mood | Album | Code | 1986 | 210 | | 16500 |
| Glenn Miller | In The Mood | Album | Code | 1986 | 1314 | | 13700 |
| Glenn Miller | Plays From The Movie "Sun Valley Serenade" | FlexiDisc | Code | 1990 | 1836 | | 240000 |
| Gloria Gaynor | Goin' Out Of My Head | Single | Code | 0 | 629 | | 40000 |
| Gloria Gaynor | Goin' Out Of My Head | Single | Code | 1983 | 990 | | 70000 |
| Gloria Gaynor | Goin' Out Of My Head | Single | Code | 1983 | 635 | | 48000 |
| Gloria Gaynor | Goin' Out Of My Head | Single | Code | 1983 | 509 | | 10240 |
| Gloria Gaynor | Goin' Out Of My Head | Single | Code | 1983 | 3667 | | 20000 |
| Gloria Gaynor | Goin' Out Of My Head | Single | Code | 1983 | 36 | | 50000 |
| Gloria Gaynor | Goin' Out Of My Head | Single | Code | 1983 | 217 | | 50000 |
| Gloria Gaynor | Goin' Out Of My Head | Single | Code | 1984 | 259 | | 30000 |
| Gloria Gaynor | Goin' Out Of My Head | Single | Code | 1985 | 426 | | 2600 |
| Gloria Gaynor | I Will Survive / You Can Exit | FlexiDisc | Code | 1982 | 2112 | | 500000 |
| Gloria Gaynor | Love Tracks | Album | Code | 0 | 67 | | 30000 |
| Gloria Gaynor | Love Tracks | Album | Code | 1980 | ? | | 2000 |
| Gloria Gaynor | Never Can Say Goodbye | Album | Code | 1979 | 13 | | 30000 |
| Glukoza | Glukoza Nostra | Album | Certification | 2003 | | Platinum | 1400000 |
| Glukoza | Moskva | Album | Certification | 2005 | | Gold | 100000 |
| Gorillaz | Demon Days | Album | Certification | 2005 | | Gold | 10000 |
| Goryachiy Shokolad | Береги | Ringtone | Certification | 2010 | 2M | Gold | 200000 |
| GrauSchumacher Piano Duo | Waltz | FlexiDisc | Code | 1992 | 1123 | | 65000 |
| GrauSchumacher Piano Duo | Waltz | Cassette | Code | 1992 | 1123 | | 5000 |
| Greg Bonham | Greg Bonham | EP | Code | 1980 | 478 | | 30000 |
| Greg Bonham | Greg Bonham | EP | Code | 1980 | 245 | | 21000 |
| Greg Bonham | Greg Bonham | EP | Code | 1981 | 458 | | 6120 |
| Greg Bonham | If Only... | Album | Code | 1983 | 533 | | 30000 |
| Greg Bonham | If Only... | Album | Code | 1983 | 36 | | 20000 |
| Greg Bonham | If Only... | Album | Code | 1983 | 2766 | | 1000 |
| Greg Bonham | If Only... | Album | Code | 1983 | 2319 | | 7000 |
| Greg Bonham | If Only... | Album | Code | 1983 | 1928 | | 11500 |
| Greg Bonham | If Only... | Album | Code | 1984 | 707 | | 960 |
| Greg Bonham | Poet Greg Bonham | EP | Code | 1982 | 939 | | 15000 |
| Greg Bonham | Poet Greg Bonham | EP | Code | 1983 | 153 | | 2400 |
| Greg Bonham | Where Music Gets Me / Silly Love Songs | FlexiDisc | Code | 1978 | 2584 | | 500000 |
| Greg Bonham & LIPS | Greg Bonham & LIPS in Moscow | Album | Code | 1979 | 766 | | 30000 |
| Greg Bonham & LIPS | Greg Bonham & LIPS in Moscow | Album | Code | 1979 | 629 | | 30000 |
| Greg Bonham & LIPS | Greg Bonham & LIPS in Moscow | Album | Code | 1979 | 2503 | | 60400 |
| Greg Bonham & LIPS | Greg Bonham & LIPS in Moscow | Album | Code | 1979 | 125 | | 12300 |
| Grigorij Leps | Pensne | Album | Certification | 2012 | | Platinum | 50000 |
| Grupo Moncada | Poder Popular | FlexiDisc | Code | 1980 | 2041 | | 500000 |
| Grupo Nacional De Canto E Dança | Traditional Music of Mozambique | Album | Code | 1980 | ? | | 40000 |
| Grupo Nacional De Canto E Dança | Traditional Music of Mozambique | Album | Code | 1983 | 208 | | 2000 |
| GUF | Ice Baby | Ringtone | Certification | 2011 | Lenta 2011 | 2xPlatinum | 400000 |
| Guns N' Roses | Chinese Democracy | Album | Certification | 2008 | | Gold | 10000 |
| Gustav Brom Orchestra | Hrajte, Hrajte / Nechte Hudbu Hrát | FlexiDisc | Code | 1979 | 275 | | 500000 |
| Gwen Stefani | Love, Angel, Music, Baby | Album | Certification | 2007 | | Platinum | 20000 |
| Gwen Stefani | The Sweet Escape | Album | Certification | 2007 | | 2xPlatinum | 40000 |
| H.I.M. | And Love Said No | Album | Certification | 2004 | | Gold | 10000 |
| H.I.M. | Love Metal | Album | Certification | 2003 | | Platinum | 20000 |
| Halina Benedyk | Mamy Po Dwadzie?cia Lat / Bia?e Noce(?) | FlexiDisc | Code | 1990 | 2485 | | 210000 |
| Halina Czerny-Stefa?ska / El?bieta Stefa?ska / Heinrich Neuhaus | Report From The House In Zelazova Wola | FlexiDisc | Code | 1990 | 1958 | | 240000 |
| Halina Kunicka | Swiat Nie Jest Taki Z?y | FlexiDisc | Code | 1968 | 1568 | | 300000 |
| Hana Zagorová | Rušný Den | FlexiDisc | Code | 1985 | 483 | | 365000 |
| Hana Zagorová / Waldemar Matuška | Madridští Slavíci | FlexiDisc | Code | 1985 | 483 | | 365000 |
| Hariprasad Chaurasia | Instrumental Music of India | Album | Code | 1978 | 119 | | 5000 |
| Hariprasad Chaurasia | Instrumental Music of India | Album | Code | 1980 | 227 | | 1120 |
| Haris Alexiou | Lypámai, Katerinushka | FlexiDisc | Code | 1985 | 671 | | 365000 |
| Harpo | I Wish You Happiness / Records & Films | FlexiDisc | Code | 1982 | 3200 | | 500000 |
| Harry Belafonte | Dear Koro / Peace On Earth | FlexiDisc | Code | 1985 | 483 | | 365000 |
| Harry Belafonte | La Bamba / Cotton Fields / Suzanne (Every Night When The Sun Goes Down) | FlexiDisc | Code | 1978 | 2317 | | 500000 |
| Harry Belafonte / Diana Ross | Dad, Look(?) | FlexiDisc | Code | 1985 | 483 | | 365000 |
| Harry James | The Man I Love | Album | Code | 1990 | 590 | | 2300 |
| Harry James | The Man I Love | Album | Code | 1990 | 506 | | 5075 |
| Harry James | The Man I Love | Album | Code | 1990 | 178 | | 22550 |
| Harry James | The Man I Love | Album | Code | 1990 | 1140 | | 4200 |
| Heintje | Mom's Birthday / Tell Me / Sleep | FlexiDisc | Code | 1973 | 691 | | 450000 |
| Helena Vondrá?ková | Admirál / S?l A Med | FlexiDisc | Code | 1974 | 1620 | | 450000 |
| Helena Vondrá?ková | P?t Na P?t | FlexiDisc | Code | 1973 | 408 | | 450000 |
| Helena Vondrá?ková | Soupe?it / Miluji Lesní Cestu | FlexiDisc | Code | 1984 | 1811 | | 500000 |
| Henri Dès | Maria Consuelo | FlexiDisc | Code | 1969 | 2565 | | 350000 |
| Henri Tachan | Her Permanent Table | FlexiDisc | Code | 1969 | 2565 | | 350000 |
| Henry Butler | Mama Roux / Somewhere | FlexiDisc | Code | 1991 | 296 | | 100000 |
| Henry Butler | Mama Roux / Somewhere | Cassette | Code | 1991 | 296 | | 10000 |
| Henry Winter | Love Is What We're Searchin' For | FlexiDisc | Code | 1991 | 296 | | 100000 |
| Henry Winter | Love Is What We're Searchin' For | Cassette | Code | 1991 | 296 | | 10000 |
| Herbert von Karajan | At The Rehearsal Of Beethoven's Ninth Symphony | FlexiDisc | Code | 1965 | 2790 | | 153000 |
| Herbert von Karajan | Azucena Scene From the Opera "Troubadour" Sound Moment Karajan Working On Beethoven's Ninth Symphony Finale | FlexiDisc | Code | 1983 | 287 | | 500000 |
| Herbert von Karajan | Musical Masterpieces. Fragment Of The Second Act Of Bizet's opera "Carmen". Carmen - G. Bambri, Jose - D. Vickers | FlexiDisc | Code | 1968 | 67 | | 250000 |
| Herrey's | Diggi Loo, Diggi Ley | Album | Code | 1985 | 609 | | 66360 |
| Herrey's | Diggi Loo, Diggi Ley | Album | Code | 1985 | 444 | | 70000 |
| Herrey's | Diggi Loo, Diggi Ley | Album | Code | 1985 | 317 | | 52400 |
| Herrey's | Diggi Loo, Diggi Ley | Album | Code | 1985 | 198 | | 10000 |
| Herrey's | Diggi Loo, Diggi Ley | Album | Code | 1985 | 128 | | 30000 |
| Herrey's | Diggi Loo, Diggi Ley | Album | Code | 1986 | 189 | | 80000 |
| Herrey's | Diggi Loo, Diggi Ley | Album | Code | 1986 | 114 | | 68120 |
| Herrey's | Diggi-Loo Diggi-Ley | FlexiDisc | Code | 1985 | 829 | | 365000 |
| Het Goede Doel | Gevangene / Een Leven | FlexiDisc | Code | 1984 | 3392 | | 485000 |
| Hideki Saijo | Jaguar / Only One Chance | FlexiDisc | Code | 1977 | 778 | | 500000 |
| Hilde Somer | Study N12, Op. 8 | FlexiDisc | Code | 1971 | 1576 | | 350000 |
| Hiroko | Hiroko | Album | Code | 1991 | 838 | | 13000 |
| Holograf | Speran?a Sufletului Meu / Haide | FlexiDisc | Code | 1989 | 1241 | | 270000 |
| Horacio Guarany | Mi Pobre Padre / Si El Cantante Está Tranquilo / Canción Del Preso Político | FlexiDisc | Code | 1975 | 1094 | | 500000 |
| Horia Andreescu | Fragments Of The Second Symphony | FlexiDisc | Code | 1989 | 1241 | | 270000 |
| Howlin' Wolf | Howlin' Wolf | Album | Code | 1989 | 601 | | 3000 |
| Howlin' Wolf | Howlin' Wolf | Album | Code | 1989 | 1121 | | 5000 |
| Howlin' Wolf | Howlin' Wolf | Album | Code | 1990 | 71 | | 4200 |
| Howlin' Wolf | Howlin' Wolf | Album | Code | 1990 | 7 | | 1900 |
| Howlin' Wolf | Howlin' Wolf | Album | Code | 1990 | 536 | | 20000 |
| Howlin' Wolf | Howlin' Wolf | Album | Code | 1990 | 443 | | 1100 |
| Howlin' Wolf | Howlin' Wolf | Album | Code | 1990 | 154 | | 4000 |
| Hurts | Happiness | Album | Certification | 2011 | | Gold | 5000 |
| Igor Krutoy & Lara Fabian | Mademoiselle Zhivago | Album | Certification | 2011 | | Gold | 25000 |
| Igorek | Ljubov Bez Deneg | Album | Report | 2001 | Lenta 2011 | | 600000 |
| Il Divo | Ancora | Album | Certification | 2007 | | Platinum | 20000 |
| Il Divo | Siempre | Album | Certification | 2008 | | Gold | 10000 |
| Imagination | Changes / Body Language / Burning | FlexiDisc | Code | 1990 | 2311 | | 210000 |
| In-Grid | Rendez-Vous | Album | Certification | 2003 | | 5xPlatinum | 100000 |
| In-Grid | Voila! | Album | Certification | 2005 | | Platinum | 20000 |
| Ines Paulke | Die Farbe Meiner Tränen / You | FlexiDisc | Code | 1989 | 3375 | | 270000 |
| infiniti & D.I.P. Project | Слезы вода | Ringtone | Certification | 2010 | 2M | Gold | 200000 |
| Irakere | Taki-tak-tak | FlexiDisc | Code | 1982 | 2262 | | 500000 |
| Irena Santor | Eto Lyubov | FlexiDisc | Code | 1967 | 3699 | | 250000 |
| Irena Santor | Na Podzielonym Mo?cie | FlexiDisc | Code | 1971 | 1812 | | 350000 |
| Irina Arkhipova / Mario del Monaco | Fragment From "Carmen" | FlexiDisc | Code | 1983 | 781 | | 500000 |
| Irina Krug & Alexey Bryantsev | Ljubimyj Vzgljad | Ringtone | Certification | 2011 | Lenta 2011 | Gold | 100000 |
| Irina Krug & Alexey Bryantsev | V Serdce Tvoem | Ringtone | Certification | 2011 | Lenta 2011 | Gold | 100000 |
| Iron Maiden | Fear Of The Dark | Album | Code | 1993 | ? | | 25000 |
| Iron Maiden | Iron Maiden | Album | Code | 1993 | 109 | | 25000 |
| Iron Maiden | Killers | Album | Code | 1993 | 109 | | 25000 |
| Iron Maiden | No Prayer For The Dying | Album | Code | 1993 | 109 | | 25000 |
| Iron Maiden | Piece Of Mind | Album | Code | 1993 | 109 | | 25000 |
| Iron Maiden | Powerslave | Album | Code | 1993 | 172 | | 25000 |
| Iron Maiden | Seventh Son Of A Seventh Son | Album | Code | 1993 | 107 | | 25000 |
| Iron Maiden | Somewhere In Time | Album | Code | 1993 | 172 | | 25000 |
| Iron Maiden | The Final Frontier | Album | Certification | 2010 | | Gold | 5000 |
| Iron Maiden | The Number Of The Beast | Album | Code | 1993 | ? | | 25000 |
| Isabelle Aubret | Comme La Vie Est Belle / Ne Me Quitte Pas | FlexiDisc | Code | 1986 | 2113 | | 260000 |
| Isabelle Aubret | Mon Père / Un Gars De Nulle Part | FlexiDisc | Code | 1973 | 1219 | | 450000 |
| Isabelle Aubret | Untitled Song | FlexiDisc | Code | 1986 | 3718 | | 260000 |
| Ivao Suzuki | Ivao Suzuki | Album | Code | 1979 | 1332 | | 700 |
| Ivao Suzuki | Ivao Suzuki | Album | Code | 1980 | 193 | | 700 |
| Ivao Suzuki | Ivao Suzuki | Album | Code | 1983 | 1784 | | 15000 |
| Ivao Suzuki | Ivao Suzuki | Album | Code | 1983 | 1764 | | 5000 |
| Ivica Šerfezi | Rivers of Babylon | Single | Code | 0 | 809 | | 30000 |
| Ivica Šerfezi | Rivers of Babylon | Single | Code | 0 | 32 | | 9000 |
| Ivica Šerfezi | Rivers of Babylon | Single | Code | 1979 | 911 | | 23100 |
| Ivica Šerfezi | Rivers of Babylon | Single | Code | 1979 | 873 | | 15000 |
| Ivica Šerfezi | Rivers of Babylon | Single | Code | 1979 | 735 | | 200000 |
| Ivica Šerfezi | Partizanski Mohili | FlexiDisc | Code | 1975 | 285 | | 500000 |
| Ivo Mojzer | Tih Dana / Svet Je Lep Kao Cvec?e | FlexiDisc | Code | 1980 | 1723 | | 500000 |
| Jürgen Gebauer | Evening In The City | FlexiDisc | Code | 1969 | 1614 | | 300000 |
| Jacques Brel | Fragments Of The Performance "L'homme De La Mancha" / La Valse À Mille Temps / Ne Me Quitte Pas / Les Marquises | FlexiDisc | Code | 1979 | 3294 | | 500000 |
| Jacques Brel | La Quête / Grand-Mère | FlexiDisc | Code | 1974 | 2432 | | 500000 |
| James Last | Happy Summer Party | Album | Code | 1986 | 1386 | | 20000 |
| James Last | Non Stop Dancing 1976 | Album | Code | 1979 | 1365 | | 25000 |
| James Last | Non Stop Dancing 1976 | Album | Code | 1979 | 1034 | | 8500 |
| James Last | Non Stop Dancing 1976 | Album | Code | 1980 | 2213 | | 20200 |
| James Last | Non Stop Dancing 1976 | Album | Code | 1981 | 749 | | 26300 |
| James Last | Non Stop Dancing 1976 | Album | Code | 1982 | 21 | | 15000 |
| James Last | Popular Tunes | FlexiDisc | Code | 1973 | 544 | | 450000 |
| James Last | Soaring Condor | FlexiDisc | Code | 1972 | 3420 | | 450000 |
| Jamie Cullum | The Pursuit | Album | Certification | 2010 | | Gold | 10000 |
| Jamiroquai | High Times | Album | Certification | 2006 | | Gold | 10000 |
| Jamiroquai | High Times | DVD | Certification | 2007 | | Gold | 3000 |
| Jamiroquai | Rock Dust Light Star | Album | Certification | 2010 | | Gold | 5000 |
| Jan Peerce / Francesco Valentino / Anne McKnight / George Cehanovsky / NBC Symphony Orchestra | Fragment Of The Opera "La Bohème" | FlexiDisc | Code | 1971 | 1670 | | 350000 |
| Jana Kocianová | Po?te S Takou Láskou / Viacero Poznámok | FlexiDisc | Code | 1976 | 2736 | | 500000 |
| Jane Birkin | Ballade De Johnny-Jane / Baby Alone In Babylone / Ex Fan Des Sixties | FlexiDisc | Code | 1988 | 2353 | | 255000 |
| Janis Joplin | Cry Baby / A Woman Left Lonely | FlexiDisc | Code | 1989 | 833 | | 270000 |
| Jean Ferra | I'm Not Singing To Kill Time / Song Of The Paris Commune / Hooray! | FlexiDisc | Code | 1971 | 1299 | | 350000 |
| Jean Ferrat | Âne / Porte Droite / Fille De La Boutique | FlexiDisc | Code | 1986 | 2628 | | 260000 |
| Jean Gabin | Waltz | FlexiDisc | Code | 1974 | 2168 | | 500000 |
| Jean Sibelius | Visiting Jean Sibelius | FlexiDisc | Code | 1975 | 156 | | 500000 |
| Jean-Claude Gaspard | Confus / Mère Père | FlexiDisc | Code | 1984 | 3232 | | 485000 |
| Jean-Michel Jarre | The Voice Of The Mountains(?) / Notebook(?) | FlexiDisc | Code | 1983 | 287 | | 500000 |
| Jeanette Dimech | Hello Pasadoble! / Poet's Heart | FlexiDisc | Code | 1983 | 947 | | 500000 |
| Jekaterina Lel | Dzaga-Dzaga | Album | Certification | 2004 | | Gold | 100000 |
| Jelena Vajenga | Grand Collection | Album | Certification | 2011 | | Gold | 25000 |
| Jelena Vajenga | Luchshiye Pesni | Album | Certification | 2011 | | Gold | 25000 |
| Jennifer Lopez | Brave | Album | Certification | 2008 | | 2xPlatinum | 40000 |
| Jennifer Lopez | Como Ama Una Mujer | Album | Certification | 2007 | | 2xPlatinum | 40000 |
| Jennifer Lopez | Love? | Album | Certification | 2011 | | Gold | 5000 |
| Jennifer Lopez ft. Pitbull | On The Floor | Ringtone | Certification | 2011 | Lenta 2011 | Platinum | 200000 |
| Jerry Lee Lewis | Whole Lotta Shakin' Going On | FlexiDisc | Code | 1989 | 484 | | 270000 |
| Jerzy Po?omski | Koroleva Krasoty | FlexiDisc | Code | 1966 | 456 | | 250000 |
| Jerzy Po?omski | Nie Zapomnij Mnie | FlexiDisc | Code | 1973 | 132 | | 450000 |
| Jethro Tull | Original Masters | Album | Code | 1987 | 88 | | 6000 |
| Jethro Tull | Original Masters | Album | Code | 1987 | 296 | | 5000 |
| Jethro Tull | Original Masters | Album | Code | 1987 | 1908 | | 65080 |
| Jethro Tull | Original Masters | Album | Code | 1987 | 1725 | | 10000 |
| Jethro Tull | Original Masters | Album | Code | 1988 | 658 | | 19960 |
| Jethro Tull | Original Masters | Album | Code | 1991 | 457 | | 4140 |
| Ji?í Korn | Píse? Jako Déš? / Kde Žiji | FlexiDisc | Code | 1982 | 2262 | | 500000 |
| Ji?í Korn | Všechno, Co Bych Daroval / Radost | FlexiDisc | Code | 1979 | 1155 | | 500000 |
| Jitka Zelenková | Monofonní Chrastítka Zvonu | FlexiDisc | Code | 1971 | 1501 | | 350000 |
| Joan Baez | What Have They Done To The Rain / With God On Our Side | FlexiDisc | Code | 1968 | 3527 | | 250000 |
| Joan Manuel Serrat | Sung By Joan Manuel Serrat | FlexiDisc | Code | 1976 | 2307 | | 500000 |
| Joan Sutherland | Aria Of Odabella From The Opera "Attila" / Elvira's Aria From The Opera "Puritans" | FlexiDisc | Code | 1980 | 1723 | | 500000 |
| Joan Sutherland | Operatic Fragments And Arias | Album | Code | 1978 | 551 | | 1000 |
| Joanna Rawik | Nie Chod? T? Ulic? | FlexiDisc | Code | 1967 | 2081 | | 250000 |
| Joanna Stingray | Rock Me But Don't Disrupt My Mind | Album | Code | 1993 | 112 | | 5000 |
| Joanna Stingray | Stingray | Single | Code | 1990 | 716 | | 2000 |
| Joanna Stingray | Stingray | Single | Code | 1990 | 539 | | 10000 |
| Joanna Stingray | Thinking Till Monday | Album | Code | 1990 | 592 | | 2700 |
| Joanna Stingray | Thinking Till Monday | Album | Code | 1990 | 507 | | 18600 |
| Joanna Stingray | Thinking Till Monday | Album | Code | 1990 | 34 | | 3300 |
| Joanna Stingray | Thinking Till Monday | Album | Code | 1990 | 300 | | 13700 |
| Joanna Stingray | Thinking Till Monday | Album | Code | 1990 | 286 | | 2800 |
| Joanna Stingray | Thinking Till Monday | Album | Code | 1990 | 2345 | | 9280 |
| Joanna Stingray | Thinking Till Monday | Album | Code | 1990 | 233 | | 19200 |
| Joanna Stingray | Thinking Till Monday | Album | Code | 1990 | 1610 | | 2000 |
| Joanna Stingray | Thinking Till Monday | Album | Code | 1990 | 1198 | | 8100 |
| Joanna Zagda?ska | Ku Dniu / Samolot | FlexiDisc | Code | 1985 | 1383 | | 353000 |
| Joe Cocker | Hymn For My Soul | Album | Certification | 2007 | | Gold | 10000 |
| Joe Dassin | Et Si Tu N'existais Pas / Champs Elysées / Il Faut Naître À Monaco | FlexiDisc | Code | 1980 | 2185 | | 500000 |
| Joe Dassin | L'été Indien / Si Son Nom Est Tristesse | FlexiDisc | Code | 1977 | 915 | | 500000 |
| Joe Dassin | La Fleur Aux Dents / Bonjour | FlexiDisc | Code | 1979 | 1155 | | 500000 |
| Joe Dassin | Le Jardin Du Luxembourg | Album | Code | 0 | 1483 | | 25000 |
| Joe Dassin | Le Jardin Du Luxembourg | Album | Code | 1979 | 122 | | 75000 |
| Joe Dassin | Le Jardin Du Luxembourg | Album | Code | 1980 | 297 | | 15000 |
| Joe Dassin | Live l'Olympia 77 | DVD | Certification | 2007 | | Gold | 3000 |
| Joe Dassin | Sings Joe Dassin | Album | Code | 0 | 1484 | | 20000 |
| Joe Dassin | Sings Joe Dassin | Album | Code | 0 | 1 | | 30000 |
| Joe Dassin | Sings Joe Dassin | Album | Code | 0 | ? | | 3000 |
| Joe Dassin | Sings Joe Dassin | Album | Code | 1980 | 402 | | 100000 |
| Joe Dassin | Sings Joe Dassin | Album | Code | 1981 | 1164 | | 25000 |
| Joe Dassin | Sings Joe Dassin | Album | Code | 1982 | 386 | | 17600 |
| Joe Dolan | 16 Brothers / Little Boy, Big Man | FlexiDisc | Code | 1979 | 275 | | 500000 |
| Joe Dolan | May I Be An Island / You Are So Beautiful | FlexiDisc | Code | 1973 | 1219 | | 450000 |
| Joe Hill | Working Class Singer | FlexiDisc | Code | 1979 | 1155 | | 500000 |
| John Denver / Aleksandr Gradskij | Let Us Begin | Album | Code | 1987 | 162 | | 6940 |
| John Denver / Aleksandr Gradskij | Let Us Begin | Album | Code | 1988 | 59 | | 16780 |
| John Lennon | (Just Like) Starting Over / Dear Yoko | FlexiDisc | Code | 1981 | 120 | | 500000 |
| John Lennon | Imagine | EP | Code | 1983 | 67 | | 30000 |
| John Lennon | Imagine | EP | Code | 1983 | 3 | | 57000 |
| John Lennon | Imagine | EP | Code | 1983 | 223 | | 50000 |
| John Lennon | Imagine | EP | Code | 1983 | 167 | | 17360 |
| John Lennon | Imagine | EP | Code | 1984 | 99 | | 68240 |
| John Lennon | Imagine | EP | Code | 1984 | 70 | | 25000 |
| John Lennon | Imagine | EP | Code | 1984 | 453 | | 10100 |
| John Lennon | Imagine | EP | Code | 1984 | 420 | | 31800 |
| John Lennon | Imagine | EP | Code | 1984 | 252 | | 40000 |
| John Lennon | Imagine | EP | Code | 1984 | 252 | | 42000 |
| John Lennon | Imagine | EP | Code | 1984 | 1989 | | 5200 |
| John Lennon | Imagine | EP | Code | 1984 | 157 | | 40000 |
| John Lennon | Luck Of The Irish / New York City | FlexiDisc | Code | 1974 | 1889 | | 500000 |
| John Rowles | One Day / Mary, I'll Come Back To You | FlexiDisc | Code | 1973 | 132 | | 450000 |
| John William | Amitié (Les Gars Qui Chantent) | FlexiDisc | Code | 1977 | 1181 | | 500000 |
| Johnny Hodges | Golden Saxophone | Album | Code | 1992 | 243 | | 5000 |
| Johnny Nash | What A Wonderful World / Loving You | FlexiDisc | Code | 1977 | 1205 | | 500000 |
| José Barata Moura | Cravo Escarlate | FlexiDisc | Code | 1976 | | | 500000 |
| José Carreras | Scene And Romance by Rudolph From The Operas Of Verdi "The Lombards" And "Louise Miller" | FlexiDisc | Code | 1979 | 859 | | 500000 |
| José José | From Joy to Sadness / The Earth Is Still Spinning / Ship of Oblivion | FlexiDisc | Code | 1970 | 2644 | | 350000 |
| José W. Armijo | Le Canto A Mi Gente / Soy Pobre Campesino / Los Soldados Del Ejercito Revolucionario Salvadoreno / Yo Soy Del Ejercito Central | FlexiDisc | Code | 1985 | 3887 | | 365000 |
| José Vélez | Vino Griego | Single | Code | 1982 | 824 | | 500 |
| José Vélez | Vino Griego | Single | Code | 1982 | 1148 | | 9000 |
| Josef Suk | "Slavic Dance" E-Minor | FlexiDisc | Code | 1976 | 2736 | | 500000 |
| Joy | Valerie / Touch By Touch | FlexiDisc | Code | 1987 | 77 | | 260000 |
| Juanes | La Vida (Es Un Ratico) | Album | Certification | 2008 | | Gold | 10000 |
| Judas Priest | Nostradamus | Album | Certification | 2008 | | Gold | 10000 |
| Julian Lennon | Too Late For Goodbyes / Valotte | FlexiDisc | Code | 1987 | 4079 | | 260000 |
| Julian Lennon | Valotte | Album | Code | 1987 | 998 | | 98000 |
| Julian Lennon | Valotte | Album | Code | 1987 | 44 | | 3000 |
| Julian Lennon | Valotte | Album | Code | 1987 | 272 | | 5000 |
| Julie Andrews | Sound Of Music / Lesson In School | FlexiDisc | Code | 1973 | 949 | | 450000 |
| Julien Clerc | Niagara / Jouer, Violons, Crack, Cliquets | FlexiDisc | Code | 1979 | 592 | | 500000 |
| Juliette Gréco | Untitled Song | FlexiDisc | Code | 1967 | 1150 | | 250000 |
| Julio Iglesias | En Un Barrio Que Hay En La Ciudad | FlexiDisc | Code | 1982 | 2262 | | 500000 |
| Julio Iglesias | No Me Digas Que No / ¡O Amor!(?) | FlexiDisc | Code | 1990 | 1553 | | 240000 |
| Julio Iglesias | Tenia Una Guitarra / Como Han Pasado Los Años | FlexiDisc | Code | 1974 | 2307 | | 500000 |
| Julio Iglesias | Tu Y Yo / Abrazame | FlexiDisc | Code | 1981 | 755 | | 500000 |
| Junior Tucker | Don't Test! | FlexiDisc | Code | 1991 | 3175 | | 120000 |
| Junior Tucker | Don't Test! | Cassette | Code | 1991 | 3175 | | 20000 |
| Justin Timberlake | FutureSex / LoveSounds | Album | Certification | 2008 | | Diamond | 200000 |
| Kammerorchester Berlin | Fragment Of The "Children's Symphony" | FlexiDisc | Code | 1986 | 1914 | | 260000 |
| Kanye West | Graduation | Album | Certification | 2007 | | Gold | 10000 |
| Kaoma | Lambada / Dancando Lambada | FlexiDisc | Code | 1990 | 2072 | | 240000 |
| Karat | Ach, Es Ist Sommer / Sieben Brücken | FlexiDisc | Code | 1979 | 985 | | 500000 |
| Karda Beáta | Adj Csillagokat / Régi Rádió | FlexiDisc | Code | 1982 | 3200 | | 500000 |
| Karel Gott | Do, Re, Mi, La... / Poj?me Zpívat | FlexiDisc | Code | 1980 | 2185 | | 500000 |
| Karel Gott | Hrajte, Hudebníku! / Po Dlouhé Noci - Úsvit | FlexiDisc | Code | 1990 | 1836 | | 240000 |
| Karel Gott | Ja Otkryvaju Dveri | EP | Code | 1975 | 158 | | 100000 |
| Karel Gott | Ja Otkryvaju Dveri | EP | Code | 1976 | 1065 | | 17000 |
| Karel Gott | Ja Otkryvaju Dveri | EP | Code | 1977 | 302 | | 12700 |
| Karel Gott | Ja Otkryvaju Dveri | EP | Code | 1977 | 271 | | 45200 |
| Karel Gott | Ja Otkryvaju Dveri | EP | Code | 1977 | 208 | | 40000 |
| Karel Gott | Ja Otkryvaju Dveri | EP | Code | 1978 | 1203 | | 16000 |
| Karel Gott | Ja Vas Ljubil | EP | Code | 1981 | 8723 | | 500 |
| Karel Gott | Já Vzdávám Válku | FlexiDisc | Code | 1967 | 2081 | | 250000 |
| Karel Gott | Jsem T? Potkal / Paganini | FlexiDisc | Code | 1976 | | | 500000 |
| Karel Gott | Karel Gott | Album | Code | 0 | 923 | | 12000 |
| Karel Gott | Karel Gott | Album | Code | 0 | 675 | | 15000 |
| Karel Gott | Karel Gott | Album | Code | 0 | 381 | | 600 |
| Karel Gott | Karel Gott | Album | Code | 1977 | 533 | | 30000 |
| Karel Gott | Karel Gott | Album | Code | 1977 | 358 | | 50000 |
| Karel Gott | Karel Gott | Album | Code | 1977 | 194 | | 12000 |
| Karel Gott | Karel Gott | Album | Code | 1978 | 670 | | 30000 |
| Karel Gott | Karel Gott | Album | Code | 1978 | 440 | | 50000 |
| Karel Gott | Karel Gott | Album | Code | 1979 | 3351 | | 10000 |
| Karel Gott | Karel Gott | Album | Code | 1979 | 2500 | | 4500 |
| Karel Gott | Karel Gott | Album | Code | 1980 | 2729 | | 4600 |
| Karel Gott | Karel Gott | Album | Code | 1981 | 112 | | 500 |
| Karel Gott | Mám Zlatej Dul / M?sto Obrovské | FlexiDisc | Code | 1977 | 1042 | | 500000 |
| Karel Gott | Muzyka | Single | Code | 1988 | 551 | | 580 |
| Karel Gott | Pocta Lásce / Mo?e | FlexiDisc | Code | 1982 | 2941 | | 500000 |
| Karel Gott | Radost Ze Života | FlexiDisc | Code | 1972 | 3579 | | 450000 |
| Karel Gott | Sedlá?ek / Šlitr | FlexiDisc | Code | 1969 | 325 | | 320000 |
| Karel Gott | Story | Album | Code | 1983 | 45 | | 25000 |
| Karel Gott | Vom Wind Verweht | FlexiDisc | Code | 1965 | 3000 | | 181000 |
| Karel Gott / Darina Rolincová | Zvony Št?stí | FlexiDisc | Code | 1985 | 311 | | 365000 |
| Karina | Colores | Album | Code | 1974 | 1066 | | 5000 |
| Karina | Colores | Album | Code | 1976 | 1293 | | 1800 |
| Karina | Colores | Album | Code | 1977 | 118 | | 600 |
| Karl Schmitt-Walter | Lieder And Arias | Album | Code | 0 | 174 | | 3000 |
| Kashore Kumar | If We Love / Your Face Like A Flower | FlexiDisc | Code | 1981 | 283 | | 500000 |
| Kashore Kumar / Mohammed Rafi / Asha Bhosle / Lata Mangeshkar | Indian Movie Songs "Devotion" | FlexiDisc | Code | 1973 | 1351 | | 450000 |
| Kate Bush | Babushka / Blow Away(?) | FlexiDisc | Code | 1991 | 3175 | | 120000 |
| Kate Bush | Babushka / Blow Away(?) | Cassette | Code | 1991 | 3175 | | 20000 |
| Kati És A Kerek Perec | Ez A Cigány / Regény Képekben | FlexiDisc | Code | 1981 | 916 | | 500000 |
| Kati Kovács | Hol Vagy, Jerzy? / Napos Álom | FlexiDisc | Code | 1983 | 287 | | 500000 |
| Kati Kovács | Ugyanaz Az Utca / Olyan Vagy, Mint Te | FlexiDisc | Code | 1977 | 3268 | | 500000 |
| Katya Lel | Ja Ljublju Tebja | Ringtone | Certification | 2011 | Lenta 2011 | Gold | 100000 |
| Katz | Dancing Shoes / Visions Of You | FlexiDisc | Code | 1986 | 3540 | | 260000 |
| Katz | Female Of The Species | Album | Code | 1987 | 552 | | 25000 |
| Katz | Female Of The Species | Album | Code | 1987 | ? | | 10000 |
| Keletigui Et Ses Tambourinis | Song About Democratic Party Of Guinea | FlexiDisc | Code | 1978 | 1324 | | 500000 |
| Kenny Rogers | The Gambler | Album | Code | 1980 | 182 | | 330000 |
| Kenny Rogers | The Gambler | Album | Code | 1980 | 1692 | | 25000 |
| Khaled al-Habr | Alharih | FlexiDisc | Code | 1986 | 3379 | | 260000 |
| Kim Wilde | Words Fell Down / View From A Bridge | FlexiDisc | Code | 1988 | 2958 | | 255000 |
| Kino | 45 | Album | Code | 2012 | ? | | 1000 |
| Kino | Collection | Album | Code | 2012 | ? | | 300 |
| Kino | Eto Ne Ljubov... | Album | Code | 2012 | ? | | 1000 |
| Kino | From The Album "Nachalnik Kamchatki" | EP | Code | 0 | 542 | | 1560 |
| Kino | From The Album "Nachalnik Kamchatki" | EP | Code | 0 | 527 | | 5000 |
| Kino | From The Album "Nachalnik Kamchatki" | EP | Code | 1987 | 637 | | 3000 |
| Kino | From The Album "Nachalnik Kamchatki" | EP | Code | 1987 | 292 | | 2000 |
| Kino | From The Album "Nachalnik Kamchatki" | EP | Code | 1987 | 1636 | | 15000 |
| Kino | From The Album "Nachalnik Kamchatki" | EP | Code | 1987 | 117 | | 1370 |
| Kino | From The Album "Nachalnik Kamchatki" | EP | Code | 1988 | 77 | | 1300 |
| Kino | From The Album "Nachalnik Kamchatki" | EP | Code | 1988 | 59 | | 6300 |
| Kino | From The Album "Nachalnik Kamchatki" | EP | Code | 1988 | 491 | | 20000 |
| Kino | From The Album "Nachalnik Kamchatki" | EP | Code | 1988 | 3 | | 5000 |
| Kino | From The Album "Nachalnik Kamchatki" | EP | Code | 1988 | 201 | | 1200 |
| Kino | From The Album "Nachalnik Kamchatki" | EP | Code | 1989 | 458 | | 11000 |
| Kino | From The Album "Nachalnik Kamchatki" | EP | Code | 1989 | 34 | | 9260 |
| Kino | From The Album "Nachalnik Kamchatki" | EP | Code | 1989 | 148 | | 17940 |
| Kino | From The Album "Nachalnik Kamchatki" | EP | Code | 1990 | 29 | | 6260 |
| Kino | From The Album "Nachalnik Kamchatki" | EP | Code | 1990 | 161 | | 4525 |
| Kino | From The Album "Nachalnik Kamchatki" | EP | Code | 1990 | 154 | | 5000 |
| Kino | From The Album "Noch" | Single | Code | 1988 | 695 | | 17000 |
| Kino | From The Album "Noch" | Single | Code | 1988 | 670 | | 10000 |
| Kino | From The Album "Noch" | Single | Code | 1988 | 6 | | 5000 |
| Kino | From The Album "Noch" | Single | Code | 1988 | 197 | | 7870 |
| Kino | From The Album "Noch" | Single | Code | 1988 | 1690 | | 12540 |
| Kino | From The Album "Noch" | Single | Code | 1989 | 359 | | 4760 |
| Kino | Groupa Kroovy | Album | Code | 1991 | 35 | | 130000 |
| Kino | Groupa Kroovy | Album | Code | 1991 | 260 | | 5000 |
| Kino | Groupa Kroovy | Album | Code | 2012 | ? | | 1000 |
| Kino | Kino | Album | Code | 1990 | 627 | | 500000 |
| Kino | Kino | Album | Code | 1991 | 752 | | 138000 |
| Kino | Kino | Album | Code | 2012 | ? | | 1000 |
| Kino | Le Dernier Des Héros | Album | Code | 1991 | 916 | | 20000 |
| Kino | Le Dernier Des Héros | Album | Code | 1991 | 64 | | 100000 |
| Kino | Le Dernier Des Héros | Album | Code | 1991 | 260 | | 5000 |
| Kino | Le Dernier Des Héros | Album | Code | 1991 | 114 | | 15000 |
| Kino | Le Dernier Des Héros | Album | Code | 2012 | ? | | 1000 |
| Kino | Nachalnik Kamchatki | Album | Code | 2012 | ? | | 1000 |
| Kino | Noch | Album | Code | 1988 | 92 | | 20000 |
| Kino | Noch | Album | Code | 1988 | 819 | | 20000 |
| Kino | Noch | Album | Code | 1988 | 641 | | 54020 |
| Kino | Noch | Album | Code | 1988 | 609 | | 2500 |
| Kino | Noch | Album | Code | 1988 | 596 | | 9600 |
| Kino | Noch | Album | Code | 1988 | 47 | | 30000 |
| Kino | Noch | Album | Code | 1988 | 464 | | 21000 |
| Kino | Noch | Album | Code | 1988 | 400 | | 32450 |
| Kino | Noch | Album | Code | 1988 | 370 | | 11400 |
| Kino | Noch | Album | Code | 1988 | 364 | | 35000 |
| Kino | Noch | Album | Code | 1988 | 352 | | 15000 |
| Kino | Noch | Album | Code | 1988 | 336 | | 6000 |
| Kino | Noch | Album | Code | 1988 | 333 | | 35000 |
| Kino | Noch | Album | Code | 1988 | 281 | | 40000 |
| Kino | Noch | Album | Code | 1988 | 235 | | 2700 |
| Kino | Noch | Album | Code | 1988 | 192 | | 17600 |
| Kino | Noch | Album | Code | 1988 | 1850 | | 54060 |
| Kino | Noch | Album | Code | 1988 | 164 | | 25860 |
| Kino | Noch | Album | Code | 1988 | 1363 | | 64160 |
| Kino | Noch | Album | Code | 1988 | 1296 | | 13800 |
| Kino | Noch | Album | Code | 1988 | 1020 | | 65380 |
| Kino | Noch | Album | Code | 1989 | 80 | | 53080 |
| Kino | Noch | Album | Code | 1989 | 745 | | 3500 |
| Kino | Noch | Album | Code | 1989 | 641 | | 65000 |
| Kino | Noch | Album | Code | 1989 | 47 | | 60000 |
| Kino | Noch | Album | Code | 1989 | 337 | | 5000 |
| Kino | Noch | Album | Code | 1989 | 257 | | 50540 |
| Kino | Noch | Album | Code | 1989 | 256 | | 21100 |
| Kino | Noch | Album | Code | 1989 | 222 | | 26740 |
| Kino | Noch | Album | Code | 1990 | 828 | | 10000 |
| Kino | Noch | Album | Code | 1990 | 44 | | 10000 |
| Kino | Noch | Album | Code | 1990 | 27 | | 7300 |
| Kino | Noch | Album | Code | 1990 | 154 | | 14700 |
| Kino | Noch | Album | Code | 1991 | 970 | | 10000 |
| Kino | Noch | Album | Code | 1991 | 97 | | 4700 |
| Kino | Noch | Album | Code | 1991 | 915 | | 10000 |
| Kino | Noch | Album | Code | 1991 | 907 | | 15700 |
| Kino | Noch | Album | Code | 1991 | 9 | | 15000 |
| Kino | Noch | Album | Code | 1991 | 781 | | 10000 |
| Kino | Noch | Album | Code | 1991 | 666 | | 7800 |
| Kino | Noch | Album | Code | 1991 | 260 | | 13200 |
| Kino | Noch | Album | Code | 1991 | 251 | | 21900 |
| Kino | Noch | Album | Code | 2012 | ? | | 1000 |
| Kino | Zvezda Po Imeni Solntse | Album | Code | 1992 | 994 | | 155000 |
| Kino | Zvezda Po Imeni Solntse | Album | Code | 2012 | ? | | 1000 |
| Kirsten | Tausend Kleine Mädchen | FlexiDisc | Code | 1989 | 1113 | | 270000 |
| Kirsten Flagstad | Romance / Rezia's Aria From The Opera "Oberon" | FlexiDisc | Code | 1973 | 286 | | 450000 |
| Kishore Kumar | Look Around | FlexiDisc | Code | 1985 | 311 | | 365000 |
| Kishore Kumar / Asha Bhosle / R. D. Burman | My Heart Is Never Unhappy / My Dear, Come More Often | FlexiDisc | Code | 1986 | 2270 | | 260000 |
| Koós János | Piano Girl / Welcome | FlexiDisc | Code | 1970 | 255 | | 350000 |
| Komár László | A Telefon / Szóljon A Zene! | FlexiDisc | Code | 1985 | 127 | | 365000 |
| Korn | Untitled | Album | Certification | 2007 | | Gold | 10000 |
| Koukeri | Pei?te I Tantsuvai?te | FlexiDisc | Code | 1982 | 2262 | | 500000 |
| Kouyate Sory Kandia | Song About The Heroes Of The Struggle For The Liberation Of The Continent | FlexiDisc | Code | 1978 | 1324 | | 500000 |
| Kreis | Wirst Du Kommen / Ich Möchte Heiraten | FlexiDisc | Code | 1978 | 2722 | | 500000 |
| Krunoslav Ki?o Slabinac | Sve Je U Redu / Što Sijete, To I Žanjete / Plešemo | FlexiDisc | Code | 1982 | 3363 | | 500000 |
| Krystyna Konarska | Przyjdzie Po Mnie Kto? | FlexiDisc | Code | 1966 | 1543 | | 250000 |
| Krystyna Szostek-Radkowa / Warsaw Philharmonic Chamber Orchestra | Fragment Of The Cantata "Stabat Mater" | FlexiDisc | Code | 1978 | 1741 | | 500000 |
| Krzysztof Krawczyk | Rysunek Na Szkle | FlexiDisc | Code | 1977 | 3119 | | 500000 |
| Kylie Minogue | Love At First Sight / Shocked(?) | FlexiDisc | Code | 1990 | 1668 | | 240000 |
| Kylie Minogue | X | Album | Certification | 2008 | | Gold | 10000 |
| La Torre | Amar Más / Moscú | FlexiDisc | Code | 1988 | 3237 | | 255000 |
| La Toya Jackson | (Ain't Nobody Loves You) Like I Do / Bad Girl | FlexiDisc | Code | 1989 | 1388 | | 270000 |
| Ladislava Kozderková | Tak Je To ?e?eno | FlexiDisc | Code | 1971 | 1501 | | 350000 |
| Lady Gaga | Alejandro | Ringtone | Certification | 2010 | Lenta 2010 | Platinum | 200000 |
| Lady Gaga | Alejandro | Ringtone | Certification | 2011 | Lenta 2011 | 4xPlatinum | 800000 |
| Lady Gaga | Bad Romance | Ringtone | Certification | 2010 | Lenta 2010 | Gold | 100000 |
| Lady Gaga | Born This Way | Album | Certification | 2011 | | 4xPlatinum | 40000 |
| Lady Gaga | The Fame / The Fame Monster | Album | Certification | 2010 | | Diamond | 200000 |
| Lady Gaga | The Remix | Album | Certification | 2010 | | Gold | 5000 |
| Laima Vaikule | Ese Ne Vecer | Single | Code | 1987 | 533 | | 25320 |
| Laima Vaikule | Ese Ne Vecer | Single | Code | 1987 | 392 | | 46000 |
| Laima Vaikule | Ese Ne Vecer | Single | Code | 1987 | 1900 | | 15000 |
| Laima Vaikule | Ese Ne Vecer | Single | Code | 1987 | 100 | | 15000 |
| Laima Vaikule | Ese Ne Vecer | Single | Code | 1988 | 600 | | 20000 |
| Laima Vaikule | Ese Ne Vecer | Single | Code | 1988 | 338 | | 35000 |
| Laima Vaikule | Laima Vaikule | Album | Code | 0 | 376 | | 10000 |
| Laima Vaikule | Laima Vaikule | Album | Code | 1987 | 600 | | 35000 |
| Laima Vaikule | Laima Vaikule | Album | Code | 1987 | 1857 | | 12140 |
| Laima Vaikule | Laima Vaikule | Album | Code | 1987 | 1798 | | 20800 |
| Laima Vaikule | Laima Vaikule | Album | Code | 1988 | 82 | | 96310 |
| Laima Vaikule | Laima Vaikule | Album | Code | 1988 | 715 | | 30000 |
| Laima Vaikule | Laima Vaikule | Album | Code | 1988 | 671 | | 15000 |
| Laima Vaikule | Laima Vaikule | Album | Code | 1988 | 649 | | 41000 |
| Laima Vaikule | Laima Vaikule | Album | Code | 1988 | 624 | | 67440 |
| Laima Vaikule | Laima Vaikule | Album | Code | 1988 | 61 | | 40000 |
| Laima Vaikule | Laima Vaikule | Album | Code | 1988 | 57 | | 22000 |
| Laima Vaikule | Laima Vaikule | Album | Code | 1988 | 527 | | 50300 |
| Laima Vaikule | Laima Vaikule | Album | Code | 1988 | 526 | | 40000 |
| Laima Vaikule | Laima Vaikule | Album | Code | 1988 | 525 | | 35000 |
| Laima Vaikule | Laima Vaikule | Album | Code | 1988 | 456 | | 40000 |
| Laima Vaikule | Laima Vaikule | Album | Code | 1988 | 415 | | 9400 |
| Laima Vaikule | Laima Vaikule | Album | Code | 1988 | 39 | | 18000 |
| Laima Vaikule | Laima Vaikule | Album | Code | 1988 | 358 | | 60000 |
| Laima Vaikule | Laima Vaikule | Album | Code | 1988 | 3 | | 50000 |
| Laima Vaikule | Laima Vaikule | Album | Code | 1988 | 23 | | 18400 |
| Laima Vaikule | Laima Vaikule | Album | Code | 1988 | 207 | | 50000 |
| Laima Vaikule | Laima Vaikule | Album | Code | 1988 | 187 | | 33600 |
| Laima Vaikule | Laima Vaikule | Album | Code | 1988 | 133 | | 48960 |
| Laima Vaikule | Laima Vaikule | Album | Code | 1989 | 7 | | 4000 |
| Laima Vaikule | Laima Vaikule | Album | Code | 1989 | 661 | | 21000 |
| Laima Vaikule | Laima Vaikule | Album | Code | 1989 | 29 | | 12400 |
| Laima Vaikule | Laima Vaikule | Album | Code | 1989 | 1458 | | 13600 |
| Laima Vaikule | Laima Vaikule | Album | Code | 1990 | 955 | | 2100 |
| Laima Vaikule | Laima Vaikule | Album | Code | 1991 | 766 | | 11900 |
| Laima Vaikule | Songs by Raymond Paul | Album | Code | 1992 | 90 | | 30000 |
| Lana Del Rey | Born To Die | Album | Certification | 2012 | | Platinum | 10000 |
| Larisa Mondrus / Ingo Graf | Do Svidaniya! | FlexiDisc | Code | 1967 | 2081 | | 250000 |
| Laroche Valmont | Bien Et Habillé! / Un Instant De Plus | FlexiDisc | Code | 1985 | 829 | | 365000 |
| Lars Sjösten Quartet | In Moscow | Album | Code | 1991 | 971 | | 25000 |
| Lata Mangeshkar | Movie Songs "Bobby" And "Look" | FlexiDisc | Code | 1976 | | | 500000 |
| Lata Mangeshkar / Kishore Kumar | Songs From The Movie "Fakira" | FlexiDisc | Code | 1978 | 1324 | | 500000 |
| Led Zeppelin | Stairway To Heaven | Album | Code | 0 | 733 | | 26000 |
| Led Zeppelin | Stairway To Heaven | Album | Code | 1988 | 717 | | 30000 |
| Led Zeppelin | Stairway To Heaven | Album | Code | 1988 | 69 | | 3000 |
| Led Zeppelin | Stairway To Heaven | Album | Code | 1988 | 636 | | 18300 |
| Led Zeppelin | Stairway To Heaven | Album | Code | 1988 | 521 | | 150000 |
| Led Zeppelin | Stairway To Heaven | Album | Code | 1988 | 495 | | 50000 |
| Led Zeppelin | Stairway To Heaven | Album | Code | 1988 | 464 | | 121000 |
| Led Zeppelin | Stairway To Heaven | Album | Code | 1988 | 409 | | 50000 |
| Led Zeppelin | Stairway To Heaven | Album | Code | 1988 | 369 | | 100000 |
| Led Zeppelin | Stairway To Heaven | Album | Code | 1988 | 3 | | 15000 |
| Led Zeppelin | Stairway To Heaven | Album | Code | 1988 | 1537 | | 43000 |
| Led Zeppelin | Stairway To Heaven | Album | Code | 1988 | 153 | | 25000 |
| Led Zeppelin | Stairway To Heaven | Album | Code | 1988 | 1418 | | 79480 |
| Led Zeppelin | Stairway To Heaven | Album | Code | 1988 | 137 | | 14000 |
| Led Zeppelin | Stairway To Heaven | Album | Code | 1989 | 80 | | 50900 |
| Led Zeppelin | Stairway To Heaven | Album | Code | 1989 | 662 | | 65000 |
| Led Zeppelin | Stairway To Heaven | Album | Code | 1989 | 589 | | 40000 |
| Led Zeppelin | Stairway To Heaven | Album | Code | 1989 | 589 | | 49800 |
| Led Zeppelin | Stairway To Heaven | Album | Code | 1989 | 459 | | 15000 |
| Led Zeppelin | Stairway To Heaven | Album | Code | 1989 | 27 | | 60000 |
| Led Zeppelin | Stairway To Heaven | Album | Code | 1989 | 26 | | 66000 |
| Led Zeppelin | Stairway To Heaven | Album | Code | 1989 | 256 | | 23420 |
| Led Zeppelin | Stairway To Heaven | Album | Code | 1989 | 248 | | 51380 |
| Led Zeppelin | Stairway To Heaven | Album | Code | 1989 | 1816 | | 157820 |
| Led Zeppelin | Stairway To Heaven | Album | Code | 1990 | 584 | | 6820 |
| Led Zeppelin | Stairway To Heaven | Album | Code | 1990 | 451 | | 1200 |
| Led Zeppelin | Stairway To Heaven | Album | Code | 1990 | 447 | | 7500 |
| Led Zeppelin | Stairway To Heaven | Album | Code | 1991 | 982 | | 8950 |
| Led Zeppelin | Stairway To Heaven | Album | Code | 1991 | 830 | | 10500 |
| Lee Towers | Midnight Star / The Last Word | FlexiDisc | Code | 1976 | 2863 | | 500000 |
| Lena Biolcati | Grande, Grande Amore / Prima Che Arrivi Il Mattino | FlexiDisc | Code | 1986 | 3379 | | 260000 |
| Lenny Kravitz | It Is Time for a Love Revolution | Album | Certification | 2008 | | Gold | 10000 |
| Leny Escudero | Two Songs | FlexiDisc | Code | 1976 | | | 500000 |
| Leny Escudero | Van Gogh | FlexiDisc | Code | 1990 | 2311 | | 210000 |
| Leo Sayer | Cool Touch | FlexiDisc | Code | 1991 | 64 | | 100000 |
| Leo Sayer | Cool Touch | Cassette | Code | 1991 | 64 | | 20000 |
| Leo Sayer | The Very Best Of Leo Sayer | Album | Code | 1979 | 422 | | 80000 |
| Leo Sayer | The Very Best Of Leo Sayer | Album | Code | 1979 | 197 | | 150000 |
| Leo Sayer | The Very Best Of Leo Sayer | Album | Code | 1980 | 727 | | 65320 |
| Leo Sayer | The Very Best Of Leo Sayer | Album | Code | 1980 | 727 | | 85320 |
| Leo Sayer | The Very Best Of Leo Sayer | Album | Code | 1980 | 612 | | 11000 |
| Leo Sayer | The Very Best Of Leo Sayer | Album | Code | 1980 | 413 | | 50000 |
| Leo Sayer | The Very Best Of Leo Sayer | Album | Code | 1980 | 360 | | 12000 |
| Leo Sayer | The Very Best Of Leo Sayer | Album | Code | 1980 | 272 | | 34000 |
| Leo Sayer | The Very Best Of Leo Sayer | Album | Code | 1980 | 2018 | | 5000 |
| Leo Sayer | The Very Best Of Leo Sayer | Album | Code | 1980 | 1358 | | 16700 |
| Leo Sayer | The Very Best Of Leo Sayer | Album | Code | 1980 | 1339 | | 60000 |
| Leo Sayer | The Very Best Of Leo Sayer | Album | Code | 1981 | 1259 | | 13000 |
| Leo Sayer | The Very Best Of Leo Sayer | Album | Code | 1981 | 1161 | | 60000 |
| Leo Sayer | The Very Best Of Leo Sayer | Album | Code | 1982 | 387 | | 15200 |
| Leo Sayer | The Very Best Of Leo Sayer | Album | Code | 1982 | 380 | | 20000 |
| Leo Sayer | The Very Best Of Leo Sayer | Album | Code | 1982 | 2267 | | 13700 |
| Leo Sayer | The Very Best Of Leo Sayer | Album | Code | 1982 | 211 | | 51000 |
| Leo Sayer | The Very Best Of Leo Sayer | Album | Code | 1982 | 1014 | | 26100 |
| Leona Lewis | Spirit | Album | Certification | 2008 | | Gold | 10000 |
| Leonard Bernstein | Fragments Of The Film Musical "West Side Story" | FlexiDisc | Code | 1973 | 1072 | | 450000 |
| Leonard Bernstein | Music By Leonard Bernstein | FlexiDisc | Code | 1988 | 3086 | | 255000 |
| Leonid Kogan / Karl Richter | Largo And Allegro From 4 Sonatas For Clavichembalo And Violin | FlexiDisc | Code | 1973 | 949 | | 450000 |
| Leonor González Mina | Songs Of Colombia | FlexiDisc | Code | 1977 | 3268 | | 500000 |
| Les Canetons | La Danse Des Canards / Allons Z'au Zoo | FlexiDisc | Code | 1983 | 1460 | | 500000 |
| Les Soeurs Poliakoff | Russian Sisters - Russian Songs | FlexiDisc | Code | 1968 | 395 | | 250000 |
| Les Swingle Singers | Reporter Sound Notebook: Da-Ba-Da And Doo-Boo-Doo | FlexiDisc | Code | 1968 | 395 | | 250000 |
| Les Trois Ménestrels | Enamored Oculist | FlexiDisc | Code | 1972 | 2233 | | 450000 |
| Les Trois Ménestrels | Pour La Poésie / Chanson-Dessin Animé / Elle Ne Chante Plus | FlexiDisc | Code | 1974 | 2549 | | 500000 |
| Lester Young | Jazz Gallery (Lester Young) | Album | Code | 1990 | 707 | | 13840 |
| Lester Young | Jazz Gallery (Lester Young) | Album | Code | 1990 | 437 | | 1000 |
| Lester Young | Jazz Gallery (Lester Young) | Album | Code | 1990 | 27 | | 7300 |
| Lester Young | Jazz Gallery (Lester Young) | Album | Code | 1990 | 2023 | | 6780 |
| Lester Young | Jazz Gallery (Lester Young) | Album | Code | 1990 | 111 | | 18000 |
| Ligaliz | XL | Album | Certification | 2007 | | Plat+Gold | 250000 |
| Lillian Askeland | I Am Happy With You | FlexiDisc | Code | 1969 | 2565 | | 350000 |
| Limp Bizkit | Gold Cobra | Album | Certification | 2011 | | Gold | 5000 |
| Limp Bizkit | Results May Vary | Album | Certification | 2003 | | Gold | 10000 |
| Linda | Ataka | Album | Certification | 2005 | | Gold | 100000 |
| Linda | Linda | Album | Certification | 2001 | | Gold | 100000 |
| Linkin Park | A Thousand Suns | Album | Certification | 2010 | | Platinum | 10000 |
| Linkin Park | Living Things | Album | Certification | 2012 | | Gold | 5000 |
| Linkin Park | Meteora | Album | Certification | 2003 | | Gold | 10000 |
| Linkin Park | Minutes To Midnight | Album | Certification | 2007 | | Gold | 10000 |
| LIPS | Butterfly | FlexiDisc | Code | 1977 | 1205 | | 500000 |
| LIPS | Hubble-Bubble / Music Will Lead Me | FlexiDisc | Code | 1978 | 2317 | | 500000 |
| LIPS | Vocal Duet LIPS in Moscow | Single | Code | 1980 | 245 | | 21000 |
| LIPS & Gold | LIPS & Gold in Moscow | Album | Code | 1981 | 630 | | 7300 |
| LIPS & Gold | LIPS & Gold in Moscow | Album | Code | 1981 | 2171 | | 7800 |
| LIPS & Greg Bonham | Vocal Duet LIPS & Greg Bonham | EP | Code | 0 | 864 | | 20000 |
| LIPS & Greg Bonham | Vocal Duet LIPS & Greg Bonham | EP | Code | 0 | 549 | | 75000 |
| LIPS & Greg Bonham | Vocal Duet LIPS & Greg Bonham | EP | Code | 1978 | 809 | | 36000 |
| LIPS & Greg Bonham | Vocal Duet LIPS & Greg Bonham | EP | Code | 1978 | 433 | | 200000 |
| LIPS & Greg Bonham | Vocal Duet LIPS & Greg Bonham | EP | Code | 1978 | 377 | | 40000 |
| LIPS & Greg Bonham | Vocal Duet LIPS & Greg Bonham | EP | Code | 1978 | 301 | | 517000 |
| LIPS & Greg Bonham | Vocal Duet LIPS & Greg Bonham | EP | Code | 1979 | 376 | | 50000 |
| Little Richard | I Wish I Was A Baby | FlexiDisc | Code | 1989 | 484 | | 270000 |
| Little Tony | Le Persone Possono Vivere / Quelli Che Mi Raccontano Di Te / Mulino A Vento | FlexiDisc | Code | 1973 | 408 | | 450000 |
| Liza Minnelli | Cabaret / Money, Money | FlexiDisc | Code | 1976 | 2174 | | 500000 |
| Liza Minnelli | Cabaret / New York, New York | FlexiDisc | Code | 1991 | 192 | | 100000 |
| Liza Minnelli | Cabaret / New York, New York | Cassette | Code | 1991 | 192 | | 10000 |
| Ljiljana Petrovi? | Yuliya | FlexiDisc | Code | 1969 | 1614 | | 300000 |
| LMFAO ft. Lauren Bennett and GoonRock | Party Rock Anthem | Ringtone | Certification | 2011 | Lenta 2011 | Gold | 100000 |
| Locomotiv GT | Élvezet / Gyerek, Óriás, Arthur És Indiai | FlexiDisc | Code | 1980 | 1723 | | 500000 |
| Locomotiv GT | Cabolo / És A Mi Énekünk | FlexiDisc | Code | 1981 | 1364 | | 500000 |
| Lois Marshall / Yves Montand / Valentina Levko | Folk Songs And Romances Of Scotland, France, Russia | FlexiDisc | Code | 1967 | 3444 | | 250000 |
| Lolita Torres | Untitled Song | FlexiDisc | Code | 1974 | 2750 | | 500000 |
| Loredana Bertè | Nel Mare D'inverno / Città Di Notte | FlexiDisc | Code | 1984 | 2447 | | 500000 |
| Los Zafiros / Fernandel / Astrud Gilberto | I Am Shy, Shy. | FlexiDisc | Code | 1969 | 3443 | | 320000 |
| Louis Armstrong | All Stars | Album | Code | 1983 | 80 | | 1000 |
| Louis Armstrong | All Stars | Album | Code | 1983 | 700 | | 20000 |
| Louis Armstrong | Goodbye, Guys(?) | Cassette | Code | 1992 | 1227 | | 60000 |
| Louis Armstrong | Hello Brother / Body And Soul | FlexiDisc | Code | 1990 | 2311 | | 210000 |
| Louis Armstrong | Louis Armstrong (Comp) | Album | Code | 0 | 535 | | 7000 |
| Louis Armstrong | Louis Armstrong (Comp) | Album | Code | 1975 | 1304 | | 3000 |
| Louis Armstrong | Louis Armstrong (Comp) | Album | Code | 1978 | 421 | | 1000 |
| Louis Armstrong | Louis Armstrong (Comp) | Album | Code | 1978 | 387 | | 1000 |
| Louis Armstrong | Louis Armstrong (Comp) | Album | Code | 1982 | 433 | | 500 |
| Louis Armstrong | Louis Armstrong (Comp) | Album | Code | 1982 | 11 | | 700 |
| Louis Armstrong | Top To Jazz | FlexiDisc | Code | 1969 | 631 | | 350000 |
| Louis Armstrong & Ella Fitzgerald | Stars Fell On Alabama | FlexiDisc | Code | 1990 | 2311 | | 210000 |
| Lubomír Pánek Singers / Czechoslovak Radio Dance Orchestra Bratislava | Královna Krásy / Bulba / Gypsy Melody | FlexiDisc | Code | 1978 | | | 500000 |
| Lucia Aliberti / Vladimir Ponkin / State Small Symphony Orchestra Of The USSR | Aria Of Leonora From The Opera "La Forza Del Destino" | FlexiDisc | Code | 1991 | 903 | | 100000 |
| Lucia Aliberti / Vladimir Ponkin / State Small Symphony Orchestra Of The USSR | Aria Of Leonora From The Opera "La Forza Del Destino" | Cassette | Code | 1991 | 903 | | 5000 |
| Lucia Altieri | Combiera / Sento Jingle Bells Da Lontano | FlexiDisc | Code | 1975 | 1094 | | 500000 |
| Lucia Altieri | Small Room | FlexiDisc | Code | 1972 | 3420 | | 450000 |
| Luciano Pavarotti | Madama Butterfly | Album | Code | 1990 | 414 | | 10000 |
| Luciano Pavarotti | Pavarotti Forever | Album | Certification | 2009 | | Gold | 10000 |
| Luciano Pavarotti / Nicola Rescigno / National Philharmonic Orchestra | Aria Cavaradossi "Recondita Armonia" From Tosca | FlexiDisc | Code | 1990 | 2485 | | 210000 |
| Luciano Pavarotti / Zubin Mehta / The London Philharmonic Orchestra | Aria Kalafa "Nessun Dorma" From Turandot | FlexiDisc | Code | 1990 | 2485 | | 210000 |
| Lucio Dalla & Gianni Morandi | Vita | FlexiDisc | Code | 1989 | 3375 | | 270000 |
| Luis Alberto Corvalan | Luis Corvalan On Fight And Protest Songs | FlexiDisc | Code | 1977 | 253 | | 500000 |
| Luis Alberto del Parana y Los Paraguayos | Volvamos A Los Lagos | FlexiDisc | Code | 1969 | 325 | | 320000 |
| Luis Mariano | Le Vent Du Sud / Oui, Amour, Amour! | FlexiDisc | Code | 1991 | 1032 | | 100000 |
| Luis Mariano | Le Vent Du Sud / Oui, Amour, Amour! | Cassette | Code | 1991 | 1032 | | 5000 |
| Luis Miguel | Nueva Generación(?) | FlexiDisc | Code | 1985 | 1756 | | 353000 |
| Luis Miguel | Tu No Tienes Corazon / Danza De La Niña Traviesa(?) | FlexiDisc | Code | 1984 | 2308 | | 500000 |
| Luisa Basto | Outubro | FlexiDisc | Code | 1968 | 67 | | 250000 |
| Lumini?a Dobrescu | Daca Nu Iubesti / Of, Inimioara / Ia Din Via?? Ce-i Frumos | FlexiDisc | Code | 1970 | 3622 | | 350000 |
| Lyube | Davay Za | Album | Report | 2002 | Lenta 2011 | | 1500000 |
| Mária Tauberová | Sbohem Ohe? | FlexiDisc | Code | 1977 | 367 | | 500000 |
| Ma?gorzata Ostrowska | Buty Filcowe | FlexiDisc | Code | 1975 | 1210 | | 500000 |
| Mötley Crüe | Fragments Of Compositions | FlexiDisc | Code | 1989 | 1388 | | 270000 |
| Madcon | So Dark The Con Of Man | Album | Certification | 2008 | | Gold | 10000 |
| Madonna | American Life | Album | Certification | 2003 | | Platinum | 20000 |
| Madonna | Celebration | Album | Certification | 2009 | | Platinum | 20000 |
| Madonna | Confessions On A Dancefloor | Album | Certification | 2007 | | 5xPlatinum | 100000 |
| Madonna | Hanky Panky | FlexiDisc | Code | 1991 | 3074 | | 60000 |
| Madonna | Hanky Panky | Cassette | Code | 1991 | 3074 | | 33000 |
| Madonna | Hard Candy | Album | Certification | 2008 | | 3xPlatinum | 60000 |
| Madonna | Material Girl / Like A Virgin | FlexiDisc | Code | 1988 | 2794 | | 255000 |
| Madonna | MDNA | Album | Certification | 2012 | | 7xPlatinum | 70000 |
| Madonna | Ray Of Light | Album | Report | 1998 | Lenta, MC sales | | 130000 |
| Madonna | Sticky & Sweet Tour | Album | Certification | 2010 | | Gold | 5000 |
| Madonna | The Confessions Tour | Album | Certification | 2007 | | Gold | 10000 |
| Madonna | The Confessions Tour | DVD | Certification | 2007 | | 2xPlatinum | 12000 |
| Magyar Rádió És Televízió Szimfónikus Zenekara | Phone Conversations | FlexiDisc | Code | 1973 | 3834 | | 450000 |
| Mako Ishino | Mako IV | Album | Code | 1981 | 106 | | 30000 |
| Mako Ishino | Mako IV | Album | Code | 1982 | 4546 | | 10500 |
| Maksim | Moi Rai | Album | Certification | 2007 | | 4xPlatinum | 900000 |
| Maksim | Trudnyi Vozrast | Album | Certification | 2006 | | 6xPlatinum | 1200000 |
| Mama Mia! Cast | Mama Mia! | Album | Certification | 2008 | | Platinum | 20000 |
| Manavok | Manavok | Album | Code | 1987 | 2880 | | 19100 |
| Manavok | Manavok | Album | Code | 1988 | 527 | | 50300 |
| Manavok | Manavok | Album | Code | 1989 | 439 | | 2600 |
| Manfred Krug | I Know A Girl / There Is A House In New Orleans / When Do You Sleep | FlexiDisc | Code | 1969 | 1614 | | 300000 |
| Manfred Mann's Earth Band | Watch | Album | Code | 1980 | 435 | | 100000 |
| Manfred Mann's Earth Band | Watch | Album | Code | 1988 | 201 | | 29300 |
| Manowar | Gods Of War | Album | Certification | 2007 | | Gold | 10000 |
| Manu Dibango | Abele Dance / Reggae Macos | FlexiDisc | Code | 1986 | 3192 | | 260000 |
| Marc Ogeret | Temps De Cerise | FlexiDisc | Code | 1981 | 120 | | 500000 |
| Marcel Khalifé | I Chose You, My Homeland | FlexiDisc | Code | 1986 | 3379 | | 260000 |
| Marcel Vigneron | Untitled Song | FlexiDisc | Code | 1986 | 3718 | | 260000 |
| Marcela Laiferová | Vždy Sám / Album | FlexiDisc | Code | 1975 | 1337 | | 500000 |
| Marcella Bella | È Spericolato | FlexiDisc | Code | 1986 | 2807 | | 260000 |
| Marco Masini | Disperato | FlexiDisc | Code | 1990 | 2208 | | 240000 |
| Marek & Vacek | Prz?dka / S?owik / Kaprys / Laura I Filo | FlexiDisc | Code | 1979 | 859 | | 500000 |
| Marek Sewen / Warszawskie Smyczki | Caprices By Karol Lipi?ski And Henryk Wieniawski | FlexiDisc | Code | 1978 | 2584 | | 500000 |
| Margareta Pâslaru | ?i Tu Îmi Placi | FlexiDisc | Code | 1967 | 2081 | | 250000 |
| Margarita Zorbala | Onomásate Sunrise / I Chará Mou Zei / I Kardiá Chtypá | FlexiDisc | Code | 1984 | 2131 | | 500000 |
| Mari Trini | Amor / Deja Soñar | FlexiDisc | Code | 1979 | 275 | | 500000 |
| Mari Trini | Suficiente Es Suficiente / Te Amo, Te Amé Y Te Amaré | FlexiDisc | Code | 1984 | 3563 | | 485000 |
| Maria Callas | Fragment Of "Aida!" | FlexiDisc | Code | 1978 | 2445 | | 500000 |
| Maria Callas | Maria Callas In Verdi's La Traviata | FlexiDisc | Code | 1975 | 523 | | 500000 |
| Maria Callas | Open Lesson Recording | FlexiDisc | Code | 1988 | 2353 | | 255000 |
| Maria Dolores Pradera | Fuego Lento / Puedos Volver / Lazos De Amor | FlexiDisc | Code | 1971 | 994 | | 350000 |
| Mariah Carey | E=MC2 | Album | Certification | 2008 | | Gold | 10000 |
| Marian Anderson | Negro Folk Song / Forest King | FlexiDisc | Code | 1982 | 1803 | | 500000 |
| Marianne Faithfull | Boulevard Of Broken Dreams / The Ballad Of Lucy Jordan | FlexiDisc | Code | 1991 | 903 | | 100000 |
| Marianne Faithfull | Boulevard Of Broken Dreams / The Ballad Of Lucy Jordan | Cassette | Code | 1991 | 903 | | 5000 |
| Marie Laforêt | Ivan, Boris Et Moi | FlexiDisc | Code | 1968 | 563 | | 250000 |
| Marie Laforêt | Manchester - Liverpool | FlexiDisc | Code | 1972 | 3079 | | 450000 |
| Marie Myriam | Marie Myriam | Album | Code | 1980 | 313 | | 35000 |
| Marie Myriam | Marie Myriam | Album | Code | 1980 | 293 | | 10050 |
| Marie Myriam | Marie Myriam | Album | Code | 1980 | 16249 | | 160000 |
| Marie Myriam | Marie Myriam | Album | Code | 1981 | 2723 | | 30000 |
| Marika Rökk | Musical Fragments Of The Movies "The Girl Of My Dreams" And "At Night In The Green Cockatoo Pub" | FlexiDisc | Code | 1991 | 638 | | 100000 |
| Marika Rökk | Musical Fragments Of The Movies "The Girl Of My Dreams" And "At Night In The Green Cockatoo Pub" | Cassette | Code | 1991 | 638 | | 10000 |
| Marilyn Manson | Eat Me, Drink Me | Album | Certification | 2007 | | Gold | 10000 |
| Marilyn Manson | The Golden Age Of Grotesque | Album | Certification | 2003 | | Gold | 10000 |
| Marilyn Monroe | Diamonds Are A Girl's Best Friend / Gentlemen Prefer Blondes | FlexiDisc | Code | 1991 | 3175 | | 120000 |
| Marilyn Monroe | Diamonds Are A Girl's Best Friend / Gentlemen Prefer Blondes | Cassette | Code | 1991 | 3175 | | 20000 |
| Marina Fiordaliso | Nave Bianca / Mio Angelo | FlexiDisc | Code | 1986 | 2446 | | 260000 |
| Mario del Monaco | Arias From Operas "Othello" And "Troubadour" | FlexiDisc | Code | 1971 | 1812 | | 350000 |
| Mario del Monaco | Oh Mio Cuore / Arioso Canio From Ruggero Leoncavallo's Opera "Pagliacci" | FlexiDisc | Code | 1986 | 3906 | | 260000 |
| Mario del Monaco / Renata Tebaldi | At The Walls Of The Doge's Palace. Duet From The opera "Othello" by D. Verdi. Singing By Renata Tebaldi And Mario Del Monaco. | FlexiDisc | Code | 1969 | 1592 | | 350000 |
| Mario Gensollen | La Pampa, La Puna | FlexiDisc | Code | 1969 | 3711 | | 320000 |
| Mario Lanza | All This Is You II | Album | Code | 1990 | 9 | | 32000 |
| Mario Lanza | All This Is You II | Album | Code | 1990 | 372 | | 17040 |
| Mario Lanza | All This Is You II | Album | Code | 1990 | 224 | | 10620 |
| Mario Lanza | All This Is You II | Album | Code | 1990 | 1120 | | 16420 |
| Mario Lanza | All This Is You II | Album | Code | 1991 | 66 | | 5580 |
| Mario Lanza | All This Is You II | Album | Code | 1991 | 435 | | 2540 |
| Mario Lanza | Only Rose ... IV | Album | Code | 1990 | 858 | | 11000 |
| Mario Lanza | Poet Mario Lanza | Album | Code | 1982 | 290 | | 11500 |
| Mario Lanza | The Most Beautiful Night of the Year III | Album | Code | 1990 | 490 | | 36700 |
| Mario Lanza | The Most Beautiful Night of the Year III | Album | Code | 1990 | 2851 | | 5000 |
| Mario Lanza | Vkella / Grenada / Because You're Mine | FlexiDisc | Code | 1974 | 2307 | | 500000 |
| Mario Lanza | Voice And Night I | Album | Code | 1990 | 1007 | | 5780 |
| Marion | Missä Olet, Rakkaus / Riviera | FlexiDisc | Code | 1980 | 3065 | | 500000 |
| Marisol | Hablame del Mar, Marinero | Album | Code | 1980 | 966 | | 13040 |
| Marisol | Hablame del Mar, Marinero | Album | Code | 1980 | 771 | | 25000 |
| Marisol | Hablame del Mar, Marinero | Album | Code | 1980 | 747 | | 25000 |
| Marisol | Hablame del Mar, Marinero | Album | Code | 1980 | 694 | | 35000 |
| Marisol | Hablame del Mar, Marinero | Album | Code | 1980 | 1339 | | 28000 |
| Marisol | Hablame del Mar, Marinero | Album | Code | 1980 | 1264 | | 6000 |
| Marisol | Hablame del Mar, Marinero | Album | Code | 1981 | 156 | | 11500 |
| Mark Knopfler | Kill To Get Crimson | Album | Certification | 2007 | | Gold | 10000 |
| Marlena Shaw | Blues | FlexiDisc | Code | 1990 | 2593 | | 210000 |
| Marlene Dietrich | Where Have All the Flowers Gone? / Ask The Wind | FlexiDisc | Code | 1965 | 1541 | | 150000 |
| Maroon 5 | ItÂ' WonÂ't Be Soon Before Long | Album | Certification | 2008 | | Plat+Gold | 30000 |
| Maroon 5 | Songs About Jane | Album | Certification | 2004 | | Platinum | 20000 |
| Marta De Santelises | Sonrisa / Si Fuera Primavera / No Sé, Amaré A Lee De Nuevo | FlexiDisc | Code | 1982 | 2736 | | 500000 |
| Maryla Rodowicz | ?ycie To Pi?ka | FlexiDisc | Code | 1987 | 1443 | | 260000 |
| Maryla Rodowicz | Kibitki Wielobarwne / Nie Tak | FlexiDisc | Code | 1983 | 1132 | | 500000 |
| Maryla Rodowicz | Z Tob? W Górach / Kiedy Piosenka Trafi?a Do Wojska | FlexiDisc | Code | 1973 | 1072 | | 450000 |
| Mashina Vremeni | Good Luck | Album | Code | 1986 | 947 | | 35000 |
| Mashina Vremeni | Good Luck | Album | Code | 1986 | 726 | | 15000 |
| Mashina Vremeni | Good Luck | Album | Code | 1986 | 618 | | 46700 |
| Mashina Vremeni | Good Luck | Album | Code | 1986 | 524 | | 71000 |
| Mashina Vremeni | Good Luck | Album | Code | 1986 | 523 | | 2000 |
| Mashina Vremeni | Good Luck | Album | Code | 1986 | 502 | | 80000 |
| Mashina Vremeni | Good Luck | Album | Code | 1986 | 498 | | 80000 |
| Mashina Vremeni | Good Luck | Album | Code | 1986 | 467 | | 50600 |
| Mashina Vremeni | Good Luck | Album | Code | 1986 | 451 | | 48000 |
| Mashina Vremeni | Good Luck | Album | Code | 1986 | 347 | | 56000 |
| Mashina Vremeni | Good Luck | Album | Code | 1986 | 25 | | 168760 |
| Mashina Vremeni | Good Luck | Album | Code | 1986 | 24 | | 55000 |
| Mashina Vremeni | Good Luck | Album | Code | 1986 | 146 | | 90000 |
| Mashina Vremeni | Good Luck | Album | Code | 1986 | 13 | | 46000 |
| Mashina Vremeni | Good Luck | Album | Code | 1987 | 84 | | 50000 |
| Mashina Vremeni | Good Luck | Album | Code | 1987 | 820 | | 10000 |
| Mashina Vremeni | Good Luck | Album | Code | 1987 | 787 | | 2600 |
| Mashina Vremeni | Good Luck | Album | Code | 1987 | 618 | | 48500 |
| Mashina Vremeni | Good Luck | Album | Code | 1987 | 603 | | 59000 |
| Mashina Vremeni | Good Luck | Album | Code | 1987 | 598 | | 15000 |
| Mashina Vremeni | Good Luck | Album | Code | 1987 | 577 | | 49000 |
| Mashina Vremeni | Good Luck | Album | Code | 1987 | 547 | | 86240 |
| Mashina Vremeni | Good Luck | Album | Code | 1987 | 505 | | 19000 |
| Mashina Vremeni | Good Luck | Album | Code | 1987 | 387 | | 17000 |
| Mashina Vremeni | Good Luck | Album | Code | 1987 | 331 | | 22000 |
| Mashina Vremeni | Good Luck | Album | Code | 1987 | 32 | | 66000 |
| Mashina Vremeni | Good Luck | Album | Code | 1987 | 281 | | 62470 |
| Mashina Vremeni | Good Luck | Album | Code | 1987 | 272 | | 56000 |
| Mashina Vremeni | Good Luck | Album | Code | 1987 | 238 | | 20000 |
| Mashina Vremeni | Good Luck | Album | Code | 1987 | 1186 | | 26120 |
| Mashina Vremeni | Good Luck | Album | Code | 1987 | 117 | | 81700 |
| Mashina Vremeni | Good Luck | Album | Code | 1987 | 111 | | 90000 |
| Mashina Vremeni | Good Luck | Album | Code | 1988 | 227 | | 6500 |
| Mashina Vremeni | Mashina Vremeni XX | Album | Code | 1991 | 876 | | 40000 |
| Mashina Vremeni | Mashina Vremeni XX | Album | Code | 1991 | 735 | | 30000 |
| Mashina Vremeni | Mashina Vremeni XX | Album | Code | 1991 | 537 | | 5000 |
| Mashina Vremeni | Mashina Vremeni XX | Album | Code | 1991 | 1136 | | 10800 |
| Mashina Vremeni | Music Under the Snow | Single | Code | 1986 | 527 | | 55000 |
| Mashina Vremeni | Music Under the Snow | Single | Code | 1986 | 365 | | 20000 |
| Mashina Vremeni | Music Under the Snow | Single | Code | 1986 | 1160 | | 37040 |
| Mashina Vremeni | Music Under the Snow | Single | Code | 1987 | 459 | | 33000 |
| Mashina Vremeni | Ten Years Later | Album | Code | 1987 | 884 | | 10300 |
| Mashina Vremeni | Ten Years Later | Album | Code | 1987 | 619 | | 45000 |
| Mashina Vremeni | Ten Years Later | Album | Code | 1987 | 600 | | 50000 |
| Mashina Vremeni | Ten Years Later | Album | Code | 1987 | 589 | | 50000 |
| Mashina Vremeni | Ten Years Later | Album | Code | 1987 | 541 | | 50000 |
| Mashina Vremeni | Ten Years Later | Album | Code | 1987 | 505 | | 50000 |
| Mashina Vremeni | Ten Years Later | Album | Code | 1987 | 276 | | 20000 |
| Mashina Vremeni | Ten Years Later | Album | Code | 1987 | 1878 | | 90400 |
| Mashina Vremeni | Ten Years Later | Album | Code | 1987 | 1448 | | 47280 |
| Mashina Vremeni | Ten Years Later | Album | Code | 1988 | 92 | | 110000 |
| Mashina Vremeni | Ten Years Later | Album | Code | 1988 | 843 | | 40000 |
| Mashina Vremeni | Ten Years Later | Album | Code | 1988 | 766 | | 10000 |
| Mashina Vremeni | Ten Years Later | Album | Code | 1988 | 689 | | 34500 |
| Mashina Vremeni | Ten Years Later | Album | Code | 1988 | 644 | | 35000 |
| Mashina Vremeni | Ten Years Later | Album | Code | 1988 | 571 | | 17800 |
| Mashina Vremeni | Ten Years Later | Album | Code | 1988 | 525 | | 25000 |
| Mashina Vremeni | Ten Years Later | Album | Code | 1988 | 51 | | 10000 |
| Mashina Vremeni | Ten Years Later | Album | Code | 1988 | 457 | | 25000 |
| Mashina Vremeni | Ten Years Later | Album | Code | 1988 | 356 | | 60000 |
| Mashina Vremeni | Ten Years Later | Album | Code | 1988 | 299 | | 10000 |
| Mashina Vremeni | Ten Years Later | Album | Code | 1988 | 181 | | 15000 |
| Mashina Vremeni | Ten Years Later | Album | Code | 1988 | 1329 | | 16120 |
| Mashina Vremeni | Ten Years Later | Album | Code | 1988 | 132 | | 13960 |
| Mashina Vremeni | Ten Years Later | Album | Code | 1989 | 256 | | 11780 |
| Mashina Vremeni | Ten Years Later | Album | Code | 1989 | 169 | | 6450 |
| Mashina Vremeni | Ten Years Later | Album | Code | 1989 | 147 | | 10900 |
| Mashina Vremeni | The White Snow | Single | Code | 1987 | 768 | | 30560 |
| Mashina Vremeni | The White Snow | Single | Code | 1987 | 326 | | 17500 |
| Mashina Vremeni | V Kruge Sveta | Album | Code | 1989 | 55 | | 3000 |
| Mashina Vremeni | V Kruge Sveta | Album | Code | 1989 | 534 | | 8100 |
| Mashina Vremeni | V Kruge Sveta | Album | Code | 1989 | 367 | | 50000 |
| Mashina Vremeni | V Kruge Sveta | Album | Code | 1989 | 283 | | 61120 |
| Mashina Vremeni | V Kruge Sveta | Album | Code | 1989 | 270 | | 11000 |
| Mashina Vremeni | V Kruge Sveta | Album | Code | 1989 | 1065 | | 8700 |
| Mashina Vremeni | V Kruge Sveta | Album | Code | 1990 | 760 | | 10700 |
| Mashina Vremeni | V Kruge Sveta | Album | Code | 1990 | 547 | | 30000 |
| Mashina Vremeni | V Kruge Sveta | Album | Code | 1990 | 481 | | 13400 |
| Mashina Vremeni | V Kruge Sveta | Album | Code | 1990 | 32 | | 10000 |
| Mashina Vremeni | V Kruge Sveta | Album | Code | 1990 | 313 | | 3600 |
| Mashina Vremeni | V Kruge Sveta | Album | Code | 1990 | 259 | | 10000 |
| Mashina Vremeni | V Kruge Sveta | Album | Code | 1990 | 182 | | 15000 |
| Mashina Vremeni | V Kruge Sveta | Album | Code | 1990 | 110 | | 22600 |
| Mashina Vremeni | V Kruge Sveta | Album | Code | 1990 | ? | | 5000 |
| Mashina Vremeni | V Kruge Sveta | Album | Code | 1991 | 175 | | 3000 |
| Mashina Vremeni / Samotsvety | For Those Who Are At Sea / Mirror And Jester | Single | Code | 1982 | 909 | | 10000 |
| Mashina Vremeni / Samotsvety | For Those Who Are At Sea / Mirror And Jester | Single | Code | 1982 | 41 | | 30000 |
| Mashina Vremeni / Samotsvety | For Those Who Are At Sea / Mirror And Jester | Single | Code | 1982 | 26 | | 21860 |
| Mashina Vremeni / Samotsvety | For Those Who Are At Sea / Mirror And Jester | Single | Code | 1982 | 187 | | 215000 |
| Mashina Vremeni / Samotsvety | For Those Who Are At Sea / Mirror And Jester | Single | Code | 1982 | 1104 | | 280000 |
| Mashina Vremeni / Samotsvety | For Those Who Are At Sea / Mirror And Jester | Single | Code | 1983 | 2095 | | 22260 |
| Mashina Vremeni / Samotsvety | For Those Who Are At Sea / Mirror And Jester | Single | Code | 1984 | 1677 | | 1100 |
| Massiel | Balada Sobre María Sandres / Canción De Canciones | FlexiDisc | Code | 1974 | 2955 | | 500000 |
| Matia Bazar | Ti Capisco | FlexiDisc | Code | 1989 | 3375 | | 270000 |
| Matia Bazar | Vacanza Romana / Video - Questo Sono Io | FlexiDisc | Code | 1984 | 3232 | | 485000 |
| Maurice Chevalier | Marais Ménilmontand / L'amour | FlexiDisc | Code | 1972 | 2483 | | 450000 |
| Maurice Druon / Anna Marly / Yves Montand | Guerrilla Song | FlexiDisc | Code | 1968 | 3827 | | 250000 |
| Maya Plisetskaya / Roland Petit | Maya Plisetskaya In Roland Petit Ballet | FlexiDisc | Code | 1975 | 3119 | | 500000 |
| Maywood | Different Worlds | Album | Code | 1984 | 195 | | 20000 |
| Maywood | Different Worlds | Album | Code | 1985 | 445 | | 51100 |
| Maywood | Different Worlds | Album | Code | 1985 | 32 | | 92000 |
| Maywood | Different Worlds | Album | Code | 1985 | 173 | | 46000 |
| Maywood | Different Worlds | Album | Code | 1986 | 997 | | 81540 |
| Maywood | Different Worlds | Album | Code | 1986 | 709 | | 12000 |
| Meat Loaf | Blind Before I Stop | Album | Code | 0 | 145 | | 5000 |
| Meat Loaf | Blind Before I Stop | Album | Code | 1988 | 77 | | 5000 |
| Meat Loaf | Blind Before I Stop | Album | Code | 1988 | 443 | | 20000 |
| Meat Loaf | Blind Before I Stop | Album | Code | 1988 | 1562 | | 30300 |
| Meat Loaf | Blind Before I Stop | Album | Code | 1988 | 1400 | | 15000 |
| Meat Loaf | Blind Before I Stop | Album | Code | 1989 | 603 | | 4000 |
| Meat Loaf | Blind Before I Stop | Album | Code | 1990 | 973 | | 700 |
| Meat Loaf | Blind Before I Stop | Album | Code | 1990 | 2293 | | 1000 |
| Mecano | Mujer Contra Mujer / "Eungenio" Salvador Dalí | FlexiDisc | Code | 1991 | 903 | | 100000 |
| Mecano | Mujer Contra Mujer / "Eungenio" Salvador Dalí | Cassette | Code | 1991 | 903 | | 5000 |
| Metallica | Death Magnetic | Album | Certification | 2008 | | 3xPlatinum | 60000 |
| Metallica | One | FlexiDisc | Code | 1991 | 1032 | | 100000 |
| Metallica | One | Cassette | Code | 1991 | 1032 | | 5000 |
| Metallica | St. Anger | Album | Certification | 2003 | | Platinum | 20000 |
| Michael Jackson | King Of Pop | Album | Certification | 2009 | | Platinum | 20000 |
| Michael Jackson | Michael | Album | Certification | 2011 | | 2xPlatinum | 20000 |
| Michael Jackson | Michael Jackson Video Greatest Hits - History | DVD | Certification | 2007 | | Gold | 3000 |
| Michael Jackson | Number Ones | Album | Certification | 2003 | | 2xPlatinum | 40000 |
| Michael Jackson | Number Ones | DVD | Certification | 2007 | | Gold | 3000 |
| Michael Jackson | Songs From The Albums "Thriller" and "Bad" ("Thriller / Bad" possibly) | FlexiDisc | Code | 1988 | 1909 | | 255000 |
| Michael Jackson | This Is It | Album | Certification | 2010 | | Platinum | 20000 |
| Michael Jackson | Thriller 25 | Album | Certification | 2009 | | Gold | 10000 |
| Michalis Kyriakou | Enough Jia Dead / Let's Mix The Thky | FlexiDisc | Code | 1970 | 3622 | | 350000 |
| Michel Legrand | Quand On A'aime / Moulins De Mon Coeur | FlexiDisc | Code | 1987 | 555 | | 260000 |
| Michel Sardou | Michel Sardou Sings | Album | Code | 1981 | 307 | | 10000 |
| Michel Sardou | Michel Sardou Sings | Album | Code | 1982 | 1570/1 | | 25000 |
| Middle Of The Road | Sacramento / Louise | FlexiDisc | Code | 1975 | 1094 | | 500000 |
| Mieczys?aw Fogg | Co Nam Zosta?o Z Tych Lat | FlexiDisc | Code | 1966 | 1543 | | 250000 |
| Miguel Aceves Mejia / Mariachi Vargas de Tecalitlán | La Noche Y Tú (???? ? ??), Fragment | FlexiDisc | Code | 1970 | 255 | | 350000 |
| Miguel Bosé | Piensa En Mí Así / Viernes Noche | FlexiDisc | Code | 1981 | 341 | | 500000 |
| Miguel Ramos | Miguel Ramos Y Su Organo Hammond Vol. 10 | Album | Code | 1977 | 4966 | | 15800 |
| Miguel Ramos | Miguel Ramos Y Su Organo Hammond Vol. 10 | Album | Code | 1977 | 1041 | | 22500 |
| Miguel Ramos | Miguel Ramos Y Su Organo Hammond Vol. 10 | Album | Code | 1978 | 6390 | | 8500 |
| Miguel Ramos | Miguel Ramos Y Su Organo Hammond Vol. 10 | Album | Code | 1978 | 4794 | | 2100 |
| Mihaela Mihai | Mihaela Mihai / Prim?var?, Prim?var? | FlexiDisc | Code | 1975 | 825 | | 500000 |
| Mika | Life In Cartoon Motion | Album | Certification | 2007 | | Platinum | 20000 |
| Mike Glick | Neruda Forever In Our Hearts / Song Of The United Trade Union Center Of Chile | FlexiDisc | Code | 1980 | 2774 | | 500000 |
| Miki Együttes | A Cirkuszban | FlexiDisc | Code | 1984 | 3563 | | 485000 |
| Miki Jevremovi? | Miki Jevremovic? / Moj Beli Pas I Ja | FlexiDisc | Code | 1975 | 996 | | 500000 |
| Mikis Theodorakis | East They Called You / Under My Clothes | FlexiDisc | Code | 1970 | 2643 | | 350000 |
| Mikis Theodorakis | No Place For Joy In Life / Sotiris Petroulas / The Garden Went Into the Sea | FlexiDisc | Code | 1966 | 1672 | | 250000 |
| Mikis Theodorakis | You Can't Strangle The Song, You Can't Kill | FlexiDisc | Code | 1967 | 2652 | | 250000 |
| Miles Davis | The Legendary Concert | Album | Claim | 0 | Billboard 25.01.1975 | | 10000 |
| Miliza Korjus | Fantasies On Themes Of Strauss Waltz From The Movie "Big Waltz" | FlexiDisc | Code | 1975 | 996 | | 500000 |
| Miliza Korjus | Scene In The Palace And Scene Of Farewell From The Movie "Big Waltz" | FlexiDisc | Code | 1990 | 2948 | | 210000 |
| Milli Vanilli | All Or Nothing (The First Album) | Album | Code | 1990 | 2427 | | 10000 |
| Milli Vanilli | All Or Nothing (The First Album) | Album | Code | 1990 | 1598 | | 2600 |
| Milli Vanilli | All Or Nothing (The First Album) | Album | Code | 1991 | 383 | | 20000 |
| Milva | La Leggenda Del Soldato Morto | FlexiDisc | Code | 1978 | 1575 | | 500000 |
| Milva | Tango Italiano | FlexiDisc | Code | 1965 | 3000 | | 181000 |
| Mina | Un Anno D'amore / Tu Non Credi Più | FlexiDisc | Code | 1969 | 3711 | | 320000 |
| Minja Subota | Poet Minja Subota | Album | Code | 0 | 277 | | 10000 |
| Minja Subota | Poet Minja Subota | Album | Code | 0 | 1244 | | 50000 |
| Minja Subota | Poet Minja Subota | EP | Code | 1974 | 1225 | | 15000 |
| Minja Subota | Poet Minja Subota | EP | Code | 1975 | 390 | | 500 |
| Minja Subota | Poet Minja Subota | EP | Code | 1975 | 2043 | | 9000 |
| Mirabela Dauer | Ora? Însorit | FlexiDisc | Code | 1976 | 2863 | | 500000 |
| Mircea Cri?an | Romanian Raikin | FlexiDisc | Code | 1965 | 3000 | | 181000 |
| Mireille Mathieu | A L'aube, Camarade | FlexiDisc | Code | 1968 | 67 | | 250000 |
| Mireille Mathieu | Accidentellement(?) / Nous Les Romantiques | FlexiDisc | Code | 1987 | 1264 | | 260000 |
| Mireille Mathieu | Apprends-Moi | Album | Code | 1978 | 40 | | 300000 |
| Mireille Mathieu | C'est L'amour Et La Vie Que Je Te Dois / Roma, Roma, Roma | FlexiDisc | Code | 1976 | 1430 | | 500000 |
| Mireille Mathieu | Der Pariser Tango / Je Vous Aime | FlexiDisc | Code | 1973 | 808 | | 450000 |
| Mireille Mathieu | French Collection | Album | Code | 1986 | 942 | | 25340 |
| Mireille Mathieu | French Collection | Album | Code | 1986 | 524 | | 33000 |
| Mireille Mathieu | French Collection | Album | Code | 1986 | 499 | | 34000 |
| Mireille Mathieu | French Collection | Album | Code | 1986 | 418 | | 6000 |
| Mireille Mathieu | French Collection | Album | Code | 1986 | 31472 | | 21100 |
| Mireille Mathieu | French Collection | Album | Code | 1986 | 1105 | | 25340 |
| Mireille Mathieu | French Collection | Album | Code | 1987 | 947 | | 35000 |
| Mireille Mathieu | French Collection | Album | Code | 1987 | 689 | | 10000 |
| Mireille Mathieu | French Collection | Album | Code | 1987 | 427 | | 18000 |
| Mireille Mathieu | French Collection | Album | Code | 1988 | 2.360 | | 9540 |
| Mireille Mathieu | J'aime | EP | Code | 0 | 960 | | 800 |
| Mireille Mathieu | J'aime | EP | Code | 0 | 200 | | 2300 |
| Mireille Mathieu | J'aime | EP | Code | 1975 | 3786 | | 19000 |
| Mireille Mathieu | J'aime | EP | Code | 1977 | 219 | | 6600 |
| Mireille Mathieu | J'aime | EP | Code | 1978 | 89 | | 23000 |
| Mireille Mathieu | J'aime | EP | Code | 1978 | 480 | | 90000 |
| Mireille Mathieu | J'aime | EP | Code | 1983 | 697 | | 9320 |
| Mireille Mathieu | J'aime | EP | Code | 1983 | 2344 | | 130000 |
| Mireille Mathieu | Je Ne Sais Pas | EP | Code | 1974 | 1271 | | 5000 |
| Mireille Mathieu | Je Ne Suis Rien Sans Toi / Viens Dans Ma Rue / Est-Ce Que Tu M'aimeras | FlexiDisc | Code | 1971 | 1812 | | 350000 |
| Mireille Mathieu | La Paloma, Adieu | Album | Code | 1979 | 2498 | | 37000 |
| Mireille Mathieu | Le Tango Parisen | FlexiDisc | Code | 1982 | 2262 | | 500000 |
| Mireille Mathieu | Le Vent De La Nuit | FlexiDisc | Code | 1971 | 2084 | | 350000 |
| Mireille Mathieu | Ma Maman / Tous Les Enfants Chantent Avec Moi | FlexiDisc | Code | 1977 | 253 | | 500000 |
| Mireille Mathieu | Mireille Mathieu | Album | Code | 1983 | 676 | | 500 |
| Mireille Mathieu | Mireille Mathieu à Moscou | Album | Code | 1987 | 542 | | 15000 |
| Mireille Mathieu | Mireille Mathieu à Moscou | Album | Code | 1988 | 834 | | 15000 |
| Mireille Mathieu | Mireille Mathieu à Moscou | Album | Code | 1988 | 698 | | 32600 |
| Mireille Mathieu | Mireille Mathieu à Moscou | Album | Code | 1988 | 339 | | 3180 |
| Mireille Mathieu | Mireille Mathieu à Moscou | Album | Code | 1988 | 124 | | 11280 |
| Mireille Mathieu | Mireille Mathieu à Moscou | Album | Code | 1989 | 458 | | 11000 |
| Mireille Mathieu | Mireille Mathieu à Moscou | Album | Code | 1989 | 245 | | 5660 |
| Mireille Mathieu | Mireille Mathieu à Moscou | Album | Code | 1989 | 147 | | 4200 |
| Mireille Mathieu | Mireille Mathieu à Moscou | Album | Code | 1990 | 19 | | 3000 |
| Mireille Mathieu | Mireille... Mireille | Album | Code | 1975 | 1415 | | 50000 |
| Mireille Mathieu | Tarata Ting, Tarata Tong | EP | Code | 1975 | 2787 | | 6000 |
| Mireille Mathieu | Tarata Ting, Tarata Tong | EP | Code | 1976 | 5014 | | 3000 |
| Mireille Mathieu | Tarata Ting, Tarata Tong | EP | Code | 1976 | 4059 | | 4000 |
| Mireille Mathieu | Tarata Ting, Tarata Tong | EP | Code | 1979 | 872 | | 3000 |
| Mireille Mathieu | Tarata Ting, Tarata Tong | EP | Code | 1979 | 132 | | 10000 |
| Mireille Mathieu | Tarata Ting, Tarata Tong | EP | Code | 1980 | 1723 | | 2800 |
| Mireille Mathieu / Francis Lai | Tout A Changé Sous Le Soleil / La Vraie Vie / Vous Avez Ri | FlexiDisc | Code | 1974 | 1743 | | 450000 |
| Mirella Freni | Fragment Of Aida's Aria From the 1st Act Of The Opera "Aida" | FlexiDisc | Code | 1983 | 1460 | | 500000 |
| Miriam Makeba | Miriam Makeba Speaking And Singing | FlexiDisc | | 1965 | | | 150000 |
| Miriam Makeba | Song Of The Republic Of Guinea And the Leader Of Guinea Nardo Ahmed Sekou Tour | FlexiDisc | Code | 1978 | 1324 | | 500000 |
| Miriam Makeba & Harry Belafonte | Hide Mama / Malay / Show Me The Way | FlexiDisc | Code | 1970 | 1264 | | 350000 |
| Miro Ungar | Smijte Se, Pagliacci / Voli Jedno Crno Oko | FlexiDisc | Code | 1978 | 1575 | | 500000 |
| Miroslav Žbirka | Dobrá Nálada / Svadba | FlexiDisc | Code | 1984 | 2447 | | 500000 |
| Moby | Destroyed | Album | Certification | 2011 | | Gold | 5000 |
| Moby | Go (The Very Best of Moby) | Album | Certification | 2006 | | Gold | 10000 |
| Moby | Hotel | Album | Certification | 2005 | | Gold | 10000 |
| Moby | Last Night | Album | Certification | 2008 | | Gold | 10000 |
| Modern Talking | Jet Airliner / Like A Hero | FlexiDisc | Code | 1988 | 1656 | | 255000 |
| Modern Talking | Let's Talk About Love | Album | Code | 1986 | 1296 | | 50000 |
| Modern Talking | Let's Talk About Love | Album | Code | 1987 | 792 | | 15000 |
| Modern Talking | Let's Talk About Love | Album | Code | 1987 | 571 | | 70000 |
| Modern Talking | Let's Talk About Love | Album | Code | 1987 | 427 | | 60000 |
| Modern Talking | Let's Talk About Love | Album | Code | 1987 | 1663 | | 11600 |
| Modern Talking | Let's Talk About Love | Album | Code | 1989 | 524 | | 3000 |
| Modern Talking | Ready For Romance | Album | Code | 1987 | 85 | | 5000 |
| Modern Talking | Ready For Romance | Album | Code | 1987 | 259 | | 5000 |
| Modern Talking | Ready For Romance | Album | Code | 1987 | 1903 | | 67820 |
| Modern Talking | Ready For Romance | Album | Code | 1987 | 1356 | | 20000 |
| Modern Talking | The Final Album | Album | Certification | 2003 | | Platinum | 20000 |
| Modern Talking | The Final Album | DVD | Certification | 2007 | | Plat+Gold | 9000 |
| Modern Talking | The Very Best Of Modern Talking | Album | Certification | 2007 | | Gold | 10000 |
| Modern Talking | Universe | Album | Certification | 2003 | | Gold | 10000 |
| Modern Talking | You Can Win If You Want / Diamonds Never Made A Lady | FlexiDisc | Code | 1986 | 3192 | | 260000 |
| Mohammed Rafi | Songs From The Movie "Leila Majnu" | FlexiDisc | Code | 1978 | 1324 | | 500000 |
| Monaco | Delo Mojo | Ringtone | Certification | 2011 | Lenta 2011 | Platinum | 200000 |
| Monica Aspelund | Lapponia / Laulan | FlexiDisc | Code | 1982 | 3045 | | 500000 |
| Monika Hauff & Klaus-Dieter Henkler | Letzter Tanz | FlexiDisc | Code | 1979 | 985 | | 500000 |
| Monique Morelli | Untitled Song | FlexiDisc | Code | 1986 | 3718 | | 260000 |
| Montserrat Caballé | Fragment Of The Second Act Of The Opera "Pirate" | FlexiDisc | Code | 1972 | 2794 | | 450000 |
| Montserrat Caballé | Montserrat Caballé V "Norme" Bellini | FlexiDisc | Code | 1974 | 2549 | | 500000 |
| Monyók Gabi | Dalommal Díszítem Az Égboltot / Hajnal | FlexiDisc | Code | 1978 | 2870 | | 500000 |
| Morandi | Angels | Ringtone | Certification | 2010 | 2M | 7x Platinum | 1400000 |
| Morandi | Next | Album | Certification | 2008 | | 2xPlatinum | 40000 |
| Morcheeba | Blood Like Lemonade | Album | Certification | 2010 | 2M | Gold | 5000 |
| Motörhead | Another Perfect Day | Album | Code | 1992 | 246 | | 30000 |
| Motörhead | Bomber | Album | Code | 1992 | 246 | | 30000 |
| Motörhead | Iron Fist | Album | Code | 1992 | 246 | | 30000 |
| Motörhead | Overkill | Album | Code | 1992 | 246 | | 30000 |
| Mstislav Rostropovich / Boston Symphony Orchestra | Fragment "Variations On A Rococo Theme" | FlexiDisc | Code | 1989 | 712 | | 270000 |
| Muddy Waters | Muddy Waters | Album | Code | 1990 | 7 | | 1900 |
| Muddy Waters | Muddy Waters | Album | Code | 1990 | 497 | | 3500 |
| Muddy Waters | Muddy Waters | Album | Code | 1990 | 339 | | 5800 |
| Muddy Waters | Muddy Waters | Album | Code | 1990 | 2672 | | 2640 |
| Muddy Waters | Muddy Waters | Album | Code | 1990 | 2360 | | 6280 |
| Muddy Waters | Muddy Waters | Album | Code | 1990 | 128 | | 11750 |
| Muddy Waters | Muddy Waters | Album | Code | 1991 | 924 | | 5100 |
| Mukesh | My Name Is Clown | FlexiDisc | Code | 1973 | 6 | | 450000 |
| Muse | Absolution | Album | Certification | 2003 | | Gold | 10000 |
| Muse | The Resistance | Album | Certification | 2010 | | Gold | 10000 |
| Mylène Farmer | Avant Que L'Ombre | Album | Certification | 2005 | | 2xPlatinum | 40000 |
| Mylène Farmer | Bleu Noir | Album | Certification | 2011 | | Platinum | 10000 |
| Mylène Farmer | Point De Suture | Album | Certification | 2008 | | 2xPlatinum | 40000 |
| Mylo | Destroy Rock N Roll | Album | Certification | 2007 | | Gold | 10000 |
| Mystery | Mystery | Album | Code | 1992 | 71 | | 30000 |
| Nakamura Masatoshi | Heart Color | FlexiDisc | Code | 1983 | 320 | | 500000 |
| Nana Mouskouri | Agapitá Óneira / Irína | FlexiDisc | Code | 1976 | | | 500000 |
| Nana Mouskouri | Mera Mayou | FlexiDisc | Code | 1965 | 1827 | | 150000 |
| Nana Mouskouri | Roses & Sunshine | Album | Code | 1982 | 445 | | 10000 |
| Nana Mouskouri | Temps De Cerise | FlexiDisc | Code | 1981 | 120 | | 500000 |
| Nandu Bhende / "Disco Dancer" Chorus | Come To Earth, Krishna! | FlexiDisc | Code | 1985 | 311 | | 365000 |
| Nantia Konstantopoulou | Pesnja O Moskve | FlexiDisc | Code | 1965 | 1827 | | 150000 |
| Naomi Sagara | Lovely Fanny / Peace For The Two Of Us | FlexiDisc | Code | 1969 | 1009 | | 350000 |
| Napoleon Boulevard | Juliet Nem Akar Járni A Földön | FlexiDisc | Code | 1990 | 1668 | | 240000 |
| Nat King Cole | Pretend / Love | FlexiDisc | Code | 1991 | 812 | | 100000 |
| Nat King Cole | Pretend / Love | Cassette | Code | 1991 | 812 | | 10000 |
| Natalie Imbruglia | Counting Down the Days | Album | Certification | 2007 | | Gold | 10000 |
| Natalie Imbruglia | Glorious: The Singles 97-07 | Album | Certification | 2008 | | Gold | 10000 |
| National Song And Dance Ensemble Of Kampuchea | Traditional Music of Kampuchea | Album | Code | 1983 | 213 | | 2000 |
| Nautilus Pompilius | Cuzaja Zemlja | Album | Code | 1992 | 238 | | 20000 |
| Nautilus Pompilius | Rodivsijsja V Etu Noc | Album | Code | 1991 | 813 | | 100000 |
| Nautilus Pompilius | Rodivsijsja V Etu Noc | Album | Code | 1991 | 391 | | 7000 |
| Nautilus Pompilius | Rodivsijsja V Etu Noc | Album | Code | 1991 | 155 | | 11500 |
| Nautilus Pompilius | The Prince Of Silence | Album | Code | 1989 | 908 | | 12000 |
| Nautilus Pompilius | The Prince Of Silence | Album | Code | 1989 | 810 | | 10000 |
| Nautilus Pompilius | The Prince Of Silence | Album | Code | 1989 | 410 | | 30000 |
| Nautilus Pompilius | The Prince Of Silence | Album | Code | 1989 | 367 | | 50000 |
| Nautilus Pompilius | The Prince Of Silence | Album | Code | 1989 | 283 | | 31360 |
| Nautilus Pompilius | The Prince Of Silence | Album | Code | 1989 | 276 | | 10000 |
| Nautilus Pompilius | The Prince Of Silence | Album | Code | 1989 | 248 | | 8000 |
| Nautilus Pompilius | The Prince Of Silence | Album | Code | 1990 | 53 | | 30000 |
| Nautilus Pompilius | The Prince Of Silence | Album | Code | 1990 | 528 | | 50000 |
| Nautilus Pompilius | The Prince Of Silence | Album | Code | 1990 | 471 | | 20000 |
| Nautilus Pompilius | The Prince Of Silence | Album | Code | 1990 | 41 | | 10000 |
| Nautilus Pompilius | The Prince Of Silence | Album | Code | 1990 | 338 | | 20000 |
| Nautilus Pompilius | The Prince Of Silence | Album | Code | 1990 | 323 | | 40000 |
| Nautilus Pompilius | The Prince Of Silence | Album | Code | 1990 | 277 | | 26000 |
| Nautilus Pompilius | The Prince Of Silence | Album | Code | 1990 | 250 | | 58000 |
| Nautilus Pompilius | The Prince Of Silence | Album | Code | 1990 | 217 | | 20000 |
| Nautilus Pompilius | The Prince Of Silence | Album | Code | 1990 | 131 | | 70000 |
| Nautilus Pompilius | The Prince Of Silence | Album | Code | 1991 | 82 | | 15000 |
| Nautilus Pompilius | The Prince Of Silence | Album | Code | 1991 | 796 | | 19500 |
| Nautilus Pompilius | The Prince Of Silence | Album | Code | 1991 | 710 | | 10800 |
| Nautilus Pompilius | The Prince Of Silence | Album | Code | 1991 | 680 | | 5000 |
| Nautilus Pompilius | The Prince Of Silence | Album | Code | 1991 | 590 | | 3500 |
| Nautilus Pompilius | The Prince Of Silence | Album | Code | 1991 | 429 | | 10000 |
| Nautilus Pompilius & Brigada S | Nautilus Pompilius / Brigada S | Album | Code | 1988 | 7 | | 6000 |
| Nautilus Pompilius & Brigada S | Nautilus Pompilius / Brigada S | Album | Code | 1988 | 67 | | 5000 |
| Nautilus Pompilius & Brigada S | Nautilus Pompilius / Brigada S | Album | Code | 1988 | 59 | | 11000 |
| Nautilus Pompilius & Brigada S | Nautilus Pompilius / Brigada S | Album | Code | 1988 | 548 | | 30000 |
| Nautilus Pompilius & Brigada S | Nautilus Pompilius / Brigada S | Album | Code | 1988 | 543 | | 10560 |
| Nautilus Pompilius & Brigada S | Nautilus Pompilius / Brigada S | Album | Code | 1988 | 525 | | 85000 |
| Nautilus Pompilius & Brigada S | Nautilus Pompilius / Brigada S | Album | Code | 1988 | 511 | | 5000 |
| Nautilus Pompilius & Brigada S | Nautilus Pompilius / Brigada S | Album | Code | 1988 | 486 | | 20000 |
| Nautilus Pompilius & Brigada S | Nautilus Pompilius / Brigada S | Album | Code | 1988 | 482 | | 80000 |
| Nautilus Pompilius & Brigada S | Nautilus Pompilius / Brigada S | Album | Code | 1988 | 4 | | 15000 |
| Nautilus Pompilius & Brigada S | Nautilus Pompilius / Brigada S | Album | Code | 1988 | 338 | | 2200 |
| Nautilus Pompilius & Brigada S | Nautilus Pompilius / Brigada S | Album | Code | 1988 | 196 | | 40000 |
| Nautilus Pompilius & Brigada S | Nautilus Pompilius / Brigada S | Album | Code | 1988 | 1884 | | 135240 |
| Nautilus Pompilius & Brigada S | Nautilus Pompilius / Brigada S | Album | Code | 1988 | 1732 | | 25000 |
| Nautilus Pompilius & Brigada S | Nautilus Pompilius / Brigada S | Album | Code | 1988 | 1542 | | 20000 |
| Nautilus Pompilius & Brigada S | Nautilus Pompilius / Brigada S | Album | Code | 1988 | 1368 | | 63720 |
| Nautilus Pompilius & Brigada S | Nautilus Pompilius / Brigada S | Album | Code | 1988 | 128 | | 20000 |
| Nautilus Pompilius & Brigada S | Nautilus Pompilius / Brigada S | Album | Code | 1988 | 107 | | 15000 |
| Nautilus Pompilius & Brigada S | Nautilus Pompilius / Brigada S | Album | Code | 1989 | 84 | | 30000 |
| Nautilus Pompilius & Brigada S | Nautilus Pompilius / Brigada S | Album | Code | 1989 | 80 | | 45150 |
| Nautilus Pompilius & Brigada S | Nautilus Pompilius / Brigada S | Album | Code | 1989 | 781 | | 51680 |
| Nautilus Pompilius & Brigada S | Nautilus Pompilius / Brigada S | Album | Code | 1989 | 662 | | 50000 |
| Nautilus Pompilius & Brigada S | Nautilus Pompilius / Brigada S | Album | Code | 1989 | 589 | | 86680 |
| Nautilus Pompilius & Brigada S | Nautilus Pompilius / Brigada S | Album | Code | 1989 | 4924 | | 50000 |
| Nautilus Pompilius & Brigada S | Nautilus Pompilius / Brigada S | Album | Code | 1989 | 4460 | | 50000 |
| Nautilus Pompilius & Brigada S | Nautilus Pompilius / Brigada S | Album | Code | 1989 | 433 | | 32000 |
| Nautilus Pompilius & Brigada S | Nautilus Pompilius / Brigada S | Album | Code | 1989 | 361 | | 30000 |
| Nautilus Pompilius & Brigada S | Nautilus Pompilius / Brigada S | Album | Code | 1989 | 27 | | 80000 |
| Nautilus Pompilius & Brigada S | Nautilus Pompilius / Brigada S | Album | Code | 1989 | 268 | | 118140 |
| Nautilus Pompilius & Brigada S | Nautilus Pompilius / Brigada S | Album | Code | 1989 | 1999 | | 37920 |
| Nautilus Pompilius & Brigada S | Nautilus Pompilius / Brigada S | Album | Code | 1989 | 117 | | 30000 |
| Nautilus Pompilius & Brigada S | Nautilus Pompilius / Brigada S | Album | Code | 1990 | 86 | | 41000 |
| Nautilus Pompilius & Brigada S | Nautilus Pompilius / Brigada S | Album | Code | 1990 | 530 | | 17300 |
| Nautilus Pompilius & Brigada S | Nautilus Pompilius / Brigada S | Album | Code | 1990 | 419 | | 5000 |
| Nazareth | Cinema / Juliet | FlexiDisc | Code | 1990 | 2072 | | 240000 |
| Nazia Hassan | Disco Deewane / My heart | FlexiDisc | Code | 1983 | 1460 | | 500000 |
| Nelly Furtado | Loose | Album | Certification | 2008 | | 6xPlatinum | 120000 |
| Neoton Família | Ha Táncolsz / Amikor Hazajött | FlexiDisc | Code | 1982 | 2112 | | 500000 |
| Nepara | Drugaya Semya | Album | Certification | 2004 | | Platinum | 660000 |
| Nereyda Naranjo | Folk Song | FlexiDisc | Code | 1974 | 2834 | | 500000 |
| Nevada Tan | Niemand Hort Dich | Album | Certification | 2008 | | Gold | 10000 |
| Nicola Di Bari | Canzone Gitana / Amore | FlexiDisc | Code | 1973 | 286 | | 450000 |
| Nicolai Ghiaurov | V Put / Galitsky's Aria From The Opera "Prince Igor" | FlexiDisc | Code | 1967 | 2081 | | 250000 |
| Nicole Martin | Vive L'amour! / Bravo! | FlexiDisc | Code | 1980 | 2941 | | 500000 |
| Nikolai Medtner / Elisabeth Schwarzkopf | Romance | FlexiDisc | Code | 1968 | 67 | | 250000 |
| Nikolaus Harnoncourt / Concentus Musicus Wien | Fragment Of "St. Matthew Passion" | FlexiDisc | Code | 1978 | 2870 | | 500000 |
| Nini Rosso | Napoli | Album | Code | 1983 | 1854 | | 55000 |
| Nini Rosso | Napoli | Album | Code | 1983 | 1055 | | 55000 |
| Nino Bravo | Te Amo Mi Amor / ¿Por Qué? | FlexiDisc | Code | 1977 | 104 | | 500000 |
| Nino Ferrer | House By The Fountain | FlexiDisc | Code | 1972 | 3326 | | 450000 |
| Nino Rota | Melodies From The Movie "Romeo and Juliet" | FlexiDisc | Code | 1973 | 3834 | | 450000 |
| Nino Rota | Music by K/F Federico Fellini | FlexiDisc | Code | 1969 | 1440 | | 350000 |
| Nino Rota | Music By Nino Rota | FlexiDisc | Code | 1975 | 825 | | 500000 |
| Nobuo Hara and His Sharps & Flats | Nobuo Hara and His Sharps & Flats | Album | Code | 0 | 210 | | 5960 |
| Nobuo Hara and His Sharps & Flats | Nobuo Hara and His Sharps & Flats | Album | Code | 1977 | 113 | | 1200 |
| Nobuo Hara and His Sharps & Flats | Nobuo Hara and His Sharps & Flats | Album | Code | 1978 | 98 | | 1200 |
| Nobuo Hara and His Sharps & Flats | Nobuo Hara and His Sharps & Flats | Album | Code | 1980 | 126 | | 5800 |
| Norah Jones | Come Away With Me | Album | Certification | 2003 | | Gold | 10000 |
| Norah Jones | Not Too Late | Album | Certification | 2007 | | Gold | 10000 |
| Novi Fosili | Simpatiya | FlexiDisc | Code | 1972 | 2233 | | 450000 |
| Novi Singers | Duet | FlexiDisc | Code | 1972 | 2483 | | 450000 |
| Novi Singers | Waltz / Mazurky | FlexiDisc | Code | 1973 | 1219 | | 450000 |
| Nu Virgos | Biologiya | Album | Certification | 2004 | | Gold | 100000 |
| Nu Virgos | Popytka No. 5 | Album | Certification | 2003 | | Gold | 300000 |
| Nu Virgos | Stop! Snyato! | Album | Certification | 2003 | | Platinum | 300000 |
| Nyusha | Bol'no | Ringtone | Certification | 2011 | Lenta 2011 | Platinum | 200000 |
| O-Zone | Disco-Zone | Album | Certification | 2004 | | 3xPlatinum | 60000 |
| Odetta | Midnight Express / Can't Hold Me | FlexiDisc | Code | 1975 | 4 | | 500000 |
| Ofra Haza | Wish Me Luck / I'm Bayeux | FlexiDisc | Code | 1990 | 2948 | | 210000 |
| Olivia Newton-John / John Travolta | Magic(?) / You're The One That I Want | FlexiDisc | Code | 1981 | 1046 | | 500000 |
| Olivier Messiaen | Quatuor Pour La Fin Du Temps | Album | Code | 1991 | 677 | | 4800 |
| OneRepublic | Dreaming Out Loud | Album | Certification | 2008 | | Gold | 10000 |
| Opus | Live Is Life / Rock On The Rocks | FlexiDisc | Code | 1987 | 1141 | | 260000 |
| Orkiestra Polskiego Radia | Untitled Song | FlexiDisc | Code | 1966 | 1672 | | 250000 |
| Oscar Chávez | Songs Of Protest | FlexiDisc | Code | 1978 | 1741 | | 500000 |
| Oscar Peterson | Fragments Of Jazz Compositions | FlexiDisc | Code | 1982 | 2736 | | 500000 |
| Oscar Peterson | The Jazz Soul Of Oscar Peterson | Album | Code | 1981 | 277 | | 12000 |
| Oscar Peterson & Count Basie | Satch And Josh | Album | Code | 1975 | 4352 | | 16000 |
| Oscar Peterson & Count Basie | Satch And Josh | Album | Code | 1975 | 357 | | 16000 |
| Oskar Fried | Franment "Fantastic Symphony" | FlexiDisc | Code | 1970 | 591 | | 350000 |
| Osvaldo Pugliese | Tango | FlexiDisc | Code | 1979 | 417 | | 500000 |
| Osvaldo Rodriguez | Para Mi Novia / Sal A La Calle Y Verás | FlexiDisc | Code | 1980 | 1585 | | 500000 |
| Ottawan | Hands Up (Give Me Your Heart) | Single | Code | 1985 | 748 | | 270000 |
| Ottawan | Hands Up (Give Me Your Heart) | Single | Code | 1985 | 725 | | 26000 |
| Ottawan | Hands Up (Give Me Your Heart) | Single | Code | 1985 | 427 | | 72020 |
| Ottawan | Hands Up (Give Me Your Heart) | Single | Code | 1985 | 380 | | 71880 |
| Ottawan | Love | EP | Code | 1985 | 762 | | 80000 |
| Ottawan | Love | EP | Code | 1985 | 748 | | 20000 |
| Ottawan | Love | EP | Code | 1985 | 728 | | 15000 |
| Ottawan | Love | EP | Code | 1985 | 381 | | 50240 |
| Ottawan | Ottawan 2 | Album | Code | 1985 | 67 | | 33000 |
| Ottawan | Ottawan 2 | Album | Code | 1985 | 607 | | 67800 |
| Ottawan | Ottawan 2 | Album | Code | 1985 | 179 | | 70000 |
| Ottawan | Ottawan 2 | Album | Code | 1985 | 123 | | 20000 |
| Ozzy Osbourne | Black Rain | Album | Certification | 2007 | | Platinum | 20000 |
| Ozzy Osbourne | Scream (Ozzy) | Album | Certification | 2010 | | Gold | 5000 |
| P!nk | Funhouse | Album | Certification | 2008 | | Platinum | 20000 |
| P!nk | Greatest Hits... So Far!!! | Album | Certification | 2011 | | Gold | 5000 |
| P!nk | I'm Not Dead | Album | Report | 2010 | Lenta 2010 | 2xPlatinum | 45000 |
| P!nk | Try This | Album | Certification | 2003 | | Gold | 10000 |
| Paco De Lucía | Music Of Andalusia | FlexiDisc | Code | 1986 | 3718 | | 260000 |
| Paco De Lucia | Castro Marin | Album | Code | 1982 | 133 | | 15000 |
| Paco De Lucia | Castro Marin | Album | Code | 1983 | 47 | | 35000 |
| Palito Ortega | Nuestro Amor / Nada Cuesta Mejor | FlexiDisc | Code | 1980 | 2341 | | 500000 |
| Panjabi MC | The Album | Album | Certification | 2003 | | Platinum | 20000 |
| Papa Dance | Motyw Klipu / To Jest Prosta Piosenka / Galaktyczny Wir | FlexiDisc | Code | 1990 | 1958 | | 240000 |
| Pat Boone | April Love | Album | Code | 1986 | 619 | | 15000 |
| Pat Boone | April Love | Album | Code | 1986 | 561 | | 14100 |
| Pat Boone | April Love | Album | Code | 1986 | 442 | | 5000 |
| Pat Boone | April Love | Album | Code | 1986 | 238 | | 3740 |
| Pat Boone | April Love | Album | Code | 1986 | 2236 | | 1300 |
| Pat Boone | April Love | Album | Code | 1986 | 1122 | | 4640 |
| Patricia Kaas | At The Funeral Of Sydney Beshet / Rose Kennedy | FlexiDisc | Code | 1991 | 296 | | 100000 |
| Patricia Kaas | At The Funeral Of Sydney Beshet / Rose Kennedy | Cassette | Code | 1991 | 296 | | 10000 |
| Patricia Kaas | Mon Mec A Moi / Souvenirs De L'est | FlexiDisc | Code | 1990 | 2072 | | 240000 |
| Patricia Kaas | Scène De Vie | Album | Code | 1991 | 51 | | 500000 |
| Patrick Bruel | Même Si On Est Fou / Cueillez La Voix(?) | FlexiDisc | Code | 1992 | 1123 | | 65000 |
| Patrick Bruel | Même Si On Est Fou / Cueillez La Voix(?) | Cassette | Code | 1992 | 1123 | | 5000 |
| Patriotic Theatre Folkloric Group | Patriotic Theatre Folkloric Group, Addis Ababa, Ethiopia | Album | Code | 1982 | 272 | | 2000 |
| Patsy McLean | When You Love Me | FlexiDisc | Code | 1969 | 2565 | | 350000 |
| Paul Anka | Diana / You Are My Destiny / She's A Lady | FlexiDisc | Code | 1976 | 2307 | | 500000 |
| Paul Anka | Jubilation | Album | Code | 1991 | 300 | | 15000 |
| Paul Anka | Paul Anka | Album | Code | 1991 | ? | | 10000 |
| Paul Anka | Times Of Your Life | Album | Code | 1978 | 113 | | 30000 |
| Paul Badura-Skoda | Ronda Mozart In D Major | FlexiDisc | Code | 1981 | 3406 | | 500000 |
| Paul Dessau / Gisela May | Music By Composer Paul Dessau | FlexiDisc | Code | 1977 | 3119 | | 500000 |
| Paul Mauriat | Gone Is Love | Album | Code | 0 | 985 | | 21500 |
| Paul Mauriat | Gone Is Love | Album | Code | 0 | 596 | | 7180 |
| Paul Mauriat | Gone Is Love | Album | Code | 0 | 56 | | 1000 |
| Paul Mauriat | Gone Is Love | Album | Code | 0 | 3295 | | 17500 |
| Paul Mauriat | Gone Is Love | Album | Code | 0 | 1226 | | 1000 |
| Paul Mauriat | Gone Is Love | Album | Code | 0 | 1021 | | 30000 |
| Paul Mauriat | Gone Is Love | Album | Code | 1976 | 5075 | | 8000 |
| Paul Mauriat | Gone Is Love | Album | Code | 1976 | 4121 | | 11500 |
| Paul Mauriat | Gone Is Love | Album | Code | 1976 | 244 | | 20000 |
| Paul Mauriat | Gone Is Love | Album | Code | 1976 | 1616 | | 16000 |
| Paul Mauriat | Gone Is Love | Album | Code | 1976 | 1134 | | 16900 |
| Paul Mauriat | Gone Is Love | Album | Code | 1977 | 1562 | | 50000 |
| Paul Mauriat | Gone Is Love | Album | Code | 1978 | 1196 | | 20000 |
| Paul Mauriat | Gone Is Love | Album | Code | 1979 | 762 | | 27000 |
| Paul Mauriat | Gone Is Love | Album | Code | 1979 | 1944 | | 17000 |
| Paul Mauriat | Gone Is Love | Album | Code | 1980 | 809 | | 25000 |
| Paul Mauriat | Gone Is Love | Album | Code | 1980 | 772 | | 20000 |
| Paul Mauriat | Gone Is Love | Album | Code | 1980 | 1321 | | 15000 |
| Paul Mauriat | Gone Is Love | Album | Code | 1981 | 601 | | 10000 |
| Paul Mauriat | Gone Is Love | Album | Code | 1981 | 514 | | 29640 |
| Paul Mauriat | Gone Is Love | Album | Code | 1982 | 1907 | | 9800 |
| Paul Mauriat | Gone Is Love | Album | Code | 1982 | 1466 | | 19000 |
| Paul Mauriat | Gone Is Love | Album | Code | 1983 | 717 | | 8800 |
| Paul Mauriat | Gone Is Love | Album | Code | 1983 | 434 | | 20000 |
| Paul Mauriat | Gone Is Love | Album | Code | 1983 | 1673 | | 5200 |
| Paul Mauriat | Gone Is Love | Album | Code | 1984 | 3300 | | 60000 |
| Paul Mauriat | Gone Is Love | Album | Code | 1984 | 1934 | | 500 |
| Paul Mauriat | Gone Is Love | Album | Code | 1985 | 4240 | | 60000 |
| Paul Mauriat | Gone Is Love | Album | Code | 1986 | 664 | | 13640 |
| Paul Mauriat | Gone Is Love | Album | Code | 1986 | 451 | | 8320 |
| Paul Mauriat | Gone Is Love | Album | Code | 1986 | 444 | | 3380 |
| Paul Mauriat | Gone Is Love | Album | Code | 1986 | 1239 | | 4700 |
| Paul Mauriat | L'été Indien | Album | Code | 1980 | 325 | | 25000 |
| Paul Mauriat | L'été Indien | Album | Code | 1980 | 299 | | 30000 |
| Paul Mauriat | L'été Indien | Album | Code | 1981 | 5130 | | 50000 |
| Paul Mauriat | L'été Indien | Album | Code | 1981 | 1575 | | 10900 |
| Paul Mauriat | Mamy Blue / El Bimbo | FlexiDisc | Code | 1978 | | | 500000 |
| Paul Mauriat | Nocturne / Lark | FlexiDisc | Code | 1973 | 1072 | | 450000 |
| Paul Mauriat | Sur Un Air Du Vivaldi | Album | Code | 0 | 5131 | | 50000 |
| Paul Mauriat | Sur Un Air Du Vivaldi | Album | Code | 1980 | 324 | | 10000 |
| Paul Mauriat | Sur Un Air Du Vivaldi | Album | Code | 1980 | 313 | | 15000 |
| Paul Mauriat | Sur Un Air Du Vivaldi | Album | Code | 1981 | 1777 | | 52200 |
| Paul Mauriat | Sur Un Air Du Vivaldi | Album | Code | 1981 | 14368 | | 50000 |
| Paul Mauriat | Toutes Mes Gouttes De Pluie / Serait-ce Moi? | FlexiDisc | Code | 1985 | 483 | | 365000 |
| Paul McCartney | Chaos And Creation In The Backyard | Album | Certification | 2005 | | Gold | 10000 |
| Paul McCartney | CHOBA B CCCP | Album | Code | 1988 | 2024 | | 30200 |
| Paul McCartney | CHOBA B CCCP | Album | Code | 1988 | 141 | | 50000 |
| Paul McCartney | CHOBA B CCCP | Album | Code | 1988 | 1350 | | 80400 |
| Paul McCartney | CHOBA B CCCP | Album | Code | 1989 | 8 | | 3000 |
| Paul McCartney | CHOBA B CCCP | Album | Code | 1989 | 750 | | 90080 |
| Paul McCartney | CHOBA B CCCP | Album | Code | 1989 | 213 | | 131580 |
| Paul McCartney | CHOBA B CCCP | Album | Code | 1989 | 1968 | | 82540 |
| Paul McCartney | Ebony And Ivory / Pipes Of Peace | FlexiDisc | Code | 1984 | 3032 | | 500000 |
| Paul McCartney | Flowers In The Dirt | Album | Code | 1990 | 68 | | 2000 |
| Paul McCartney | Flowers In The Dirt | Album | Code | 1990 | 398 | | 12000 |
| Paul McCartney | Flowers In The Dirt | Album | Code | 1990 | 2407 | | 15000 |
| Paul McCartney | Flowers In The Dirt | Album | Code | 1990 | 2404 | | 15000 |
| Paul McCartney | Flowers In The Dirt | Album | Code | 1990 | 1440 | | 3800 |
| Paul McCartney | Flowers In The Dirt | Album | Code | 1991 | 104 | | 58000 |
| Paul McCartney | Heart Of The Country | EP | Code | 1982 | 984 | | 3200 |
| Paul McCartney | Heart Of The Country | EP | Code | 1982 | 1270 | | 3000 |
| Paul McCartney | Man We Was Lonely / Give Ireland Back To The Irish | FlexiDisc | Code | 1972 | 3420 | | 450000 |
| Paul McCartney | Memory Almost Full | Album | Certification | 2008 | | Platinum | 20000 |
| Paul McCartney | Silly Love Songs | Single | Code | 1983 | 753 | | 10000 |
| Paul McCartney | Silly Love Songs | Single | Code | 1983 | 67 | | 40000 |
| Paul McCartney | Silly Love Songs | Single | Code | 1983 | 622 | | 5000 |
| Paul McCartney | Silly Love Songs | Single | Code | 1983 | 46 | | 10000 |
| Paul McCartney | Silly Love Songs | Single | Code | 1983 | 36 | | 10000 |
| Paul McCartney | Silly Love Songs | Single | Code | 1983 | 3 | | 57300 |
| Paul McCartney | Silly Love Songs | Single | Code | 1983 | 222 | | 50000 |
| Paul McCartney | Silly Love Songs | Single | Code | 1983 | 208 | | 80000 |
| Paul McCartney | Silly Love Songs | Single | Code | 1983 | 167 | | 21300 |
| Paul McCartney | Silly Love Songs | Single | Code | 1984 | 98 | | 78240 |
| Paul McCartney | Silly Love Songs | Single | Code | 1984 | 71 | | 25000 |
| Paul McCartney | Silly Love Songs | Single | Code | 1984 | 419 | | 30460 |
| Paul McCartney | Silly Love Songs | Single | Code | 1984 | 2938 | | 3600 |
| Paul McCartney | Silly Love Songs | Single | Code | 1984 | 253 | | 40000 |
| Paul McCartney | Silly Love Songs | Single | Code | 1984 | 232 | | 20000 |
| Paul McCartney | Silly Love Songs | Single | Code | 1985 | 309 | | 7600 |
| Paul McCartney | Silly Love Songs | Single | Code | 1985 | 187 | | 900 |
| Paul McCartney & Wings | With A Little Luck (?) / Mull Of Kintyre | FlexiDisc | Code | 1978 | 2722 | | 500000 |
| Paul McCartney & Wings | You Gave Me The Answer / Mrs. Vandebilt | FlexiDisc | Code | 1976 | 3004 | | 500000 |
| Paul Oakenfold | A Lively Mind | Album | Certification | 2006 | | Gold | 10000 |
| Paul Robeson | Meeting With Paul Robeson | FlexiDisc | | 1964 | | | 150000 |
| Paul Robeson | Mississippi | Album | Code | 1979 | 502 | | 5000 |
| Paul Robeson | Negro Spirituals | Album | Code | 1982 | 54 | | 20000 |
| Paul Robeson | Negro Spirituals | Album | Code | 1982 | 2345 | | 15000 |
| Paul Robeson | Negro Spirituals | Album | Code | 1982 | 1072 | | 11280 |
| Paul Van Dyk | Hands On In Between | Album | Certification | 2008 | | Gold | 10000 |
| Paul Van Dyk | In Between | Album | Certification | 2007 | | Platinum | 20000 |
| Paul Winter | Music Of Nature. Ecojazz By Paul Winter | FlexiDisc | Code | 1985 | 1383 | | 353000 |
| Paula Abdul | (It's Just) The Way That You Love Me / Forever Your Girl | Cassette | Code | 1992 | 1227 | | 60000 |
| Paula Abdul | Forever Your Girl | Album | Code | 1990 | 2682 | | 3000 |
| Paula Abdul | Forever Your Girl | Album | Code | 1991 | 537 | | 14000 |
| Pauline Julien | Jeune Fille De La Forêt | FlexiDisc | Code | 1968 | 1568 | | 300000 |
| Pauline Julien | Le Plus Beau Voyage / Bozo Les Culottes / Ailes Derrière | FlexiDisc | Code | 1975 | 825 | | 500000 |
| Pavel Novák | Palma / Kucyk Polly | FlexiDisc | Code | 1982 | 1971 | | 500000 |
| Pelé | Center Forward With Guitar | FlexiDisc | Code | 1968 | 3110 | | 300000 |
| Pernille Hansen | Min Mor Er Kranoperatør / Diktator / Om 10 År Bliver Jeg 20 | FlexiDisc | Code | 1980 | 1723 | | 500000 |
| Pete Seeger | Pete Seeger Sings | FlexiDisc | | 1964 | | | 150000 |
| Pete Seeger | Snow / We Do Not Go / Pure Water | FlexiDisc | Code | 1973 | 3834 | | 450000 |
| Peter Gabriel | Sledgehammer / Big Time | FlexiDisc | Code | 1990 | 1958 | | 240000 |
| Peter Gabriel | So | Album | Code | 1988 | 1772 | | 29000 |
| Peter Gabriel | So | Album | Code | 1989 | 675 | | 41000 |
| Peter Gabriel | So | Album | Code | 1989 | 304 | | 81000 |
| Peter Gabriel | So | Album | Code | 1991 | 325 | | 5140 |
| Peter Gordeno | I Need Only You / American Tragedy | FlexiDisc | Code | 1978 | 2870 | | 500000 |
| Peter Schreier | From The Cycle "The Beautiful Miller" | FlexiDisc | Code | 1973 | 1072 | | 450000 |
| Phantasm | Keeper of Death | Album | Code | 1993 | 220 | | 15000 |
| Phil Ochs | American Singer About America | FlexiDisc | Code | 1968 | 395 | | 250000 |
| Philippe Hirschhorn | In The Program: Ravel, Paganini, Bartok | FlexiDisc | Code | 1971 | 2717 | | 350000 |
| Piero Piccioni | Pierro Piccioni Opens Sound Page | FlexiDisc | Code | 1983 | 1460 | | 500000 |
| Pierre Barouh / Nicole Croisille | Un Homme Et Une Femme | FlexiDisc | Code | 1968 | 67 | | 250000 |
| Piesniary / The New Christy Minstrels | Bloomed Lilacs, Bird Cherries In The Garden / Veronica | FlexiDisc | Code | 1977 | 253 | | 500000 |
| Pink Floyd | 1967-68 | Album | Code | 1992 | 256 | | 50000 |
| Pink Floyd | Dark Side Of The Moon | Album | Certification | 2003 | | Platinum | 20000 |
| Pink Floyd | Delicate Sound Of Thunder | Album | Code | 1989 | 489 | | 150000 |
| Pink Floyd | Delicate Sound Of Thunder | Album | Code | 1989 | 1973 | | 110670 |
| Pink Floyd | Delicate Sound Of Thunder | Album | Code | 1989 | 1152 | | 50000 |
| Pink Floyd | Delicate Sound Of Thunder | Album | Code | 1990 | 649 | | 78360 |
| Pink Floyd | Delicate Sound Of Thunder | Album | Code | 1990 | 395 | | 12100 |
| Pink Floyd | Delicate Sound Of Thunder | Album | Code | 1990 | 2260 | | 40000 |
| Pink Floyd | Delicate Sound Of Thunder | Album | Code | 1990 | 21 | | 3300 |
| Pink Floyd | Delicate Sound Of Thunder | Album | Code | 1990 | 20 | | 3300 |
| Pink Floyd | Delicate Sound Of Thunder | Album | Code | 1990 | 196 | | 124500 |
| Pink Floyd | Delicate Sound Of Thunder | Album | Code | 1991 | 95 | | 22660 |
| Pink Floyd | Delicate Sound Of Thunder | Album | Code | 1991 | 357 | | 5000 |
| Pink Floyd | Shine On You Crazy Diamond / Time / Money | FlexiDisc | Code | 1980 | 2941 | | 500000 |
| Pink Floyd | Shine On, You Crazy Diamond / Us And Them | FlexiDisc | Code | 1989 | 966 | | 270000 |
| Pink Floyd | The Wall | DVD | Certification | 2007 | | 2xPlatinum | 12000 |
| Pinky & Killers | Romance On The Starry Sky / Season Of The Winds / Imperceptibly | FlexiDisc | Code | 1971 | 2084 | | 350000 |
| Piotr Szczepanik | ?ó?te Kalendarze | FlexiDisc | Code | 1965 | 3000 | | 181000 |
| Piramis | Álom Új / Magasabban Szárnyal | FlexiDisc | Code | 1979 | 275 | | 500000 |
| Pitbull & Ne-Yo | Tonight (Give Me Everything) | Ringtone | Certification | 2011 | Lenta 2011 | Platinum | 200000 |
| Placebo | Meds | Album | Certification | 2006 | | Gold | 10000 |
| Placido Domingo | Él No Puede Amarte Más / Ayer | FlexiDisc | Code | 1982 | 2574 | | 500000 |
| Placido Domingo | Marcel's Aria From Act 3 Of The Opera "La Bohème" | FlexiDisc | Code | 1989 | 833 | | 270000 |
| Placido Domingo / Orchestra Del Teatro Alla Scala | Final Of The 1st Act Of The Opera By Giuseppe Verdi "Aida" | FlexiDisc | Code | 1989 | 966 | | 270000 |
| Pooh | Bellezza / È Il Momento E Noi | FlexiDisc | Code | 1982 | 2736 | | 500000 |
| Pooh | Uomini Soli | FlexiDisc | Code | 1990 | 2208 | | 240000 |
| Potap & Nastya | Chumachechaja Vesna | Ringtone | Certification | 2011 | Lenta 2011 | Platinum | 200000 |
| Precious Wilson | One Way Ticket To The Moon / Light In The Window | FlexiDisc | Code | 1981 | 3406 | | 500000 |
| Premier Minister | Pyatyy Okean | Album | Certification | 2003 | | Gold | 100000 |
| Prince | When Doves Cry / Batdance | FlexiDisc | Code | 1990 | 1958 | | 240000 |
| Prinzip | Rock Group "Prinzip" (GDR) | Single | Code | 1987 | 242 | | 15000 |
| Puhdys | Puhdys | Album | Code | 0 | 749 | | 1000 |
| Puhdys | Puhdys | Album | Code | 0 | 549 | | 2000 |
| Puhdys | Puhdys | Album | Code | 0 | 350 | | 2380 |
| Puhdys | Puhdys | Album | Code | 0 | 301 | | 25000 |
| Puhdys | Puhdys | Album | Code | 0 | 296 | | 2100 |
| Puhdys | Puhdys | Album | Code | 1977 | 5832 | | 60000 |
| Puhdys | Puhdys | Album | Code | 1979 | 767 | | 6000 |
| Puhdys | Puhdys | Album | Code | 1979 | 655 | | 25500 |
| Puhdys | Puhdys | Album | Code | 1979 | 4175 | | 50000 |
| Puhdys | Puhdys | Album | Code | 1979 | 395 | | 14370 |
| Puhdys | Puhdys | Album | Code | 1979 | 3296 | | 17100 |
| Puhdys | Puhdys | Album | Code | 1979 | 131 | | 32000 |
| Puhdys | Puhdys | Album | Code | 1980 | 234 | | 9000 |
| Puhdys | Puhdys | Album | Code | 1980 | 16249 | | 160000 |
| Puhdys | Puhdys | Album | Code | 1980 | 11638 | | 60000 |
| Puhdys | Puhdys | Album | Code | 1980 | 1009 | | 10000 |
| Puhdys | Puhdys | Album | Code | 1981 | 1152 | | 200000 |
| Puhdys | Puhdys | Album | Code | 1982 | 822 | | 9000 |
| Puhdys | Puhdys | Album | Code | 1982 | 2269 | | 1200 |
| Puhdys | Puhdys | Album | Code | 1983 | 197 | | 3200 |
| Puhdys | Steine / Sonntagsfahre | FlexiDisc | Code | 1977 | 1042 | | 500000 |
| Pungent Stench | For God Your Soul ... For Me Your Flesh | Album | Code | 1993 | 185 | | 10000 |
| Pupo | Lo Devo Solo A Te | Album | Code | 0 | 197 | | 30000 |
| Pupo | Lo Devo Solo A Te | Album | Code | 1985 | 585 | | 60000 |
| Pupo | Lo Devo Solo A Te | Album | Code | 1985 | 4784 | | 50000 |
| Pupo | Lo Devo Solo A Te | Album | Code | 1985 | 274 | | 30000 |
| Pupo | Lo Devo Solo A Te | Album | Code | 1985 | 206 | | 5000 |
| Pupo | Lo Devo Solo A Te | Album | Code | 1985 | 197 | | 20000 |
| Pupo | Lo Devo Solo A Te | Album | Code | 1986 | 926 | | 231380 |
| Pupo | Lo Devo Solo A Te | Album | Code | 1986 | 269 | | 55860 |
| Pupo | Non Mi Sono Mai Arreso / Bambola Di Legno Telecomandata | FlexiDisc | Code | 1986 | 1914 | | 260000 |
| Pussycat | Georgie | FlexiDisc | Code | 1978 | 3020 | | 500000 |
| Queen | Greatest Hits | Album | Code | 1990 | 391 | | 12000 |
| Queen | Greatest Hits | Album | Code | 1990 | 2375 | | 7000 |
| Queen | Greatest Hits | Album | Code | 1990 | 1611 | | 2400 |
| Queen | Greatest Hits | Album | Code | 1991 | ? | | 10000 |
| Queen | Jealousy / Don't Stop Me Now | FlexiDisc | Code | 1980 | 1585 | | 500000 |
| Queen + Paul Godgers | The Cosmos Rocks | Album | Certification | 2008 | | Gold | 10000 |
| Quilapayún | Comienza La Vida Nueva | FlexiDisc | Code | 1971 | 994 | | 350000 |
| Quilapayún | The Songs Of The Chilean Underground Are Performed By The Quilapayún Ensemble. | FlexiDisc | Code | 1976 | 2360 | | 500000 |
| Quilapayún | Venseremos / Marcha Del Trabajo / Folleto De La Canción | FlexiDisc | Code | 1974 | 2168 | | 500000 |
| Radmila Karaklaji? | King Angry | FlexiDisc | Code | 1972 | 3420 | | 450000 |
| Radmila Karaklajic | Radmila Karaklajic & Contact Ensemble | Album | Code | 0 | 576 | | 7400 |
| Radmila Karaklajic | Radmila Karaklajic & Contact Ensemble | Album | Code | 1983 | 804 | | 4060 |
| Radmila Karaklajic | Radmila Karaklajic & Contact Ensemble | Album | Code | 1983 | 224 | | 34000 |
| Radmila Karaklajic | Radmila Karaklajic & Contact Ensemble | Album | Code | 1983 | 165 | | 24800 |
| Radmila Karaklajic | Radmila Karaklajic & Contact Ensemble | Album | Code | 1983 | 1430 | | 17000 |
| Radmila Karaklajic | Radmila Karaklajic & Contact Ensemble | Album | Code | 1984 | 737 | | 27000 |
| Radmila Karaklajic | Radmila Karaklajic & Contact Ensemble | Album | Code | 1984 | 460 | | 20100 |
| Raffaella Carrà | Fai Le Mie Congratulazioni / Clack | FlexiDisc | Code | 1980 | 2620 | | 500000 |
| Rainbow | Ensemble Rainbow | Album | Code | 1988 | 994 | | 25000 |
| Rainbow | Ensemble Rainbow | Album | Code | 1988 | 803 | | 25000 |
| Rainbow | Ensemble Rainbow | Album | Code | 1988 | 1942 | | 65460 |
| Rainbow | Ensemble Rainbow | Album | Code | 1988 | 1357 | | 82000 |
| Rainbow | Ensemble Rainbow | Album | Code | 1988 | 1282 | | 6000 |
| Rainbow | Ensemble Rainbow | Album | Code | 1988 | 102 | | 15000 |
| Rainbow | Ensemble Rainbow | Album | Code | 1989 | 762 | | 5100 |
| Ralf Bursy | Warten In Der Dunkelheit / Kalte Augen | FlexiDisc | Code | 1989 | 1113 | | 270000 |
| Rammstein | Liebe Ist Für Alle Da | Album | Certification | 2010 | | 2xPlatinum | 40000 |
| Rammstein | Made In Germany 1995-2011 | Album | Certification | 2012 | | Gold | 5000 |
| Rammstein | Reise, Reise | Album | Certification | 2004 | | 2xPlatinum | 40000 |
| Rammstein | Rosenrot | Album | Certification | 2007 | | 2xPlatinum | 40000 |
| Rammstein | Volkerball | Album | Certification | 2007 | | Platinum | 20000 |
| Ramon Calzadilla | Music Of Russia And Music of Cuba | FlexiDisc | Code | 1974 | 1743 | | 450000 |
| Raphael | Estamos Contigo / Nadie Para Dar Consejos / Piénsalo | FlexiDisc | Code | 1975 | 3119 | | 500000 |
| Raphael | Llevar / Mañana | FlexiDisc | Code | 1973 | 3834 | | 450000 |
| Raphael | Luna / Ave Maria | FlexiDisc | Code | 1970 | 3283 | | 350000 |
| Ravi Shankar / Lakshmi Shankar / A.R. Rahman / Ali Akbar Khan | Fragments From Ravi Shankar's Composition "Monoharini", Sindhu Bhairavi, Mohan Kaunz | FlexiDisc | Code | 1985 | 1383 | | 353000 |
| Ray Charles | Good Morning Dear / Your Love | FlexiDisc | Code | 1974 | 2168 | | 500000 |
| Ray Charles | Hit The Road Jack! / I Can't Stop Loving You | FlexiDisc | Code | 1991 | 3175 | | 120000 |
| Ray Charles | Hit The Road Jack! / I Can't Stop Loving You | Cassette | Code | 1991 | 3175 | | 20000 |
| Ray Conniff | Alone Again (Naturally) | Album | Claim | 0 | Billboard 25.01.1975 | 0 | 15000 |
| Ray Conniff | Arrangements By Ray Conniff | FlexiDisc | Code | 1969 | 2565 | | 350000 |
| Ray Ventura Et Ses Collégiens | Tout Va Bien Belle Marquise | FlexiDisc | Code | 1986 | 2446 | | 260000 |
| Ray Ventura Et Ses Collégiens | Tout Va Bien, Beau Marquis | FlexiDisc | Code | 1974 | 2168 | | 500000 |
| Red Hot Chili Peppers | I'm With You | Album | Certification | 2011 | | Gold | 5000 |
| Regina Thoss | ... Und Das Bin Ich / Es War Eine Grossartige Zeit Für Unsere Treffen | FlexiDisc | Code | 1981 | 120 | | 500000 |
| Reiner Schöne | Mr. President | FlexiDisc | Code | 1967 | 850 | | 250000 |
| Remi Bendali | Uwqifuu Alnaari! / Taeal, Santa Kluz! | FlexiDisc | Code | 1985 | 671 | | 365000 |
| Renata Scotto / Luciano Pavarotti | Fragment Of The Opera By Gaetano Donizetti "Lucia Di Lammermoor" | FlexiDisc | Code | 1974 | 2168 | | 500000 |
| Renato Zero | L'uomo Che Non Dovrebbe Essere / Ora O Mai Più | FlexiDisc | Code | 1979 | 417 | | 500000 |
| Renzo Arbore | Clarinetto | FlexiDisc | Code | 1986 | 2807 | | 260000 |
| Riccardo Cocciante | Se Siete Insieme | FlexiDisc | Code | 1991 | 424 | | 100000 |
| Riccardo Cocciante | Se Siete Insieme | Cassette | Code | 1991 | 424 | | 10000 |
| Riccardo Fogli | Collezione | Album | Code | 1984 | 588 | | 2500 |
| Riccardo Fogli | Collezione | Album | Code | 1984 | 476 | | 50000 |
| Riccardo Fogli | Collezione | Album | Code | 1984 | 170 | | 20000 |
| Riccardo Fogli | Collezione | Album | Code | 1984 | 116 | | 25000 |
| Riccardo Fogli | Collezione | Album | Code | 1985 | 561 | | 61200 |
| Riccardo Fogli | Collezione | Album | Code | 1985 | 56 | | 52000 |
| Riccardo Fogli | Collezione | Album | Code | 1985 | 371 | | 7000 |
| Riccardo Fogli | Collezione | Album | Code | 1986 | 933 | | 197560 |
| Riccardo Fogli | Collezione | Album | Code | 1986 | 78 | | 8140 |
| Riccardo Fogli | Collezione | Album | Code | 1986 | 707 | | 24080 |
| Riccardo Fogli | Nel Modo Giusto / Come Avrei Voluto | FlexiDisc | Code | 1985 | 1226 | | 365000 |
| Riccardo Fogli | Per Lucia / Altri Tempi | FlexiDisc | Code | 1984 | 1949 | | 500000 |
| Ricchi & Poveri | Mamma Maria | Album | Code | 1985 | 586 | | 100000 |
| Ricchi & Poveri | Mamma Maria | Album | Code | 1985 | 5168 | | 100000 |
| Ricchi & Poveri | Mamma Maria | Album | Code | 1985 | 4782 | | 50000 |
| Ricchi & Poveri | Mamma Maria | Album | Code | 1985 | 445 | | 112000 |
| Ricchi & Poveri | Mamma Maria | Album | Code | 1985 | 335 | | 30000 |
| Ricchi & Poveri | Mamma Maria | Album | Code | 1985 | 194 | | 30000 |
| Ricchi & Poveri | Mamma Maria | Album | Code | 1985 | 1029 | | 21000 |
| Ricchi & Poveri | Mamma Maria | Album | Code | 1986 | 990 | | 174740 |
| Ricchi & Poveri | Mamma Maria | Album | Code | 1986 | 71 | | 12100 |
| Ricchi & Poveri | Mamma Maria | Album | Code | 1986 | 63 | | 59700 |
| Ricchi & Poveri | Mamma Maria | Album | Code | 1987 | 669 | | 5000 |
| Ricchi E Poveri | Buona Giornata! | FlexiDisc | Code | 1990 | 2208 | | 240000 |
| Ricchi E Poveri | Mi Sto Innamorando Di Te / ...Penso A Te | FlexiDisc | Code | 1986 | 2989 | | 260000 |
| Ricchi E Poveri | Se Mi Innamoro / Vuoi Ballare? | FlexiDisc | Code | 1985 | 671 | | 365000 |
| Riche Cole | Riche Cole In Leningrad | Album | Code | 1990 | 475 | | 6370 |
| Riche Cole | Riche Cole In Leningrad | Album | Code | 1990 | 309 | | 5700 |
| Riche Cole | Riche Cole In Leningrad | Album | Code | 1990 | 2008 | | 4000 |
| Rihanna | A Girl Like Me | Album | Certification | 2007 | | Platinum | 20000 |
| Rihanna | Good Girl Gone Bad | Album | Certification | 2011 | | 5xPlatinum | 100000 |
| Rihanna | Loud | Album | Certification | 2011 | | 3xPlatinum | 30000 |
| Rihanna | Music Of The Sun | Album | Certification | 2011 | | Gold | 10000 |
| Rihanna | Rated R | Album | Certification | 2010 | | Gold | 10000 |
| Ringo Starr | Six O'Clock / Oh My My | FlexiDisc | Code | 1975 | 683 | | 500000 |
| Robbie Williams | Intensive Care | Album | Certification | 2005 | | Gold | 10000 |
| Robbie Williams | Rudebox | Album | Certification | 2006 | | Gold | 10000 |
| Robert Plant | Big Love / Watching You | FlexiDisc | Code | 1991 | 537 | | 100000 |
| Robert Plant | Big Love / Watching You | Cassette | Code | 1991 | 537 | | 10000 |
| Robert Plant | Fate Of Nations (reissue) | Album | Certification | 2008 | | Gold | 10000 |
| Robert Plant & Alison Krauss | Raising Sand | Album | Certification | 2008 | | Gold | 10000 |
| Robert Young | Love Remembers / Always | FlexiDisc | Code | 1976 | 1886 | | 500000 |
| Roberta Flack | The First Time Ever I Saw Your Face / Angelitos Negros | FlexiDisc | Code | 1973 | 691 | | 450000 |
| Robertino Loretti | Mattina / Dimmi Roma | FlexiDisc | Code | 1989 | 1388 | | 270000 |
| Roberto Carlos | Coimbra | FlexiDisc | Code | 1966 | 3101 | | 250000 |
| Roberto Rivera | ¡Larga Vida A La Revolución! / Pinochet, No Seas Ingenuo | FlexiDisc | Code | 1980 | 2774 | | 500000 |
| Rolando Alarcon | Trolebús De Medianoche / Querrían Los Rusos La Guerra? | FlexiDisc | Code | 1971 | 1576 | | 350000 |
| Romuald | Chanson Pour Vous | FlexiDisc | Code | 1968 | 3110 | | 300000 |
| Ron Carter | Third Plane | Album | Code | 1985 | 535 | | 10000 |
| Ron Carter | Third Plane | Album | Code | 1985 | 340 | | 4000 |
| Rosa Virginia Chacin | Es La Hora | FlexiDisc | Code | 1969 | 3711 | | 320000 |
| Rosalie Dubois | Temps De Cerise | FlexiDisc | Code | 1981 | 120 | | 500000 |
| Rosita Fornes | Lealtad Del Cisne | FlexiDisc | Code | 1977 | 1181 | | 500000 |
| Roxette | Charm School | Album | Certification | 2011 | | Gold | 5000 |
| Roy Clark | Such A Simple Story / Yesterday When I Was Young | FlexiDisc | Code | 1976 | 2044 | | 500000 |
| Roy Orbison | Blue Bayou / In Dreams / Mean Woman Blues | FlexiDisc | Code | 1989 | 712 | | 270000 |
| Royal Knights | Royal Knights Vocal Quartet | Album | Code | 0 | 873 | | 33000 |
| Royal Knights | Royal Knights Vocal Quartet | Album | Code | 1980 | 791 | | 9000 |
| Royal Knights | Royal Knights Vocal Quartet | Album | Code | 1980 | 248 | | 9400 |
| Royal Knights | Royal Knights Vocal Quartet | Album | Code | 1980 | 194 | | 10000 |
| Royal Knights | Seven Daffodils | FlexiDisc | Code | 1982 | 2262 | | 500000 |
| Royal Knights | Vocal Quartet "Royal Knights" | Album | Code | 1981 | 26 | | 1500 |
| Ruki Vverh! | Ne Bojsja, Ja S Toboj | Album | Report | 2001 | Lenta 2011 | | 1200000 |
| Rumba Tres | No Se, No Se | FlexiDisc | Code | 1978 | 3020 | | 500000 |
| Runa Laila & D.C.S. | My Favourite / Capricious Feeling | FlexiDisc | Code | 1984 | 2848 | | 500000 |
| Rundfunk-Tanzorchester Berlin | Rubma | FlexiDisc | Code | 1966 | 456 | | 250000 |
| Running Wild | Riding The Storm | FlexiDisc | Code | 1990 | 2593 | | 210000 |
| S?awa Przybylska | Okularnicy | FlexiDisc | Code | 1966 | 1543 | | 250000 |
| S?awa Przybylska | Znajd? Ci? | FlexiDisc | Code | 1971 | 1812 | | 350000 |
| Sándor Mucsi & Sylvia Sass | Arias From Operettas M. Eysemann & Emmerich Kálmán | FlexiDisc | Code | 1990 | 1668 | | 240000 |
| Sabrina Salerno | Like A Yo Yo / Guys And Dolls | FlexiDisc | Code | 1989 | 361 | | 270000 |
| Sade | Soldier Of Love | Album | Certification | 2010 | | 2xPlatinum | 20000 |
| Sadie Nine | Nine By Nine | Album | Code | 1991 | 752 | | 50000 |
| Safri Duo ft. Velile | Helele | Ringtone | Certification | 2011 | Lenta 2011 | Gold | 100000 |
| Sak Noel | Loca People | Ringtone | Certification | 2011 | Lenta 2011 | Gold | 100000 |
| Salomé | Respeto Y Respetaré / Vento - Viento / Música | FlexiDisc | Code | 1969 | 631 | | 350000 |
| Samantha Fox | Saving It Up / Spirit Of America | FlexiDisc | Code | 1991 | 1032 | | 100000 |
| Samantha Fox | Saving It Up / Spirit Of America | Cassette | Code | 1991 | 1032 | | 5000 |
| Samantha Jones | He Excites Me | FlexiDisc | Code | 1971 | 1961 | | 350000 |
| Sandra | Secret Land / In The Heat Of The Night(?) | FlexiDisc | Code | 1990 | 1553 | | 240000 |
| Sandra | The Art Of Love | Album | Certification | 2007 | | Gold | 10000 |
| Sandra | The Long Play | Album | Code | 1988 | 1865 | | 139050 |
| Sandra | The Long Play | Album | Code | 1988 | 1361 | | 76880 |
| Sandra | The Long Play | Album | Code | 1989 | 35 | | 3000 |
| Sandra | The Long Play | Album | Code | 1989 | 2215 | | 40000 |
| Sandra | The Long Play | Album | Code | 1989 | 1865 | | 139060 |
| Sandra Kim | Maria / Hey Baby | FlexiDisc | Code | 1986 | 3906 | | 260000 |
| Sandra Kim | Tokyo Boy / J'aime La Vie | FlexiDisc | Code | 1987 | 387 | | 260000 |
| Santana | All That I Am | Album | Certification | 2005 | | Gold | 10000 |
| Santana | Ultimate Santana | Album | Certification | 2008 | | Gold | 10000 |
| Sara Montiel | Vendedora Violeta / Nada | FlexiDisc | Code | 1972 | 2910 | | 450000 |
| Sarah Vaughan | Shulie-A-Bop / Whatever Lola Wants | FlexiDisc | Code | 1991 | 424 | | 100000 |
| Sarah Vaughan | Shulie-A-Bop / Whatever Lola Wants | Cassette | Code | 1991 | 424 | | 10000 |
| Sarah Vaughan & Billy Eckstine | Dedicated To You | FlexiDisc | Code | 1991 | 424 | | 100000 |
| Sarah Vaughan & Billy Eckstine | Dedicated To You | Cassette | Code | 1991 | 424 | | 10000 |
| Sarahang | Master Mohammad Hussain Sarahang | Album | Code | 1984 | ? | | 1000 |
| Sarolta Zalatnay | Dal A Kék Madárról | FlexiDisc | Code | 1974 | 2834 | | 500000 |
| Sarolta Zalatnay | Gyere Vissza A Barátom / Napraforgó | FlexiDisc | Code | 1975 | 523 | | 500000 |
| Scissor Sisters | Ta-Dah | Album | Certification | 2007 | | Platinum | 20000 |
| Scorpions | Fragments Of Compositions | FlexiDisc | Code | 1989 | 1388 | | 270000 |
| Scorpions | Humanity | Album | Certification | 2007 | | Platinum | 20000 |
| Scorpions | Rhythm Of Love / Believe In Love | FlexiDisc | Code | 1988 | 2634 | | 255000 |
| Scorpions | Sting In The Tail | Album | Certification | 2010 | | Platinum | 10000 |
| Scorpions | Unbreakable | Album | Certification | 2004 | | Gold | 10000 |
| Scorpions | Unbreakable World Tour 2004 | DVD | Certification | 2007 | | Gold | 3000 |
| Scorpions | Wind Of Change | Ringtone | Certification | 2011 | Lenta 2011 | Gold | 100000 |
| Second Life | Dance With Me / Sunny Island | FlexiDisc | Code | 1983 | 781 | | 500000 |
| Secret Service | When The Night Closes In | Album | Code | 1986 | 947 | | 35000 |
| Secret Service | When The Night Closes In | Album | Code | 1986 | 904 | | 20000 |
| Secret Service | When The Night Closes In | Album | Code | 1986 | 650 | | 15000 |
| Secret Service | When The Night Closes In | Album | Code | 1986 | 380 | | 5900 |
| Secret Service | When The Night Closes In | Album | Code | 1986 | 1129 | | 160000 |
| Secret Service | When The Night Closes In | Album | Code | 1987 | 601 | | 46000 |
| Secret Service | When The Night Closes In | Album | Code | 1988 | 383 | | 7040 |
| Selena Gomez & The Scene | Love You Like A Love Song | Ringtone | Certification | 2011 | Lenta 2011 | Platinum | 200000 |
| Serge Lama | Poet Serge Lama | Album | Code | 1981 | 262 | | 50000 |
| Serge Lama | Poet Serge Lama | Album | Code | 1981 | 120 | | 30000 |
| Serge Lama | S'abstenir De Temps / Glycine | FlexiDisc | Code | 1976 | 2606 | | 500000 |
| Serge Reggiani | Loups | FlexiDisc | Code | 1970 | 1563 | | 350000 |
| Serge Reggiani | Mia Figlia | FlexiDisc | Code | 1973 | 408 | | 450000 |
| Sergei Rachmaninoff / The Philadelphia Orchestra | Fragment "Rhapsodies Of Temu Paganini" | FlexiDisc | Code | 1974 | 2750 | | 500000 |
| Sergey Zhukov ft. Viktoriya | Lish' O Tebe Mechtaju (DJ Pomeha Remake) | Ringtone | Certification | 2011 | Lenta 2011 | Gold | 100000 |
| Sergio Endrigo | C'è un / Girotondo In Giro Per Il Mondo / Quando Suoni Chopin | FlexiDisc | Code | 1972 | 2642 | | 450000 |
| Seweryn Krajewski | Koni Na Zare | Single | Code | 0 | 738 | | 1000 |
| Seweryn Krajewski | Koni Na Zare | Single | Code | 1980 | 728 | | 30000 |
| Seweryn Krajewski | Koni Na Zare | Single | Code | 1980 | 422 | | 74000 |
| Seweryn Krajewski | Koni Na Zare | Single | Code | 1980 | 1024 | | 30000 |
| Seweryn Krajewski | Koni Na Zare | Single | Code | 1981 | 479 | | 21000 |
| Shailendra Singh / Lata Mangeshkar / Manna Dey | Music from the Motion Picture "Bobby" | FlexiDisc | Code | 1975 | 683 | | 500000 |
| Shakira | Fijacion oral vol.1 | Album | Certification | 2007 | | Platinum | 20000 |
| Shakira | Laundry Service | Album | Report | 2003 | Billboard 03/2003 | | 100000 |
| Shakira | Oral Fixation Vol. 2 | Album | Certification | 2007 | | 2xPlatinum | 40000 |
| Shakira | The Sun Comes Out (Sale El Sol) | Album | Certification | 2011 | | Platinum | 10000 |
| Shirley Bassey | It's Great / I'd Do It All Again | FlexiDisc | Code | 1977 | 104 | | 500000 |
| Shturcite | Tsvetelina / Alen Delon | FlexiDisc | Code | 1983 | 320 | | 500000 |
| Sidney Bechet | Jazz Classics Volume 1 | Album | Code | 1983 | 129 | | 5000 |
| Sidney Bechet | Jazz Classics Volume 1 | Album | Code | 1983 | 1118 | | 5000 |
| Siegfried Walendy | Borriquito | Single | Code | 1974 | 3626 | | 2000 |
| Siegfried Walendy | Borriquito | Single | Code | 1975 | 531 | | 1500 |
| Siegfried Walendy | You Are My Dream | FlexiDisc | Code | 1973 | 408 | | 450000 |
| Siegfried Walendy & Puhdys | Siegfried Walendy, Puhdys | Album | Code | 1974 | 3623 | | 15000 |
| Siegfried Walendy & Puhdys | Siegfried Walendy, Puhdys | Album | Code | 1974 | 2378 | | 30 |
| Siegfried Walendy & Puhdys | Siegfried Walendy, Puhdys | Album | Code | 1974 | 2238 | | 16000 |
| Siegfried Walendy & Puhdys | Siegfried Walendy, Puhdys | Album | Code | 1975 | 6331 | | 7000 |
| Siegfried Walendy & Puhdys | Siegfried Walendy, Puhdys | Album | Code | 1975 | 1876 | | 4000 |
| Siegfried Walendy & Puhdys | Siegfried Walendy, Puhdys | Album | Code | 1976 | 2825 | | 50000 |
| Siegfried Walendy & Puhdys | Siegfried Walendy, Puhdys | Album | Code | 1977 | 5399 | | 1100 |
| Siegfried Walendy & Puhdys | Siegfried Walendy, Puhdys | Album | Code | 1977 | 4063 | | 3900 |
| Siegfried Walendy & Puhdys | Siegfried Walendy, Puhdys | Album | Code | 1978 | 6377 | | 4000 |
| Siegfried Walendy & Puhdys | Siegfried Walendy, Puhdys | Album | Code | 1978 | 4780 | | 3100 |
| Siegfried Walendy & Puhdys | Siegfried Walendy, Puhdys | Album | Code | 1978 | 3379 | | 1500 |
| Siegfried Walendy & Puhdys | Siegfried Walendy, Puhdys | Album | Code | 1978 | 2712 | | 2300 |
| Silver Convention | Silver Convention | Album | Code | 1979 | 4127 | | 110000 |
| Simon & Garfunkel | Best Simon & Garfunkel Songs | EP | Code | 1975 | 4156 | | 1600 |
| Simon & Garfunkel | Best Simon & Garfunkel Songs | EP | Code | 1975 | 1464 | | 7000 |
| Simon & Garfunkel | Best Simon & Garfunkel Songs | EP | Code | 1977 | 216 | | 2300 |
| Simon & Garfunkel | Best Simon & Garfunkel Songs | EP | Code | 1979 | 35 | | 12000 |
| Simon & Garfunkel | Best Simon & Garfunkel Songs | EP | Code | 1984 | 804 | | 500 |
| Simon & Garfunkel | I Am A Rock | Single | Code | 1974 | 3202 | | 13000 |
| Simon & Garfunkel | I Am A Rock | Single | Code | 1975 | 6294 | | 11000 |
| Simon & Garfunkel | I Am A Rock | Single | Code | 1978 | 87 | | 2300 |
| Simply Red | 25: The Greatest Hits | Album | Certification | 2009 | | Gold | 10000 |
| Simply Red | Home | Album | Certification | 2003 | | Gold | 10000 |
| Sinéad O'Connor | Songs From The Album "I Do Not Want What I Haven't Got" | FlexiDisc | Code | 1991 | 812 | | 100000 |
| Sinéad O'Connor | Songs From The Album "I Do Not Want What I Haven't Got" | Cassette | Code | 1991 | 812 | | 10000 |
| Skaldowie | Skaldowie | Album | Code | 0 | 488 | | 3020 |
| Skaldowie | Skaldowie | Album | Code | 1974 | 2376 | | 30000 |
| Skaldowie | Skaldowie | Album | Code | 1975 | 656 | | 3000 |
| Skaldowie | Skaldowie | Album | Code | 1975 | 361 | | 30000 |
| Skaldowie | Skaldowie | Album | Code | 1978 | 461 | | 40000 |
| Skaldowie | Skaldowie | Album | Code | 1980 | 153 | | 2000 |
| Skid Row | Sweet Little Sister | FlexiDisc | Code | 1990 | 2593 | | 210000 |
| Sky | Sky | Album | Code | 1981 | 247 | | 30000 |
| Sky | Sky | Album | Code | 1982 | 293 | | 11000 |
| Slava | Odinochestvo | Ringtone | Certification | 2011 | Lenta 2011 | 3xPlatinum | 600000 |
| Slipknot | All Hope Is Gone | Album | Certification | 2009 | | Gold | 10000 |
| Smash!! | 2 Nite | Album | Certification | 2005 | | Gold | 100000 |
| Smash!! | Freeway | Album | Certification | 2003 | | Gold | 210000 |
| Smash!! | SMASH | Album | Certification | 0 | | Gold | 100000 |
| Smokie | Greatest Hits | Album | Code | 0 | 338 | | 15000 |
| Smokie | Greatest Hits | Album | Code | 1980 | 575 | | 30000 |
| Smokie | Greatest Hits | Album | Code | 1980 | 3541 | | 10000 |
| Smokie | Greatest Hits | Album | Code | 1981 | 2177 | | 6200 |
| Smokie | Greatest Hits | Album | Code | 1981 | ? | | 40000 |
| Smokie | Greatest Hits | Album | Code | 1982 | 2565 | | 45200 |
| Smokie | Greatest Hits | Album | Code | 1986 | 460 | | 16000 |
| Smokie | Greatest Hits | Album | Code | 1986 | 435 | | 100000 |
| Smokie | Greatest Hits | Album | Code | 1987 | 42 | | 11000 |
| Smokie | Greatest Hits | Album | Code | 1987 | 175 | | 30000 |
| Smokie | Greatest Hits | Album | Code | 1989 | 31 | | 2000 |
| Smokie | Living Next Door To Alice / Oh Carol | FlexiDisc | Code | 1991 | 735 | | 100000 |
| Smokie | Living Next Door To Alice / Oh Carol | Cassette | Code | 1991 | 735 | | 10000 |
| Smokie | What Can I Do / Needles And Pins | FlexiDisc | Code | 1979 | 3158 | | 500000 |
| Snoop Dogg | Ego Trippin' | Album | Certification | 2009 | | Gold | 10000 |
| Snoop Dogg | The Blue Carpet Treatment | Album | Certification | 2008 | | Gold | 10000 |
| Soltész Rezs? | Poštový Hovor / Budeš Si Ma Vždy Pamäta?? | FlexiDisc | Code | 1983 | 1319 | | 500000 |
| Sonja Salvis | Together / The Wind Brings Us The Answer | FlexiDisc | Code | 1973 | 808 | | 450000 |
| Sonny Rollins | Sunny Days Starry Nights | Album | Code | 1987 | 552 | | 5500 |
| Sonny Rollins | Sunny Days Starry Nights | Album | Code | 1988 | 764 | | 4580 |
| Sonny Rollins | Sunny Days Starry Nights | Album | Code | 1988 | 1833 | | 1000 |
| Sophia Loren | Corrida | FlexiDisc | Code | 1969 | 3443 | | 320000 |
| Sophie Ellis-Bextor | Make A Scene | Album | Certification | 2011 | | Gold | 5000 |
| Sophie Ellis-Bextor | Trip The Light Fantastic | Album | Certification | 2008 | | Gold | 10000 |
| Souli Sabah | The Matsikoridon | FlexiDisc | Code | 1970 | 3622 | | 350000 |
| Soundtrack | Brigada | Album | Report | 2003 | Lenta 2011 | | 460000 |
| Soundtrack | Set Up | Album | Certification | 2007 | | Gold | 10000 |
| Soundtrack | Shrek 2 | Album | Certification | 2004 | | Gold | 10000 |
| Soundtrack | Starmania | Album | Code | 1990 | 1073 | | 15000 |
| Soundtrack | The Fast and Furious: Tokyo Drift | Album | Certification | 2007 | | Platinum | 20000 |
| Soundtrack | The Twilight Saga: New Moon | Album | Certification | 2010 | | Gold | 10000 |
| Soundtrack | Twilight | Album | Certification | 2010 | | Gold | 10000 |
| Soundtrack | Twlight Saga: Eclipse | Album | Certification | 2010 | | Gold | 5000 |
| Southern All Stars | Still I Love You / Brown Cherry(?) | FlexiDisc | Code | 1991 | 192 | | 100000 |
| Southern All Stars | Still I Love You / Brown Cherry(?) | Cassette | Code | 1991 | 192 | | 10000 |
| Space | Fragments Of The "Space Opera" | FlexiDisc | Code | 1991 | 638 | | 100000 |
| Space | Fragments Of The "Space Opera" | Cassette | Code | 1991 | 638 | | 10000 |
| Space | Give Me Love / Just Blue | FlexiDisc | Code | 1979 | 1454 | | 500000 |
| Space | Magic Fly | Album | Code | 1977 | 13 | | 2000 |
| Space | Magic Fly | Album | Code | 1983 | 9253 | | 300000 |
| Space | Magic Fly | Album | Code | 1983 | 738 | | 60000 |
| Space | Magic Fly | Single | Code | 1983 | 667 | | 96000 |
| Space | Magic Fly | Single | Code | 1983 | 665 | | 90000 |
| Space | Magic Fly | Album | Code | 1983 | 665 | | 200000 |
| Space | Magic Fly | Single | Code | 1983 | 664 | | 90000 |
| Space | Magic Fly | Single | Code | 1983 | 541 | | 100000 |
| Space | Magic Fly | Single | Code | 1983 | 534 | | 31780 |
| Space | Magic Fly | Single | Code | 1983 | 521 | | 7000 |
| Space | Magic Fly | Single | Code | 1983 | 36 | | 23000 |
| Space | Magic Fly | Single | Code | 1983 | 333 | | 17120 |
| Space | Magic Fly | Single | Code | 1983 | 333 | | 39480 |
| Space | Magic Fly | Single | Code | 1983 | 3 | | 42000 |
| Space | Magic Fly | Single | Code | 1983 | 291 | | 23700 |
| Space | Magic Fly | Single | Code | 1983 | 260 | | 95000 |
| Space | Magic Fly | Album | Code | 1983 | 250 | | 60000 |
| Space | Magic Fly | Single | Code | 1983 | 2469 | | 10000 |
| Space | Magic Fly | Album | Code | 1983 | 205 | | 10000 |
| Space | Magic Fly | Single | Code | 1983 | 193 | | 49000 |
| Space | Magic Fly | Single | Code | 1983 | 1039 | | 1000 |
| Space | Magic Fly | Album | Code | 1984 | 633 | | 500 |
| Space | Magic Fly | Single | Code | 1984 | 35 | | 49000 |
| Space | Magic Fly | Album | Code | 1984 | 3286 | | 200000 |
| Space | Magic Fly | Album | Code | 1984 | 23298 | | 300000 |
| Space | Magic Fly | Album | Code | 1985 | 399 | | 300000 |
| Space | Magic Fly | Album | Code | 1986 | 823 | | 6500 |
| Space | Magic Fly | Album | Code | 1986 | 3968 | | 50280 |
| Space | Magic Fly | Album | Code | 1988 | 135 | | 500 |
| Space | Paris - France - Transit / Souvenir From Rio / Ego | FlexiDisc | Code | 1983 | 1132 | | 500000 |
| Splean | 25-y Kadr | Album | Report | 2001 | Lenta 2011 | | 220000 |
| Stanis?aw Mikulski / Dana Lerska | Polish War Song Festival Tunes | FlexiDisc | Code | 1970 | 2447 | | 350000 |
| Stars On 45 | Long Play Album | Album | Code | 1983 | 88 | | 370140 |
| Stars On 45 | Long Play Album | Album | Code | 1983 | 499 | | 100000 |
| Stars On 45 | Long Play Album | Album | Code | 1983 | 488 | | 125000 |
| Stars On 45 | Long Play Album | Album | Code | 1983 | 43 | | 100000 |
| Stars On 45 | Long Play Album | Album | Code | 1983 | 140 | | 241500 |
| Stars On 45 | Long Play Album | Album | Code | 1983 | ? | | 1220 |
| Stars On 45 | Long Play Album | Album | Code | 1984 | 51 | | 66420 |
| Stars On 45 | Long Play Album | Album | Code | 1984 | 408 | | 632200 |
| Stars On 45 | Long Play Album | Album | Code | 1984 | 278 | | 93000 |
| Stars On 45 | The Superstars | Album | Code | 1982 | 739 | | 60000 |
| Stars On 45 | The Superstars | Album | Code | 1984 | 3005 | | 100000 |
| Stars On 45 | The Superstars | Album | Code | 1984 | 2619 | | 300000 |
| Stars On 45 | The Superstars | Album | Code | 1984 | 232 | | 60000 |
| Stars On 45 | The Superstars | Album | Code | 1984 | 2254 | | 200000 |
| Stas Mikhaylov | Bez Tebja | Ringtone | Certification | 2011 | Lenta 2011 | 2xPlatinum | 400000 |
| Stas Mikhaylov | Lucsie Pesni Na Bis! | Album | Certification | 2011 | | Platinum | 50000 |
| Stas Mikhaylov | Vse Dlja TebjaÂ… | Album | Certification | 2007 | | Platinum | 200000 |
| Stas Mikhaylov | Zivoj | Album | Certification | 2010 | | Platinum | 50000 |
| Status Quo | Red Sky / In The Army Now | FlexiDisc | Code | 1988 | 3086 | | 255000 |
| Status Quo | The Collection | Album | Code | 1993 | 381 | | 10000 |
| Stephanie | Ouragan / Dance With Me | FlexiDisc | Code | 1991 | 64 | | 100000 |
| Stephanie | Ouragan / Dance With Me | Cassette | Code | 1991 | 64 | | 20000 |
| Stevie Wonder | I Just Called To Say I Love You | Ringtone | Certification | 2011 | Lenta 2011 | Gold | 100000 |
| Stevie Wonder | Sunshine of my Life | Album | Code | 1988 | apr.00 | | 45000 |
| Stevie Wonder | Sunshine of my Life | Album | Code | 1988 | 921 | | 45000 |
| Stevie Wonder | Sunshine of my Life | Album | Code | 1988 | 92 | | 100000 |
| Stevie Wonder | Sunshine of my Life | Album | Code | 1988 | 89 | | 100000 |
| Stevie Wonder | Sunshine of my Life | Album | Code | 1988 | 592 | | 10000 |
| Stevie Wonder | Sunshine of my Life | Album | Code | 1988 | 501 | | 5100 |
| Stevie Wonder | Sunshine of my Life | Album | Code | 1988 | 484 | | 12500 |
| Stevie Wonder | Sunshine of my Life | Album | Code | 1988 | 434 | | 43000 |
| Stevie Wonder | Sunshine of my Life | Album | Code | 1988 | 351 | | 45000 |
| Stevie Wonder | Sunshine of my Life | Album | Code | 1988 | 336 | | 40000 |
| Stevie Wonder | Sunshine of my Life | Album | Code | 1988 | 324 | | 47120 |
| Stevie Wonder | Sunshine of my Life | Album | Code | 1988 | 23 | | 15000 |
| Stevie Wonder | Sunshine of my Life | Album | Code | 1988 | 157 | | 34530 |
| Stevie Wonder | Sunshine of my Life | Album | Code | 1988 | 118 | | 16600 |
| Stevie Wonder | Sunshine of my Life | Album | Code | 1988 | 1004 | | 4800 |
| Stevie Wonder | Sunshine of my Life | Album | Code | 1990 | 739 | | 9380 |
| Stevie Wonder | Sunshine of my Life | Album | Code | 1990 | 2100 | | 5860 |
| Stevie Wonder | Sunshine of my Life | Album | Code | 1991 | 546 | | 4160 |
| Sting | If On A Winter's Night | Album | Certification | 2010 | | Gold | 10000 |
| Sting | Moon Over Bourbon Street / If You Love Somebody Set Them Free | FlexiDisc | Code | 1990 | 2208 | | 240000 |
| Sting | Sacred Love | Album | Certification | 2003 | | Platinum | 20000 |
| Sting | Songs from Labyrinth | Album | Certification | 2007 | | Gold | 10000 |
| Sting | Symphonicities | Album | Certification | 2010 | | Gold | 5000 |
| Sting | The Soul Cages | Album | Code | 1992 | 145 | | 30000 |
| Sting | The Soul Cages | Album | Code | 1992 | 115 | | 10000 |
| Stromae | Alors On Danse | Ringtone | Certification | 2010 | Lenta 2010 | 2xPlatinum | 400000 |
| Stromae | Alors On Danse | Ringtone | Certification | 2011 | Lenta 2011 | 3xPlatinum | 600000 |
| Sugababes | Three | Album | Certification | 2003 | | Gold | 10000 |
| Supertramp | The Very Best Of | Album | Code | 1982 | 267 | | 50000 |
| Suzi Quatro | Michelle / Suddenness | FlexiDisc | Code | 1980 | 3225 | | 500000 |
| Suzi Quatro | She Loves You / Baby You're A Star | FlexiDisc | Code | 1989 | 1241 | | 270000 |
| Sy Oliver | For Dancers Only | Album | Code | 1989 | 2242 | | 8280 |
| Sy Oliver | For Dancers Only | Album | Code | 1989 | 153 | | 10000 |
| Sy Oliver | For Dancers Only | Album | Code | 1989 | 1476 | | 4400 |
| Sy Oliver | For Dancers Only | Album | Code | 1990 | 502 | | 10420 |
| Sy Oliver | For Dancers Only | Album | Code | 1990 | 104 | | 5400 |
| Sylvia Sass | Fragments of Arius Tosca And Turandot | FlexiDisc | Code | 1979 | | | 500000 |
| Sylvia Vrethammar | Dance With Me / Gentle Winds / Patchment Farm | FlexiDisc | Code | 1974 | 2549 | | 500000 |
| System Of A Down | Hypnotize | Album | Certification | 2005 | | Gold | 10000 |
| T. Rex | Marc Bolan / T. Rex | Album | Code | 1991 | 39 | | 100000 |
| t.A.T.u. | 200 Po Vstrechnoy | Album | Report | 2001 | Lenta 2011 | | 630000 |
| t.A.T.u. | Remixes | Album | Certification | 2004 | | Gold | 100000 |
| Takao Kisugi | In The Middle Of A Dream | FlexiDisc | Code | 1983 | 320 | | 500000 |
| Take 6 | So Much 2 Say | Album | Code | 1992 | 284 | | 30000 |
| Takeshi Terauchi & Blue Jeans | Swan Loyalty | FlexiDisc | Code | 1977 | 1181 | | 500000 |
| Tanita Tikaram | Sighing Innocents / Twist In My Sobriety | FlexiDisc | Code | 1992 | 1123 | | 65000 |
| Tanita Tikaram | Sighing Innocents / Twist In My Sobriety | Cassette | Code | 1992 | 1123 | | 5000 |
| Tararaina | Sol Naciente / Ombligo Del Universo / La Leyenda Del Rey Hotu Matua | FlexiDisc | Code | 1975 | 996 | | 500000 |
| Tarja Turunen | My Winterstorm | Album | Certification | 2008 | 2M | Platinum | 20000 |
| Teach-In | Festival | Album | Code | 0 | 675 | | 26000 |
| Teach-In | Festival | Album | Code | 0 | 585 | | 5000 |
| Teach-In | Festival | Album | Code | 0 | 239 | | 21000 |
| Teach-In | Festival | Album | Code | 1976 | 923 | | 20000 |
| Teach-In | Festival | Album | Code | 1976 | 69 | | 20000 |
| Teach-In | Festival | Album | Code | 1976 | 457 | | 8000 |
| Teach-In | Festival | Album | Code | 1976 | 251 | | 51000 |
| Teach-In | Festival | Album | Code | 1976 | 170 | | 8000 |
| Teach-In | Festival | Album | Code | 1977 | 6557 | | 10000 |
| Teach-In | Festival | Album | Code | 1977 | 61 | | 185100 |
| Teach-In | Festival | Album | Code | 1977 | 263 | | 150000 |
| Teach-In | Festival | Album | Code | 1977 | 2600 | | 30000 |
| Teach-In | Festival | Album | Code | 1977 | 1825 | | 30000 |
| Teach-In | Festival | Album | Code | 1977 | 141 | | 230000 |
| Teach-In | Festival | Album | Code | 1977 | 138 | | 15000 |
| Teach-In | Festival | Album | Code | 1977 | 107 | | 185100 |
| Teach-In | Festival | Album | Code | 1978 | 82 | | 35000 |
| Teach-In | Festival | Album | Code | 1978 | 670 | | 25000 |
| Teach-In | Festival | Album | Code | 1979 | 5 | | 28000 |
| Teach-In | Festival | Album | Code | 1980 | 48 | | 20000 |
| Teach-In | Festival | Album | Code | 1980 | 422 | | 30000 |
| Teach-In | Festival | Album | Code | 1980 | 24 | | 25000 |
| Teach-In | Festival | Album | Code | 1980 | 142 | | 35000 |
| Teach-In | Festival | Album | Code | 1981 | 587 | | 10000 |
| Teach-In | Festival | Album | Code | 1985 | 938 | | 1000 |
| Teach-In | Festival | Album | Code | 1985 | 3302 | | 60000 |
| Technotronic | Body To Body / Get It Started | FlexiDisc | Code | 1991 | 1032 | | 100000 |
| Technotronic | Body To Body / Get It Started | Cassette | Code | 1991 | 1032 | | 5000 |
| Tennessee Ernie Ford | 16 Tons | FlexiDisc | Code | 1975 | 523 | | 500000 |
| Teresa Berganza | Concert Aria | FlexiDisc | Code | 1986 | 1914 | | 260000 |
| Teresa Berganza & Hermann Prey | Barber Of Seville | Cassette | Code | 1992 | 1227 | | 60000 |
| Thérèse Steinmetz / Bisser Kirow / Liliana Petrova / Joe Dolan / Anita Hegerland / Halina Kunicka | Festival Of Festivals. Singing By The Winners Of International Competitions | FlexiDisc | Code | 1970 | 2644 | | 350000 |
| The Alan Parsons Project | Gaudi | Album | Code | 1988 | 1692 | | 7000 |
| The Alan Parsons Project | Gaudi | Album | Code | 1990 | 964 | | 2000 |
| The Alan Parsons Project | The Best Of | Album | Code | 1986 | 945 | | 6000 |
| The Alan Parsons Project | The Best Of | Album | Code | 1986 | 678 | | 10000 |
| The Alan Parsons Project | The Best Of | Album | Code | 1986 | 427 | | 18000 |
| The Alan Parsons Project | The Best Of | Album | Code | 1986 | 420 | | 6000 |
| The Alan Parsons Project | The Best Of | Album | Code | 1986 | 157 | | 56700 |
| The Alan Parsons Project | The Best Of | Album | Code | 1986 | 1267 | | 30000 |
| The Alan Parsons Project | The Best Of | Album | Code | 1987 | 720 | | 12000 |
| The Alan Parsons Project | The Best Of | Album | Code | 1988 | 384 | | 8360 |
| The Alan Parsons Project | The Best Of | Album | Code | 1989 | 1241 | | 2900 |
| The B-52's | Cosmic Thing | Album | Code | 1993 | 297 | | 10000 |
| The Barry Sisters | Hebrew Song Themed Potpourri / People | FlexiDisc | Code | 1991 | 903 | | 100000 |
| The Barry Sisters | Hebrew Song Themed Potpourri / People | Cassette | Code | 1991 | 903 | | 5000 |
| The Barry Sisters | Tum Balalaika | Album | Code | 1990 | 406 | | 7500 |
| The Barry Sisters | Tum Balalaika | Album | Code | 1990 | 386 | | 10000 |
| The Barry Sisters | Tum Balalaika | Album | Code | 1990 | 37 | | 3000 |
| The Barry Sisters | Tum Balalaika | Album | Code | 1990 | 339 | | 29650 |
| The Barry Sisters | Tum Balalaika | Album | Code | 1990 | 2504 | | 14900 |
| The Barry Sisters | Tum Balalaika | Album | Code | 1990 | 2250 | | 12600 |
| The Barry Sisters | Tum Balalaika | Album | Code | 1991 | 799 | | 10100 |
| The Barry Sisters | Tum Balalaika | Album | Code | 1991 | 687 | | 8300 |
| The Barry Sisters | Tum Balalaika | Album | Code | 1991 | 285 | | 6750 |
| The Beatles | A Hard Day's Night | Album | Code | 1986 | 951 | | 114280 |
| The Beatles | A Hard Day's Night | Album | Code | 1986 | 267 | | 213000 |
| The Beatles | A Hard Day's Night | Album | Code | 1986 | 209 | | 99500 |
| The Beatles | A Hard Day's Night | Album | Code | 1986 | 137 | | 20000 |
| The Beatles | A Hard Day's Night | Album | Code | 1988 | 65 | | 2000 |
| The Beatles | A Hard Day's Night | Album | Code | 1988 | 360 | | 40320 |
| The Beatles | A Hard Day's Night | Album | Code | 1989 | 680 | | 23440 |
| The Beatles | A Hard Day's Night | Album | Code | 1989 | 1971 | | 7440 |
| The Beatles | A Hard Day's Night | Album | Code | 1990 | 706 | | 9800 |
| The Beatles | A Hard Day's Night | Album | Code | 1990 | 338 | | 7000 |
| The Beatles | A Hard Day's Night | Album | Code | 1990 | 2351 | | 6000 |
| The Beatles | A Taste Of Honey | Album | Code | 1986 | 950 | | 124600 |
| The Beatles | A Taste Of Honey | Album | Code | 1986 | 684 | | 56440 |
| The Beatles | A Taste Of Honey | Album | Code | 1986 | 64 | | 2000 |
| The Beatles | A Taste Of Honey | Album | Code | 1986 | 510 | | 213000 |
| The Beatles | A Taste Of Honey | Album | Code | 1986 | 451 | | 10000 |
| The Beatles | A Taste Of Honey | Album | Code | 1986 | 227 | | 99500 |
| The Beatles | A Taste Of Honey | Album | Code | 1986 | 136 | | 20000 |
| The Beatles | A Taste Of Honey | Album | Code | 1987 | 147 | | 1600 |
| The Beatles | A Taste Of Honey | Album | Code | 1988 | 824 | | 10000 |
| The Beatles | A Taste Of Honey | Album | Code | 1988 | 363 | | 40320 |
| The Beatles | A Taste Of Honey | Album | Code | 1989 | 679 | | 23920 |
| The Beatles | A Taste Of Honey | Album | Code | 1989 | 1967 | | 6440 |
| The Beatles | A Taste Of Honey | Album | Code | 1990 | 683 | | 98000 |
| The Beatles | A Taste Of Honey | Album | Code | 1990 | 2347 | | 6000 |
| The Beatles | A Taste Of Honey | Album | Code | 1990 | 2 | | 22000 |
| The Beatles | Across The Universe | Single | Code | 1979 | 224 | | 10000 |
| The Beatles | Across The Universe | Single | Code | 1980 | 928 | | 50000 |
| The Beatles | Across The Universe | Single | Code | 1982 | 984 | | 6840 |
| The Beatles | Across The Universe | Single | Code | 1982 | 1245 | | 2000 |
| The Beatles | Across The Universe | Single | Code | 1985 | 724 | | 60000 |
| The Beatles | Can't Buy Me Love | Single | Code | 1983 | 20 | | 1200 |
| The Beatles | Can't Buy Me Love / And I Love Her / Rock And Roll Music | FlexiDisc | Code | 1988 | 3237 | | 255000 |
| The Beatles | Here Comes The Sun | Single | Code | 1975 | 570 | | 4000 |
| The Beatles | Here Comes The Sun | Single | Code | 1977 | 14 | | 6860 |
| The Beatles | Here Comes The Sun | Single | Code | 1978 | 39 | | 15000 |
| The Beatles | Here Comes The Sun | Single | Code | 1979 | 733 | | 5000 |
| The Beatles | Here Comes The Sun | Single | Code | 1983 | 56 | | 3800 |
| The Beatles | Octopus's Garden | Single | Code | 1977 | 23 | | 30000 |
| The Beatles | Octopus's Garden | Single | Code | 1980 | 928 | | 50000 |
| The Beatles | Octopus's Garden | Single | Code | 1980 | 529 | | 25000 |
| The Beatles | Octopus's Garden | Single | Code | 1982 | 21 | | 2500 |
| The Beatles | Rare Beatles | Album | Code | 1993 | 359 | | 30000 |
| The Beatles | With A Little Help From My Friends | Single | Code | 1980 | 928 | | 50000 |
| The Beatles | With A Little Help From My Friends | Single | Code | 1982 | 984 | | 2920 |
| The Chemical Brothers | Push The Button | Album | Certification | 2005 | | Gold | 10000 |
| The Chemical Brothers | We Are The Night | Album | Certification | 2007 | | Gold | 10000 |
| The Clovers | Love Potion Number 9 | FlexiDisc | Code | 1990 | 2485 | | 210000 |
| The Coasters | Charlie Brown | FlexiDisc | Code | 1990 | 2485 | | 210000 |
| The Dooleys | Jambalaya / The Road To Chattanooga / Love And Friendship / Thank You Very Much | FlexiDisc | Code | 1976 | 2360 | | 500000 |
| The Dooleys | The Dooley Family In Moscow | Album | Code | 0 | 10 | | 5429 |
| The Dooleys | The Dooley Family In Moscow | Album | Code | 0 | 10 | | 6556 |
| The Dooleys | The Dooley Family In Moscow | Album | Code | 0 | 10 | | 14373 |
| The Dooleys | The Dooley Family In Moscow | Album | Code | 1976 | 6 | | 4000 |
| The Dooleys | The Dooley Family In Moscow | Album | Code | 1976 | 546 | | 15000 |
| The Dooleys | The Dooley Family In Moscow | Album | Code | 1976 | 151 | | 40000 |
| The Dooleys | The Dooley Family In Moscow | Album | Code | 1977 | 5688 | | 4000 |
| The Dooleys | The Dooley Family In Moscow | Album | Code | 1977 | 4067 | | 9300 |
| The Dooleys | The Dooley Family In Moscow | Album | Code | 1977 | 243 | | 16550 |
| The Dooleys | The Dooley Family In Moscow | Album | Code | 1977 | 207 | | 34000 |
| The Dooleys | The Dooley Family In Moscow | Album | Code | 1977 | 141 | | 30000 |
| The Dooleys | The Dooley Family In Moscow | Album | Code | 1977 | 107 | | 29790 |
| The Dooleys | The Dooley Family In Moscow | Album | Code | 1978 | 4791 | | 6900 |
| The Dooleys | The Dooley Family In Moscow | Album | Code | 1978 | 190 | | 24000 |
| The Dooleys | The Dooley Family In Moscow | Album | Code | 1979 | 6422 | | 8700 |
| The Dooleys | The Dooley Family In Moscow | Album | Code | 1979 | 1216 | | 4600 |
| The Dooleys | The Dooley Family In Moscow | Album | Code | 1979 | 114 | | 17000 |
| The Dooleys | The Dooley Family In Moscow | Album | Code | 1980 | 76 | | 30000 |
| The Dooleys | The Dooley Family In Moscow | Album | Code | 1980 | 153 | | 6000 |
| The Doors | Light My Fire | Album | Code | 1988 | 92 | | 105300 |
| The Doors | Light My Fire | Album | Code | 1988 | 735 | | 10000 |
| The Doors | Light My Fire | Album | Code | 1988 | 499 | | 4000 |
| The Doors | Light My Fire | Album | Code | 1988 | 360 | | 30000 |
| The Doors | Light My Fire | Album | Code | 1988 | 359 | | 72000 |
| The Doors | Light My Fire | Album | Code | 1988 | 331 | | 70000 |
| The Doors | Light My Fire | Album | Code | 1988 | 223 | | 25000 |
| The Doors | Light My Fire | Album | Code | 1988 | 151 | | 6700 |
| The Doors | Light My Fire | Album | Code | 1988 | 1328 | | 19040 |
| The Doors | Light My Fire | Album | Code | 1988 | 13 | | 4300 |
| The Doors | Light My Fire | Album | Code | 1988 | 1203 | | 27800 |
| The Doors | Light My Fire | Album | Code | 1988 | 115 | | 18000 |
| The Doors | Light My Fire | Album | Code | 1988 | 10 | | 40000 |
| The Drifters | Save The Last Dance For Me | FlexiDisc | Code | 1990 | 2485 | | 210000 |
| The Dutch Swing College Band | The Dutch Swing College Ensemble | FlexiDisc | Code | 1981 | 1364 | | 500000 |
| The Killers | SamÂ's Town | Album | Certification | 2007 | | Gold | 10000 |
| The Mamas & The Papas | 20 Golden Hits | Album | Code | 1978 | 69 | | 25000 |
| The Mission | Grains Of Sand | Album | Code | 1992 | ? | | 10000 |
| The Modern Jazz Quartet | European Concert | Album | Code | 1980 | 306 | | 8000 |
| The Moody Blues | The Other Side Of Life | Album | Code | 1987 | 94 | | 5000 |
| The Moody Blues | The Other Side Of Life | Album | Code | 1987 | 3172 | | 10000 |
| The Moody Blues | The Other Side Of Life | Album | Code | 1987 | 290 | | 5000 |
| The Moody Blues | The Other Side Of Life | Album | Code | 1987 | 1904 | | 101420 |
| The Moody Blues | The Other Side Of Life | Album | Code | 1988 | 366 | | 22760 |
| The New Seekers | The New Seekers In Moscow | Album | Code | 1982 | 720 | | 100000 |
| The New Seekers | The New Seekers In Moscow | Album | Code | 1982 | 4315 | | 30000 |
| The New Seekers | The New Seekers In Moscow | Album | Code | 1982 | 397 | | 55000 |
| The New Seekers | The New Seekers In Moscow | Album | Code | 1982 | 397 | | 225000 |
| The New Seekers | The New Seekers In Moscow | Album | Code | 1982 | 275 | | 12000 |
| The New Seekers | The New Seekers In Moscow | Album | Code | 1982 | 1567 | | 70000 |
| The New Seekers | The New Seekers In Moscow | Album | Code | 1982 | 1499 | | 61900 |
| The New Seekers | The New Seekers In Moscow | Album | Code | 1982 | 1260 | | 44000 |
| The New Seekers | The New Seekers In Moscow | Album | Code | 1982 | 119 | | 60000 |
| The New Seekers | The New Seekers In Moscow | Album | Code | 1982 | 112 | | 20000 |
| The New Seekers | The New Seekers In Moscow | Album | Code | 1982 | 1106 | | 115000 |
| The New Seekers | The New Seekers In Moscow | Album | Code | 1983 | 746 | | 5800 |
| The New Seekers | The New Seekers In Moscow | Album | Code | 1984 | 4179 | | 4500 |
| The Offspring | Greatest Hits | Album | Certification | 2005 | | Gold | 10000 |
| The Offspring | Rise And Fall, Rage And Grace | Album | Certification | 2009 | | Gold | 10000 |
| The Peanuts | Vacation Of Love | FlexiDisc | | 1964 | | | 150000 |
| The Philadelphia Orchestra | Symphony No.1: The Long-Lost Original Second Movement "Blumine" (Flower Piece) | FlexiDisc | Code | 1971 | 994 | | 350000 |
| The Prodigy | Invaders Must Die | Album | Certification | 2009 | | Platinum | 20000 |
| The Pussycat Dolls | Dolls Domination | Album | Certification | 2008 | | Platinum | 20000 |
| The Pussycat Dolls | PCD | Album | Certification | 2007 | | 5xPlatinum | 100000 |
| The Ritchie Family | Easy Dance / Best Disco In Town | FlexiDisc | Code | 1979 | 859 | | 500000 |
| The Rolling Stones | All Together | Album | Code | 1989 | 63 | | 3000 |
| The Rolling Stones | All Together | Album | Code | 1989 | 483 | | 20000 |
| The Rolling Stones | All Together | Album | Code | 1989 | 462 | | 6500 |
| The Rolling Stones | All Together | Album | Code | 1989 | 462 | | 11700 |
| The Rolling Stones | All Together | Album | Code | 1989 | 441 | | 50000 |
| The Rolling Stones | All Together | Album | Code | 1989 | 391 | | 23000 |
| The Rolling Stones | All Together | Album | Code | 1989 | 310 | | 20000 |
| The Rolling Stones | All Together | Album | Code | 1989 | 1963 | | 25220 |
| The Rolling Stones | All Together | Album | Code | 1989 | 1077 | | 24000 |
| The Rolling Stones | All Together | Album | Code | 1990 | 552 | | 45000 |
| The Rolling Stones | All Together | Album | Code | 1990 | 46 | | 10500 |
| The Rolling Stones | All Together | Album | Code | 1990 | 46 | | 12400 |
| The Rolling Stones | All Together | Album | Code | 1990 | 444 | | 6000 |
| The Rolling Stones | All Together | Album | Code | 1990 | 398 | | 2000 |
| The Rolling Stones | All Together | Album | Code | 1990 | 179 | | 10000 |
| The Rolling Stones | All Together | Album | Code | 1990 | 17 | | 10000 |
| The Rolling Stones | All Together | Album | Code | 1990 | 149 | | 10000 |
| The Rolling Stones | All Together | Album | Code | 1990 | 118 | | 26000 |
| The Rolling Stones | All Together | Album | Code | 1991 | 796 | | 16000 |
| The Rolling Stones | All Together | Album | Code | 1991 | 749 | | 1600 |
| The Rolling Stones | All Together | Album | Code | 1991 | 46 | | 10200 |
| The Rolling Stones | Lady Jane | Album | Code | 1988 | 96 | | 7560 |
| The Rolling Stones | Lady Jane | Album | Code | 1988 | 832 | | 10000 |
| The Rolling Stones | Lady Jane | Album | Code | 1988 | 64 | | 3000 |
| The Rolling Stones | Lady Jane | Album | Code | 1988 | 632 | | 11500 |
| The Rolling Stones | Lady Jane | Album | Code | 1988 | 604 | | 1000 |
| The Rolling Stones | Lady Jane | Album | Code | 1988 | 525 | | 40000 |
| The Rolling Stones | Lady Jane | Album | Code | 1988 | 512 | | 10000 |
| The Rolling Stones | Lady Jane | Album | Code | 1988 | 5 | | 15000 |
| The Rolling Stones | Lady Jane | Album | Code | 1988 | 488 | | 200000 |
| The Rolling Stones | Lady Jane | Album | Code | 1988 | 445 | | 50000 |
| The Rolling Stones | Lady Jane | Album | Code | 1988 | 357 | | 25000 |
| The Rolling Stones | Lady Jane | Album | Code | 1988 | 2022 | | 40600 |
| The Rolling Stones | Lady Jane | Album | Code | 1988 | 1417 | | 73040 |
| The Rolling Stones | Lady Jane | Album | Code | 1989 | 662 | | 50000 |
| The Rolling Stones | Lady Jane | Album | Code | 1989 | 658 | | 50000 |
| The Rolling Stones | Lady Jane | Album | Code | 1989 | 589 | | 54500 |
| The Rolling Stones | Lady Jane | Album | Code | 1989 | 414 | | 400 |
| The Rolling Stones | Lady Jane | Album | Code | 1989 | 27 | | 43060 |
| The Rolling Stones | Lady Jane | Album | Code | 1989 | 222 | | 13340 |
| The Rolling Stones | Lady Jane | Album | Code | 1989 | 1975 | | 60000 |
| The Rolling Stones | Lady Jane | Album | Code | 1990 | 450 | | 900 |
| The Rolling Stones | Lady Jane | Album | Code | 1990 | 14 | | 18000 |
| The Rolling Stones | Lady Jane | Album | Code | 1991 | 915 | | 9520 |
| The Rolling Stones | Play With Fire | Album | Code | 0 | ? | | 5000 |
| The Rolling Stones | Play With Fire | Album | Code | 1988 | 553 | | 60000 |
| The Rolling Stones | Play With Fire | Album | Code | 1988 | 484 | | 90000 |
| The Rolling Stones | Play With Fire | Album | Code | 1988 | 400 | | 60000 |
| The Rolling Stones | Play With Fire | Album | Code | 1988 | 336 | | 70000 |
| The Rolling Stones | Play With Fire | Album | Code | 1988 | 271 | | 50000 |
| The Rolling Stones | Play With Fire | Album | Code | 1988 | 227 | | 51000 |
| The Rolling Stones | Play With Fire | Album | Code | 1988 | 218 | | 11000 |
| The Rolling Stones | Play With Fire | Album | Code | 1988 | 1852 | | 31300 |
| The Rolling Stones | Play With Fire | Album | Code | 1988 | 1826 | | 3700 |
| The Rolling Stones | Play With Fire | Album | Code | 1988 | 1407 | | 96160 |
| The Rolling Stones | Play With Fire | Album | Code | 1988 | 130 | | 40000 |
| The Rolling Stones | Play With Fire | Album | Code | 1988 | 1100 | | 49160 |
| The Rolling Stones | Play With Fire | Album | Code | 1989 | 882 | | 1102 |
| The Rolling Stones | Play With Fire | Album | Code | 1989 | 431 | | 10110 |
| The Rolling Stones | Play With Fire | Album | Code | 1989 | 2143 | | 17000 |
| The Rolling Stones | Play With Fire | Album | Code | 1989 | 16 | | 22000 |
| The Rolling Stones | Play With Fire | Album | Code | 1990 | 25 | | 1855 |
| The Rolling Stones | Play With Fire | Album | Code | 1990 | 2140 | | 2700 |
| The Rolling Stones | Play With Fire | Album | Code | 1991 | 907 | | 5150 |
| The Rolling Stones | Play With Fire | Album | Code | 1991 | 691 | | 2100 |
| The Rolling Stones | Terrifying / Blinded By Love / Hold On To Your Hat | FlexiDisc | Code | 1990 | 2485 | | 210000 |
| The Shorts | Ik Wil Het Niet Doen / Handen Af ??Meid | FlexiDisc | Code | 1984 | 2131 | | 500000 |
| The Sugarcubes | Life's Too Good | Album | Code | 1991 | 273 | | 15000 |
| The Three Degrees | Falling In Love Again | Single | Code | 0 | 775 | | 30000 |
| The Three Degrees | Falling In Love Again | Single | Code | 1981 | 535 | | 15000 |
| The Three Degrees | Falling In Love Again | Single | Code | 1982 | 778 | | 65000 |
| The Three Degrees | Falling In Love Again | Single | Code | 1982 | 4250 | | 900000 |
| The Trio Bulgarka | Vchera Byakh Pri Milata Mi Elenka | FlexiDisc | Code | 1989 | 966 | | 270000 |
| Theater Troupe of National Vietnam Theater | Vietnamese Classical Drama Tuong | Album | Code | 1984 | 593 | | 1000 |
| Thelonious Monk | Mysterioso | Album | Code | 1990 | 658 | | 10000 |
| Thelonious Monk | Mysterioso | Album | Code | 1990 | 444 | | 14700 |
| Thelonious Monk | Mysterioso | Album | Code | 1990 | 2972 | | 12200 |
| Thelonious Monk | Mysterioso | Album | Code | 1990 | 2905 | | 10000 |
| Thelonious Monk & John Coltrane | Thelonious Monk With John Coltrane | Album | Code | 1990 | 490 | | 3000 |
| Thomas Anders | Strong | Album | Certification | 2010 | | Platinum | 10000 |
| Tiësto | Club Life. Las Vegas vol. 1 | Album | Certification | 2011 | | Gold | 5000 |
| Tiësto | In Search Of Sunrise 7 Asia | Album | Certification | 2008 | | Gold | 10000 |
| Tiësto | Kaleidoscope | Album | Certification | 2010 | | Platinum | 20000 |
| Tiësto | Kaleidoscope. Remixed | Album | Certification | 2010 | | Gold | 5000 |
| Tiësto | Magikal Journey. The Hits Collection | Album | Certification | 2010 | | Gold | 5000 |
| Tiësto | Magikal Journey. The Hits Collection | Album | Certification | 2010 | 2M | Gold | 5000 |
| Tiffany | I Saw Him Standing There / Could've Been | FlexiDisc | Code | 1989 | 84 | | 270000 |
| Tiger Okoshi | Tiger's Baku | Album | Code | 1984 | 946 | | 30000 |
| Tiger Okoshi | Tiger's Baku | Album | Code | 1984 | 506 | | 10000 |
| Tiger Okoshi | Tiger's Baku | Album | Code | 1984 | 2 | | 10000 |
| Tigran Mansurian | Monologue / Fragments Of Works / Fragment Of The Song "Psychí Tis Psychís Mou" | FlexiDisc | Code | 1980 | 2941 | | 500000 |
| Timbaland | Shock Value | Album | Certification | 2008 | | 3xPlatinum | 60000 |
| Tina Turner | Foreign Affair | Album | Code | 1990 | 445 | | 17300 |
| Tina Turner | Foreign Affair | Album | Code | 1990 | 2414 | | 7000 |
| Tina Turner | Foreign Affair | Album | Code | 1991 | 396 | | 12000 |
| Tina Turner | Help / The Best | FlexiDisc | Code | 1990 | 2729 | | 210000 |
| Tokio Hotel | Schrei | Album | Certification | 2007 | | 2xPlatinum | 40000 |
| Tokio Hotel | Scream | Album | Certification | 2007 | | 2xPlatinum | 40000 |
| Tokio Hotel | Zimmer 483 | Album | Certification | 2008 | | 3xPlatinum | 60000 |
| Tokio Hotel | Zimmer 483 - Live In Europe | Album | Certification | 2008 | | Gold | 10000 |
| Toller Cranston | "Pagliacci" Leoncovallo | FlexiDisc | Code | 1976 | 1430 | | 500000 |
| Tom Jones | Th Very Best Of | Album | Code | 1981 | 555 | | 20000 |
| Tom Jones | Th Very Best Of | Album | Code | 1981 | 245 | | 20000 |
| Tom Jones | Three Love Songs | FlexiDisc | Code | 1969 | 2101 | | 350000 |
| Tony Esposito | Kalimba De Luna | FlexiDisc | Code | 1987 | 4267 | | 260000 |
| Tony Igy | Astronomia | Ringtone | Certification | 2011 | Lenta 2011 | 4xPlatinum | 800000 |
| Toti Dal Monte | At Donizetti's Opera "Lucia Di Lammermoor" | FlexiDisc | Code | 1973 | 132 | | 450000 |
| Toto Cutugno | Amanti / Bella Mia | FlexiDisc | Code | 1983 | 126 | | 500000 |
| Toto Cutugno | L'Italiano | Album | Code | 1985 | 760 | | 50000 |
| Toto Cutugno | L'Italiano | Album | Code | 1985 | 4785 | | 100000 |
| Toto Cutugno | L'Italiano | Album | Code | 1985 | 446 | | 141300 |
| Toto Cutugno | L'Italiano | Album | Code | 1985 | 197 | | 10000 |
| Toto Cutugno | L'Italiano | Album | Code | 1985 | 196 | | 30000 |
| Toto Cutugno | L'Italiano | Album | Code | 1986 | 924 | | 297180 |
| Toto Cutugno | L'Italiano | Album | Code | 1986 | 272 | | 89800 |
| Toto Cutugno | L'Italiano | Album | Code | 1986 | 104 | | 47000 |
| Toto Cutugno | L'Italiano | Album | Code | 1987 | 382 | | 5000 |
| Toto Cutugno | L'Italiano | Album | Code | 1988 | 381 | | 17700 |
| Toto Cutugno | L'Italiano | Album | Code | 1988 | 137 | | 7000 |
| Toto Cutugno | Le Mamme | FlexiDisc | Code | 1989 | 484 | | 270000 |
| Toto Cutugno | Serenata | FlexiDisc | Code | 1984 | 3726 | | 454000 |
| Toto Cutugno | Sono Italiano / Vorrei Andare Al Mare Fino A Lunedì | FlexiDisc | Code | 1986 | 2113 | | 260000 |
| Trío Los Mexicanos | Trío Los Mexicanos | Album | Code | 1982 | 378 | | 15000 |
| Trío Los Mexicanos | Trío Los Mexicanos | Album | Code | 1982 | 231 | | 2500 |
| Tublatanka | Dnes / Stáli, Padali, Žili S Gitarou | FlexiDisc | Code | 1989 | 235 | | 270000 |
| Tullio De Piscopo | Zhastao | FlexiDisc | Code | 1991 | 192 | | 100000 |
| Tullio De Piscopo | Zhastao | Cassette | Code | 1991 | 192 | | 10000 |
| Tunisian National Song And Dance Ensemble | Music of Tunisia | Album | Code | 1982 | 331 | | 2000 |
| U2 | 18 Singles | Album | Certification | 2010 | | Platinum | 20000 |
| U2 | How To Dismantle An Atomic Bomb | Album | Certification | 2007 | | Gold | 10000 |
| U2 | No Line On The Horizon | Album | Certification | 2009 | | Platinum | 20000 |
| UB40 | Rat In The Kitchen | Album | Code | 1987 | 856 | | 13000 |
| UB40 | Sardonicus / Present Arms | FlexiDisc | Code | 1982 | 3200 | | 500000 |
| UB40 | Watchdogs / The Elevator / Sing Our Own Song | FlexiDisc | Code | 1987 | 4267 | | 260000 |
| Udo Jürgens | Maria / Träume | FlexiDisc | Code | 1976 | 1430 | | 500000 |
| Udo Jürgens | Sherry | FlexiDisc | Code | 1968 | 563 | | 250000 |
| Udo Lindenberg | Nacht(?) / Ich Weiss Nicht Zu Wem Ich Gehöre | FlexiDisc | Code | 1987 | 1443 | | 260000 |
| Udo Lindenberg & Alla Pugacheva | Songs Instead Of Letters | Album | Code | 0 | 501 | | 20500 |
| Udo Lindenberg & Alla Pugacheva | Songs Instead Of Letters | Album | Code | 0 | 15 | | 2000 |
| Udo Lindenberg & Alla Pugacheva | Songs Instead Of Letters | Album | Code | 1986 | 2213 | | 20200 |
| Udo Lindenberg & Alla Pugacheva | Songs Instead Of Letters | Album | Code | 1988 | 493 | | 100000 |
| Udo Lindenberg & Alla Pugacheva | Songs Instead Of Letters | Album | Code | 1988 | 484 | | 27000 |
| Udo Lindenberg & Alla Pugacheva | Songs Instead Of Letters | Album | Code | 1988 | 430 | | 50000 |
| Udo Lindenberg & Alla Pugacheva | Songs Instead Of Letters | Album | Code | 1988 | 363 | | 50000 |
| Udo Lindenberg & Alla Pugacheva | Songs Instead Of Letters | Album | Code | 1988 | 353 | | 50000 |
| Udo Lindenberg & Alla Pugacheva | Songs Instead Of Letters | Album | Code | 1988 | 1391 | | 65520 |
| Udo Lindenberg & Alla Pugacheva | Songs Instead Of Letters | Album | Code | 1988 | 129 | | 2000 |
| Udo Lindenberg & Alla Pugacheva | Songs Instead Of Letters | Album | Code | 1989 | 416 | | 45000 |
| Udo Lindenberg & Alla Pugacheva | Songs Instead Of Letters | Album | Code | 1989 | 416 | | 48000 |
| Udo Lindenberg & Alla Pugacheva | Songs Instead Of Letters | Album | Code | 1989 | 350 | | 6100 |
| Udo Lindenberg & Alla Pugacheva | Songs Instead Of Letters | Album | Code | 1989 | 2135 | | 96000 |
| UFO | High Stakes & Dangerous Men | Album | Code | 1993 | 164 | | 25000 |
| Uma2rman | V Gorode N | Album | Certification | 2005 | | Gold | 100000 |
| Umberto Tozzi | Per Angela / Barbara | FlexiDisc | Code | 1985 | 3887 | | 365000 |
| Unknown (Likely Egyptian) Artist | New Songs Of The Ancient Nile | FlexiDisc | Code | 1970 | 1826 | | 350000 |
| Unknown Artist | Melodies of the Mayakiche Indians | FlexiDisc | Code | 1985 | 4078 | | 365000 |
| Unknown Bulgarian Folk Artist | Bezkorenna Bulka | FlexiDisc | Code | 1989 | 966 | | 270000 |
| Uriah Heep | ...Very 'Eavy ...Very 'Umble | Album | Code | 1992 | 186 | | 30000 |
| Uriah Heep | Demons And Wizards | Album | Code | 1992 | 161 | | 50000 |
| Uriah Heep | Fallen Angel | Album | Code | 1993 | 297 | | 15000 |
| Uriah Heep | Firefly | Album | Code | 1993 | 225 | | 25000 |
| Uriah Heep | High And Mighty | Album | Code | 1993 | 216 | | 30000 |
| Uriah Heep | Innocent Victim | Album | Code | 1980 | 41 | | 10000 |
| Uriah Heep | Innocent Victim | Album | Code | 1980 | 41 | | 50000 |
| Uriah Heep | Innocent Victim | Album | Code | 1980 | 384 | | 22000 |
| Uriah Heep | Innocent Victim | Album | Code | 1981 | 766 | | 12000 |
| Uriah Heep | Innocent Victim | Album | Code | 1981 | 1161 | | 60000 |
| Uriah Heep | Innocent Victim | Album | Code | 1993 | 260 | | 15000 |
| Uriah Heep | Look At Yourself | Album | Code | 1992 | 187 | | 30000 |
| Uriah Heep | Red Lights / Weekend Warriors | FlexiDisc | Code | 1988 | 2024 | | 255000 |
| Uriah Heep | Return To Fantasy | Album | Code | 1993 | 8 | | 7000 |
| Uriah Heep | Return To Fantasy | Album | Code | 1993 | 341 | | 10000 |
| Uriah Heep | Return To Fantasy | Album | Code | 1993 | 106 | | 10000 |
| Uriah Heep | Salisbury | Album | Code | 1992 | 194 | | 5000 |
| Uriah Heep | Salisbury | Album | Code | 1992 | 187 | | 30000 |
| Uriah Heep | Sweet Freedom | Album | Code | 1993 | 96 | | 10000 |
| Uriah Heep | The Magician's Birthday | Album | Code | 1993 | 96 | | 10000 |
| Uriah Heep | The Magician's Birthday | Album | Code | 1993 | 341 | | 10000 |
| Uriah Heep | Uriah Heep Live | Album | Code | 1993 | 276 | | 10000 |
| Uriah Heep | Wake The Sleeper | Album | Certification | 2009 | | Gold | 10000 |
| Uriah Heep | Wonderworld | Album | Code | 1993 | 181 | | 15000 |
| Usher | Confessions | Album | Certification | 2007 | | 2xPlatinum | 40000 |
| Véronique Sanson / Peosh Swarovsky / The Prague Symphony Orchestra | Mince (Fragment) / Tout Va Bien (Fragment) | FlexiDisc | Code | 1991 | 537 | | 100000 |
| Véronique Sanson / Peosh Swarovsky / The Prague Symphony Orchestra | Mince (Fragment) / Tout Va Bien (Fragment) | Cassette | Code | 1991 | 537 | | 10000 |
| Van Cliburn | Sonnet Petrarki No 123 | FlexiDisc | Code | 1972 | 3181 | | 450000 |
| Vanessa Paradis | Variations Sur Le Même T'aime | FlexiDisc | Code | 1991 | 735 | | 100000 |
| Vanessa Paradis | Variations Sur Le Même T'aime | Cassette | Code | 1991 | 735 | | 10000 |
| Vangelis | Album Composition "Albedo 0.39" | FlexiDisc | Code | 1982 | 3045 | | 500000 |
| Various Artists | Big Car Blues | Album | Code | 1990 | 452 | | 17200 |
| Various Artists | Big Car Blues | Album | Code | 1991 | 694 | | 6500 |
| Various Artists | Classical Jazz | Album | Code | 1980 | 80 | | 8000 |
| Various Artists | Gagaku (Japanese Ancient Music) | Album | Code | 1981 | 827 | | 1300 |
| Various Artists | Gagaku (Japanese Ancient Music) | Album | Code | 1981 | 2 | | 1280 |
| Various Artists | Gagaku (Japanese Ancient Music) | Album | Code | 1981 | 1295 | | 900 |
| Various Artists | Gagaku (Japanese Ancient Music) | Album | Code | 1985 | 1414 | | 500 |
| Various Artists | Gagaku (Japanese Ancient Music) | Album | Code | 1985 | 12506 | | 50000 |
| Various Artists | Gone with the Wind | Album | Code | 1991 | 249 | | 10000 |
| Various Artists | Greenpeace Breakthrough | Album | Code | 1989 | 634 | | 300000 |
| Various Artists | Greenpeace Breakthrough | Album | Code | 1989 | 51 | | 350000 |
| Various Artists | Greenpeace Breakthrough | Album | Code | 1989 | 1807 | | 500000 |
| Various Artists | Greenpeace Breakthrough | Album | Code | 1989 | 158 | | 170000 |
| Various Artists | Greenpeace Rocks | Album | Code | 1993 | 430 | | 5000 |
| Various Artists | Greenpeace Rocks | Album | Code | 1993 | 164 | | 5000 |
| Various Artists | San Remo In Moscow 1 | Album | Code | 1987 | 941 | | 72000 |
| Various Artists | San Remo In Moscow 1 | Album | Code | 1987 | 361 | | 24000 |
| Various Artists | San Remo In Moscow 1 | Album | Code | 1987 | 307 | | 110000 |
| Various Artists | San Remo In Moscow 1 | Album | Code | 1987 | 223 | | 15000 |
| Various Artists | San Remo In Moscow 1 | Album | Code | 1987 | 212 | | 3400 |
| Various Artists | San Remo In Moscow 1 | Album | Code | 1987 | 1223 | | 2800 |
| Various Artists | San Remo In Moscow 1 | Album | Code | 1988 | 64 | | 13000 |
| Various Artists | San Remo In Moscow 1 | Album | Code | 1988 | 126 | | 1600 |
| Various Artists | San Remo In Moscow 2 | Album | Code | 1987 | 307 | | 110000 |
| Various Artists | San Remo In Moscow 2 | Album | Code | 1987 | 209 | | 10400 |
| Various Artists | San Remo In Moscow 2 | Album | Code | 1987 | 1845 | | 9200 |
| Various Artists | San Remo In Moscow 2 | Album | Code | 1988 | 155 | | 600 |
| Various Artists | Super 20 - Italo-Hits '82 | Album | Code | 1983 | 26 | | 20000 |
| Various Artists | Super 20 - Italo-Hits '82 | Album | Code | 1983 | 26 | | 25000 |
| Various Artists | Super 20 - Italo-Hits '82 | Album | Code | 1984 | 469 | | 40000 |
| Various Artists | Super 20 - Italo-Hits '82 | Album | Code | 1984 | 319 | | 60000 |
| Various Artists | Super 20 - Italo-Hits '82 | Album | Code | 1984 | 31 | | 20000 |
| Various Artists | Super 20 - Italo-Hits '82 | Album | Code | 1984 | 118 | | 40000 |
| Various Artists | Super 20 - Italo-Hits '82 | Album | Code | 1985 | 9 | | 19200 |
| Various Artists | Super 20 - Italo-Hits '82 | Album | Code | 1985 | 562 | | 64300 |
| Various Artists | Super 20 - Italo-Hits '82 | Album | Code | 1985 | 55 | | 40000 |
| Various Artists | Super 20 - Italo-Hits '82 | Album | Code | 1985 | 448 | | 11000 |
| Various Artists | Super 20 - Italo-Hits '82 | Album | Code | 1986 | 77 | | 4000 |
| Various Artists | Super 20 - Italo-Hits '82 | Album | Code | 1987 | 1691 | | 500 |
| Various Artists (Inc. Various world artists) | Krugozor n°1/1978 | Album | Code | 1978 | 1324 | | 500000 |
| Various Artists (Inc. Various world artists) | Krugozor n°6/1978 | Album | Code | 1978 | ? | | 500000 |
| Vasily Shukshin, Mikhai Ulyanov, Vladimir Vysotsky | Interviews, Stories, Songs | Album | Code | 1989 | 519 | | 10000 |
| Veikko Ahvenainen | Melody Suomi | FlexiDisc | Code | 1972 | 2794 | | 450000 |
| Verka Serduchka | Dol'che Gabbana | Ringtone | Certification | 2011 | Lenta 2011 | Platinum | 200000 |
| Vice Vukov | Svijet Je Velik / Finili Su, Mare, Bali / Ako Sada Odeš | FlexiDisc | Code | 1970 | 2643 | | 350000 |
| Victor Jara | "Don't Extinguish The Fire Of Struggle!" The Last Songs Of Victor Jara | FlexiDisc | Code | 1973 | 1351 | | 450000 |
| Victor Jara | Songs Of Victor Hara | FlexiDisc | Code | 1983 | 126 | | 500000 |
| Vijay Benedict / Parvati Khan / "Disco Dancer" Chorus | Songs From The Movie "Disco Dancer" | FlexiDisc | Code | 1984 | 3726 | | 454000 |
| Virginia López / Dave Brubeck | Zucchini Guests 33 1/3 Turnover. | FlexiDisc | Code | 1969 | 1592 | | 350000 |
| Vladimir Ashkenazy / The Cleveland Orchestra | Concert No. 2 For Piano And Orchestra | FlexiDisc | Code | 1990 | 1836 | | 240000 |
| Vladimir Vysotsky | Alien Attack | Album | Code | 1988 | 83 | | 5000 |
| Vladimir Vysotsky | Alien Attack | Album | Code | 1988 | 79 | | 60000 |
| Vladimir Vysotsky | Alien Attack | Album | Code | 1988 | 747 | | 30000 |
| Vladimir Vysotsky | Alien Attack | Album | Code | 1988 | 64 | | 45500 |
| Vladimir Vysotsky | Alien Attack | Album | Code | 1988 | 589 | | 50000 |
| Vladimir Vysotsky | Alien Attack | Album | Code | 1988 | 562 | | 45000 |
| Vladimir Vysotsky | Alien Attack | Album | Code | 1988 | 480 | | 30000 |
| Vladimir Vysotsky | Alien Attack | Album | Code | 1988 | 464 | | 100000 |
| Vladimir Vysotsky | Alien Attack | Album | Code | 1988 | 459 | | 50000 |
| Vladimir Vysotsky | Alien Attack | Album | Code | 1988 | 431 | | 75000 |
| Vladimir Vysotsky | Alien Attack | Album | Code | 1988 | 379 | | 65000 |
| Vladimir Vysotsky | Alien Attack | Album | Code | 1988 | 32 | | 40000 |
| Vladimir Vysotsky | Alien Attack | Album | Code | 1988 | 312 | | 20000 |
| Vladimir Vysotsky | Alien Attack | Album | Code | 1988 | 270 | | 84000 |
| Vladimir Vysotsky | Alien Attack | Album | Code | 1988 | 175 | | 134000 |
| Vladimir Vysotsky | Alien Attack | Album | Code | 1988 | 1359 | | 186380 |
| Vladimir Vysotsky | Alien Attack | Album | Code | 1988 | 1281 | | 25000 |
| Vladimir Vysotsky | Alien Attack | Album | Code | 1988 | 1151 | | 60000 |
| Vladimir Vysotsky | Alien Attack | Album | Code | 1988 | 1045 | | 23000 |
| Vladimir Vysotsky | Alien Attack | Album | Code | 1989 | 94 | | 30400 |
| Vladimir Vysotsky | Alien Attack | Album | Code | 1989 | 654 | | 70000 |
| Vladimir Vysotsky | Alien Attack | Album | Code | 1989 | 633 | | 50000 |
| Vladimir Vysotsky | Alien Attack | Album | Code | 1989 | 359 | | 186380 |
| Vladimir Vysotsky | Alien Attack | Album | Code | 1989 | 358 | | 500 |
| Vladimir Vysotsky | Alien Attack | Album | Code | 1989 | 350 | | 500 |
| Vladimir Vysotsky | Alien Attack | Album | Code | 1989 | 2133 | | 70000 |
| Vladimir Vysotsky | Alien Attack | Album | Code | 1989 | 207 | | 50020 |
| Vladimir Vysotsky | Alien Attack | Album | Code | 1989 | 120 | | 58300 |
| Vladimir Vysotsky | Alien Attack | Album | Code | 1990 | 783 | | 12220 |
| Vladimir Vysotsky | Alien Attack | Album | Code | 1990 | 450 | | 14800 |
| Vladimir Vysotsky | Alien Attack | Album | Code | 1990 | 2983 | | 3800 |
| Vladimir Vysotsky | Alien Attack | Album | Code | 1990 | 2634 | | 3000 |
| Vladimir Vysotsky | Alien Attack | Album | Code | 1990 | 20 | | 30000 |
| Vladimir Vysotsky | Alien Attack | Album | Code | 1991 | 396 | | 12000 |
| Vladimir Vysotsky | In Search Of The Genre | Album | Code | 1990 | 766 | | 20000 |
| Vladimir Vysotsky | In Search Of The Genre | Album | Code | 1990 | 637 | | 20000 |
| Vladimir Vysotsky | In Search Of The Genre | Album | Code | 1990 | 530 | | 40000 |
| Vladimir Vysotsky | In Search Of The Genre | Album | Code | 1990 | 379 | | 80000 |
| Vladimir Vysotsky | In Search Of The Genre | Album | Code | 1990 | 233 | | 200000 |
| Vladimir Vysotsky | In Search Of The Genre | Album | Code | 1990 | 232 | | 200000 |
| Vladimir Vysotsky | In Search Of The Genre | Album | Code | 1990 | 2022 | | 53040 |
| Vladimir Vysotsky | In Search Of The Genre | Album | Code | 1990 | 146 | | 20000 |
| Vladimir Vysotsky | In Search Of The Genre | Album | Code | 1990 | 1133 | | 22200 |
| Vladimir Vysotsky | In Search Of The Genre | Album | Code | 1990 | 1018 | | 54000 |
| Vladimir Vysotsky | In Search Of The Genre | Album | Code | 1991 | 578 | | 4000 |
| Vladimir Vysotsky | Interview | Album | Code | 1990 | 785 | | 20000 |
| Vladimir Vysotsky | Interview | Album | Code | 1990 | 759 | | 26000 |
| Vladimir Vysotsky | Interview | Album | Code | 1990 | 3 | | 30000 |
| Vladimir Vysotsky | Interview | Album | Code | 1990 | 2879 | | 20000 |
| Vladimir Vysotsky | Interview | Album | Code | 1991 | 886 | | 50000 |
| Vladimir Vysotsky | Interview | Album | Code | 1991 | 817 | | 71000 |
| Vladimir Vysotsky | Interview | Album | Code | 1991 | 668 | | 100000 |
| Vladimir Vysotsky | Interview | Album | Code | 1991 | 593 | | 160000 |
| Vladimir Vysotsky | Interview | Album | Code | 1991 | 288 | | 47920 |
| Vladimir Vysotsky | Interview | Album | Code | 1991 | 21 | | 124540 |
| Vladimir Vysotsky | Interview | Album | Code | 1991 | 17 | | 13000 |
| Vladimir Vysotsky | Interview | Album | Code | 1992 | 155 | | 5000 |
| Vladimir Vysotsky | JaK-Istrebitel | EP | Code | 0 | 350 | | 15400 |
| Vladimir Vysotsky | JaK-Istrebitel | EP | Code | 1981 | 978 | | 42000 |
| Vladimir Vysotsky | JaK-Istrebitel | EP | Code | 1981 | 968 | | 60000 |
| Vladimir Vysotsky | JaK-Istrebitel | EP | Code | 1981 | 949 | | 51000 |
| Vladimir Vysotsky | JaK-Istrebitel | EP | Code | 1981 | 896 | | 51000 |
| Vladimir Vysotsky | JaK-Istrebitel | EP | Code | 1981 | 754 | | 200000 |
| Vladimir Vysotsky | JaK-Istrebitel | EP | Code | 1981 | 735 | | 20000 |
| Vladimir Vysotsky | JaK-Istrebitel | EP | Code | 1981 | 694 | | 22700 |
| Vladimir Vysotsky | JaK-Istrebitel | EP | Code | 1981 | 676 | | 160000 |
| Vladimir Vysotsky | JaK-Istrebitel | EP | Code | 1981 | 661 | | 160000 |
| Vladimir Vysotsky | JaK-Istrebitel | EP | Code | 1981 | 606 | | 30000 |
| Vladimir Vysotsky | JaK-Istrebitel | EP | Code | 1981 | 535 | | 15000 |
| Vladimir Vysotsky | JaK-Istrebitel | EP | Code | 1981 | 489 | | 210000 |
| Vladimir Vysotsky | JaK-Istrebitel | EP | Code | 1981 | 474 | | 35000 |
| Vladimir Vysotsky | JaK-Istrebitel | EP | Code | 1981 | 1844 | | 22000 |
| Vladimir Vysotsky | JaK-Istrebitel | EP | Code | 1981 | 167 | | 100000 |
| Vladimir Vysotsky | JaK-Istrebitel | EP | Code | 1981 | 1409 | | 60000 |
| Vladimir Vysotsky | JaK-Istrebitel | EP | Code | 1981 | 126 | | 30400 |
| Vladimir Vysotsky | JaK-Istrebitel | EP | Code | 1981 | 1179 | | 20000 |
| Vladimir Vysotsky | JaK-Istrebitel | EP | Code | 1981 | 1140 | | 75000 |
| Vladimir Vysotsky | JaK-Istrebitel | EP | Code | 1981 | 1119 | | 60000 |
| Vladimir Vysotsky | JaK-Istrebitel | EP | Code | 1981 | 11 | | 33000 |
| Vladimir Vysotsky | JaK-Istrebitel | EP | Code | 1981 | 103 | | 61600 |
| Vladimir Vysotsky | Lecture | Album | Code | 1990 | 907 | | 20000 |
| Vladimir Vysotsky | Lecture | Album | Code | 1990 | 779 | | 25000 |
| Vladimir Vysotsky | Lecture | Album | Code | 1990 | 740 | | 30000 |
| Vladimir Vysotsky | Lecture | Album | Code | 1990 | 637 | | 20000 |
| Vladimir Vysotsky | Lecture | Album | Code | 1990 | 615 | | 20000 |
| Vladimir Vysotsky | Lecture | Album | Code | 1990 | 613 | | 30000 |
| Vladimir Vysotsky | Lecture | Album | Code | 1990 | 483 | | 80000 |
| Vladimir Vysotsky | Lecture | Album | Code | 1990 | 457 | | 100000 |
| Vladimir Vysotsky | Lecture | Album | Code | 1990 | 446 | | 30000 |
| Vladimir Vysotsky | Lecture | Album | Code | 1990 | 442 | | 1100 |
| Vladimir Vysotsky | Lecture | Album | Code | 1990 | 429 | | 100000 |
| Vladimir Vysotsky | Lecture | Album | Code | 1990 | 387 | | 10000 |
| Vladimir Vysotsky | Lecture | Album | Code | 1990 | 378 | | 200000 |
| Vladimir Vysotsky | Lecture | Album | Code | 1990 | 356 | | 50000 |
| Vladimir Vysotsky | Lecture | Album | Code | 1990 | 2381 | | 88240 |
| Vladimir Vysotsky | Lecture | Album | Code | 1990 | 2231 | | 50000 |
| Vladimir Vysotsky | Lecture | Album | Code | 1990 | 1301 | | 22600 |
| Vladimir Vysotsky | Long Jump | Album | Code | 1990 | 457 | | 100000 |
| Vladimir Vysotsky | Long Jump | Album | Code | 1990 | 445 | | 30000 |
| Vladimir Vysotsky | Long Jump | Album | Code | 1990 | 429 | | 50000 |
| Vladimir Vysotsky | Long Jump | Album | Code | 1990 | 420 | | 15000 |
| Vladimir Vysotsky | Long Jump | Album | Code | 1990 | 316 | | 100000 |
| Vladimir Vysotsky | Long Jump | Album | Code | 1990 | 2417 | | 79120 |
| Vladimir Vysotsky | Long Jump | Album | Code | 1990 | 2021 | | 34600 |
| Vladimir Vysotsky | Long Jump | Album | Code | 1990 | 1592 | | 2700 |
| Vladimir Vysotsky | Long Jump | Album | Code | 1990 | 1135 | | 55000 |
| Vladimir Vysotsky | Long Jump | Album | Code | 1990 | 1 | | 30000 |
| Vladimir Vysotsky | Long Jump | Album | Code | 1991 | 907 | | 16000 |
| Vladimir Vysotsky | Long Jump | Album | Code | 1991 | 523 | | 60000 |
| Vladimir Vysotsky | Pesnja O Pereselenii Dus | EP | Code | 0 | 179 | | 100000 |
| Vladimir Vysotsky | Pesnja O Pereselenii Dus | EP | Code | 0 | 153 | | 20000 |
| Vladimir Vysotsky | Pesnja O Pereselenii Dus | EP | Code | 0 | 108 | | 75000 |
| Vladimir Vysotsky | Pesnja O Pereselenii Dus | EP | Code | 1980 | 980 | | 28500 |
| Vladimir Vysotsky | Pesnja O Pereselenii Dus | EP | Code | 1980 | 885 | | 30000 |
| Vladimir Vysotsky | Pesnja O Pereselenii Dus | EP | Code | 1980 | 788 | | 26300 |
| Vladimir Vysotsky | Pesnja O Pereselenii Dus | EP | Code | 1980 | 77 | | 20000 |
| Vladimir Vysotsky | Pesnja O Pereselenii Dus | EP | Code | 1980 | 742 | | 26300 |
| Vladimir Vysotsky | Pesnja O Pereselenii Dus | EP | Code | 1980 | 676 | | 58000 |
| Vladimir Vysotsky | Pesnja O Pereselenii Dus | EP | Code | 1980 | 629 | | 24000 |
| Vladimir Vysotsky | Pesnja O Pereselenii Dus | EP | Code | 1980 | 612 | | 53000 |
| Vladimir Vysotsky | Pesnja O Pereselenii Dus | EP | Code | 1980 | 588 | | 27000 |
| Vladimir Vysotsky | Pesnja O Pereselenii Dus | EP | Code | 1980 | 521 | | 60000 |
| Vladimir Vysotsky | Pesnja O Pereselenii Dus | EP | Code | 1980 | 489 | | 25000 |
| Vladimir Vysotsky | Pesnja O Pereselenii Dus | EP | Code | 1980 | 406 | | 28000 |
| Vladimir Vysotsky | Pesnja O Pereselenii Dus | EP | Code | 1980 | 390 | | 11200 |
| Vladimir Vysotsky | Pesnja O Pereselenii Dus | EP | Code | 1980 | 307 | | 18000 |
| Vladimir Vysotsky | Pesnja O Pereselenii Dus | EP | Code | 1980 | 1865 | | 15000 |
| Vladimir Vysotsky | Pesnja O Pereselenii Dus | EP | Code | 1980 | 156 | | 10000 |
| Vladimir Vysotsky | Pesnja O Pereselenii Dus | EP | Code | 1980 | 138 | | 11000 |
| Vladimir Vysotsky | Pesnja O Pereselenii Dus | EP | Code | 1980 | 1173 | | 20000 |
| Vladimir Vysotsky | Pesnja O Pereselenii Dus | EP | Code | 1980 | 1162 | | 20000 |
| Vladimir Vysotsky | Pesnja O Pereselenii Dus | EP | Code | 1980 | 1135 | | 7700 |
| Vladimir Vysotsky | Pesnja O Pereselenii Dus | EP | Code | 1980 | 11 | | 20000 |
| Vladimir Vysotsky | Pesnja O Pereselenii Dus | EP | Code | 1981 | 941 | | 35200 |
| Vladimir Vysotsky | Pesnja O Pereselenii Dus | EP | Code | 1981 | 899 | | 40000 |
| Vladimir Vysotsky | Pesnja O Pereselenii Dus | EP | Code | 1981 | 72 | | 30000 |
| Vladimir Vysotsky | Pesnja O Pereselenii Dus | EP | Code | 1981 | 432 | | 12000 |
| Vladimir Vysotsky | Pesnja O Pereselenii Dus | EP | Code | 1981 | 392 | | 500000 |
| Vladimir Vysotsky | Pesnja O Pereselenii Dus | EP | Code | 1981 | 307 | | 44000 |
| Vladimir Vysotsky | Pesnja O Pereselenii Dus | EP | Code | 1981 | 1507 | | 50000 |
| Vladimir Vysotsky | Pesnja O Pereselenii Dus | EP | Code | 1981 | 15 | | 20000 |
| Vladimir Vysotsky | Pesnja O Pereselenii Dus | EP | Code | 1981 | 1262 | | 19500 |
| Vladimir Vysotsky | Pesnja O Pereselenii Dus | EP | Code | 1982 | 1330 | | 154700 |
| Vladimir Vysotsky | Pesnja O Pereselenii Dus | EP | Code | 1983 | 527 | | 30000 |
| Vladimir Vysotsky | Pesnja O Pereselenii Dus | EP | Code | 1983 | 1569 | | 20320 |
| Vladimir Vysotsky | Sentimental Boxer | Album | Code | 0 | 931 | | 20000 |
| Vladimir Vysotsky | Sentimental Boxer | Album | Code | 1987 | 9 | | 15000 |
| Vladimir Vysotsky | Sentimental Boxer | Album | Code | 1987 | 699 | | 12000 |
| Vladimir Vysotsky | Sentimental Boxer | Album | Code | 1987 | 658 | | 100000 |
| Vladimir Vysotsky | Sentimental Boxer | Album | Code | 1987 | 64 | | 25000 |
| Vladimir Vysotsky | Sentimental Boxer | Album | Code | 1987 | 625 | | 65000 |
| Vladimir Vysotsky | Sentimental Boxer | Album | Code | 1987 | 625 | | 65000 |
| Vladimir Vysotsky | Sentimental Boxer | Album | Code | 1987 | 568 | | 100000 |
| Vladimir Vysotsky | Sentimental Boxer | Album | Code | 1987 | 526 | | 60000 |
| Vladimir Vysotsky | Sentimental Boxer | Album | Code | 1987 | 467 | | 230000 |
| Vladimir Vysotsky | Sentimental Boxer | Album | Code | 1987 | 433 | | 50000 |
| Vladimir Vysotsky | Sentimental Boxer | Album | Code | 1987 | 3164 | | 100000 |
| Vladimir Vysotsky | Sentimental Boxer | Album | Code | 1987 | 298 | | 70000 |
| Vladimir Vysotsky | Sentimental Boxer | Album | Code | 1987 | 265 | | 30000 |
| Vladimir Vysotsky | Sentimental Boxer | Album | Code | 1987 | 1563 | | 23200 |
| Vladimir Vysotsky | Sentimental Boxer | Album | Code | 1987 | 1380 | | 10000 |
| Vladimir Vysotsky | Sentimental Boxer | Album | Code | 1988 | 83 | | 146540 |
| Vladimir Vysotsky | Sentimental Boxer | Album | Code | 1988 | 7 | | 20000 |
| Vladimir Vysotsky | Sentimental Boxer | Album | Code | 1988 | 689 | | 60000 |
| Vladimir Vysotsky | Sentimental Boxer | Album | Code | 1988 | 674 | | 12000 |
| Vladimir Vysotsky | Sentimental Boxer | Album | Code | 1988 | 67 | | 160000 |
| Vladimir Vysotsky | Sentimental Boxer | Album | Code | 1988 | 650 | | 121400 |
| Vladimir Vysotsky | Sentimental Boxer | Album | Code | 1988 | 600 | | 90000 |
| Vladimir Vysotsky | Sentimental Boxer | Album | Code | 1988 | 540 | | 152860 |
| Vladimir Vysotsky | Sentimental Boxer | Album | Code | 1988 | 5 | | 11000 |
| Vladimir Vysotsky | Sentimental Boxer | Album | Code | 1988 | 400 | | 41000 |
| Vladimir Vysotsky | Sentimental Boxer | Album | Code | 1988 | 385 | | 35000 |
| Vladimir Vysotsky | Sentimental Boxer | Album | Code | 1988 | 372 | | 50000 |
| Vladimir Vysotsky | Sentimental Boxer | Album | Code | 1988 | 336 | | 50000 |
| Vladimir Vysotsky | Sentimental Boxer | Album | Code | 1988 | 291 | | 50000 |
| Vladimir Vysotsky | Sentimental Boxer | Album | Code | 1988 | 25 | | 100000 |
| Vladimir Vysotsky | Sentimental Boxer | Album | Code | 1988 | 226 | | 200000 |
| Vladimir Vysotsky | Sentimental Boxer | Album | Code | 1988 | 142 | | 17800 |
| Vladimir Vysotsky | Sentimental Boxer | Album | Code | 1988 | 132 | | 50000 |
| Vladimir Vysotsky | Sentimental Boxer | Album | Code | 1988 | 1013 | | 71280 |
| Vladimir Vysotsky | Sentimental Boxer | Album | Code | 1989 | 806 | | 16000 |
| Vladimir Vysotsky | Sentimental Boxer | Album | Code | 1989 | 746 | | 11500 |
| Vladimir Vysotsky | Sentimental Boxer | Album | Code | 1989 | 654 | | 25000 |
| Vladimir Vysotsky | Sentimental Boxer | Album | Code | 1989 | 2037 | | 30000 |
| Vladimir Vysotsky | Sentimental Boxer | Album | Code | 1989 | 165 | | 31000 |
| Vladimir Vysotsky | Sentimental Boxer | Album | Code | 1990 | 999 | | 1400 |
| Vladimir Vysotsky | Sentimental Boxer | Album | Code | 1991 | 783 | | 21000 |
| Vladimir Vysotsky | Sentimental Boxer | Album | Code | 1991 | 423 | | 1000 |
| Vladimir Vysotsky | Songs | Album | Code | 0 | 881 | | 29000 |
| Vladimir Vysotsky | Songs | Album | Code | 0 | 67 | | 10000 |
| Vladimir Vysotsky | Songs | Album | Code | 0 | 554 | | 55000 |
| Vladimir Vysotsky | Songs | Album | Code | 0 | 506 | | 3000 |
| Vladimir Vysotsky | Songs | Album | Code | 0 | 440 | | 20000 |
| Vladimir Vysotsky | Songs | Album | Code | 0 | 352 | | 49000 |
| Vladimir Vysotsky | Songs | Album | Code | 0 | 343 | | 15000 |
| Vladimir Vysotsky | Songs | Album | Code | 0 | 26 | | 37300 |
| Vladimir Vysotsky | Songs | Album | Code | 0 | 1772 | | 30000 |
| Vladimir Vysotsky | Songs | Album | Code | 0 | 1747 | | 30000 |
| Vladimir Vysotsky | Songs | Album | Code | 0 | 119 | | 1800 |
| Vladimir Vysotsky | Songs | Album | Code | 1980 | 93 | | 55000 |
| Vladimir Vysotsky | Songs | Album | Code | 1980 | 835 | | 60000 |
| Vladimir Vysotsky | Songs | Album | Code | 1980 | 618 | | 250000 |
| Vladimir Vysotsky | Songs | Album | Code | 1980 | 612 | | 100000 |
| Vladimir Vysotsky | Songs | Album | Code | 1980 | 557 | | 50000 |
| Vladimir Vysotsky | Songs | Album | Code | 1980 | 550 | | 26000 |
| Vladimir Vysotsky | Songs | Album | Code | 1980 | 531 | | 150000 |
| Vladimir Vysotsky | Songs | Album | Code | 1980 | 470 | | 15000 |
| Vladimir Vysotsky | Songs | Album | Code | 1980 | 469 | | 4500 |
| Vladimir Vysotsky | Songs | Album | Code | 1980 | 4600 | | 43000 |
| Vladimir Vysotsky | Songs | Album | Code | 1980 | 4510 | | 20000 |
| Vladimir Vysotsky | Songs | Album | Code | 1980 | 422 | | 50000 |
| Vladimir Vysotsky | Songs | Album | Code | 1980 | 4213 | | 50000 |
| Vladimir Vysotsky | Songs | Album | Code | 1980 | 3807 | | 62000 |
| Vladimir Vysotsky | Songs | Album | Code | 1980 | 3294 | | 60000 |
| Vladimir Vysotsky | Songs | Album | Code | 1980 | 297 | | 30000 |
| Vladimir Vysotsky | Songs | Album | Code | 1980 | 285 | | 100000 |
| Vladimir Vysotsky | Songs | Album | Code | 1980 | 2791 | | 250000 |
| Vladimir Vysotsky | Songs | Album | Code | 1980 | 2417 | | 100000 |
| Vladimir Vysotsky | Songs | Album | Code | 1980 | 207 | | 65000 |
| Vladimir Vysotsky | Songs | Album | Code | 1980 | 203-81 | | 100000 |
| Vladimir Vysotsky | Songs | Album | Code | 1980 | 1974 | | 40000 |
| Vladimir Vysotsky | Songs | Album | Code | 1980 | 1896 | | 120000 |
| Vladimir Vysotsky | Songs | Album | Code | 1980 | 1685 | | 250000 |
| Vladimir Vysotsky | Songs | Album | Code | 1980 | 1592 | | 60000 |
| Vladimir Vysotsky | Songs | Album | Code | 1980 | 1560 | | 50000 |
| Vladimir Vysotsky | Songs | Album | Code | 1980 | 155 | | 8560 |
| Vladimir Vysotsky | Songs | Album | Code | 1981 | 904 | | 16520 |
| Vladimir Vysotsky | Songs | Album | Code | 1981 | 3464 | | 150000 |
| Vladimir Vysotsky | Songs | Album | Code | 1981 | 2724 | | 150000 |
| Vladimir Vysotsky | Songs | Album | Code | 1981 | 2302 | | 250000 |
| Vladimir Vysotsky | Songs | Album | Code | 1981 | 1157 | | 45000 |
| Vladimir Vysotsky | Songs | Album | Code | 1981 | ? | | 58000 |
| Vladimir Vysotsky | Songs | Album | Code | 1982 | 5675 | | 100000 |
| Vladimir Vysotsky | Songs | Album | Code | 1982 | 4821 | | 150000 |
| Vladimir Vysotsky | Songs | Album | Code | 1982 | 388 | | 65000 |
| Vladimir Vysotsky | Songs | Album | Code | 1982 | 1966 | | 28100 |
| Vladimir Vysotsky | Songs | Album | Code | 1982 | 1059 | | 75600 |
| Vladimir Vysotsky | Songs | Album | Code | 1983 | 713 | | 19800 |
| Vladimir Vysotsky | Songs | Album | Code | 1983 | 36 | | 20100 |
| Vladimir Vysotsky | Songs | Album | Code | 1983 | 1321 | | 20000 |
| Vladimir Vysotsky | Songs | Album | Code | 1984 | 857 | | 1700 |
| Vladimir Vysotsky | Songs | Album | Code | 1984 | 3280 | | 60000 |
| Vladimir Vysotsky | Songs | Album | Code | 1984 | 2099 | | 9100 |
| Vladimir Vysotsky | Songs | Album | Code | 1985 | 200 | | 26700 |
| Vladimir Vysotsky | Songs | Album | Code | 1986 | 383 | | 18400 |
| Vladimir Vysotsky | Songs | Album | Code | 1986 | 3703 | | 22200 |
| Vladimir Vysotsky | Songs | Album | Code | 1986 | 2226 | | 20000 |
| Vladimir Vysotsky | Songs | Album | Code | 1987 | 41 | | 1800 |
| Vladimir Vysotsky | Songs | Album | Code | 1987 | 1926 | | 35300 |
| Vladimir Vysotsky | Songs | Album | Code | 1987 | 178 | | 19860 |
| Vladimir Vysotsky | Songs | Album | Code | 1987 | 13 | | 11100 |
| Vladimir Vysotsky | Songs | Album | Code | 1987 | 1231 | | 1620 |
| Vladimir Vysotsky | Songs | Album | Code | 1988 | 995 | | 24920 |
| Vladimir Vysotsky | Songs | Album | Code | 1988 | 471 | | 41000 |
| Vladimir Vysotsky | Songs | Album | Code | 1988 | 1 | | 24590 |
| Vladimir Vysotsky | Songs | Album | Code | 1989 | 663 | | 22140 |
| Vladimir Vysotsky | Songs | Album | Code | 1989 | 191 | | 19460 |
| Vladimir Vysotsky | Sons Are Leaving For Battle 2 | Album | Code | 1986 | 934 | | 21030 |
| Vladimir Vysotsky | Sons Are Leaving For Battle 2 | Album | Code | 1986 | 680 | | 10000 |
| Vladimir Vysotsky | Sons Are Leaving For Battle 2 | Album | Code | 1986 | 607 | | 10000 |
| Vladimir Vysotsky | Sons Are Leaving For Battle 2 | Album | Code | 1986 | 534 | | 20000 |
| Vladimir Vysotsky | Sons Are Leaving For Battle 2 | Album | Code | 1986 | 489 | | 50000 |
| Vladimir Vysotsky | Sons Are Leaving For Battle 2 | Album | Code | 1986 | 451 | | 33000 |
| Vladimir Vysotsky | Sons Are Leaving For Battle 2 | Album | Code | 1986 | 416 | | 82500 |
| Vladimir Vysotsky | Sons Are Leaving For Battle 2 | Album | Code | 1986 | 408 | | 45000 |
| Vladimir Vysotsky | Sons Are Leaving For Battle 2 | Album | Code | 1986 | 383 | | 112500 |
| Vladimir Vysotsky | Sons Are Leaving For Battle 2 | Album | Code | 1986 | 334 | | 60000 |
| Vladimir Vysotsky | Sons Are Leaving For Battle 2 | Album | Code | 1986 | 310 | | 50000 |
| Vladimir Vysotsky | Sons Are Leaving For Battle 2 | Album | Code | 1986 | 178 | | 4400 |
| Vladimir Vysotsky | Sons Are Leaving For Battle 2 | Album | Code | 1986 | 1280 | | 34800 |
| Vladimir Vysotsky | Sons Are Leaving For Battle 2 | Album | Code | 1987 | 526 | | 3700 |
| Vladimir Vysotsky | Sons Are Leaving For Battle 2 | Album | Code | 1987 | 350 | | 20000 |
| Vladimir Vysotsky | Sons Are Leaving For Battle 2 | Album | Code | 1987 | 210 | | 2400 |
| Vladimir Vysotsky | Sons Are Leaving For Battle 2 | Album | Code | 1988 | 192 | | 20000 |
| Vladimir Vysotsky | Sons Are Leaving For Battle 2 | Album | Code | 1989 | 543 | | 20880 |
| Vladimir Vysotsky | Standing At The Brink | Album | Code | 1987 | 743 | | 18600 |
| Vladimir Vysotsky | Standing At The Brink | Album | Code | 1987 | 609 | | 32510 |
| Vladimir Vysotsky | Standing At The Brink | Album | Code | 1987 | 447 | | 6900 |
| Vladimir Vysotsky | Standing At The Brink | Album | Code | 1987 | 422 | | 18435 |
| Vladimir Vysotsky | Standing At The Brink | Album | Code | 1987 | 325 | | 24800 |
| Vladimir Vysotsky | Standing At The Brink | Album | Code | 1987 | 261 | | 43550 |
| Vladimir Vysotsky | Standing At The Brink | Album | Code | 1987 | 208 | | 15300 |
| Vladimir Vysotsky | Standing At The Brink | Album | Code | 1987 | 206 | | 81000 |
| Vladimir Vysotsky | Standing At The Brink | Album | Code | 1987 | 1922 | | 85050 |
| Vladimir Vysotsky | Standing At The Brink | Album | Code | 1987 | 1664 | | 93500 |
| Vladimir Vysotsky | Standing At The Brink | Album | Code | 1987 | 138 | | 8800 |
| Vladimir Vysotsky | Standing At The Brink | Album | Code | 1987 | 135 | | 15000 |
| Vladimir Vysotsky | Standing At The Brink | Album | Code | 1987 | 1158 | | 50860 |
| Vladimir Vysotsky | Standing At The Brink | Album | Code | 1988 | 67 | | 70400 |
| Vladimir Vysotsky | Standing At The Brink | Album | Code | 1988 | 308 | | 15540 |
| Vladimir Vysotsky | Standing At The Brink | Album | Code | 1988 | 237 | | 8350 |
| Vladimir Vysotsky | Standing At The Brink | Album | Code | 1988 | 181 | | 20000 |
| Vladimir Vysotsky | Standing At The Brink | Album | Code | 1988 | 1042 | | 22760 |
| Vladimir Vysotsky | Standing At The Brink | Album | Code | 1989 | 245 | | 2100 |
| Vladimir Vysotsky | Standing At The Brink | Album | Code | 1990 | 128 | | 2500 |
| Vladimir Vysotsky & Marina Vlady | Vlady / Vysotsky | Album | Code | 1987 | 575 | | 50000 |
| Vladimir Vysotsky & Marina Vlady | Vlady / Vysotsky | Album | Code | 1987 | 541 | | 60000 |
| Vladimir Vysotsky & Marina Vlady | Vlady / Vysotsky | Album | Code | 1987 | 466 | | 30000 |
| Vladimir Vysotsky & Marina Vlady | Vlady / Vysotsky | Album | Code | 1987 | 374 | | 20000 |
| Vladimir Vysotsky & Marina Vlady | Vlady / Vysotsky | Album | Code | 1987 | 1896 | | 118840 |
| Vladimir Vysotsky & Marina Vlady | Vlady / Vysotsky | Album | Code | 1987 | 1670 | | 103880 |
| Vladimir Vysotsky & Marina Vlady | Vlady / Vysotsky | Album | Code | 1987 | 1561 | | 12500 |
| Vladimir Vysotsky & Marina Vlady | Vlady / Vysotsky | Album | Code | 1987 | 109 | | 50000 |
| Vladimir Vysotsky & Marina Vlady | Vlady / Vysotsky | Album | Code | 1988 | 998 | | 61100 |
| Vladimir Vysotsky & Marina Vlady | Vlady / Vysotsky | Album | Code | 1988 | 92 | | 20000 |
| Vladimir Vysotsky & Marina Vlady | Vlady / Vysotsky | Album | Code | 1988 | 800 | | 10000 |
| Vladimir Vysotsky & Marina Vlady | Vlady / Vysotsky | Album | Code | 1988 | 77 | | 54160 |
| Vladimir Vysotsky & Marina Vlady | Vlady / Vysotsky | Album | Code | 1988 | 644 | | 61750 |
| Vladimir Vysotsky & Marina Vlady | Vlady / Vysotsky | Album | Code | 1988 | 51 | | 25000 |
| Vladimir Vysotsky & Marina Vlady | Vlady / Vysotsky | Album | Code | 1988 | 467 | | 24500 |
| Vladimir Vysotsky & Marina Vlady | Vlady / Vysotsky | Album | Code | 1988 | 319 | | 5000 |
| Vladimir Vysotsky & Marina Vlady | Vlady / Vysotsky | Album | Code | 1988 | 277 | | 35000 |
| Vladimir Vysotsky & Marina Vlady | Vlady / Vysotsky | Album | Code | 1988 | 24 | | 50000 |
| Vladimir Vysotsky & Marina Vlady | Vlady / Vysotsky | Album | Code | 1988 | 23 | | 25300 |
| Vladimir Vysotsky & Marina Vlady | Vlady / Vysotsky | Album | Code | 1988 | 1778 | | 24260 |
| Vladimir Vysotsky & Marina Vlady | Vlady / Vysotsky | Album | Code | 1988 | 164 | | 18000 |
| Vladimir Vysotsky & Marina Vlady | Vlady / Vysotsky | Album | Code | 1988 | 152 | | 3300 |
| Vladimir Vysotsky & Marina Vlady | Vlady / Vysotsky | Album | Code | 1988 | 1413 | | 56580 |
| Vladimir Vysotsky & Marina Vlady | Vlady / Vysotsky | Album | Code | 1988 | 1307 | | 13100 |
| Vladimir Vysotsky & Marina Vlady | Vlady / Vysotsky | Album | Code | 1989 | 797 | | 7500 |
| Vladimir Vysotsky & Marina Vlady | Vlady / Vysotsky | Album | Code | 1989 | 69 | | 20310 |
| Vladimir Vysotsky & Marina Vlady | Vlady / Vysotsky | Album | Code | 1989 | 439 | | 30000 |
| Vladimir Vysotsky & Marina Vlady | Vlady / Vysotsky | Album | Code | 1989 | 32144 | | 15300 |
| Vladimir Vysotsky & Marina Vlady | Vlady / Vysotsky | Album | Code | 1989 | 303 | | 35870 |
| Vladimir Vysotsky & Marina Vlady | Vlady / Vysotsky | Album | Code | 1989 | 2312 | | 15800 |
| Vladimir Vysotsky & Marina Vlady | Vlady / Vysotsky | Album | Code | 1989 | 17 | | 20000 |
| Vladimir Vysotsky & Marina Vlady | Vlady / Vysotsky | Album | Code | 1989 | 166 | | 34000 |
| Vladimir Vysotsky & Marina Vlady | Vlady / Vysotsky | Album | Code | 1990 | 651 | | 2000 |
| Vladimir Vysotsky & Marina Vlady | Vlady / Vysotsky | Album | Code | 1990 | 125 | | 16300 |
| Voninavoko, Tsimialona Volambita, Tsimialonjafy | Traditional Music of Madagascar | Album | Code | 1983 | 558 | | 2000 |
| Waldemar Matuška | Pojdem So Mnoj / Susanna | FlexiDisc | Code | 1972 | 2483 | | 450000 |
| Walter Gieseking | Adagio Sostenuto From Beethoven's Sonata Op. 27 No. 2- "Lunar" | FlexiDisc | Code | 1979 | 1454 | | 500000 |
| Wet Wet Wet | Love Is All Around | Ringtone | Certification | 2011 | Lenta 2011 | Gold | 100000 |
| Whitney Houston | I Look To You | Album | Certification | 2009 | | Gold | 10000 |
| Whitney Houston | The Ultimate Collection | Album | Certification | 2008 | | Gold | 10000 |
| Whitney Houston | Whitney Houston | Album | Code | 1986 | 953 | | 5500 |
| Whitney Houston | Whitney Houston | Album | Code | 1986 | 1295 | | 100000 |
| Whitney Houston | Whitney Houston | Album | Code | 1987 | ? | | 7000 |
| Whitney Houston | Whitney Houston | Album | Code | 1989 | 289 | | 8580 |
| Whitney Houston | You Give Good Love / How Will I Know | FlexiDisc | Code | 1988 | 2634 | | 255000 |
| Wickety Wak | Moonlight / Write Me | FlexiDisc | Code | 1985 | 311 | | 365000 |
| Will.I.Am | Songs For Girls | Album | Certification | 2007 | | Gold | 10000 |
| Wilma Reading | Everything Is Over / How I Would Like To Hug You | FlexiDisc | Code | 1979 | 720 | | 500000 |
| Wilson Simonal | Chuva Caindo / Eu Te Amo Muito / Soldado Tolo | FlexiDisc | Code | 1971 | 2645 | | 350000 |
| Wir | Schlankes Mädchen / Es Gibt Keine Fremde Trauer Für Mich | FlexiDisc | Code | 1986 | 1914 | | 260000 |
| Wojciech M?ynarski | Jeste?my Na Wczasach | FlexiDisc | Code | 1968 | 1568 | | 300000 |
| Yaki-Da | I Saw You Dancing | Ringtone | Certification | 2011 | Lenta 2011 | Gold | 100000 |
| Yannis Parios | Móno Esý | FlexiDisc | Code | 1985 | 671 | | 365000 |
| Yazz | Stand Up For Your Love Rights / The Only Way Is Up | FlexiDisc | Code | 1990 | 2827 | | 210000 |
| Yello | Baby | Album | Code | 1992 | 267 | | 50000 |
| Yello | Baby | Album | Code | 1992 | 110 | | 7000 |
| Yello | The Race | FlexiDisc | Code | 1989 | 1241 | | 270000 |
| Yello | Touch Yello | Album | Certification | 2010 | | Gold | 10000 |
| Yello | Vicious Games | FlexiDisc | Code | 1989 | 1241 | | 270000 |
| Yellow Magic Orchestra | Serpentine(?) / Cosmic Surfin' | FlexiDisc | Code | 1982 | 1803 | | 500000 |
| Yes | Time And A Word | Album | Code | 1991 | 57 | | 100000 |
| Yiannis Ritsos / Mikis Theodorakis | Songs Of Freedom: Fragments Of "Eighteen Short Songs Of The Bitter Motherland" | FlexiDisc | Code | 1977 | 778 | | 500000 |
| Yngwie Malmsteen | Trilogy | Album | Code | 1988 | 987 | | 13000 |
| Yngwie Malmsteen | Trilogy | Album | Code | 1988 | 1632 | | 23600 |
| Yngwie Malmsteen | Trilogy | Album | Code | 1988 | 1059 | | 3000 |
| Yngwie Malmsteen | Trilogy | Album | Code | 1989 | 1959 | | 66740 |
| Yngwie Malmsteen | Trilogy | Album | Code | 1990 | 1591 | | 1500 |
| Yoko Ono | Children Power / You And I / Starpeace | FlexiDisc | Code | 1987 | 555 | | 260000 |
| Yolanda Be Cool & DCUP | We No Speak Americano | Ringtone | Certification | 2010 | Lenta 2010 | 2xPlatinum | 400000 |
| Yuji Koseki | Ground Covered With Pure White Snow | FlexiDisc | Code | 1971 | 2084 | | 350000 |
| Yukari Ito | No One Knows / Conversation With The Little Finger | FlexiDisc | Code | 1973 | 408 | | 450000 |
| Yuki Saito | Sunny Sky(?) / Flying In A Dream(?) | Cassette | Code | 1992 | 1227 | | 60000 |
| Yuliya Proskuryakova | Ty Mojo Schast'e | Ringtone | Certification | 2011 | Lenta 2011 | 2xPlatinum | 400000 |
| Yuri Antonov | Golden Stairs | Album | Code | 1979 | 742 | | 32000 |
| Yuri Antonov | Golden Stairs | Album | Code | 1979 | 676 | | 59500 |
| Yuri Antonov | Golden Stairs | Album | Code | 1979 | 629 | | 55000 |
| Yuri Antonov | Golden Stairs | Album | Code | 1979 | 594 | | 29240 |
| Yuri Antonov | Golden Stairs | Album | Code | 1979 | 574 | | 57200 |
| Yuri Antonov | Golden Stairs | Album | Code | 1979 | 572 | | 11340 |
| Yuri Antonov | Golden Stairs | Album | Code | 1979 | 56 | | 22800 |
| Yuri Antonov | Golden Stairs | Album | Code | 1979 | 49 | | 33000 |
| Yuri Antonov | Golden Stairs | Album | Code | 1979 | 489 | | 48000 |
| Yuri Antonov | Golden Stairs | Album | Code | 1979 | 307 | | 80000 |
| Yuri Antonov | Golden Stairs | Album | Code | 1980 | 987 | | 64000 |
| Yuri Antonov | Golden Stairs | Album | Code | 1980 | 8314 | | 300000 |
| Yuri Antonov | Golden Stairs | Album | Code | 1980 | 555 | | 90000 |
| Yuri Antonov | Golden Stairs | Album | Code | 1980 | 445 | | 28000 |
| Yuri Antonov | Golden Stairs | Album | Code | 1980 | 422 | | 10000 |
| Yuri Antonov | Golden Stairs | Album | Code | 1980 | 38 | | 18500 |
| Yuri Antonov | Golden Stairs | Album | Code | 1980 | 20 | | 84000 |
| Yuri Antonov | Golden Stairs | Album | Code | 1980 | 141 | | 30000 |
| Yuri Antonov | Golden Stairs | Album | Code | 1980 | 1160 | | 30000 |
| Yuri Antonov | Golden Stairs | Album | Code | 1981 | 1230 | | 10000 |
| Yuri Antonov | Golden Stairs | Album | Code | 1982 | 1490 | | 12500 |
| Yuri Antonov | Golden Stairs | Album | Code | 1983 | 207 | | 6000 |
| Yuri Antonov | Golden Stairs | Album | Code | 1983 | 1473 | | 66000 |
| Yuri Bogatikov / Regina Pisarek | Guests "Zucchini 33 1/2 turn" | FlexiDisc | Code | 1969 | 1009 | | 350000 |
| Yves Duteil | Yves Duteil | Album | Code | 0 | 1127 | | 13000 |
| Yves Duteil | Yves Duteil | Album | Code | 1982 | 5728 | | 25000 |
| Yves Montand | La Chansonnette / Les Feuilles Mortes | FlexiDisc | Code | 1990 | 2593 | | 210000 |
| Yves Montand | When a Distant Friend Sings | Album | Code | 1991 | 76 | | 10000 |
| Zaz | Zaz | Album | Certification | 2011 | | Platinum | 10000 |
| Zdravko ?oli? | Ona Spava | FlexiDisc | Code | 1978 | 2445 | | 500000 |
| Zdravko ?oli? | Zima Je Bila Snježna / Šta Radiš Sa Mnom? | FlexiDisc | Code | 1984 | 1949 | | 500000 |
| Zdzis?awa So?nicka | Ostatnie ?zy / My?l O Mnie | FlexiDisc | Code | 1975 | 417 | | 500000 |
| Zemfira | 14 Nedel' Tishini | Album | Report | 2002 | Lenta 2011 | 3xPlatinum | 1000000 |
| Zemfira | Prosti Menya Moya Lyubov' | Album | Certification | 2000 | | 5xPlatinum | 1500000 |
| Zemfira | Spasibo | Album | Report | 2007 | 2008 Annual Awards | 2xPlatinum | 250000 |
| Zemfira | Spasobi. Vendetta | Album | Certification | 2007 | | Platinum | 100000 |
| Zemfira | Vendetta | Album | Certification | 2005 | | Platinum | 300000 |
| Zemfira | Zemfira | Album | Certification | 1999 | | 2xPlatinum | 600000 |
| Zemfira | Zemfira.Live | Album | Certification | 2006 | | Gold | 50000 |
| Zo? | My Music / Love And Understanding Is Everything | FlexiDisc | Code | 1986 | 2807 | | 260000 |
| Zodiac | Disco Alliance | Album | Code | 0 | 883 | | 10000 |
| Zodiac | Disco Alliance | Album | Code | 0 | 855 | | 50000 |
| Zodiac | Disco Alliance | Album | Code | 0 | 783 | | 40000 |
| Zodiac | Disco Alliance | Album | Code | 0 | 783 | | 45000 |
| Zodiac | Disco Alliance | Album | Code | 0 | 778 | | 35000 |
| Zodiac | Disco Alliance | Album | Code | 0 | 753 | | 13000 |
| Zodiac | Disco Alliance | Album | Code | 0 | 724 | | 19000 |
| Zodiac | Disco Alliance | Album | Code | 0 | 690 | | 131480 |
| Zodiac | Disco Alliance | Album | Code | 0 | 583 | | 7100 |
| Zodiac | Disco Alliance | Album | Code | 0 | 525 | | 15000 |
| Zodiac | Disco Alliance | Album | Code | 0 | 405 | | 34000 |
| Zodiac | Disco Alliance | Album | Code | 0 | 352 | | 13250 |
| Zodiac | Disco Alliance | Album | Code | 0 | 313 | | 9300 |
| Zodiac | Disco Alliance | Album | Code | 0 | 201 | | 31000 |
| Zodiac | Disco Alliance | Album | Code | 0 | 187 | | 13400 |
| Zodiac | Disco Alliance | Album | Code | 0 | 156 | | 19000 |
| Zodiac | Disco Alliance | Album | Code | 0 | 1388 | | 56800 |
| Zodiac | Disco Alliance | Album | Code | 0 | 1387 | | 18700 |
| Zodiac | Disco Alliance | Album | Code | 0 | 1358 | | 20000 |
| Zodiac | Disco Alliance | Album | Code | 0 | 11 | | 12000 |
| Zodiac | Disco Alliance | Album | Code | 1980 | 986 | | 100000 |
| Zodiac | Disco Alliance | Album | Code | 1980 | 940 | | 75400 |
| Zodiac | Disco Alliance | Album | Code | 1980 | 926 | | 20000 |
| Zodiac | Disco Alliance | Album | Code | 1980 | 812 | | 60000 |
| Zodiac | Disco Alliance | Album | Code | 1980 | 79 | | 23000 |
| Zodiac | Disco Alliance | Album | Code | 1980 | 770 | | 60000 |
| Zodiac | Disco Alliance | Album | Code | 1980 | 685 | | 47180 |
| Zodiac | Disco Alliance | Album | Code | 1980 | 680 | | 30000 |
| Zodiac | Disco Alliance | Album | Code | 1980 | 621 | | 130000 |
| Zodiac | Disco Alliance | Album | Code | 1980 | 603 | | 150000 |
| Zodiac | Disco Alliance | Album | Code | 1980 | 602 | | 4000 |
| Zodiac | Disco Alliance | Album | Code | 1980 | 58 | | 47400 |
| Zodiac | Disco Alliance | Album | Code | 1980 | 555 | | 3020 |
| Zodiac | Disco Alliance | Album | Code | 1980 | 472 | | 50000 |
| Zodiac | Disco Alliance | Album | Code | 1980 | 453 | | 50000 |
| Zodiac | Disco Alliance | Album | Code | 1980 | 422 | | 50000 |
| Zodiac | Disco Alliance | Album | Code | 1980 | 412 | | 40000 |
| Zodiac | Disco Alliance | Album | Code | 1980 | 409 | | 37180 |
| Zodiac | Disco Alliance | Album | Code | 1980 | 3606 | | 110000 |
| Zodiac | Disco Alliance | Album | Code | 1980 | 358 | | 400000 |
| Zodiac | Disco Alliance | Album | Code | 1980 | 332 | | 25000 |
| Zodiac | Disco Alliance | Album | Code | 1980 | 3022 | | 110000 |
| Zodiac | Disco Alliance | Album | Code | 1980 | 272 | | 34000 |
| Zodiac | Disco Alliance | Album | Code | 1980 | 251 | | 197000 |
| Zodiac | Disco Alliance | Album | Code | 1980 | 246 | | 15000 |
| Zodiac | Disco Alliance | Album | Code | 1980 | 2454 | | 75000 |
| Zodiac | Disco Alliance | Album | Code | 1980 | 1668 | | 300000 |
| Zodiac | Disco Alliance | Album | Code | 1980 | 165 | | 12080 |
| Zodiac | Disco Alliance | Album | Code | 1980 | 1435 | | 100000 |
| Zodiac | Disco Alliance | Album | Code | 1980 | 1314 | | 20000 |
| Zodiac | Disco Alliance | Album | Code | 1980 | 1311/5 | | 100000 |
| Zodiac | Disco Alliance | Album | Code | 1980 | 130T | | 40000 |
| Zodiac | Disco Alliance | Album | Code | 1980 | 1307 | | 30000 |
| Zodiac | Disco Alliance | Album | Code | 1980 | 124 | | 30000 |
| Zodiac | Disco Alliance | Album | Code | 1980 | 1218 | | 25000 |
| Zodiac | Disco Alliance | Album | Code | 1980 | 1206/4 | | 100000 |
| Zodiac | Disco Alliance | Album | Code | 1980 | 1021 | | 8500 |
| Zodiac | Disco Alliance | Album | Code | 1981 | 557 | | 30000 |
| Zodiac | Disco Alliance | Album | Code | 1981 | 30 | | 63000 |
| Zodiac | Disco Alliance | Album | Code | 1981 | 2996 | | 3000 |
| Zodiac | Disco Alliance | Album | Code | 1981 | 2172 | | 38000 |
| Zodiac | Disco Alliance | Album | Code | 1981 | 1570/3 | | 25000 |
| Zodiac | Disco Alliance | Album | Code | 1982 | 564 | | 3600 |
| Zodiac | Disco Alliance | Album | Code | 1982 | 3910 | | 3000 |
| Zodiac | Disco Alliance | Album | Code | 1982 | 3871 | | 300000 |
| Zodiac | Disco Alliance | Album | Code | 1982 | 1154 | | 20000 |
| Zodiac | Disco Alliance | Album | Code | 1983 | 758 | | 22800 |
| Zodiac | Disco Alliance | Album | Code | 1983 | 2971 | | 14500 |
| Zodiac | Disco Alliance | Album | Code | 1984 | 454 | | 4600 |
| Zodiac | Disco Alliance | Album | Code | 1984 | 2465 | | 11400 |
| Zodiac | Disco Alliance | Album | Code | 1984 | 1745 | | 6000 |
| Zodiac | Disco Alliance | Album | Code | 1984 | 1704 | | 6800 |
| Zodiac | Disco Alliance | Album | Code | 1985 | 203 | | 5500 |
| Zodiac | Music In The Universe | Album | Code | 1982 | 883 | | 15500 |
| Zodiac | Music In The Universe | Album | Code | 1982 | 4462 | | 50000 |
| Zodiac | Music In The Universe | Album | Code | 1982 | 317 | | 20000 |
| Zodiac | Music In The Universe | Album | Code | 1982 | 3014 | | 30000 |
| Zodiac | Music In The Universe | Album | Code | 1982 | 291 | | 40000 |
| Zodiac | Music In The Universe | Album | Code | 1982 | 17919 | | 200000 |
| Zodiac | Music In The Universe | Album | Code | 1983 | 965 | | 30000 |
| Zodiac | Music In The Universe | Album | Code | 1983 | 923 | | 30000 |
| Zodiac | Music In The Universe | Album | Code | 1983 | 832 | | 40000 |
| Zodiac | Music In The Universe | Album | Code | 1983 | 79 | | 20000 |
| Zodiac | Music In The Universe | Album | Code | 1983 | 767 | | 100000 |
| Zodiac | Music In The Universe | Album | Code | 1983 | 752 | | 20000 |
| Zodiac | Music In The Universe | Album | Code | 1983 | 743 | | 20000 |
| Zodiac | Music In The Universe | Album | Code | 1983 | 71 | | 100000 |
| Zodiac | Music In The Universe | Album | Code | 1983 | 696 | | 18700 |
| Zodiac | Music In The Universe | Album | Code | 1983 | 696 | | 61000 |
| Zodiac | Music In The Universe | Album | Code | 1983 | 692 | | 54900 |
| Zodiac | Music In The Universe | Album | Code | 1983 | 684 | | 200000 |
| Zodiac | Music In The Universe | Album | Code | 1983 | 674 | | 60000 |
| Zodiac | Music In The Universe | Album | Code | 1983 | 636 | | 50000 |
| Zodiac | Music In The Universe | Album | Code | 1983 | 57 | | 25000 |
| Zodiac | Music In The Universe | Album | Code | 1983 | 567 | | 23000 |
| Zodiac | Music In The Universe | Album | Code | 1983 | 566 | | 36000 |
| Zodiac | Music In The Universe | Album | Code | 1983 | 566 | | 100000 |
| Zodiac | Music In The Universe | Album | Code | 1983 | 547 | | 100000 |
| Zodiac | Music In The Universe | Album | Code | 1983 | 514 | | 30000 |
| Zodiac | Music In The Universe | Album | Code | 1983 | 5059 | | 30000 |
| Zodiac | Music In The Universe | Album | Code | 1983 | 468 | | 20800 |
| Zodiac | Music In The Universe | Album | Code | 1983 | 4463 | | 50000 |
| Zodiac | Music In The Universe | Album | Code | 1983 | 437 | | 100000 |
| Zodiac | Music In The Universe | Album | Code | 1983 | 436 | | 35400 |
| Zodiac | Music In The Universe | Album | Code | 1983 | 413 | | 27000 |
| Zodiac | Music In The Universe | Album | Code | 1983 | 387 | | 17000 |
| Zodiac | Music In The Universe | Album | Code | 1983 | 387 | | 100000 |
| Zodiac | Music In The Universe | Album | Code | 1983 | 38 | | 70000 |
| Zodiac | Music In The Universe | Album | Code | 1983 | 37 | | 20000 |
| Zodiac | Music In The Universe | Album | Code | 1983 | 37 | | 25000 |
| Zodiac | Music In The Universe | Album | Code | 1983 | 3532 | | 9000 |
| Zodiac | Music In The Universe | Album | Code | 1983 | 346 | | 50000 |
| Zodiac | Music In The Universe | Album | Code | 1983 | 332 | | 16640 |
| Zodiac | Music In The Universe | Album | Code | 1983 | 329 | | 183000 |
| Zodiac | Music In The Universe | Album | Code | 1983 | 2451 | | 60000 |
| Zodiac | Music In The Universe | Album | Code | 1983 | 19016 | | 150000 |
| Zodiac | Music In The Universe | Album | Code | 1983 | 1566 | | 32000 |
| Zodiac | Music In The Universe | Album | Code | 1983 | 1384 | | 107000 |
| Zodiac | Music In The Universe | Album | Code | 1983 | 1281 | | 60000 |
| Zodiac | Music In The Universe | Album | Code | 1983 | 1149 | | 20000 |
| Zodiac | Music In The Universe | Album | Code | 1984 | 3305 | | 5180 |
| Zodiac | Music In The Universe | Album | Code | 1984 | 2886 | | 10000 |
| Zodiac | Music In The Universe | Album | Code | 1984 | 22201 | | 200000 |
| Zodiac | Music In The Universe | Album | Code | 1984 | 1940 | | 4500 |
| Zodiac | Music In The Universe | Album | Code | 1985 | 75 | | 17500 |
| Zodiac | Music In The Universe | Album | Code | 1985 | 3824 | | 16460 |
| Zodiac | Music In The Universe | Album | Code | 1985 | 3650 | | 18160 |
| Zodiac | Music In The Universe | Album | Code | 1985 | 1678 | | 3900 |
| Zodiac | Music In The Universe | Album | Code | 1986 | 1318 | | 8600 |
| Zoltán Erika | Politika | FlexiDisc | Code | 1990 | 1668 | | 240000 |
| Zuzka Lonská | Ne?íkej Ne / Along The Street Blizzard Sweeps | FlexiDisc | Code | 1968 | 2016 | | 300000 |
Sources: Discogs, records.su, NFPF, 2m, Lenta