Sade albums and songs sales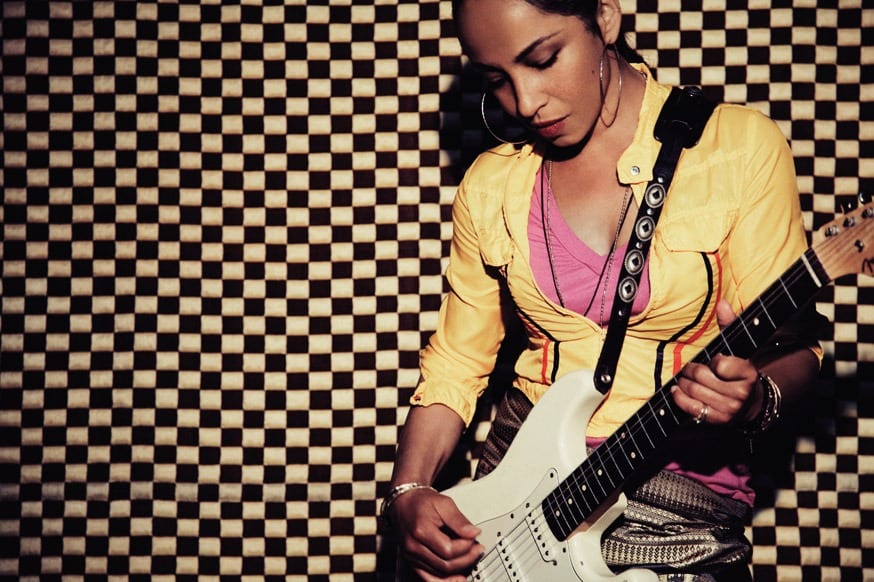 Very popular during the 80s, Sade has released only 1 album per decade out of the last three.
Their discretion does not prevent them from selling well. Their last album, 2010's Soldier of Love demonstrated it by shifting over 500,000 units at retail in its first week in the US.
Today we relive the career of one of the highest selling smooth jazz artist of all-time.
Get to know Sade
Who are Sade?
Sade are a British smooth jazz / Soul band, often confused with their lead singer Sade Adu, a Nigerian-born British singer. They debuted in 1984 with the album Diamond Life, an instant hit.
How many albums have their released?
The band issued 6 studio albums, Diamond Life (1984), Promise (1985), Stronger Than Pride (1988), Love Deluxe (1992), Lovers Rock (2000) and Soldier of Love (2010).
They have always been successful as shown by the minimum of 6 weeks charted inside the US Top 10 by each of their LPs.
What's their musical style?
Sade music is a fusion of Soul and smooth Jazz. While this latter genre is often regarded as elevator music, the band is highly rated by both critics and fellow artists. Their sophisticated instrumentals brought many rappers to sample them, while the bewitching voice and stage presence of Sade Adu is praised by most.
Even if the name of Sade isn't a household name like Police or Nirvana, chances are even those who don't know them already heard several of their songs.
These hits haven't taken charts by fire, with only 2 US Top 10 hits, 1 in the UK, and none in Australia and Germany.
Still, give a stream to Smooth Operator, By Your Side, The Sweetest Taboo or No Ordinary Love, and they may speak to you.
So, with few albums, no big hits and next to no public exposure, are numbers of Sade great?
As usual, I'll be using the Commensurate Sales to Popularity Concept in order to relevantly gauge their results. This concept will not only bring you sales information for all Sade's albums, physical and download singles, as well as audio and video streaming, but it will also determine their true popularity.
If you are not yet familiar with the CSPC method, the next page explains it with a short video. I fully recommend watching the video before getting into the sales figures. Of course, if you are a regular visitor feel free to skip the video and get into the figures.
The Commensurate Sales to Popularity Concept (CSPC)
There are two ways to understand this revolutionary concept. The first is the Scribe video posted below. If you are unaware of the CSPC method, you will get the full idea within just a few minutes.
If you are a mathematical person, and want to know the full method as well as formulas, you can read the full introduction article.
Now let's get into the artist's sales figures in detail in order to apply this concept and define the act's true popularity!
Sade Albums Sales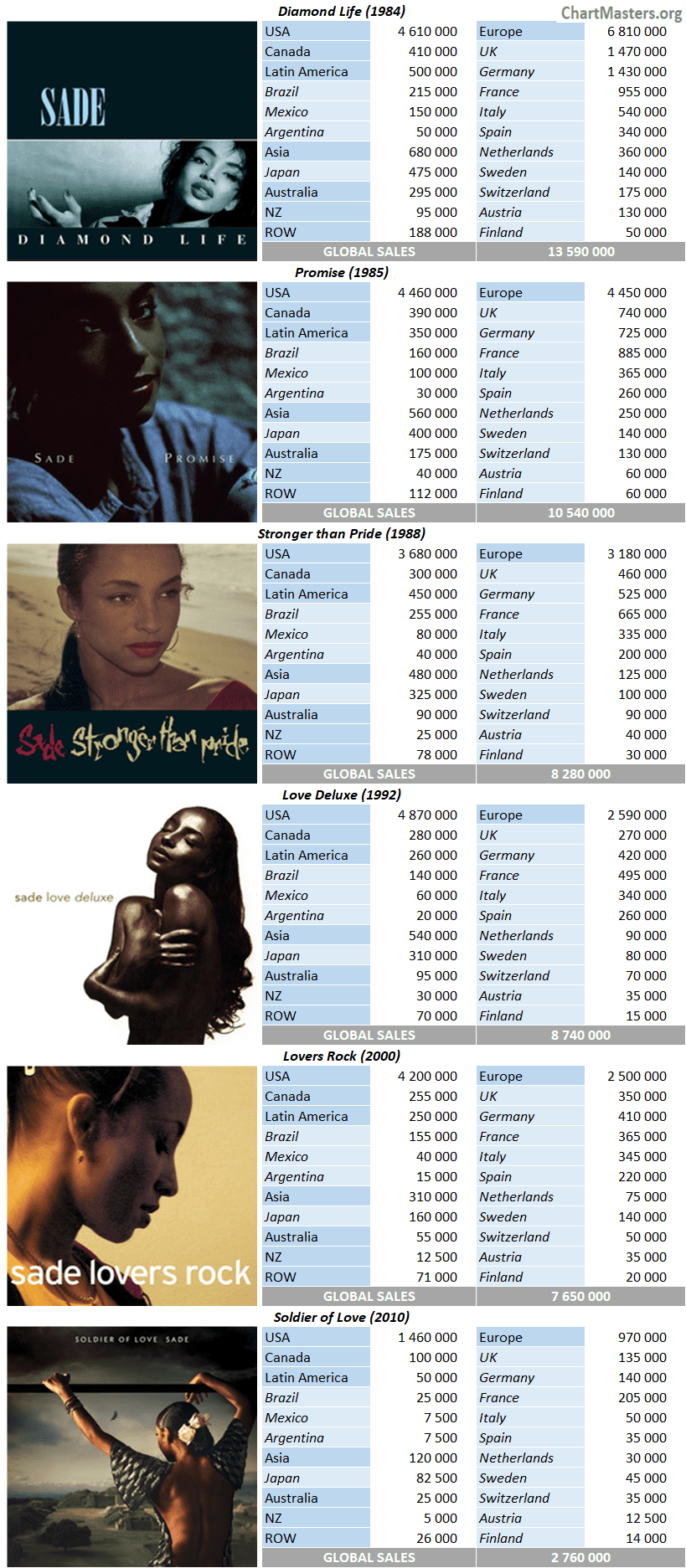 Original Album Sales – Comments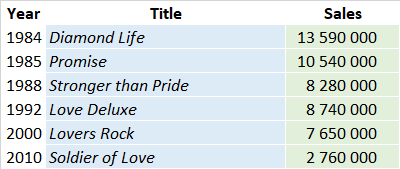 To score over 7.5 million sales with each of your first 5 albums over a span of 16 years is amazing, even more when you are off the media radar.
Diamond Life was an unexpected smash back in 1984. One of these albums from discreet singers that the public fell in love with.
Carole King's Tapestry, Tracy Chapman's eponymous debut, Alanis Morissette's Jagged Little Pill or Norah Jones' Come Away With Me are some of these albums.
These artists rarely last though, they are often one-album wonders, at best they get two hit eras.
Sade repeated the feat 5 times. Promise quickly came out in 1985 to break over 10 million copies.
Stronger Than Pride debuted slowly compared to its predecessors, but it had the same lasting impact, climbing to over 8 million sales to date.
Love Deluxe is maybe the more impressive release. As their Best Of came out in 1994, this record had little time to sell in large quantities.
It would have been a surefire 10 million seller with a decade free of competition. It still moved an impressive 8.74 million copies.
Coming back 8 years later when their generation of fans had moved away already, they managed to get new hit singles, pushing Lovers Rock to 7.65 million sales.
One more decade of wait was necessary up to Soldier of Love in 2010.
While it obviously sold less than its predecessors at 2.76 million, so long after their last release and with a difficult market background the record still did very well.
That's 51.5 million sales across 6 releases, a result within reach of few artists.
Sade Songs Sales

Physical Singles Sales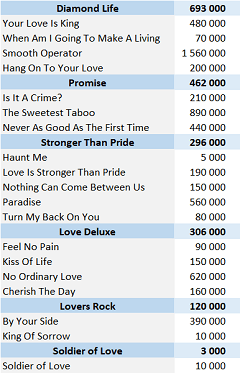 As a reminder, the weighting is done with a 10 to 3 ratio between one album and one physical single.
The chart life of Sade started in February 1984 when Your Love Is King came out in the UK.
The song climbed all the way up to #6 in its 7th chart week. It remains their only top 10 single to this day.
In fact, the public quickly got convinced to purchase their albums instead.
It's very visible with the #36 peak of the follow up single, When Am I Going To Make A Living.
Yet, their parent album opened at that point at #2 and stood 15 consecutive weeks inside the top 5.
While it spent 5 non-consecutive weeks as runner up, it's worth noting that Diamond Life is one of these 80s albums that would have been a UK #1 LP if it wasn't for the temporary rule which allowed various artists compilations to chart. On its 3rd week at #2, only Now 3 was ahead of it.
Back to singles, Your Love Is King still sold under half a million units due to low peaks elsewhere, including a #54 position in the US.
There, like in many markets, the song was released in mid-1985 after the success of Smooth Operator.
This last title was their true breakthrough. #5 in the US and top 20 in most relevant markets led the single to 1.5 million sales.
The Sweetest Taboo also peaked at 5 in the US, but its success overseas as a physical single wasn't that strong. It was a moderate #31 hit in the UK, #30 in France and #28 in Germany, en route for 890,000 sales worldwide.
The band was already installed as an album artist, so their later singles were accessories.
Never As Good As The First Time, Paradise, No Ordinary Love and By Your Side still had decent receptions in physical single format, moving around half a million units each.
Digital Songs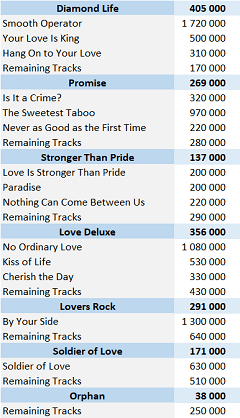 As a reminder, the weighting is done with a 10 to 1,5 ratio between one album and one digital single.
To be an album band doesn't mean people don't like your singles, only that they are strong enough to support albums.
Thus, once market dynamics are changed and favor the purchase of individual titles, you can happen to sell well in this format too.
Smooth Operator is up to 1.7 million downloads and ringtones, a healthy number for a smooth jazz 1984 song.
The Sweetest Taboo is close to a million, No Ordinary Love is over this mark and By Your Side stands at 1.3 million.
These figures illustrate several facts. Sade are no one-hit wonder. They have no obvious signature song either.
Maybe even more impressive than sales of their most iconic songs are sales of the remaining tracks.
A lot of them sold decent numbers. Each of their first 4 LPs have 3 songs over 200,000 sales, a notable achievement.
Their deepest tracks, reflected under the Remaining Tracks lines, also did wonders for non-singles.

Streaming
Streaming is made up of audio and video streams. Our CSPC methodology includes both to better reflect the real popularity of each track. The main source of data for each avenue is respectively Spotify and YouTube.
To factor in the growing impact of multiple Asian countries where these platforms aren't always the go-to site for music streaming, more sources have been added.
In order to account for their real popularity in each relevant country, the below sources have been used along with the mentioned ratios that reflect the market share of each area.
Audio Streams
– South Korea : Genie streams * 3.05 (consistent with Gaon streaming numbers)
– Japan : AWA streams * 100/5.5 (AWA has 5.5% of the Japanese streaming market)
– Elsewhere : Spotify streams * (370 – 8.5 – 9.5 – 33 – 9) / 207 (370 million global subscribers minus 8.5 million from South Korea minus 9.5 million from Japan minus 33 million from China divided by the number of Spotify only users minus 9 million more Asian users) + Genie streams * 3.05 (uses Genie rather than Spotify to extrapolate markets like Taiwan, Thailand and Vietnam)
Video Streams
– China* : Xiami streams * 125/6.5 (Xiami has just over 5% of the Chinese streaming market)
– Elsewhere : Youtube views
*since 96.4% of Chinese streaming platforms are free users, that paid-for users pay less than $2 a month and that they are also used as video streaming platforms, their streams are weighted in par with YouTube streams.
Audio Stream value – 1500 plays equal 1 album unit
Video Stream value – 11,750 views equal 1 album unit
Equivalent Albums Sales (EAS) = ( Spotify * 310/207 + Genie * 3.05*2 + AWA * 100/5.5 ) / 1500 + ( Xiami * 125/6.5 + YouTube ) / 11750
Top Hits
Thanks to larger streams on Spotify, Smooth Operator takes a small lead among Sade's songs with 135,000 EAS from streams.
By Your Side, which is dominant in both China and South Korea while doing quite well in remaining platforms too, records well over 100,000 EAS.
No Ordinary Love is the leader on YouTube, while Kiss of Life is especially big in Japan.
Apart from a solid half a dozen songs, what strikes the most is once again the band's consistency.
With only 60 tracks across their 6 studio albums, their top 20 entirely tops 10 million streams on Spotify.
In fact, all 60 of their album cut crack 1 million, with 53 at 3 million or more. These are very good numbers for legacy album cuts.
1992 album Love Deluxe is the most impressive in this category with its first 8 tracks over 8 million Spotify streams each.
This is the kind of performances we usually see from the top albums of the most famous classic rock acts.
Album wise, Diamond Life leads with 281,000 EAS, with all their albums on 105,000 or more.
Full catalog breakdown
If you are familiar with the artist's catalog and want to check details of each and every song, you can access to all of them right here.
Keep yourself up to date
Our website provides you a fantastic tool which fetches updated Spotify streams as you request them, use it to watch these results grow day after day!
Sade compilations sales
It sounds fairly logical to add together weighted sales of one era – studio album, physical singles, downloads, streams – to get the full picture of an album's popularity. For older releases though, they also generate sales of various live, music videos and compilation albums.
All those packaging-only records do not create value, they exploit the value originating from the parent studio album of each of its tracks instead. Inevitably, when such compilations are issued, it downgrades catalog sales of the original LP.
Thus, to perfectly gauge the worth of these releases, we need to re-assign sales proportionally to its contribution of all the compilations which feature its songs. The following table explains this method.
The distribution process

How to understand this table? If you check this example of The Best Of Sade, these figures mean it sold 13,330,000 units worldwide.
The second statistics column means all versions of all the songs included on this package add for 656,610 equivalent album sales from streams of all types.
The second part on the right of the table shows how many equivalent streams are coming from each original album, plus the share it represents on the overall package.
Thus, streaming figures tell us songs from Diamond Life are responsible for 38% of the The Best Of Sade tracklist attractiveness, which means it generated 5,030,000 of its 13,330,000 album sales, and so on for the other records.
Compilations sales figures listing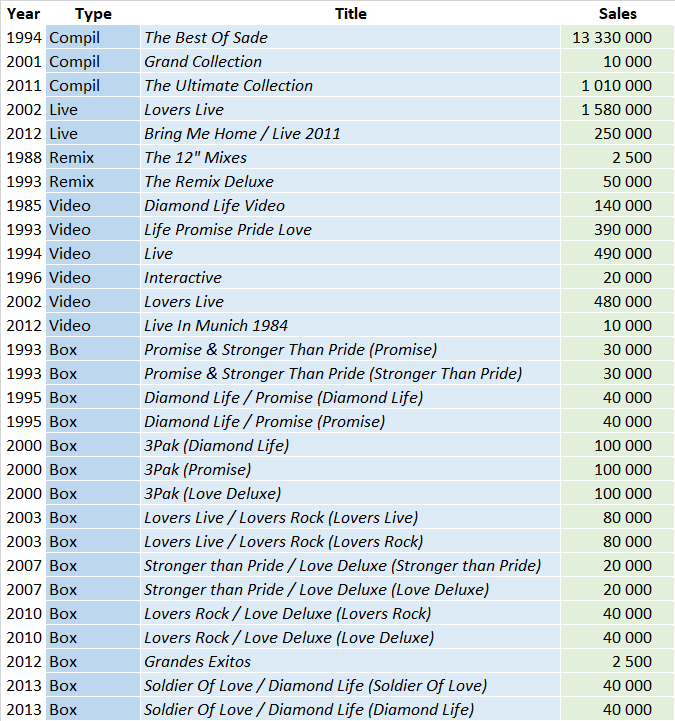 Full Length related records Sales – Summary

Here is the most underestimated indicator of an album's success – the amount of compilation sales of all kinds it generated. Due to the dependency of sales of the original studio albums on these releases, they are a key piece of the jigsaw
These numbers are obtained by applying the method from the section The distribution process to all packages listed under Compilation sales figures listing category.
Naturally, the main drivers of these sales are the first 4 albums, as they fueled and continue to fuel sales of 1994's The Best Of.
Even the more complete The Ultimate Collection from 2011 failed to replace the original compilation, so expect this situation to stay true.
As a bonus, please find below sales of their main compilation.
Total solo Album (all types) Sales per Country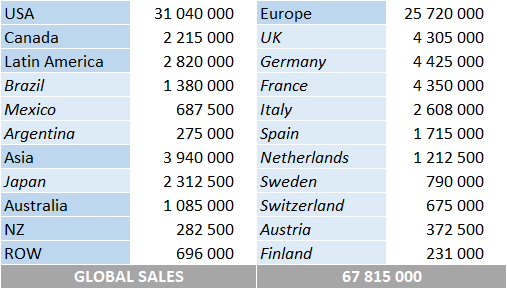 Please note country-specific numbers may miss sales of some minor releases, although continental and global totals are complete.
Sade Career CSPC Results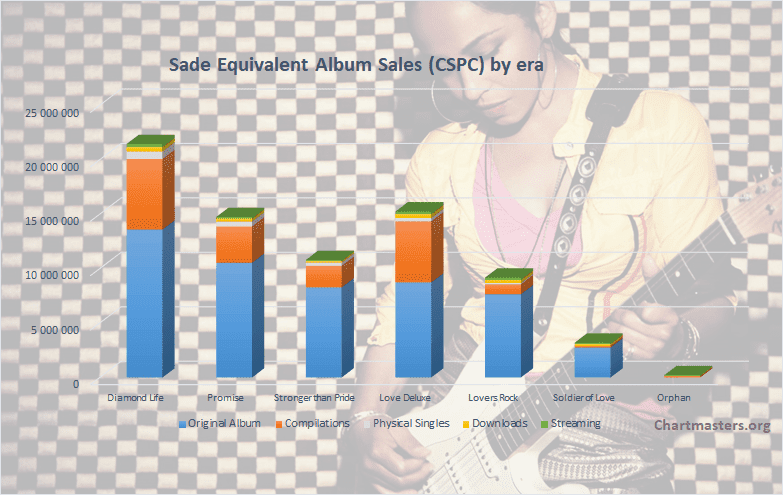 So, after checking all the figures, how many overall equivalent album sales has each album by Sade achieved? Well, at this point we hardly need to add up all the figures defined in this article!
In the following results table, all categories display figures in equivalent album sales. If different, pure sales are listed between parentheses.
| artist_spotify_id | # | Cover | Album | Studio albums (EAS) | sales_update_date | Other LPs (EAS) | Physical singles (units sold) | Digital singles (units sold) | Streams | Streams increase | Total EAS | valid_as_of | streams_updated_value | album_id |
| --- | --- | --- | --- | --- | --- | --- | --- | --- | --- | --- | --- | --- | --- | --- |
| 47zz7sob9NUcODy0BTDvKx | 1 | | Diamond Life | 13,590,000 | 02.07.20 | 6,477,000 | 672,000(2,240,000) | 405,000(2,700,000) | 620,000 (09/22/23) | Av.: 290LD: 440 | 21,785,000 | 20,230,922 | 620,000 | 269 |
| 47zz7sob9NUcODy0BTDvKx | 2 | | Promise | 10,540,000 | 02.07.20 | 3,332,000 | 462,000(1,540,000) | 269,000(1,790,000) | 308,000 (09/22/23) | Av.: 140LD: 230 | 14,911,000 | 20,230,922 | 308,000 | 270 |
| 47zz7sob9NUcODy0BTDvKx | 3 | | Stronger than Pride | 8,280,000 | 02.07.20 | 1,977,000 | 270,000(900,000) | 143,000(950,000) | 223,000 (09/22/23) | Av.: 100LD: 140 | 10,919,000 | 20,230,922 | 223,000 | 271 |
| 47zz7sob9NUcODy0BTDvKx | 4 | | Love Deluxe | 8,740,000 | 02.07.20 | 5,606,000 | 306,000(1,020,000) | 356,000(2,370,000) | 660,000 (09/22/23) | Av.: 360LD: 720 | 15,668,000 | 20,230,922 | 660,000 | 272 |
| 47zz7sob9NUcODy0BTDvKx | 5 | | Lovers Rock | 7,650,000 | 02.07.20 | 908,000 | 120,000(400,000) | 291,000(1,940,000) | 409,000 (09/22/23) | Av.: 170LD: 240 | 9,378,000 | 20,230,922 | 409,000 | 273 |
| 47zz7sob9NUcODy0BTDvKx | 6 | | Soldier of Love | 2,760,000 | 02.07.20 | 145,000 | 3,000(10,000) | 171,000(1,140,000) | 179,000 (09/22/23) | Av.: 50LD: 60 | 3,258,000 | 20,230,922 | 179,000 | 274 |
| 47zz7sob9NUcODy0BTDvKx | 7 | | Orphan | 0 | 02.07.20 | 120,000 | 0(0) | 38,000(250,000) | 52,000 (07/02/20) | N/A | 210,000 | 20,230,922 | 52,000 | 1,728 |
'Av.' stands for Average, 'LD' for Last Day.
As a reminder:
Studio Album: sales of the original album
Other Releases: sales of compilations generated thanks to the album
Physical Singles: sales of physical singles from the album (ratio 3/10)
Download Singles: sales of digital singles from the album (ratio 1,5/10)
Streaming: equivalent album sales of all the album tracks (ratio 1/1500 for Audio stream and 1/6750 for Video stream)
See where the artist ranks among remaining singers
The Pop culture tends to cancel artists these days. With Sade, it's the Pop culture itself that is canceled.
Despite a ridiculously low exposure, no scandal nor hyped features nor whatever, the band has been relevant for over 35 years. Even the way they were seen as uncool many times through the years hasn't slow them down.
Their debut album Diamond Life takes the crown among their releases with a stunning 21.45 million equivalent album sales.
Love Deluxe is a distant runner up at 15.25 million. Promise is just behind with 14.75 million.
This fantastic trio is extended into a top 5 with Stronger Than Pride and Lovers Rock which combine for 20 million.
2010 Soldier of Love ends at 3.2 million, a figure lower than their standards but higher than expectations so long after their peak.
The career total of the band is 74.8 million albums with a mere 6 albums over 4 decades.
Singles CSPC results
The list is compiled in album equivalent sales generated by each song. Therefore, these figures are not merged units of singles formats.
Instead, it includes weighted sales of the song's physical single, download, ringtone and streaming as well as its share among sales of all albums on which it is featured.
1. 1984 – Sade – Smooth Operator [Diamond Life] – 11,020,000
2. 1985 – Sade – The Sweetest Taboo [Promise] – 6,520,000
3. 1992 – Sade – No Ordinary Love [Love Deluxe] – 6,370,000
4. 1984 – Sade – Your Love Is King [Diamond Life] – 5,920,000
5. 2000 – Sade – By Your Side [Lovers Rock] – 5,420,000
6. 1992 – Sade – Cherish the Day [Love Deluxe] – 3,110,000
7. 1988 – Sade – Paradise [Stronger Than Pride] – 3,070,000
8. 1992 – Sade – Kiss of Life [Love Deluxe] – 2,930,000
9. 1988 – Sade – Nothing Can Come Between Us [Stronger Than Pride] – 2,800,000
10. 1984 – Sade – Hang On to Your Love [Diamond Life] – 2,770,000
11. 1985 – Sade – Is It a Crime? [Promise] – 2,750,000
12. 1988 – Sade – Love Is Stronger Than Pride [Stronger Than Pride] – 2,500,000
If you feel inspired by this list, we just created this CSPC Sade playlist on Spotify!
Discography results
Thanks to the ASR (Artist Success Rating) concept, we know that their sales represent 25.99 million times the purchase of their entire discography. Coupled with the total sales, it translates into an ASR score of 250.
Records & Achievements
At 21,446,000 EAS, Diamond Life is the 7th most successful album from 1984.
At 14,744,000 EAS, Promise is among the 10 most successful albums from 1985.
At 15,250,000 EAS, Love Deluxe is among the 10 most successful albums from 1992.
Sade have been awarded a Grammy in 4 decades in a row.
NB : EAS means Equivalent Album Sales
You may be interested in…
… best-selling artists, albums, and singles
To improve your navigation we created several amazing cross-artists lists posted inside the CSPC: Data Collector article. Click on it to see the full listing of all CSPC results compiled so far!
… similar artists
To put figures from this article into perspective, click on the images below to reach career breakdowns of similar artists: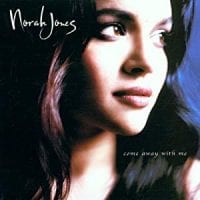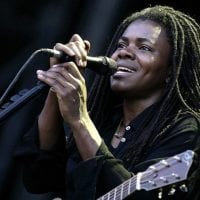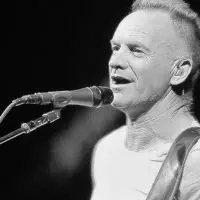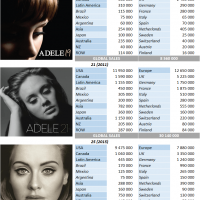 As usual, feel free to comment and / or ask a question!
Sources: IFPI, Spotify, YouTube, Discogs.