Phil Collins CAREER CSPC RESULTS
So, after checking all the figures, how many overall equivalent album sales has each album by Phil Collins achieved? Well, at this point we hardly need to add up all of the figures defined in this article!
In the following table, all categories display figures that way, e.g. in equivalent album sales. For example, singles from Face Value released in digital format sold the equivalent of 810,000 album albums – 5,400,000 downloads with a 10 to 1,5 weighting.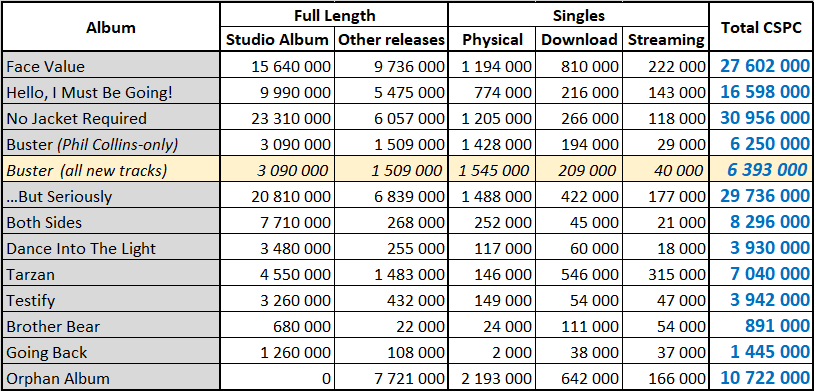 As a reminder:
Studio Album: sales of the original album
Other Releases: sales of compilations generated thanks to the album
Physical Singles: sales of physical singles from the album (ratio 3/10)
Download Singles: sales of digital singles from the album (ratio 1,5/10)
Streaming: equivalent album sales of all the album tracks (ratio 1/1500 for Audio stream and 1/11750 for Video stream)
His best years may be long gone, the success of Collins' has been mind-blowing. During the 80s he dropped a trio of massive sellers. No Jacket Required, …But Seriously and Face Value are all up to 28-31 million CSPC units to date. This kind of one-in-a-lifetime results rarely happen 3 times for the same artist. In fact, only Michael Jackson, the Beatles, Queen and Pink Floyd have 3 albums or more at this level of sales.
Hello, I Must Be Going! is a strong 4th with 16,6 million units in total. His 5th biggest sales avenue is more surprising as it is his Orphan tracks which produced more than 10 million equivalent album sales. At 6-8 million stand releases like Both Sides, Tarzan and Buster. While the last two have been successful for several reasons, the former completely broke the huge momentum Collins was having by then.
Dance Into The Light, Testify and the more recent Going Back never managed to reverse the curse of his career. At 67 and semi-retired for 15 years, we aren't expecting much from new releases of the artist. Still, at a stunning 147 million equivalent albums sales he is one of the biggest male singers ever.
Thanks to our new ASR (Artist Success Rating) concept, we can also see that the exploitation of his discography has been poorly handled. Indeed, his Equivalent Discography Sales (EDS) stand on 44 million, which means that because of compilations, the entire worth of his catalog was purchased every 3,36 sale of albums. This indicates a very high cannibalization factor on his catalog. His studio albums which were all going very strong during the 80s were replaced by a unique record – Serious Hits… Live! – when the market was booming, dramatically killing their catalog sales. Releases of compilations also tend to diminish the interest in new recordings since the general public feels they own already his best tunes.
With 44 million EDS along with his 147 million CSPC units, Collins scores an ASR of 455. This puts him close behind Whitney Houston and Celine Dion while he beats Bob Marley, Mariah Carey and Billy Joel.
The following pages list his most successful songs as well as his records and achievements. Do not forget to check our amazing cross-artists lists posted inside the CSPC: Data Collector which includes the full listing of all CSPC results compiled so far to better gauge his position in the history of the music industry.
As usual, feel free to comment and / or ask a question!
Sources: IFPI, Spotify, YouTube, Discogs, Chartmasters.org.