Elton John CAREER CSPC RESULTS
So, after checking all the figures, how many overall equivalent album sales has each album by Elton John achieved? Well, at this point we hardly need to add up all of the figures defined in this article!
In the following table, all categories display figures that way, e.g. in equivalent album sales. For example, singles from Goodbye Yellow Brick Road released in digital format sold the equivalent of 695,000 albums – 4,630,000 downloads with a 10 to 1,5 weighting.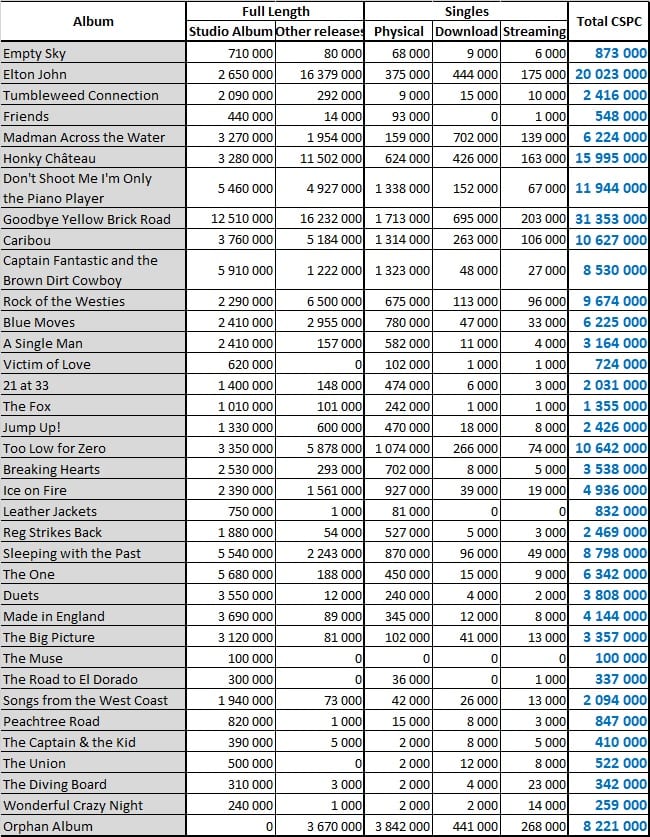 As a reminder:
Studio Album: sales of the original album
Other Releases: sales of compilations generated thanks to the album
Physical Singles: sales of physical singles from the album (ratio 3/10)
Download Singles: sales of digital singles from the album (ratio 1,5/10)
Streaming: equivalent album sales of all the album tracks (ratio 1/1500 for Audio stream and 1/11750 for Video stream)
With no surprise Goodbye Yellow Brick Road comes out on top with an impressive 31,35 million units, a figure that puts it almost on a par with albums like the Beatles' Sgt. Pepper's Lonely Hearts Club Band and Michael Jackson's HIStory. The album has strong results in every possible format.
The runner up was less expected. Elton John finishes with over 20 million comprehensive album sales generated, an incredible showing for an album which sold only 2,65 million sales with the proper studio album. It joins the likes of Billy Joel's Piano Man and Bob Marley's Natty Dread among early albums which haven't sold that much upon release, but paved the way to an immense career with one iconic song that started it all. Honky Château is a solid third at 16 million.
Caribou and Too Low For Zero are almost tied at 10,6 million, followed closely by Rock of the Westies, Sleeping with the Past and Captain Fantastic and the Brown Dirt Cowboy, all inside a 2 million range. Closing the Top 10 are The One and Blue Moves, which edges out Madman Across the Water by only 1,000 copies at over 6,2 million.
Not all his albums have done so well, with as many as 17 releases on 2,5 million equivalent album sales or less. Does it really matter though? The point is that John accumulated countless successful albums and singles with a catalog matched by very few.
In total, Elton John shifted 196,1 million equivalent album sales across his immense career. If we can't know if his Farewell tour will really be the last, what's safe to say is that it will help the icon to shoot to over 200 million during the upcoming years.
The following pages list his most successful songs as well as his records and achievements. Do not forget to check our amazing cross-artists lists posted inside the CSPC: Data Collector which includes the full listing of all CSPC results compiled so far to better gauge his position in the history of the music industry.
As usual, feel free to comment and / or ask a question!
Sources: IFPI, Spotify, YouTube, Chartmasters.org.