Johnny Hallyday CAREER CSPC RESULTS
So, after checking all the figures, how many overall equivalent album sales has each album by Johnny Hallyday achieved? Well, at this point we hardly need to add up all of the figures defined in this article!
In the following table, all categories display figures that way, e.g. in equivalent album sales. For example, singles from Gang released in digital format sold the equivalent of 49,000 albums – 325,000 downloads with a 10 to 1,5 weighting.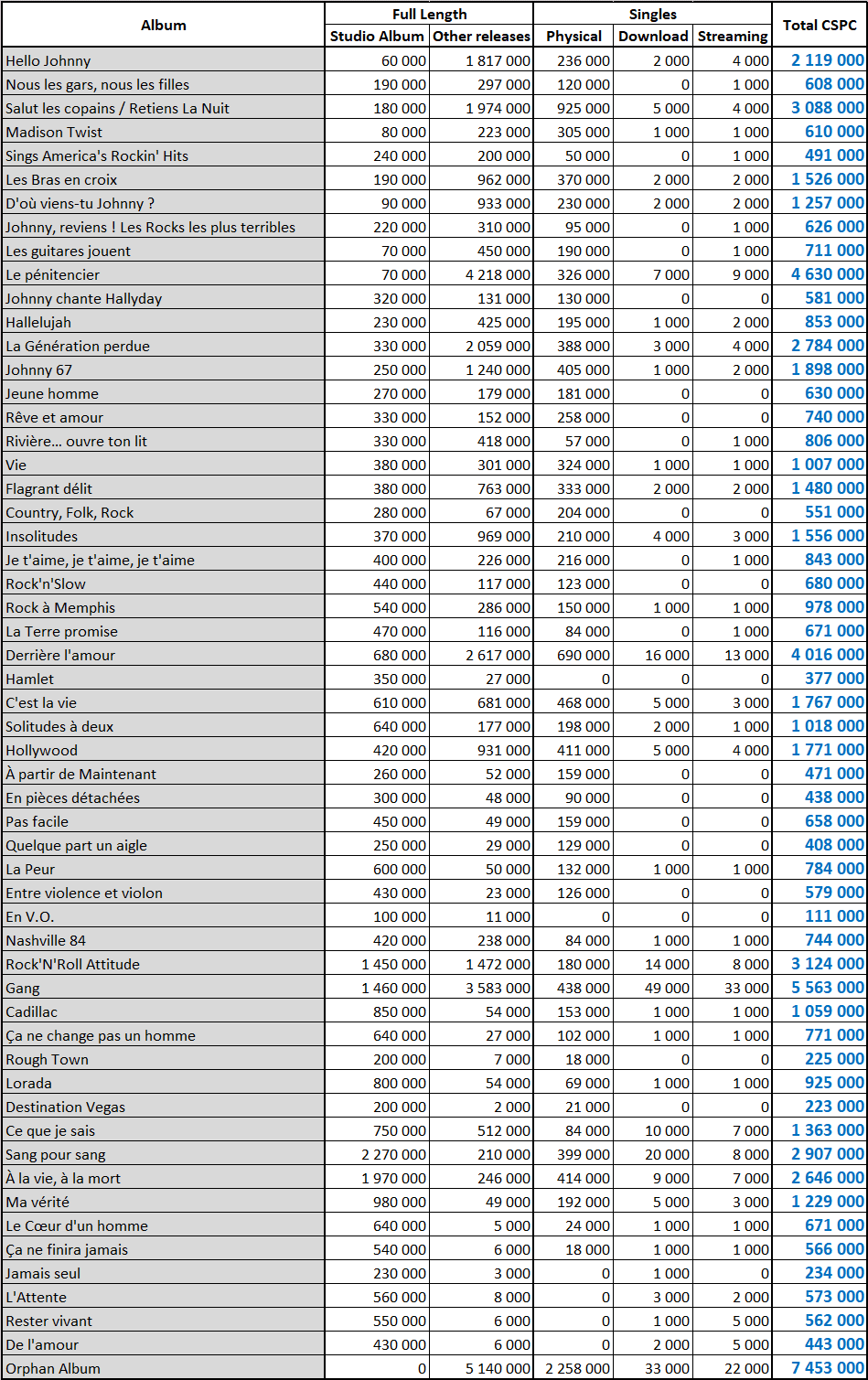 As a reminder:
Studio Album: sales of the original album
Other Releases: sales of compilations generated thanks to the album
Physical Singles: sales of physical singles from the album (ratio 3/10)
Download Singles: sales of digital singles from the album (ratio 1,5/10)
Streaming: equivalent album sales of all the album tracks (ratio 1/1500 for Audio stream and 1/11750 for Video stream)
Absolutely terrific. It's hard to know where to start. From the 49 of 50 proper studio albums on 408,000 equivalent album sales or more to the multiple albums over 3 million units, the figures are unbelievable.
The ultimate winner is Gang. The album was key in transitioning Johnny from an old glory to an evergreen success story. It sold like hot cakes. Its singles were big, it drove tons of sales of compilations and live sets and its tracks are still downloaded and streamed like crazy. The final total of 5,56 million put it among the most successful French albums of all-time. Le Pénitencier, initially a low selling 10-inch LP, is a stunning runner up at 4,63 million. After all the CSPC articles that have been completed so far, it may be the most striking evidence of the relevance of our concept as its original format sales are truly nonsense when it comes to displaying the real popularity of this record. Derrière L'Amour cracks 4 million units too. The 3 aforementioned albums alone generated more than 14 million equivalent album sales, most of which in a country where the Beatles sold less than 9 million albums since their debut to date.
Salut Les Copains!, La Génération Perdue, Rock'n'roll Attitude, Sang Pour Sang and A La Vie, A La Mort are all not too far from / over 3 million. To those 8 gigantic albums we still need to add 13 more with more than 1 million sales overall to make it 21. Yes, 21 albums with more than 1 million equivalent album sales. Some 24 more range from 500,000 units to 1 million. Each of these 45 albums would be an outstanding success for anyone else. A complete, dense, extensive discography of groundbreaking smashes.
In total, we are talking about a French singer who sold 26,85 million studio albums, 19,54 million compilations, 8,92 million live albums, 4,45 million music videos, 10,53 million EPs, 27,25 million 2-tracks physical singles and 1,43 million downloads before his passing. This brings Johnny Hallyday to 75,4 million equivalent album sales overall.
Thus, he tops the worldwide total of artists such as Cher, Beyoncé and Taylor Swift. He destroys Renaud, one of the biggest artists ever in France, by almost 4 to 1. Last but not least, he beats the Beatles' UK total by almost 2 to 1, a market twice as big as France.
Time will now tell how much he will continue to grow with his passing. In the 3 weeks following the sad event more than 700,000 albums have been sold, including plenty of long box sets.
The following pages list his most successful songs. Do not forget to check our amazing cross-artists lists posted inside the CSPC: Data Collector which includes the full listing of all CSPC results compiled so far to better gauge his position in the history of the music industry.
As usual, feel free to comment and / or ask a question!
Sources: IFPI, Spotify, YouTube, Chartmasters.org.