RENAUD CAREER CSPC RESULTS
So, after checking all the figures, how many overall equivalent album sales has each album by Renaud achieved? Well, at this point we hardly need to add up all of the figures defined in this article!
In the following table, all categories display figures that way, e.g. in equivalent album sales. For example, singles from Mistral Gagnant released in digital format sold the equivalent of 20,000 albums – 135,000 downloads with a 10 to 1,5 weighting.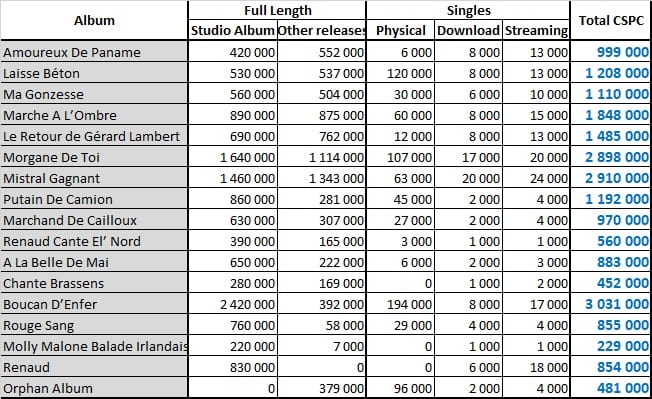 As a reminder:
Studio Album: sales of the original album
Other Releases: sales of compilations generated thanks to the album
Physical Singles: sales of physical singles from the album (ratio 3/10)
Download Singles: sales of digital singles from the album (ratio 1,5/10)
Streaming: equivalent album sales of all the album tracks (ratio 1/1500 for Audio stream and 1/11750 for Video stream)
About 3 million equivalent album sales a piece for Morgane de toi, Mistral Gagnant and Boucan d'Enfer. Every French artist would dream of getting this kind of success once in a lifetime. Renaud did it three times.
Outside of those blockbusters the national icon has many more strong albums. His five remaining LPs issued from 1977 to 1988 all sold past 1,1 million units overall.
Elsewhere, figures continue to be superb as five more albums range between 850,000 to 1,000,000 units. This includes his last 2016 set which is an outstanding result in this day and age. Even more outstanding is that a mind-blowing total of this kind, which stands at 854,000 equivalent album sales, is still the lowest selling original album of Renaud's illustrious career.
In total, Renaud sold 21,97 million equivalent album sales. Obviously, local acts can't compete against global stars, but this doesn't stop this figure from being massive.
The following pages list his most successful songs. Do not forget to check our amazing cross-artists lists posted inside the CSPC: Data Collector which includes the full listing of all CSPC results compiled so far to better gauge his position in the history of the music industry.
As usual, feel free to comment and / or ask a question!
Sources: IFPI, Spotify, YouTube, Chartmasters.org.