France best selling albums ever: Morgane De Toi By Renaud (1983)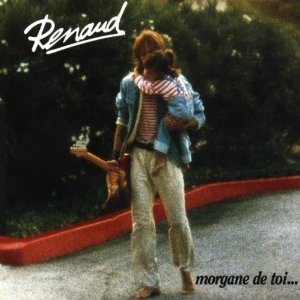 Years before Francis Cabrel and Jean-Jacques Goldman had a similar career trajectory, Renaud was one of the first artist to achieve a serious step up despite already registering a string of successful albums.
From 1975 to 1981 the singer dropped nothing less than six albums with a growing popularity. His debut (Amoureux De Paname) needed six years to be certified Gold, his second (Laisse Béton) made it in two. The third album (Ma Gonzesse) was quickly Gold and then Platinum some eight years later. His fourth (Marche A L'Ombre) and fifth (Le Retour De Gérard Lambert) broke Platinum by the end of their promotional campaign. It must be noted that Platinum was a fairly high result to get as it was equal to over 3 million units in the US.
After building his reputation with strongly acid lyrics, always highly critical towards the society and its concerns, the singer now father got softer with this sixth album Morgane De Toi. Thanks to the combination of his innovative lyrics and his skills to create classic melodies intact along with less provocative subjects, Renaud took France by storm in late 1983. The single Dès Que Le Vent Soufflera, although never released as a physical single, dominated radio playlists. Sitting inside the Top 5 sellers for the last quarter of the year, the album cracked both the #1 position and the Platinum award in early 1984. During the first four months of that year it was competing with Michael Jackson gigantic album Thriller for the top spot.
Additional singles like the title track and En Cloque sustained the album incredibly well with that one staying a total of 14 months inside the Top 10. It sold a calculated 367,000 units in 1983, 697,000 in 1984 and 130,000 to close its promotional era with an unbelievable total of 1,2 million copies sold, an unseen total in such a short time frame for a French album in over six years.
In 1986, the CD release was one of the hottest of the year for catalog albums with 13,500 copies sold. The long run wasn't that much favorable to this album yet. From 1986 already, a compilation titled Ma Compil' took over its catalog sales. The Master Serie in 1989 have hurt it too. As seen in the in-depth analysis of Renaud catalog sales on Mistral Gagnant article, Morgane De Toi is nowhere to be seen among the artist top catalog sellers. All his original albums are fairly close yet, with about 60% of Mistral Gagnant sales this one did around 100,000 units since the release of major compilations in 1995. From 1986 to 1995 despite facing the competition of best of albums it was a relatively recent item with frequently aired singles, selling approximately 180,000 units.
Net shipment as of the end of 2015 is estimated at 1,480,000 copies.
As usual, feel free to comment and / or ask a question!
Sources: SNEP, Nielsen, IFOP, GFK, Platine.