JANET JACKSON CAREER CSPC RESULTS
So, after checking all the figures, how many overall equivalent album sales has each Janet Jackson album achieved? Well, at this point we don't need to add up all of the figures defined in this article!
In the following table, all categories display figures that way, e.g. in equivalent album sales. For example, singles from Control released in digital format sold the equivalent of 195,000 albums – 1,300,000 downloads with a 10 to 1,5 weighting.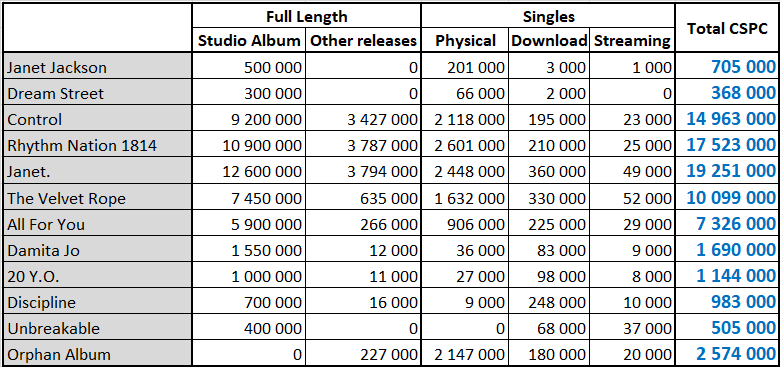 Studio Album: sales of the original album
Other Releases: sales of compilations generated thanks to the album
Physical Singles: sales of physical singles from the album (ratio 3/10)
Download Singles: sales of digital singles from the album (ratio 1/10)
Streaming: equivalent album sales of all the album tracks (ratio 1/1500)
In spite of lower than claimed album sales and bad digital results, Janet Jackson's totals are still truly healthy. How many artists can claim they outperformed their previous album twice in a row from a nearly 15 million equivalent album sales starting point? With rounded totals of 15-17,5-19 million, Control, Rhythm Nation 1814 and Janet. have been strongly successful.
She hasn't exactly collapsed after that with The Velvet Rope shifting 10 million overall sales and All For You 7,3 million. Damita Jo bombed hard though with less than a fourth of the sales of its immediate predecessor. The following three albums continued the decreasing trend and a rebound looks highly unlikely in the future.
The total number of equivalent album sales managed by Janet Jackson is 77,1 million. This result puts her ahead of all post-2000 divas like Adele, Rihanna, Beyoncé or Taylor Swift. However, this is barely half the total managed by Whitney Houston who had a career that spanned the same era, less than half of Celine Dion too and less than a third of Madonna's superb 241 million total. I started this study with a reference to politics – I'll conclude it by saying that Janet Jackson is the perfect candidate of the centrism movement in the Diva' scale.

The following pages list the most successful songs of Janet Jackson as well as the full listing of all CSPC results compiled so far to better gauge her position in the history of the music industry.

As usual, feel free to comment and / or ask a question!
Of course, the poll to decide which artists you would like to be studied next is still active!
Sources: IFPI, Spotify, PolyGram, EMI, Chartmasters.org.