THE BEATLES CAREER CSPC RESULTS
So, after checking all figures, how many overall equivalent album sales each Beatles' album achieved? Well, at this point we barely need to do the addition of all figures defined all over this article!
In the following table, all categories display figures that way, e.g. in equivalent album sales. For example, Please Please Me singles released in digital format sold the equivalent of 360,000 albums – 2,400,000 downloads with a 10 to 1,5 weighting.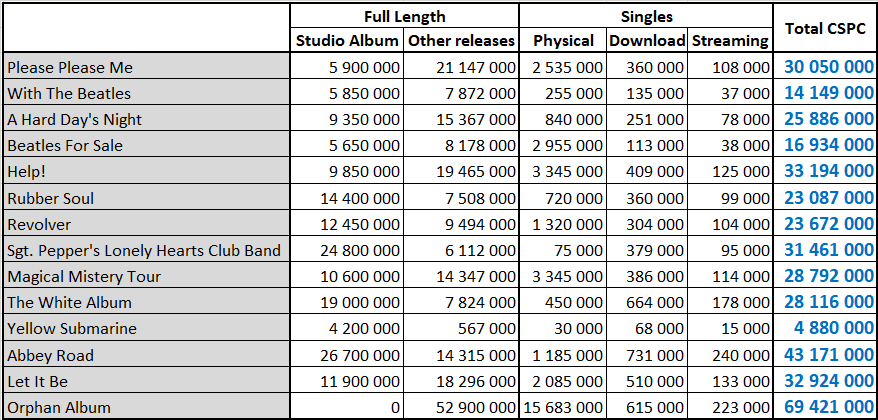 As a reminder:
Studio Album: sales of the original album
Other Releases: sales of compilations generated thanks to the album
Physical Singles: sales of physical singles from the album (ratio 3/10)
Download Singles: sales of digital singles from the album (ratio 1,5/10)
Streaming: equivalent album sales of all the album tracks (ratio 1/1500)
Overall, those results are quite shocking. It is so by both how big and how weak they are. Big because the average sales of all albums is insane, weak because no album is higher than 43 million, a somehow disappointing result. The leader is expectedly Abbey Road.
Shocking too because both Let It Be and Help! surge over classics like Sgt Pepper's and White Album. Please Please Me too tops this latter album while Revolver and Rubber Soul end up at #9 and #10 only.
This highly intriguying ranking reveals one deep reality even more important than which albums appear high or low. All those albums CSPC totals illustrate a unique pattern. Yellow Submarine apart, all albums stand between 14 million and 43 million, a 3 to 1 ratio between the biggest and the weakest LP. From the second to the tenth most popular, the gap – 33 million to 23 million – is very, very small, something never seen on all other artists breakdowns. All albums catalog sales have been pretty much exactly the reverse of their strength inside the group's compilations. Once putting everything together, all figures are incredibly close. What is the ultimate meaning of this situation? It means that unlike other artists, consumers haven't been purchasing one hit, nor one album, not even two or three classics. The final target of the average Beatles consumers was to buy, whatever the form / combo of packages, the band's full discography. Isn't that the real signature of the greatest success of all-time?
Cumulatively, the band sold the out of this world total of 405,7 million equivalent albums. Up to now, the biggest artist studied was Madonna with 244 million units. You will need to add to her discography the one of ABBA – 156,6 million – to come close to the heights of the Beatles. They also top Led Zeppelin and U2 combined total. Do I really need to say something more?
Do not forget to check our amazing lists posted inside the CSPC: Data Collector which includes the full listing of all CSPC results compiled so far to better gauge her position in the history of the music industry.
As usual, feel free to comment and / or ask a question!
Sources: IFPI, Spotify, Chartmasters.org.