Fleetwood Mac Career CSPC Results
So, after checking all figures, how many overall equivalent album sales each Fleetwood Mac album achieved? Well, at this point we barely need to do the addition of all figures defined all over this article!
In the following table, all categories display figures that way, e.g. in equivalent album sales. For example, Tusk singles released in digital format sold the equivalent of 360,000 albums – 2,400,000 downloads with a 10 to 1,5 weighting.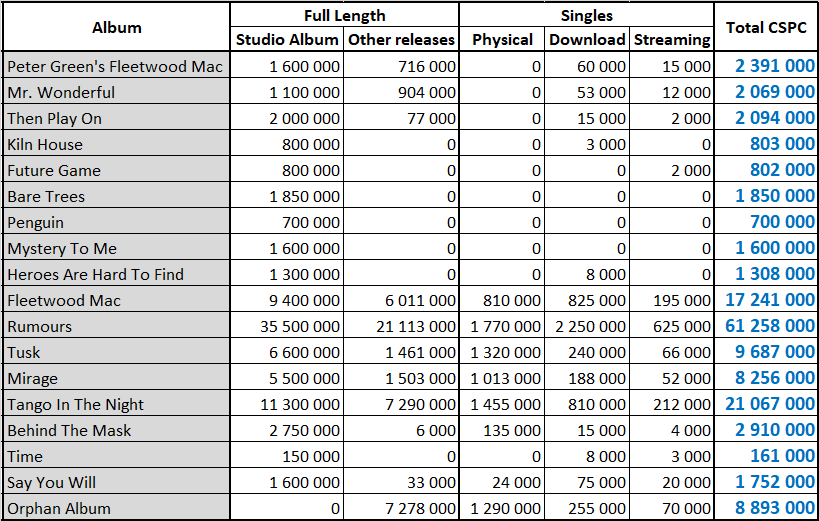 As a reminder:
Studio Album: sales of the original album
Other Releases: sales of compilations generated thanks to the album
Physical Singles: sales of physical singles from the album (ratio 3/10)
Download Singles: sales of digital singles from the album (ratio 1,5/10)
Streaming: equivalent album sales of all the album tracks (ratio 1/1500)
You read it well – Rumours becomes the very first album among all discographies we studied so far to cross the 60 million barrier. What is even more unreal is that this album success wasn't equal everywhere. It ended as a great seller everywhere, but not that huge in many areas like in Asia, Latin countries and others. In the other side, its success in English-speaking markets is out of this world. With more than 75% of their sales coming from the US-UK-Canada-Australia, this album generated more than 46 million units in those countries alone. That figure is so outstanding that in spite of the relatively lower sales elsewhere, globally the album still has a nearly 10 million units lead over Grease Soundtrack or Nirvana's Nevermind, a 15 million units lead over Guns N' Roses monster album Appetite For Destruction.
Elsewhere, Tango In The Night, which on its side failed to truly succeed in the US, achieves more than 21 million CSPC sales. Completing a strong podium is Fleetwood Mac at 17,2 million. Tusk and Mirage are always referred to as hardcore flops, the fact is that only the historical success of Rumours make them look so weak. At 9,7 million and 8,3 million respectively, they perform rather well everything considered. Their standalone hits from the 60s created a very solid Orphan Album too.
Apart from those records, the rest of their discography isn't that big with no album reaching even 3 million album sales equivalent. Worst, eight of their albums seem completely inexistent, plus a couple more close to that situation. I often mention how CPSC articles highlight each era added value to the music industry in a pure way, this is a very telling example as those records are truly dead, bringing no value at all to Fleetwood Mac, the complete opposite of Rumours. It sounds almost impossible that an album like Heroes Are Hard To Find, released less than 3 years before an all-time blockbuster album, is so much ignored today. Obviously, the band line-up notably changed in-between but that situation is still quite atypical.
As for the band overall total, the cumulative tally of Fleetwood Mac is up to 144,8 million album sales equivalent. In other words, non-Rumours albums are worth 83,6 million album sales equivalent, more than careers of Nickelback or Green Day. The point being, even if Rumours' magnitude of success would overshadow all remaining albums of anyone's discography, the band Fleetwood Mac is very far from being a one-album wonder, indeed, they have been a major force in the music industry for nearly 50 years now.
Do not forget to check our amazing lists posted inside the CSPC: Data Collector which includes the full listing of all CSPC results compiled so far to better gauge their position in the history of the music industry.
As usual, feel free to comment and / or ask a question!
Sources: IFPI, Spotify, Chartmasters.org.