Pink Floyd CAREER CSPC RESULTS
So, after checking all the figures how many overall equivalent album sales has each Pink Floyd album achieved? Well, at this point we hardly need to add up all of the figures defined in this article!
In the following table, all categories display figures that way, e.g. in equivalent album sales. For example, singles from The Wall released in digital format sold the equivalent of 1,200,000 albums – 8,000,000 downloads with a 10 to 1,5 weighting.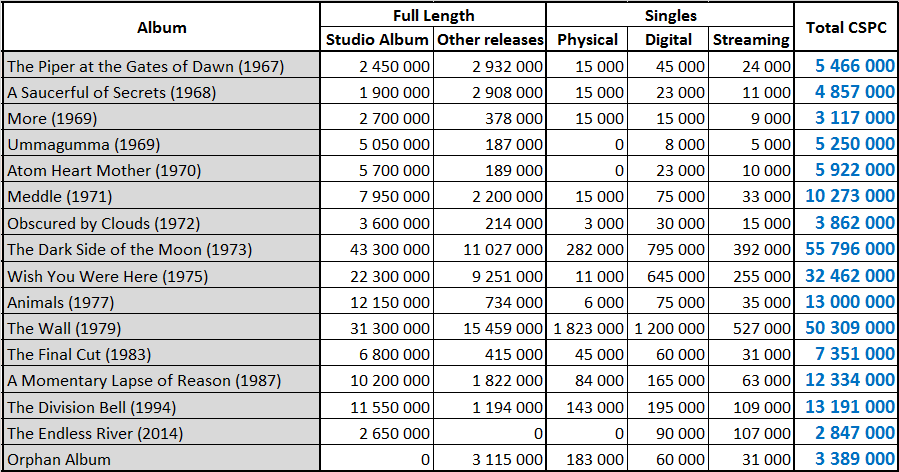 Studio Album: sales of the original album
Other Releases: sales of compilations generated thanks to the album
Physical Singles: sales of physical singles from the album (ratio 3/10)
Download Singles: sales of digital singles from the album (ratio 1,5/10)
Streaming: equivalent album sales of all the album tracks (ratio 1/1500 for Audio stream and 1/11750 for Video stream)
Albums from the late 60s selling 5 million units are huge albums. This is true if we look only at the pure album format. Now that we mentioned it, we need to check carefully additional information. Albums like Atom Heart Mother or Ummagumma built solid sales over the years, but outside the main format they created close to no value to the band's catalog. Thus, the total CSPC isn't much higher at also around 5 million equivalent album sales. If we look at the Rolling Stones for example, Aftermath and Beggars Banquet sold 4 million units each in pure album sales, but their overall totals combine for a massive 35 million. In concrete words, even if sales of Pink Floyd's albums pre-1973 are solid, they aren't as big as they seem with decent catalog sales being the result of the absence of cannibalization from compilations.
Nothing can be said against the big 3 though. It is already an absolutely unbelievable feat to reach 50 million with one album, let alone doing it with two. Although The Wall doesn't quite catch Dark Side of the Moon (55,8 million), it is an unstoppable machine itself at 50,3 million. Whilst Dark Side Of The Moon sold 8,5 million more physical copies of the original album than Saturday Night Fever, it falls 10,9 million short in terms of overall performance. Still, 55,8 million puts it in a very restricted league. Below is the Top 5 albums out of all the previously posted articles:
1 1977 Soundtrack / Bee Gees – Saturday Night Fever – 66,705,000
2 1977 Fleetwood Mac – Rumours – 60,508,000
3 1971 Led Zeppelin – Led Zeppelin IV – 56,573,000
4 1973 Pink Floyd– Dark Side of the Moon – 55,796,000
5 1992 Whitney Houston – The Bodyguard – 53,231,000
Overall, Pink Floyd sold 229,4 million equivalent album sales, a figure out of reach for all but a handful of artists.
The following pages list their most successful songs. Do not forget to check our amazing cross-artists lists posted inside the CSPC: Data Collector which includes the full listing of all CSPC results compiled so far to better gauge their position in the history of the music industry.
As usual, feel free to comment and / or ask a question!
Sources: IFPI, Spotify, YouTube, Billboard, Musica e Dischi, Guinness Book of Records, New York Times, JimmyPages59, Chartmasters.org.
Pages:
Page

1
,
Page

2
,
Page

3
,
Page

4
,
Page

5
,
Page

6
,
Page

7
,
Page

8
,
Page

9
,
Page

10
,
Page

11
,
Page

12
,
Page

13
,
Page

14
,
Page

15
,
Page

16
,
Page

17
,
Page

18
,
Page

19
,
Page

20
,
Page

21
,
Page

22
,
Page

23
,
Page

24
,
Page

25
,
Page

26
,
Page

27
,
Page

28
,
Page

29
,
Page

30
,
Page

31
,
Page

32
,
Page

33
,
Page

34
,
Page

35
,
Page

36
,
Page

37
,
Page

38
,
Page

39
,
Page

40
,
Page

41
,
Page

42
,
Page

43
,
Page

44
,
Page

45
,
Page

46
,
Page

47
,
Page

48
,
Page

49
,
Page

50