Billie Eilish's global heatmap
One year ago, we called Billie Eilish the next big thing, 12 months later she is not only a superstar but also unstoppable.
On her way to hit 10 billion streams on Spotify, the 18 year old icon recently became the first female singer ever to manage a sweep of the big 4 categories at the Grammys.
The diva, who's also the chosen one to record the upcoming James Bond theme, is breaking every barrier.
Speaking about boundaries, are there countries which still resist to her out of the blue success?
The method
In order to identify how global Billie Eilish is, the way to go is to look at data from various top sellers and compare her own results with theirs.
Thus, we collected market by market YouTube statistics of 18 major artists including the Beatles, Michael Jackson, Elvis Presley, Madonna, and Queen. The sample also includes a set of recent artists among which Adele, Beyoncé, Britney Spears, and Eminem.
As stated inside the article Learn how to exploit YouTube Insights, the absolute number of views is irrelevant. Depending on your target audience and its YouTube usage habits, you will have very different results.
Relative results do matter though. That's why rather than comparing views numbers, we compare the share of views coming from each market for all these artists.
For example, both the Beatles and Queen used to have over 1.6 million monthly views in Japan. Since Queen outperform the Beatles by 3 to 1 globally, that means Japan is a market 3 times more relevant for the Beatles. In conclusion, even if both have similar views there, the latter group is relatively speaking bigger there.
Once we defined the strength of each market for base artists, we calculate their averages. To continue with our example, our scale artists register 1.43% of their global streams in Japan. Eilish's count there stands at 1.37%, it means the relevance of this market is 95.5% (1.37%/1.43%) as high for her as for the others.
The results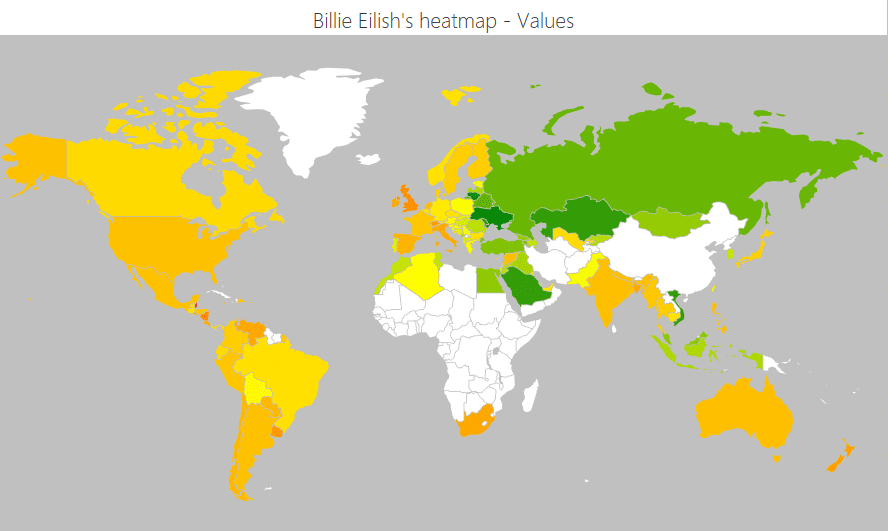 The greenest a country is, the best Billie Eilish performed in comparison to the scale artists. On yellow ones, they are on par with the average. Countries in orange represent weaker performances, the most red they get, the most they underperform. Countries in white fail to appear among their personal Top 100 markets on YouTube.
We aren't done still. An artist can record a huge chunk of his views in a few countries only, say in the US. Their comparative shares in remaining countries would then underperform massively reference values.
This issue is known for years in the world of statisticians. A very efficient way to avoid these outliers consists in comparing rankings instead of raw values.
As a result, instead of saying that Billie Eilish outperforms the scale by 2.41 to 1 in Ukraine, we will say that Ukraine is the country of rank 1, the one where they perform the best relatively speaking.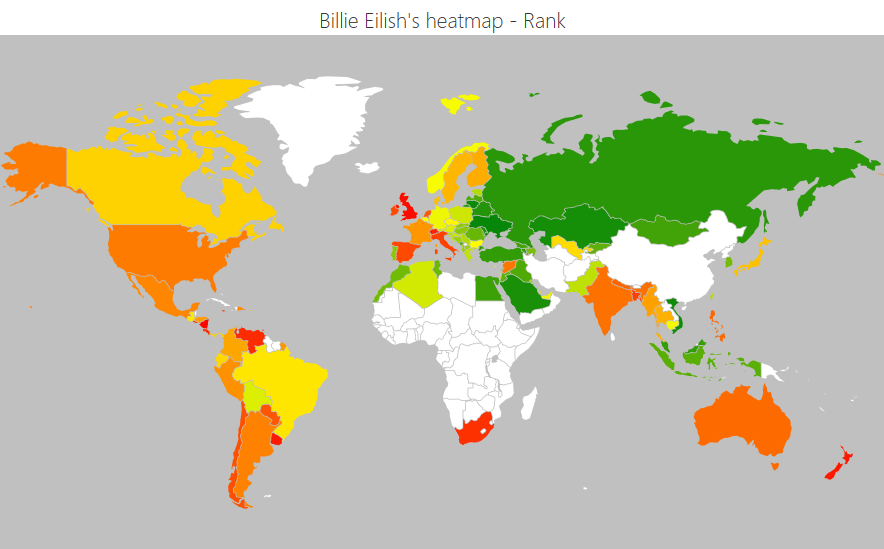 The greenest a country is, the highest it is among the top markets of Billie Eilish and so on until red markets.
The analysis
Surprisingly, the popularity of the American singer appears to be incredibly high in Eastern Europe up to Central Asia.
Among her best markets feature Ukraine (#1), Lithuania (#2), Kazakhstan (#4), Moldova (#6), Belarus (#7), Russia (#8) Armenia (#9) and more.
This confirms trends we noticed while looking at the highest debuts ever on Spotify for many countries.
Her album When We All Fall Asleep, Where Do We Go? broke the weekly record of multiple markets upon release, all of which in Eastern Europe, and still retains the best performance ever in 3 of them.
The same is true for Middle East countries with Saudi Arabia (#5), Turkey (#10), Egypt (#12), Iraq (#16) and Jordan (#20) all ranking inside the top 20.
A third strong area is Southeast Asia. Vietnam (#3), Malaysia (#11) and Indonesia (#18) are also countries where the artist outperforms expected views shares.
These 3 regions fill her entire top 20. In fact, the first Central or Occidental European countries are Hungary, Portugal and Slovakia, charting at 28, 29 and 30, respectively.
The first Latin American country is Bolivia at 45. Brazil (#57), Mexico (#75) and Argentina (#76) are quite a lot lower.
Additionally, major markets Germany (#49), Japan (#64), France (#72), the US (#77) and the UK (#98) are far from being her best ones.
What does this mean?
The star is obviously doing very well in these countries. As a matter of fact, in the US, she recorded over 3.8 million during 2019 in total activity according to Soundscan.
If these markets rank among her lowest ones it's simply because she is doing even better elsewhere.
Most countries also enjoy a strength between 0.5 and 2.0 of the scale (1.0 stands for the average). In concrete words, her reach is large enough so that no country can really outdo her global results.
We usually face this situation with confirmed global superstars like Michael Jackson who placed every country from his top 100 inside aforementioned extrema.
Billie Eilish turned 18 this December, but we can already state that there is nowhere in the World where she isn't big. Impressive.
If you are more of a number guy, below is the list of countries with both values and ranks.

Don't miss similar studies on these superstars…