CSPC: Prince Popularity Analysis
Streaming Sales
Streaming is made up of audio and video streams. Our CSPC methodology now includes both to better reflect the real popularity of each track. The main source of data for each avenue is respectively Spotify and YouTube. As detailed in the Fixing Log article, Spotify represents 157 million of the 272 million users of streaming platforms, while YouTube is pretty much the only video platform generating some revenue for the industry. Below is the equivalence set on the aforementioned article:
Audio Stream – 1500 plays equal 1 album unit
Video Stream – 11,750 views equal 1 album unit
Equivalent Albums Sales (EAS) = 272/157 * Spotify streams / 1500 + YouTube views / 11750
Streaming Part 1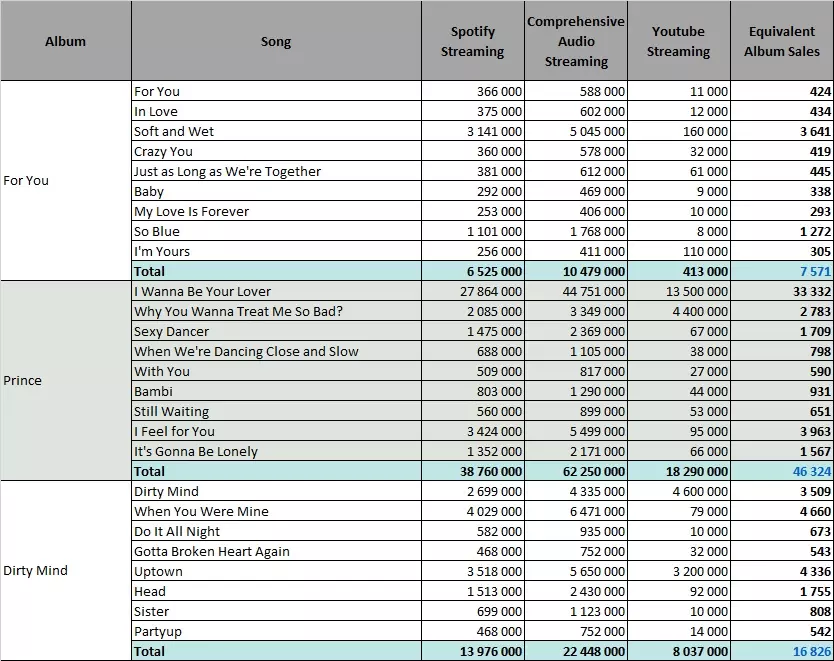 Before commenting these figures, it's key to point out the difficult history of Prince with streaming platforms. The purple star has been furiously refusing free access to his music, removing every video from YouTube and being unavailable on Spotify more often than not. Most of his catalog is available only since February 2017.
With this in mind, we understand the relatively modest results of these songs. I Wanna Be Your Lover even do kind of well with nearly 28 million Spotify streams. The eponymous album is easily the best performer of the pack thanks to this hit, it stands at 46,000 EAS from streams.