CSPC: Foo Fighters Popularity Analysis
Streaming Sales
Streaming is made up of two families – audio and video. Our CSPC methodology now includes both to better reflect the real popularity of each track. The main source of data for each avenue is respectively Spotify and YouTube. As detailed in the Fixing Log article, Spotify represents 132 million of the 212 million users of streaming platforms, while YouTube is pretty much the only video platform generating some revenue for the industry. Below is the equivalence set on the aforementioned article:
Audio Stream – 1500 plays equal 1 album unit
Video Stream – 11,750 views equal 1 album unit
Equivalent Albums Sales = 212/132 * Spotify streams / 1500 + YouTube views / 11750
Streaming Part 1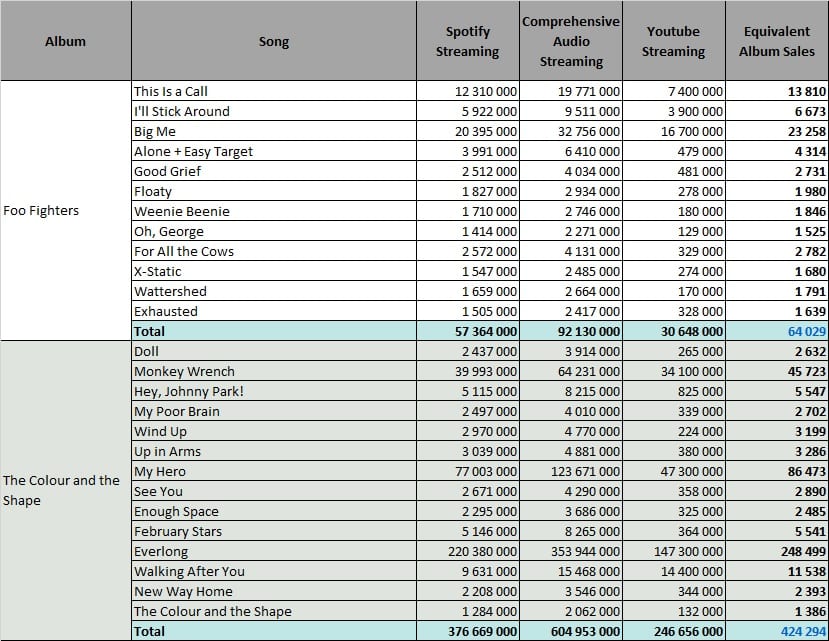 While clearly not a fan-favorite, the album Foo Fighters has nice streams. Two of its songs top 10 million streams on Spotify and the entire track list is over 1 million. Overall, it is on 64,000 equivalent album sales from streams.
The Colour and the Shape sold well under the radar for many years. Thanks to Spotify, we understand why. Everlong is an absolute monster. Its popularity continues to grow to this day. From a good alternative hit back in 1997, it leveled up to one of the cross-genre Top 10 biggest 90s songs on streaming platforms with a tremendous 220 million at Spotify. Impressively, My Hero is huge too at 77 million while Monkey Wrench has a strong 40 million. All songs but one crack 2 million. The album has a great total of 424,000 equivalent album sales from streams, a virtual tie with Nirvana's In Utero and more than various strong rock albums from the 90s like Guns N' Roses' Use Your Illusion I and II and U2's Achtung Baby.