R.E.M. albums and songs sales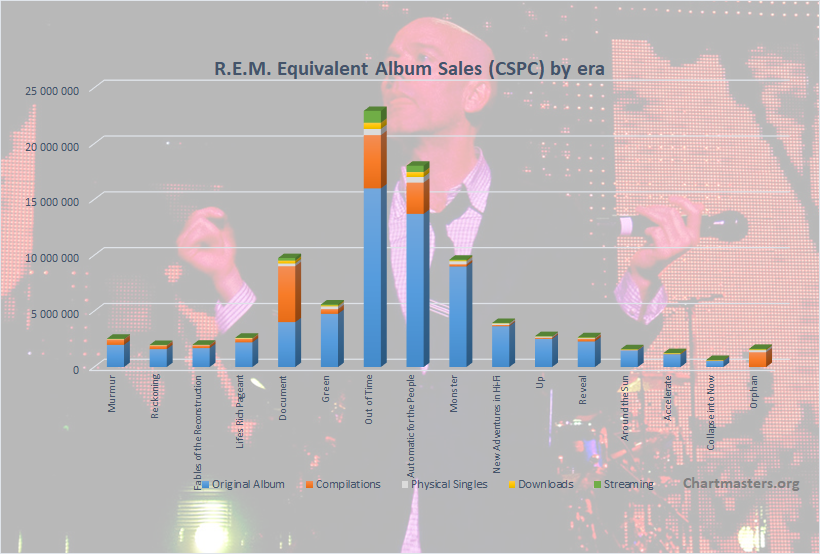 University students' heroes during the 80s and stars for the masses during the 90s, R.E.M. is one of the most well respected rock bands of the last 40 years.
Very discreet since they disbanded in 2011, their catalog remains home for classic hits like Losing My Religion and Everybody Hurts.
Pioneers of the Alternative Rock scene, the group paved the way of success to many bands like the Red Hot Chili Peppers and Nirvana, but how many units have they sold by themselves?
If the debut of the Alternative Rock genre is often credited to the cult album The Velvet Underground & Nico from 1967, it took until the early 80s to see the genre invade college stations.
They did it through R.E.M.'s music, with their first album Murmur becoming an underground smash.
After remaining a key player of the movement through the decade, it was again R.E.M. who opened the doors of a larger success thanks to Losing My Religion in early 1991.
The year proved to be a pivotal period for the genre, with the legendary first edition of the Lollapalooza festival hitting the road a few months later, and Nirvana closing the year with the release of Nevermind.
At that point, major labels were busy trying to sign every independent alternative band.
While alternative music's footprint was to not be successful to the masses, the 1991 switch concluded on two of its sub-genres creating pure fans hysteria.
These were grunge in the US, led by Nirvana and Pearl Jam, and Britpop in the UK, with Oasis and Blur crushing charts.
If the genre was super popular from 1991 to 1996, it quickly vanished. Oasis suffered a backlash with their 3rd album, Kurt Cobain passed away, Lollapalooza was discontinued (although it returned in 2003)… and, almost naturally, R.E.M. started to fade away.
They still issued 15 albums from 1983 to 2011, including 8 chart topping efforts in the UK.
As usual, I'll be using the Commensurate Sales to Popularity Concept in order to relevantly gauge their results. This concept will not only bring you sales information for all R.E.M. albums, physical and download singles, as well as audio and video streaming. In fact, it will also determine their true popularity.
If you are not yet familiar with the CSPC method, below is a nice and short video of explanations. I fully recommend watching it before getting into the sales figures. Of course, if you are a regular visitor feel free to skip the video and get into the numbers directly.
The Commensurate Sales to Popularity Concept (CSPC)
There are two ways to understand this revolutionary concept. In the first place, there is this Scribe video posted below. If you are unaware of the CSPC method, you will get the full idea within just a pair of minutes.
If you are a mathematical person, and want to know the full method as well as formulas, you can read the full introduction article.
Now let's get into the artist's sales figures in detail in order to apply this concept and define the act's true popularity!
R.EM. Album Sales

Original Album Sales – Comments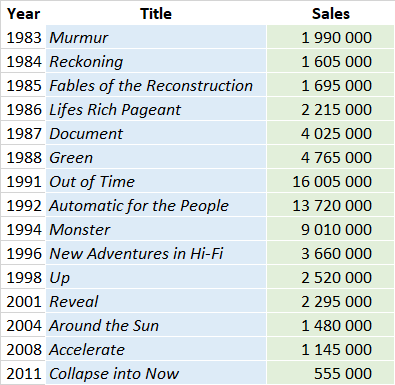 Up to 1990, R.E.M. were mostly a North American thing. Their first 3 albums were on their way to hit Gold in the US, the 4th had already got there while Document and Green had sold over a million.
The latter, their first record after their move from the I.R.S. label to the larger Warner, also went Gold in both the UK (100,000 units) and Australia (35,000), illustrating a growing popularity worldwide.
The madness came with the release of US and UK #1 LP Out of Time still.
Supporting by massive hit single Losing My Religion, the album quickly sold in the multi-millions, both in the US and in Europe.
The success of subsequent albums helped it to become one of the largest selling catalog items up to early 00s too. It's now up to over 16 million units.
Close behind is another blockbuster, Automatic for the People. This time the crossover hit was Everybody Hurts, with a handful of tracks gathering great airplay.
The album Monster lacked the big cross over hit of its predecessors, but the huge fanbase of the band along with their first tour since their fame grew extensively enabled it to sell 9 million copies.
New Adventures in Hi-Fi sales have been decent, but not in the same scale as the previous albums, stalling at 3.7 million.
Since then, each album sold less than its immediate predecessor although the decrease slowing down.
They maintained their results over a million per release until missing the threshold with their last one, Collapse into Now.
The band total studio album sales is 66.7 million.
R.E.M. Songs Sales

Physical Singles

As a reminder, the weighting is done with a 10 to 3 ratio between one album and one physical single.
The original release of Radio Free Europe reputedly sold 7,000 copies locally. More importantly, it brought a contract with the label I.R.S. to the band.
The song was used again as the lead single for their debut album Murmur a pair of years later, selling about 10 times more than on its first release, and providing to R.E.M. their first Hot 100 entry at #78.
Not destined to mass success, they did well enough with additional hits US Mainstream Rock chart plus two more low Top 100 hits, So. Central Rain (I'm Sorry) and Fall On Me.
In 1987, they stepped up commercially thanks to the hit song The One I Love. It became their first US Top 10 (#9) but also in Ireland and New-Zealand, while going to #11 in Canada and #16 in the UK. The track sold over 600,000 units.
They repeated the feat with 1989 song Stand. It wasn't as strong abroad, but topped their best peak to date inside the Hot 100 at #6, also selling over half a million in the process.
Losing My Religion may feel like these songs that went to #1 everywhere. It thus can be a surprise to see it peaked at #4 in the US, #19 in the UK while remaining unreleased in Germany.
It's what happens when a song is strong enough to instantly convert it's lovers into album buyers. The single sold slightly over a million.
Shiny Happy People went to #10 in the US and #6 in the UK. Incredibly, it remains their only Top 10 hit in both sides of the ocean. It's also R.E.M.'s last US top 10.
Subsequent singles Drive and Everybody Hurts also sold about half a million each.
It's again a number that may feel low for the latter, but it came deep into the promotion of the album – it was Automatic's 4th single – and convinced consumers to go by the LP. A #7 song in the UK, it hasn't gone higher than #29 in the US.
What's the Frequency, Kenneth? was their last single to sell similar quantities, mainly thanks to good peaks in many countries.
Later singles sold very low numbers in most markets, but they kept getting top 10 hits in the UK.
Strange Currencies went to #9, E-Bow the Letter peaked at 4, Daysleeper at 6, At My Most Beautiful at 10, Imitation of Life at 6, Bad Day at 8 and Leaving New York at 5.
In-between, The Great Beyond, issued in 1999 to support the Man on the Moon soundtrack, was a great #3 hit there while selling over 300,000 copies in total.
Through all these years, they released plenty of annual singles through their fan club. Most of them sold a few thousands units.
Obviously not their best selling format, the band moved 8.3 million physical singles during their career.
Digital songs

As a reminder, the weighting is done with a 10 to 1,5 ratio between one album and one digital single.
Since none of the songs had crossed over back in the day, it was expected to see low numbers for R.E.M. early songs on downloads.
From their first 4 albums, only Superman went on to reach 6 digits in downloads and ringtones.
Two 1987 songs have been helding strong though.
The One I Love, their first US Top 10 hit, registers more than half a million digital sales.
More impressively, It's the End of the World as We Know It (And I Feel Fine), also from the album Document, cracks the million plateau.
The song has been gaining ground through the years, and enjoyed a bump in 2020 when the COVID-19 crisis exploded.
Stand and Orange Crush aren't forgotten with about 250,000 sales apiece, they have lost momentum since their early days yet.
The inevitable leader is Losing My Religion which comes short of 3 million sales. It's one of the biggest classics of the 90s.
At a lower scale, Everybody Hurts does well too at 1.8 million.
Many more tracks from these years remain popular, at more than 600,000 sales are Shiny Happy People and Man on the Moon. Years haven't been as kind with former lead single Drive.
From this point we enter into an era of moderate hits at best, with What's the Frequency, Kenneth?, The Great Beyond and Imitation of Life leading the way at 150,000-250,000 each.
The last 3 records benefitted from an already existing download market, with Supernatural Superserious doing best at 300,000.
Career sales in digital singles units are disappointing with a total of 11.7 million.
Streaming
Streaming is made up of audio and video streams. Our CSPC methodology now includes both to better reflect the real popularity of each track. The main source of data for each avenue is respectively Spotify and YouTube.
To factor in the growing impact of multiple Asian countries where these platforms aren't always the go-to site for music streaming, more sources have been added.
In order to account for their real popularity in each relevant country, the below sources have been used along with the mentioned ratios that reflect the market share of each area.
Audio Streams
– South Korea : Genie streams * 3.05 (consistent with Gaon streaming numbers)
– Japan : AWA streams * 100/5.5 (AWA has 5.5% of the Japanese streaming market)– Elsewhere : Spotify streams * (370 – 8.5 – 9.5 – 33 – 9) / 207 (370 million global subscribers minus 8.5 million from South Korea minus 9.5 million from Japan minus 33 million from China divided by the number of Spotify only users minus 9 million more Asian users) + Genie streams * 3.05 (uses Genie rather than Spotify to extrapolate markets like Taiwan, Thailand and Vietnam)
Video Streams– China* : QQ video streams * 50 if the song is available for audio stream, QQ video streams * 5 elseway (scale built based on known figures for several major artists)– Elsewhere : Youtube views
*since 96.4% of Chinese streaming platforms are free users, that paid-for users pay less than $2 a month and that they are also used as video streaming platforms, their streams are weighted on par with YouTube streams.
Audio Stream value – 1500 plays equal 1 album unit
Video Stream value – 11,750 views equal 1 album unit
Equivalent Albums Sales (EAS) = ( Spotify * 310/207 + Genie * 3.05*2 + AWA * 100/5.5 ) / 1500 + ( QQ views* 50(or 5) + YouTube ) / 11750
Top Hits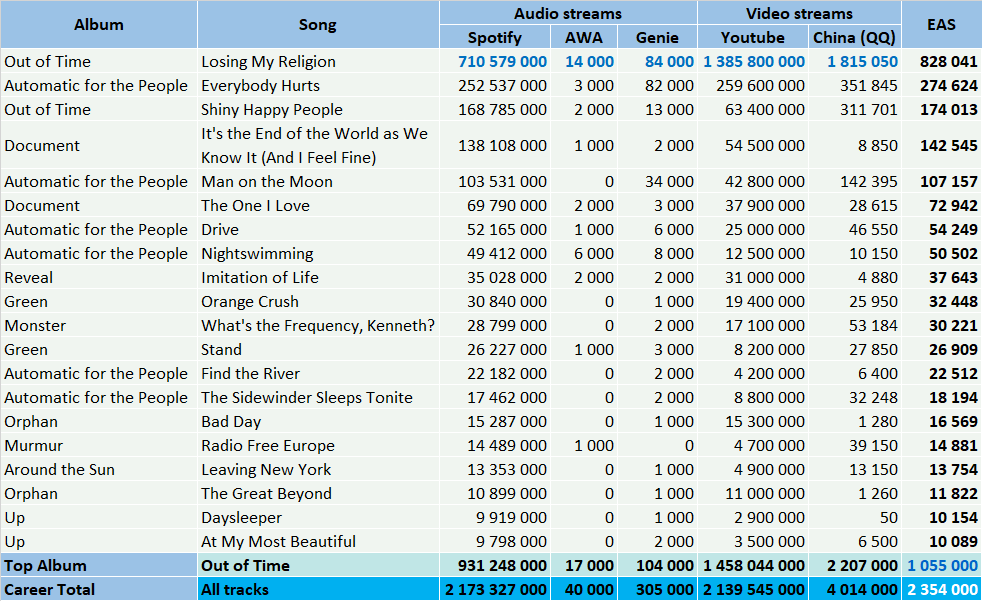 To the surprise of nobody Losing My Religion emerges as the most streamed track of R.E.M. with outstanding numbers.
It's one of the most streamed 90s songs with over 700 million plays on Spotify and nearly 1.4 billion on YouTube. It also leads their catalog on Asian platforms even if their numbers aren't as good there.
Everybody Hurts as runner up is no more of a surprise, it amasses more than 250 million streams on both Spotify and YouTube.
Securing over 100,000 EAS from streams too are Shiny Happy People, It's the End of the World as We Know It and Man on the Moon.
Automatic for the People owns 4 of their top 8 and 6 of their top 14. The album is arguably their more solid effort.
Imitation of Life is their highest charting post-90s song with 38,000 EAS. No song from their 2011 Collapse Into Now charts inside their personal top 20.
Albums-wise, Out of Time takes the crown thanks to the superb numbers of Losing My Religion, it tops 1 million EAS overall. The total of the band is healthy at 2.35 million.
Full catalog breakdown
If you are familiar with the artist's catalog and want to check details of each and every song, you can access to all of them right here.
Keep yourself up to date
Our website provides you a fantastic tool which fetches updated Spotify streams as you request them, use it to watch these results grow day after day!
R.E.M. compilations sales
It sounds fairly logical to add together weighted sales of one era – studio album, physical singles, downloads, streams – to get the full picture of an album's popularity. For older releases though, they also generate sales of various live, music videos and compilation albums.
All those packaging-only records do not create value, they exploit the value originating from the parent studio album of each of its tracks instead. Inevitably, when such compilations are issued, this downgrades catalog sales of the original LP.
Thus, to perfectly gauge the worth of these releases, we need to re-assign sales proportionally to its contribution of all the compilations which feature its songs. The following table explains this method.
The distribution process

How to understand this table? In the example of In Time, these figures mean it sold 6,570,000 units worldwide. The second statistics column means all versions of all the songs included on this package add for 1,632,969 equivalent album sales from streams of all types.
The second part on the right of the table shows how many equivalent streams are coming from each original album, plus the share it represents on the overall package.
Thus, streaming figures tell us songs from the Out of Time album are responsible for 51% of the In Time appeal. This means it generated 3,358,000 of its 6,570,000 album sales and so forth for the other records. We then apply this process to all compilations present on below table.
Compilations sales figures listing

The label switch between Document and Green has a strong impact on the compilations release history of the band.
I.R.S. started issuing extra material very early on to capitalize on their fans. Dead Letter Office and Eponymous came out that way.
Then, in 1991, when R.E.M. crossed over to the masses they quickly responded with the release of The Best Of, which obviously didn't include Losing My Religion.
In Time was the first Warner compilation for them, selling very well upon release in 2003.
It wasn't until Part Lies Part Heart Part Truth Part Garbage 1982-2011 that both labels agreed on a career spanning release.
As a bonus, below is the breakdown of the top selling records.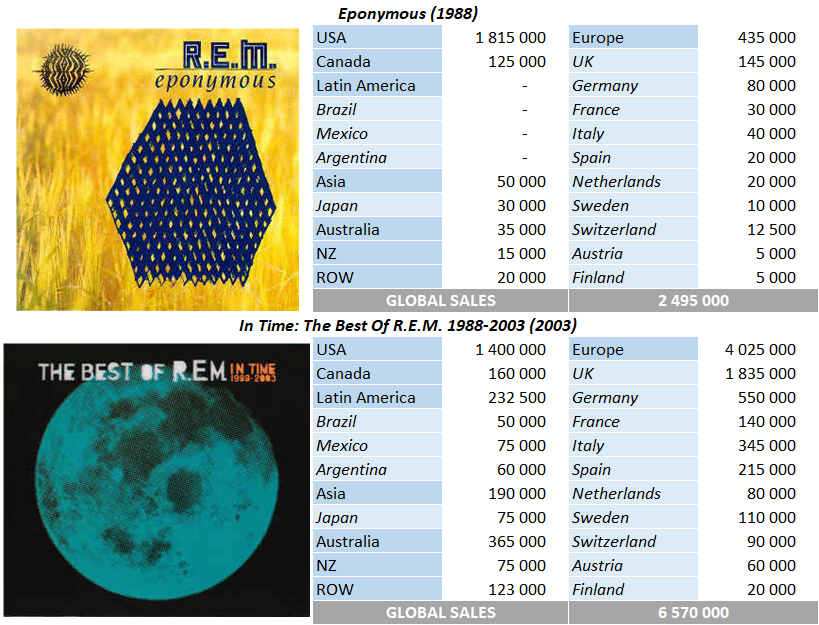 Full Length related records Sales – Summary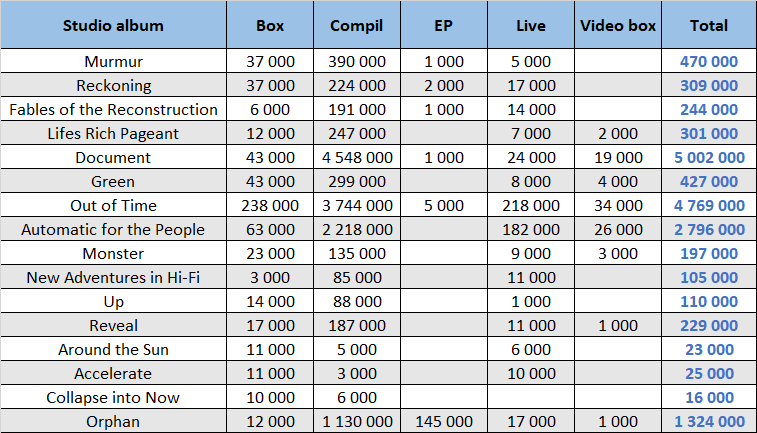 Here is the most underestimated indicator of an album's success – the amount of compilation sales of all kinds it generated. Due to the dependency of sales of the original studio albums on these releases, they are a key piece of the jigsaw.
These numbers are obtained by applying the method from the section The distribution process to all packages listed under Compilation sales figures listing category.
Considering the band's biggest hit comes from Out of Time, and their more consistent release is Automatic for the People, it's a shocker seeing Document lead this sales avenue.
The thing is, singles from this album are overwhelmingly dominant over their I.R.S. years catalog, so it's responsible for most sales of releases linked to this era.
This includes Eponymous and The Best Of which sold over 4 million combined.
90s blockbusters haven't got that much time to add large compilation sales as In Time came out in 2003, just before the arrival of iTunes that destroyed sales of this type of records.
Total Album (all types) Sales per Country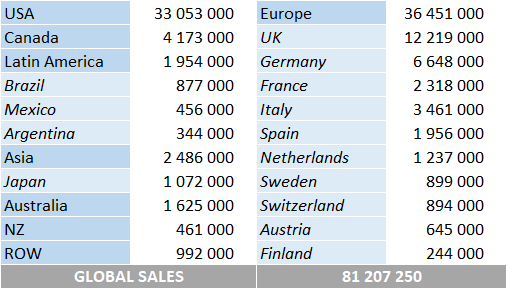 Please note country-specific numbers may miss sales of a few minor releases, although totals are complete.
R.E.M. Career CSPC Results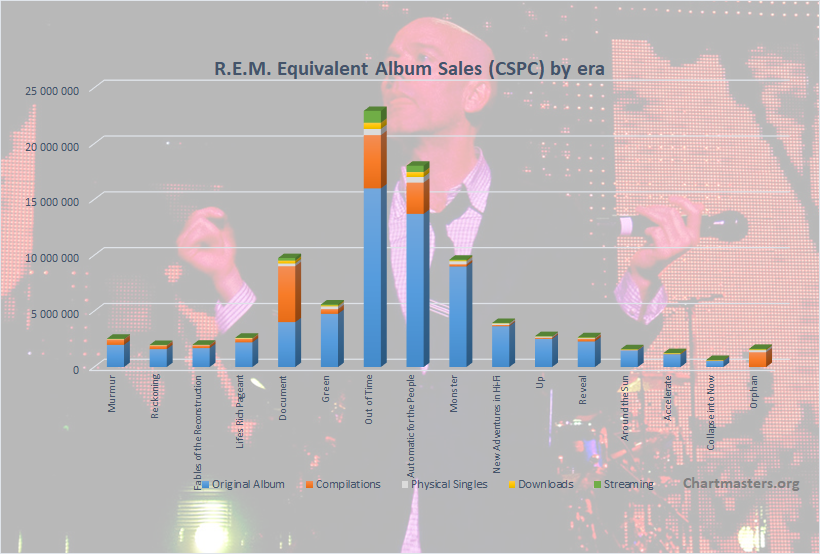 So, after checking all the figures, how many overall equivalent album sales has each album by R.E.M. achieved? Well, at this point we hardly need to add up all of the figures defined in this article!
Albums CSPC results
In the following results table, all categories display figures in equivalent album sales. If different, pure sales are listed between parentheses.
| artist_spotify_id | # | Cover | Album | Studio albums (EAS) | sales_update_date | Other LPs (EAS) | Physical singles (units sold) | Digital singles (units sold) | Streams | Streams increase | Total EAS | valid_as_of | streams_updated_value | album_id |
| --- | --- | --- | --- | --- | --- | --- | --- | --- | --- | --- | --- | --- | --- | --- |
| 4KWTAlx2RvbpseOGMEmROg | 1 | | Murmur | 1,990,000 | 24.09.21 | 470,000 | 26,000(85,000) | 21,000(140,000) | 48,000 (09/29/23) | Av.: 20LD: 20 | 2,556,000 | 20,230,929 | 48,000 | 1,795 |
| 4KWTAlx2RvbpseOGMEmROg | 2 | | Reckoning | 1,605,000 | 24.09.21 | 309,000 | 17,000(55,000) | 17,000(110,000) | 32,000 (09/29/23) | Av.: 10LD: 20 | 1,993,000 | 20,230,929 | 32,000 | 1,796 |
| 4KWTAlx2RvbpseOGMEmROg | 3 | | Fables of the Reconstruction | 1,695,000 | 24.09.21 | 244,000 | 9,000(30,000) | 12,000(80,000) | 27,000 (09/29/23) | Av.: 10LD: 10 | 2,010,000 | 20,230,929 | 27,000 | 1,797 |
| 4KWTAlx2RvbpseOGMEmROg | 4 | | Lifes Rich Pageant | 2,215,000 | 24.09.21 | 301,000 | 21,000(70,000) | 44,000(290,000) | 47,000 (09/29/23) | Av.: 20LD: 30 | 2,645,000 | 20,230,929 | 47,000 | 1,798 |
| 4KWTAlx2RvbpseOGMEmROg | 5 | | Document | 4,025,000 | 24.09.21 | 5,002,000 | 242,000(805,000) | 255,000(1,700,000) | 359,000 (09/29/23) | Av.: 170LD: 220 | 9,892,000 | 20,230,929 | 359,000 | 1,799 |
| 4KWTAlx2RvbpseOGMEmROg | 6 | | Green | 4,765,000 | 24.09.21 | 427,000 | 188,000(625,000) | 92,000(610,000) | 129,000 (09/29/23) | Av.: 70LD: 80 | 5,658,000 | 20,230,929 | 129,000 | 1,800 |
| 4KWTAlx2RvbpseOGMEmROg | 7 | | Out of Time | 16,005,000 | 24.09.21 | 4,769,000 | 497,000(1,655,000) | 569,000(3,790,000) | 1,727,000 (09/29/23) | Av.: 910LD: 1,390 | 23,616,000 | 20,230,929 | 1,727,000 | 1,801 |
| 4KWTAlx2RvbpseOGMEmROg | 8 | | Automatic for the People | 13,720,000 | 24.09.21 | 2,796,000 | 509,000(1,698,000) | 447,000(2,980,000) | 852,000 (09/29/23) | Av.: 390LD: 470 | 18,324,000 | 20,230,929 | 852,000 | 1,802 |
| 4KWTAlx2RvbpseOGMEmROg | 9 | | Monster | 9,010,000 | 24.09.21 | 197,000 | 239,000(795,000) | 75,000(500,000) | 96,000 (09/29/23) | Av.: 40LD: 70 | 9,650,000 | 20,230,929 | 96,000 | 1,803 |
| 4KWTAlx2RvbpseOGMEmROg | 10 | | New Adventures in Hi-Fi | 3,660,000 | 24.09.21 | 105,000 | 95,000(315,000) | 26,000(170,000) | 47,000 (09/29/23) | Av.: 20LD: 20 | 3,973,000 | 20,230,929 | 47,000 | 1,804 |
| 4KWTAlx2RvbpseOGMEmROg | 11 | | Up | 2,520,000 | 24.09.21 | 110,000 | 74,000(245,000) | 15,000(100,000) | 45,000 (09/29/23) | Av.: 20LD: 20 | 2,785,000 | 20,230,929 | 45,000 | 1,805 |
| 4KWTAlx2RvbpseOGMEmROg | 12 | | Reveal | 2,295,000 | 24.09.21 | 229,000 | 48,000(160,000) | 36,000(240,000) | 81,000 (09/29/23) | Av.: 40LD: 60 | 2,704,000 | 20,230,929 | 81,000 | 1,806 |
| 4KWTAlx2RvbpseOGMEmROg | 13 | | Around the Sun | 1,480,000 | 24.09.21 | 23,000 | 24,000(80,000) | 36,000(240,000) | 38,000 (09/29/23) | Av.: 20LD: 20 | 1,611,000 | 20,230,929 | 38,000 | 1,807 |
| 4KWTAlx2RvbpseOGMEmROg | 14 | | Accelerate | 1,145,000 | 24.09.21 | 25,000 | 8,000(28,000) | 63,000(420,000) | 21,000 (09/29/23) | Av.: 10LD: 10 | 1,263,000 | 20,230,929 | 21,000 | 1,808 |
| 4KWTAlx2RvbpseOGMEmROg | 15 | | Collapse into Now | 555,000 | 24.09.21 | 16,000 | 2,000(5,000) | 32,000(210,000) | 39,000 (09/29/23) | Av.: 10LD: 20 | 644,000 | 20,230,929 | 39,000 | 1,809 |
| 4KWTAlx2RvbpseOGMEmROg | 16 | | Orphan | 0 | 24.09.21 | 1,324,000 | 195,000(649,000) | 51,000(340,000) | 63,000 (09/24/21) | N/A | 1,633,000 | 20,230,929 | 63,000 | 1,810 |
'Av.' stands for Average, 'LD' for Last Day.
As a reminder:
Studio Album: sales of the original album
Other Releases: sales of compilations generated thanks to the album
Physical Singles: sales of physical singles from the album (ratio 3/10)
Download Singles: sales of digital singles from the album (ratio 1,5/10)
Streaming: equivalent album sales of all the album tracks (ratio 1/1500 for Audio stream and 1/6750 for Video stream)
See where the artist ranks among remaining singers
R.E.M. obviously peaked in 91-92, with back to back blockbuster albums.
Out of Time closes counts on nearly 23 million equivalent album sales. It's one of the 10 albums to be over 20 million among the insanely stacked 1991 roster.
Automatic for the People is a very strong runner up, now over 18 million in total sales.
Ironically, while 23 million is only good enough to be 8th inside the 1991 list, Automatic at 18 million features at 2 with a comfortable margin among the biggest 1992 albums. Only Bodyguard tops it.
Both albums will go down 1-2 spots on their respective lists when albums like Pearl Jam's Ten, Genesis' We Can't Dance, Ace Of Base's The Sign and Kenny G's Breathless are studied.
If these two albums are the clear leaders among their catalog, we can define R.E.M. hey-days to a larger span, as they indeed sold very well from 1987 to 1994.
Both Document and Monster are close to 10 million units. Green is the weakest effort from these years but still moved 5.6 million units.
Outside of their top 5 follows New Adventures in Hi-Fi at 4 million, while nearly all their remaining albums are at 2-2.8 million, with the last 3 ending more and more distant from 2 million.
With total career sales of 89.7 million, it won't take more than a year until R.E.M. passes 90 million. It will be much longer until they hit 100 million yet.
Singles CSPC results
The list is compiled in album equivalent sales generated by each song. Therefore, these figures are not merged units of singles formats. Instead, it includes weighted sales of the song's physical single, download, ringtone and streaming as well as its share among sales of all albums on which it is featured.
1. 1991 – R.E.M. – Losing My Religion [Out of Time] – 18,760,000
2. 1992 – R.E.M. – Everybody Hurts [Automatic for the People] – 8,970,000
3. 1987 – R.E.M. – It's the End of the World as We Know It (And I Feel Fine) [Document] – 5,720,000
4. 1994 – R.E.M. – What's the Frequency, Kenneth? [Monster] – 4,540,000
5. 1987 – R.E.M. – The One I Love [Document] – 3,550,000
6. 1992 – R.E.M. – Man on the Moon [Automatic for the People] – 3,470,000
7. 1991 – R.E.M. – Shiny Happy People [Out of Time] – 3,190,000
8. 1988 – R.E.M. – Orange Crush [Green] – 2,180,000
9. 2000 – R.E.M. – Imitation of Life [Reveal] – 2,050,000
10. 1988 – R.E.M. – Stand [Green] – 1,970,000
11. 1992 – R.E.M. – Drive [Automatic for the People] – 1,880,000
12. 1992 – R.E.M. – Nightswimming [Automatic for the People] – 1,580,000
13. 1996 – R.E.M. – E-Bow the Letter [New Adventures in Hi-Fi] – 1,210,000
14. 1981 – R.E.M. – Radio Free Europe [Murmur] – 1,190,000
15. 1994 – R.E.M. – Bang and Blame [Monster] – 1,130,000

If you feel inspired by this list, we just created this CSPC R.E.M. playlist on Spotify!
Discography results
Thanks to our new ASR (Artist Success Rating) concept, we know that their sales represent 20.23 million times the purchase of their entire discography. Coupled with their total sales, it translates into an ASR score of 241.
It is similar to the score of artists like Green Day and Sting. The ranking of all artists studied so far is available too at this link.
Records & Achievements
At 22,944,000 EAS, Out of Time is among the 10 most successful albums from 1991.
At 18,035,000 EAS, Automatic for the People is the 4th most successful album from 1992.
At 18,760,000 EAS, Losing My Religion is the 6th most successful song from the 90s.
At 18,760,000 EAS, Losing My Religion is the 3rd most successful song from 1991.
NB: EAS means Equivalent Album Sales.
You may be interested in…
… best-selling artists, albums, and singles
To improve your navigation we created several amazing cross-artists lists posted inside the CSPC: Data Collector article. Click on it to see the full listing of all CSPC results compiled so far!
… similar artists
To put figures from this article into perspective, click on the images below to reach career breakdowns of similar artists: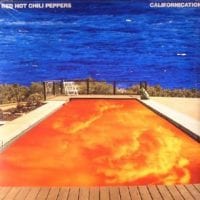 As usual, feel free to comment and / or ask a question!
Sources: IFPI, Spotify, YouTube, Discogs.