CSPC: Elvis Presley Popularity Analysis
ELVIS PRESLEY CAREER CSPC RESULTS – PER YEAR
As previously mentioned, there is an elephant in the room of Presley's statistics. The unreal success of his stand-alone singles deflates the interest of sales combined per album. To solve this case, this page treats his CSPC results per year of production. The year considered is the first year that saw a single come out, as a single or inside an album, whatever came first.
To really understand the impact of the rock legend, below table compares him with the Beatles. This highlights an insane fact.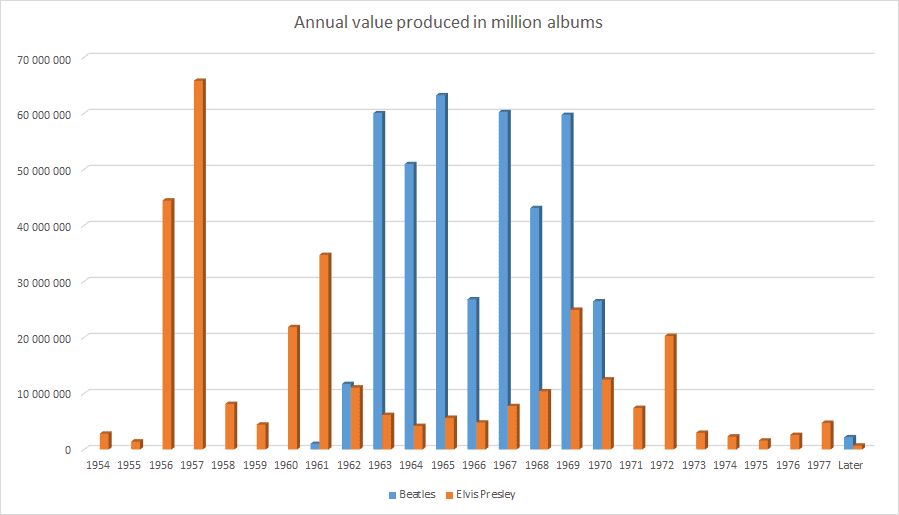 There is no error: the material issued by Presley in 1957 is more valuable than the production of the Beatles in any year. While the Fab Four shocked the world thanks to their immaculate run from start to finish, they peaked in 1965 when their records produced value worth of 63,25 million up to now. Presley's output from 1957 tops that figure since it generated 65,82 million equivalent album sales. This also tops peaks of the Bee Gees, Pink Floyd, Simon & Garfunkel, AC/DC, Led Zeppelin, and more. All acts included, Presley's 1957 output is the third most valuable of all-time behind catalogs of the Eagles from 1976 and Michael Jackson from 1982.
Many people think he reached monster sales thanks to his never ending discography but the fact is that his records were insanely successful. His sales haven't been achieved on the back of zillions of tracks from dark years. Instead, his great periods were magnificent.
In fact, his years 1956/1957, 1960/1961, 1969 and 1972 all top 20 million. His songs first issued in these seasons add for over 210 million, which is more than the full careers of Elton John and Led Zeppelin. No need to say that the fact he managed these bright results in a period spread over 17 years is all the more impressive. He also did at least 1,4 million every year from 1954 to 1977. On top of that, it's worth noting that Presley served the US Army from March 1958 to March 1960, which stopped his traction. Incredibly, he managed to return to massive sales instantly.
The following graphic also shows how dominant Presley has been. It doesn't matter to see which year is referred to by each color, instead the size of blocks reflects the impact an artist had.