CSPC: Dire Straits Popularity Analysis
Streaming Sales
Streaming is made up of two families – audio and video. Our CSPC methodology now includes both to better reflect the real popularity of each track. The main source of data for each avenue is respectively Spotify and YouTube. As detailed in the Fixing Log article, Spotify represents 132 million of the 212 million users of streaming platforms, while YouTube is pretty much the only video platform generating some revenue for the industry. Below is the equivalence set on the aforementioned article:
Audio Stream – 1500 plays equal 1 album unit
Video Stream – 11,750 views equal 1 album unit
Equivalent Albums Sales (EAS) = 212/132 * Spotify streams / 1500 + YouTube views / 11750
Streaming Part 1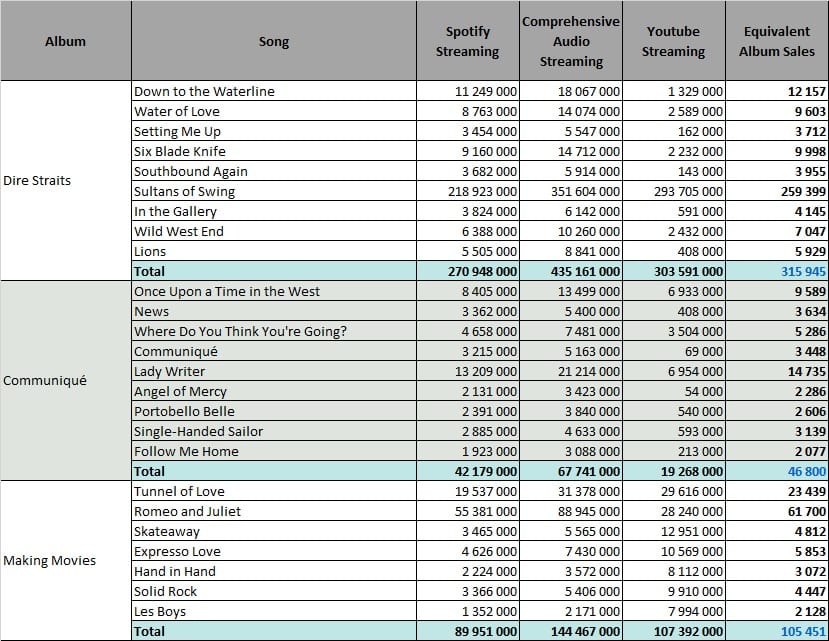 Sultans of Swing is one of these songs that have always been popular and which is made even bigger by the playlist systems of streaming platforms. An essential song on every cult rock tunes list, it rides on an impressive tally of 219 million streams on Spotify. It also gained 294 million views on YouTube. Equivalent album sales of the self-titled debut skyrocket thanks to this smash, they are on 316,000 units so far.
Communiqué is in the other side of the spectrum. Its lack of hits limit a lot its impact. Its album cuts aren't too bad at 2 million Spotify streams or more, but it isn't enough to make up from the terrible absence of relevant songs. It has 47,000 equivalent album sales in total.
At 105,000 units is Making Movies. Romeo and Juliet is its biggest strength thanks to its 55 million streams on Spotify. Tunnel of Love is a decent runner up at almost 20 million while the rest is decently consistent.