CSPC: David Bowie Popularity Analysis
Streaming Part 2 – The Golden Years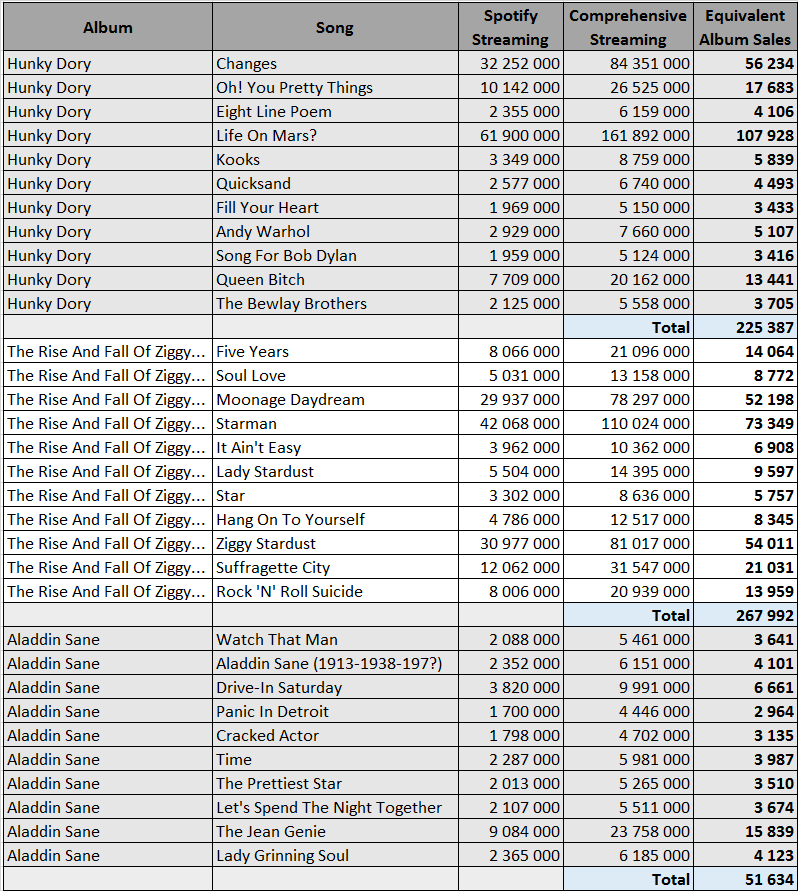 It is no news that each of those three albums are classic ones. One thing is absolutely unique there still. If one checks the tracklist of David Bowie early live albums – David Live / Stage / Ziggy Stardust the Motion Picture – or his first major best of Changesonebowie from 1976, they all left out both Life On Mars? and Starman. We are speaking about the two most remembered hits from those years. It is truly unique that near-unknown songs from that time ended up as absolute must-haves decades later, ultimately topping all legitimate hits from the 70s.
Streaming results are obviously much higher than those of previous albums. Hunky Dory two singles add for 94 million plays and two album tracks Oh! You Pretty Things and Queen Bitch have notable streams for non-singles too, although the former was a #11 song for Peter Noone in 1971. All its tracks are breaking the doors of the 2 million plays barrier.
Ziggy Stardust album is even stronger overall. Starman, Ziggy Stardust and Moonage Daydream are all on 30 million and more while everything else is on at least 3,3 million. In terms of equivalent album sales, those two albums total near half a million units.
Surprisingly, Aladdin Sane is much weaker. We can highlight its cult status by the fact all songs are at least on 1,7 million but its hits are truly lacking strength as even the stand-out track The Jean Genie is still under 10 million.