CSPC: Christina Aguilera Popularity Analysis
Streaming Sales
As seen with the example of the Beatles, today weight of Spotify is steadily increasing, representing as much as 63,5% of overall streams on their example. The Swedish giant recently announced they broke the 50-million barrier of paid subscribers.
We will keep that ratio Spotify-All Audio Streaming services updated as much as possible, especially when next IFPI RIN comes out next month covering 2016 Global market. For now, we will be sticking with this 63,5% rate.
What is this section about? Here we will be reviewing streams from all songs and all albums of today artist, converting each of them into equivalent album sales. The equivalent album sales is the division of the comprehensive streaming figure by 1500 as it is now the norm in the new industry model.
Streaming Part 1 – US Arrival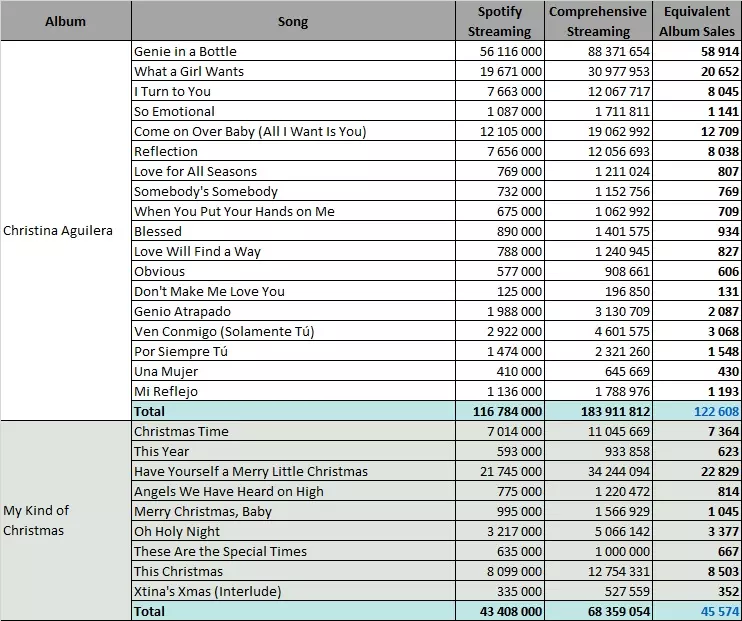 As CSPC rules focus on rewarding records which created a value rather than new packages of past songs, songs of the Spanish effort Mi Reflejo are spread here in two categories – translations of Christina Aguilera songs are owned by this album itself, while the remaining ones go into the Orphan album.
Unsurprisingly, the biggest hit from her debut album is her breakthrough song Genie In A Bottle at 56 million streams. All other singles from the album keep getting streamed with 7,5-20 million plays each. Those decent figures overall provide 123,000 equivalent album sales.
Streaming figures are often pretty good for Christmas albums. Many people didn't though it was worth it to buy one just to air it for a couple of days. Meanwhile, those same persons can perfectly stream a bit those records at the best time of the year. My Kind of Christmas has enjoyed that way 46,000 equivalent album sales.