CSPC: Billy Joel Popularity Analysis
Streaming Sales
Below table lists Spotify streaming of all songs from the five albums we are studying. The Comprehensive Streaming is reached by multiplying Spotify figures by 68/26. In fact, as shown in IFPI 2015 Report, there were 68 million paying subscribers to all streaming platforms by the end of 2015. While the exact count of Spotify paying subscribers by the end of 2015 is unknown, that figure reached 20 million in June 2015 and 30 million in March 2016, thus an estimated 26 million is used as of the end of 2015.
The equivalent album sales is the division of the comprehensive streaming figure by 1500 as it is now the norm in the new industry model.
Streaming Part 1 – Slow way to success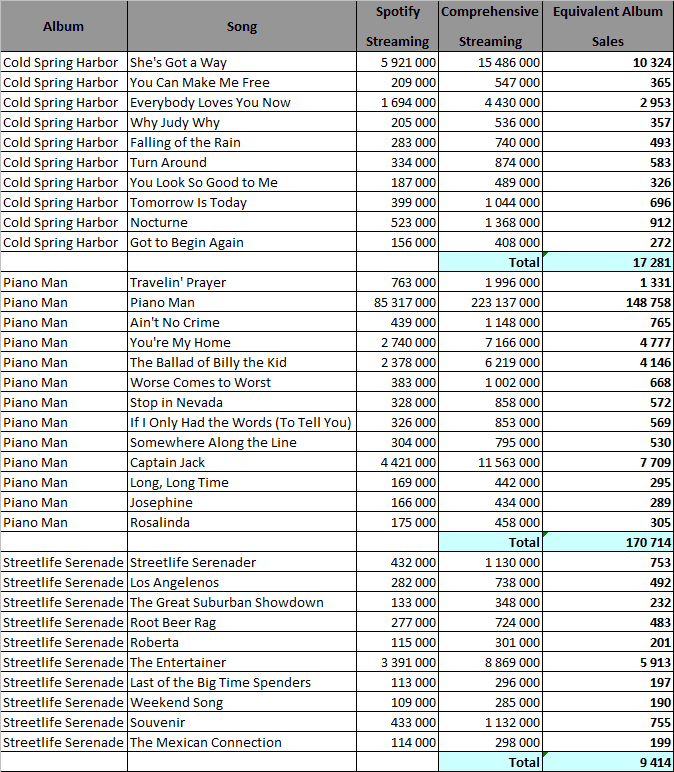 We open a new section with Billy Joel's first three albums. Two of which don't seem to add much value to his popularity, especially because they lacked truly huge hits and consequently weren't represented in his compilations and live albums like other efforts from this artists. These two albums are Cold Spring Harbor and Streetlife Serenade, both falling under 10,000 album equivalent sales.
Piano Man offers a different story. It has four songs above the 2 million mark, with one absolutely monster hit for him: the titled song, with over 85 million streams via Spotify. Mostly driven by that track, his second album achieves 170,000 equivalent albums sales.