CSPC: AC/DC Popularity Analysis
Streaming Part 6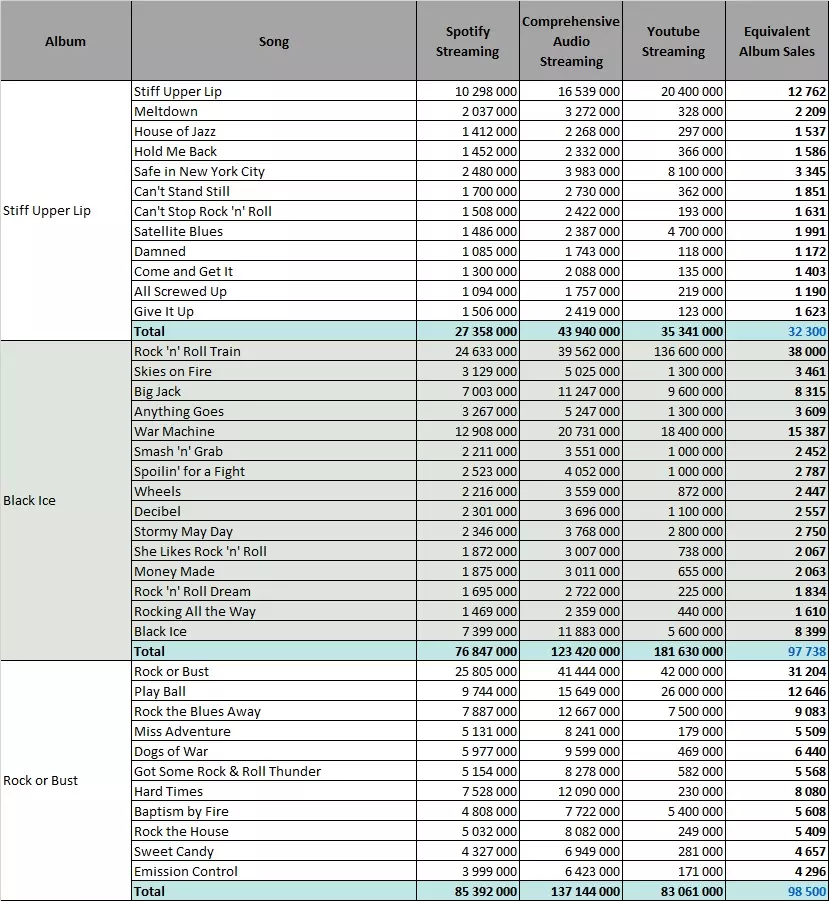 Stiff Upper Lip kept their 90's momentum going into the new millennium, with 32,000 EAS actually topping its predecessor. The title track has over 10 million Spotify streams and all the others top 1 million.
Even so, it seemed the 2008 album Black Ice was yet another comeback album for the Classic Rock titans. Peaking at #1 in 29 countries, including their first US #1 in 27 years, this album firmly put AC/DC back on the map. Streaming platforms show it is not forgotten either. Approaching 25 million on Spotify, Rock 'N Roll Train alone almost equals the total of the Stiff Upper Lip album. War Machine is also strong at 13 million, and two more tracks top 7 million. On Youtube it's even bigger. Beginning your live show with a full size locomotive bursting on stage to the sound of Rock 'N Roll Train will give you a few extra views – and almost 100,000 EAS.
At first glance it seems Rock or Bust is an even bigger album than Black Ice on Spotify. At 26 million Rock or Bust edges Rock 'N Roll Train as their biggest song since Thunderstruck on that platform. However, Rock or Bust benefits from being released in the streaming era. It was released in November 2014, just 7 months before AC/DC first became available on Spotify (June 30th 2015). During the past two months the Rock or Bust total has increased by just 5.8% on Spotify (the least of all their albums), while the Black Ice total has increased by 8,9% (a catagory led by FOTW and DDDDC both above 11%). With that in mind, 100,000 EAS is not as impressive but no disappointment either.
Rock 'N Roll Train has gained over 2.6 million streams in the past two months (over twice as many as the song Rock or Bust). This makes it not only their biggest song since Thunderstruck, but their 10th biggest song ever! Not bad four decades into their career!