CSPC: AC/DC Popularity Analysis
Streaming Part 2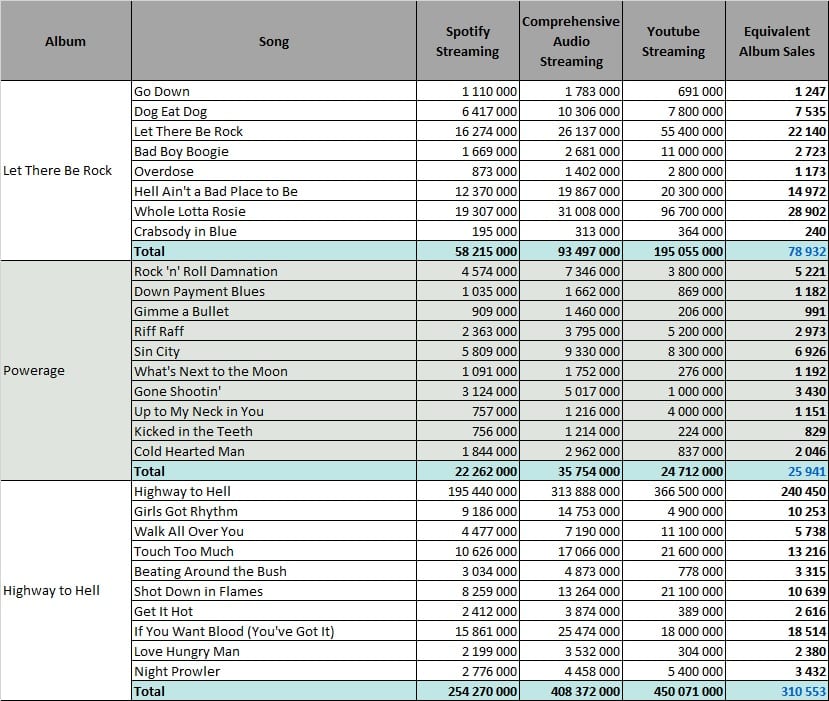 At first, Let There Be Rock was bigger than its predecessors. It was AC/DC's first album to chart in the US, and first in the UK too, where it reached the Top 20. Since then it hasn't been able to follow the sales of High Voltage and Dirty Deeds. Streaming figures show perfectly why. It lacks a classic hit the size of T.N.T. or Dirty Deeds Done Dirt Cheap. What it does have is live favorites. Of the album's total 58 million Spotify streams, almost 40% come from live versions, easily the most of all their albums (Black Ice is 2nd with 20% – which is fueled by Live at River Plate recorded on the Black Ice Tour).
On Youtube live versions are always more popular due to the visual effect. Whole Lotta Rosie is close to 100 million views there and is actually bigger than Dirty Deeds Done Dirt Cheap. Crabsody in Blue was replaced by Problem Child on the US release (now worldwide) and was considered a rarity until its inclusion on the Backtracks box set in 2009.
Powerage lacks both classic hits and live favourites. With the biggest track Sin City at 6 million Spotify streams, it is easily their weakest 70's LP on streaming platforms, just topping 25,000 EAS. But Powerage is the connoisseur's choice. Keith Richards of The Rolling Stones calls it his favourite. For some reason Cold Hearted Man was rejected by their US record company in 1978. Like Crabsody in Blue it was a rarity until being included in the Backtracks box set. The healthy figure of almost 2 million Spotify streams is likely due to it's presence on the Iron Man 2 soundtrack from 2010.
Then came the breakthrough! Produced by hit-maker Robert John "Mutt" Lange, Highway to Hell became a worldwide hit and their first US platinum album. With almost 200 million streams the title track is massive. In some regions, perhaps especially in Europe, it is still considered the quintessential AC/DC song. EAS for this song alone is 240,000. With 4 other tracks in the 10-20,000 region, and a total of 310,000 EAS, this album is bigger than High Voltage and Dirty Deeds combined.