Beyonce's global heatmap
Beyoncé is one of the best selling artists to debut in the last 25 years. Her solo career has been going strong for 15 years now and she recently celebrated 20 years in the music industry as part of Destiny's Child. She's obviously seen huge amounts of success in the US, but what about the rest of the world? We'll find out shortly!
The method
In order to identify on which countries Beyoncé performed well, the way to go is to look at data from various top sellers and compare his own results with theirs. Thus, we collected market by market YouTube statistics of 12 major artists including the Beatles, Michael Jackson, Elvis Presley, Madonna, and Queen. The sample also includes a various recent artists among which Adele, Britney Spears and Eminem.
As stated inside the article Learn how to exploit YouTube Insights, the absolute number of views is irrelevant. Depending on your target audience and its YouTube usage habits, you will have very different results. Relative results do matter though. That's why rather than comparing views numbers, we compare the share of views coming from each market for all these artists. For example, both the Beatles and Queen have over 1,6 million monthly views in Japan. Since Queen outperform the Beatles by 3 to 1 globally, that means Japan is a market 3 times more relevant for the Beatles. In conclusion, even if both have similar views there, the latter group are relatively speaking bigger there.
Once we defined the strength of each market for scale artists, we calculate their averages. To continue with our example, our scale artists register 1,62% of their global streams in Japan. Beyoncé's count there stands at 0,59%, it means the relevance of this market is only 36% (0,59%/1,62%) as high for her as for the others.
The results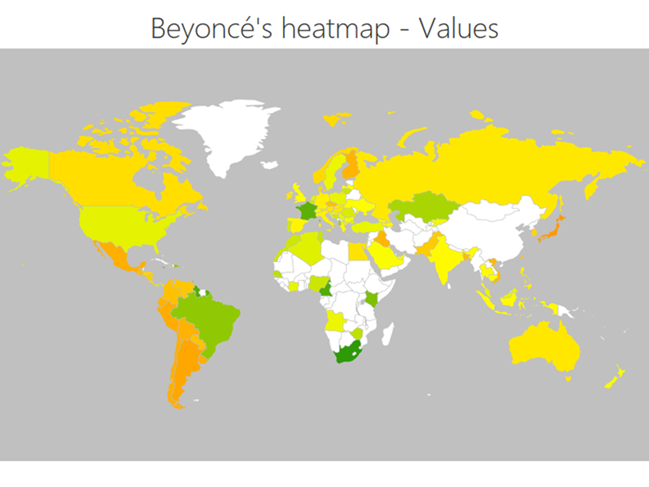 The greenest a country is, the best Beyoncé performed in comparison to the scale artists. On yellow ones, she is on par with the average. Countries in orange represent weaker performances, the most red they get, the most she underperforms. Countries in white fail to appear among her personal Top 100 markets on YouTube.
We aren't done still. An artist can record a huge chunk of his views in a few countries only, say in the US. His comparative shares in remaining countries would then underperform massively reference values. This issue is known for years in the world of statisticians. A very efficient way to avoid these outliers consists in comparing rankings instead of raw values. As a result, instead of saying that Beyoncé outperforms the scale by 2,48 to 1 in Reunion, we will say that Reunion is the country of rank 1, the one where she performs the best relatively speaking.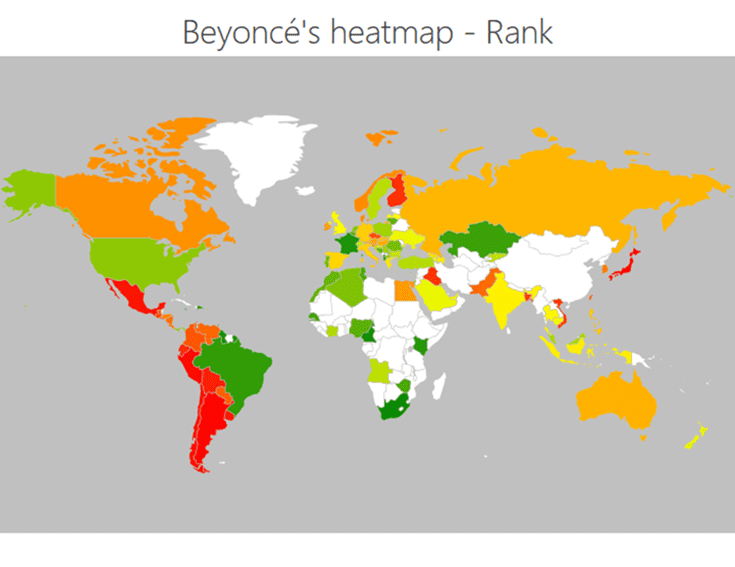 The greenest a country is, the highest it is among Beyoncé's top markets and so on until red markets.
The analysis
For many years, it has been claimed that the singer has a huge following in Africa. While we cannot prove her popularity with traditional methods like album or single sales, we can most certainly do it now thanks to the global heat map. Reunion (#1), South Africa (#2), Cameroon (#4), and Kenya (#8) are all featured in the singer's personal Top 10, thus proving a strong popularity all over Africa.
As a side note, Cameroon and Guyana have never been featured on Top 100 rankings of our 13 base artists up to now, so there is no figure available to gauge data from new artists. They both belong to Beyoncé's Top 100. To reflect this strongly above average performance, their strength has been manually set on 2.
France is easily her best European market, ranking at #6. Albania (#11), Belgium (#19), Lithuania (#20), Portugal (#23), Romania (#24), Cyprus (#25), Macedonia (#31), Serbia (#32), Poland (#33), Turkey (#37), and Sweden (#38) are all good markets for the diva. The Netherlands is one of her best ones too, ranking at #27. This is expected as she has huge sales there in comparision to the rest of Europe. She relies less in the UK (#52), although this doesn't truly represent an underperformance. Ultimately, she is much weaker in other major European markets, such as Spain (#60), Italy (#61), Germany (#62), Russia (#66), Austria (#69), Ireland (#70), Norway (#74), Denmark (#75), and Finland (#91). This isn't really surprising as her sales and chart positions in these countries aren't that big.
Her huge popularity in Brazil is fully represented in this map, as the country makes the singer's personal Top 10 at #10. Like Mariah Carey, she is much weaker in the rest of Latin America. Ecuador (#92), Bolivia (#94), Uruguay (#95), Mexico (#96), Chile (#97), Peru (#98), Argentina (#99) are all among Beyoncé's bottom 10 markets. This is a perfect example of how you can be huge in Brazil, but it doesn't necessarily mean you're big all over Latin America. Spanish speaking countries aren't as supportive of the diva. In fact, Latin America is easily her worst region.
She enjoyed 5 years of popularity in Japan before eventually underperforming. Dangerously In Love sold 525,000 copies, B'Day sold 450,000 and I Am… Sasha Fierce sold 240,000. Clearly, these are very good figures. The diva's fourth album, 4, represented a sharp decline, shifting 95,000 copies. That's still a decent number in comparison to her self-titled album, BEYONCE. The album did extremely well worldwide, however, it only moved 45,000 copies in Japan. By this point, her popularity in Japan was already in shambles. Her latest solo effort, Lemonade, sold a mere 20,000 copies in the country. Why does this matter? Japan is Beyonce's weakest market, ranking at #100.
Overall, Beyoncé's popularity in Asia is not that strong. She underperforms in many major markets, such as the Philippines (#63), Singapore (#65). Taiwan (#83), Vietnam (#89), Hong Kong (#93), and as previously mentioned, Japan (#100). She sells a lot of downloads in South Korea, but the country only ranks at #77 for her. On a positive note, she does decently in Thailand (#54), India (#55) and Indonesia (#56).
As proven by her sales, the US is one of her most important markets, ranking at #29. Canada is much weaker, ranking at #73. She does extremely well in the Caribbean with Jamaica (#3), Trinidad and Tobago (#7), and Dominican Republic (#9) making her personal Top 10.